Choosing a better subscription billing software in the list of Chargebee alternatives is a bit tough but also a good option. You must try out popular subscription software other than Chargebee to boost up your business in a less expensive way.
Before going through the article, gather the information from the table below about the comparison between Chargebee Alternatives.
---
Comparison Table For Best Chargebee Alternatives
---
But the question arises WHY?
Yes, Chargebee has too many features of subscription management & recurring billing but, it won't be worth if you can't afford its services.
Apart from its basic price, it asks for an extra amou

nt of some percent of the revenue of your business. Not everyone can afford to pay it.
It also doesn't mean that you will get to see the desired profit & all the pro features if you are paying for a high-quality service provider.
These are the main causes of the more searches for its alternatives. So to provide you a quick information, below I'll be discussing the services of more affordable subscription management software.
Have a look at some more blogs if you want more software to try:
Now, let's get going with the list of best alternatives for Chargebee:-
---
Pabbly Subscriptions is an all in one software through which you can manage all your business needs. It is a package of subscription management, recurring billing, invoicing & basic analytics features.
The most interesting fact about this software is that it charges only $5 which is a once a month. Once you pay it, you'll have the power of its lifetime access. That's why it is best among several Chargebee alternatives.
I've been using Pabbly Subscriptions from 3-4 months & I was able to save $200 to $500 after switching it from Chargebee.
Now with only $5, I'm able to manage subscriptions, invoices, bills & much more for the MONTH. It has no limit on revenue.
Plus it has some basic functionalities of payment analytics such as total sales, refunds, new, canceled subscriptions & many more which became very fruitful for me!
Switch To Pabbly Subscriptions & Save $200 Now!
---

---
Pricing:
Starter- This plan will cost you $5 per month and collect payments from up to 50 customers.
Rookie-  If you want to purchase this plan, you gotta pay $29 per month. Plus, you can collect one time or recurring payments, unlimited revenue and much more.
Pro- To avail of this plan, the price is $59 per month. Moreover, you also get features like client portal, multiple payment gateways, multilingual checkout page and a lot more.
Advanced- For this plan, the cost is $99 per month. You also get access to features like an affiliate system, client portal, custom domain, dunning emails, 25+ currency support, etc.
Features:
Unlimited Access & Versatile API Environment


In this tool, you will be able to access unlimited features such as products, plans, invoices, customers, revenue & many more. Through its API key, you can integrate your application or SaaS to manage every aspect of your billing needs.



Dunning Management System


To avert customer & revenue churn, this tool has its own dunning management system. It sends the emails to your customers to tell them about their failed transactions/expired credit & debit cards.
Secure Payment Gateway
This software has the most popular payment gateways such as Stripe & PayPal. If you want to switch from Stripe to PayPal or vice versa, you can easily transfer all of your sales details to each other.
Click Here For More Information
---
2. Invoicera – Invoicing & Billing Software
Through Invoicera, a person can automate the business with recurring billing, invoicing, time tracking & many more.
Moreover, its system provides a single dashboard through which buyers & vendors are easily managed.
---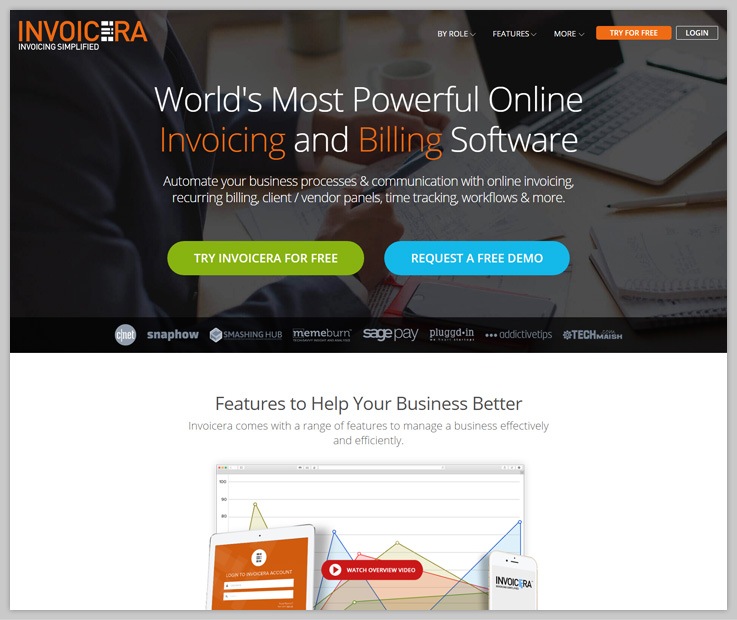 ---
Pricing:
This subscription billing software has only two price plans:
Starter Edition: Forever free, manage 3 active clients & 1 recurring profile.
Pro Edition: $36.44 per year, unlimited active clients, recurring profiles, auto bill recurring & staff.
Features:
Trouble Free Invoicing


Its invoice tracking system helps to organize invoices & customers to know the productivity of the business.
Global Clients Managing




This feature allows the managing of invoices & the clients globally by selecting the language of their own choice.
Effective Staff Management


Through this feature, a person can track the productivity of the staff members & can also generate feedback of them.

Click Here For More Information
---
3. ChargeOver – Recurring Billing Software
ChargeOver is a responsive recurring billing & subscription management software through which you can manage both one time & recurring payments easily.
One main thing about this software is that it doesn't charge any extra transactional charges.
---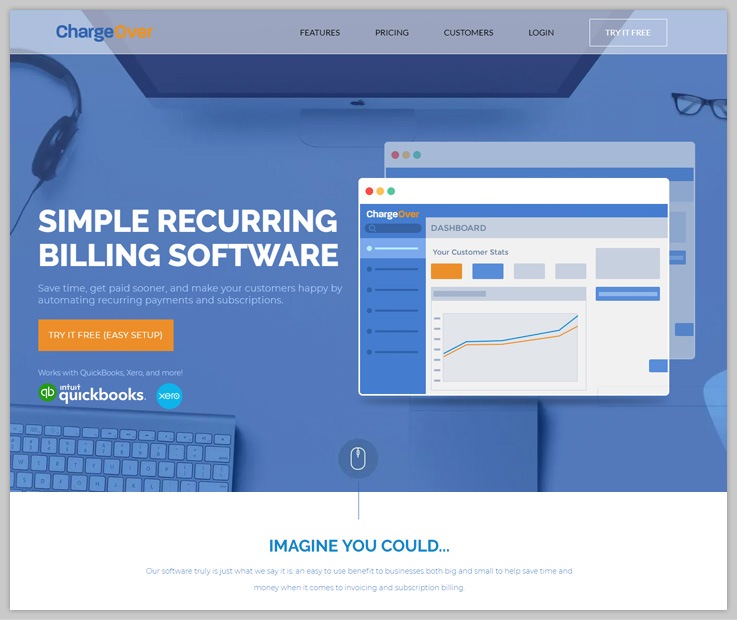 ---
Pricing:
This software's pricing is a little bit different from other tools in its category. To test the plans, this tool has a 14 day trial period for Starter, Basic & Professional plan.
Starter Plan: $65 per month, 1 to 50 active customers.
Basic Plan: $115 per month, 51 to 150 active customers.
Professional Plan: $229 per month, 151 to 500 active customers.
Commercial Plan:

 Contact to its sales department for active customers ranging from 501 to thousands of them.
Features:
Custom Billing




A user can create multiple numbers of billings through custom billing & can schedule split bills, custom tax rates, renewals & many more.
Automated Invoices




This software automatically generates invoices & also sends it to your customer after every transaction.
Multiple Payment Gateways
It has multiple payment gateways according to the countries. The most popular are Stripe, Authorize.net, Braintree, Cybersource & many more.
Click Here For More Information
---
4. Rebilly – Subscription Billing Software
Rebilly gives its clients a complete set of influential tools to make sure that they get each & every penny from the audience which they actually deserve.
Their experts are always available to offer perfect merchant support. 
---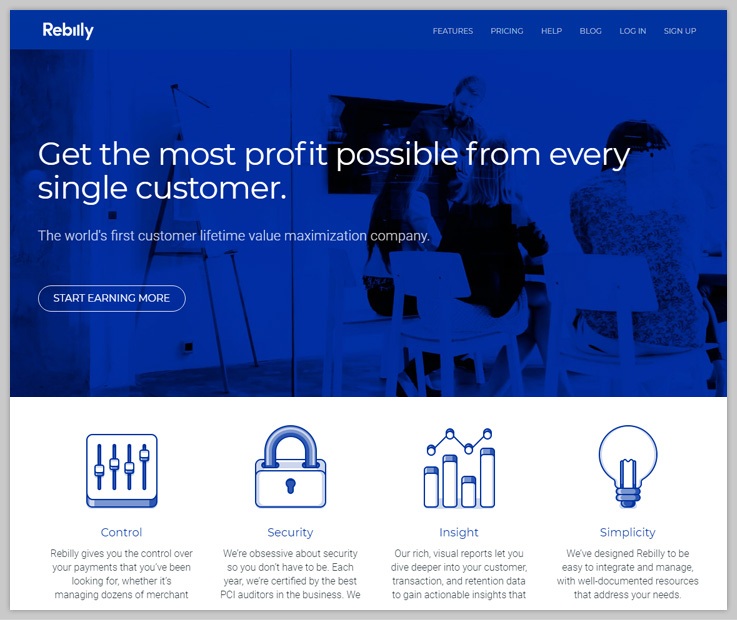 ---
Pricing:
There are 4 pricing plans in this software & the first 3 months of each service is free.
Pioneer Plan: Free For revenues up to $1,000 per month, self-service.
Entrepreneur Plan: $149 per month plus $0.10/transaction fee & for revenues up to $50,000 per month, self-service & SLA support.
Executive Plan: $1,497 per month with $0.10 per transaction fee for revenues up to $150,000 per month, with features of Entrepreneur plan, priority phone support, integration planning & assistance.
Enterprise Plan: $3,000 per month for over $150,000 revenue per month, includes all features of the Executive Plan.
Features:
Multi-Organization Support
Whether you have a single or multiple businesses, you can manage your businesses with its all in one dashboard.
Data Mobility
There are some payment gateways which allows you to access your own data sometimes only. This tool makes sure that you will access your data at any time.
Payment Mode Flexibility




This software allows its users to do payments through multiple modes. For example cheque, cash, wire, bitcoin etc.



Click Here For More Information
---
5. Avangate – Subscription Billing Solution
Avangate is a complete subscription billing tool through which you will be able to manage & get info about customer, stats, details & many more. It has the feature of reducing churn by giving its customers multiple strategies.
---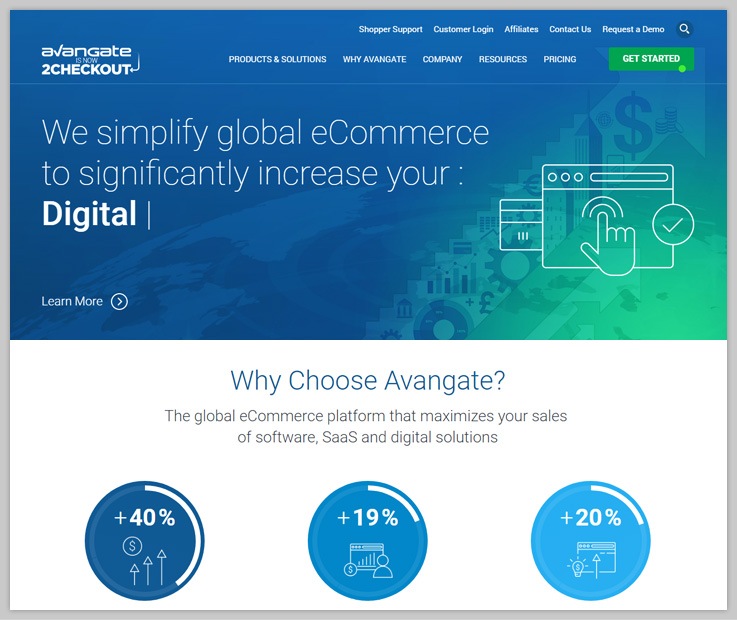 ---
Pricing:
Avangate has 3 price plans.
Growth Edition:

3.99%/transaction + $0.99 merchant account fees for the revenue limit up to $ 15000 per month.
Standard Edition:

4.9%/transaction +$2.5 merchant fees with no revenue limit.
Enterprise Edition:

 Custom pricing, contact sales for it.



Features:
Advanced CRM Features
This feature will help you reduce churn rate & retention by various strategies like a campaign, lead management & many more.
Multi-language Customer Support


It has many languages for customer support such as French, English, Italian, Romanian & many more.
Responsive Billing System
Its responsive billing rating engine calculates prorated charges & synchronizes bills automatically.
Click Here For More Information
---
Conclusion:
Finally, after reading this blog, I'm sure that you've got your perfect software in the list of Chargebee Alternatives. As Chargebee is quite costly, so above mentioned services are easily affordable for any type of business.
Besides, they all are very secure to use & you won't have any fear of losing any of your sales or payment data. All of them are very user-friendly, affordable & with unpredictably amazing features which you can surely count on.
Further, if you have any query or want to know about more subscription management services, please comment below.
I'll surely try to resolve them!
Lastly, Thanks for reading! 🙂