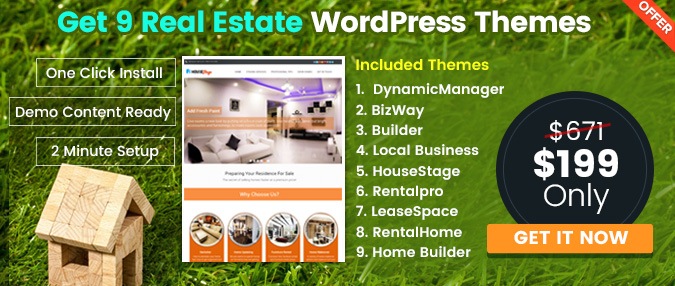 Searching for a right Real Estate WordPress Themes to create a real estate business website.??
Well, WordPress Themes will be the perfect solution for you.
It helps you create an optimized real estate website that allows your visitors to find exactly what they are looking for, without any complex set-up and configuration procedure.
So,
Build a professional website with any of these 12+ best real estate WordPress Themes and ultimately increase the sales and growth of your business.
Just look at this post, where you can find more business and home-related themes ->
---
Let's have a look.
1. Home Builder – Real Estate WordPress Theme
Home Builder provides a luxurious interface for an online property dealing business.
You can easily create a user-friendly real estate website for buyers and showcase or list your properties on the homepage.
It comes with an advanced property search feature provided on the front page of your website theme that shows the properties on the basis of a client's preference.
People can filter their search according to the number of rooms, an area in square feets, number of bedrooms, etc.
Visualize all the listings with images or necessary data and invite potential clients to buy and sell properties like 2 BHK, 3 BHK, 4 BHK duplexes, etc.
Perfect theme to highlight your real estate property!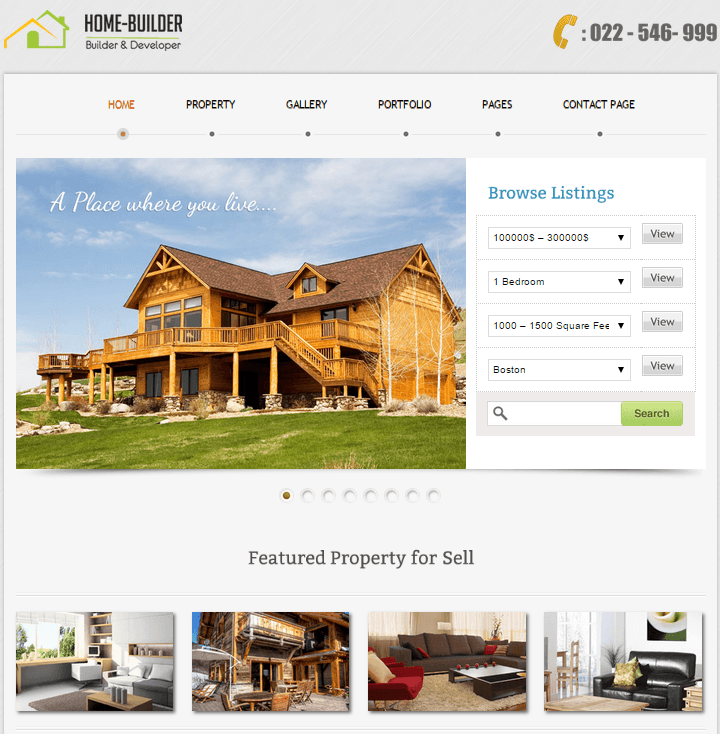 ---
Take a look at some distinctive features of HomeBuilder –
Provides custom search – clients can choose a city, street, size, price, etc.

Contains homepage slider to make your special offers seen at once.

InfoBar Plugin to attract attention; create leads or direct users to any part of your website.

16 fully editable PSD banner images to create banners and advertise your website on the Internet.

8-Different Slider Images on the homepage – to showcase your property.

Compatible with all browsers

devices like- iPads, Mobiles, Smartphones, Desktops, Tablets etc.
Theme Info + DownloadLive Demo
---
2. Builder – Contractor WordPress Theme
A builder is a modern and stylish real estate WordPress Theme that will give your website a fresh and contemporary feel. This theme is extremely responsive and crafted keeping in consideration property listing portal, Real Estate Builders and as well as estate agency's valuation website.
A theme can also be in use for the contractors, civil engineers, architecture, freelancers etc. A builder is an excellent One-Page WordPress Theme users find it easy to navigate and find any pieces of information whatever is needed.
Moreover, in the theme, you can add video to clarify and give a pictorial representation of your work. A theme also has Parallax background effect to give emerging effects to the content.
Construct your Builder website in no time with this highly interactive WordPress Theme!
---
Take a look at some distinctive features of Builder –
3 column feature area let you showcase your services.

Customization services included you can change every look and corner of the site.

Circular disk for the gallery with parallax effect adds an effect to the scrolling.

10 amazing color skins.

Google map integration so that people in need of your service can immediately reach you.

On/off menu section.

Easy to set up and Clean code allows you easy installation of the theme.
Theme Info + DownloadLive Demo
---
3. Agenta – Real Estate WordPress Theme
Agenta WordPress theme is a perfect solution for real estate business specially designed for realtors like builders, agencies, property dealers, etc.
Its advanced property search feature helps users to search property according to location, pricing, property size & all real estate marketing services.
The theme has integrated dsIDXpress a real estate WordPress plugin, that allows you to embed live real estate listings into blog posts, pages, and sidebars.
One important Property Loan Calculator feature is also available through which buyers can instantly make calculations as per their budget.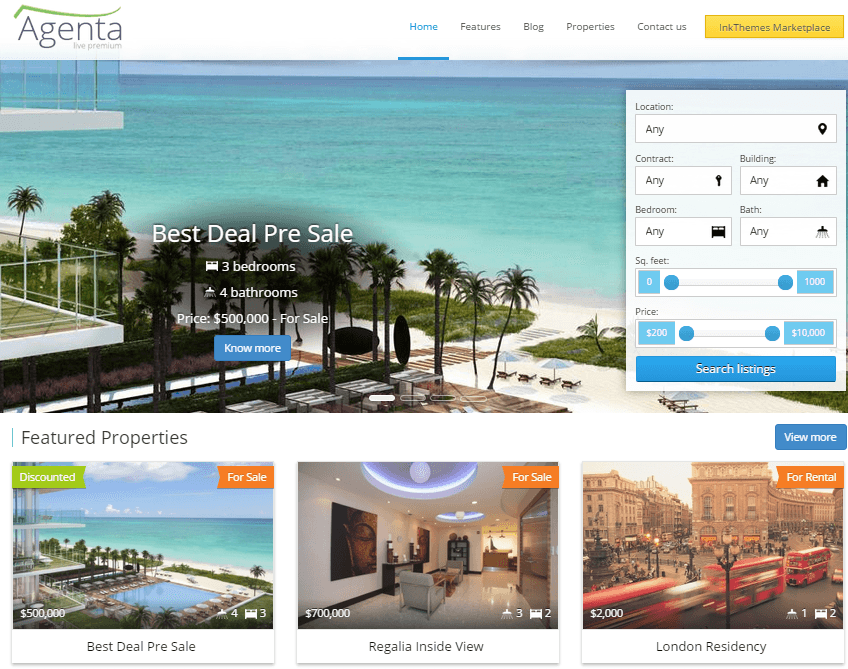 ---
Take a look at some distinctive features of Agenda –
4 template colors and 60+ icons to create more exciting consumer experience.

Give a complete description of your property like price, bedrooms, bathrooms, parking spot, 24-hour water supply etc.

Advanced search option based on location, contract, building type, number of bedrooms and bathrooms, footage or price.

You can organize and list property entries in different groups Sale, Rental or Discount.

Sticky header and one-page smooth support.

Supports adaptive design content will look the same on all the screens.
Theme Info + DownloadLive Demo
---
4. Property Pic – Real Estate Photo Service WordPress Theme
Property Pic is another best real estate WordPress theme through which you can easily create a website of your own and add their property listings on it.
This greenhouse commercial theme is best suited for a person who wants to sell their properties without hiring an agent.
The theme homepage has an amazing portfolio section with categorization feature where you can showcase images of luxurious homes, flats or other assets.
Create a unique business website without any hassle!
---
Take a look at some distinctive features of Property Pic –
Professional level tools for creating a one-page website.
The theme has an inbuilt Ink Pricing Table plugin that allows you to exhibit your services along with the price
Create a assets portfolio with an advanced categorization feature.
An integrated blog page template, allows you to share your thought and business knowledge
Theme Info + DownloadLive Demo
---
5. Local Business – WordPress Theme With Built In Lead Capture
Local business will be a best-fit WordPress theme for the construction workers, builders, building material suppliers, and real estate contractors.
It comes with a lead generation contact form so that, your customers can contact you regarding the building material supply, building project, etc.
Its powerful admin panel lets you quickly customize, operate or update information on your website, whenever you need.
Add the property images and its description on the front page so that, your visitors easily get to know about all your real estate agency services that you offer.
Build a real estate website in no time with this high conversion business service theme!

---
Take a look at some distinctive features of Local Business –
Showcase images in a gallery.

9 unique color schemes.

Slider images.

Inbuilt contact form/lead generation form in the top header section.

Single Click Theme Installation: Extremely easy to setup.

50 Professional Images to turn your website into any different niche.

Built-in Tap to Call feature for mobile devices.

20 Professional designed logo for different niches with customizing options.
Theme Info + DownloadLive Demo
---
6. HouseStage – Home Staging WordPress Theme
HouseStage is an ideal solution for the real estate business. Specially designed for Professional Home Stages, Real Estate Agents, Interior Designers, Decorators, Realtors, Real Estate Professionals, Home Staging Companies and all type of House Flipping Websites.
Its responsive One-Page layout of the theme gives it a perfect look for the real estate investors. Users get complete details of the property on the single page. This is a time-consuming process as well as there is less to manage for you.
Contact page with google map integration completes the site. Widgetized footer let you display videos of your work plus you can give 24*7 services to the customers through your social support sharing. Try this amazing theme and feel the freshness additionally take your business to the new heights.
Construct A Beautiful Real Estate Website And Start Earning Future Cash Inflows!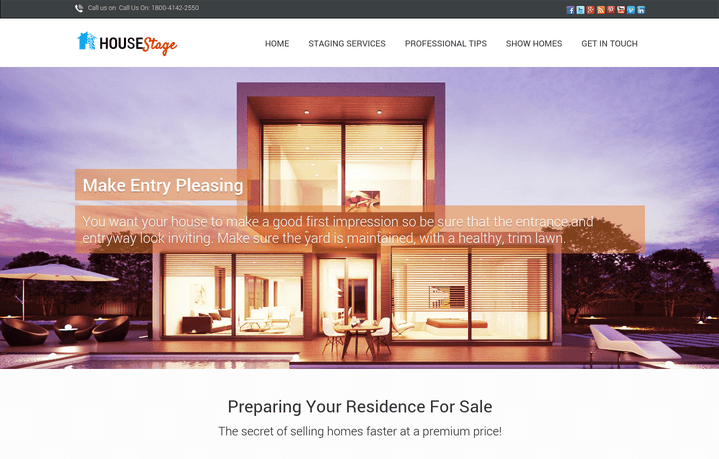 ---
Take a look at some distinctive features of HouseStage –
4 Column feature area – to feature your services.

Full-Width Slider with Image description.

Back To Top Button – for easy navigation

Portfolio Section contains Parallax Background Effects.

Hexagonal gallery – adds an effect to the viewers

Theme Options Panel.

Powerful Admin Panel – let you make a change to the theme.

Cross Browser compatible.
Theme Info + DownloadLive Demo
---
7. Rentalpro – Rental Property Listing WordPress Theme
RentalPro is a child theme of HomeBuilder designed mainly for rental property listing and accommodation providers.
This theme would be a good choice for those who invest in properties, sell properties or leases them.
It helps rental property seekers to find an accommodation as per their preferences for rent, the area of the property, parking space, number of bedrooms, and other property features.
Inbuilt property search feature in this lease space theme give search results in seconds and help your customers to find the property they were looking for.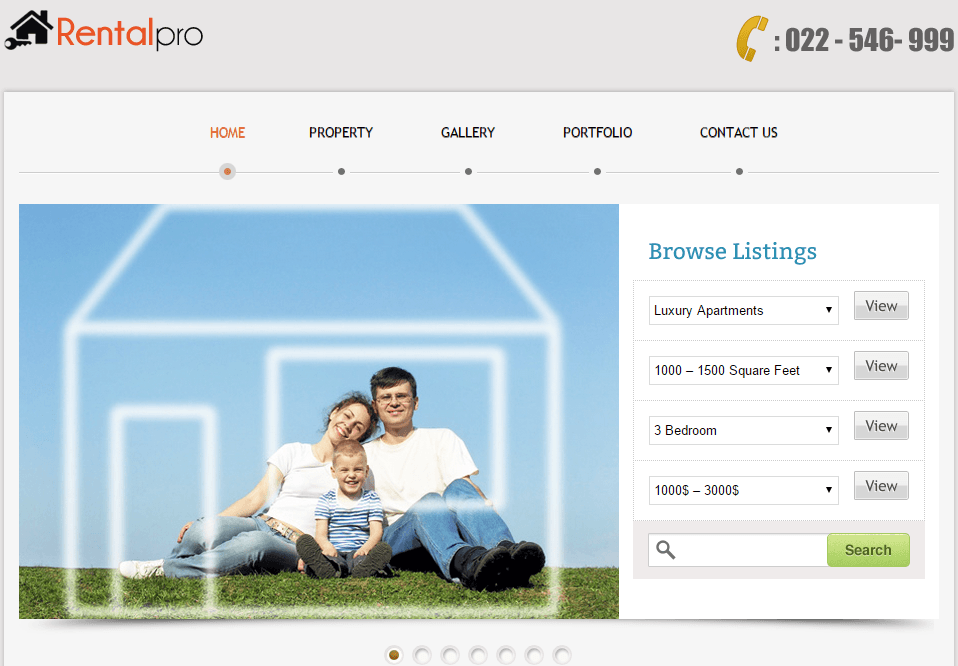 ---
Take a look at some distinctive features of RentalPro –
Full range of HomeBuilder theme features.
Enjoy the improved features to represent your retail business online.
Add the image gallery to a listing and activate the gallery widget with a neat lightbox in just several clicks.
Upgraded theme options panel, widgets and built-in menu for better customer's experience.
Fully responsive theme.
Use large description area to differentiate the property and add selling text.
Create an unlimited number of the drop-down levels in the menu to organize the houses and apartments for sale and lease.
Check pre-made styles and functions each of them can be applied to an individual page and transform the way it looks and functions
Set website background with a custom background image.
Theme Info + DownloadLive Demo
---
8. WPCasa Bahia – A Ready Solution With A Lot Of Tools
WPCasa Bahia impressive design, a strong framework and a number of exceptional features. It is has a very powerful search and filter module.
The theme comes with a handy homepage template. So, you can easily create your personal, professional-looking home page in few minutes.
---
Take a look at some distinctive features of WPCasa Bahia –
Various color options theme is not limited to one, three, or twenty options, you can pick them all!

Listing page is empowered by the widgets too they are not only in the sidebar or footer.

Listings carousel to create beautiful slideshows and visualize the entries to attract potential buyers.

WPCasa intuitive listing editor to add some info, images, and location in seconds.

SEO control option to manage your keywords, meta tags, and URLs.

More functionality customizes in and out, it is easy and systematic.

Layered Photoshop PSD files – to draft your custom designs of banners and layouts.
Theme Info + DownloadLive Demo
---
9. AgentPress Pro Theme – Real Estate WordPress Theme
AgentPress Pro is a follower of a Genesis Framework, claimed to be one of the best WordPress themes for the real estate business.
It is a perfect choice for creating an online real estate portfolio for agents and firms as it has an amazing functionality and design to showcase your professional services.
It has a great smart listing feature that allows you to list relevant property details, maps, eye-catching imagery, etc..
A search bar is given at the top of the site in order to give ease to your customers while searching for the rooms or whatever they want.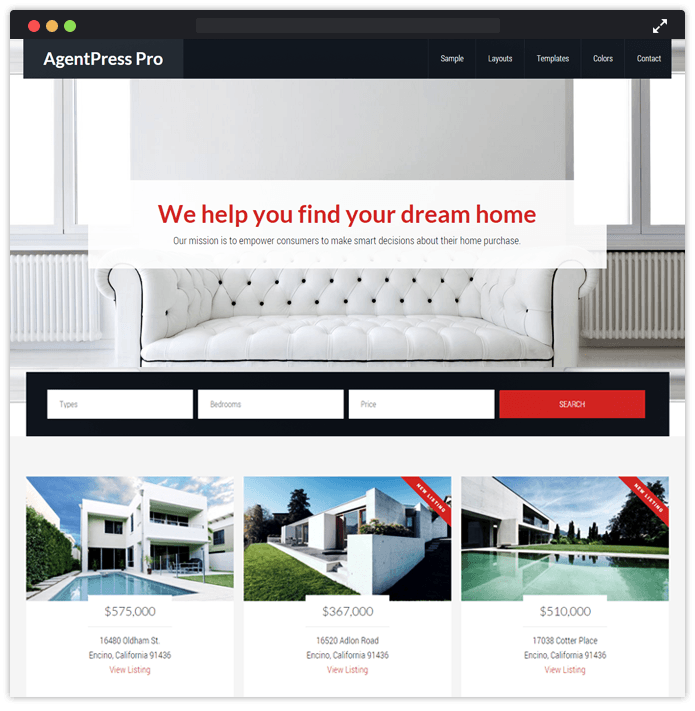 ---
Take a look at some distinctive features of AgentPress Pro Theme –
6 different layouts and 4 custom colors (red, blue, gold, green).
A layout is mobile responsive.
Register taxonomies search feature will let your clients find exactly what they are looking for.
SEO-friendly site structure built with basic HTML code, you will only have to add keywords.
Custom header area, menus, and background.
Incredible support community along with forums and independent websites on customization of the theme.
Theme Info + DownloadLive Demo
---
10. Oikia – Real Estate Theme for WordPress
Oikia – one of the best WordPress theme with a different name, that is perfect for creating a real estate website of your dreams. It gives you access to a drag and drop interface and lets you build a custom homepage, portal, and listing site for your new real estate company.
Oikia will enslave you with a flawless design and customize abilities. It is the best choice for the best-looking website.
So start using it now and design your posts in an effective and easiest way.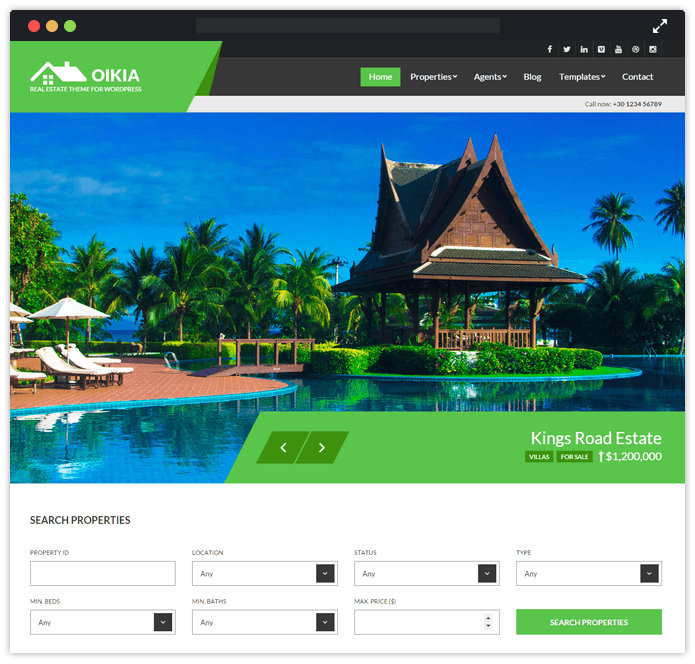 ---
Take a look at some distinctive features of Oikia –
Drag and drop the main page you do not need any coding skills to create the landing page.
Dynamic map and filtering visualize information on your website and show advanced search results.
Ready for Search Engine Optimization appears on the top of the search feed in search results.
Upload information about your agents to get more personal and get in touch with your clients easy.
Update for free support of the latest two WordPress versions.
Theme Info + DownloadLive Demo
---
11. EstateValue- Real Estate WordPress Theme
EstateValue brings customization freedom to your real estate website. It looks appealing and polished and works very fast. Build the perfect homepage for your real estate site with a modern and responsive design.
It has very interesting features that help you set up and run a successful business online, where anyone can easily upload images and sell their properties.
---
---
Take a look at some distinctive features of EstateValue –
Super easy property listings slideshow tool.

Users can enjoy the detailed search form for filtering the listings.

Visible grid or list display of featured properties whatever looks better for your company.

Fancy user interface and convenient view of the search information.

Google maps API implemented to arrange the property on a map and show it online.

Create profile pages in various styles when submitting into new property and my properties sections.
Theme Info + DownloadLive Demo
---
12. Elegant Estate – Beautiful Yet Highly Functional Theme
ElegantEstate is a highly functional WordPress theme suitable for any real estate business with a splendid design and customer support team.
It is a drag and drops theme with a high functionality and simple interface. The result looks professional and trustworthy, although no web-developer skills are required for you.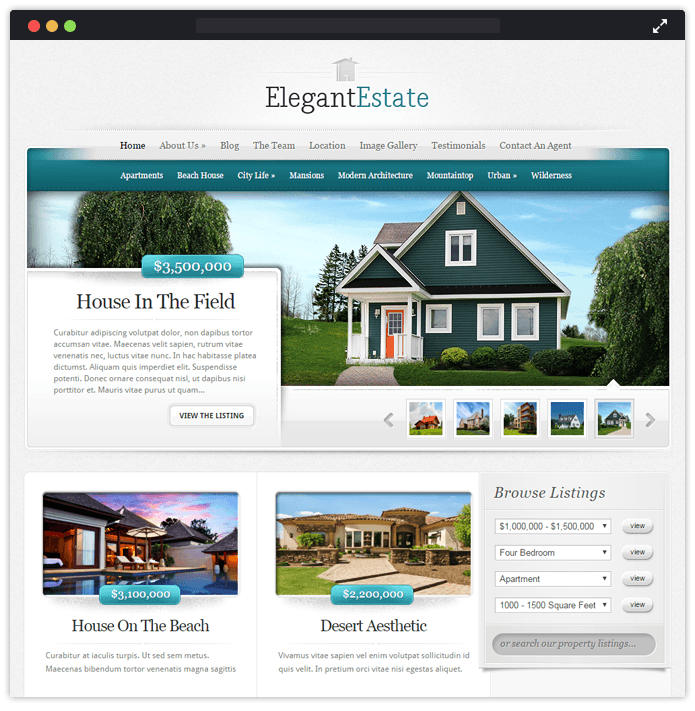 ---
Take a look at some distinctive features of ElegantEstate –
Use navigation panel to add and remove links, fix drop-down menu settings and order your links.

The Ad Management panel will enable and manage your advertising banners.

Input social media or analytics snippets to know your statistics and share info.

Click support tab to get help and view full documentation in the ePanel Theme Options page.

Protect any content in a post with password and anyone will be asked to log in to review it.

Create contact pages, galleries and blog feed to stand out and bring new experiences to your clients.
Theme Info + DownloadLive Demo
---
13. LeaseSpace – Lease Space WordPress Theme  
LeaseSpace WordPress Theme is designed for real estate agents, companies, and agencies for demonstrating their business online.The theme can be used by agencies that are selling properties such as land, villas, houses, apartments and even raw house.
The theme is integrated with Lead Capture plugin, you can capture your guest leads easily and you will be able to send thousands of emails at a time to the submitted leads.
LeaseSpace comes with divergent inbuilt page templates and ample functionality features such as homepage slider, Four Column Feature Area, Widgetized Footer, Powerful Admin Panel, Cross-browser Compatible and Business Tagline Section etc.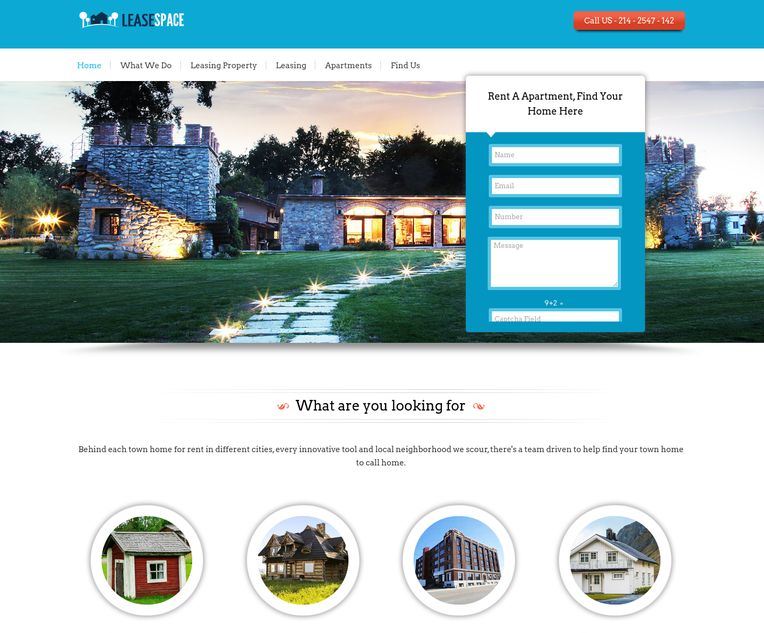 ---
Take a look at some distinctive features of LeaseSpace –
Business Favicon Uploader

Homepage Business Tagline

Blog Page Template

8 Color Schemes

Top Right Contact Detail

Social Sharing Icons

Video Advertisement

Fully WPML compatible

One clicks installation

SEO optimized

Portfolio Template
Theme Info + DownloadLive Demo
---
14. RentalHome- House Rent WordPress Theme
RentalHome is a smart and very adaptable WordPress Theme custom-built for showcasing real estate properties and listings in a stylish way. One can craft an amazing real estate website where any user can add up the ads for 1BHK, 2BHK houses, properties, apartments, bungalows, etc.
The theme has a fully functional classified platform which is completely responsive and allows you to collect payments through Integrated Payment Module.
RentalHome gives your visitor to filter and sorts the search results easily. A user can easily filter out any kind of ads listing based on country, city, state, entity or item name and can also look for any specific house rent category.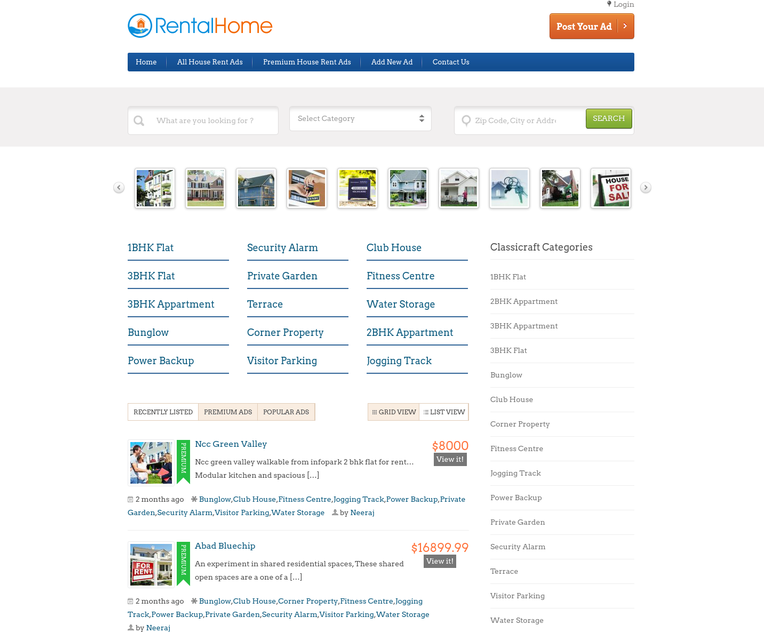 ---
Take a look at some distinctive features of RentalHome –
PayPal Payment Gateway Integrated

Lead Capture Form for individual classified ads directly in WordPress Dashboard

You can create free/paid classified ads

Call to Action Button to submit ads.

Completely integrated Google Maps System

Categorize Ads on the basis of Premium, Popular, and Recent Listed

Set Price on Ads

Ads can be featured on Homepage Slider or Category Slider

Commenting Option on ad's

Latest WordPress Compatible
Theme Info + DownloadLive Demo
---
15. DynamicManager- Property Manager WordPress Theme
The DynamicManager WordPress Theme offers property management professionals, an easy and affordable way to attract new clients online. Whether your property is for sale or available for house allowance, you can be easily customized to obtain your necessity.
Dynamic Manager is a one-page theme with amazing sections that allows all the essential feature on a single page. This theme gives you the flexibility to add and remove the sections as per your choice. There is so much to do with its features like listing properties in pricing section, show latest property news in its blog and gallery images come in hexastyle that are fabricate an attractive and captivating website.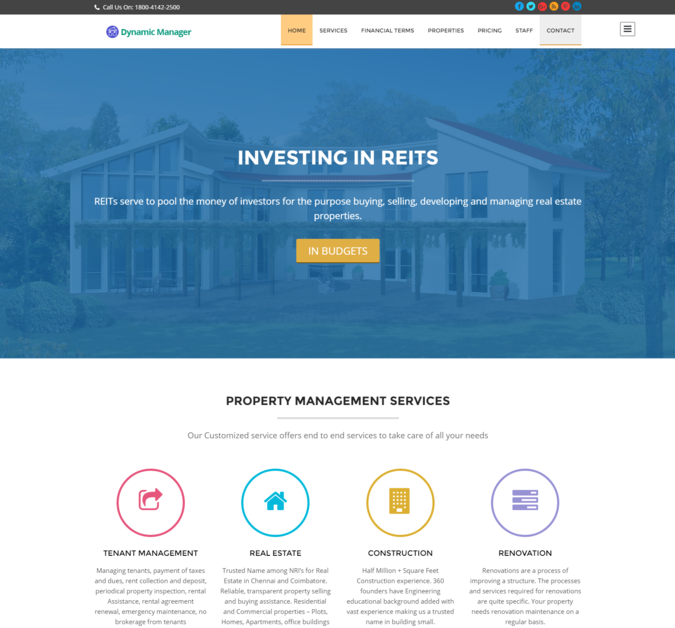 Take a look at some distinctive features of Dynamic Manager –
Full-Width Image Slider With Animation

Add Business Tagline

Four Column Feature Section

Video Advertising

Testimonial Section

Team Members Section

Contact Form & Google Map Integration

Unlimited color option

Support All Browsers
Theme Info + DownloadLive Demo
---
Conclusion
So, these were the 12+ best real estate WordPress themes that are highly adjustable and will help you to create a well-crafted real estate website.
Also, read ->
Pick a one that perfectly fulfills your business needs.