It's no brainer that emails are the prime mode of communication today on the web. People and businesses heavily rely on it. It is the most personalized, cheap, and effective model for business communication and marketing, and yet credible enough to be addressed and acknowledged. So, if you decide to give email marketing its due to skyrocket your sales for your real-estate business, then you're already on your way to find the top and reliable software for it.
It's a cheaper way to reach your targeted audience for your brand marketing and boost your sales. But even knowing its significance, it isn't just about sending emails. You need a reliable real estate email marketing service or software to create, strategize, and automate your emails for the best results. Whether you are looking for free or paid email marketing software, there are some factors you need to address to determine how it can be beneficial for your business and not heavy on your pocket as well.
Comparison Chart of the 5 Best Real Estate Email Marketing Services 
| | | | | |
| --- | --- | --- | --- | --- |
| Services | Basic Plan | Drip Emails | Maximum Subscribers Limit   | No. of Emails per month |
| Pabbly Email Marketing | $29/mo | Yes | 5000 |  Unlimited |
| | $25/mo | No | Unlimited |  40,000 |
| Constant Contact | $5/mo | No | Unlimited |  10,000 |
| | $5.2/mo | No | 500 | Unlimited |
| AWeber | $19/mo | No | 500 | 500 |
So, here are the best affordable email marketing software services with all the features, price plans, free trial info, and all other details you need to know.
"To start with Pabbly Email Marketing, there are no limitations on marketing automation where users from all of their plans get this feature, unlike other email marketing alternatives."
There is an in-built SMTP to make your end-users easily add and verify their email addresses for further email marketing campaigns. The setup is easy and efficient as it includes an in-built delivery engine where you get 98% email deliverability. You can also connect to external SMTPs such as MailGun, Amazon SES, SendGrid, and others.
Furthermore, you can connect up to 50+ SMTPs for delivering your emails across the platforms.  It promises better email delivery, a higher rate of engagement, and an increase in conversions for your business. Also, it is a highly affordable and smart investment for your business. These reasons clearly prove it to be the ideal choice for real estate email marketing services.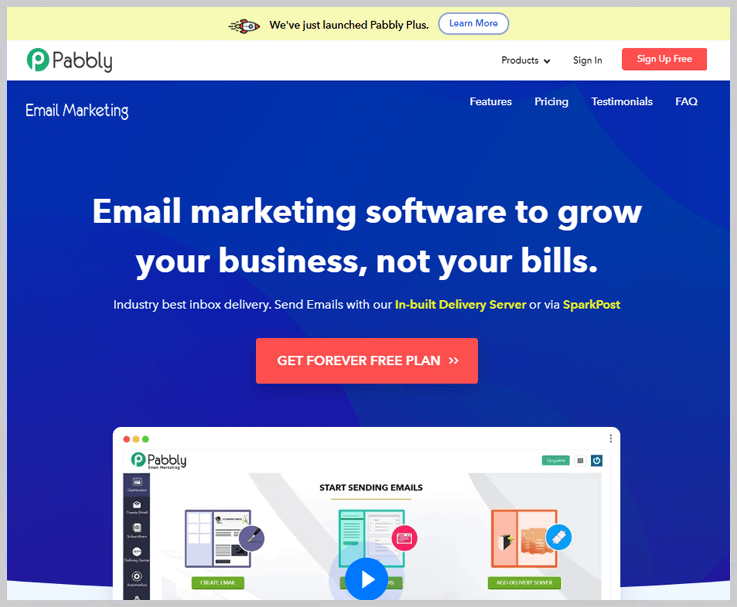 Features
Marketing Automation – It allows you to do email scheduling efficiently. The software automatically delivers your emails on pre-scheduled parameters to engage your subscribers. It promotes a higher conversion rate.
MX Cleaner – All of your bad, duplicate, or inactive emails will be cleaned from your list. The feature enables to eliminate spams and bounces and helps in increasing the subscription rate.
Enhance Lead Capture –  It is an effective tool that aids you to enhance your lead generation more efficiently. The in-built lead capture tool detects email leads so you don't miss it.
n-Built SMTP with Routing: You don't just get SMTP in-built email marketing software with 98% deliverability but also the SMTP routing. It is such a great feature where you can send your emails through multiple SMTPs to achieve the best of deliverability results in the user's inbox.
Email Tracking – You can track your emails and see who, when, and whether it is opened or not. It helps you to take the next step and make your emails more targeted for better results.
 Pricing
Forever Free – You can send 12000 emails per month to 1100 subscribers absolutely free of cost in this plan.
Rookie – For Rookie plan, you pay $29 per month to send unlimited numbers of emails for 5000 subscribers.
Pro – Pro plan allows you to send emails to 15,000 subscribers on paying $49 per month along with all the premium features.
Advance – The Advance Plan will cost you $99 per month where you can send unlimited emails for up to 50,000 subscribers.
SendinBlue is a powerful email marketing solution especially for the small organizations that aren't looking to spend a fortune on their email marketing campaigns. It is an affordable email marketing software to optimize your email campaigns to derive the best results in user engagement and conversion rate.
The software primarily focuses on business to perform higher sales through an impressive marketing toolbox. It also allows you an extensive variety of third-party integration. Additionally, Sendinblue email marketing solution with their generous tool kit gives you the freedom to implement all kinds of Real Estate Email Marketing Ideas. With email automation, your tasks will be on autopilot, so you can focus on the more important stuff. They have multiple features to engage with your subscribers like marketing automation, transactional email, retargeting, landing pages, and much more.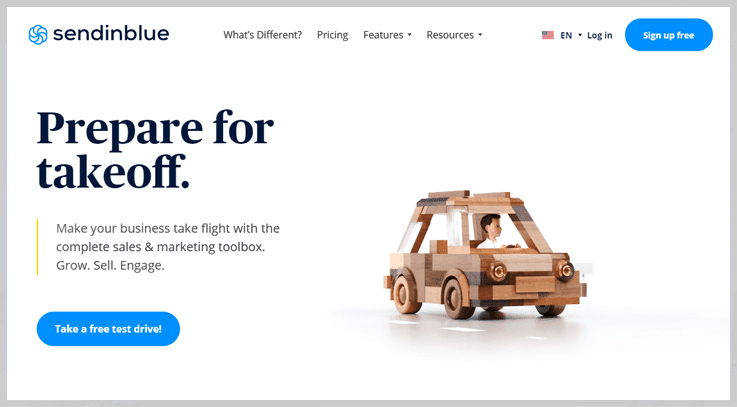 Features
CRM – It helps to keep track of all of your customer details to profile them in order to build stronger relationships.
Marketing Automation – Automation for email scheduling saves you time and also boosts performance. You can segment, pre-schedule, and target unique marketing messages to dedicated audiences.
Transactional Email – Setting up transactional email messages with Sendiblue is easy and quick. You can create designs, set up engagement, and deliverability of transactional emails to customize for impressive results.
Email Marketing – You can create, design, and craft your copy or messages to sleek emails that take no time to get done with. It gives you access to the best real estate email templates and layouts. It increases customer engagement which leads to more sales.
Lead Generation – With tools like landing pages, signup forms, and email marketing, it turns your visitors into customers. You can create more targeted visitor experiences to engage them with your brand. You have email campaign options to create funnel landing pages and signup forms to grow your interactions with visitors.
Segmentation – You can segment your audience to be more targeted and relevant. Segmentation helps you to send your marketing message to a more dedicated audience and leads to more user engagement.

 Pricing
Free Plan – You can get some basic features where you can send 300 emails per day.
Lite Plan – This plan costs you $25 per month where it allows you to send 40,000 emails per month. There is no daily sending limit with this plan. You can also buy this plan for $22.50 with annual payment.
Essential Plan – This plan costs $39 per month where you can send 60,000 emails per month. Here, you get A/B Testing, advanced statistics, and Sendinblue logo removal from emails.
Premium Plan – Lastly, this plan costs $66 per month and you will get to send 120,000 emails in a month and all the premium features and customer support. You can also choose another benchmark in this plan that is 350,000 emails per month costing you $173.
Constant Contact Email marketing software is a powerful email marketing tool built to grow your business. They offer modern and mobile-optimized real estate email marketing templates along with a drag-and-drop editor to create, customize, and send professional emails to your subscribers. The best part is, it is easy, fast and you don't have to be an expert or have any experience in design.
The primarily focuses on designing and email marketing automation makes it ideal for small businesses. There are a variety of email templates for real estate agents to create and automate responsive emails to their subscribers. This increases user engagement and boosts sales for your real estate brand or any business. Automation also facilitates features like trigger email series, contact segmentation, list-building tools, welcome emails, and eCommerce integration.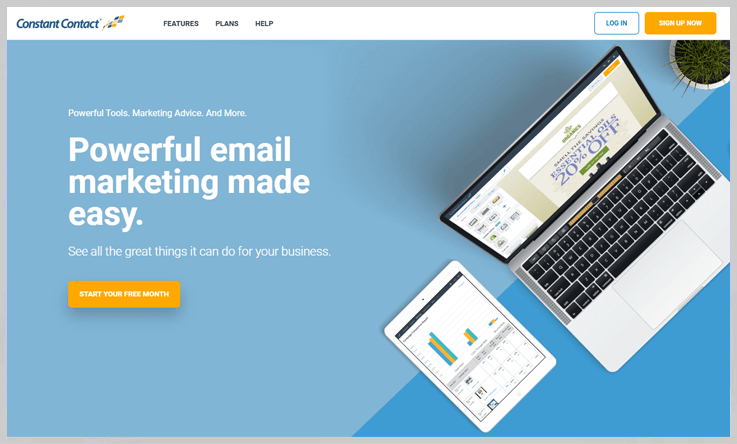 Features
Email Marketing Automation –  It keeps your audience engaged through email automation. With email marketing automation features, you can build stronger customer relationships deriving more sales.
Drag and Drop Email Editing – You can easily customize any email template with drag and drop editing. This allows you to design your emails to look more professional, mobile-responsive, and creative.
Easy Contact Management –  You can manage your contacts easier and much faster. There are easy-to-use email marketing tools to upload contact lists from Outlook, Excel, and all the other platforms and manage it. It automatically updates unsubscribes, inactive emails, and bounces.
Tracking and Segmenting:  You can track your email marketing campaign results in real-time by real-time tracking tools. You can see a detailed report about who is opening, clicking, or forwarding your emails. It helps you to plan and strategize your next steps. Segmenting contacts make your list more targeted assuring the right mail reaches the relevant people.
 Pricing
Lite – With this plan, you can send 10,000 emails monthly for $5.
Email – You can send unlimited emails and have access to more file storage for $20 monthly.
Email Plus – This plan starts from $45 per month giving you all the premium features with unlimited emails.
SendPulse email marketing comes with a convenient email editor with a drag-and-drop feature to help you create professional emails. The automation system, Automation 360 enables you to set up an email marketing campaign to send out for a dedicated user base.
There are some really special features like resending the emails which are unopened, and that is with a new subject line. Also, you can personalize options to make your emails more relative to your users, especially when you address them with their names. SendPulse email marketing software also provides real estate email marketing templates to save your time creating emails.
Furthermore, SendPulse is quite like an email marketing toolbox with specific tools meant to perform distinctive tasks. In nutshell, these features would be statistics, A/B Testing, Integration, AMP emails, segmentation, automation, and personalization. Every tool or feature is to make your email marketing campaign more effective, increase user engagement, and boost sales.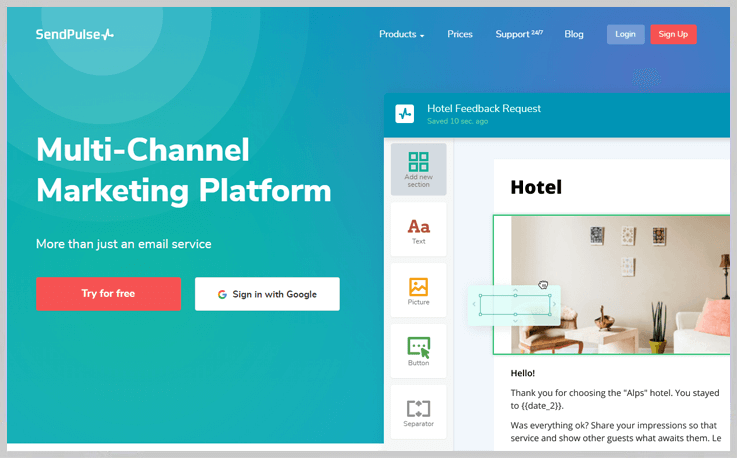 Features
Email Marketing Automation – SendPulse email marketing automation offers a convenient email editor with a drag-and-drop feature. Creating professional email templates with this feature is quite easy and fast without knowing any HTML knowledge or technical skills. With Automation 360, it's easy to set up email automation and push notifications.
Personalization: You can personalize your emails by adding the customer names in the emails. Also, you can insert more information about your users to make it more personal for them.
Segmentation – Email segmentation delivers relevant and personalized content to the right users based on the available data. These kinds of emails are opened and responded more as compared to others.
A/B Testing –  A/B Testing, also known as Split testing is marketing research where you can determine the most effective mailing patterns and track subscribers behavior. It allows you to compare different versions of the same mailing to get the best out of it.
 Pricing
Free Plan – For 1-500 subscribers, you get a free plan where you can send upto 15000 emails.
Subscription 500 –  You have to pay $5.2 per month ( billed annually) with a total of $62 for a year for this plan. You can send unlimited emails with professional features for upto 500 subscribers.
Pay AS you GO 10,000 –  Lastly, this plan costs you $32 valid for 12 months after purchase where the cost will be $0.0032 per email. For 10,000 emails, the base price will be $32. More you move towards larger email numbers, the plan price per email will reduce.
AWeber is a stress-free email marketing software specifically designed for small businesses to grow. It empowers you to create and design amazing email marketing emails fast and easy. They deliver very simplistic yet very powerful email marketing software where most of the work is done for you. You can find a larger versatile library of email marketing templates and landing pages to choose from.
With features like a smart designer and drag and drop customizers, you can create professional-looking newsletters for your subscribers. Moreover, Campaign Automation makes your email sending personalized and pre-scheduled for better engagement. AWeber ideally works best for real estate email marketing, especially if you are looking for something simple, with the least learning curve but yet powerful and effective.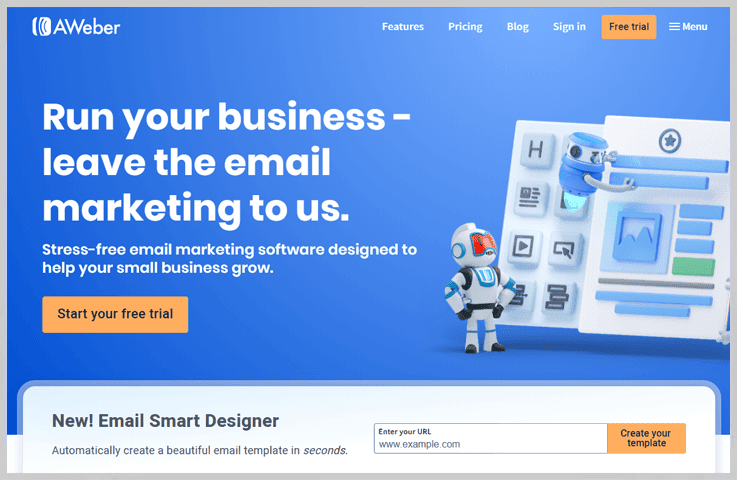 Features
Landing Pages – Aweber tools allow you to create visually stunning, responsive, and effective landing pages to get more online business. Also, you don't have to have a website to put your landing pages there.
Template Library – A large database of pre-built templates are available to quickly make diverse designs for real estate email marketing services. You can craft creative real estate emails to gain more engagement, hence an increase in sales.
Smart Designer – Email template designer lets you make your own templates from given tools. You can customize the AI-powered templates that automatically create well-crafted branded emails in a few seconds only.
Automation – You get this automated email content creation feature where you can broadcast your latest posts from your website to your audience's inbox. You can also assign triggers and flows leading the right messages to the right person at the right time.
Personalized Communications – Using tagging and dynamic content, you can direct campaigns towards the more targeted audience, so they can respond to offers faster and more often.
Segmentation, Targeting, & Subscriber Management: These features provide the same benefit to your organization that is more engagement. You can trim and alter your list more accurately to organize in a way that it makes more sense to you. Also, the categorization and automated tagging help in easy subscriber management.
 Pricing
Pricing for AWeber is available in three different billing cycles and five distinct subscribers range. See the following table :
0-500 Subscribers – For 0-500 subscribers, you have to pay $19 per month, $49 per quarter, or $194 per year with all the premium features.
501-2,500 Subscribers – Paying $29 monthly, $79 quarterly, or $314 yearly gives you a range of up to 2,500 subscribers.
2,501-5,000 subscribers – You can choose to pay $49 per month, $139 per quarter or $554 per year for a 2,501-5,000 subscriber range.
5,001-10,000 subscribers – Pay $69 monthly, $199 per quarter or $794 per year for up to 10,000 subscribers email marketing.
10,000- 25,000 subscribers – If you have more than 10,000 subscribers but up to 25,000, you can go for this plan by paying $149 per month, $439 per year, or $1,754 per year with all the premium features.
More than 25,000 subscribers – If you have a subscriber list of 25,000+, you can contact them for a customized quote.
Conclusion
These real estate email marketing software or services are the best options out there for your real estate business for effective email marketing. After determining what are your requirements, preferences, and budget, you can decide for either of these services to create professional emails, automate, and track your email campaigns. You can also try for their free trials to see what fits your business and works with you and your team.
You May Also Like To Read: