If you are looking for email marketing services for your business then Mailchimp seems to be a perfect option. It had a brilliant reputation and amazing features, which helped the business to launch easy marketing campaigns. Mailchimp was also one of the handfuls of services that offered free and affordable plans forever. But, the pricing of this software is slightly higher and the quality of services declines over time that is why people look for Mailchimp alternatives in the market.
Today, we will talk about 5+ best alternatives that you can select if you are looking for better email marketing services and features than Mailchimp.
Quick Comparison between 5 Best Mailchimp Alternatives 2022
| | | | | |
| --- | --- | --- | --- | --- |
| Service Name | Pricing | Number of  Subscribers | No Of Emails | Multiple SMTP Routing |
| Pabbly Email Marketing | $29/mo | 5,000 | Unlimited | Yes |
| | $25/mo | 40,000 | 40,000 | No |
| Moosend | $10/mo | 2,000 | 21,500 | No |
| HubSpot Email Marketing | $50/mo | 1,000+ | 5x contact tier | Yes |
| | $20.95/mo | 6,000 | 6,000 | No |
"Pabbly Email Marketing does not restrict you on features like unlimited emails, custom fields, subscription forms, external & inbuilt SMTP connection etc., to grow your business."
The first Mailchimp replacement is Pabbly Email Marketing. It is currently one of the best alternatives you can ask for Mailchimp, and they have proved themselves to be very reliable. Brilliant features like Google Analytics integration, auto follow-ups, and email tracking allows you to take care of your email marketing campaign in the best possible way.
Pabbly Email Marketing has a secured and safe SMTP integration and a sophisticated in-built delivery engine. Their cheap and affordable plans offer the best value for money service than most competitors. Pabbly Email Marketing features include a highly automated system and easy-to-use UI that helps to save time and effort.
Features
Drag and Drop Builder – There is no need for you to learn to code to use the Drag and Drop Builder of Pabbly Email marketing. It is effortless to use, and you can personalize your email real quick.
SMTP Integration – The inclusion of the SMTP system makes sure that all emails sent from Pabbly Email marketing. are well secured. That is why they do not end up being in the trash or spam folder of your subscribers.
List Management – The list management feature of Pabbly Email marketing. ensures that you can easily schedule a delivery time. Set a specific time, and the system delivers all the emails automatically.
Email Tracking – One of the most amazing features of Pabbly Email marketing. is its email tracking feature. It allows you to follow up on the emails easily you send and check if your subscribers have it opened or not.
MX Cleaner – You can keep your mailbox clean and clear of all spam emails at all times with the help of the MX Cleaner. No other email marketing service offers such a feature other than Pabbly Email Marketing.
External SMTP – With Pabbly Email marketing, you can now connect your external SMTP services like that of Amazon SES, MailGun, SendGrid, and many others.
2X Open Rate – A fully automated system of Pabbly Email marketing sends follow up emails to your subscribers if they do not open your previously sent emails.
Pricing
Forever Free Plan – In the basic forever free plan, users can send up to 12,000 emails to a maximum of 1100 subscribers at $0/m.
Rookie Plan – You can send emails to 5000 subscribers by paying $29 monthly.
Pro Plan –  Next, the pro plan is priced at $49 per month, allowing the users can send 15,000 emails.
Advance Plan –  As per this plan, the users are allowed to send emails to not more than 50,000 subscribers at $99.
Enterprise Plan – This is one of the top featured plans, and you need to contact the Pabbly team to get more details about it.
2. Sendinblue – Secure Email Service
For those of you who are looking for good Mailchimp alternatives, then Sendinblue Email Marketing can be a great choice. They offer service not only email services but short message service as well. Some of their most popular features include pre-built templates, inbox preview, actionable analytics, With the help of this software, from now, you can create and personalize your emails before easily.
Sendinblue Email Marketing hosts secured servers that send the emails directly to the primary mailbox of your subscribers. In a few clicks, schedule your emails to be sent automatically at any time of the day. So, you don't have to worry about your customers missing out on any generous offers.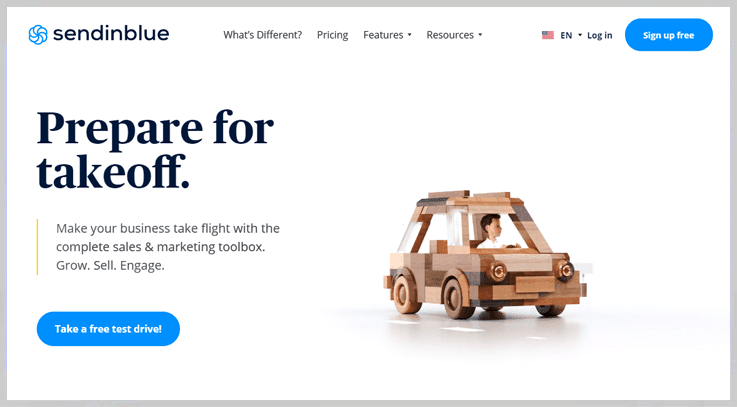 Features
Schedule emails – With the fully automated system of Sendinblue, you can now schedule your emails and send them at any time of the day. Just decide on the time, and the system automatically passes them to the users.
Segment Audience – One of the most useful features of Sendinblue is the segmentation feature. It allows you to create personalized content for a specific group of subscribers. So, you can get the preferred results at the end of the day.
Transition Emails – Every email that you send from Sendinblue, can be personalized from now on using the transition email feature.
In-depth Analytics – Keep track of your campaign and get useful analytics like a heat map, email tracking, with in-depth reports and analysis.
Pricing
Lite Plan – Pay $25 per month, and you can send 40,000 emails. This is the perfect budget-friendly plan.
Essential plan – Under the Essential plan, you can send 60,000 emails by just paying $39 monthly, making it perfect for small to medium-sized businesses.
Premium Plan – Next, we have the Premium plan available for $66, and you can send 120,000 emails every month. It is the most favorite Sendinblue plan.
Enterprise Plan – Easily send more than 350,000 emails every month using the Enterprise Plan. Get the pricing details by contacting Sendinblue support.
3. Moosend – Email Service for Small Business
In the quest for Moosend vs. Mailchimp, we believe that Moosend offers more value for money and essential features than the latter. This email marketing service is more beneficial for those businesses which need to send less than 1000 emails to their subscribers. It is because of their reasonably priced plans, Moosend is much more popular in the market.
The moment you subscribe to Moosend, you will be impressed to see the level of automation it supports. You can carry out different actions without wasting too much time and make way for a faster and successful email campaign.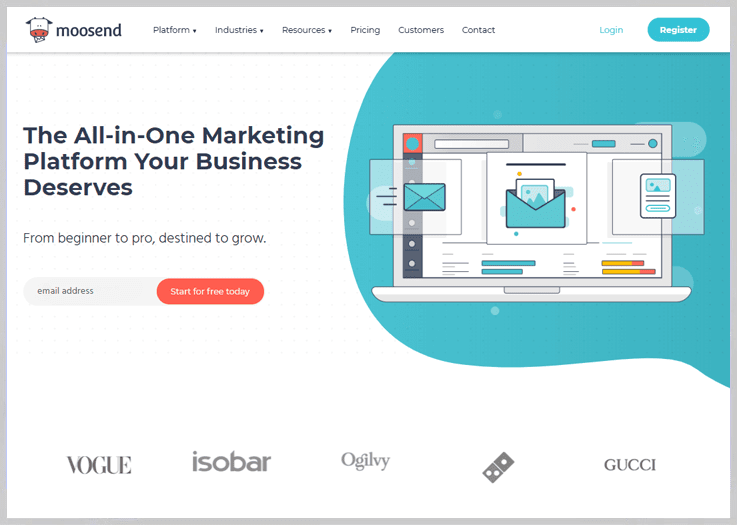 Features
Drag & Drop Email Editor – Easy-to-use and simple Drag and Drop Editor of Moosend helps to edit and personalize every email you send via the platform.
Fast Data Analytics – Establish brilliant strategies and maximize your reach by checking out the data analytics.
Easy Segmentation – Based on the behavior of your audience, you can now separate them and send personalized content to them for better results.
User Reminder – The Moosend system automatically sends a reminder to your customers if they have left anything in the cart after every 24 – 48 hours.
Identify Loyal Users – Identify your loyal customers and send them special thank you emails and rewards with the help of the automated Moosend system.
Product Recommendation – The system can automatically detect the search patterns of your users and send them product recommendations based on their results. Thus, allowing you to increase overall sales and business revenue.
Pricing
Forever Free Plan – Send a maximum of 1000 emails to your subscribers without having to pay anything. It is free of cost
Pro Plan – This plan starts from $10 and can extend up to $390 per month. Depending on the number of subscribers you have from 2000 to 100,000.
Enterprise – For those businesses which have more than 200,000 subscribers, they can opt for the Enterprise Plan. You can get the details about the pricing from the Moosend customer support.
4. HubSpot – All-in-One Email Marketing
Up next is HubSpot, pioneer of the inbound marketing methodology. HubSpot is a growth platform that is a very interesting alternative to Mailchimp as it combines email with the power of a CRM backed with powerful marketing automation and a suite of other marketing tools. When used together, HubSpot's marketing tools enable you to create personalized experiences for your audience.
The drag-and-drop editor allows you to easily design professional-looking emails that match your brand and are optimized for any screen size. If you're low on inspiration, you can choose among a selection of goal-based templates. The data that's stored in your free CRM helps you personalize your emails and improve open and click-through rates. You can also use the free form and popup builder to collect new subscribers.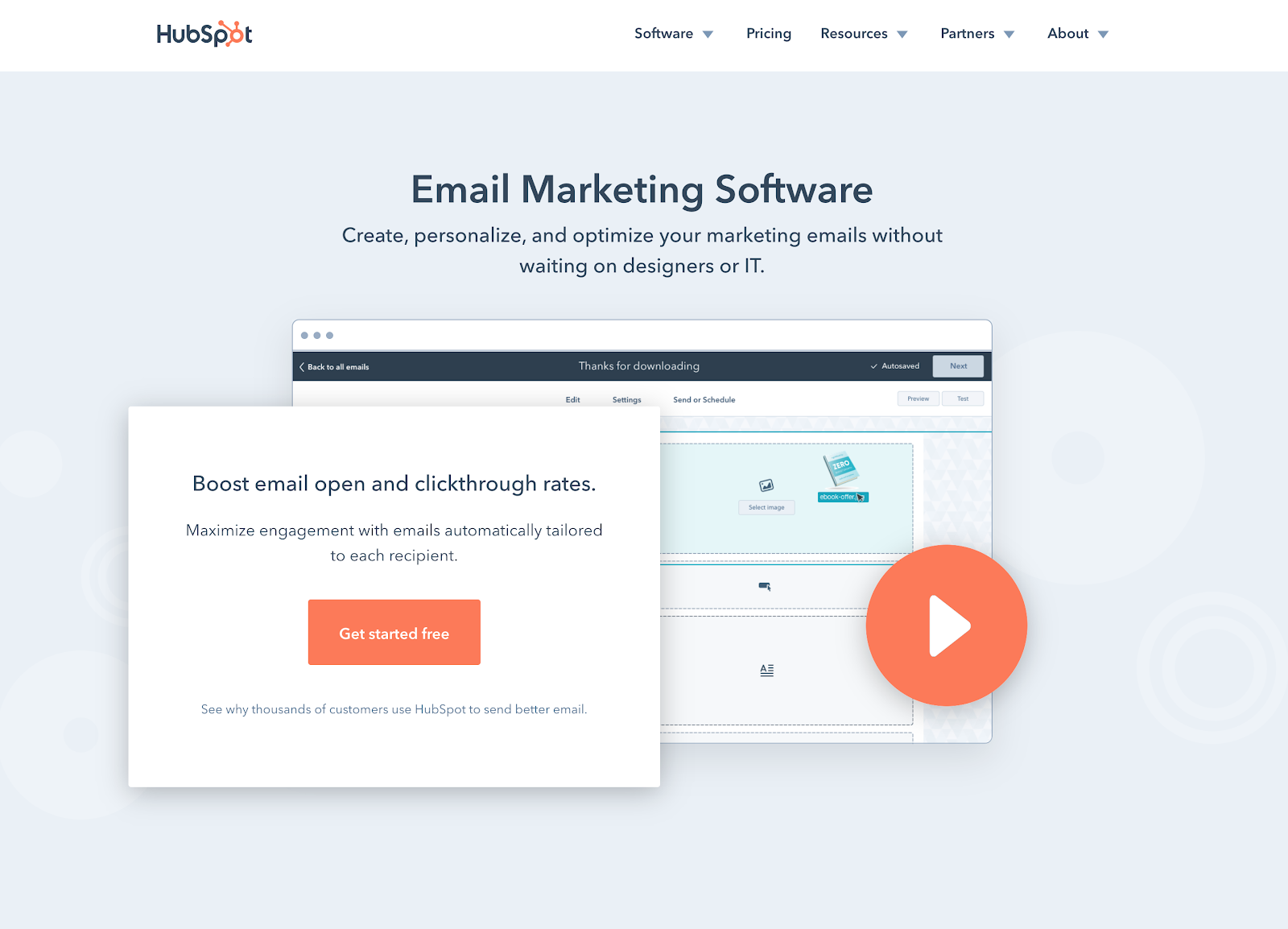 Features
Marketing Automation – Trigger email follow-ups and workflows whenever someone takes an action like if they viewed a certain page or if they downloaded a certain content offer.
Drag and Drop Editor – The drag and drop email builder is easy to use and allows you to create custom email designs that are a true reflection of your brand. You can also choose from a selection of templates that you can tailor as you wish.
Personalization – HubSpot comes with a free CRM that stores all of the data you need to personalize your emails based on your contacts' information and interactions with your business.
Analytics – See how well your emails are performing with a dashboard that keeps track of all your email metrics and presents them through colorful visual charts. There is also an HTML click map that helps you analyze how your recipients interact with your emails.
Pricing
Free – At no cost to you at all, you can send 2,000 emails per month. So, for example, if you have 500 subscribers, you can send them 4 emails each per month. The free plan also comes with a CRM, customizable signup forms and popups, live chat, and more.
Starter – If you want to get more out of your email marketing, you can sign up for the Starter plan, which allows you to send emails up to 5x your contact tier for $50 per month.
Professional – If you're looking for a more advanced marketing platform, you can sign up for the Professional tier and send emails up to 10x your contact tier per month. This plan comes with advanced automation, a/b testing, analytics, and much more for $800 per month.
Enterprise – If you have a large team, you can sign up for the Enterprise tier to give your team access to a complete marketing automation platform for $3,200 per month.
5. Mailjet – SMTP Service Provider
Another excellent alternative for Mailchimp is Mailjet. Often known for its high-quality service and customer support, Mailjet ensures that your marketing strategy stays at the top at all times. It can easily automate the task of reaching out to your subscribers and collect relevant data regarding their preferences, behavior. It helps to create more personalized content.
The clean dashboard, easy to navigate the menu, and the simple editor makes it easier for you to set up email marketing campaigns than ever before. Mailjet even comes with a very cool collaboration feature which is not present in any of the other email marketing services in this list.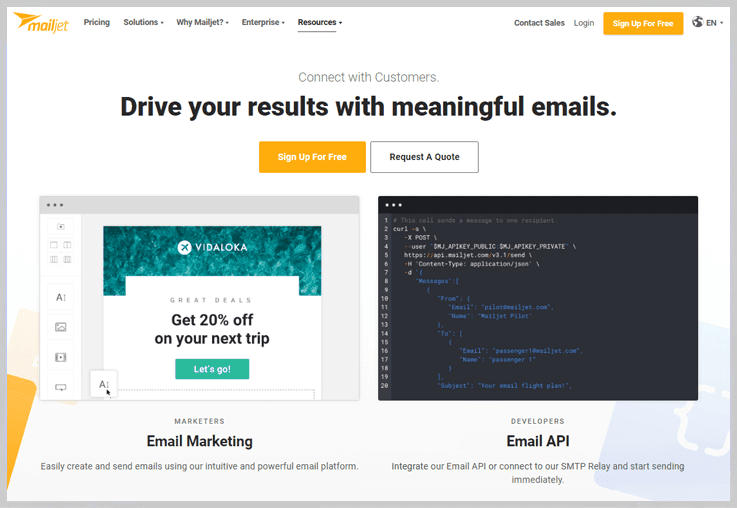 Features
Transactional Email – this is a powerful feature for marketers and developers. If you want your customers to receive all the important notifications, then you can use this feature to send text messages in 50+ countries around the world.
Data Collection – the automated system of Mailjet collects vital data that are related to the customer's interests, behavior, and preferences. It helps to segment the audience based on the overall data that have been collected.
Subscription Forms – the subscription forms of Mailjet allows you to expand your reach and grow your contact list. Create attractive forms and integrate them to emails you send to the people.
Collaborate – the collaboration feature available in Mailjet is unique. Work with your team members and other professionals in real-time to save time and become more productive. You can define and secure your brand style by accessing different template sections.
Email Template Gallery – Mailjet features a diverse email template gallery. You can use the intuitive drag and drop editor for designing emails, personalizing them, and send them out to the people.
Pricing
Forever Free – By opting forever free without any additional costs, you can send a maximum of 200 emails per day.
Basic Plan – If you see, in Mailjet Email Marketing the basic plan ranges from $9.65 to $333.95. Depending on plan chosen one can send emails from 30,000 to 900,000
Premium Plan – Similarly, one can also opt for a premium plan in varied ranges starting from $20.95 to $398..95. The email ranges are as per the basic plan only which starts at 30,000 and can send up to 900,000.
Enterprise Plan – if you want to send more than 900,000 emails every month, then you need to opt for the Enterprise plan and contact the customer support.
On our list of the best Mailchimp alternatives, we now have Constant Contact email marketing. It is handy and easy to use, especially for beginners, thanks to its mobile-optimized templates and the brilliantly designed Drag-and-Drop Editor. You can easily send emails to all your business contacts and subscribers from all industries. Emails sent from Constant Contact are checked 98.4% times, and that tells you a lot about why they are popular.
Features
Email Marketing Automation – One of the best features of this service, you can now greet brand new customers with a welcome email. You can choose to send default emails to non-openers, segment all the contacts automatically, and also trigger different email series depending on where your customers click and search for.
Drag and Drop Editor – without the need to learn anything about coding or advanced HTML development. You can create and personalize emails to be sent to your subscribers. The intuitive Drag and Drop Editor makes that possible.
Contact Management – this feature allows you to import your contacts from different platforms like Excel, Outlook. You can also keep track of all the unsubscribes, bounces, and inactive emails regularly.
Real-Time Tracking – the real-time tracking feature helps you to stay updated with relevant data. Hence, you can make the necessary changes in the next campaign and be more successful.
Pricing
Email Plan – this plan starts at $20 per month with unlimited emails and ample storage for your data and critical files.
Email Plus Plan – this plan starts at $45 per month, and you get much better and enhanced features than the simple Email Plan, which we mentioned above.
Lite Plan – as per this plan, you are eligible to send not more than 10,000 emails every month at $5 per month. The features offered with this are fundamental.
Conclusion
We hope that this list of the best alternatives for Mailchimp will help you choose the right email marketing service in 2022. Make sure to read all the features and pricing that we have discussed and only after close comparison, do you select the right email service provider.
You May Also Like To Read: