Subscriptions are an integral part of the business. Undoubtedly, it serves as the base of your business and thus, increases the overall profitability. As a matter of fact, managing these subscriptions is not an easy task. Especially for the growing businesses where the number of subscribers is increasing day-by-day. At this juncture, subscription software comes into play. A reliable invoicing software eases the overall process of recurring and one-time billing. It offers a robust and secure environment for revenue generation. Also, it saves a lot of time which would otherwise waste in managing the subscriptions manually.
When it comes to selecting the best subscription management software, many business owners get confused among thousands of available options. However, not all the tools are worth investing in. The best subscription model is the one which provides you with proper control over the revenue cycle and enhances the scalability of the business.
Having said that, we have narrowed down some of the best subscription billing tools to help you select the most suitable one. So, without wasting much time, let's begin!
Comparison Between The Most Popular Subscription Tools 
"This recurring billing software offers its users to collect unlimited revenue from unlimited subscribers without any transaction fee. It also comes with an affiliate management module."
If you're searching for a subscription business model that provides you with the complete billing solutions without going heavy on your pockets,  Pabbly Subscription Billing Software is for you. It is by far the best subscription tool at the present. The biggest advantage of this software is, it doesn't restrict you from using any feature. It allows you to collect unlimited payment from unlimited subscribers. Also, it comes at zero transaction fee and no hidden charges.
Basically, it offers all the unlimited features even in the super affordable base plan.
By using this software, you can add unlimited new customers without having to worry about the extra charges. By using its affiliate management tools, you can start your own referral program and maximize your profit. Not only this, but you can also integrate other platforms by using its integration feature.
This software is an all-round solution for overall subscription management. Its outstanding features make it stand out among the other tools. Currently, over 1000 companies are fully dependent on this software for their payment processing. This service is highly recommended by many successful businesses.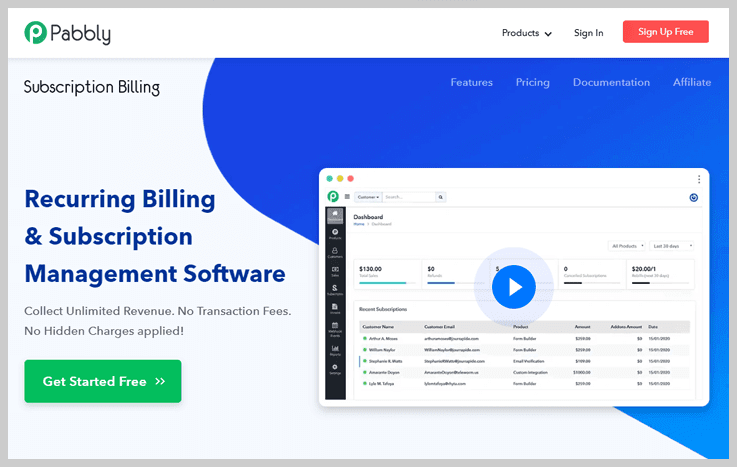 Features
Affiliate Management – This is a promising feature of this software. It allows you to increase your profit by starting your own referral program. It helps you to smoothly run your subscription billing along with affiliate management.
Customer Portal – Next, a customer portal facilitates your clients to manage their subscriptions in a fuss-free way. It allows them to track and monitor their payments. This portal is extremely mobile-friendly, your customers can use it anywhere, anytime.
Sales Analytics – Monitoring the sales of your services/products can be a hectic process. But not with this software, its sales analytics feature helps you to monitor your sales and invoicing system in a much easier way.
Dunning/Auto Retry – To save you from the inconvenience caused by failed transactions, this software comes with robust dunning management that helps you to recover the transactions at the earliest.
Refund – This feature is very crucial from a customer's point of view. It helps them to get their refund in case of cancellation of the services. Thereby, it helps you to gain the trust of your customers.
Webhook  –  This is an important feature mainly used for integration. By using webhooks you can collect your subscriber's data and use it on other third-party apps.
Multi- Plan Checkout Pages – This feature allows to create a single checkout page with multiple plans. Hence, it allows your customers to choose from a number of options and complete the checkout.
Tax – This software comes with an automated tax management system. Using this feature, you can collect additional taxes from your customers. You can set the tax percentage according to the state and country of your customers. Further, it also offers other options like Tax ID collection and reversal fee.
Pricing
Starter –  To begin with, it is the cheapest base plan which costs only  $19/month and allows you to send bills for up to 50 customers. Moreover, you can get this plan for just $9/month if you buy the annual subscription.
Rookie- Next, this plan allows you to send bills for up to 100 subscribers at a cost of $37/month. Further, it costs only $17 with the annual subscription.
Pro- Here comes the most popular plan. It is most suitable for growing businesses. It comes with a price of $57/month and allows you to receive payment from 150 customers. At an annual subscription, it costs only $20.
Advanced- Finally, the plan for large firms and industries. It is priced at $79/month and allows you to invoice up to 250 clients. Also, the annual subscription will cost you only $37/month.
2. FastSpring – Auto-Billing Software
The next top auto-billing software is FastSpring. It is a robust and secure tool that comes with numerous advanced features that can help you to manage your subscriptions effectively. It is perfect for small business owners who have a limited budget. With this software, you can manage a one-time as well as recurring billing in a better way. It is specially designed for E-Commerce websites that make sales in digital products. With this tool, you get benefits of CRM, dunning system etc. Moreover, you can collect revenue in multiple currencies.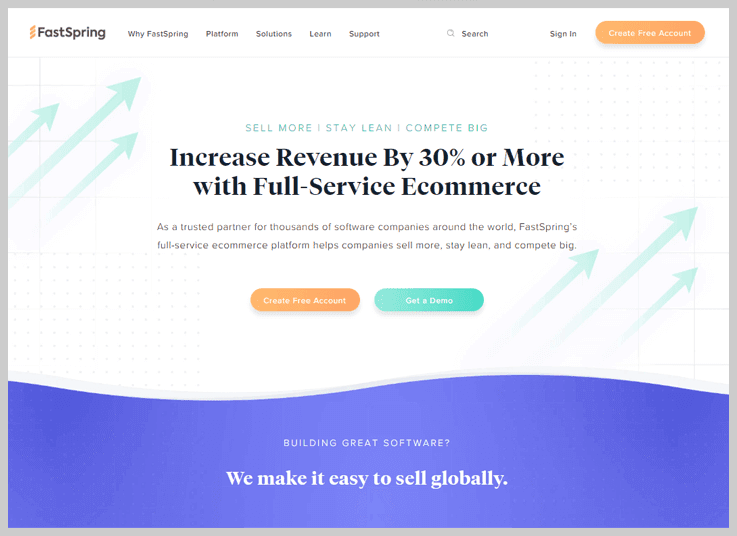 Features
CRM – This software comes with the CRM approach by which you can analyze the needs of your customers and improve your business relationships with them.
Dunning Management- Failed transactions create a lot of inconvenience to the business owners as well as the customer. With effective dunning management, this software helps in preventing all the possible payment failures.
Multiple Currencies – By integrating different payment gateways, you can receive payments in multiple currencies.
Mobile Payments – Due to its mobile-friendly design, it helps your customers to use their cell phones to make payments from anywhere and at any time.
Multi-store Management – This software allows you to manage multiple stores under one platform. Hence, making the billing process very convenient for multiple services from the same platform.
Pricing
To know the pricing structure of FastSpring you can get a quote by directly contacting the company.
3. Subbly – SubscriptionTool
Subbly is another powerful subscription management tool. It comes with a complete content management system (CMS) by which you can manage all your website and pages. It offers many discounts on promotions that may help you to gain new subscribers. The best part is, you can directly embed Subbly on your existing website and start selling your services seamlessly. Further, It helps you in understanding the needs of your customers and thereby improving your business strategies.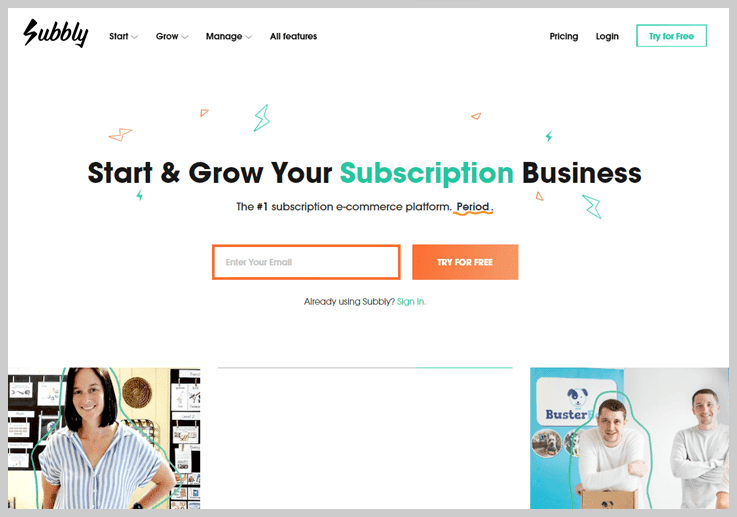 Features
Accept Credit, Debit Cards – Subbly allows you to accept payments through a number of credit and debit cards.
Analytics – By using this feature, you can monitor the number of visitors, the sales and overall subscription process efficiently.
SSL Encryption – This software comes with strong SSL encryption which makes sure you're PCI compliant and your subscribers are under a safe system.
Mobile Responsive- The software also offers a highly responsive mobile design. Thereby, it helps your customers to install the application and manage their subscriptions and payments.
Website Builder and Themes – By using these features you can either build your own website or enhance your existing one by applying beautiful themes.
Pricing
Checkout Only – This is the base plan which is priced at $19/month and comes with 1% transaction fee.
Website+Checkout – Last but not least, this is the higher plan that comes at $39/month.
Subbly also offers custom plans for large enterprises. You can avail it by contacting the company.
4. PayWhirl – Popular Subscription Software
PayWhirl is very easy to set up and secure recurring software. You can receive a one-time as well as recurring payments very easily with this tool. Best of all, you don't need to be a technical expert to set-up and use this billing tool. You can seamlessly use it to generate revenue in multiple currencies. Moreover, it allows you to embed the widgets directly into your website and start collecting the payments right away.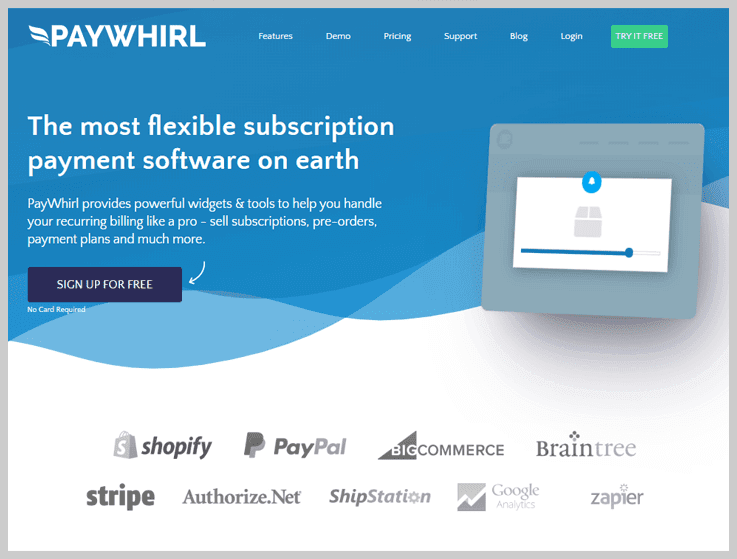 Features
Credit, Debit, Ach – PayWhirl allows your customers to pay using a number of credit and debit cards. They can also link their bank accounts and send the e-checks directly.
Recurring Billing & Subscriptions – Foremost, it allows you to manage your subscription-based services smoothly. You can collect one-time and recurring payments seamlessly.
Embedded Payment Widgets & Checkout – This software allows you to directly incorporate the payment widgets into your website and start receiving the payment without unnecessary coding and web designing.
Customization – With this software, you get the proper control of the subscription model and you can customize it the way you like in order to enhance your brand.
Customizable Emails & Invoices – You can send custom bills and personalized emails to your customers and build stronger relationships with them.
Pricing
Starter – Firstly, it is the free plan and comes with a  transaction fee of 3.0% per transaction.
Business Pro – Next, it is priced at $49 and includes 2.0% of the transaction fee.
Business Plus – Further, this is the best plan for growing industries. It comes at a cost of $149 along with a transaction fee of 1.0% per transaction.
Business Ultimate – Finally, the last plan. It costs only $249 and comes with 0.5% of the transaction fee per transaction.
Finally, we have Chargebee which is a powerful and fully customizable billing platform. Its best features include more than 30 popular payment gateway integration including PayPal, Stripe, Braintree. It also allows users to fully automate the revenue collection.
Using this software, you will be able to understand your subscription process better by using real-time analytics functionality. It allows you to add unlimited users and manage them efficiently by assigning role-based access to your accounting teams.
Moreover, it has powerful integrations with Shopify, ByPercent, Mailchimp, Google Analytics and Zapier.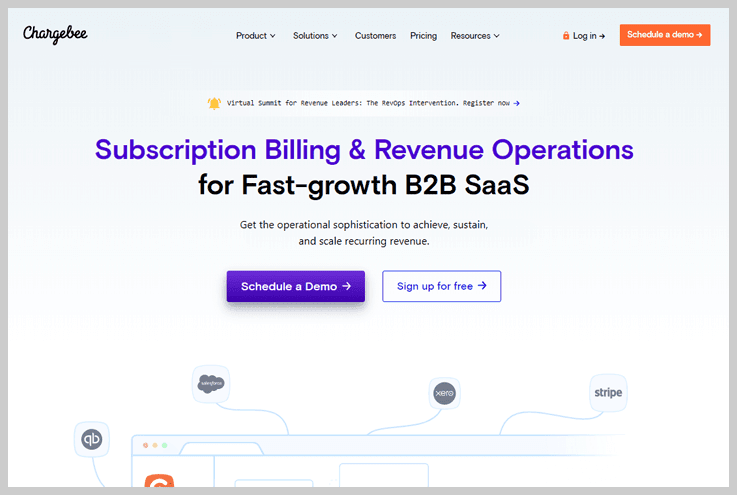 Features
Automated Invoicing –  This software makes invoicing a lot easier by sending automated bills to the customers.
Customer Portal – Through a customer portal, your subscribers can manage their payments and subscriptions easily.
CRM, Accounting Integration – The CRM approach helps you to build stronger relationships with your customers by understanding their requirements.
Multi-Currency Support – This software comes with the support of multiple payment gateways by using which you can collect payments in multiple currencies.
Multiple Webhooks – By using these webhooks, you can collect your subscribers' data and use it on your other third-party applications.
Automated Email Notifications –  This feature helps by sending automated emails notifications to your client regarding the subscriptions and their payment status.
Pricing
Chargebee offers three main plans and also offers custom plans for businesses with huge demands.
Go – This is a starter plan which is priced at $99/month.
Rise – It is the second plan which comes at  $299/month. It allows you to collect up to $50k/month. Further, It adds 0.6% overage revenue on exceeding the limits.
Scale – Next and last plan comes at  $599/month which allows you to collect up to $75k/month. It adds 0.9% overage revenue on exceeding the limits.
Enterprise – You can create your own plans depending upon your higher demands and business needs.
Conclusion
The advantages of subscription management tools are endless!
Basically, the right tool can make a world of difference in your business. It helps you to fully automate the billing process and increase your sales. All the services listed here are the most popular auto-billing software which is trusted by many businesses. You can select any one depending upon your requirements.
So, what are you waiting for? Choose the right accounting tool and maximize your profit!
You May Also Like To Read: