Art in itself is an expression, which cannot be contained at any cost. Despite having said that, the fact of the matter remains that there aren't too many platforms out there that allow you to display your talent to the world. The themes that we are going to uncover via this post, are definitely high functional which is why we're bringing them to you.
WordPress is the ideal platform to showcase the best of your abilities as this requires no formal training, no prior learning, and no prior background. Anyone can use WordPress to bring forth their business.
With the WordPress themes we've brought here, you can essentially create a platform that will help in launching your business. Not just that, you are bound to increase the traffic to your site. Before you proceed to look elsewhere for outlets to start your business, begin with these themes. Rest assured, your search will end here.
You might also like –
Here are some of the best painting WordPress themes.
---
TruePrinting – Wall Painting WordPress Theme
Wall paintings make quite the decor for homes, offices, and corridors. If you're looking to create an online presence for yourself wherein you can showcase your wall paintings, then try the TruePrinting WordPress theme. It is a creative solution for designers, wall artists, and architects. With this theme, you can get a lot of views which will equate to customers in the long run.
Here comes a fully responsive template which allows your clients to access your website from their phones, laptops, and smartphones. The theme is integrated with a WooCommerce plugin which can be used to sell wall paintings. The product listing feature helps to create awareness about the products you deal with.
---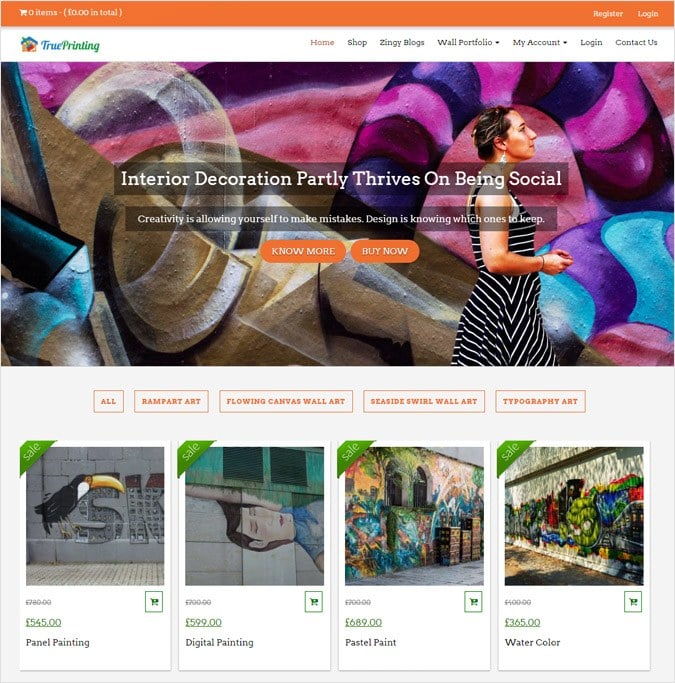 ---
Eye-catching Features Of TruePrinting WordPress Template
The theme comes with the PayPal gateway which ensures secure payments.

Shopping is made easy with the help of an addition to the cart system, making it more convenient for your shoppers.

You can share painting ideas and other such information with the help of the blog section.
---
FaceArt – Face Painting WordPress Theme
Face painting is a less exposed art that cannot be mastered by just about anyone. This is a skill that entails talent, patience and relentless hard work. Professional face painters often find themselves on the lower end of the visibility radar. This is exactly the driving force behind the FaceArt WordPress theme.  
It has all the features that are required to make a spectacular WordPress theme for your creative business. With this template, you can make your clients aware of new painting offers. You can collect visitors' information with the help of the backend panel, send them offers whenever you like.
---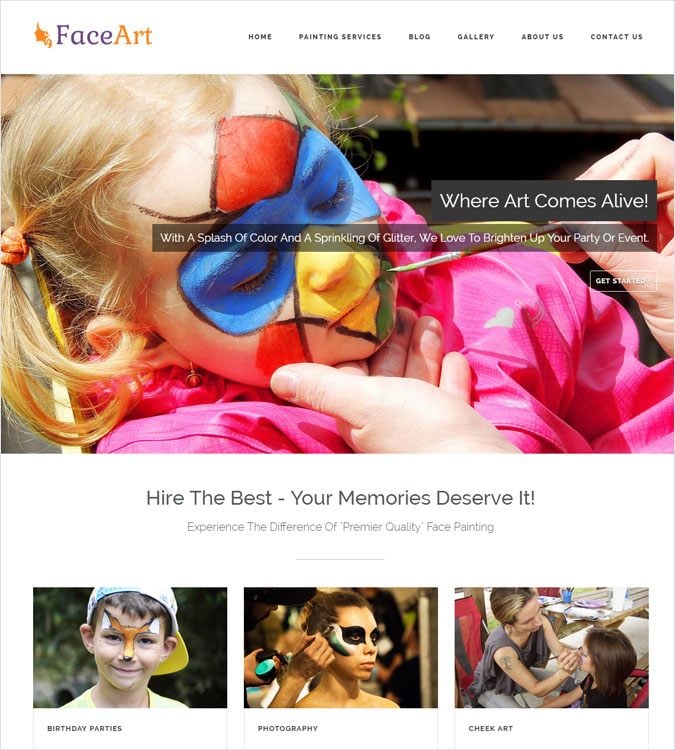 ---
Unique Features Of Face Painting WordPress Template
You can add stunning face painting images with the help of the full-width slider section. Up to six images can be added with automatic sliding animation.

There are feature sections using which you can showcase your unlimited services.

Customer reviews can be used to establish a foundation of trust amongst your users.

Videos can also be featured on the homepage so as to attract new customers.
---
Painter – The WordPress Painter Theme
The painter WordPress theme was developed with the sole intention of convincing prospective clients that you are an ideal painter. The theme is highly customizable, allowing administrators to pick the images, background, and choice of color for the theme. If you want to make a business for yourself that you can not only be a part of but also sustain, then this is the theme for you.
The header section is an ideal representation of your work and is the first thing that clients will notice. From uploading attractive images with the help of the backend panel to presenting a large number of texts, it allows just about anything.
---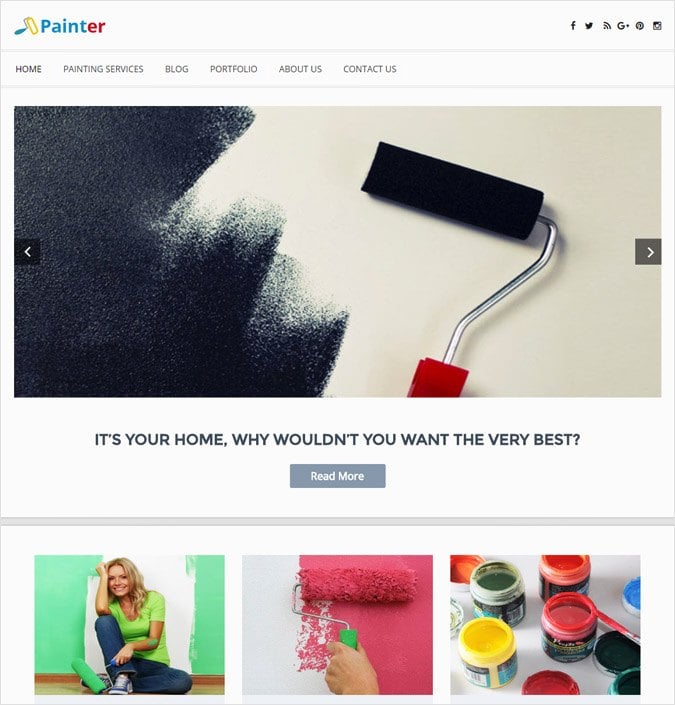 ---
Magnificent Features Of The Painter WordPress Template
Display your services on the homepage so as to get more business.

A call to action button helps to convert website traffic into a beneficial business.

The theme also comes with a gallery section with which you can upload images of your recent work so as to make an impression on the client.

The built-in contact form allows the visitors to leave their thoughts and opinions with you.

What's more, you can show off everything your customer has to say about you with the help of the testimonial section.
---
PowderPaint – Powder Coating WordPress Theme
Powder coating is becoming a popular method to paint surfaces. If you are someone who is looking to popularize your powder coating business, then the PowderPaint WordPress theme is exactly what you need. The theme is custom made for paint manufacturing companies, construction companies, renovation workers, professional painters and paint manufacturing companies. 
The theme comes with a boxed slider where all your coating colors can be displayed. The variety of choice that you offer to potential customers can be displayed in its entirety. There is also a three-column feature which helps you to share useful information pertaining to your area of expertise.
---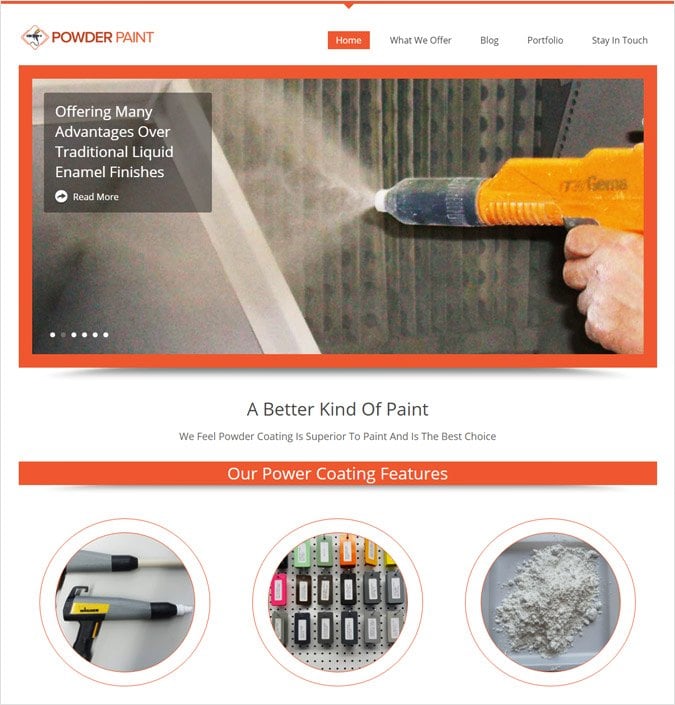 ---
Brilliant Features Of The PowderPaint WordPress Template
The presence of a three-column blog area allows for the display of descriptive content, including the likes of your latest blogs, posts, and articles.

A testimonial section helps provide feedback about your services to your potential clients. This is a highly customizable area which can be bent in accordance with the requirements of customers.

You can get in touch with your customers with the help of the contact page. The customer is required to fill their basic information so you can contact them in the near future.
---
EcoPainting – Painting Company WordPress Theme
Painting production companies no longer need to look for an outlet to reflect their talent, because, with the EcoPainting WordPress theme, you can do all this and more. Just about anyone in the painting biz, including contractors, interior, and exterior designers, can make use of this theme. 
With the perfect set of features that this template comes with, you can offer your services in a professional and elaborated manner. With colors that soothe your mind, the framework is ideal to showcase every ounce of talent that you possess. 
---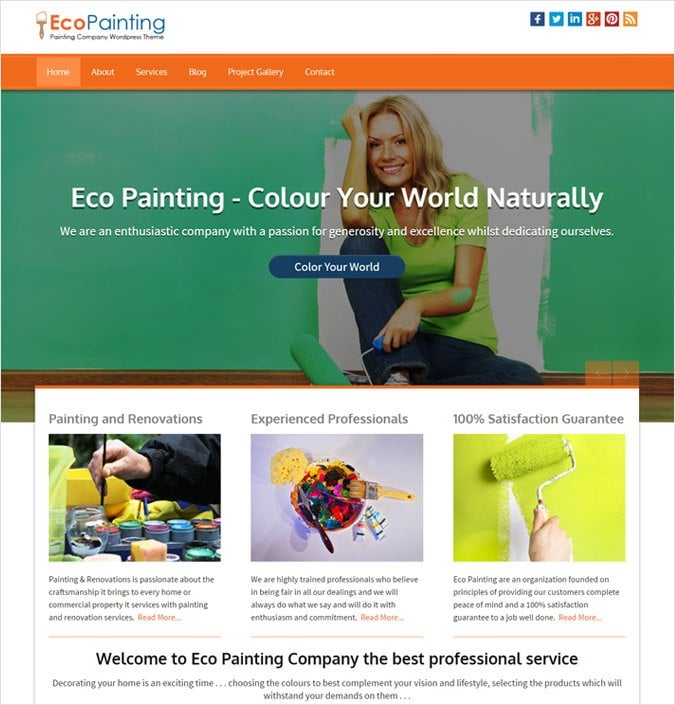 ---
Amazing Features Of The EcoPainting WordPress Template
With the help of the beautiful slider, you can present your talent in a glorified manner.

The three-column area allows you to feature the best of your services to potential clients.

With the contact form, you can directly contact your clients, sending them updates whenever you deem fit.

What makes the theme better is the fact that it is highly responsive, compatible with all kinds of browsers and devices.
---
AirBrush – Custom Airbrushing WordPress Theme
The AirBrush WordPress theme transcends a magical journey shooting your business onwards and beyond. The theme is an ideal platform for airbrushing businesses which allow you to feature all your services including automobile airbrushing, graffiti, street art and automobile airbrushing.
This theme is highly responsive and is ideal for airbrushing companies, car remodeling businesses, wall painters and art creative centers. You are given the liberty to add the best images of your work, right at the top so as to create a foundation for yourself.  
---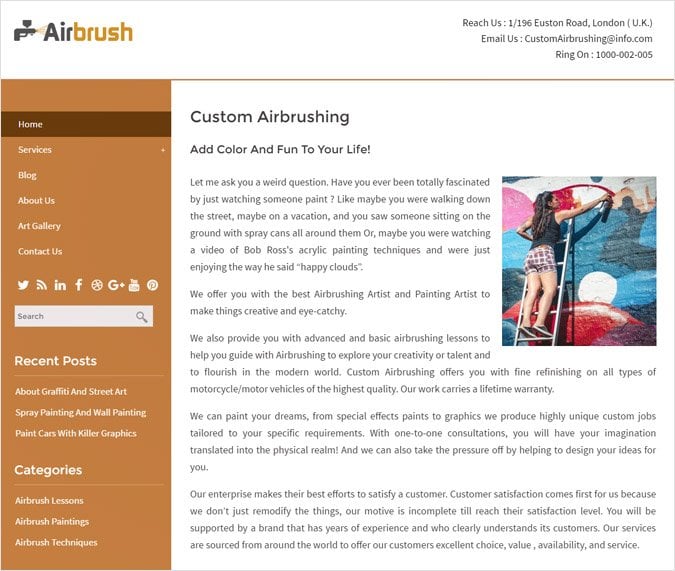 ---
Striking Features Of AirBrush WordPress Template
The impressive one-page content allows for the promotion of your website.

Contact details of your company can be featured right at the top so it's easier to reach out to you.

Social platforms' links can be also displayed so as to widen your bandwidth.

The blog section allows you to feature the best of your tricks and hacks to the public.
---
CanvasColor – Art Portfolio WordPress Theme
The CanvasColor WordPress theme has been doing the rounds of late. It happens to be a great platform for creative artists to showcase their innate talents. Photography & art can be showcased via this theme because of its 100% fluid layout & cross-browser compatibility.
The template is used for creating a breathtaking portfolio website, engaging your customers from the start to the end. The art commenting blog deserves mention, as it allows you to start off blogs covering a wider range of topics.
---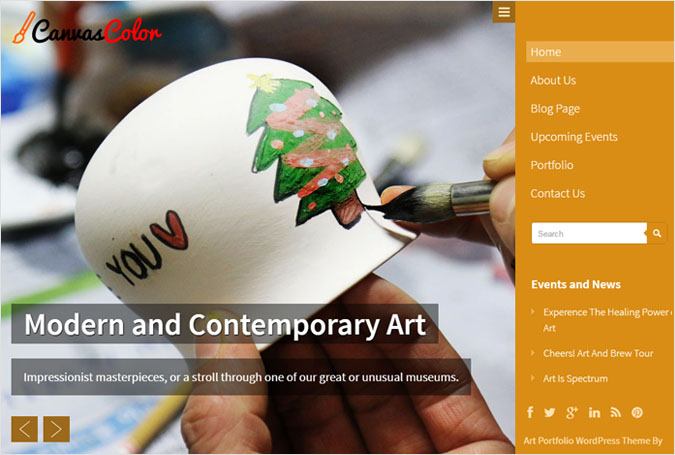 ---
Prime Features Of The CanvasColor WordPress Template
The gallery puts forth your artwork on display. You can categorize your images in accordance with your choice.  

You can create a buzz about your upcoming events so as to promote your upcoming events.

The theme is adaptive and responsive, making it all the things easier for you.
---
CementWash – Cement Painting Service WordPress Theme
The CementWash WordPress theme is an engaging one, due to the presence of the back end panel. Your customer is allowed to explore the variety of services that you have to offer. The theme targets painting companies, construction industries, renovation firms and other remodeling contractors.
The high-resolution images are eye-catching, and the presence of the full coverage slider with a heading and description makes the theme all the more worthwhile. There is a three-column feature area with which you can highlight all your work, engaging customers in the process.
---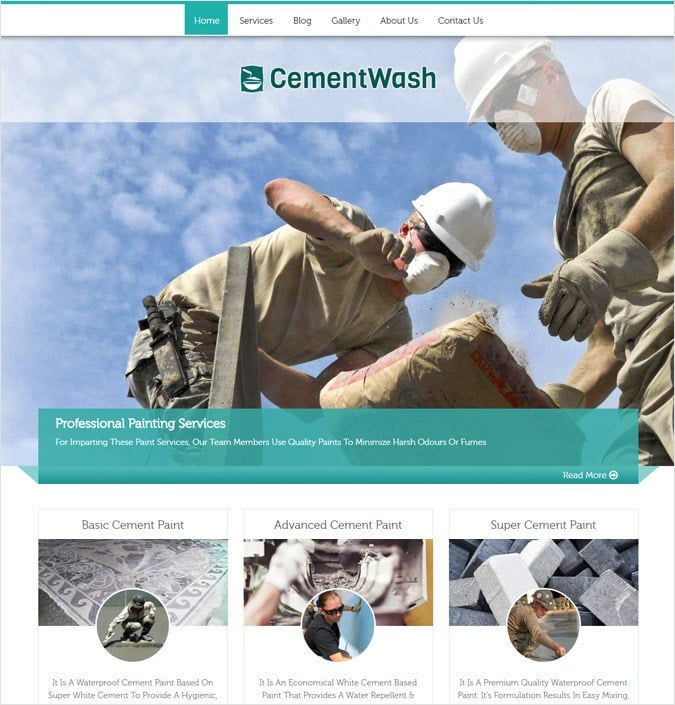 ---
Highlighting Features Of The CementWash WordPress Template
The theme comes with a painting gallery that puts the gist of your services.

The illustrative blogs give users more than they bargained for, providing useful tips and hacks.

The tab area of this template allows you to effectively promote your work with suitable captions.
---
Conclusion
Grab the best one from above-assembled themes to get your business skyrocketing. They are simple to use and are bound to increase the traffic to your site. Get going right away with other best WordPress themes which can be suitable for your business.