Email marketing is an integral part of digital marketing, and popular email marketing tools like Aweber have been popular among professionals for a long time. However, as customers are becoming smarter and more demanding these days, more sophisticated tools are needed. For this, you should do some market research about the best Aweber alternatives out there.
These email marketing software options help you grow your contact list and create highly personalized campaigns for your audiences. They also help you establish a lasting relationship with your customers and capture leads, later converting them into sales.
Comparison Chart of the 5 Best Aweber Alternatives 2020
You will be presented with many options while searching for the top Aweber Alternatives. Some of these products may be cheap, but they may not have a key feature your marketing campaign needs. So, you should study all the features and pricing plans for the products and compare them. To help you out, we have presented a list of the top products including their features and pricing plans.
"Unlike some of the other products flooding the market, Pabbly Email Marketing places no restrictions on its users. All of the features are available with every plan, and you can always send unlimited emails with this software."
Pabbly Email Marketing is one of the best Aweber alternatives as it charges nothing extra for its services and provides you with a 99% delivery rate for your emails. Pabby is the cheapest and most efficient solution to your email marketing needs. The special feature of this software is the built-in SMTP service which saves you the hassle of a complicated set-up. Even with the basic plan, you can get features like Google Analytics integration, auto-response, and email tracking.
Features
SMTP Routing –  This feature allows you to connect with other SMTPs and send your campaigns through multiple SMTP servers.
Automation –  Segments your contact list using automation and sends emails to a segmented list of individuals using pre-programmed triggers.
List Cleaning – This feature allows you to get rid of spam mails and invalid addresses to keep your inbox clean.
Better Lead Capture – Pabbly Email Marketing has attractive signup forms that are sure to catch the eye of the audience, resulting in better lead capture.
Email Tracking – This feature lets you monitor and track your email performance in terms of clicks and opens, and modify your campaign accordingly.
Pricing
Forever Free – You can send 12000 emails each month to as many as 1100 subscribers without spending a single dollar.
Rookie – By spending just $29, you can send unlimited emails to 5000 subscribers.
Pro –  Send unlimited emails to 15,000 subscribers, just by spending $49 per month.
Advance – This bulk email plan costs just $99, and lets you send unlimited emails to 50,000 subscribers.
Enterprise – You can select any number of subscribers with this plan, and receive custom pricing info for the same. To know more about this plan, you should get in touch with the service team.
If you feel that Aweber pricing is too high, you can always go for Sendinblue. Its plans are highly affordable, with attractive features. This email marketing service helps your business grow through email campaigns, marketing automation, transactional emails, retargeting ads, CRM tools, and much more. The features of this software are designed for user satisfaction, and the customer service team is always ready to help you out.
Features
CRM Tool – The Customer Relationship Management tool lets you upload your contact details and helps you maintain a relationship with your audience.
Automated Segmentation – This feature allows you to save time by automatically segmenting your audience based on their behavior, demographics, etc.  
Triggered Mailing – You can program emails to be sent out based on an event, or at a specific time.
Analytics – You can always improve on your campaigns based on real-time statistics like clicks, subscribes, unsubscribes, etc.
Newsletters – Keep your audience engaged with newsletters containing relevant content.It enhances audience engagement and allows your audience base to grow through the sharing of your content on social media.
Pricing
Free – This plan lets you send 300 emails each day for free.
 Lite – This is a basic plan that lets you send 40,000 emails by spending $25 per month.
Essential – Get access to advanced features and send 60,000 emails per month by spending just $39.
Premium – This $66 plan lets you send 1,20,000 emails every month.
Enterprise – You need to get in touch with the service team to know more about this custom plan with custom features.
GetResponse is a versatile online marketing platform that helps you expand your business. It has a sophisticated suite of campaign management and email marketing tools, which you can use to increase your audience count, get maximum return on investment, enhance your sales, etc. With its simple interface and attractive features, GetResponse certainly is among the top Aweber Alternatives in the market currently.
Features
Automated Blog Digest – Enhances your website's popularity by sharing posts on social media and via email.
Autoresponders – You never lose key subscribers through automated follow up emails that are sent to them in case of any failure of error.
Marketing Automation – This feature allows the software to take action based on user behavior. It also applies tags to customers based on certain factors and places them in segments for enhanced personalization.
Autofunnel – This automated sales-funnel tool allows you to build customized landing pages for your audience, convert leads, send automated email messages, and much more.
Webinars – Easy to setup webinar software allows for enhanced audience engagement by sharing files, videos, having discussions, gathering reviews, etc.
Pricing
Basic – This basic plan costs $15 per month and allows you to send emails to 1000 contacts.
Plus – This is a popular plan with more features which allows you to send email to 1000 contacts at $49 per month.
Professional – This $99 per month plan provides you with unlimited sales and webinar funnels.
Enterprise – This is a custom plan with custom pricing for sending emails to more than 100,000 followers.
If you're looking to get more out of your email marketing tool than a simple autoresponder, HubSpot is a good alternative to Aweber to consider. On top of basic email marketing functionality, HubSpot is an all-in-one platform that makes use of its powerful CRM and marketing automation to help you grow your business.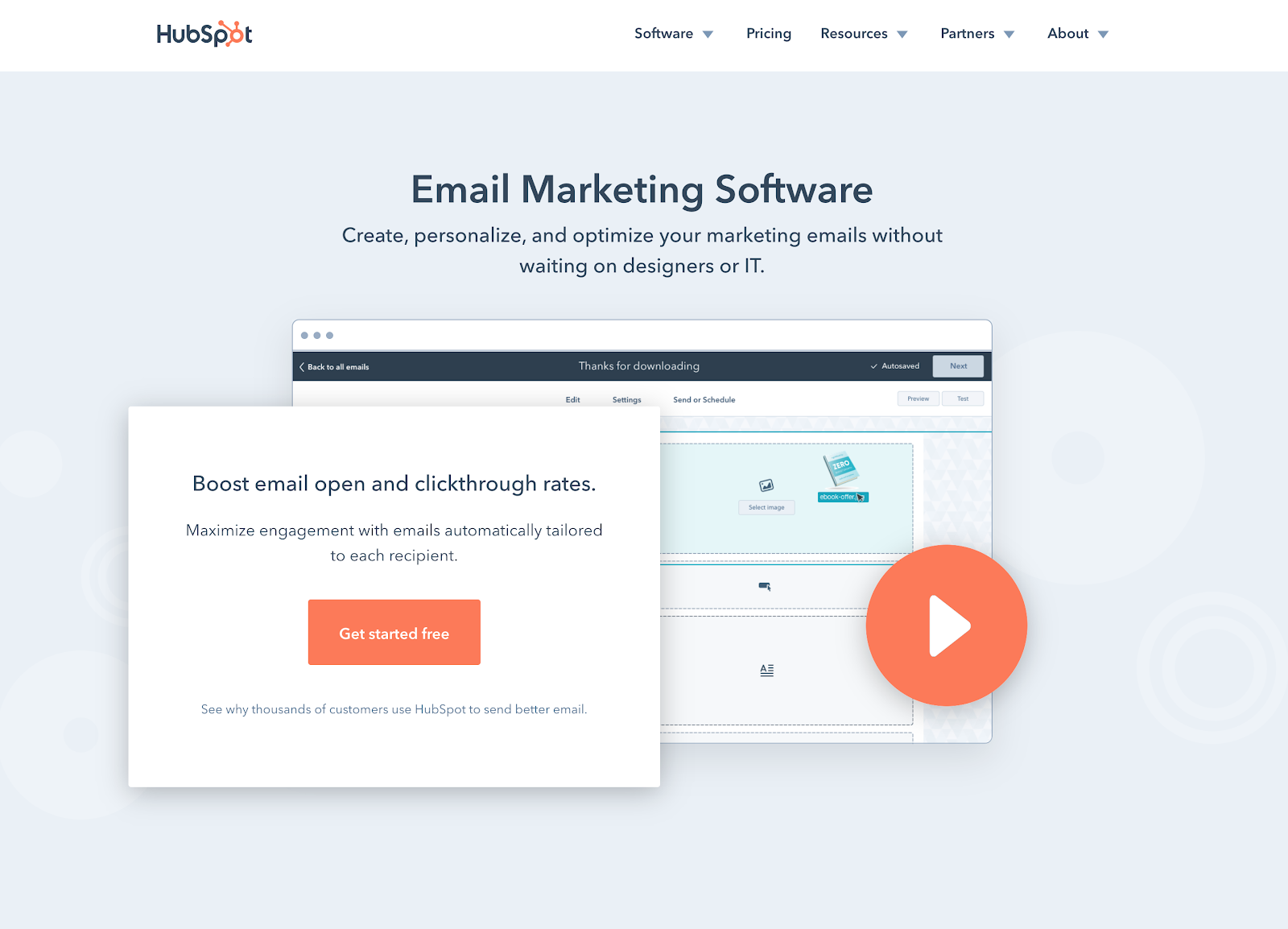 Features
CRM – HubSpot's CRM not only collects all of your contacts' information, but it also logs all the activities your contacts engage in with your company so that you can use this information when personalizing your emails.
Email Marketing Automation – Set up customizable autoresponders and automation workflows to continuously engage and nurture your email subscribers.
A/B testing – HubSpot helps you optimize your email campaigns with many in-app tips and smart A/B tests that will automatically detect the best performing variation.
Analytics and Reports – Measure your emails' performance with colorful charts and click maps that track the most important email metrics. You can also create your own dashboards to easily keep an eye on all metrics that matter most to you.
Personalization – The CRM collects and stores all of your contacts' data and interactions with your business, allowing you to personalize all of your emails and build relationships with your subscribers.
Pricing
Free – HubSpot's free plan allows you to send up to 2,000 emails per month and comes with a free CRM, form builder, live chat, and more.
Starter – For $50 per month, you can send emails up to 5x your contact tier, remove the HubSpot branding, and higher limits on the free tools.
Professional – Send emails up to 10x your contact tier and make use of advanced marketing automation and a/b testing for $800 per month. This plan also comes with many of HubSpot's other marketing tools like CTAs and SEO content strategy.
Enterprise – If you're a large company that needs a complete marketing platform, you can get advanced email marketing and automation features for $3,200 per month.
The Interspire software is specially built for marketing automation, providing the sales team with better leads as a result. This is a self-hosted software that can be installed on your server. This software can be included in the list of best Aweber alternatives because it is easy to set up and you can automate your marketing campaign with it.  It also has a 24/7 support team for any issues you might face.
Features
Autoresponders – Lets you send personalized messages to your audiences and predefined intervals.
Split Testing – This feature allows you to send some versions of your mail to a sample audience to test which version is performing better. That version is then sent to the rest.
List Management – Automated list management feature lets you convert leads with relative ease, and rid your list of inactive leads.
Bounce Processing – You get an enhanced delivery rate by removing inactive addresses from your list.
Event Logging – Every customer action is logged, which allows your marketing team to develop better strategies.
Pricing
Paid – Interspire only has one pricing plan which lets you send unlimited emails to unlimited contacts for $495.
6. Mailchimp
If you are looking for free Aweber alternatives, then Mailchimp is the one you should go for. Unlike Aweber, Mailchimp uses email automation for better campaign performance. It lets you create highly personalized email campaigns, with attractive features. Furthermore, you can connect your e-commerce website or store to Mailchimp from the Integrations menu.
Features
Email Automation – This feature helps you achieve higher conversion rates and better audience engagement and also save you some valuable time.
Analytics – This feature lets you monitor and track parameters like who has visited your website, and whether they bought, download, or clicked on any of your content, and such. This helps you create better campaigns.
Behavioral Targeting: You can capture audience behavior using API, and use the data to send personalized emails to them. 
Content Reusing – You can create social media posts using the email builder.
Mobile App – Monitor your campaign performance on the go.
Pricing
Free – Send 10,000 emails to 2000 contacts for free.
Essentials – This basic plan lets you send 500,000 emails to 50,000 contacts for $9.99 per month.
Standard – By spending $14.99 per month, you can send 1.2 emails to 100,000 contacts.
Premium – This plan with advanced features costs $299 per month and lets you send more than 3 million emails to more than 200,000 contacts.
Conclusion
After going through the above list of software and their features, you have a sound idea about the various products in the market that you can use instead of Aweber. Some of these softwares might have features that you need specifically for your marketing campaign. On the other hand, some of them might have features that are not necessary for you. Balance is the key when it comes to choosing a product based on its features and pricing plans.
You May Also Like To Read: