Every marketer looks for the best SMTP server for running & flourishing their business online in the best possible way. For that, they used to check so many platforms to find something that is not only reliable, or trustworthy but also comes at a very affordable price.
Definitely, they have to do deep research for finding the best that supports their business completely. But, we all know that the market is full of so many tools that claim to be the best. Now, the question is which is the best SMTP server out of the plethora?
Kudos to you that you land on this page!
Here, in this guide, we have come up with a list of 5 best SMTP servers that offers a comprehensive set of features & offers a very reasonable price compared to others. Further, here, we also compared all top 5 SMTP servers on the basis of various factors like their features, pricing, and deliverability. This will help you to choose the right one for your business requirements.
A Quick Comparison of 5 Best SMTP Servers
| | | | | |
| --- | --- | --- | --- | --- |
| Services | Pricing | No. of Emails | External SMTP | Multiple SMTP Routing |
| Pabbly Email Marketing | $29/mo | Unlimited | Unlimited | Yes |
| | $25/mo | 40,000 | No | No |
| MailJet | $9.65/mo | 30,000 | No | No |
| SendGrid | $15/mo | 300,000 | No | No |
| Mailgun | $35/mo | 50,000 | No | No |
So, without much ado, let's just take a deep dive into the list of 5 top SMTP servers.
"Pabbly Email Marketing is not only the cheapest email marketing software but also the best SMTP service provider that allows sending unlimited emails either via its in-built SMTP or via any other SMTPs "
At present, Pabbly Email marketing is one of the best as well as the cheapest SMTP server available in the market. Compared to other email marketing services, it comes at very affordable prices with excellent features like in-built SMTP, SMTP routing, advanced automation, etc. Apart from this, this tool allows you to send limitless commercial, transactional, or any type of emails to unlimited people at a time. For sending these emails, it provides a free to use the in-built delivery engine.
Further, if you want to use any specific SMTP for sending emails then you can also do that without needing any external SMTP service provider. For this, it offers a feature called "SMTP routing" that allows you to connect more than 50+ top SMTPs like Sendinblue, Amazon SES, Gmail, etc, directly from it. The best part is it does not charge even a single penny for this!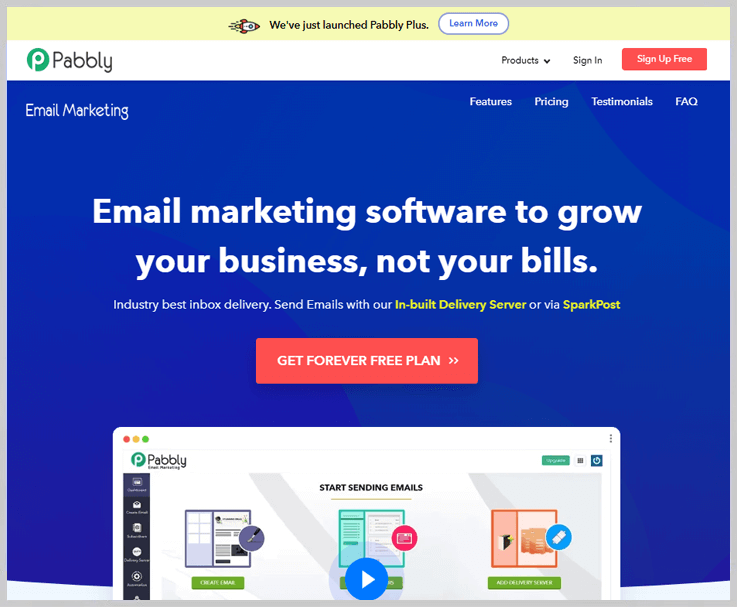 Features
Marketing Automation – Using this feature, you can create predefined workflows that help in delivering the appropriate content to the clients at the right time automatically.
Supported SMTPs –  Apart from its in-built SMTP it also allows you to connect it with other external SMTPs like Amazon SES, SendGrid, Yahoo, etc.
Email Tracking – Pabbly Email Marketing keeps you updated about the stats like unsubscribed, sent,  opened, and clicked emails.
MX Cleaner – This feature helps you in removing the spammy, dead, invalid emails from your list.
2X Open Rate –  This email marketing service resends emails to those clients who missed to open your emails previously. As a result, it increases the chances of email opening by 2 times.
Pricing
Forever Free – Using this free trial plan, you can explore Pabbly Email Marketing completely and also connect up to 3 SMTP.
Rookie – With this plan, you can send unlimited emails to up to 5000 subscribers at the cost of $29 per month.
Pro – For this plan, you need to pay $49 per month. Further, you can send emails to 15000 subscribers along with features like SMTP routing, advanced automation, etc.
Advance – This plan offers multiple monthly sub-plans that range from $99 – $1599 where you can send unlimited emails to up to 50,000-10,00,000 users depending upon the chosen plan.
The second service in the list is SendinBlue which is a cloud-based transactional email service provider. It has its own SMTP that offers a high delivery rate and ensures that your emails land into the customers' inbox. Besides that, this software is easy to use and also supports several API, plugins, and integrations at affordable prices.
Further, it allows you to create emails by just drag & drop the fields. Also, it has various pre-built templates that you can use for building your emails.
Features
List Segmentation – With this SMTP service, you are allowed to segment your contact lists at very granular levels for managing your email campaign.
GDPR-Compliant – As a Sendinblue client, the GDPR gives you new security rights and assures better access to your personal data.
Marketing Automation – Using the marketing automation feature, you can automate certain tasks in your workflow by defining an automation workflow.
Report & Analytics – With this feature, you can easily track the activities of users like clicks, opens, unsubscribes, etc., and create a better campaign based on the information.
Personalized Emails – The admin can easily create personalized emails with their contact details and preferences. Additionally, you can test and optimize your campaigns before sending them by its preview feature.
Pricing
Free – You can send up to 300 emails/day at $0/month, with unlimited contacts and access to basic features.
Lite – This plan allows you to send 40,000 emails at just $25/month. And, it doesn't have any sending limit.
Essential – Purchase this service at the rate of $39 per month and send 60,000 emails along with features like A/B testing, freedom to remove Sendinblue logo, and much more.
 Premium – You can get this plan at $66/month to send 1,20,000 emails. Apart from all the features of the Essential plan, it also renders you features like Facebook ads, landing pages, marketing automation, multi-user access, etc.
Enterprise – With this plan, you can send emails above 1,20,000/month. And to know more about the pricing contact the SendinBlue sales team.
Mailjet is a top SMTP relay service that is GDPR compliant, plus ISO 27001 certified. With this cloud-based service, you get multiple facilities for integration, API, tracking, and support.
Further, using its advanced templating language feature you can create dynamic templates for transactional emailing. In these templates, you can automatically hide or show sections in emails based on conditions the user satisfies. This is a popular SMTP service that ensures the maximum deliverability of transactional and marketing emails.
Features
Dedicated IPs- Mailjet has got dedicated IPs which are managed from 7 different countries and 3 continents for accurate email dropping.
Contact Management –  With it, you can easily manage, segment and grow your audience using this feature.
Real-Time Analytics – Mailjet can detect the address delivery issues easily. Further, it helps you to monitor all the activities, so you can figure out any issues as soon as they occur.
SMTP Relay – In this, you can easily set up its SMTP server in minutes and send billions of emails that reach directly the inbox.
Email Builder – Using this feature, you can create beautiful and responsive emails in just a few clicks.
Pricing
Free – Using Mailjet's free plan, you can send 6,000 emails per month i.e. 200 emails per day without paying even a single penny.
Basic – Get this plan just at the cost of $9.65 per month, and send 30,000 emails per month. This plan does not impose any daily sending limit.
Premium – To get this plan, you just need to pay $20. 95 per month for sending 30,000 emails per month without any daily sending limit.
Enterprise – For getting the dedicated account management services, you need to contact the sales team of Mailjet.
4. SendGrid
Another best email service provider in the list is SendGrid which is a popular cloud-based SMTP provider that acts as an email delivery engine and renders best inbox delivery for your emails. With it, you can send various transactional & marketing messages like promotional, shipping notifications, newsletter, password resets emails.
But, to start sending emails via SendGrid SMTP service you have to apply minor configurations and the rest is taken care of by SendGrid service. Further, it offers a variety of integration options using which you can attach this service and send emails that provide the best in class open rates.
Features
Easy Configuration – You can easily configure & use this SMTP Relay service by setting up things like credentials, hostname, port number, etc.
Email Templates – It offers tools using which one can create, manage and send multiple custom designed email templates.
Advanced Tracking – SendGrid has got enhanced SMTP capabilities that let you add JSON instructions to emails & track all the events related to the email you sent.
API Support – This service also offers a web API that allows you to manage unsubscribes & IPs, templating transactional emails and more.
Bulk Email – With it, you can easily send transactional emails and bulk emailing with this SMTP service.
Pricing
Free – With the free plan of SendGrid, you can send up to 6,0000 emails to up to 2,000 contacts/month.
Basic – This package comes with 300,000 email sending facilities to up to 10,000 contacts and charges $15 for a month.
Advanced – You can send 1 million emails to 200,000 contacts every month with this plan by paying $600.
5. Mailgun
Mailgun is one of the affordable SMTP servers that enables you to send emails as a part of your marketing and transactional campaigns to your mailing list very effectively. Further, this service has SPF, DMARC, and DKIM record customization using which you can easily authenticate your domain.
Additionally, its control panel lets you review certain email events like delivery failures, clicks, and unsubscribes. Hence, you will get detailed logs and metrics on marketing and transactional emails.
Moreover, this SMTP service also offers email address validation services in order to improve your mailing list.
Features
Email Tracking – With this, you can perform real-time email tracking and diagnose the delivery failure of emails.
SMTP Support – Using this SMTP service, you can easily conduct inbound email parsing and routing as well.
List Validation – Mailgun can help you improve your emailing list as you can validate email addresses.
Inbox Deliverability – It boosts the inbox delivery of your emails with reduced bounce rates & spam complaints since your domain name is authenticated using best email validation techniques like SPF, DMARC, and DKIM.
A/B Testing – Its analytics help you to analyze & check the effectiveness of your email campaigns with the help of A/B tests
Pricing
Founder – To send 50,000 emails every month you will have to pay $35.
Growth – The production plan that comes with 100,000 emails will charge $80 for a month.
Scale – You can send 100,000 emails through the Scale plan by paying $90 monthly. This plan allows you to validate 5,000 emails every month.
Enterprise – If you wish to deliver more than 100,000 emails in a month, you need to contact the sales team of Mailgun.
Flex – With this plan, you send 5,000 free emails per month for 3 months, then after that, you need to pay for what you send.
Conclusion
Now, keep anything in the count, we hope this guide is helpful for you. Further, the deep comparison of all 5 best SMTP providers assisted you to choose the best one for your business needs & budgets.
Let us know in the comments which SMTP server you decided to choose out of this list.
Further, if we missed any good SMTP please be free to comment below so that we can review it and add it to our list.
You May Also Like To Read: