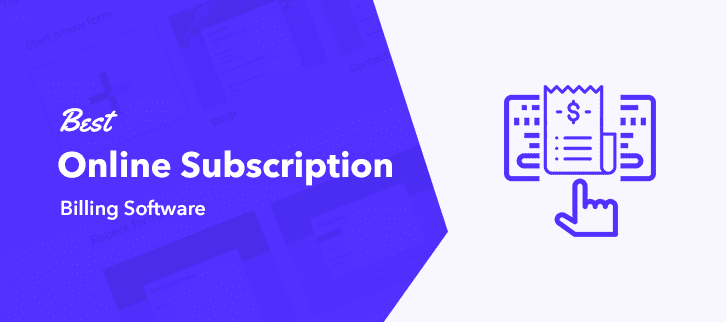 A subscription billing software, also known as a recurring software is a type of software that allows businesses to automate their billing cycle with subscription payment models. Subscription businesses often have some tedious and repetitive tasks on their hands that take a lot of time to be done manually. These include creating products, invoice generation, and managing recurring payments. But with an online subscription billing software, they can easily manage the payments, sales analytics, and invoice generation. When there is a single software to manage all the routine tasks, you can concentrate on other activities that require your attention.
Service-oriented businesses often provide subscription packages to make their services affordable for customers. A subscription package allows you to charge the customer based on the time they spend consuming your services. This payment may be done one-time, or on a monthly basis. With subscription management software, you can easily manage all kinds of payments and keep track of them. While searching for the best online subscription billing software, you may be spoilt for choices, because there are so many products in the market with attractive features. In that case, you should decide which features your business needs, and how much can it afford to spend on such software.
Comparison Chart of the 5 Best Online Subscription Billing Software 2022
| | | | | |
| --- | --- | --- | --- | --- |
| Services | Basic Plan | Transaction Fee | Features | Unlimited Revenue |
| Pabbly Subscription Billing | $19/mo | None | All | Yes |
| | $6/mo | 2.9% + $0.30 | Restricted | No |
| FastSpring | Get Quote | 5.9% + $0.95 | Restricted | No |
| | 29/mo | 5% | All | Yes |
| Subbly | $14/mo | 1% | Restricted | No |
There are several things you should consider while in the market for an online subscription billing software. Your decision will depend on whether your business is B2B or B2C, the number of monthly transactions and their size, whether you are processing international payments, etc. To help you with your decision, we have presented 5 of the best online subscription billing software along with their pricing details.
"Pabbly Subscription Billing is one of the few products in the market that provides you with a custom domain that you can use with your checkout page. Also, unlike other products, it provides unlimited revenue and unlimited features with its basic plan."
If you are looking for a cheaper subscription management software, Pabbly Subscription Billing is your best option. With this software, you can manage all kinds of payments, whether they are one-time or recurring. While all other software charges you a processing fee for each transaction, Pabbly Subscription Billing has no additional transaction fee. By buying the basic plan of this software, you can get access to advanced features like coupon management, tax handling, and sales analytics.
One of the Unique Selling Points (USPs) of Pabbly Subscription Billing is that it allows you to create unlimited plans and products using only one account. In addition to that, it also has an easy invoicing feature, which allows you to maintain the record for each and every payment.  Furthermore, this software lets you provide discounts to your customers in the form of coupons, which can enhance customer engagement.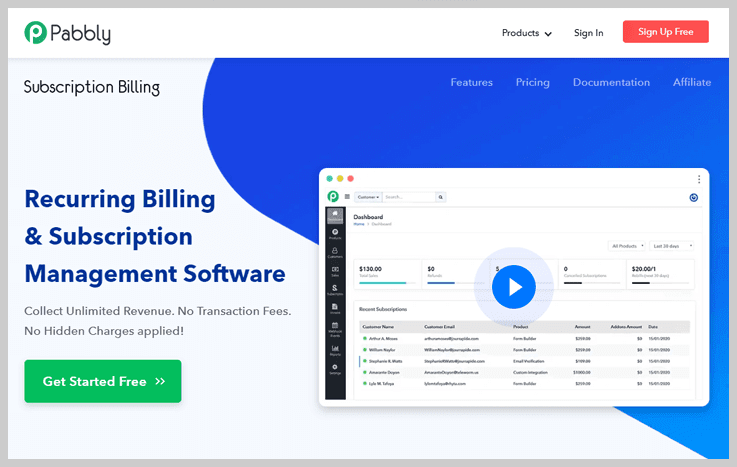 Features
Coupons, DIscounts, and Trials – In order to grow customer interest, you can offer flat or percentage discounts to your customers via coupons. You can also offer a free trial run of your software.
Sales and Analytic – With this cheap subscription software you get the detailed information regarding the performance of your business in terms of sales. With access to critical data such as monthly revenue, customer churn rate, and ARPU, you can plan your strategies better.
Tax Management – Depending on the country or region your business operates in, you need to modify your tax rates. You can customize your tax rules with this software, and also apply reverse charges.
Saas Integration – Using API keys, you can integrate this software with Saas applications like Concur, Zendesk, Dropbox, Google Apps, Salesforce, etc. There is extensive documentation available on how to use this feature.
MultiPlan Checkout Pages – With this software, you can create a checkout page that can support multiple plans. This allows your customers to select any of the plans while completing their checkout.
Pricing
Starter – You can bill 50 customers by paying $19 per month.
Rookie – This plan lets you bill 100 customers by spending $37 per month.
Pro – By paying $57 per month, you can bill 150 customers.
Advanced – By paying $75 monthly, you will be able to bill 250 customers.
Enterprise – This is a custom plan with custom pricing for those who wish to bill more than 50,000 customers.
Freshbooks is an online subscription billing software that provides an intuitive, attractive, and well-balanced accounting experience. This software has simple setup tools using which you can customize your invoices in terms of background color, logo, templates, etc. Moreover, the simple UI lets you access information regarding which payments are pending, how much profit your business is making, how much money you are spending, etc. All this information can be accessed from the dashboard itself.
With advanced automation features, you can concentrate on setting business strategies rather than wasting your time on routine tasks. Menial tasks like collecting payments and sending invoice reminders to customers are done through automation. Moreover, you can streamline your business workflow through reporting, time tracking, and recurring invoicing. Additionally, you can say goodbye to keeping track of receipts with Freshbooks since you can organize all your expenses in one place, which also helps in calculating taxes.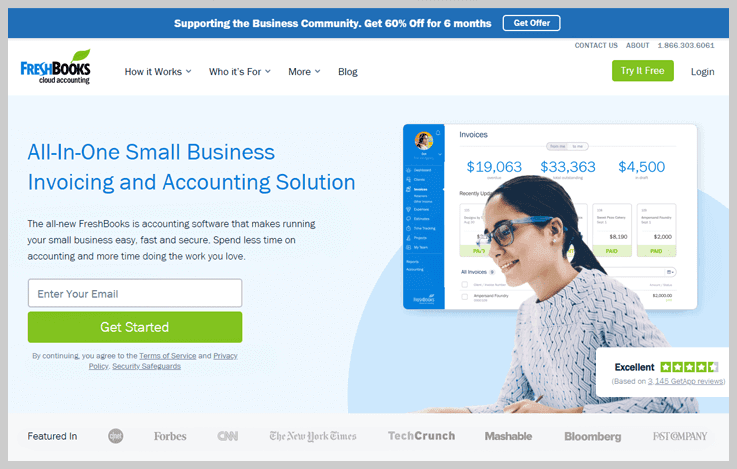 Features
Reporting – Using the dashboard and other reporting tools, you can easily get to know how your business is performing. You can check profit and loss, as well as details about taxes paid and those that are pending payments.
Retainers – This feature lets you negotiate pricing details with your customers. Hence, you get to ensure that steady cash flow is maintained for your business.
Integration – Integrate with popular apps such as Gusto, Fundbox, G Suite, Shopify, Zoom, etc. These apps allow you to better manage your customers and bills.
Automation – Following up with your clients can be a repetitive task. Thankfully, the Automation features allow you to send them reminders automatically regarding their credit card bill, pending payments, etc.
Customizable Invoices – Impress your clients with custom invoices by adding your logo and note to it. Personalized invoices look more professional, and enhance customer engagement.
Pricing
Lite – Bill 5 customers by spending just $6 per month.
Plus – Bill 50 customers by spending $10 per month.
Premium – By paying $20, you can bill 500 customers.
Select – This is a custom plan with custom pricing that lets you bill more than 500 customers.
FastSpring is a reliable subscription software that allows you to generate more subscription revenue and reduce the customer churn rate. As such, with FastSpring, you can convert your short-term buyers to long-term subscribers by monetizing the lifecycle of the customer. The global payment support feature lets you collect payments for your subscriptions from anywhere in the world. It supports all major global currencies and payment methods so that you do not face any issues with the recurring billing for your subscription.
FastSpring lets you grow your customer base with advanced subscription plans that support annual and monthly plans, discount management, and free trials. This software also has measures to protect you against fraud. Furthermore, since it is a cloud-based service, data migration is easy with FastSpring. You do not need to install separate servers and hardware for your business. You can manage multiple stores through a single interface, while separately making changes to each page.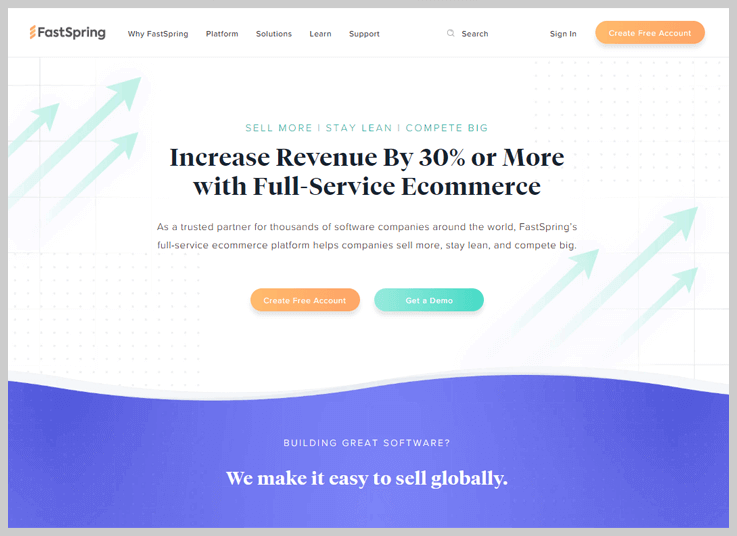 Features
Recurring Billing – FastSpring provides support for multiple subscription structures, billing schedules, and pricing models. You get to choose the billing structure that works best for your customers.
Dunning Management – This feature lets you reduce disruptions and churn rate by sending payment reminders to customers. By sending these reminders, you ensure your business has a steady flow of revenue.
Automation – With this reliable subscription platform, you can enhance the lifetime value of your customers by nurturing the relationship you have with them. This feature lets you maintain a steady line of communication by sending automated receipts, renewal notices, and invoices to your customers.
Flexible Plan Management – FastSpring provides flexible subscription plans with annual and monthly paid plans, discount management, and free trials. You can also configure the pricing and give out discounts in the form of coupons.
Integration – With FastSpring, integrating with third-party software becomes easy. These include WordPress, Nalpeiron, Google Tag Manager, Impact, Google Analytics, Zapier, etc. This way, your business can sell more and grow faster.
Pricing
Option 1: FastSpring has no monthly pricing plans. It charges the user based on the number of transactions. The first pricing option places an 8.9% transaction fee on the total transaction value.
Option 2: This pricing option places a 5.9% transaction fee on the total value, and an additional 95 cents per transaction.
Payhip is a decent option if you are looking for an affordable subscription management software. With this software, everything is configured and hosted on the website, so your members can manage their subscriptions better. They can view their billing history, card expiry date, upgrade/downgrade/cancel their plans, check the card expiry date, etc. Additionally, all the tax calculations are taken care of, so you don't have to waste time calculating them manually. Payhip charges no monthly fees with its basic pricing plan, so it's a good option for those looking for free subscription software.
With access to reporting tools such as conversion rates, daily views, daily sales, and visitor sources, you always stay up to date with how your business is performing. The simple interface allows the customers to subscribe to your website within a few seconds by entering their details, enhancing speed and conversion rates. With Payhip, you can sell from anywhere, be it your website or your blog.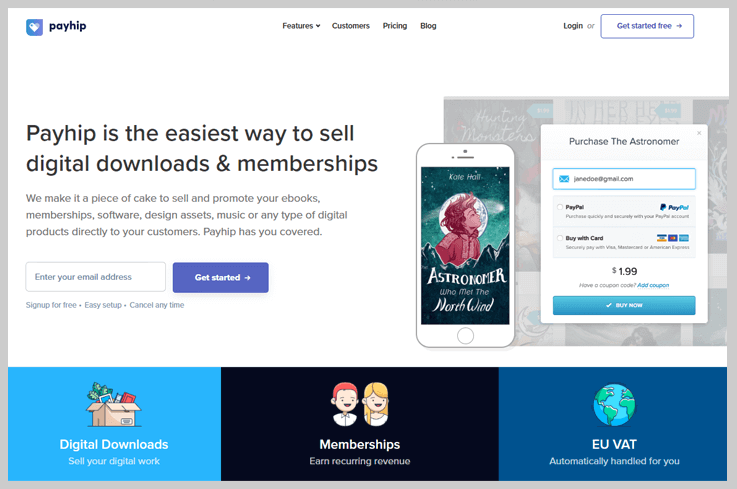 Features
Affiliate System – The affiliate system allows you to partner with your friends and affiliates. It is easy to manage and reward your affiliates using the simple interface of this software. Partnering with affiliates promotes your business and your products
Versatile Payment System – Payhip allows your customers to pay any way they want to. This software supports all the major credit cards, as well as PayPal. A large number of international currencies are available for customer convenience.
Automation – Payhip automates all the grunt work so you can focus on more important things. You can upload videos, software, and ebooks, and get paid directly in your PayPal account. Customers are taken automatically to the download page after completing the purchase.
Offer Coupons – You can promote your business by giving away coupons to your customers using which they can avail discounts on your products. You can set a limit on the number of coupons, and set their expiration dates.
Embedded Membership System – This feature allows your customers to manage their accounts. It is an extremely convenient system that enhances customer satisfaction and leads to more conversions.
Pricing
Free Forever – This free plan comes with unlimited revenue and unlimited products and includes all the features of the software. It has a 5% transaction fee.
Plus – This plan costs $29 per month and has an additional 2% transaction fee.
Pro – This plan costs $99 per month, and has no additional transaction fee.
Subbly is an online subscription billing software using which you can create your store from scratch. You can also add the software to your website by embedding the checkout interface. With Subbly's advanced analytics and reporting, you can keep a watchful eye on how your subscription business is performing. You can track shipments and inventory, monitor your sales performance, and manage the orders of your customers.
Payments are 100% secure with Subbly, since its servers are SSL encrypted. Moreover, you can feel safe knowing you are PCI compliant. Subbly also provides you with real-time statistical data like the number of visits to your website, the total number of customers, etc. By keeping an eye on this kind of data, you can better plan your business strategies. Also, this software is optimized for mobile devices, so your customers place orders and manage their subscriptions from anywhere.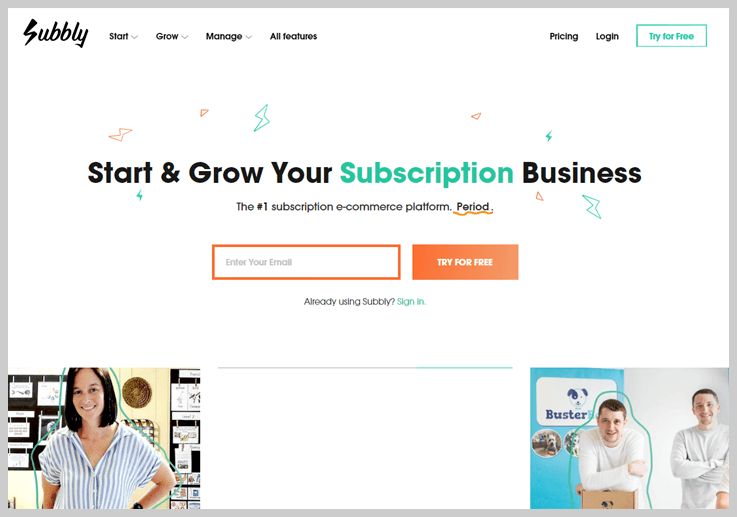 Features
Customized Checkout – Customize the checkout process based on your brand image. You can customize your shipping and billing cycles. Customized checkouts give you better control over your business.
Commitment Periods – You can decrease churn rates using commitment periods. You can offer discounts to your customers that serve as incentives for them to buy your product.
Survey Builder – This feature lets your customers modify their subscriptions by tweaking a few options, and selecting products that are located inside the shipments. This makes for a better customer experience altogether.
Tax Calculations – You don't need to worry about tax compliance with Subbly, which calculates your worldwide taxes automatically. Tax filing can also be automated by installing the TaxJar app from the App Store.
Trial Periods – This affordable subscription software lets your customers try out a sample subscription at a lower rate, and then later adjust the renewal for a shorter cycle. The customer then has to pay the standard rate for the normal subscription.
Pricing
Checkout Only – This plan costs $14 per month and lets you embed the checkout feature on any website.
Website+Checkout – This plan costs $29 per month and lets you access all the features of the Website editor and builder.
Conclusion
After going through the above list of software, you know about the various aspects of subscription software. These software options contain all the features you need for your subscription billing service. You can make full use of these features to get the best results.
For dynamic results in the subscription billing tunnel, you should select one of these services. Each software has its pros and cons, and you need to select one based on the number of subscribers you have, and the amount of revenue your business generates. By taking the help of subscription software, you no longer have to waste your time on tedious tasks.
You May Also Like To Read: