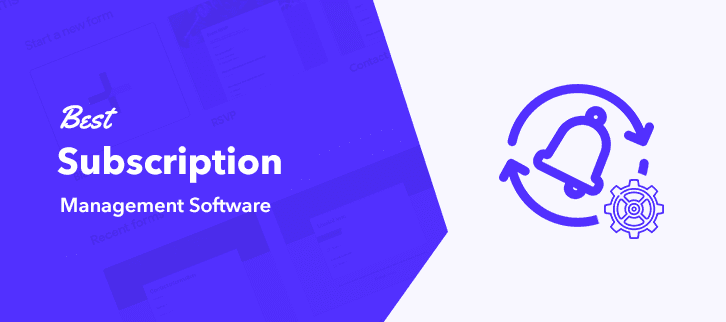 Searching for the best subscription management software for your business? Your search is over, you're at the right place. We got you covered!
A powerful subscription management software is very crucial for a business. It helps to manage the subscription and billing process efficiently. In the absence of the right tool, your business can suffer a lot. Especially, for a growing business where the number of clients is increasing, it is important to have a mechanism by which you can efficiently manage the data related to invoice and billing.
The best billing software is the one which not only manages the invoicing but also helps with certain other functionalities like collecting the data of customers, providing them with enough payment options and offering smooth transactions etc. Moreover, it should be able to work at a faster pace without causing any inconvenience to the business as well as the customers.
Although there are many invoicing software available most of them come with heavy pricing that may not be affordable for all the business.
With that said, we are enlisting some of the best and cheapest billing software which not only saves a lot of money but also provides you with reliable services.
Below is the comparison table to begin with. Let's quickly have an insight to all the listed services.
Comparison Of The Best Subscription Management Software 2022
"With Pabbly's recurring payment software, receive unlimited revenue with zero transaction fee and affiliate Management Module."
If you are looking for a super affordable billing service which is packed with multiple functionalities and is also reliable,  Pabbly Subscription Billing is what you should go for. By using this software, you can generate unlimited revenue from your growing customers. The best thing about this software is that it doesn't have any hidden charges and transaction fees which makes it the cheapest invoicing service among its competitors.
Pabbly Subscription Billing software gives you the freedom to add a large number of customers without having to worry about the limited options for revenue generation and additional charges. You are free to maximize your profit by selling unlimited services and products through checkout pages and manage the bills while also tracking the customer details. Moreover, it is the only invoicing software that comes with an affiliate management module that helps you to manage the functionalities of affiliates.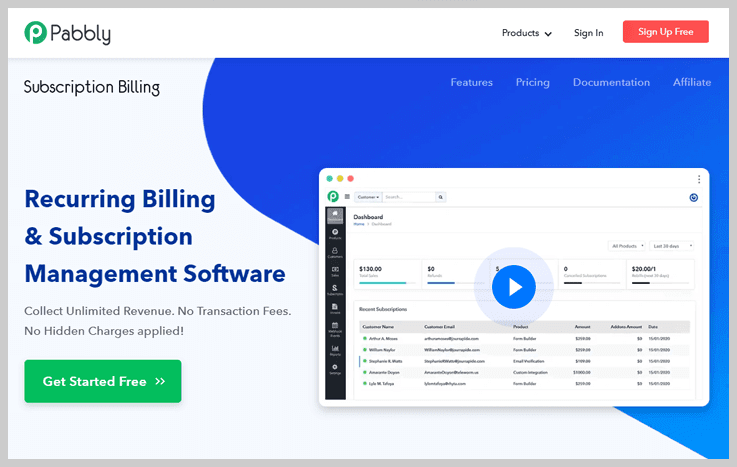 Features
Affiliate Management – This is the key feature of the Pabbly Subscription Billing that helps you to streamline your subscription management and affiliate management.
Tax Handling – This feature adds tax to the invoices depending upon the business type, country, state of the customer.
Customer Portal – Through the customer portal, your clients can manage and track their subscriptions in an organised and easy manner.
Sales Analytics – By using this feature, you will be able to monitor the sales and revenue generation in an easy manner.
Coupon Management – This feature allows your subscribers to apply different coupons while making payments. For example: If your customer wants to apply any coupon code while making the payment, he can do that easily without any restrictions.
Dunning / Auto Retry – Failed transactions cause a lot of inconveniences. Fortunately, this feature allows you to recover failed transactions very quickly.
Refund-  Pabbly Subscription Billing offers easy refunds. It facilitates your customers to get back the refund easily in case of cancellation of the service.
Webhook Integration – Webhook helps to deliver the data from one application to another. Therefore, you can integrate a Webhook to collect your customer's data and use it on your other platforms.
Pricing
Starter – This is the base plan which is priced just at $19/month. You can invoice up to 50 customers with this plan. Moreover, if you choose the annual subscription, this plan will cost you only $9 /month.
Rookie- This plan is priced at $37/month and allows you to invoice up to 100 subscribers. It will cost you $17 with the annual subscription.
Pro- This plan is perfect for growing businesses. It is priced at $57/month and you can collect payments from up to 150 customers. If you opt for the annual subscription, it will cost only $20.
Advanced- Finally, the biggest one. If your subscribers are above 250 then it is the perfect plan for you. It comes at a cost of $79/month and on an annual basis, you can get it for just $37/month.
FastSpring is another powerful subscription management software that provides you with amazing features to manage your invoices and recurring billing. This is the most suitable software for e-commerce websites that make sales in digital products and services. Additionally, it comes with several advanced features like CRM, dunning management system etc. It allows you to collect the payments in multiple currencies.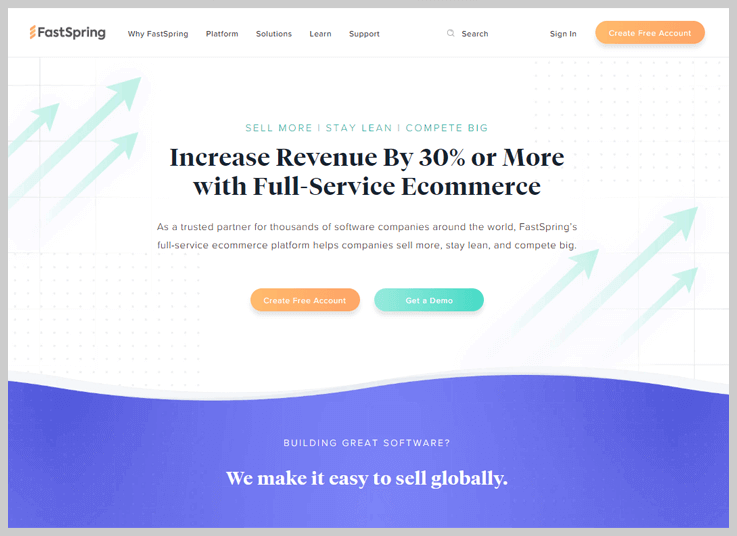 Features
CRM – This software helps you to track the leads and build a strong relationship with your customers.
Dunning Management- This feature helps you to recover any halted or failed transactions. It prevents possible failures in the billing process.
Multiple Currencies – This feature allows you to collect payments in multiple currencies depending upon the country of your customers.
Mobile Payments – This feature allows your customers to pay easily using their mobile phones.
Multi-store Management – By using this feature, you can manage multiple stores together.
Pricing
You can get all the pricing details of FastSpring's recurring payment and billing software by directly contacting the company.
Next in our list of cheap subscription management software is FreshBooks. It is one of the most versatile billing software in the industry. It is a cloud-based software that offers numerous useful tools for accounting, tracking, timekeeping and management. Moreover, this software is widely used by small businesses owners and self-employed individuals who have a limited budget. The best part is, it is available in the form of mobile apps which makes it very easy to use.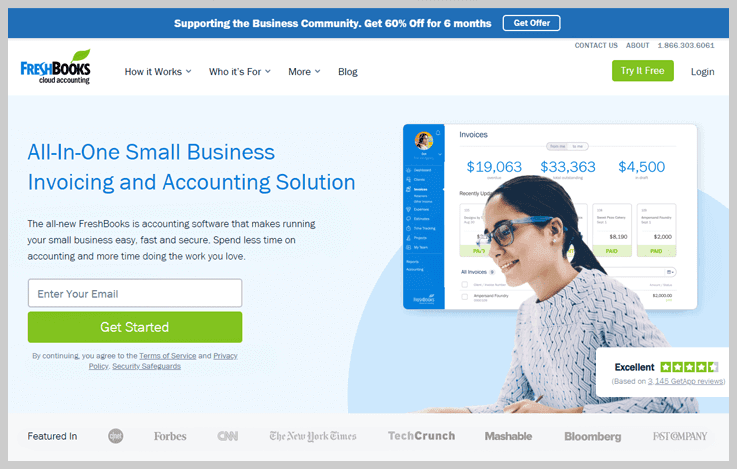 Features
Invoice Creation And Delivery – The software lets you create unlimited invoices and send them to your clients in a hassle free manner.
Dashboards – Also, you can easily monitor your services using the dashboards.
Automatic Invoice Tracking – With the help of this feature, you will be able to track the status of your delivered invoices automatically.
Time Management – The software comes with an in-built timer which tracks and manages the time of invoicing and collecting payments.
Mobile Apps – The mobile apps are user-friendly and well designed which helps you to use it from anywhere and anytime.
Client Portal – Client Portal facilitates the customers to manage their subscriptions easily.
Pricing
Lite – This is the base plan which is priced at $15/ month and allows you to deliver invoice up to 5 clients.
Plus – Next, this is priced at $25 /month and allows you to invoice up to 50 clients. This is perfect for small business.
Premium – If you're a growing business, then you can go for this plan at just $50 and invoice up to 500 clients.
Custom Pricing – If your clients are above 500 then you can quote your price by contacting the company itself.
MoonClerk is a good option if you have a small business and a limited budget. By using this software, you can generate one-time transactions easily. The best part is, you don't need to be a technical expert to use MoonClerk. It can be used by anyone because of its user-friendly interface. This billing platform is capable of handling all types of payment needed in a business. Furthermore, this software comes with numerous advanced features that make payment processing very efficient. It facilitates the customers to pay anytime from anywhere. Because it works fine on every type of platform, the chances of collecting payment at the earliest become much higher. Moreover, it also allows you to perform customization on your services for giving them a unique and personal touch.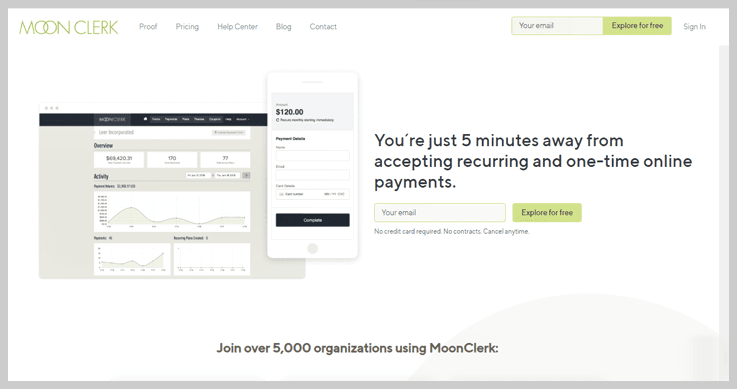 Features
Custom Branding – This feature allows you to customize your brand using different logos, fonts, and colors.
Recurring Payment Plans – It offers recurring payment plans for efficient management.
Data Exports – By using this feature, you can export the subscription management data to your other platforms.
Coupon Creation – This feature allows you to create a number of coupons to facilitate your customers.
Notifications – Moreover, it allows you to send email notifications to your clients regarding the status of transactions.
Payment Stats- By using this feature, you can view and monitor the transaction statistics of your business.
Pricing
MoonClerk provides different pricing plans depending upon the volume size.
$15/month  for a volume of $0-$2,000
$30/month for a volume of $2,000-$4,000
$50/month for a volume of $4,000 to $7,500
$75/month for a volume of $7,500 to $12,500
$110/month  for a volume of $12,500 to $20,000
Finally, we have PayWhirl which is another easy to set-up and affordable subscription billing software. It allows you to charge your customers on a recurring basis in a fuss-free manner. This software doesn't require any coding or technical expertise to work with it. It is robust and completely secure. It makes it very easy to generate and receive revenue from clients. Also, it doesn't restrict from using multiple currencies. If you're looking for a software that sets-up in no time and manages the recurring billing efficiently, then PayWhirl is your stoppage.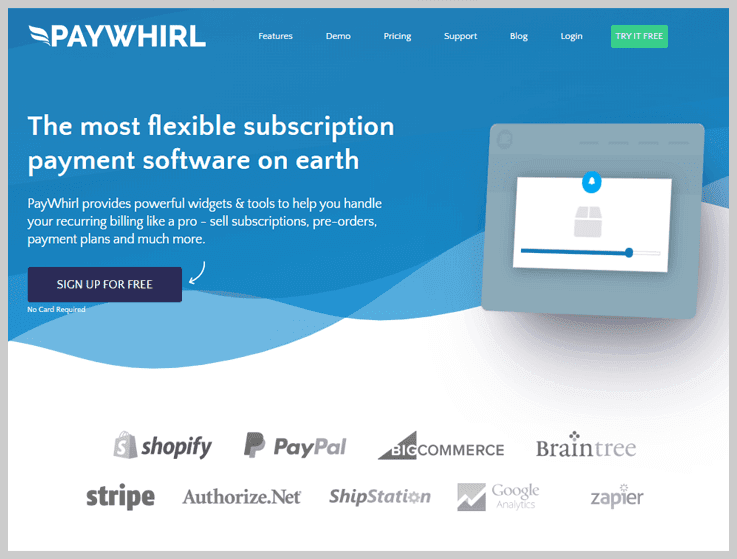 Features
Recurring Billing & Subscriptions – It allows you to run your subscription-based service efficiently by means of recurring billing and subscription.
Credit, Debit, Ach –  PayWhirl accepts payments via a number of credit cards. It allows your client to link their bank account and pay via electronic cheques directly.
Embedded Payment Widgets & Checkout – By using this feature, you can directly add widgets into your website and start accepting the payment without having to do anything.
Customization – This software allows you to fully customize everything to enhance the look of your brand.
Customizable Emails & Invoices – It allows you to send personalised emails and bills to your customers which improves the customer relationships and provides better communication.
Pricing
Starter – This is a free plan at $0 that comes with a transaction fee of 3.0% per transaction.
Business Pro- This plan is perfect for small business. It is priced at $49 and comes with 2.0% of the transaction fee.
Business Plus- This plan covers the growing business at a price of $149 and a transaction fee of 1.0% per transaction.
Business Ultimate – Lastly, this is the largest plan for established business and enterprises. It is priced at $249 and charges 0.5% of transaction fee per transaction.
Conclusion
That's all about it. These were the best subscription management software available at present. Each of these software is fully secure and robust. They come with several smart features that can help you in managing your recurring invoice and billing very conveniently. All of these are not only cheap but also extremely functional when compared to the other accounting software. All you need to do is to determine your business requirements and go with the most suitable software without going heavy on your pockets.
We hope you understand these services well and make the right decision by selecting the best software for your business.
You May Also Like To Read: