WordPress Themes are usually designed in a way to suit specific website niches and fulfill diverse requirements. However, multipurpose WordPress themes are those which are compatible with a large range of website niches.
The main reason behind their versatility is their theme design and high customization options. However, some themes might look better for certain niches but there is no boundary to what kind of a website can use it.
There is a misconception with regard to multipurpose WordPress themes, users many a time feel that a jack of all & a master of none would not do much good to their website. So, they usually prefer specific business slot themes.
Want more options to choose from?
Have a look at our blog
But that is definitely not the reality. Well-designed multipurpose WordPress themes can, in fact, help you to bring the elements of various domains to your website. Some of the best multipurpose WordPress themes which are suitable for all business niches are as follows
---
Slice – Best Feature WordPress Theme
Slice is a premium & completely responsive WordPress theme which not only allows you to display your work of fashion or art but even allows you to set up an online store for the same. It is a very robust yet simple business & corporate WordPress theme which comes with a lot of custom-made features.
---

---
Premium Features Of Slice WordPress Template
Create an E-commerce website: 

This is the USP of the Slice WordPress theme. It allows all the fashion niche brands to create an E-commerce website under their tag. Plus, the theme comes equipped with a shopping cart and payment gateway.

Smart categorization: 

The theme allows you to categorize your products smartly so that your customers can easily browse through all your products and find the thing they are looking for.

Animated sections: 

 The template comes with a lot of homepage features like the customizable slider, header, footer, parallax image area, Ad Banners, etc.

Widgets: 

You can even add various widgets to your website like recent posts, custom Instagram, social sharing widgets, etc.
Theme Info + DownloadLive Theme Preview
---
Punte – Next Generation WordPress Themes
Punte is the powerful Gutenberg compatible free responsive WordPress Theme. The theme is compatible with Elementor that gives total freedom in website building. There is the option of header and footer customization that helps in creating a website that stands out. You can choose any of the twelve starter websites and start building on your own. Each starter website is unique in design, has different layouts options, and fulfills the need for niche websites.
Along with that, this theme fits perfectly in every screen type and pleasing to eyes. This theme has a perfect balance between providing you with a broad range of features while still offering outstanding performance. It is a worth trying option, especially when you require a minimal yet versatile website.
---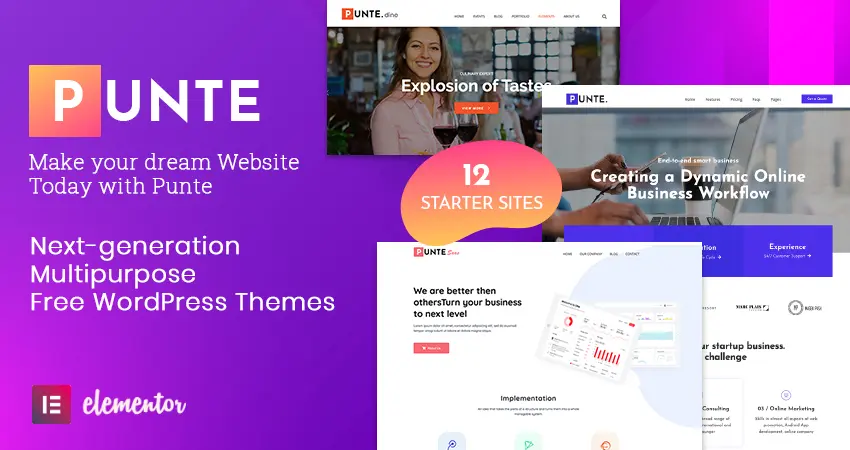 ---
Major features of Punte:
Header and footer customization
Twelve pre-built starter sites that can be imported with a single click
Major page builder compatible
Integration with WooCommerce plugin
Gutenberg optimized
Theme Info + DownloadLive Theme Preview
---
Squirrel – Multipurpose Enable WordPress Theme
Squirrel is one of the cleanest and simplest of WordPress themes. It is suitable for diverse business niche websites. The best versatile corporate world WordPress Theme is a 'no mess' kind of a theme where no unnecessary details are added to your website, only the important useful features are displayed.  
---

---
Salient Features Of Squirrel WordPress Template
The theme comes with various templates which are suitable for different website niches for example non-profits, music, sports, etc.
Minimum customization: 

If you need a very simple website, this template is the best way to go about it. This way, you don't need to focus much on the outlook of the website. You only have to look at the content part of it.

The Squirrel WordPress theme lets you add images in the slider section of the website. Thus, it doesn't look way over the top or messy at all.

Blog page template: 

Utilize blog page layout of the theme to keep in touch with your clients by sharing with them the news & scoops of your business.

Social icons & widgets: 

Squirrel WordPress theme allows you to add social media icons on your website which can help your visitors connect with you from different networks.
Theme Info + DownloadLive Theme Preview
---
Raindrop – Multipurpose One Page WordPress Theme
Raindrop is a one page WordPress theme mainly suitable for photographers & all those associated with commercial photography. The top Photography WordPress Template comes with a lot of features which give it an absolutely clean and professional outlook.
---

---
Additional Features Of Raindrop WordPress Template
Retina-Ready: 

Raindrop is a responsive WordPress theme which means that it would look good on any screen size.

Portfolio: 

If you run a photography business, this feature would be extremely useful for you. In the portfolio section, you can add a variety of images regarding your business in a very elegant manner.

Fun Facts: 

This is a unique element of the Raindrop WordPress theme. Here you can add some fun facts about your business in an eye-catchy way. It would make the mood of your website a bit casual and thus more attractive.

High Customization: 

This theme allows the users to create a website which goes great with their business niche and brand. It includes 100+ shortcodes, awesome font icons, and a lot more.

Revolution Slider: 

The Revolution Slider of this theme helps you add a brilliant element to your website. Here you can add some attractive images & give a new look at your website.
Theme Info + DownloadLive Theme Preview
---
Toommorel Pro – Multipurpose WordPress Theme
The USP of Toommorel Pro is its high modification options that can be adjusted to suit any business demands. Apart from being highly customizable, this unique WordPress theme is also very versatile. That is, it can be used for any niche of websites, be it personal or professional.
---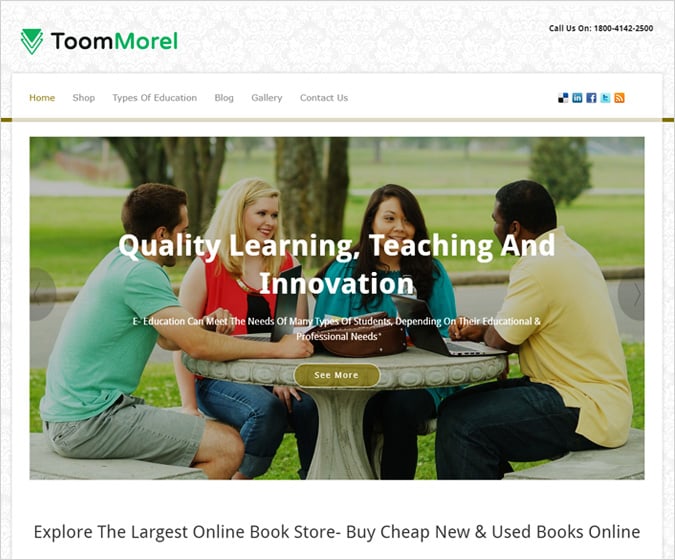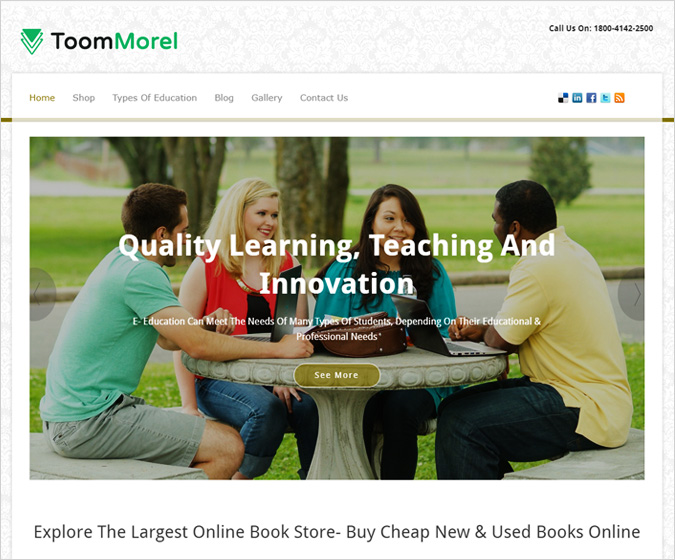 ---
Prime Traits Of Toommorel Pro WordPress Template
Holistic Customisation: Toommorel Pro theme allows you to customize everything beginning with the website color to the page styles in accordance with your business niche and brand image.
HomePage Accordion Section: This is another important area which can be used as multiple ways one of it could be like FAQ where one can put the question with their suitable answer, this way you can teach your clients a couple of new things.
Slider Revolution: This frame-up provides one of the prime sliders present out there. It is completely customizable with multiple animations and effects to choose from.
Premium Free Support: Developers provide premium professional support to all its customers for free.
Seven Different Skins: Blue, Pink, Red, Brown, Black, Yellow, Green.
Theme Info + DownloadLive Theme Preview
---
MediYoga – Yoga WordPress Theme
If you own a health and wellness or yoga and meditation related business, MediYoga WordPress Theme can help you create a dexterous website. It is a brilliant choice even if you are planning to start online yoga and meditation classes.
---

---
Main Features Of MediYoga WordPress Template
Custom Menus: 

The menu options of this receptive yoga studio WordPress theme are very much customizable. You can add, remove or reframe them according to your requirement.

Appointment booking form: The framework is embedded with a powerful Appointment Booking Form by which, one

 can very easily coordinate the potential clients & book timed appointments with them.

Receive Payments:

 MediYoga theme not only allows your customers to book appointments but also allows to collect payments for these prior appointments via PayPal.

Business location Map:

 The theme allows you to add a location map of your business venue on the website itself. This way, your new customers can easily trace you.

Blog section: 

If your brand has a related blog, you can display some of its posts on the website with the help of the blog section.

Services & Testimonial section: Employ t

his section to highlight best services & experience for happy customers.
Theme Info + DownloadLive Theme Preview
---
GoldenEagle – Church Responsive WordPress Theme
GoldenEagle is a WordPress Theme which is a quite great choice for Churches' & religious organizations to create their own website. If a church wishes to create its site for any religious or philanthropic purposes, this top-class church WordPress Theme can be a good option to choose.
---

---
Additional Features Of Church WordPress Template
Adaptable Layout: 

The layout of GoldenEagle template easily adjusts to any screen size. Thus, makes it easier for the users to access it.

Advanced Editor:

 The theme comes with an advanced editor. It helps you edit your website very conveniently without having any knowledge of coding, etc. You can insert a custom logo, or Google Analytics tracking, etc.

Home Page slider:

 The homepage slider comes with 4 design layouts. It allows you to add some attractive images with a business tagline as well.

Services and Testimonials: 

Two separate sections are dedicated to services and testimonials in this theme. Adding appropriate content in both of them can increase your website's appeal and credibility.

Recent Blogs: 

If you have a blog linked to your church as well, you can publicize it over here. You can add some of your recent blogs in this section which will redirect the visitors to your blog page.
Theme Info + DownloadLive Theme Preview
---
TravelLover – Travel Blog WordPress Theme
TravelLover is one of the most preferred beautiful WordPress themes if you are planning to start a travel blog or a tourist agency or even a journey planner. The device-friendly travel & tour guide WordPress Theme allows travelers to post their journey in a very beautiful and organized manner.
---

---
Ancillary Features Of TravelLover WordPress Template
Homepage Slider: 

The theme comes with an ancillary slider where you can place best of your images to enhance the vision of your site's visitors.

Ink leads capture pro plug-in: 

The TravelLover theme is equipped with a Lead Capture plug-in. It allows to collect information of all potential customers & utilize this information in future to promote new services.

Contact Form: 

In this theme, you can find a pre-installed contact form. It can be modified according to your requirements. However, you do get a pre-designed skeleton.

Ad Banner Space:

 The header of TravelLover theme comes with an Ad Banner Space, where you can conveniently run advertisements for other businesses.

Widgetized Sidebar: 

To add your social media accounts or various categories, this app has an eye-catching widgetized sidebar. It looks neat and handy as well.
Theme Info + DownloadLive Theme Preview
---
Bizway – Simple Responsive Featured WordPress Theme
Bizway is a WordPress theme which helps you create a clean website for any business niche that fits into any screen size. The layout of the multipurpose business WordPress theme is designed in a way to effectively highlight your main products and services. It is very simple to work with and thus, is an efficient choice.
---

---
Primo Features Of Bizway WordPress Template
Homepage slider: 

The homepage slider of Bizway enables you to add up to 7 stunning images to make your website look more attractive. If you want, you can even change the number of slider images by customizing the theme.

SEO Optimisation:

SEO Optimisation is a prime concern point when it comes to a website. The bizway template comes with the necessary plug-ins which would help to make the website SEO optimized.

Google Tracking optimization:

The Google tracking feature empowers to track the site visitors.

Navigation Menu: A systematic navigation menu

 helps the users to conveniently browse through the multiple pages of your website.

10 Classic theme colors: 

Bizway theme is available in 10 different colors to best complement your brand.
Theme Info + DownloadLive Theme Preview
---
Business Grow – One Page WordPress Theme For Any Business Website
Business Grow is a corporate style one page WordPress Theme. Thus, it is suitable for most of the businesses. The global & local business WordPress Template comes with most of the important requirements of any business website. It is designed in a way to perfectly accentuate your best services.
---

---
Main Traits Of BusinessGrow WordPress Template
Full-width slider: 

The theme has a full-width slider to accommodate up to 8 pictures related to your business along with headings and details.

In-built contact form: 

The contact page is equipped with all the essential details like heading, subheading, iframe code, etc.

4-column feature area:

– BusinessGrow WordPress Template has a 4-column feature area to display services or maybe team members.

Blog section: Blogs are

 a very practical & handy feature to highlight the latest news, updates of your business & increase traffic there as well.

Hexagonal portfolio with Parallax scrolling:

– Flaunt multiple images of your business venture in a well-arranged manner on the hexagonal gallery segment.
Theme Info + DownloadLive Theme Preview
---
BlackWell – WordPress Theme For Interior Decoration Business Sites
If you own an interior designing business, you know that the complete profile of your business has to display a great amount of creativity. This not only includes your artwork but also your website.
Blackwell is a one page WordPress theme which helps you create such a website. The creative interior decorators WordPress Theme is specifically designed for home & office designers. Thus, it gives you a nice skeleton to display your work upon. Accounting to the theme's striking outlook, other businesses like Coffee shops, Pizza shops, Taxi services, etc. can also use it.
---

---
Great Features Of Blackwell WordPress Template
Responsive Layout:

 The clean interface of Blackwell can clearly be viewed on any screen size by your website's visitors.

Full

–

width slider: 

The homepage has a full-width slider to exhibit some great pictures of your designer space or venue.

Adjustable sidebar menu:

 The template has a clean and device-friendly sidebar menu which assists your visitors with easy navigation through the single page.

WooCommerce compatible:

 BlackWell template comes with a WooCommerce plugin. This enables visitors to shop products directly from the website. The shop page, single product page, cart & checkout option provide a smooth shopping experience.

Portfolio Gallery:

 The Portfolio Gallery is that wonderful feature which makes the theme most useful for interior designers. In this section, you can add some eye-popping images of your work.  
Theme Info + DownloadLive Theme Preview
---
Conclusion
These were some of the best multipurpose WordPress themes which are suitable for all business niches. As mentioned, there is no restriction to which theme is used for which website. You are free to play and experiment with the themes to create a perfect website for your business.
Have any suggestions or feel that this list post should have some more additions, then don't hesitate to share your feedback in the comment box below.