Planning to create your own charity and church website at low cost but facing difficulties to find the best, now it is the time to take a deep breath because here is the list of best and free Church WordPress Themes which will help you to execute your plan.
Donating fund online is now the primary choice for donors. If your website does not take donations online, you are missing out big time!!
WordPress is an online platform to create an exceptional charity and church website where you can conduct fundraising events, donation campaigns to collect relief funds, promote any social causes or online donations. Donations and fundraising themes allow these organization, with a limited budget to set up a magnificent and accomplished website without much effort.
However, selecting from thousands of WordPress themes can be a sophisticated task for you. So to assist you, I've come up with a list of top elegant Church & Charity WordPress themes.
Click on the given link and read our related blog post –
---
GodPray
GodPray is a classically designed retina ready WordPress theme for churches, basilica, religious communities or foundations. It's been built with all the necessary tools that allow you to build a nice looking website for charity.
The theme has unique and appealing features that will compliment your website. One of the most important features of the theme is Donation Form by which anyone can easily donate money to your social organization. With the form, you can set up suggested donation amounts, allow them to donate as much as they want, or do both. It provides you to select payment methods – online or offline.
You are able to control the appropriate format and unwind only what you want to show, without getting marsh in the tassel of coding. With the GodPray Theme, anyone can create a unique, attractive and professional church website with ease.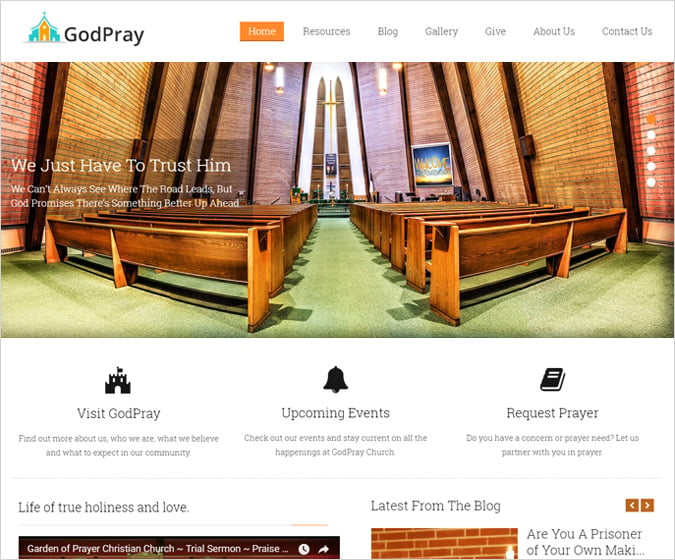 Key Features:
Top class image sliders with text for the home page.
Five different templates available – Default, Full Width, Gallery, Blog an Contact.
3 Column feature section for showing events and preachings.
Compatible all browsers and devices.
Various professionally designed social icon.
Six different color schemes.
LIVE DEMO THEME INFO + DOWNLOAD
---
GodBooks
GodBooks is an amazing theme precisely dedicated for the blogs and the persons who are in the writing field can be benefitted best from it, in addition to that, you can show all the images and the highlights on a slider.
The theme has some extra features such as the gallery page where all the book images can be exhibited through the theme. In a similar way, a theme has a sidebar section where categories of the theme can be mentioned.

Features Of The GodBooks Theme:-
Fully Responsive, Simple, Professional & Clean Layout.
7 amazing color skins.
Multiple slides support
Easy to use themes options panel.
Advance design of slider
Enhanced design of blog page
Advanced footer styling
Coded with SEO in mind.
Valid HTML5 & CSS3.
Download Free theme from here
CLICK HERE TO KNOW MOREVIEW DEMO
---
Charity
Charity WordPress Theme is a modern, professional and powerful, highly customizable WordPress theme for Non-profit, fundraising and charity organizations. This theme comes with many great features and an amazing built-in donation system that helps raise money faster and more effective for your website.
An excellent benefit of the theme is its movable full-width slider on the homepage, where you can exhibit ravishing services in a very creative and pleasant way. It also supports multi-languages with WPML, through which you can change your website content in Arabic, Spanish, Chinese or any other language.
With this theme, you can easily start donation and fundraising for your organization in just a couple of time!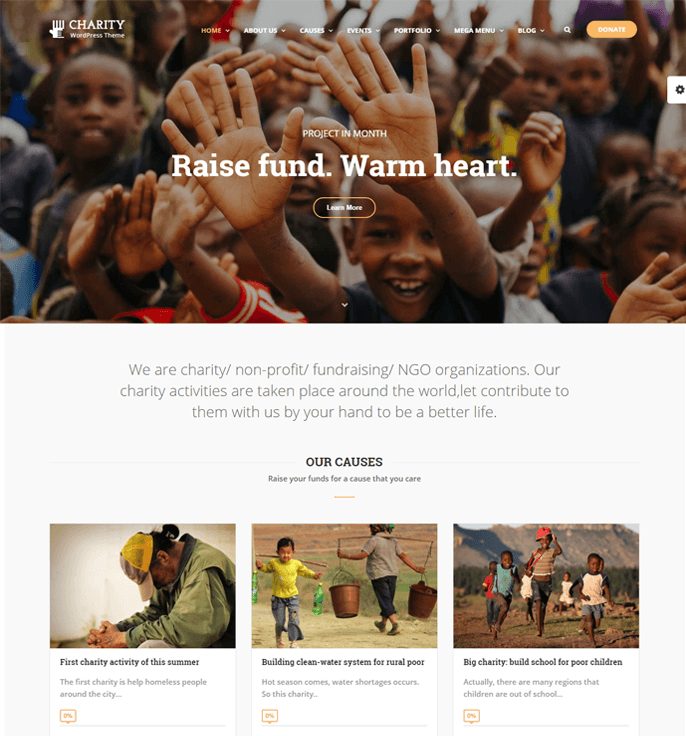 Key Features:
Site will look awesome on any device.
Lightweight Drag & Drop Page Builder.
Charity theme with parallax effects in homepage tagline section.
Mega Menu to offer an amazing navigation experience for users.
Testimonial section helps you showcase what people say about you.
Powerful admin panel.
LIVE DEMOTHEME INFO + DOWNLOAD
---
One Page Theme

The One Page theme as the name suggests is a one-stop solution for the business persons and some of the best features are displaying images that are dominant and clear in presentation.
The pricing table for the prices and the exclusive video section for the presentation of business can be used by the user and the upliftment of the business can be done. The team member section is the place where all the teammates of your business can be shared.

Features Of The OnePage Theme:-
Enhance typography.
Pricing table included.
Retina ready display.
Contact section.
Advanced slider.
Fullwidth slider
SEO optimized.
Avail the offer and download free theme
CLICK HERE TO KNOW MOREVIEW DEMO
---
Curb Poverty
Curb Poverty is a simple, beautiful WordPress theme that has been designed with minimalism in mind. One of the best things about this theme is the wide and boxed layout that makes it really easy to customize.
The theme has perfect features that can help you raising funds and spreading awareness efficiently. Its PayPal donation functionality and WooCommerce support make it possible for a group to raise sufficient money to fund their mission.
In a trifle, if your nonprofit or charitable organization handles multiple campaigns and causes at once, Curb Poverty could be the ideal theme to help showcase them to the community.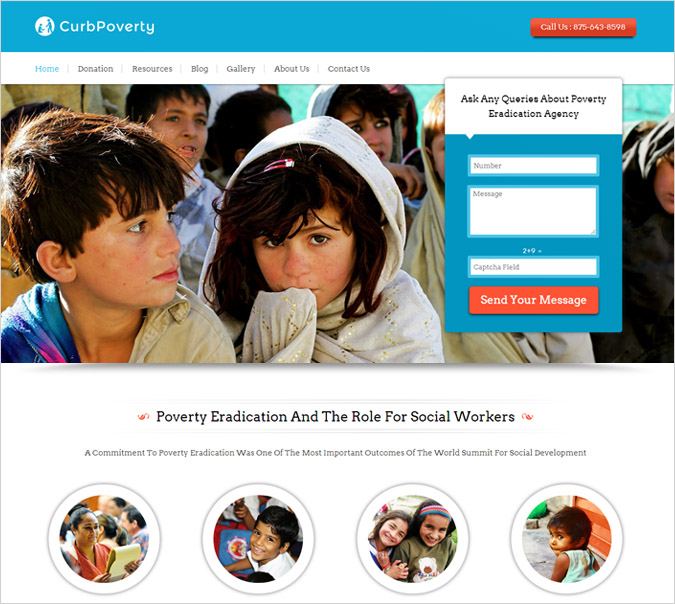 Key features of Curb Poverty:
Theme comes with 4 different footer area.
WPML makes it easy to build multilingual sites and run theme.
Organize menu section and animated slider images.
Powerful Admin panel & Multiple plugin compatibilities.
Support latest WordPress version.
Help you display contact details on Website top.
Single click installation theme.
---
Golden Eagle
Golden Eagle is an intuitively designed responsive WP theme for churches, non-profits, ministry events, donation or fundraising websites. This accomplished theme texture with the demanding constituent that strengthens your cultural site.
The entire layout of the theme is perfectly crafted for the modern churches. The theme comes with a uniquely designed slider and comes with the themes options panel which you can use to control all the aspects of your website.
With the Golden Eagle theme, you can engage your clients and customers to actively participate in your cultural or social events.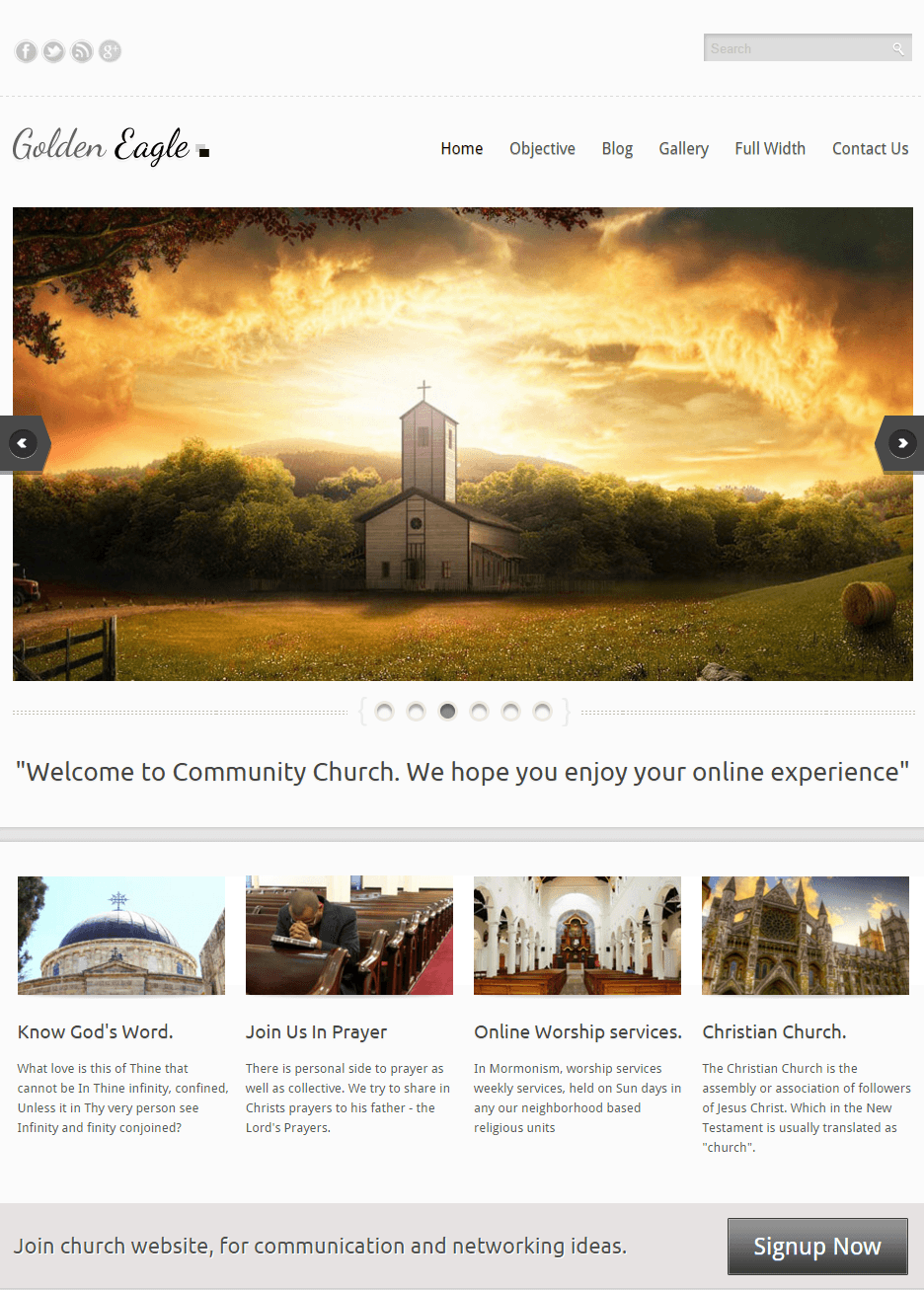 Key features:
Simple yet attractive blog layout for homepage.
4 Column feature section.
Gallery / contact us page template.
Tons of easy to use options to customize your WordPress site.
Background Images Bonus.
Inbuilt SEO to increase website's rank.
LIVE DEMOTHEME INFO + DOWNLOAD
---
Helping Trust
Helping Trust is a dazzling theme which can be used to show navigation via maps and show premium listing, the theme can help the people to increase the funds for their Charitable Organizations.
The theme is fully responsive in nature and is custom made for organized site lovers and other specifications can be easily be made through the website and various traits can be easily made.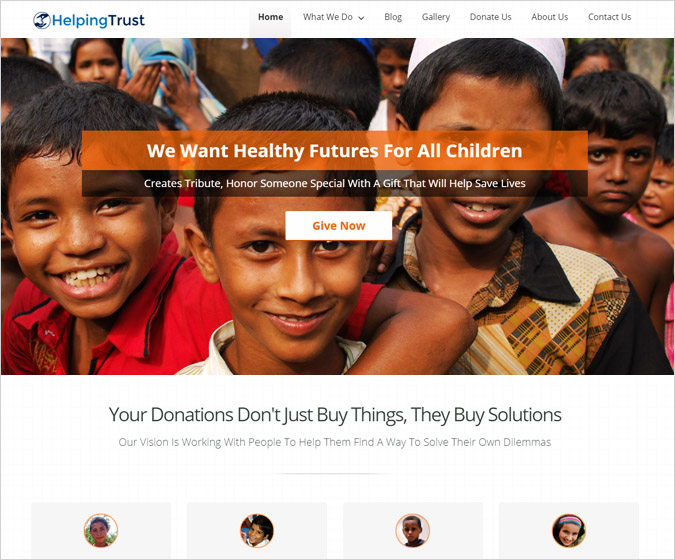 Features Of Charity Agency WordPress Theme

Display best pictures of your Fundraising events.
One click auto installs & extremely easy to use.
Well-documented PHP, JS & CSS files.
Runs on all latest browsers.
Advanced typography options
Google Map integration.
Widgetized sidebar of the pages.
Download theme free of cost 
CLICK HERE TO KNOW MOREVIEW DEMO
---
Helping Hand
Helping Hand is a professional and outstanding responsive WordPress theme for all type of charity and cultural organizations. The theme brings you a flexible layout loaded with tons of features that will surely require to start up your online organization.
The theme is constituted with inbuilt page templates such as – gallery page, contact page, full-width and blog page. It provides some of the most required segment which needs to the charity website.
With this multipurpose theme, you can make fast loading website. It gives better user experience and makes your website search engine friendly.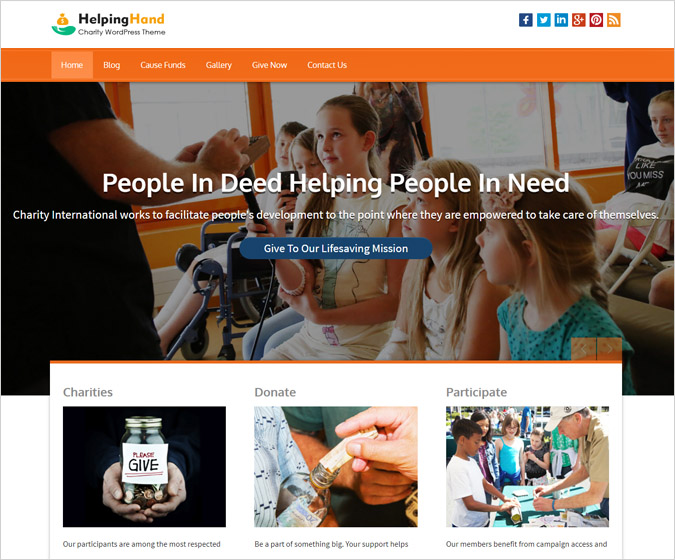 Key features that Helping Hand:
Multiple page layout options.
AJAX based options panel.
Single click installation theme.
Support latest versions of WordPress.
Comes in 10 amazing color options.
Widgetized sidebar & footer areas.
LIVE DEMOTHEME INFO + DOWNLOAD
---
BizWay
BizWay is one of the most popular WordPress themes for a wide variety of purposes, churches as well. The theme is actually designed for anyone who is highly influencing, and therefore, is equipped with all the features you may require to spread that influence.
this beautiful theme is packed with some amazing features to make your website attractive and useful. The best part of the theme is its homepage heading, where you can put your business tagline. It is also compatible with all latest WordPress plugins.
Bizway is the perfect solution for everybody who looking forward to creating an outstanding website for community, church, association or any other non-profit organization.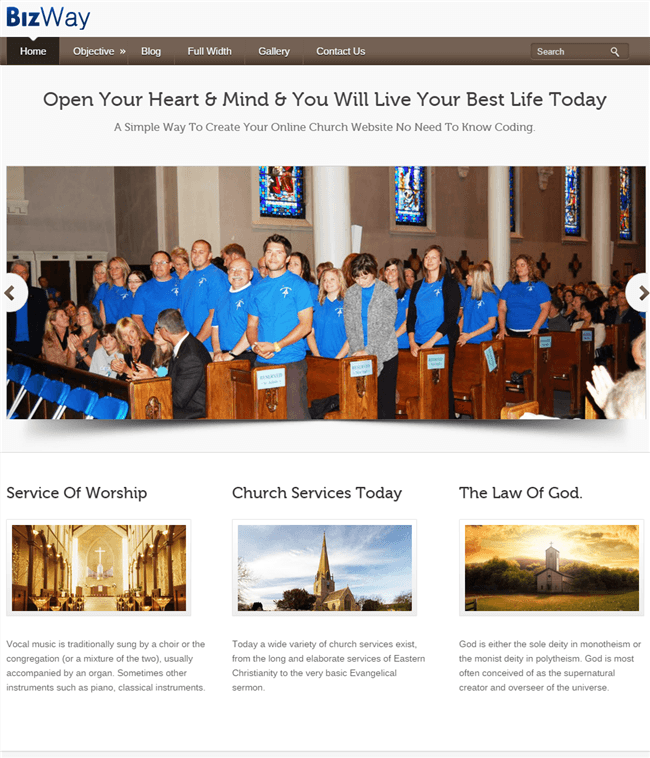 Key features:
Ability to show any sized image on the homepage with slider.

Completely responsive layout & looks cool on any device.

Display most recent blog posts and upcoming events on the homepage.

3- column featured area to expose your

day-to-day Church activities.

Widgetized footer section.

The theme has multiple color options.
LIVE DEMOTHEME INFO + DOWNLOAD
---
Prollective
Prollective is a multipurpose, one-page, responsive WordPress theme. This amazing theme comes along with the superior support and marvelous functionalities.
The online world with elegance and sophistication will appreciate all the features and accompaniment added to the theme. Prollective has unrivaled service section where you can exhibit your techniques. The theme has unique portfolio section with hover effect and parallax background, where you can put your useful important information.
The best thing about Prollective is that it's simple, minimal, and extremely user-friendly for both the website owners as well as users.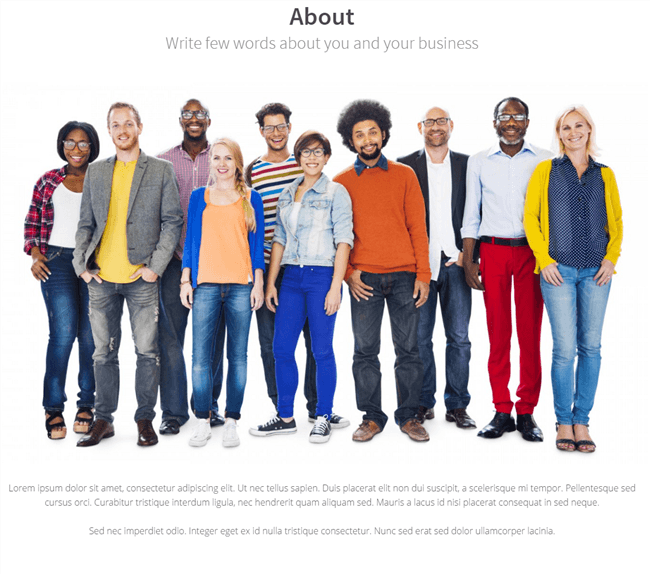 Key features:
Unique style menu that makes navigation fast.
sliders allow for over laying text.
A sticky back-to-top button.
Contact section with an integrated Google map
Showcase your clients and sponsors.
Stylish and retina ready portfolio.
LIVE DEMOTHEME INFO + DOWNLOAD
---
Cloriato
Cloriato is well designed elegant and responsive WP theme. It fits perfectly well with the needs of a non-profit organization. There are plenty of advanced features you can add to support the community or people who actively participate in your charity events.
The theme has quite unique useful features to explore your services on your site. Right below the slider, there is 3-column feature area where you can display your team members or organization kindness. Plus it comes with 16 fully editable banners which is an addon.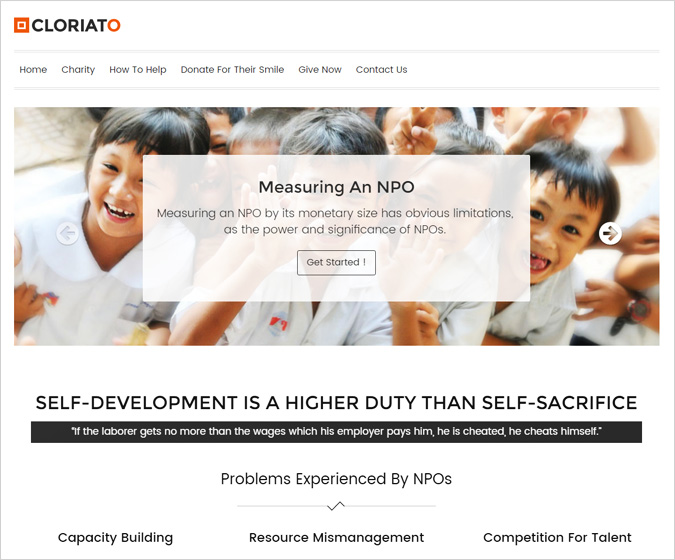 Key features of Cloriato Theme:
Various Page templates available.
Testimonial Section.
Custom logo and favicon upload option.
Eight color schemes to set eight different colors.
Retina ready screen.
Clean layout & easy to set up.
Support all major browser.
LIVE DEMOTHEME INFO + DOWNLOAD
---
GodTemple
GodTemple is a stunning and fully responsive theme perfect for temples, prayer groups, cultural and devotional organizations. The theme is perfectly crafted for all religious and scriptural websites.
The theme is integrated with lots of customization option that can be tweaked by theme options panel. The marvelous element of the theme is service section where you can inform your devote about upcoming festival worship and events. GodTemple has magnificent inbuilt page templates i.e, blog page, contact and full-width.
GodTemple is easy to accommodate with unlimited color scheme options, call to action button and support for multilingual sites.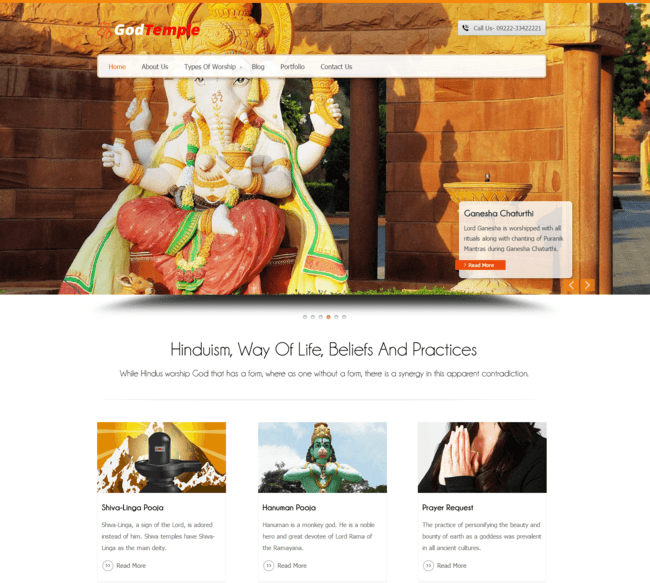 Key features:
Full-width slider with text
Homepage blog section
Testimonial widget area
Cross browser compatible
Google map integration
Widgetized footer area
LIVE DEMOTHEME INFO + DOWNLOAD
---
Contribute
If you search WP theme for donation agencies, protection center, and other charitable trust associations, Contribute is one of the best themes. The theme has ample features to engage your donor base an entirely functional system for creating and promoting your donation campaigns.
The theme is compatible with Give-Donation Plugin, through which render can easily donate money to your social organization. The payment mode is very secure with PayPal integration mode. Users can make an account on your website and able to donate money whether online or offline. The theme has 3 lists based accordion section where you can display your NGO services.
Engage yourself in Contribute beautiful responsive theme to encourage others for charity.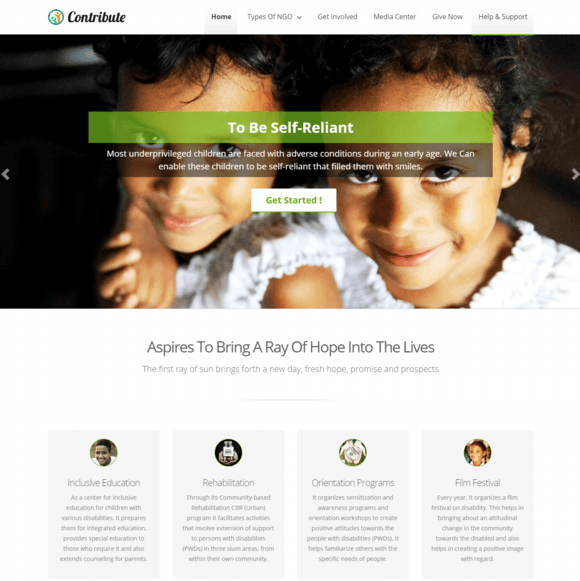 Key features:
Layered and normal slider with text area
Showcase testimonials on homepage
4 featured area with a flip display
In-built contact form with location map
Showcase video on homepage
Multiple social sharing functionalities
Customization service included
LIVE DEMOTHEME INFO + DOWNLOAD
---
PublicService 
PublicService is impressive website template appropriate for building any kind of charity and non-profit websites. It can also be adopted by public transportation center, religious communities, public education system and other gov't society firms.
It is packed with multiple extraordinary features using which you can easily promote your community. The theme is provided customizable lead capture system that captures and stores lead securely under your WordPress dashboard. You can easily add fields in the Lead Capture form and customize it. This system helps you to give regular updates on upcoming public events, functions, educational training program, etc.
PublicService WordPress theme comes with all important features which you surely required for running a social organization.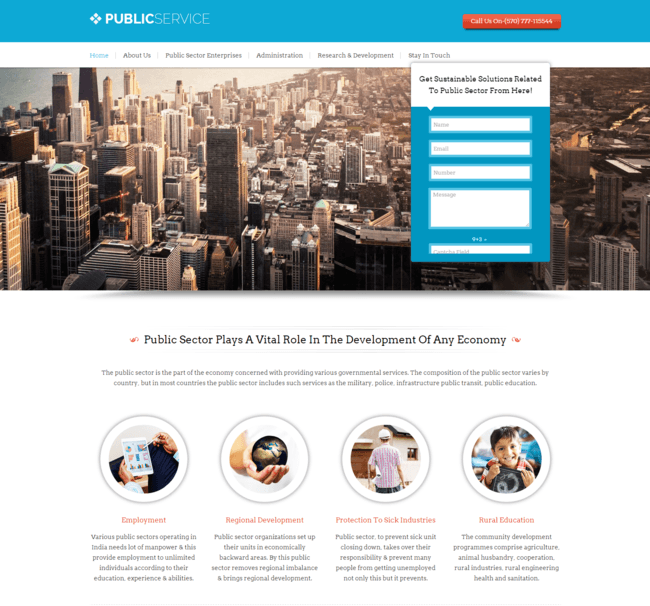 Key features:
Homepage full-width slider
Customizable blog featured area
Acquire 4 columns featured area
Multiple footer widget area
Compatible with WooCommerce
Powerful admin panel
LIVE DEMOTHEME INFO + DOWNLOAD
---
Nature Zoo
Aspiring to be the next World Wildlife Federation, there's nothing wrong with dreaming big when it comes to social organizations! Nature Zoo is an adorable WordPress theme that is perfect for zoos, pet centers, farms, charity pet care clinics, etc.
Apart from being pet-friendly, Nature Zoo comes with several customization options. It comes with slider section that supports both images and videos which give you an excellent opportunity to grab your visitor's attention. The theme has a widgetized footer section where you can illustrate your purpose quite well.
The theme also offers you a super powerful theme options panel where you can manage everything related to your site.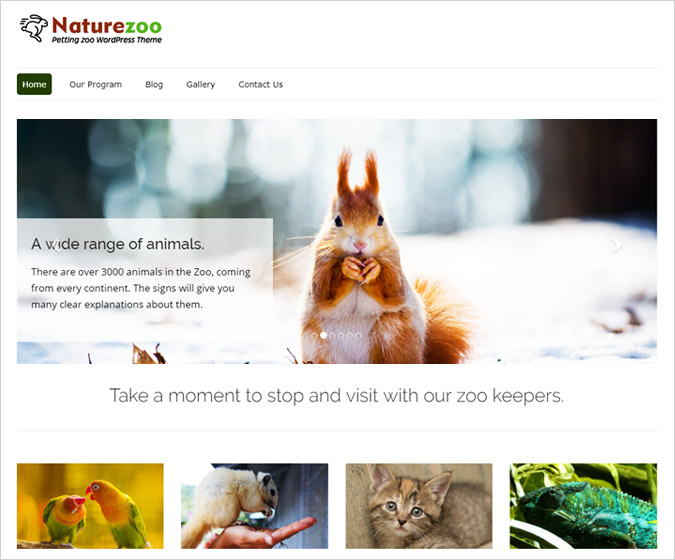 GodBooks
Key features:
Section to exhibit your testimonials and pet lovers sayings.
Easy options to customize your theme.
Compatible with latest WordPress version
100 % responsive layout
RTL favorable.
Fully SEO optimized.
LIVE DEMOTHEME INFO + DOWNLOAD
---
Check out our well-designed Church WordPress Themes ->