"I think a simple rule of business is, if you do the things that are easier first, then you can actually make a lot of progress." – Mark Zuckerberg.
Before you proceed to complicate your business any further, consider the aforementioned quote.
From featuring blog posts to impressive gallery features showcasing the best of your services, easy-to-use WordPress themes are exactly what you need. They would be the imperative icing to the cake that is your business.
Kick start with these simple WordPress themes. They are not just efficient, but also simple to use. With a number of features to choose from, there is hardly room to ask for more. With these easy-to-use templates, you can increase the number of visitors to your website & not just that, potential customers and onlookers will be made aware of the services you can provide.
Do give these themes a try if you're looking for efficiency, responsiveness and a general good look and feel for your website.
---
Bizway – Simple Responsive Featured WordPress Theme
The BizWay WordPress theme is one of the most responsive themes out there, with an interface that is perfectly optimized. The theme is pixel perfect, compatible with just about any device. In terms of usage, the theme is very simple to use and it comes with a slider on the homepage. Using this, you can display images and videos.
All you need to do is visit the WordPress dashboard and manage the settings. A maximum of seven images can be used in each slider. Each image should follow the recommended size in order to give your website a professional look.
---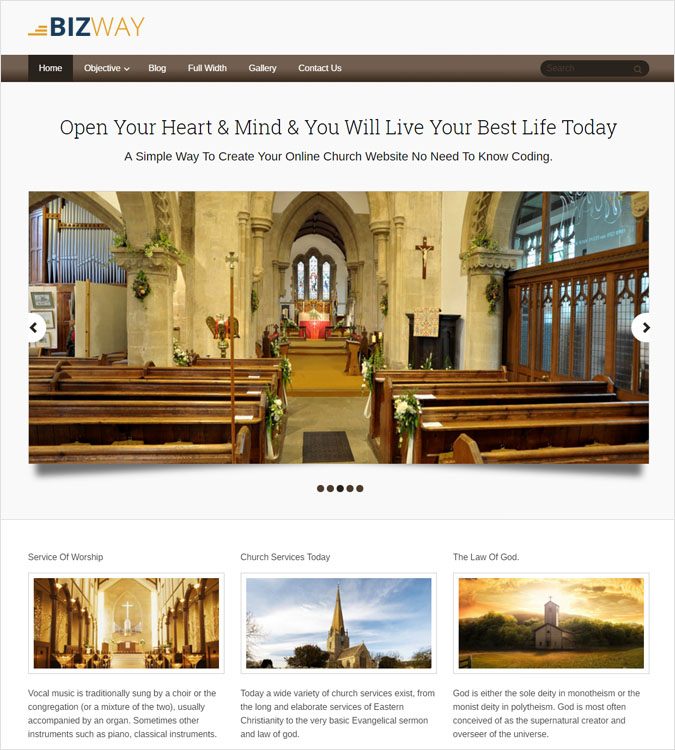 ---
Amazing Features Of The BizWay WordPress Template
The speed of the slider can be adjusted from the dashboard panel.

Custom changes to the theme can be made if you need to add more images.

The theme is SEO optimized with required SEO options such as meta description, meta name, meta keywords and so on.

With the right target words, you can rank higher in Google SERPs.

Ten different styling colors to choose from in order to get the perfect look.

Customized changes can be made with the Custom CSS feature.



Theme Info + DownloadLive Demo
---
Woodpecker – Professional WordPress Theme
Woodpecker is a WordPress theme which allows you to create an SEO friendly business website in a matter of a few clicks. The theme is highly adaptive, packed with a number of modern features which gives you the right look and feel to your website. All your business services can be delivered to your audience in the perfect manner.
The theme comes with demanding elements that strengthen your business website. It is a complete framework which allows you to highlight your business objectives and services. This is the ideal template to help strengthen your business and promoting your business identity in the process.
---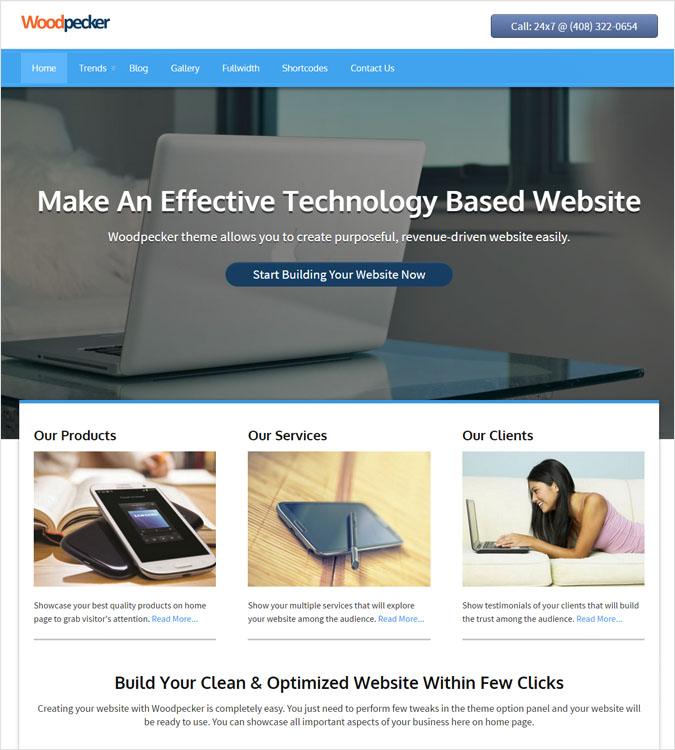 ---
Remarkable Features Of The Woodpecker WordPress Template
All key elements including a full width slider on the homepage to display multiple images.

Three column feature in order to describe your business services.

Two video boxes to add videos to your homepage.

Each slider image has a button associated with it. You can set the text and URL of the button very easily.

An image for the thumbnail of a video can be easily set.

Social icons are present, which makes sharing very easy.

There is a powerful admin panel present.



Theme Info + DownloadLive Demo
---
Slice – Best Feature WordPress Theme
Selling products online is quintessential for user-friendly fashion stores, giving buyers complete control over everything related to shopping. If you're looking to develop an E-commerce website with the latest fashion trends, then this theme is all you need and more. Fashion accessories can be created and sold online with the simple click of a button.
The template can be adopted by Clothing Centers, Garment Sellers, Retailers, and so on. Websites are a necessity for any business & these highly supportive, compatible and flexible themes are built to support such businesses.  
---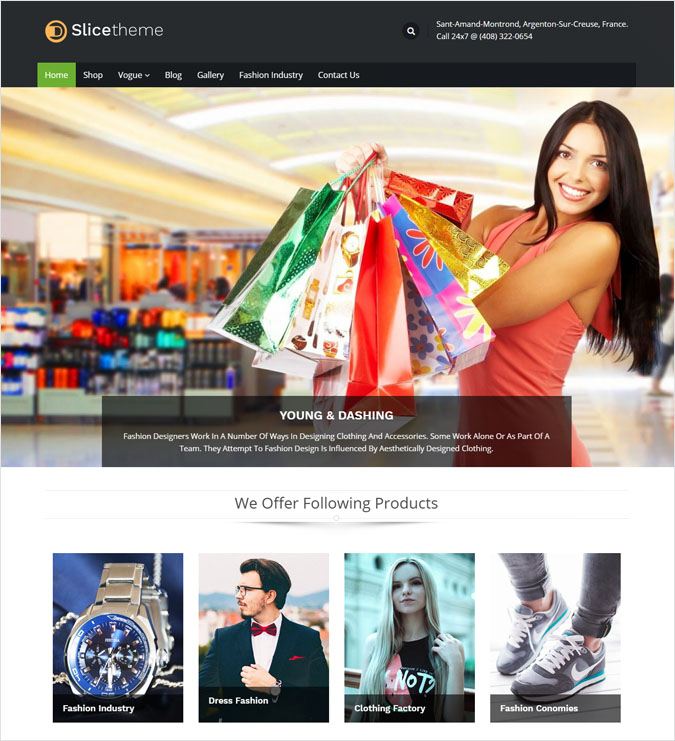 ---
Striking Features Of The Slice WordPress Template
Sliders allow you to display multiple views of your fashion store in a descriptive area.

The homepage feature allows you to set your homepage loading animation on or off.

With the header customizer, you can change the theme header background, color and menu hover pigment.

A recent blog section allows your recent posts to be displayed. With six distinct layouts, you can customize your website in many ways.

The footer section allows you to set an alternative logo of your store and you can also change the background.

You can share your Instagram profile with site users.



Theme Info + DownloadLive Demo
---
Themia – Unique & Simple WordPress Theme
Most businesses get channelized online which is why it is prime to create an online presence for your business. If you don't have a website, then chances are that you could end up on the losing side of things, losing potential users, sales and profits. One of the best ways to create noise about your brand is via business WordPress theme, in particular themes such as Themia.
With minimal design, alongside the WooCommerce on/off feature and a video space to choose from, you are spoilt for a choice! Its homepage has a business logo and right at the top, there are a number of social sharing icons.
---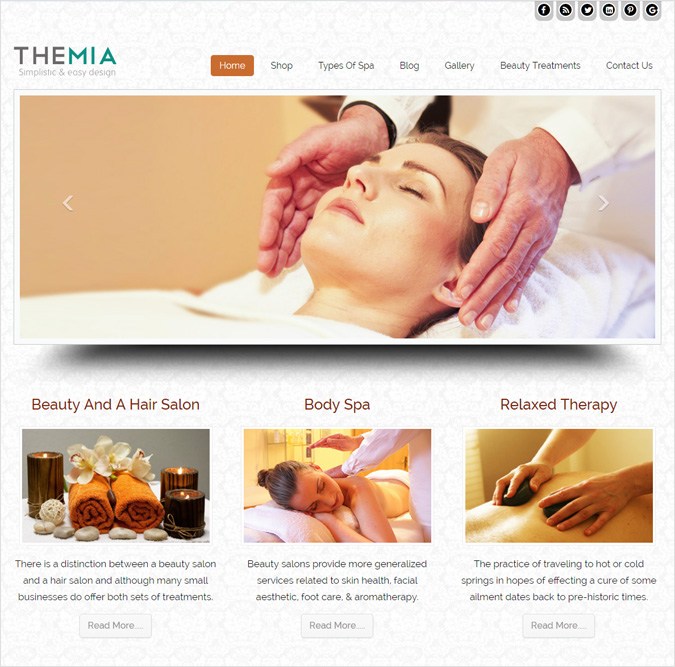 ---
Magnificent Features Of The Themia WordPress Template
The homepage hosts a Banner which gives users the privilege to advertise services of your business.

The Testimonial feature of the theme is unique and can occupy the left, right or full width layout of the homepage.

A stylish slider on the front page allows you to showcase different images.

A navigation menu is present which can be used as a drop down.

There is a three-column feature area with which you can showcase your business features as well as your team members.
Theme Info + DownloadLive Demo
---
Compass – WordPress Theme With Five Featured Content Slider
Compass is a professional business WordPress theme which has featured content sliders. If helps to showcase your business effectively to the visitors of your website. The most striking feature of this theme is the animation effect which spreads across every part of the theme. Content moving sliders and various icons add a dynamic effect your website.
There is a three-column feature section which allows you to put your best forth to your viewers. A responsive WordPress theme is all you need to engage viewers and this theme provides you with just that. Every single feature can be customized with great ease making this theme greater.
---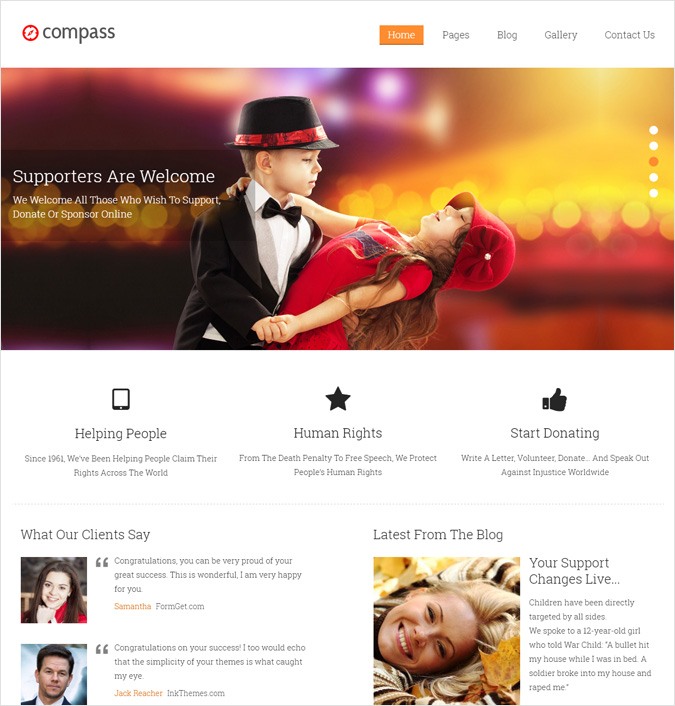 ---
Highlighting Features Of The Compass WordPress Template
Compass is a theme that is packed with features in particular, the attractive image slider grabs attention.

There is also a feature to add videos and testimonials to the homepage.

An advanced option panel allows you to customize your features in accordance with requirements.

Single click installation makes the theme simple to use.

Compatibility with any device increases your traffic.

You can also create a very efficient, SERP valuable website in a single click.
Theme Info + DownloadLive Demo
---
Elite Pro – Clean, Flat Design Rich WordPress Theme
The presentation is the key to the progress of any business. Elite Pro is a premium WordPress theme with flexibility and functionality that can be used in the creation of a multipurpose website. You can create something as simple as a blog, or something as complex as an E-commerce site.
This flat and clean WordPress theme can be employed by businesses, agencies, and so on. Blogs and posts can be featured in one of the two formats- either horizontally or vertically.
---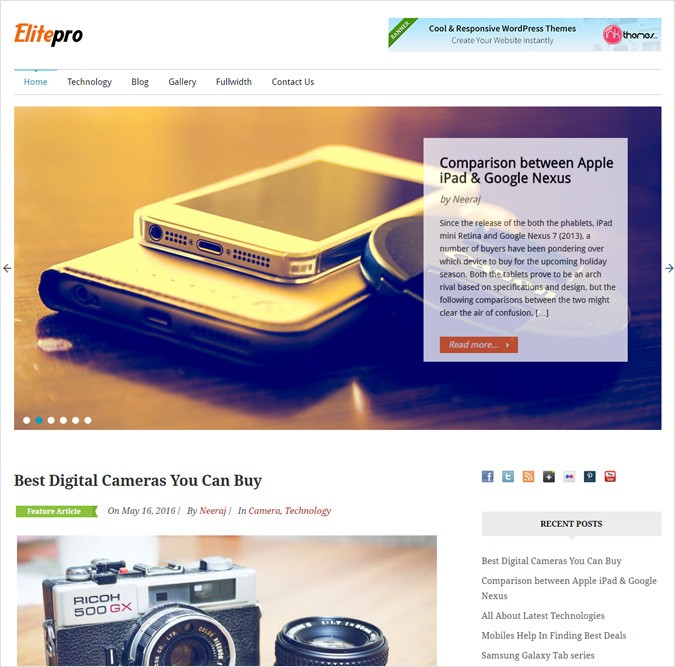 ---
Prime Features Of The Elite Pro WordPress Template
The attractive moving slider on the Home Page which is easily customizable.

A full-fledged editor present in the themes option panel lets you customize the content on the homepage.

Ten color options to pick from which are suited to various projects.

Completely responsive themes that adapt to a variety of screens such as desktops, tablets, mobiles and so on.

Inbuilt page templates like the blog page template, the full width page template, the gallery template, the contact template and so on are present as inbuilt templates.

Completely widgetized sidebar.

Inbuilt social icons to help create an online presence.

Footer text area to display any type of text in the footer.
Theme Info + DownloadLive Demo
---
Blackbird – WordPress Unique Responsive Theme
The Blackbird WordPress theme is simple to use and comes with a newsletter on the homepage. It is very easy to set up and it gives your visitors more reasons to wander on your site. The entire control of the website lies solely in your hands and with the cutting-edge technology that the theme employs, you can have a fully responsive theme set up in no time at all.
Ordinary business websites can be made more professional looking to your visitors with the help of this theme. Blackbird enables you to upload a customized logo of your business. There also is a provision to enter your contact details on the top right corner. The theme supports stylish colors and also supports pixel-perfect design.  
---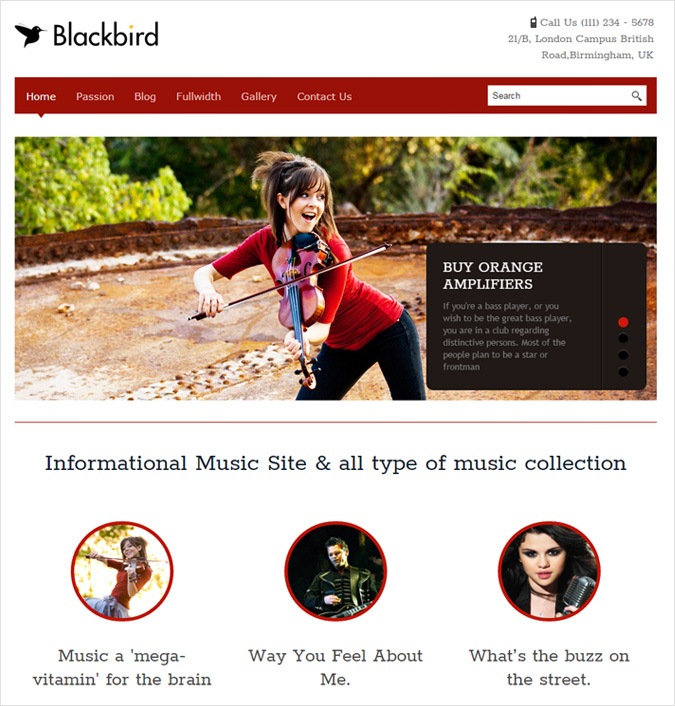 ---
Irresistible Features Of The Blackbird WordPress Template
The slider allows you to insert videos and images on your website.

The WordPress Responsive template allows for the presence of feature boxes.

There is a portion to place client testimonials so as to increase your credibility as a business or individual.

Recent blog posts can be featured on the homepage as well.

An area for Sign up for Newsletter allows users to connect with you via their email addresses.
Theme Info + DownloadLive Demo
---
RoadFighter – Multipurpose Full Width Slider WordPress Theme
RoadFighter gives you the ideal environment for multi-featured slider WordPress theme and is equipped with amazing features to empower your website. It helps in the construction of a business website in almost no time at all.  The attractive & responsive image slider on the theme remains to be the standout.
It gives you not just a full width image container but also a frame that displays a jQuery slider in the homepage of the website. Also, there lies a facility to showcase notifications, services, products and so on in a professional manner.
---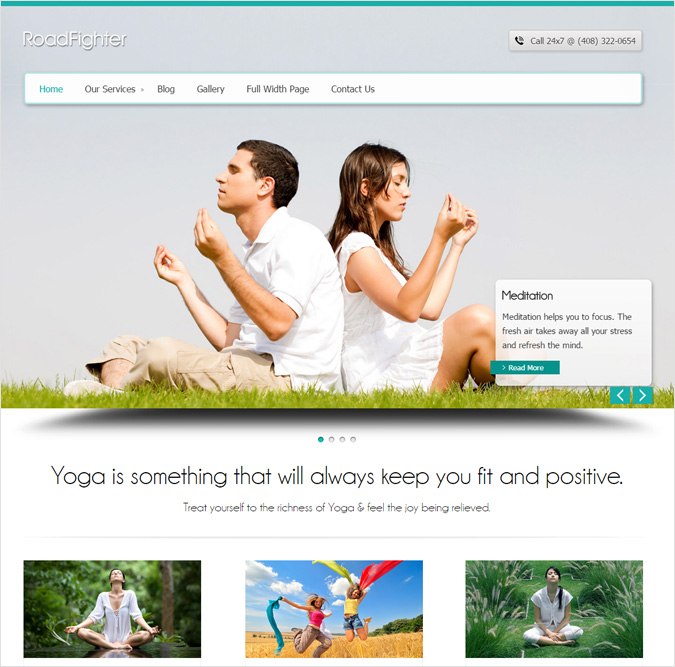 ---
Alluring Features Of The RoadFighter WordPress Template
Call to action button which helps to redirect users from a particular page directly to the homepage.

The theme can be installed in a single click and is customizable from a powerful admin panel.

Blogs can be featured on the front page.

The site is search engine friendly.

You can convert your websites to suit a number of niches.

You can also build a website for blogging or a business with a clean modern interface.

The distraction free layout places value on the content of the site.
Theme Info + DownloadLive Demo
---
Local Business WordPress Theme With Built In Lead Capture
If you have a dynamic website, then promoting your business online is a fairly simple deal. The Local Business WordPress theme is designed to cater to the needs of people looking to build a business website. Just about anyone including the likes of shopkeepers, business firms, service providers can make use of this highly efficient theme.
The built-in lead generation form holds all the features necessary for running and promoting a business online. Unique specialties allow for the creation of an outstanding website for your local business.
---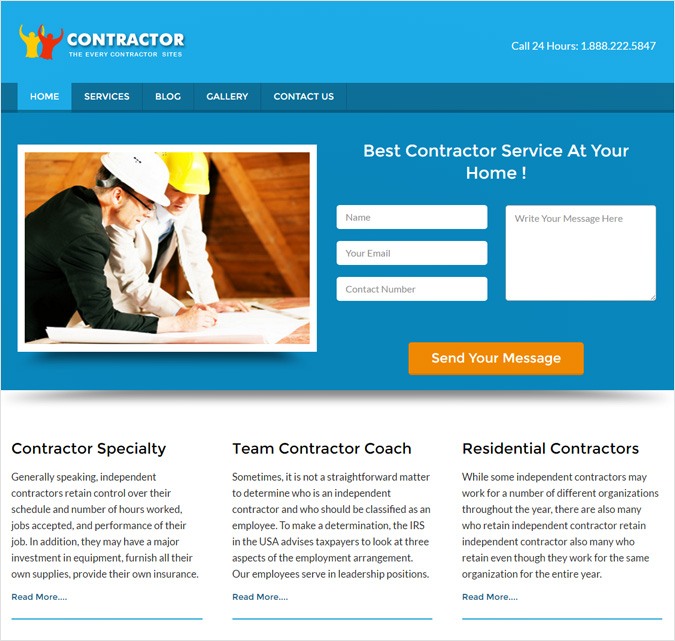 ---
Eye-catching Features Of The Local Business WordPress Template
Lead capture form which inevitably contributes to more business opportunities.

Regular updates can be given to your visitors including service tips, and other related news.  

Contact details are placed at the top so reaching you is a simple task.

The homepage hosts all the services that you offer, keeping people informed about your business.

The video feature enables you to engage customers.

The theme is compatible with any viewing device including desktops and mobile devices.
Theme Info + DownloadLive Demo
---
Blackhorse – Equestrian Responsive WordPress Theme
The BlackHorse WordPress theme was crafted for horse riding associations, equestrians, clubs, schools and horse ranches. Learning horse riding is no simple task, but it sure is easier with this theme. The theme was built, in order to create a common ground for horse riding academies.
With this template, you can share the highlights of your riding club with the featured slider description box. The highly responsive theme makes the theme more easy to use. Also, each slide has a description box which can be used to feature the milestones of your club. There are two nav buttons present on each side of the slider which helps in the linkage of your images and its description.
---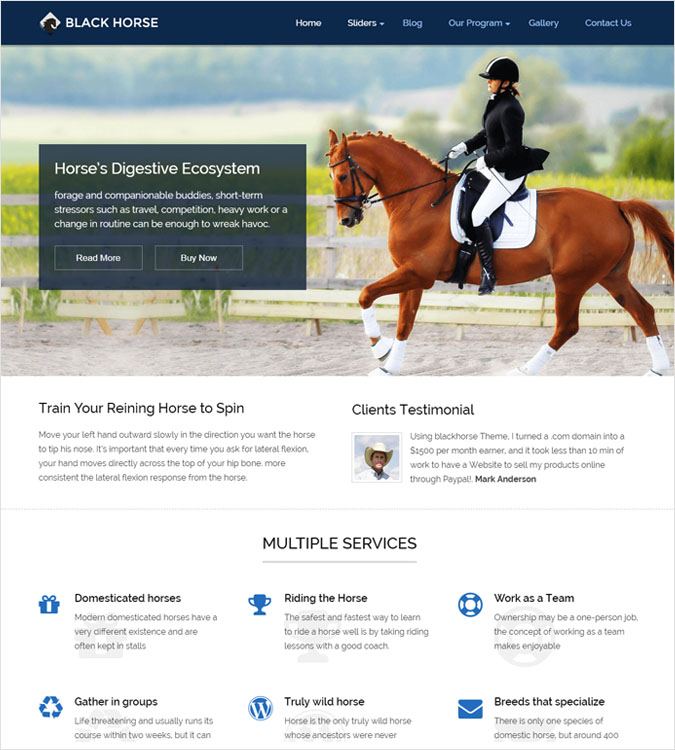 ---
Tempting Features Of The BlackHorse WordPress Template
With testimonials and success stories you can grab the attention of your visitors.

Horse riding courses and career tips can be shared via this theme.

The loading button can be customized and you can use a gif of your choice for this.

A gallery is present to feature the best of your work, which can be divided based on a few categories.

All your services can be featured on the home page in a simplistic manner.

A wide array of colors to choose from for the theme.
Theme Info + DownloadLive Demo
---
Conclusion
When it comes to picking themes that are simple to use and efficient, the aforementioned crafted templates definitely make the cut. There is no dearth of themes and you are literally spoilt for choice. Don't hold back on anything and make use of these themes to get your business started.
Wish to see more? here it is:-

9+ Best Multipurpose WordPress Themes

7+ Fastest Loading WordPress Themes
---