Creatives love things that are simple and less cumbersome. Simple and minimalist WordPress themes are meant for such individuals.
The essence of minimalism is such that people fall in love to something for its simplicity.
As a creative, if all you want to do is draw a large volume of users to your website and astonish them, your website must be designed to help you with that.
That means with interface, design, its colors and with everything.
Eventually, minimalism makes your website user-friendly, which is quintessential for online industry to be influential.
So checkout these WordPress themes that have clean and flat user interface. 
What's more crucial fact about this listing is that you can find minimal themes for specific niches like – salons, gym & fitness, coaching institutes, repairing shops & garage, human resource, manufacturing industry, finance, and more.
---
You might also be interested in-
---
1. BizWay
BizWay is a simple, fully-responsive and ideally designed minimalist WordPress theme. It is equipped with a thoroughly optimized interface. Proper spacing allows you to showcase the important business products and services in an excellent way.
The theme comes with 12 different-fabulous categories so you can easily build clean and minimal websites for the businesses like fashion, church, interior design, real estate and much more.
The template also has a search box in a navigation bar, apart from it BizWay will add an advantage to your homepage with its homepage right widget area. Bizway is a theme which can guide your user well with its unique blog feature section with an extra access to display number of blogs. Other than this a three column feature area to engage customers into your vibrant business services.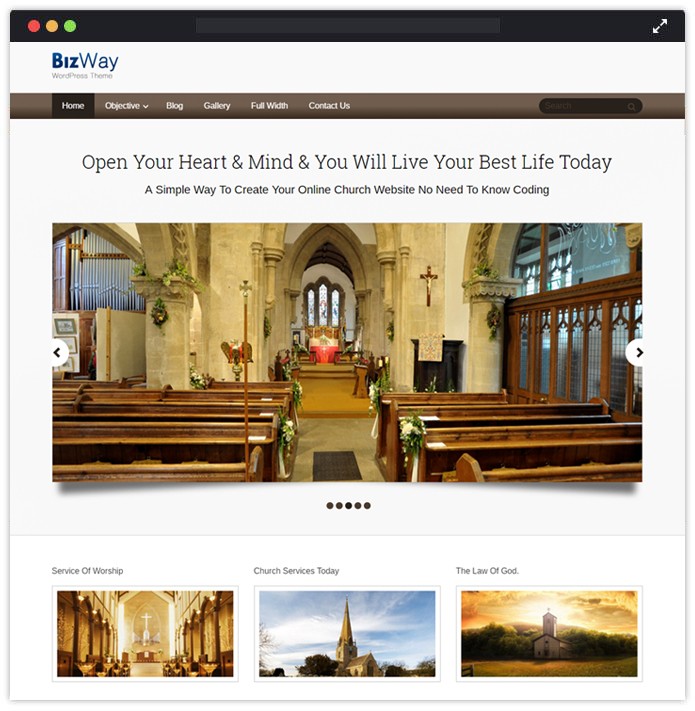 ---
---
2. WoodBerry
Woodberry is another clarity crafted minimalist WordPress theme equipped with a simple layout. Woodberry is the best combination of minimal features, flexibility, and ease, so it is perfect for any niche WordPress website and it could be a Music channel, Dance Classes, Driving Schools, Appliance Repairing and many more.
It also supports an amazing video other than images in sliders that can make it really impressive and compatible with all latest browsers, with the help of these sliders you will be ready to illustrate about your working in a best possible way and it can engage your customers to have an outlook. Woodberry has got business service section that is quite unique from any other template, here you can mention your unique terms associated and services of your channel.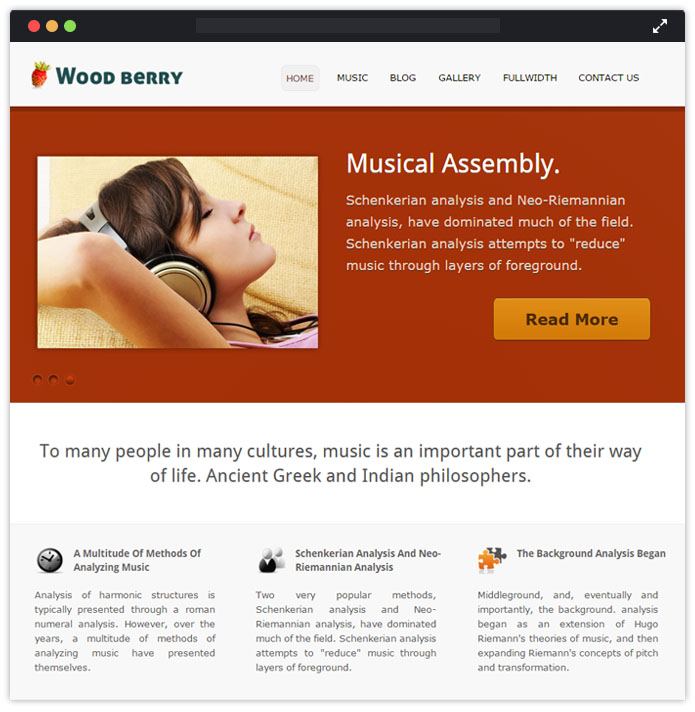 ---
Theme Info + DownloadView Demo
---
3. Simple
Simple One-page WordPress template is efficacious in structure & functioning and it neatly highlights your company's main service elements and features. The whole setup enables you to take the advantage of a smooth scrolling experience with a parallax effect that adds animation to your website. This theme is a complete motley of feature areas, call to action button, about us section and many other splendid features.
The simple theme is highly responsive due to its unmatched compatibility with all the devices including phones, tablets & PCs. The theme has a constructive admin panel which offers you easy navigation and customization options. This theme has a lucid slider framework, social media icons, and workforce segment. SEO equipped & WooCommerce compatible plugin allows you to build a shopping web page with add to cart and checkout solutions for your buyers, giving them an amazing shopping experience.
Encapsulated testimonial section in this theme enables your clients to write reviews about what they felt after utilizing the services of your company. The latest blog update section and contact us areas are alluring. These features are priorly desirable by all the niches available today that will make you and your customers go bonkers.
So, go on and give Simple WordPress theme a try!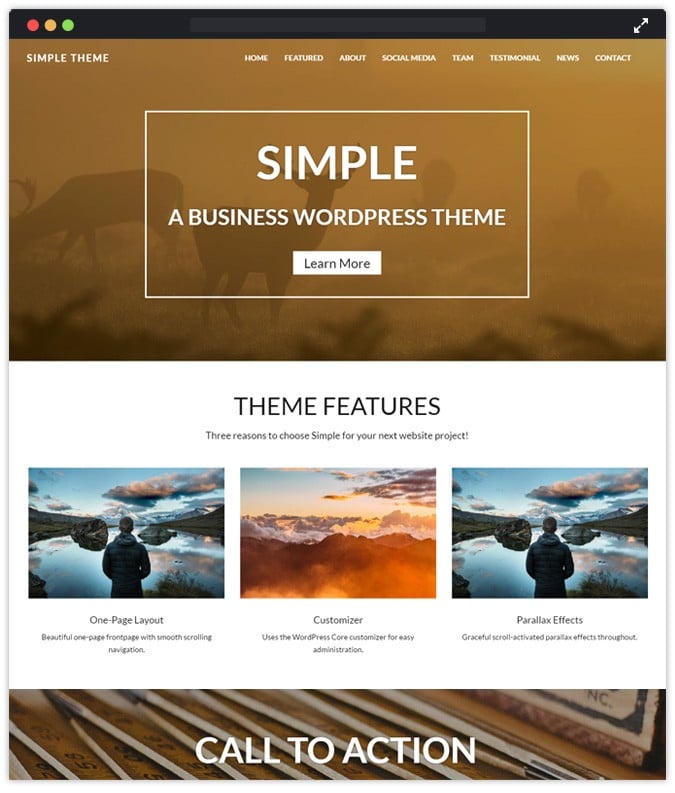 ---
Theme Info + DownloadView Demo
---
4. Slice
If you're interested in building a minimalist website for your business, then Slice WordPress theme would be the best option. Slice is integrated with WooCommerce,  yes now you can develop your productivity and uplift your brand. With a theme like Slice build on WooCommerce one can simply make its sidebar more attractive and effective to reap and raise capital.
Slice is crated to hold ample features like – full-width high definition sliders, appealing 4 column feature area with hover text, rich tagline, product area and most important 6 different combined layouts for blogs and banner. It is fresh WordPress standard template with attractive design, functionalities, and various options for customization. It has an easy-to-use interface, super simple setup, and allows you to showcase your work in a highly professional manner.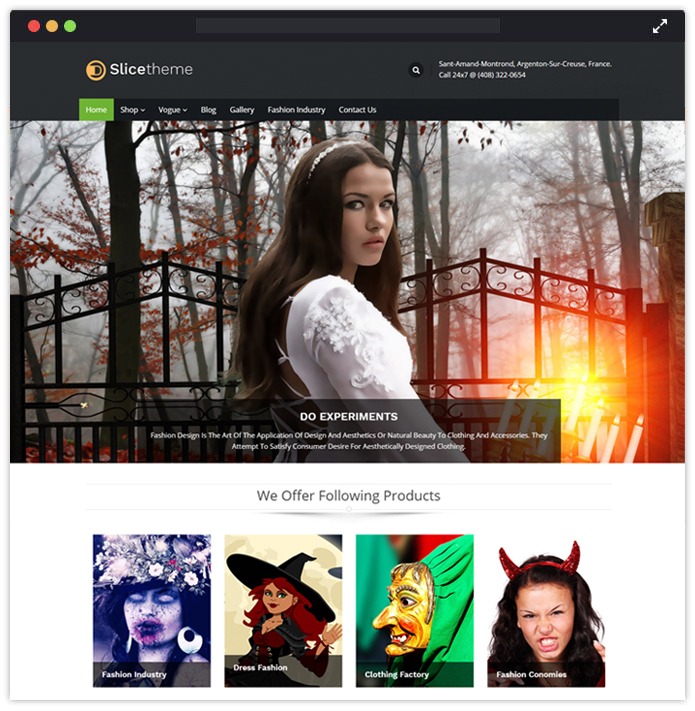 ---
Theme Info + DownloadView Demo
---
5. Themia
Themia is a minimalist eCommerce WordPress theme that can enhance your commercial evolution and will bring you on the greener side of trade.
Themia has got plenty of traits to serve business niches such as yoga, meditation, spa saloon, hotels and restaurant, fashion, music, interior design, tattoos and art, pets and much more.
To shine your domain yield, the theme has got lot more features like Homepage Banner, Huge Product Section, Homepage Right Widget Area and a Finest Testimonial Section on the homepage.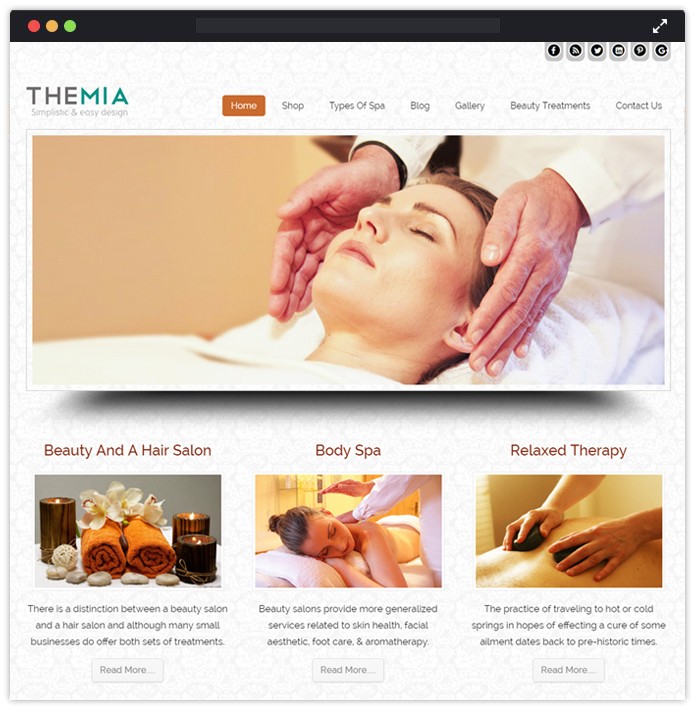 ---
Theme Info + DownloadView Demo
---
6. Covera
Covera is a flexible multi-purpose WordPress theme that serves as an excellent option for improving the look and feel of websites for any niche ranging from business and blogging to news, magazines, portfolios and a lot more.
Covera is blended with many stunning features like homepage introduction box to write something about your channel. Also, it has a homepage button with the link to redirect your users wherever you want. In addition, you get a feature like a portfolio with different categories and there is a lot in homepage which belongs to the primary widget area.
It is a multipurpose theme and can be used for various niches such as hotels, restaurants, movies, fashion business, etc. Customization option is also available so just customize the theme and use it as per your wish.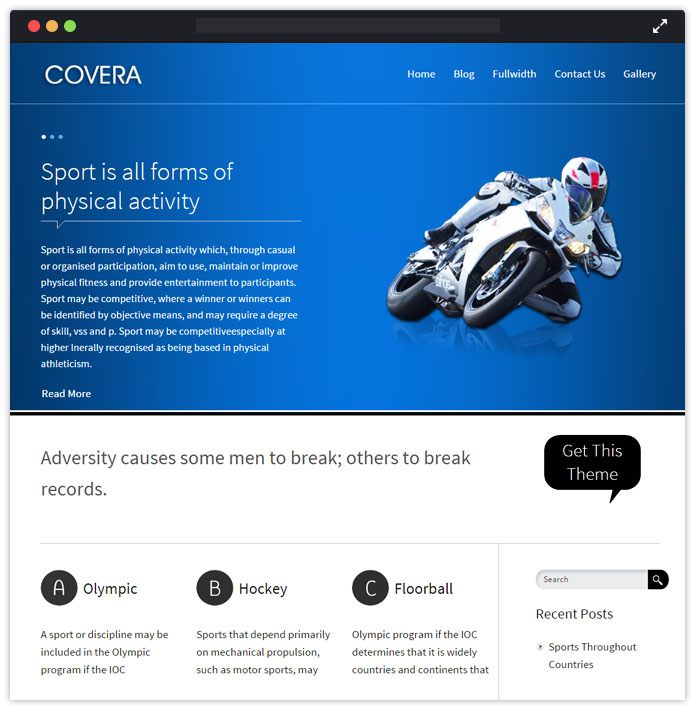 ---
Theme Info + DownloadView Demo
---
7. Elite Pro – Clean, Flat Design Rich WordPress Skin
Elite Pro is a minimalist template designed to monitor your blogs and information and channelize your brand. Elite Pro is simple and clear enough to cater all of your posts in a well-organized manner. On top of this smart gallery widget in sidebar makes it more captivating for customers.
The features of this template are way better to cast and hold your business content in different ways. Likewise in Elite Pro sliders are categorized to show your assigned blogs with a nav for next and previous.
Best suited for websites belonging to agencies, individuals, and the design can be bend for all type of devices say mobile, laptop, tablet, etc.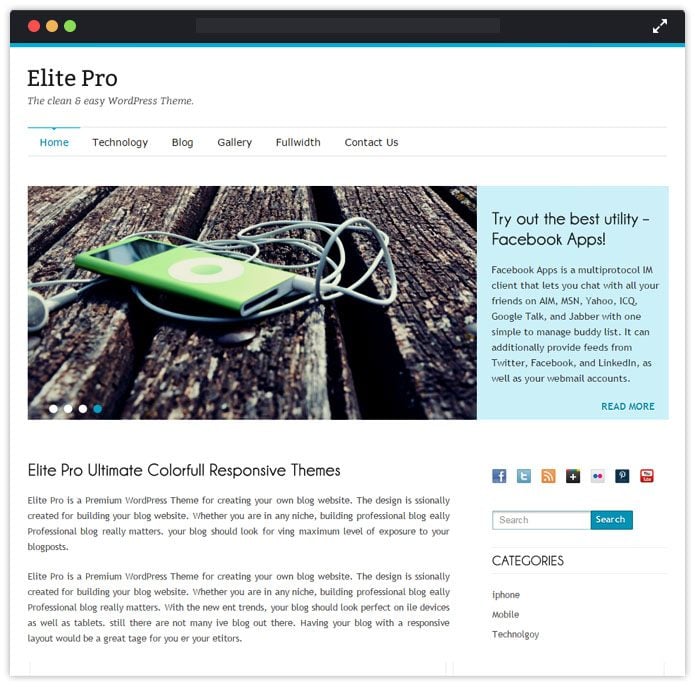 ---
Theme Info + DownloadView Demo
---
8. One Page
The one-page theme is an awesome example of a clean and minimalist website, the theme features are so made that all the business features can be magnificently projected, the full-width slider to display your organization highlights and 4 column feature area to share services.
There is an independent video section where all the video presentation can be uploaded with the help of the respective section, the pricing table is the place where all the costs and the offer of your business can be uploaded with the help of the respective section.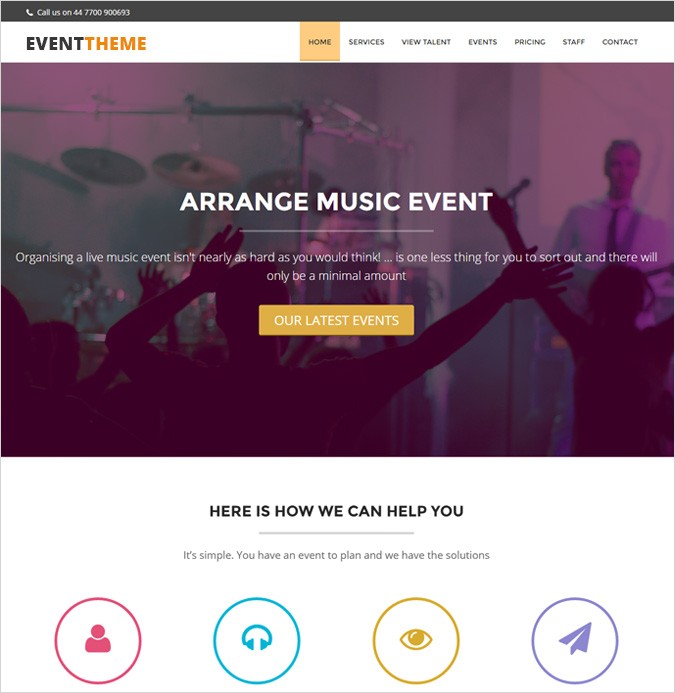 ---
View DemoDownload NowClick Here To Know More
---
9. WP-Clear
WP-Clear is yet another premium minimalist WordPress theme with a responsive and clean layout. WP-Clear is designed to mingle with every features that comes into mind while adopting a WordPress template.
The theme has 6 Splendid Boxed Sliders, Photo Gallery, Different Categorized Blogs, Featured Widget in homepage Sidebar and many more. The notable trait of WP-Clear is that one can simply add a video instead of an image into sliders to flaunt in a better way.
It consists of multiple homepage layouts that let you build a beautiful, desire and perfect looking website for your business. Add YouTube videos, related ads and other features to your website and make it more appealing and exciting for your customers.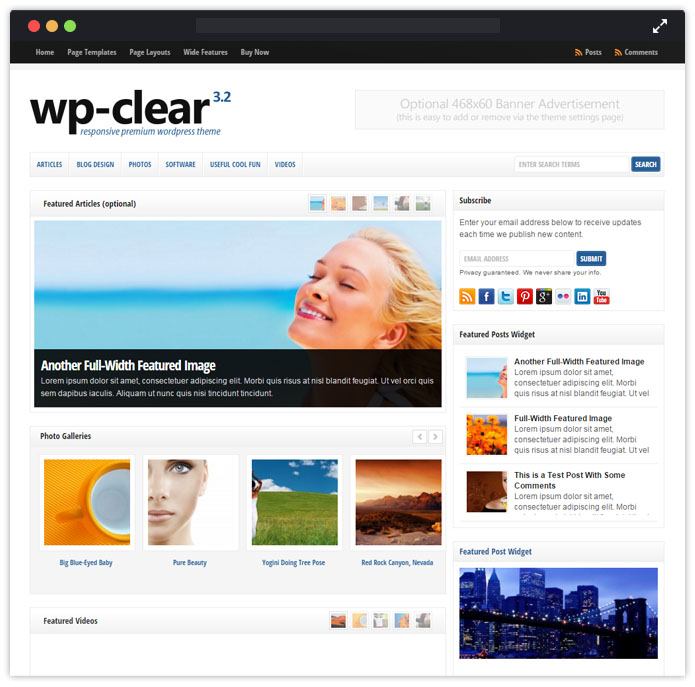 ---
Theme Info + DownloadView Demo
---
10. HelpingHand
Helping Hand is a WordPress minimalist theme specially designed for charity, nonprofit, NGO's, social work websites.
A video is one better way to explain and convince others that's why this theme has front page video box where you can draw maximum users to watch out your programs and testimonials. One of the important features of a theme is – it comes with an integrated Donation box which easily collects donation and other funds via PayPal gateway.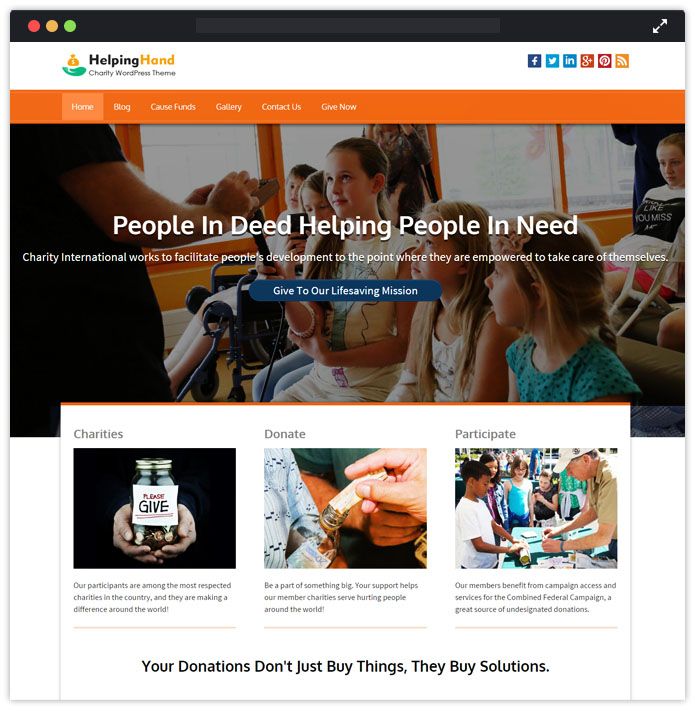 ---
Theme Info + DownloadView Demo
---
11. Foogo Pro – WordPress Business Skin
Foogo is vivid minimalist WordPress theme best suited for a professional looking business website. One important feature that makes the theme unique and special from others is that – it has 2 type of background styles – video/image.
Foogo Pro is highly advance to accommodate every business needs as it consists plenty of features like- Homepage Navigation Feature Area with Category, Homepage Right Widget Area where you can add video to illustrate about your services and a Client Section where one can easily depict the company logos which they have served.
So, if you would like to make a website with moving or sliding background then go for a video theme and if you want to make it more simple website then go with an image theme.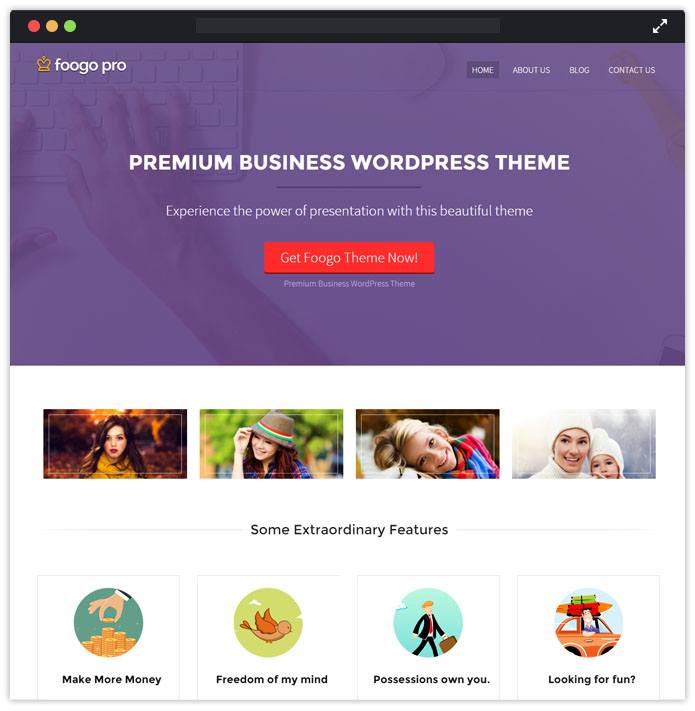 ---
Theme Info + DownloadView Demo
---
12. Geocraft V2
The GeoCraft is an amazing minimalist directory theme where all the mapping and navigation can be done through integrated google map, and similarly, the search listing option is another dazzling feature of the theme where the customer can search exactly what they have visited the website for.
The theme has certain features such as premium listing option and general listing option, in premium ad listing option the paid members will get the access to the section where the user will find the lead capture form and the general ad listing option will come without lead capture form.
View DemoDownload NowClick Here To Know More
---
13. HomeBuilder – Simple Real Estate WordPress Theme
HomeBuilder is a premium minimalist WordPress real estate theme equipped with sleek, smart real-estate capabilities. It allows you to empower all the property details displayed on your web pages to attract potential customers towards your business. The theme is perfect to take your real estate business online and invite more clients to sell and buy their properties.
The theme comes with 8-different slider images on the home page, unique menu style, easy to search listings, customizable 4 column widgetized footer, and easy to use theme options panel and many more.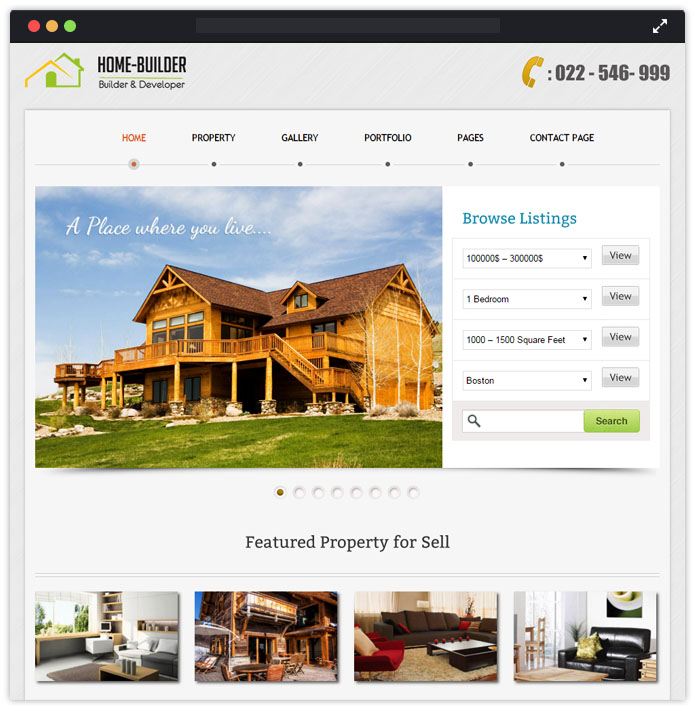 Theme Info + DownloadView Demo
---
14. Kalium
Kalium is a well organized and visually stunning minimalist WordPress themes for multiple professionals.It comes with stacks of layout designs with drag and drop functionality to create your website in a few strokes.
It comes with tons of font options and simple hover effects to make your website look decent for any design concept you have thought. With hundreds of possible design variations with Kalium comes the immense possibility of improvisations for minimalist creatives.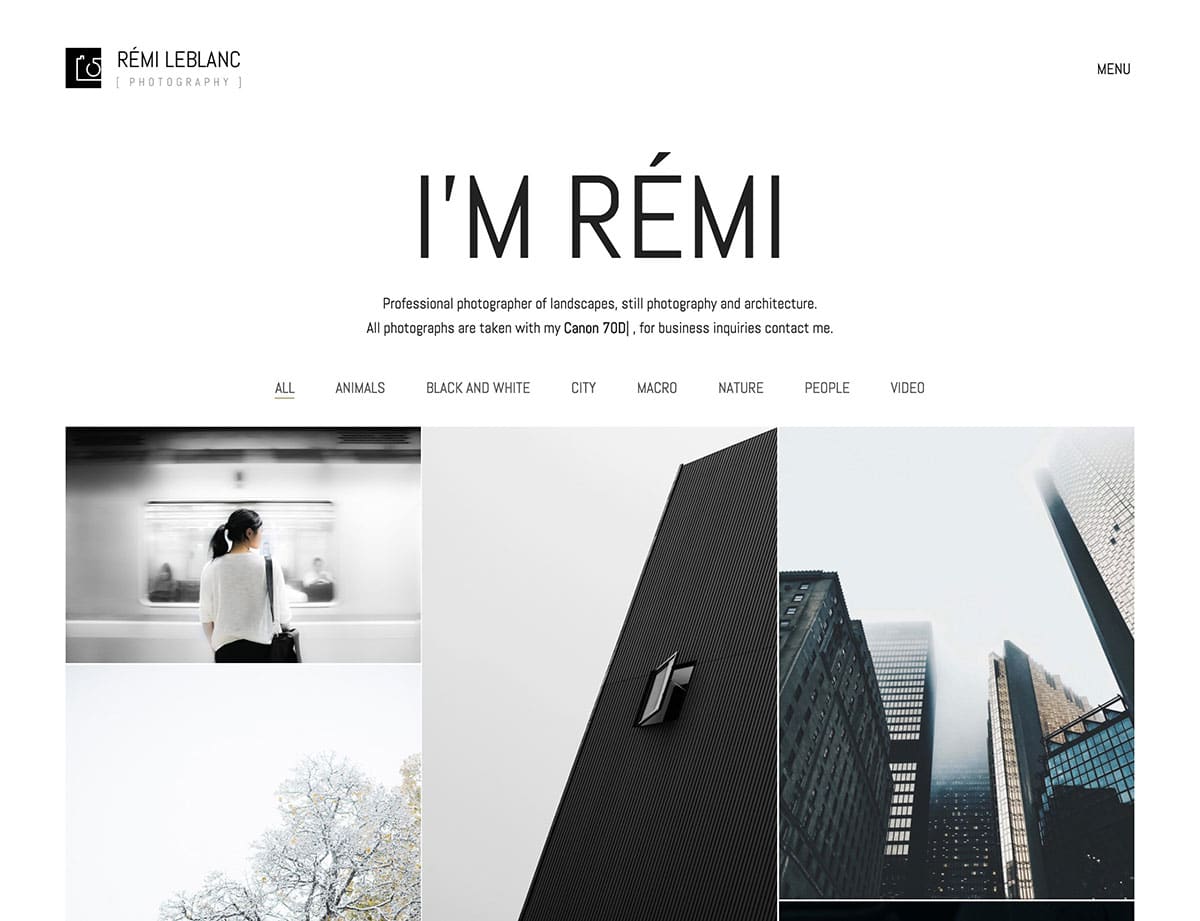 Theme Info + DownloadView Demo
---
15. Jevelin
Jevelin is a multipurpose minimalist WordPress theme that has everything required to create unique websites. It is packed with numerous layout templates for a wide range of websites to launch in minutes.
Its wealth of customization options lets you customize individual pages, so you have got numerous variations within the minimal designs. So now get every page on your website look extraordinary.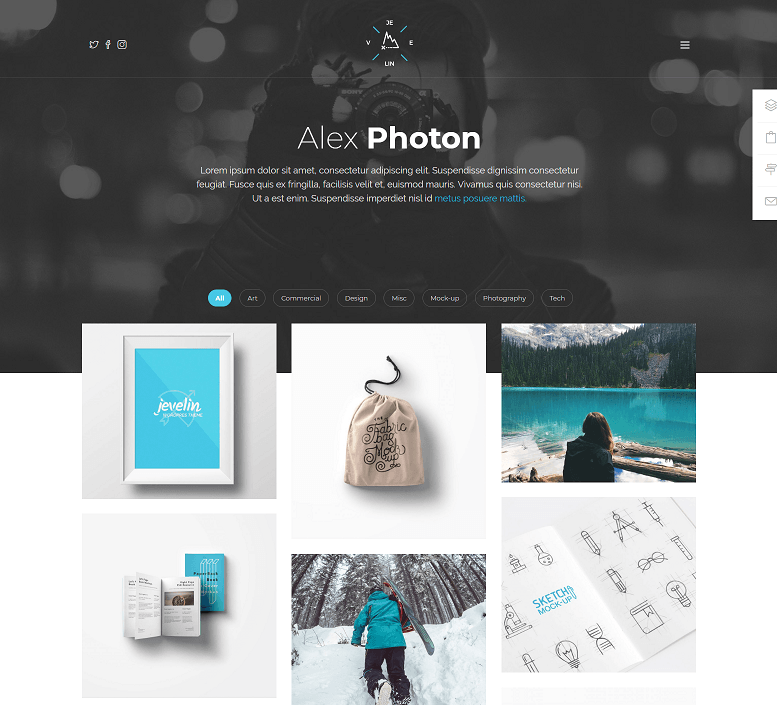 Theme Info + DownloadView Demo
---
16. Folie
Folie is an intuitive WordPress theme with the minimalist blend in the design. Hang on! Folio has a tremendous specialty that it is 100% editable in the live mode that makes both inexperienced and advanced users extremely happy.
Well that's really cool, and it tells that simple looking theme has a lot of engineering in the back-end to keep it ultra minimal yet effective. Take control of your designs with all its well-crafted features. It comes with MailChimp and Slider Revolution plugins integrated and it is WooCommerce compatible, and fits to all the device screen sizes that exist!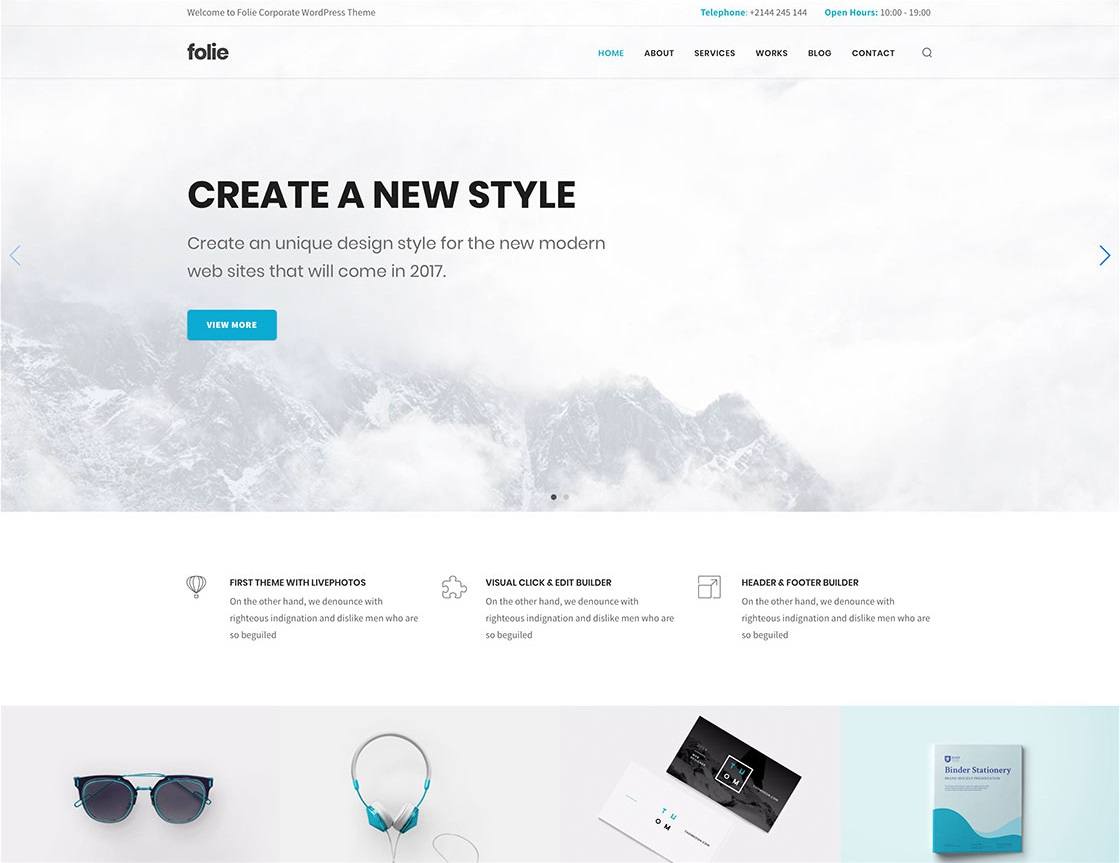 Theme Info + DownloadView Demo
---