10 Best Free & Paid Simple, Clean And Minimal WordPress Themes 2017
People generally love to use things which are simple to use and less cumbursome to manage for such indiviuals a simple and basic layout themes would appeal the most. In order to draw a large volume towards your domain, it is necessary to configure the web interface of your domain and place a clean, simple and accessible trait of it.
Eventually soft head of any online industry can led to a great conversion because it makes the user-friendly ethos.
And so we've prepared some clean and flat UI WordPress templates, through which one can mould his/her challenging trade task with extreme ease. This accumulation of WordPress skins are especially crafted to expand global existence of your commercial enterprise.  
These wordpress templates will be effecient for all categorised business like – Salons, Gym & Fitness, Coaching Institutes, Reparing Shops & Garage, Business Proceesing Agencies, Fire Wood & Works, Human Outsourcing Companies, Chemical Manufactures, Iron Works Industries, Finance & Banking etc.
Let's explore it one by one
---
1. BizWay – Simple
Responsive

Featured

WordPress

Theme

BizWay is a simple, fully-responsive and ideally design WordPress theme well suited for all kinds of business websites.

It is equipped with a thoroughly optimized interface and comes with proper spacing that allows you to showcase all your important business products and services in an excellent way.

The theme comes with 12 different-fabulous categories so you can easily build clean and minimal websites for the businesses like fashion, church, interior design, real estate and much more.

The template also has search box in navigation bar, apart from it BizWay will add an advantage to your homepage with its homepage right widget area. Bizway is a theme which can guide your user well with its unique blog feature section with an extra access to display number of blogs. Other than this a three coloumn feature area to engage customers into your vibrant business services.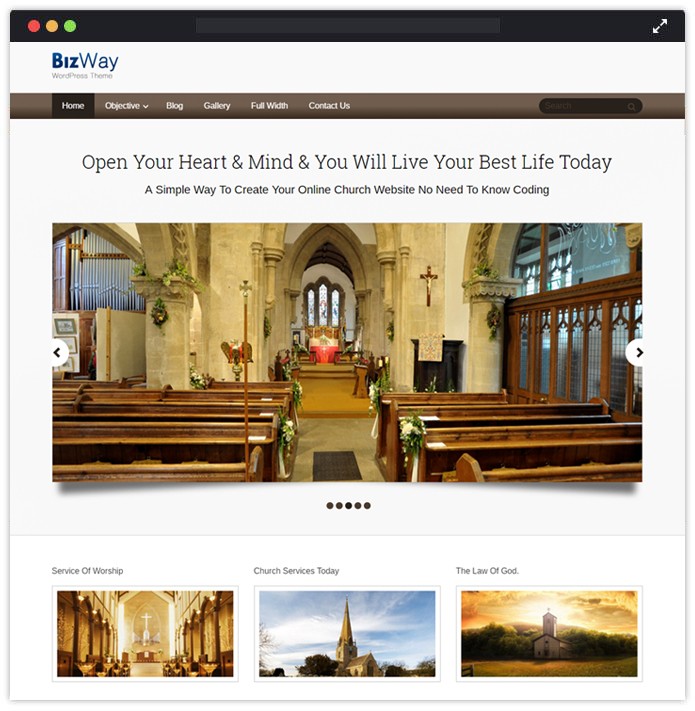 ---
Features that make BizWay a clean WordPress theme –
10 fantastic color skins to make your theme layout perfect.
Blog Pagination to show numbers of blogs in homepage.
Add 7 slider images or even more by customization.
Effective homepage sidebar.
Ready contact form template.
---
2. WoodBerry – Simplest WordPress Skin
Woodberry is another clear crafted WordPress theme equipped with a simple layout. WoodBerry is the best combination of minimal features, flexibility, and ease, so it is perfect for any niche WordPress website and it could be Music channel, Dance Classes, Driving Schools, Appliance Repairing and many more.
It also supports an amazing video other than images in sliders that can make it really impressive and compatible with all latest browsers, with the help of these sliders you will be ready to illustrate about your working in best possible way and it can engage your customers to have an outlook.
WoodBerry has got business service section that is quite unique from any other template, here you can mention your unique terms associated and services of your channel.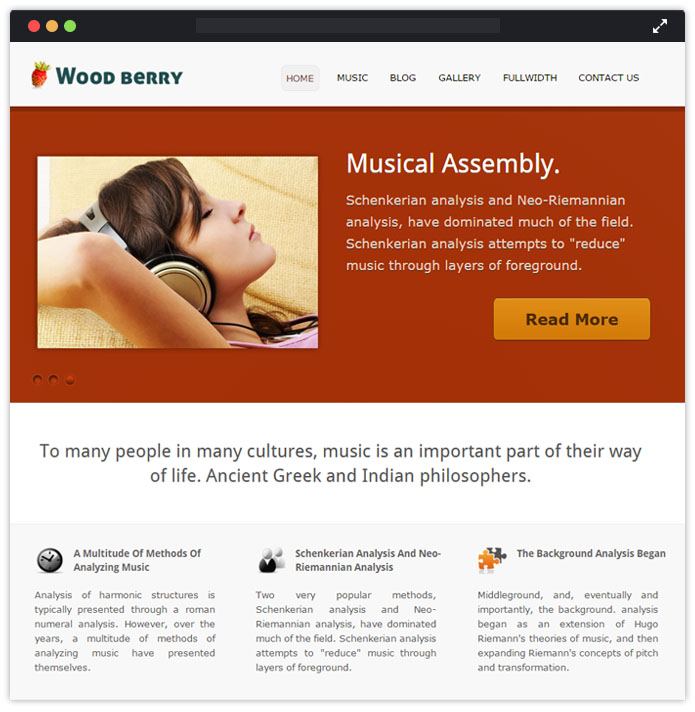 ---
Features that make WoodBerry a simple WordPress theme –
Lightweight and adaptable to different screens.
Unique sliders to add videos or images.
Bottom section image
It comes with an inbuilt Seo Plugin.
Widgetized sidebar and footer area.
---
3. Slice – Best Feature WordPress Template
If you're interested in building your business fast, then Slice WordPress theme would be the best option. Slice is integrated with woocommerce,  yes now you can deveop your prodcutivity and uplift your brand.
With a theme like Slice build on woocommerce one can simply make its side bar more attractive and effective to reap and raise capital. Slice is crated to hold ample features like- Fullwidth High Definition Sliders, Appealing 4 Column Feature Area with Hover Text, Rich Tagline, Product Area and most important 6 different Combined Layouts for Blogs and Banner.
The theme is fresh WordPress standard template with attractive design, functionalities, and various options for customization. It has an easy-to-use interface, super simple setup, and allows you to showcase your work in a highly professional manner.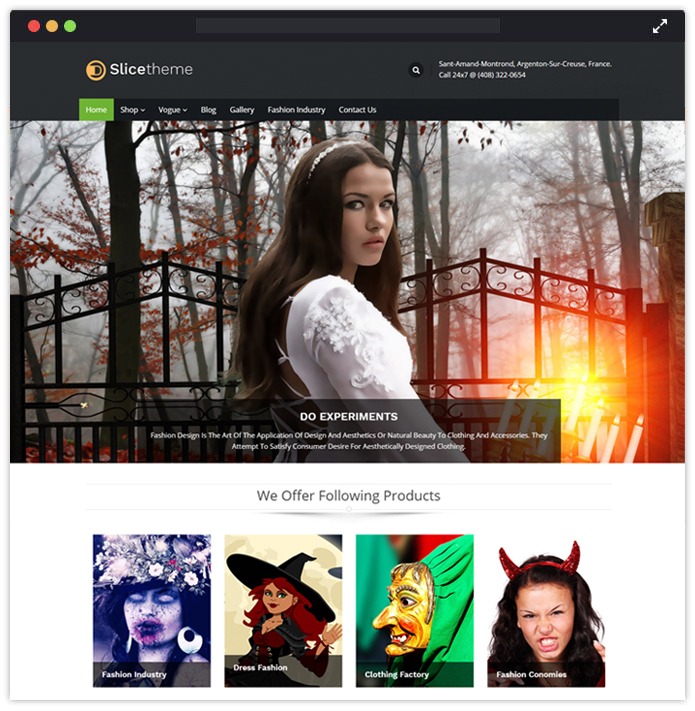 ---
Features that make Slice a minimalist WordPress theme –
Exclusive blog section layout.
Themelayout with colur settings.
Banner for advetisement and publicity.
Home page loading animation.
Social icons and many more.
---
4. Themia – Unique And Simple WordPress Skin
Themia is another woocommerce comaptible wordpress theme that can enahance your commercial evolution and will bring you on the greener side of trade.
Themia has got plenty of traits to serve business niches such as yoga, meditation, spa saloon, hotels and restaurant, fashion, music, interior design, tattoos and art, pets and much more.
To shine your domain yield, the theme has got lot more features like Homepage Banner, Huge Product Section, Homepage Right Widget Area and a Finest Tesyimonial Section on homepage.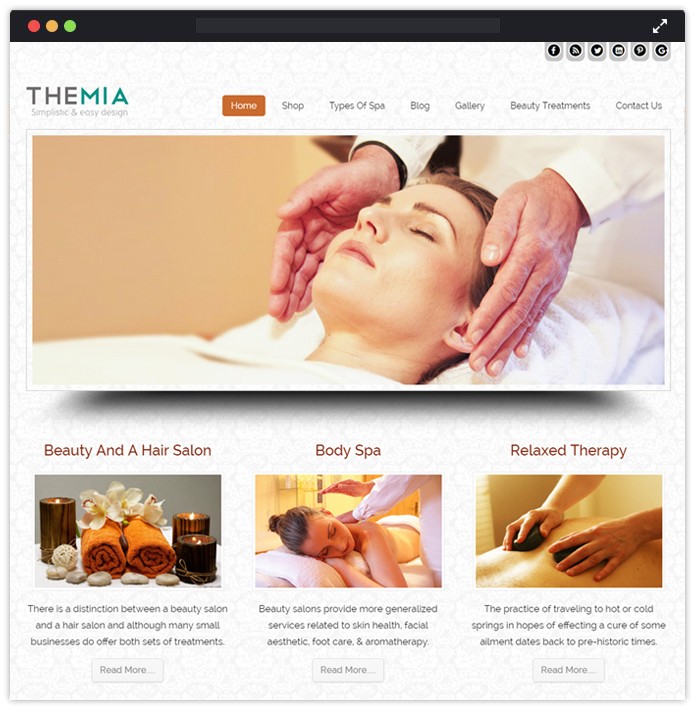 ---
Features that make Themia a clean minimal WordPress theme –
8 built-in color schemes.
Homepage Banner for advetisement.
Gallery/Contact Us page template.
Widgetised homepage.
Exclusive Sidebar consisting Woocommerce widgets.
---
5. Covera – Simple, Flexible Multipurpose WordPress Theme
Covera is a flexible multi-purpose WordPress theme that serves as an excellent option for improving the look and feel of websites for any niche ranging from business and blogging to news, magazines, portfolios and a lot more.
Covera is blended with many stunning features like home page introduction box to write something about your channel. Also it has a homepage button with link to redirect your users wherever you want. In addition you get feature like portfolio with different categories and there is lot in haomepage which belongs to primary widget area.
It is a multipurpose theme and can be used for various niches such as hotels, restaurants, movies, fashion business, etc. Customization option is also available so just customize the theme and use it as per your wish.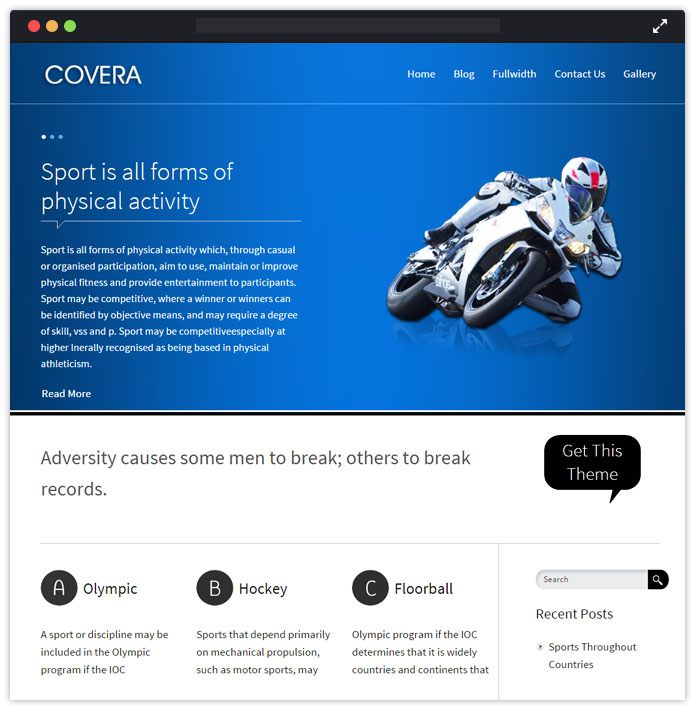 ---
Features that make Covera a best minimalist WordPress theme –
Homepage primary widget area.
Rich Portfolio with category.
Contact form.
Descriptive Sliders.
homepage button.
---
6. Elite Pro – Clean, Flat Design Rich WordPress Skin
Elite Pro is a blog template which is best designed to monitor your blogs and informatives and can easily channelise your brand. Elite Pro is simple and clear enough to cater all of your posts in well organised manner. On top of this smart gallery widget in sidebar makes it more captivating for csutomers.
The features of this template are way better to cast and hold your business content in different ways. Likewise in Elite Pro sliders are categorised to show your assigned blogs with a nav for next and previous.
Best suited for websites belonging to agencies, individuals, and the design can be bend for all type of devices say mobile, laptop, tablet, etc.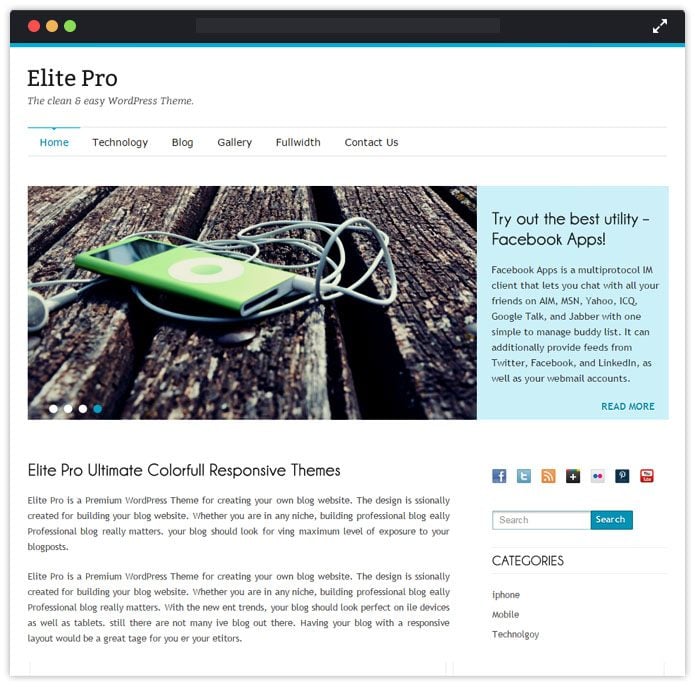 ---
Features that make Elite Pro a best minimal WordPress theme –
Categorised sliders associated with blogs.
Different blogs layout-sigle column, double column.
Inbuilt social icons.
Smart gallery.
Recent post with thumbnails
---
7. WP-Clear – A Responsive Premium WordPress Template
WpClear is yet another premium minimal WordPress skin with a responsive and clean layout. Wp-Clear is designed to mingle with every features that comes into mind while adopting a WordPress template.
The theme has 6 Splendid Boxed Sliders, Photo Gallery, Different Categorised Blogs, Featured Widget in homepage Sidebar and many more.
The noteble trait of Wp-Clear is that one can simply add a video instead of image into sliders to flaunt in better way.
It consists of multiple homepage layouts that let you build a beautiful, desire and perfect looking website for your business.
Add YouTube videos, related ads and other features to your website and make it more appealing and exciting for your customers.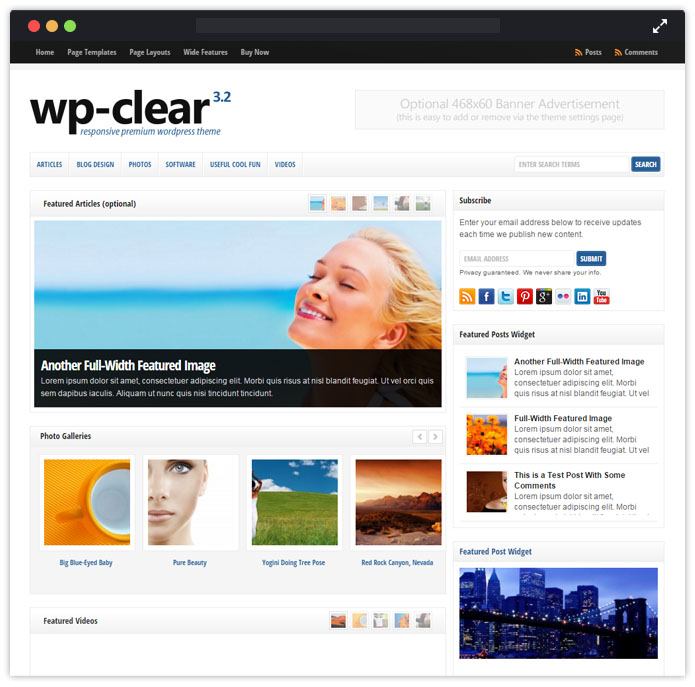 ---
Features that make WP- Clear a best WordPress minimalist skin-
Unique Boxed sliders
Widgetised homepage
Search bar to search for an item.
Video post feature area.
Logo integration and automatic post thumbnails.
---
8. Helping Hand – Charity Organization WordPress Theme
Helping Hand is a essential charity organization WordPress template specially designed for nonprofit organizations, NGO's and other social working websites that work for poor people and children.
Video is one better way to expalin and convince others that's why this theme has front page video box where you can draw maximum users to watch out your programmes and testimonials.
One of the important feature of a theme is – it comes with an integrated Donation box which easily collects donation and other funds via PayPal gateway.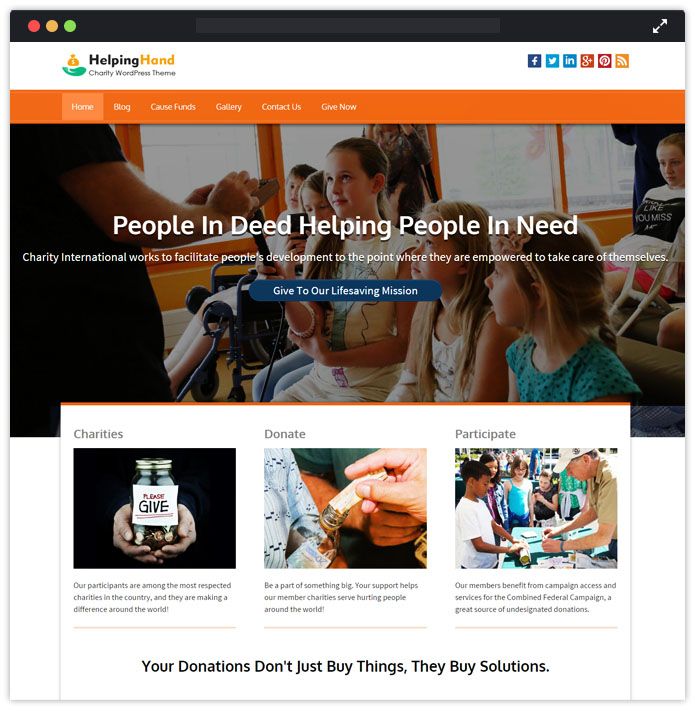 ---
Features that make Helping Hand a super minimal WordPress template-
Add videos on the home page.
Fullwidth Sliders.
Sliders navigation on/off option.
Included a search bar at the bottom.
Tagline and link to redirecting user for donation.
---
9. Foogo Pro – WordPress Business Skin
Foogo is vivid WordPress skin best suited for a professional looking business website.
One important feature that makes the theme unique and special from others is that – it has 2 type of background styles –
Background with video.
Background with an image.
Foogo Pro is highly advance to accomodate every business needs as it consist plenty of features like- Homepage Navigation Featurea Area with Category, Homepage Right Widget Area where you can add video to illustrate about your services and a Client Section where one can easily depict the company logos which they have served.
So, if you would like to make a website with moving or sliding background then go for a video theme and if you want to make it more simple website then go with an image theme.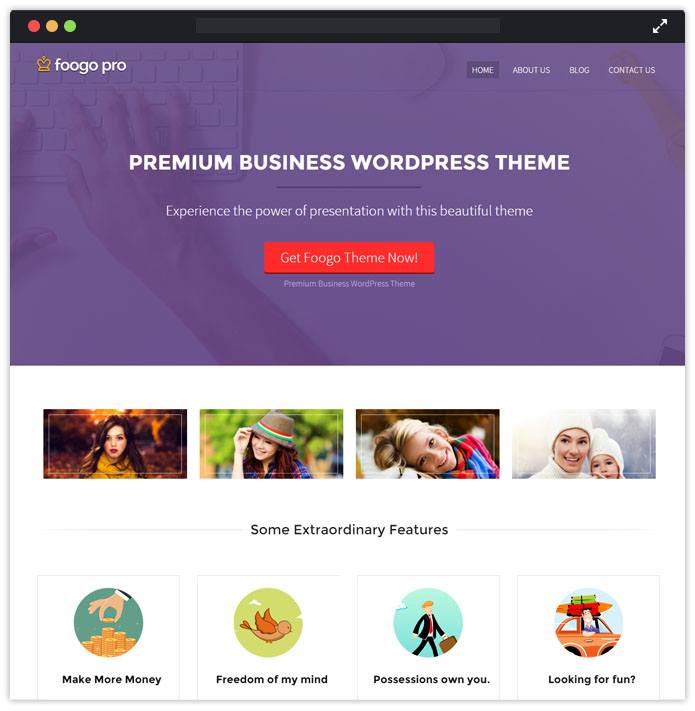 ---
Features that make Foogo Pro an ultra minimal WordPress template-
Client section.
Four column feature area.
Tagline With Parallex Effect.
8 unique templates color schemes.
Standard Blog section.
---
10. HomeBuilder – Simple Real Estate WordPress Theme
HomeBuilder is a simple-to-use, premium WordPress real estate theme equipped with sleek, smart real-estate capabilities.
It allows you to empower all the property details displayed on your web pages to attract potential customers towards your business.
The theme is perfect to take your real estate business online and invite more clients to sell and buy their properties.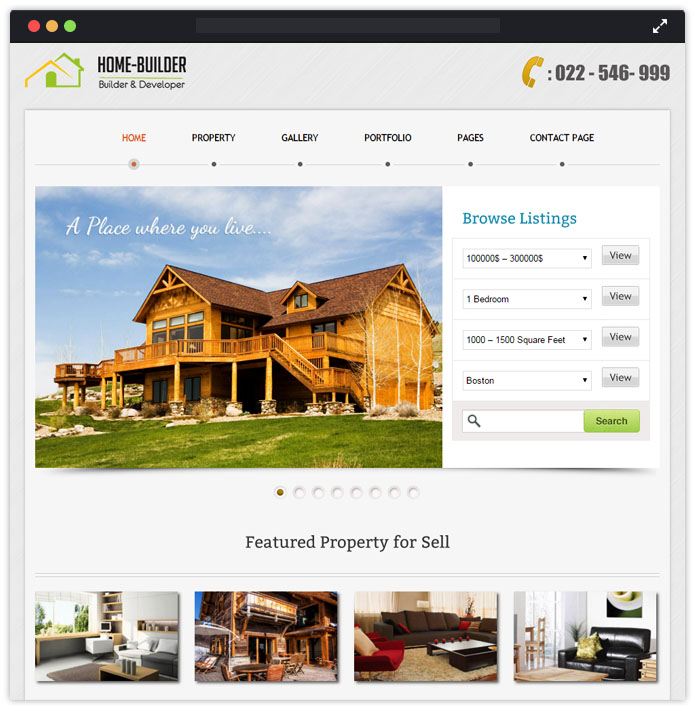 ---
Features that make HomeBuilder a minimal WordPress theme –
8-different slider images on the home page.
Unique menu style.
Easy to search listings.
Customizable 4 column widgetized footer.
Easy to use theme options panel and many more.
---
Summing Up
Now that you are well familiar with these 10 simple minimalist WordPress themes, it's time to choose one for your WordPress web portal.
So, start displaying your content on your website without any clutter and distraction using these best and simple WordPress Themes.
Have a look over some related blog post – 
Thanks for reading. Hope it helps you :)
Last Updated on: January 14, 2017
Under: Blog