Do you offer legal services and looking for a suitable WordPress theme to build up a professional site for your clients? These are 10+ Best Lawyer WordPress Themes to make your choice.
For a law business, a good layout site with appropriate information may function as a trump card.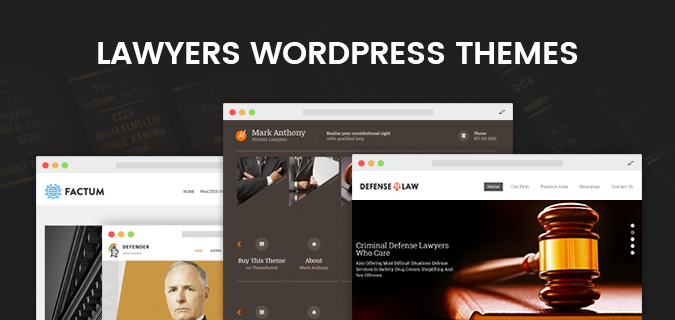 Well, I did a bit of grounding to make a collection of themes that have been designed keeping the needs of a legal service inattention.
Take a look at these lawyer WordPress themes and their features and give your law website a professional face.
Whether you are an attorney, a business lawyer, a private lawyer, a mediator, a legal advisor, or owner of any law firm, you can pick a theme from here.
---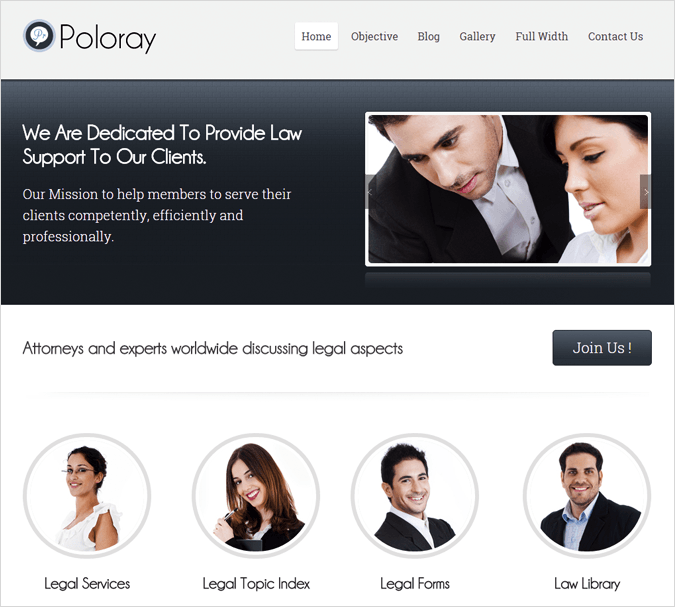 1. Poloray – WordPress Lawyer Theme
This is adaptive lawyer theme, basically designed for an attorney, law firms, private lawyers, attorney, mediators, and legal advisors to build their websites. With this theme, you can demonstrate the services, case histories, various legal cases which you can handle etc.
Basically, this legal theme is designed for legal offices or law firms who offer legal solutions, but still, it is suited for another sort of businesses as well. It covers most of the need of a lawyer.
Features:
Showcase your various legal services in the slider one by one.
Feature your law firm members in the four column area.
Customize instantly with a simple and intuitive options panel.
Your website looks awesome on all devices.
Lots of styling options.
Custom widgets.
Cross-browser support.
Social icons where you can share ideas or experiences.
Fully Compatible.
Price:
$59. Lifetime access. Multi-site license.
Theme Info + DownloadLive Demo
---

2. DefenseLaw – Defense Attorney WordPress Theme
Another theme basically designed for law-related sites such as legal office, advocate, law firm, legal advocacy, attorneys etc. But it is more suitable for defense attorneys. Has a lot of functionality to showcase legal services, highlight your law practice field such as felony defense, drugs crime, immigration defense etc, and present an extensive number of cases with facts.
This WordPress theme also has a blog template where to let you share your experiences or ideas pertaining to law. If you want your potential clients not to pass by, this theme can assist you in holding your visitors with its interactive and clean design. A testimonial section in the theme to display your clients' feedbacks is there, to enhancing your credibility among new visitors.
Features:
It describes legal services you offer.
List down notable cases which are handled by the firm.
May share your legal advice by law blog section.
It has testimonial section to showcase your client feedback.
It has styling option.
Full documentation.
You can customize the post or pages instantly.
It has full-width moving slider along lightweight contents.
It is completely responsive.
Social Icons.
Price:
$79. Lifetime access. Multi-site license.
Theme Info + DownloadLive Demo
---

3. AppointWay – Appointment Booking Theme For Lawyers
This comes with an online booking functionality so that advocates, advisors, and take online appointments from their clients through their website. With its advance booking feature, you can handle a lot more clients and manage them effectively. All that will make sure your business revenues go higher with the use of this theme.
More you can do with AppointWay is, you can collect payments from your clients online, send automated email reminders for an appointment, get instant notification when an appointment is placed, and much more.
Features:
Various Styling options.
Advertisement section.
Completely responsive.
Feature map option on the slider bar.
Timing and address option on the sidebar.
Show contact details at the top.
Can use the theme for multiple sites.
Simple appointment forms for quick booking of the clients.
Full translation enabled.
Inbuilt module for setting date & time.
Page info main heading and subheading for a tagline for setting up the text.
A slider on the home page with play or pause option.
Simple theme options panel for modification.
Price:
$79. Lifetime access. Multi-site license.
Theme Info + DownloadLive Demo
---

4. OnePage
OnePage is very flexible and responsive WordPress theme that can be adopted by any law enforcement agencies, lawyers, legal advisors, etc.
OnePage has a separate four column area that assists you to flourish your business services and an integrated Google font icon helps you to set service relevant icons, also you can share the best clients feedback about your services/ business in a testimonial area of the theme.
Extreme Features –
Single page layout template.
Unlimited numbers of colors.
Price listing section on the homepage.
Team member section.
Multilingual template.
Grab The Opportunity & Download This OnePage Theme For Free Now
Live DemoDownload NowClick Here To Know More
---

5. Lawyeria
Lawyeria is a responsive theme with a modern design Premium Lawyer WordPress Theme for Law Firms. It is fully responsive or super clean corporate design especially law firm or attorneys. The theme may be used to set up the small business site or lawyer site. It has minimal features, classically trendy styling, and flat elements.
You can easily render information about the firm, your staff, law service details, and areas of working with its plenty of pages, sections, and widgets. You can make a lot of customizations, and it's fully compatible with the all the mainstream browsers.  Its main page shows a contact form so that your potential clients can make contact with you immediately. All that will help you attend a maximum of your potential clients on your site.
Features:
Validated and clean code.
Custom theme widgets.
Browser compatibility.
Responsive design elements.
Various stylized options.
Theme options label.
Localization.
Unlimited choice of colors.
Price:
$ 67. Single Site Licence
Theme Info + DownloadLive Demo
---

6. Law Service
No more boring law sites! LawService is designed with a unique concept for Law Firms, Attorneys, and Legal Professionals. With LawService you can easily create a modern & professional website. It comes with a stunning corporate design or an extensive number of features like, full-width page, Off Canvas Sidebar & Menu, live Customizer, Visual composer, Landing page template and much more!
It is clean, vastly intuitive and has features, tools, widgets, plug-in, and much more. Its beautiful full-screen layout and navigation give a different level of experience to individuals visiting your site. Owing to its customizing tool you may customize the things as per your needs as well. Actually, it is a full package of advanced features.
Features:
Appointment Form
Multi-header option.
Responsive design.
Drag or drop visual composer.
PayPal payment gateway integrated.
Comes with PO file to translate.
Responsive theme.
Predefined Color Styling Options.
Price:
$79. Single site license. One time payment
Theme Info + DownloadLive Demo
---

7. Themis
It takes visitors straight to information which they are exploring for. It's so clutter free. The theme is perfectly suitable for multiple businesses like any legal, justice or law related businesses, consultancy businesses, legal advisers, accountants, counsels, advocates, solicitors or barristers. Offers a lot of customizable options as well as a very effective homepage structure.
It is very different from other WordPress themes which have various custom color schemes along with customizable options panel. It also has 800 built-in fonts that its unique feature. It has 20+ predefined page layouts. It also has responsive design layout which looks great on a tablet or mobile devices.
Features:
Shortcode manager.
Customizable option panel.
Custom color schemes.
60 custom icons.
800+built-in fonts.
Theme demo data installer.
RTL language support.
Custom post options or post types.
20+predefined page layouts.
Responsive site structure.
Price:
$44. Single site license. One time payment.
Theme Info + DownloadLive Demo
---

8. Factum
It is simple, clean or professional WordPress theme which is perfect for law firms, lawyers, or legal business or much more. It has an elegant white or black design. This theme contains small image and contents are well structured and everything looks very good. It is very professional or best WordPress theme.
It is responsive WordPress theme for law offices or law firms. It has clean cut or single page design which is ideal for law firms, legal offices or lawyers to present the company information or services on their professional site. You can also list the information about the business incorporating employees, our practice description, contact information, and clients. Other key features are HTML, CSS, localization support, 6-color scheme options, options panel or much more.
Features:
Custom menus
Responsive page
Retina ready
Localization
Cross browser compatibility
Powerful settings
Design driven
Color variations
Price: $39
Theme Info + DownloadLive Demo
---

9. GeoCraft
GeoCraft is a modern and advanced WordPress theme which is ideal for creating an inventory website of any law enforcement firm.
GeoCraft WordPress theme is packed with an inbuilt business ad listing module that is the opportunity for private lawyers to place their business ads on your website, a separate space for advertising that permits you to promote your other business services on your site.
Marvelous Features –
Geo-location search.
Set ads expiry option.
Create free or paid business listing.
Lead capture form with all premium listing.
PayPal gateway channel for collecting online payment.
Get This Free Directory Website Template Now!
Live DemoDownload NowClick Here To Know More
---

10. Defender
It is good looking WordPress theme with a classy design. It is a modern, clean or premium WordPress theme built for lawyers, attorneys, law firms or accountant or many other fields. It also incorporates several advanced features which are mainly created for lawyers or law firms. It contains some of the stylish elements such as micro-interactions, smooth transition, and effects, consistent UI, bold or many more.
It provides a full width moving slider control where you can place contents or pictures to provide a good level of assistance to your clients.
Features:
WPML compatible.
Fully responsive design.
Cross-browser support.
Slider revolution plug-in included.
Booked appointment booking plug-in included.
Custom widgets or posts.
Appointment calendar shortcode and widget.
Custom time slots for vacation/closed dates and more.
Custom Fields for collecting customer information for every appointment.
A powerful backend interface to manage appointments.
Customers can manage their own appointments.
Customers can manage their account information.
Customizable emails sent to you and your customers.
Price:
$48. One time payment. Lifetime Access. Single Site Licence.
Theme Info + DownloadLive Demo
---
And Finally…
Although you can go ahead and create your website with any of these themes as all of them have been specifically designed keeping law firms in mind.
But, I would like to hear the theme name that impressed you.
Get a little time to mention in your comment below.
Also, read our popular blog post ->