Are you looking for the best GetResponse alternative to promote your services?
We've all come across GetResponse while choosing the best email marketing tool to grow our business. However, there are many complaints about its drag and drop interface being fiddly and the inefficiency of the CRM product.
Therefore, we provide you a list of the 5 best GetResponse alternatives that will help you overcome these problems. Moreover, these alternatives are affordable and come with more enhanced features to market your services.
To know about their additional details, let's explore the differences between the top alternatives, through a quick comparison table.
Comparison Between 5 Best GetResponse Alternatives
Additional features and pricing of the 5 GetResponse competitors are listed below.
"Pabbly Email Marketing is an affordable marketing software that comes with an in-built SMTP, excellent automation tools, as well as allows users to connect to external delivery engines."
This is the first GetResponse alternative in our list, as it is the cheapest and most reliable SMTP service provider. Apart from this, it does not limit you on the features, so you get all its advanced features with its minimum plan as well. It is an email marketing software to promote your business, thereby enabling you to create and send bulk professional emails.
Moreover, Pabbly Email Marketing comes with an in-built delivery engine that assures 99% deliverability. It further allows you to connect to external SMTP vendors like Amazon SES, Gmail Apps, SparkPost etc, significantly increasing your subscribers.
Features
Subscription Forms – Turn your email openers to customers by adding subscription forms to your emails.
Drag & Drop Tool– Use the in-built drag & drop tool you can edit a pre-existing template or create one to make specifically tailored emails, thereby strengthening customer relations.
2X Open Rate- To increase your open rates, send automatic greeting emails to new subscribers.
Track Email Activity – Keep an eye on the progress of your email campaign by tracking opens, clicks, bounces, non-opens and other activities.
MX Cleaner –Quickly and accurately remove invalid emails from your contact list via this MX cleaner.
Limitless Integration- This GetResponse alternative allows integrations with several lead generation tools like Thrive Leads, Ninja Forms, Convertful etc, resulting in improved productivity.
Pricing
Pabbly Email Marketing offers different pricing plans, based on the number of subscribers-
 Forever Free – Freely sign up and send 12,000 emails to 1,100 subscribers. This plan allows you to connect to 3 SMTP services for a month.
 Rookie – Buy this plan at the cost of $29/month for sending unlimited emails to 5,000 subscribers.
 Pro – Send as many emails as you want, to 15,000 subscribers at $49/month. Also, make use of enhanced features like subscription forms and unlimited custom field to enhance your email deliverability.
 Advance – While GetResponse charges $250 monthly to connect with 50,000 subscribers using its basic plan, Pabbly Email Marketing is an evident GetResponse competitor. Connect with 50, 000 subscribers at the cost of $99/month.
Enterprise– You can upgrade the Advance Plan to meet high-volume demands, ranging above 10,00,000 subscribers. However, you need to contact the service provider to know about the pricing details.
2. Benchmark Email – An Alternative to GetResponse
Another GetResponse alternative is Benchmark Email, providing you with list management tools and aiding you to follow customer-centric email marketing. The drag & drop editor allows you to edit and design customized responsive emails. Further, this alternative offers a wide range of email templates catering to every occasion. To reduce your efforts, it additionally provides a convenient photo editor.
Moreover, Benchmark Email lets you write compelling subject lines that help you bring back lost customers as well as find new leads. It guides you in creating a persuasive call-to-action button, which pushes your subscribers further towards the purchase.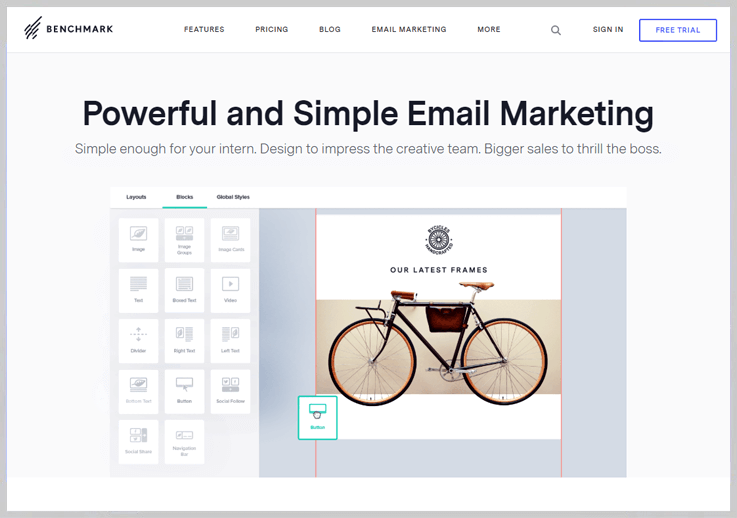 Features
Automation Pro- Send automated email series triggered by your subscriber's engagement. Track your subscriber's activity and convert them into customers by sending automatic welcome emails, abandoned cart emails, and follow-up emails. Additionally, you can also send an automatic birthday or event-based emails.
List Segmentation- Break down your mailing list by demographics or other factors to share relevant and specific content at the right time. You can also create lists by importing .xls, .csv and .txt files.
Integration- The software lets you upload an existing contact list and integrate with services like Gmail, WordPress, Zapier, Shopify etc. It allows you to connect with 300+ services, thereby boosting your deliverability.
Monitor Performance- Track your opens, clicks, bounces, and other engagements in real-time. You can tailor social media-based campaigns by tracking subscribers who share your campaign through social media. Moreover, you can use surveys and polls to know more about your customers.
A/B Testing- Compare subject lines and from names to check which gain higher open rates. Subsequently, compare different campaigns to know which produces higher click rates. You can also find out when subscribers will most likely open your emails, thereby scheduling them accordingly.
Pricing
Benchmark Email offers different pricing plans, based on the number of subscribers and emails sent per month-
Free- Send 250 emails monthly to unlimited subscribers without any charges. To have access to advanced features like landing pages and automation, you can upgrade your plan anytime.
Pro- This is a list based plan, based on the number of subscribers. Ranging from $13.99 to $32,119.99 per month, it allows you to connect with 600 to 71,40,000 subscribers. For high-value demands and subscribers exceeding the maximum limit, you need to contact the service provider for custom pricing.
3. Moosend – Email Marketing Service
This GetResponse alternative is considered a fully manageable SMTP service provider to grow your business. Moosend allows you to create, segment and personalize your email campaign using its drag & drop tool without any coding skills. It comes with a huge range of templates built for every occasion and additionally lets you complement your message with the right picture.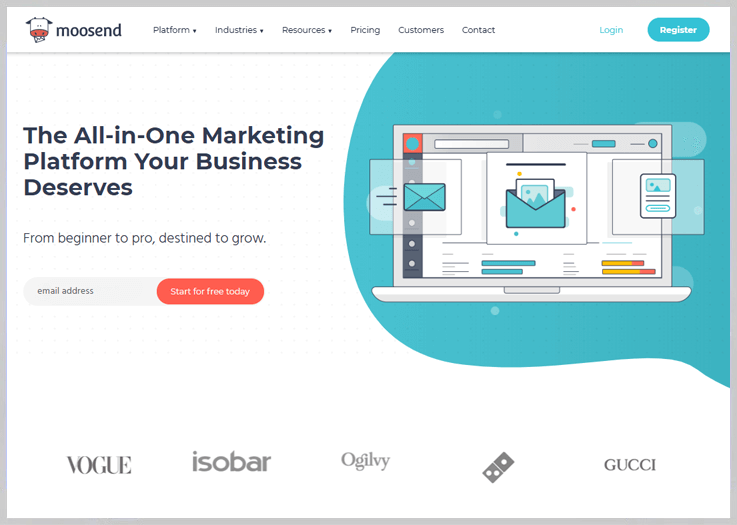 Features
Landing Pages- Turn usual subscribers into frequent customers using high-converting landing pages that look good on every device. Further, Moosend lets you enhance your ad words quality and Google ranking, resulting in ultrafast loading pages.
Marketing Automation- Automate your workflows by tracking your recipients' activities. This GetResponse alternative enables you to put your marketing campaign on autopilot by sending automated welcome emails, abandoned cart emails, follow-ups, reminders, etc to the right customer at the right time.
Advanced Personalization- Moosend enables you to create dynamic recipient groups by segmenting your subscribers' list in basic or complex segments. You can use subscriber's custom fields for simple and sophisticated personalization, thus, making your email stand out in your customer's inbox.
E-Commerce Integration- Easily integrate Moosend with any e-commerce platform, website or CRM without any technical skills. Use Moosend API to connect with lead generation tools, email verification tools, etc to further increase your deliverability.
Subscription Forms- Add a responsive subscription form to your emails to grow your mailing list. Also, you can choose an in-built form or make one conveniently to suit your needs.
Reporting & Analytics– Use comprehensive and precise reports on your users' activity to make accurate marketing decisions. Moreover, analytics helps you to track your opens, clicks, bounces, and unsubscribers, thereby you can learn how users navigate your emails.
Pricing
Moosend offers three different pricing plans, based on the features it provides-
Free Forever- Send unlimited emails to 1,000 subscribers and get access to subscription forms and analytics. However, this plan restricts you on some features like transactional emails, landing pages, etc.
Pro- The starter Pro plan charges $10 monthly to send unlimited emails to 500 subscribers, giving access to advanced features like phone support, SMTP Server, etc. Further, it goes on until 2,00,000 subscribers, the cost of which is $760/month.
Enterprise- Choose this custom plan if your needs exceed 200K subscribers. Additionally, this plan does not restrict you on any feature and provides custom reporting and account managers as well.
4. Constant Contact – An Affordable Alternative to GetResponse
Constant Contact is another affordable GetResponse competitor that lets you create, edit and send bulk professional emails to promote your services. It is an email marketing tool that allows workflow automation to keep your audience engaged, thereby strengthening customer relations. Furthermore, you can schedule and send automatic emails triggered by your subscriber's opens and clicks.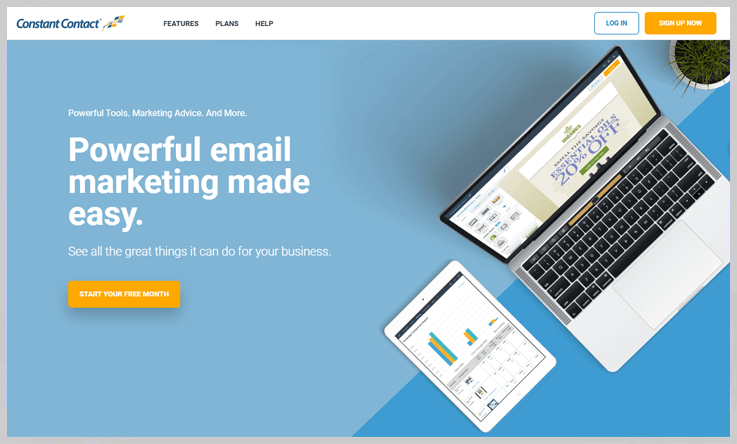 Features
Drag & Drop Editor- Edit a pre-built email template or build a new one conveniently. Thus, design professional-looking, personalized as well as mobile-responsive emails in no time.
Contact Management- Use segmentation and list-building tools to effectively manage your subscribers' list. As a result, add new contacts, upload contacts from Excel, Outlook, etc and update unsubscribers, bounces and inactive emails automatically.
Track Results- Get an insight into your campaign's performance to check your progress rate. Further, use real-time tracking tools to know about your opens and clicks and the time they are made at.
List Segmentation- Segment your contact list based on demographics, preferences, and other predictive insights, thus making your campaign more targeted and effective. Further, use list-building tools to expand your reach.
Automate Workflows- Send automated trigger email series based on where your contacts click. Automation helps in increasing your engagement by sending automatic greeting emails to new subscribers and follow-ups to non-openers.
Go Beyond The Inbox- This GetResponse substitute lets you use signup forms, surveys, polls, live events, donations, and coupons by managing everything in one place.
Pricing
Constant Contact offers different list-based pricing plans, based on the base size of subscribers-
Lite– Starts at $5 per month for 0-500 subscribers. Similarly, it goes on until $335/month for 35,000-50,000 subscribers. However, there is a monthly sending limit of 10,000 emails.
Email– Send unlimited emails starting at $20 for 0-500 subscribers. The maximum limit of subscribers is 50,000 and the cost increases with the number of contacts. Additionally, enjoy better features like chat support, popup forms etc.
Email Plus- Starts at $45/month for 0-500 contacts. You can choose this plan to send unlimited emails to as many as 50,000 subscribers. Plus, it offers advanced features like online donations, customer consultations etc.
5. MailChimp
Whether you're an e-commerce, a start-up, or a web/mobile app, this email marketing tool helps you drive traffic, increase conversion and grow your sales. Moreover, it allows you to easily filter your audience data and segment it for targeted and effective marketing. As a GetResponse alternative, MailChimp also organizes your data into ready-made segments, further easing your efforts.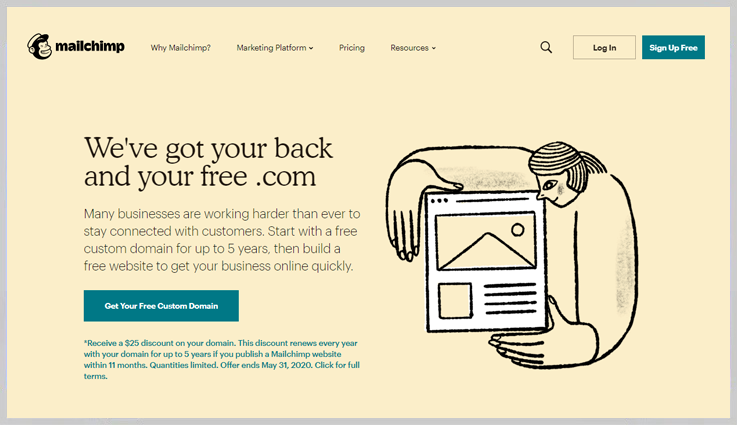 Features
Marketing CRM– MailChimp enables you to give the front stage to your audience in four simple steps. Connect your audience information, organize it, understand patterns in the dashboard, thereby turning audience insights into action by setting automated trigger responses.
Tags & Custom Fields- Use MailChimp API to automatically create tags based on your user's interests and attributes. These customizable and flexible labels can also be added automatically, thus giving you access to track your subscriber's actions.
Content Studio– You can design adaptive emails using the in-built editing tool of MailChimp. Moreover, you can use the pre-built marketing templates to suit your brand.
Landing Pages- Use pre-available landing pages or create new ones and make them must-click destinations in your emails, thereby attracting more customers. Likewise, you can also add subscription or popup signup forms to your emails.
Digital Ads– This substitute to GetResponse also lets you send targeted ads to your customers, based on their insights. Furthermore, digital ads enable you to find new customers and bring back lost site visitors.
Integrations- Integrate with 200+ lead generation tools to enhance your deliverability. You can also gain feedback on how to create eye-catching subject lines that increase your open rates.
Pricing
MailChimp offers a "Pay As You Go" plan for seasonal senders to ease their burden of monthly recurring charges. Additionally, this GetResponse alternative provides different pricing plans according to the size of your contacts-
Free– Connect with 2,000 subscribers for FREE and get access to 7 marketing channels along with marketing CRM, basic templates and more.
Essentials- Starts at $9.99 per month to connect with 500 subscribers. Similarly, the cost keeps varying until 50,000 contacts. Additionally, enjoy features like A/B testing, custom branding, etc.
Standard– A list-based plan starting at $14.99/month for 500 contacts, then $19,99 for 1,500 contacts. It goes on until 1,00,000 contacts, the cost of which is $499/month. In addition to all the features of Essentials, added benefits are advanced audience insights, automation series, etc.
Premium- The starter Premium plan is for 10,000 contacts at $299/month. You can choose this plan to connect with as many as 2,00,000 contacts at $1,099/month. Moreover, for higher needs, you can contact the service provider for a customized plan.
Conclusion
There you go! You now have the list of the 5 most potent and reliable GetResponse competitors. Assess your business requirements wisely and choose the email marketing tool most suitable to your needs, thus taking your business to an altogether different level.
We'd love to know about your experience in the comments!
You May Also Like To Read: