Are you looking for free SMTP servers that ensure 99% inbox deliverability?
Then, you have landed in the right place.
Here, in this guide, we have come up with a list of 5 best free SMTP servers that are freely available in the market and offering extraordinary services. Not only this but also we compared all 5 affordable SMTP service providers based on various factors like their features, pricing, and deliverability.
But, before starting anything, let me brief you about the term SMTP services.
An SMTP (Simple Mail Transfer Protocol) server is a standard protocol that's primary purpose is to send, receive, and/or relay outgoing mail between email senders and receivers across the globe.
Nowadays, there are a number of SMTP servers available in the market. But, the biggest question is how to choose the Best SMTP Server for a prosperous email marketing campaign.
You don't need to worry about this because to help you out from this, we handpicked the best free SMTP servers for you. Below, you can also check the comparison of these top free SMTP servers to get a more clear picture of them.
A Quick Comparison of 5 Best Free SMTP Servers 2022
Services

Cost Of Basic Plan  
No. Of Emails 
SMTP Routing
Multiple SMTP Routing

$29/month

Unlimited

Yes

Yes
Pepipost

$25/month

150,000

No

No
Sendinblue

$25/month

40,000

No

No
Sendpulse
$35

/month

Unlimited
No
No
MailJet
$9.65

/month

Unlimited
No
No
So, without much ado, let's take a deep dive into the list of top 5 free SMTP servers.
The first service on our list is Pabbly Email marketing. It is not only the cheapest email marketing software but also an SMTP service provider that helps you in sending emails directly from it. That is, using it, you can send unlimited commercial, transactional, or any sort of emails to a group of people without needing any external SMTP service provider.
For this, Pabbly Email Marketing comes with an in-built SMTP service that you can use without paying any extra amount for it. Further, it also comes with an excellent and unique feature called "SMTP Routing" that allows you to connect n-number of SMTPs like Sendinblue, Amazon SES, Gmail, and much more directly from it. The most important thing is it does not charge even a single penny for connecting these SMTPs.
Features
Built-in SMTP – Pabbly Email Marketing has its own delivery engine that ensures up to 99% inbox deliverability.
SMTP Routing – Unlike others, it comes with an SMTP routing feature that allows you to direct it with other external SMTPs like Amazon SES, SendGrid, Yahoo, etc.
Email Tracking – It keeps track of unsubscribed, sent,  opened, and clicked emails. Further, it also tracks spam stats, and bounce rates for those emails.
2X Open Rate –  As explained, it keeps on the track of whether the email is opened by the client or not. If they didn't open it then it re-sent the email again. This increases the chances of email opening by 2 times.
Clever Autoresponder – This feature helps you in sending automated emails depending on some pre-defined triggers like it can send an automated welcome email to a new customer.
Pricing
Forever Free – With this free trial plan, you can explore Pabbly Email Marketing and also connect up to 3 SMTP.
Rookie – Send unlimited emails to up to 5000 subscribers with automatic followup by paying just $29/month.
Pro – Add up to 15000 subscribers to your email campaign and enjoy additional features like SMTP routing, advanced automation, etc at a trivial price of $49/month.
Advance – This plan comes with multiple monthly sub-plans that range from $99 – $1599 where you can send unlimited emails to 50,000-10,00,000 users depending upon the chosen plan.
SendinBlue is again a very good free SMTP service provider that is easy to use and also supports API, plugins, and integrations. It is a tool that allows companies to increase and develop relationships using email campaigns by sending transactional emails and SMS messages to your clients. This affordable SMTP server offers a high delivery rate and ensures that your emails land into the customers' inbox. Further, it comes with an automation feature to reduce your marketing system's workload.
Features
Marketing Automation – Using the marketing automation feature, you can automate certain tasks in your workflow by defining an automation workflow.
GDPR-Compliant – As a Sendinblue client, the GDPR gives you new security rights and assures better access to your personal data.
A/B Testing – SendinBlue provides A/B testing functionality with the help of which you can optimize your campaign for the highest engagement.
In-depth Analytics – With this feature, you can track user behavior on your every campaign such as open & click rates, unopened and much more.
List Segmentation – With this SMTP service, you are allowed to segment your contact lists at very granular levels for managing your email campaign.
Pricing
Free – It allows sending up to 300 emails per day per month to unlimited contacts for free.
Lite – The pricing plan allows you to send 40,000 emails at just $25/month. And, it doesn't have any sending limit.
Essential – With this plan, you can send 60,000 emails at a cost of $39/month. Also, it avails features like A/B testing, freedom to remove Sendinblue logo, and much more.
 Premium – This plan costs $66/month to send 1,20,000 emails. Apart from all the features of the Essential plan, it also renders you features like Facebook ads, landing pages, marketing automation, multi-user access, etc.
Enterprise – It is a dedicated plan to send emails above 1,20,000/month. And to know more about the pricing contact the SendinBlue sales team.
Pepipost is yet another useful cloud-based SMTP service provider that offers email API and SMTP service for sending bulk emails. So, once you select the mode of sending emails, the software will handle the further functionalities & makes sure your email landing in the inbox of the recipient. It provides a fully secure platform to send emails. Moreover, it has simple settings that make it easy to connect and send bulk emails quickly.
This free SMTP server keeps track of your email delivery rates, open rates, and bounce rates, as well as notifying you of unsubscribers and other actions taken by your users.
Features
Email API – Pepipost's flexible SMTP Relay setup and customizable integration with Email API that is perfect for your transactional emails. With it, you get support from multiple development frameworks and client libraries, including Node.js, Perl, Ruby, Python, PHP, Java, and C#.
Subaccounts – Effectively manage your accounts by adding a bunch of up to 15 sub-users accounts and allocate individual email access to each sub-user.
Bounce Forwarding – It suppresses the hard bounce emails as soon as it occurs. Also, it notifies you with an automated message to monitor the bounces.
Data Security – It is GDPR and SSAE 18 SOC 2 Type II Compliant and its servers are located in dedicated spaces at secure data centers. Hence, you don't need to worry about your data as it is fully secure with Pepipost.
Secure Payment Gateway – It is a partner with Stripe to manage payments. Hence, Pepipost does not have access to customers' credit card data.
Pricing
Free – With its free plan, you get 30,000 emails free for the first 30 days. Then after that, it allows you to send 100/day.
Paid – Pepipost offers the pricing plan on the basis of the number of emails. The paid plan ranges between $25 to $445 using which you can send 150,000 to 2,000,000 emails per month.
SendPulse is another cloud-based SMTP service provider that allows you to send transactional emails to your subscribers from the website, CRM, and other 3rd party applications using SMTP or API. It can be a one-stop resolution to manage all the emails for users in search of a reliable choice on one platform. For it, this multi-channel marketing platform consists of multiple marketing tools in a single system.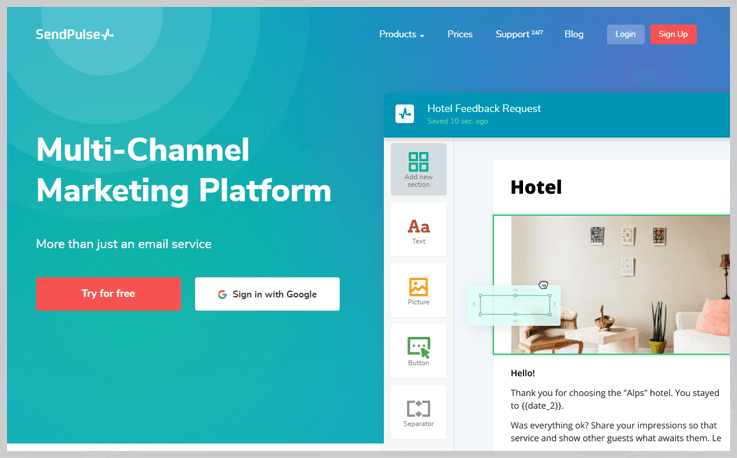 Features
Drag and Drop Editor – With this, if you want an element to appear in your template, simply drag it from the left side of the screen into the work area.
Email Automation – It automatically sends transactional emails to customers when a specific event occurs. With it, you can connect with your customers at the right time.
Multiple Communication Methods – It offers various communication modes such as email, SMS, Facebook Messenger, Viber, and web push notifications to connect with customers.
Key Metrics – This top SMTP server provides prominent key metrics where you can see the performance of each email campaign. These metrics will assist you to improve your next email marketing campaigns.
Reports and Analytics – Using this feature, you can get statistics about stats like sent, opened, clicked email directly into your personal account. All reports can be downloaded in PDF and XLS formats.
Pricing
Free – With this free plan, you can send up to 15,000 emails to up to 500 subscribers.
Paid – The paid plan ranges between $8 to $7,000 per month that allows you to send emails up to 500 to 5,000,000 subscribers respectively.
Mailjet is another cloud-based SMTP service provider that allows you to send marketing and transaction emails in bulk. It is easy to use SMTP servers that configure in a few seconds and integrate with an API for bulk mailing.
It is a popular service that ensures the maximum deliverability of transactional and marketing emails.
Features
Email Builder – Using this, you can create beautiful and responsive emails in just a few clicks.
Contact Management – You can easily manage, segment and grow your audience using this feature.
Real-Time Analytics – It can detect the address delivery issues easily. This will help you to monitor all the activities, so you can figure out any issues as soon as they occur.
Email API – You can integrate its Email API with your current configuration and start sending it immediately.
SMTP Relay – Easily set up its SMTP server in minutes and send billions of emails that reach directly the inbox.
Pricing
Free – With this free plan you can send 6,000 emails per month i.e. 200 emails per day without paying even a single penny.
Basic – At the cost of $9.65 per month, you can send 30,000 emails per month. This plan does not impose any daily sending limit.
Premium – For this plan, you just need to pay $20. 95 per month for sending 30,000 emails per month without any daily sending limit.
Enterprise – To get the dedicated account management services, you need to contact the sales team of Mailjet.
Conclusion
Now that you have gone through a deep comparison of all the best SMTP providers, you can decide the best tool to help increase business productivity.
We hope you found this article about the best free SMTP servers for reliable email marketing super informative. Let us know in the comments which SMTP server you decided to go with or if you chose another one entirely.
Further, if we missed any good SMTP please be free to comment below so that we can review it and add it to the list.
You May Also Like To Read: