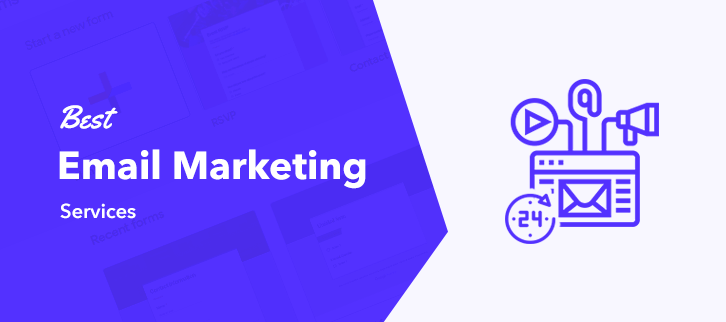 Email marketing is the most reliable way to connect with your guests, build an engaging relationship, convert them into customers and grow your business. But, to achieve all this one needs to choose the best email marketing service that suits your business requirements the best.
Now, we all know that the market is full of so many software that claims to be the best. And, finding the best software that not only comes with a comprehensive set of features but also comes at a very affordable price out of the surplus is the toughest task. Right?
But, as you landed on this page, you've won half the battle already!
Here in this article, we have shortlisted a list of 5 Best Email Marketing Services 2022 just to ease your task. Further, we also compared all  5 services with each other on the basis of different properties they have.
A Quick Comparison of 5 Best Free SMTP Servers 2022
Services

Cost Of Basic Plan  
No. Of Emails 
External SMTP
Multiple SMTP Routing

$29/month

Unlimited

Unlimited
Yes
Moosend

$125/month

21,500

No

No
Sendinblue

$25/month

40,000

No

No
GetResponse
$25

/month

25,00
No
No
Constant Contact
$5

/month

10,000
No
No
So, without wasting much more time let us check all 5 services after another.
Pabbly Email Marketing is an email marketing service used for sending bulk emails at an affordable price. By this service, you can join multiple email sending services (SMTP's) for sending emails. It also comes with its own integrated delivery engine for sending emails directly from it.
The software offers a 99% delivery rate which indicates that the mail will fall directly into your customer's inboxes. Resultantly, it will decrease the rate of landing emails in the spam folder.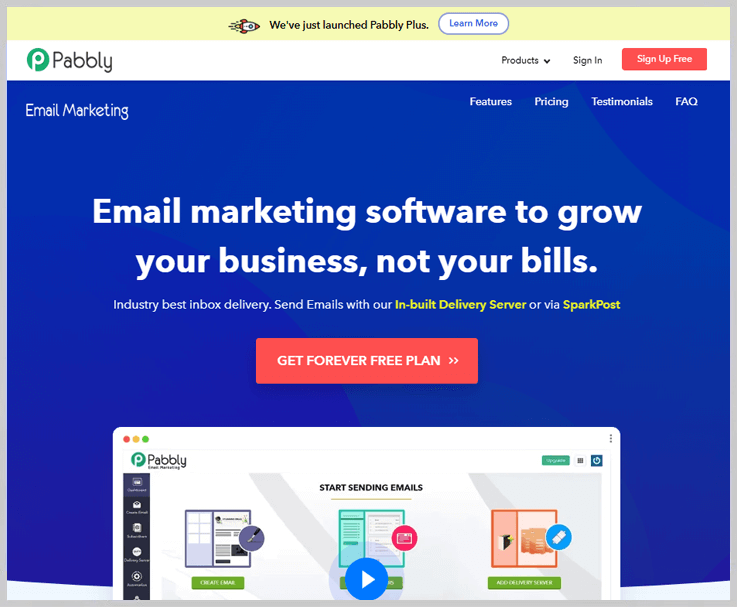 Features
Drag and Drop Email Builder – Drag and Drop feature gives non-developer users an answer to creating do-it-yourself applications. Many times certain products include features similar to design products, like observed drag-and-drop tools, to sending emails. Drag and drop feature is common among those who are new in this field.
Market Automation – Market automation assigns to email marketing services platforms and technologies designed for marketing departments and organizations to more productively market on various courses online (e.g. email, websites, etc.) and performs repeated tasks.
Email Tracking – By using this feature, we can track out sent emails whether it falls in the inbox or spam folder.
Autoresponder – You can automatically send follow-up messages to the non-opens once.
List Cleaner – This cheapest email marketing tool helps you in cleaning invalid and duplicate addresses from your list via using its MX cleaner.
Pricing
Forever Free – In this pack, you don't have to pay any money for 7 days. By using this starter plan you are allowed to connect 3 SMTP services for a month.
Starter – You will pay $19 per month of up to 50 customers, which provide all features like email tracking, drag and drop email builder, etc.
Rookie – You will pay $37 per month of up to 100 customers. It includes starter features and some more features like Zapier integration, autoresponder, etc.
Pro – You will pay $57 per month of up to 150 customers. Includes full rookie features and some add on features like Google Analytics integration, SMTP routing, etc.
Advance – You will pay $79 per month of up to 250 customers. This feature provides all the features.
SendinBlue is a cloud-based email marketing tool accommodated for organizations of all size businesses. It comes with features like marketing automation, transactional emails, and SMS messages. Further, for sending transactional emails, it may use its SMTP service or API. The contact management feature offered by it helps the prospective client to insert contacts, categorize lists and more.
Additionally, email marketing is the task of sending a marketing message, basically to the groups of people, using email. In it, every email that is sent to a possible or popular customer could be regarded as email marketing.
Features
Integration – It integrates with Magento using which you can automatically sync your customers by sending emails and SMS messages to them. Besides, it supports integration with Facebook, WordPress, Shopify and many more.
SMS Marketing – Using its SMS or Text messaging feature, you can make a very active and direct connection to your client.
Retargeting – You can take a broad approach by retargeting any visitor who comes to your website once, or based on specific page visits or actions.
CMR – Further, you can build stronger relationships by keeping track of all your customer details in one place using its CRM feature.
Real-time statistics  – Sendinblue provides an advanced report and analytics features like heat mapping, A/B testing, time optimization and open click rate.
Pricing
Free – In this plan 300 emails are provided pre-day till one month with unlimited contact features.
Lite – $25/month for 40000 emails including all free features and daily sending limits.
Essential – $39/month for 60000 emails including all lite features and A/B testing, remove Sendinblue logo from emails and advanced statistics.
Premium – $66/month for 120000 emails including all essential features and Facebook ads, landing pages, market automaton, chat, and multi-user access.
Enterprise – In this package, all premium features are provided with some more additional features like 10+ seats, managed setup, and priority support, dedicated account manager, dedicated infrastructure, priority sending and SSO (SAML).
By using Moosend you can easily control various email and mailing lists, as well as design, sensitive newsletters that are created on the built-in campaign editor. The email solution aims to cover the demands of any company working online that requires to inform its clients and scholars about news, products, services, and offers via email newsletters.
The reporting and statistics of Moosend give the facility for the organization to acknowledge relevant subscribers that build profit and deliver to them personalized emails, targeted. Besides, they can customize according to their interests, to increase commitment and give results.
Features
Tracking – You can simply track sent emails performance in real-time using basic to advance performance reports. Though, there is no necessity to create your own automation workflows and syncing up data.
Drag and Drop – It provides a drag-and-drop feature that helps you to build eye-catching newsletters that are answering to you every device.
Real-time statistics – It gives a magnificent API that connects you with your preferred application and website so that your users can comfortably enjoy all its functionalities without preparing any type of coding.
Image Library – You can simply add images, videos, etc. in your emails.
Segmentation – It begins with the segmentation feature that assists you to distribute your database in such a way that the emails get delivered to the appropriate users automatically.
Pricing
Free – All basic features at no cost and some add on features like unlimited contact, sign-up & subscription forms and reporting & analytics.
Pro – $8 monthly with all free features and landing pages, transactional emails, phone support, and SMTP server.
Enterprise – This plan is a custom plan, in this plan all pro plan features are provided with custom reporting, account manager, SSO & SAML,  on-Boarding & migration, and service-level agreement.
GetResponse should be a great start to most small to medium businesses (SMBs) looking for both a secure email marketing solution as well as a start into digital marketing in common. It challenges to be the most comfortable newsletter tool available, with a tonne of pro features.
Feature-wise, they do claim a lot than other email marketing services. From simple A/B testing to custom landing pages, overall design testing to video email marketing.
Features
Automated Emails – It triggers all emails after buying, delivered carts, website visitations, and much more.
Market Automation – Imagine your desired client journey and bring it to life with marketing automation that originates with your needs. It saves time and resources, captures and converts new leads, sells more with less effort.
Traffic Generation – In traffic generation the drive traffic of social media to your landing pages. Design eye-catching promotional videos automatically and launch ad campaigns on Facebook and Instagram to retarget contacts on your list and find new audiences for high sales.
Landing Pages – This helps you to create build pages that change your traffic and lead to further business even if web designing is not really of your interest. You can observe stunning pages in just a few clicks.
Webinars – Webinar software created to increase conversions and engagement. This is very easy to get no installation needed. This will take your business online and connect with your viewers anywhere, anytime.
Pricing
Basic – Pay $15/monthly for list size 1000 and email marketing, autoresponders, unlimited landing pages, unlimited automation templates, sales funnels, unlimited lead funnels, Facebook ads and selling e-products.
Plus – Pay $49/monthly for list size 1000 including all basic features and some add on features like automation builder, webinars, contact scoring & tagging, sales funnels, work together and webinar funnels.
Professional – Pay $99/monthly for list size 1000 including all plus features and some add on features like unlimited automation builder, paid webinars, webinars, unlimited sales funnels, unlimited webinar funnels, work together and on-demand webinars.
Enterprise – Pay $1199/monthly for list size 100000+ including all professional features and some more features like transactional emails, account manager, dedicated IP address, etc.
Constant Contact helps small firms, nonprofits, and individuals. A strong suite of web building, email sending, eCommerce, domain, logo making, and online marketing tools.
Moreover, it provides real-time tracking tools that inform who's opening, checking and sharing your emails so you can design your next steps. Its email editor is really simple to use, and when we sent emails with Constant Contact, they went directly into the inboxes.
Features
Personalized – It can really easily customize an email template and design professional and you can also manage your images very easily.
Autoresponder – Each character who signs up to your newsletter to receive a particular email on a specific day. Then this marvelous feature will allow you to simply set up a sequence of emails that will automatically be sent to you.
Social Media integration -With a 98% deliverability rate, Constant Contact ensures your contacts will receive your emails getting your marketing efforts that much more productive.
Real-time tracking – This can track sent email status and providers API service.
24/7 customer service – It provides 24/7 customer service and resolves maintenance problems.
Pricing
Lite – Pay $5/monthly for 10000 emails for this plan. And, get features also provided like customizable templates, 500 MB file storage, Facebook & Instagram ads, etc.
Email – For this plan, pay $20/monthly and get unlimited emails, list segmentation, landing pages, the marketing calendar, etc.
Email Plus – To get this plan, pay $45/monthly that provides all email features like RSVP, dynamic content, online donations, etc.
Conclusion
Now, as we have covered the 5 best email marketing services in this post. We hope this article helps you to choose the best service for your business requirements. But, we would also like to recommend you to try all the 5 services once by using their free trial & get a proper insight about the services before choosing anyone.
Also, if you find any unusual information that we have missed while covering these services do comment below. We will definitely take a note of it.
You May Also Like To Read: