In today's era of modern style renovation, consumers spend freely against having a beautiful look of home or office. Thus, it would be more beneficial for renovators like carpenters and interior designers to have a web domain for more conversions. As a lot of people search the web to find the right one to get their wooden, furniture and interior designing task done on time.     
For the same, we've come with 4+ Interior Design WordPress Themes carpenters, and woodworkers.
This accumulation of furniture WordPress templates is specially crafted to bring the carpentry culture, art of furniture and interior designing station on the internet with an extreme ease.
Start to checking em out right from here.
---
FurnitureStore – Eco-Furniture WordPress Template
When you have an impeccable furniture selling emporium but don't have the website to sell the same, then you are far behind to reap maximum conversions that others.
Thus, to set up home asset selling web domain of yours, we are here to give you an elegant and prime WordPress template for furniture store i;e Eco-Furniture WordPress Theme.
The theme is packed with best multiple features to stand out as rare like home page furniture selling area to feature the best selling furniture products has also got horizontal parallax banner area with link button to redirect customer into the furniture shop.
---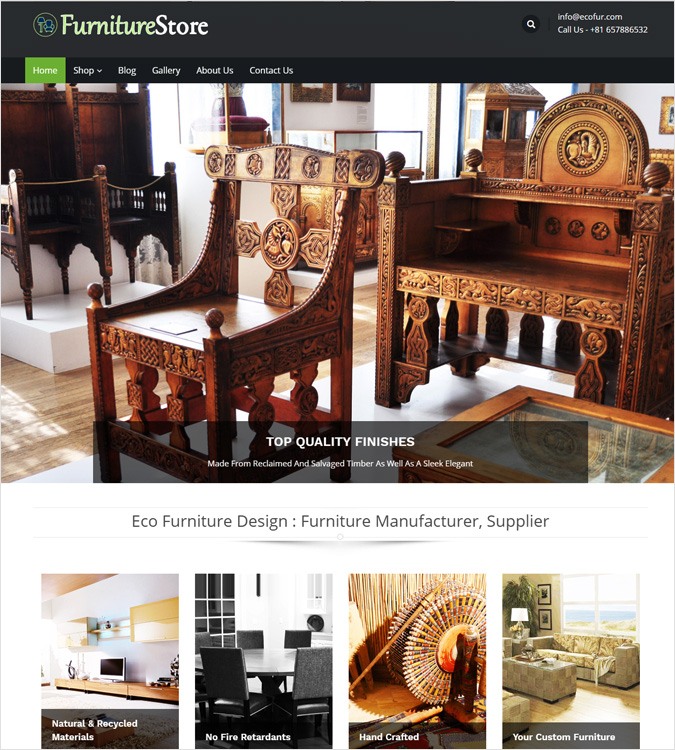 ---
Features Of Eco-Furniture WordPress Theme:-
Blog Feature Section
Multiple layouts available.

Comes with two vertical banner and links.

Comes with two blog posts.
Footer Section
Four column multiple widgets footer area.

Footer logo followed by social sharing icons.

Copyright footer text at the bottom bar.
Header Section
Drop down navigation menu.

It has got info area at top right of search box.

Definite size company logo.
Theme Info + DownloadLive Demo
---
FurnitureShop – Antique Furniture WordPress Theme
Antique furnitures are difficult to find, reason being it is rare. And something which is rare fascinates more and build interest among the people to buy it. The place where they stick to find the antique assets is internet.
Thus, came up with another perfect solution i;e FurnitureShop WordPress template which is splendid in design and has exemplary traits which are highly functional to put across the antique furniture web front on the internet.
The theme has got auxiliary features like – home page 2 cols where one can give the description about the shop or can embed videos of his antique furniture products. Apart from it, four column blog section area rest on the homepage itself in the form of the portfolio.
---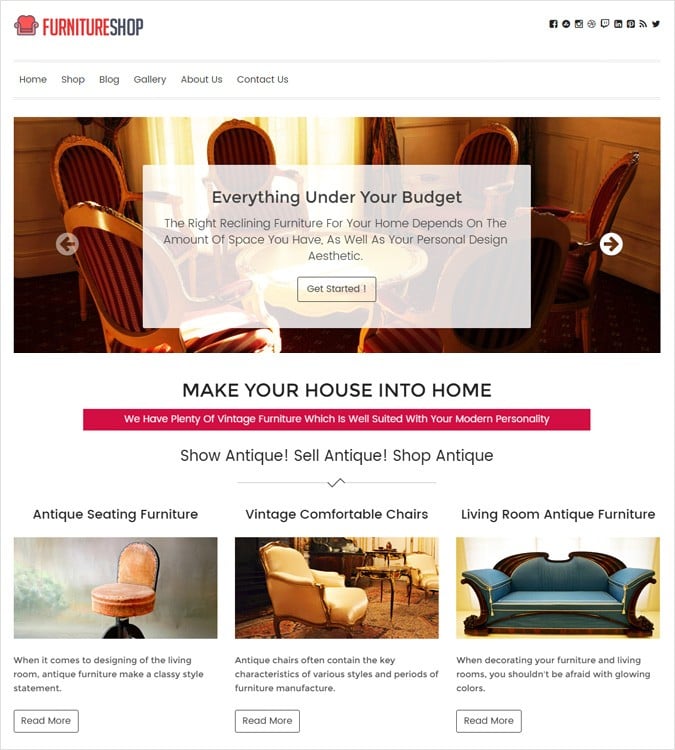 ---
Features Of Antique Furniture WordPress Theme:-
Footer Banner Section
Banner image for sponsoring.

Social Sharing links.

Newsletter for users.
Footer Section
3 Column footer area.

Multiple widgets for the footer.

Comes footer copyright text.
Service Section
Different services in 3 column.

Comes with reading more tag.

Heading for each service.
Theme Info + DownloadLive Demo
---
Furnited – Furniture Shop WordPress Theme
What if we say that creating online furniture shop is a job that can be done in a jiffy? Yes, it is as easy as it sounds to you. And this can be done with Furniture WordPress theme , which is ultra responsive and clean coded for carpentry shops, wooden stuff stores, and furniture shops.
The templates straight way lets one build an outstanding and premium web end of its furniture shop with the plenty of features it has got. The theme has sliding blog post section with read more tag in each post plus a high definition slider with heading, description and link button over it. Here one can add multiple furniture images with suitable heading and description.
---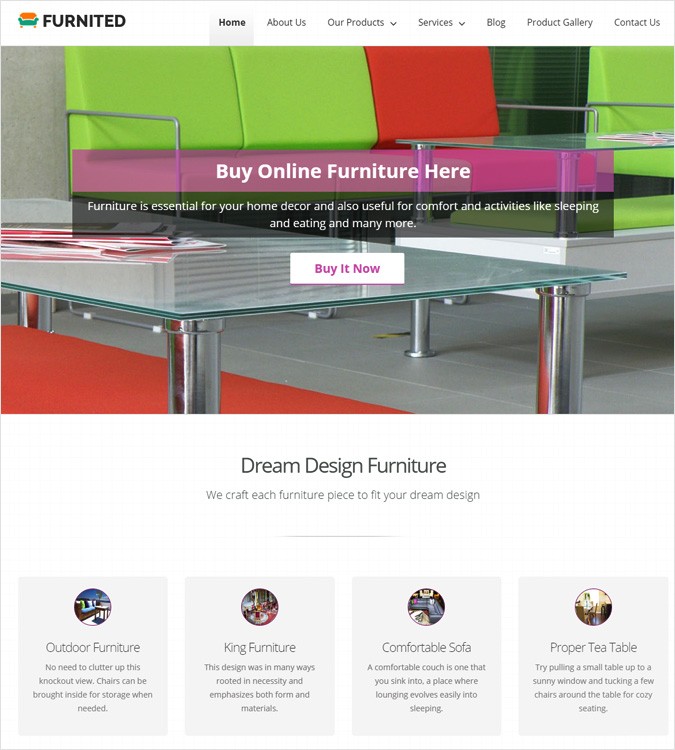 ---
Features Of Furniture Shop WordPress Theme
Home Page Bottom Features Section
Blog with features like – radio on/off buttons.

Bottom Left feature with heading and description.

Accordion feature with three accordions.

Testimonial section at bottom right is an addon.
Home Page Service Section
Comes with main heading and subheading.

Font awesome icon or image for each service.

Comes with back text on hovering.
Footer Section
4 Column footer area with multiple widgets.

Social links for promotion.

Comes with footer copyright text bar.
Theme Info + DownloadLive Demo
---
AdornHome – Virtual Interior Decorators WordPress Theme
Interior designing is an art and through which everybody wants to make their home look like a beautiful palace. Anyone running one such designing domain must turn it towards the large set of users.
Yes, we're recommending you to have a website for the same powered by AdornHome WordPress theme.
AdornHome has made the virtual designing task much easier for the interior decorators through its number of amazing traits. Virtual Interior Decorators WordPress template is smooth to scroll one-page website builder. It has got features like video box to put across the virtual door of interior designing projects. On top of it four column service section which comes with font awesome icons. And another most unique feature is categorical portfolio section with hexagonal images, where one can show different images of designs and interior layouts.
---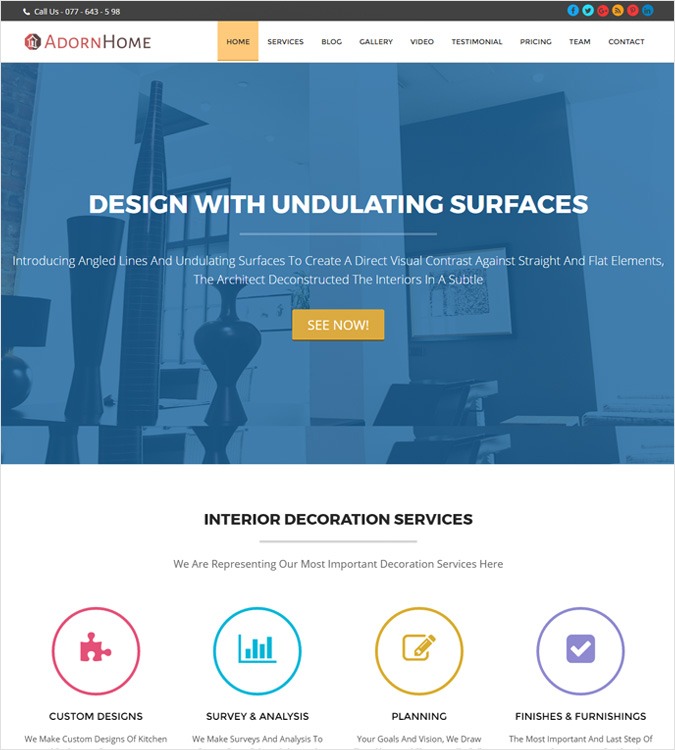 ---
Features Of AdornHome Theme
Pricing Section
The suitable icon for designing service.

Link button for redirection.

Multiple plan details fields.
Team Section
Member content on hover.

Social link for each member.

Comes with name and designation for each member.
Contact Section
Google integrated map for navigation.

Contact form multiple fields.

Submit button to submit queries.
Theme Info + DownloadLive Demo
---
WoodenWork – Woodwork Repair And Maintenance WordPress Theme
The Internet is an impeccable approach to spotting the consumers raising inquiry for any wooden renovation service. Thus for the same, you must organize the carpentry business on the web. And here is the tool to go with WoodenWork WordPress theme.
WoodenWork is a magnificent, serene design that will empower you to take your chippy business on the web. It offers you multi-page templates that are exceptionally appropriate for professionals extending from small level wood wrights to large scale timber manufacturing firms.
Irrespective of the stagnating improvements in this area, we offer you the premium woodwork repair and maintenance WordPress template to put your best-carpentered magnum opus on display online may it be out of drilling, furnishing, polishing or any other chipping work thereby increasing conversions.
The template has Ink lead Capture Pro plugin to captures the leads from the customer accessing your wooden service domain. These leads can be helpful to reach to the customers.
---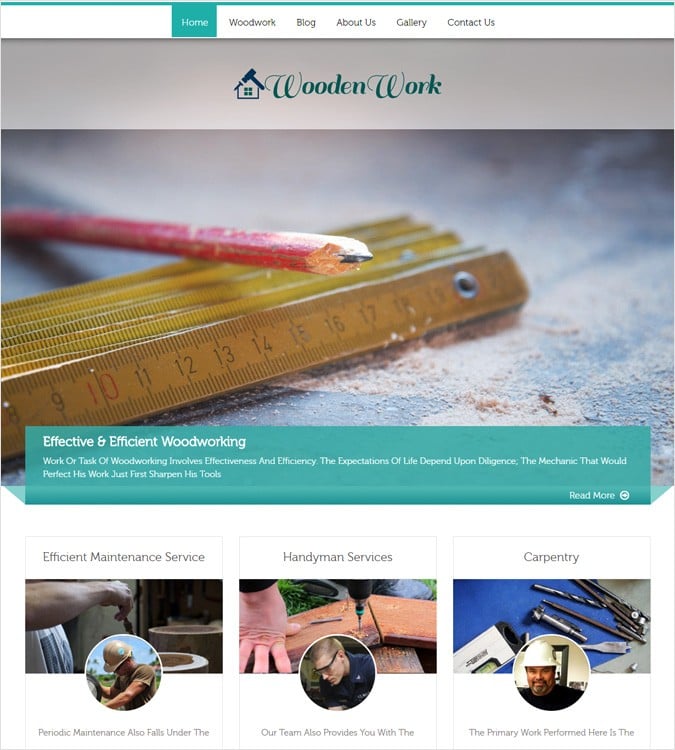 ---
Features Of The WoodenWork WordPress Theme
Service Section
Dual image for each service.

Each service has redirecting link.

Comes with heading and description.
Tab Feature Section
Multiple tabs for extra services.

Heading and description for each tab.

Adjacent layout for heading description.
Blog Section
3 Column blog section.

Comes with read more tag.

Pagination to see all posts.
Theme Info + DownloadLive Demo
---
More From Our House
The above list post of WordPress themes are the best solution for remodellers, carpenters, interior designers and renovators. Also we've the finest collection of other best WordPress Templates for different niches to explore, check'em out.