Fitness is now an emotion and when you are making it easier for people to achieve it with your gym, yoga center or fitness club, this business should have a wider horizon at an online platform with these 15+ Best Fitness WordPress Themes.
People are not familiar which one is authentic or genuine from their end, thus the global existence of your health club business is necessary to make it count over the web. So you need to launch a professional website where they can have a glance at your club, book yoga classes or training session and make an online payment.
If you are running a gym, yoga center or any fitness club, then you probably need a business website for it.
So, listed here 15+ Best Fitness WordPress Themes For Yoga & Fitness would be a grandiose option for you through which you can create an effective professional website for your yoga and healthcare-associated business.
Let's tap into these attractive and eye-catching WordPress Fitness themes that are perfectly suitable for your yoga and health club business.
Also check out our another article on:-
---
Colorway – Fitness WordPress Theme
Colorway is a completely versatile Elementor WordPress theme that allows you to manage it by yourself & gives you better user experience. By using this theme, you can make sports, yoga, health-care & any other fitness related website.
It has a sturdy admin panel with numerous customization options like custom logos, color schemes, backgrounds, etc. Hence, you can easily update & control the overall appearance of the website.
The theme comes with WooCommerce integration which means you can sell anything online without any sort of hassle. Also, you can display products & services using the product slider on a website easily.
---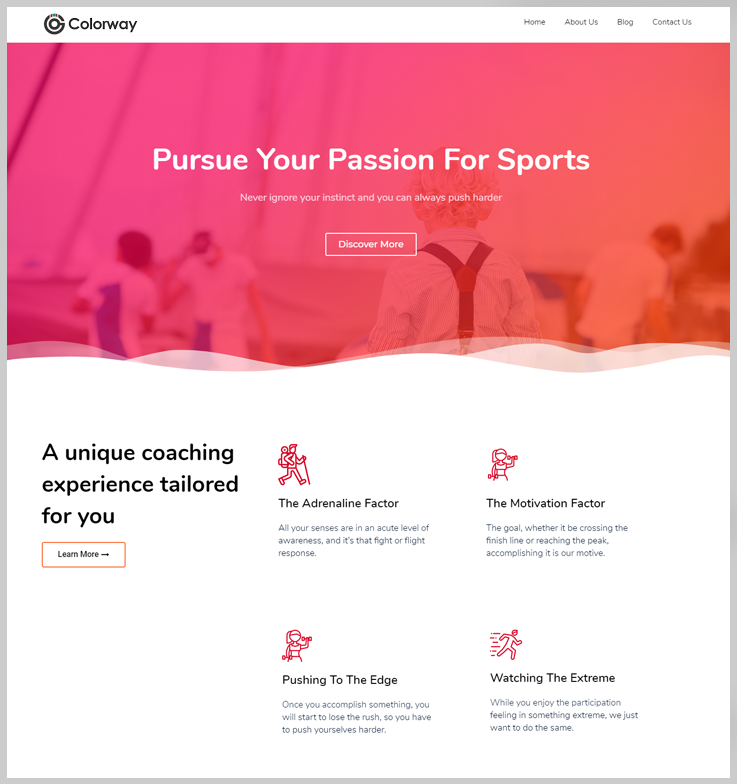 ---
Marvelous Features Of Colorway:-
Gives you useful Image Comparer function
Compatible with all top-most browsers
Supports Leadup & Appointup addons
Tons of useful widgets, sidebars
Social sharing icons included
35+ pre-designed templates
Ready-made Contact forms
100% responsive in nature
Various stunning layouts
Packed with shortcodes
Highly customizable
Translation ready
SEO friendly
Free of cost
Theme Info + DownloadLive Demo
---
Traffica
Traffica is unique and excellent WordPress theme to create yoga style websites. It is specially designed to highlight distinguishing features of your website, so it would be an ideal choice for making yoga WordPress website.
The home page of a theme is simple, clean and attractive and it provides the perfect background for a yoga or Crossfit website, a boxed slider where you can set the best snapshots of your yoga classes along with energetic slogans, brag about your yoga club services and offers in four column feature area with flippy text.
Traffica enhances the outlook of your site and grabs the attention of online visitors.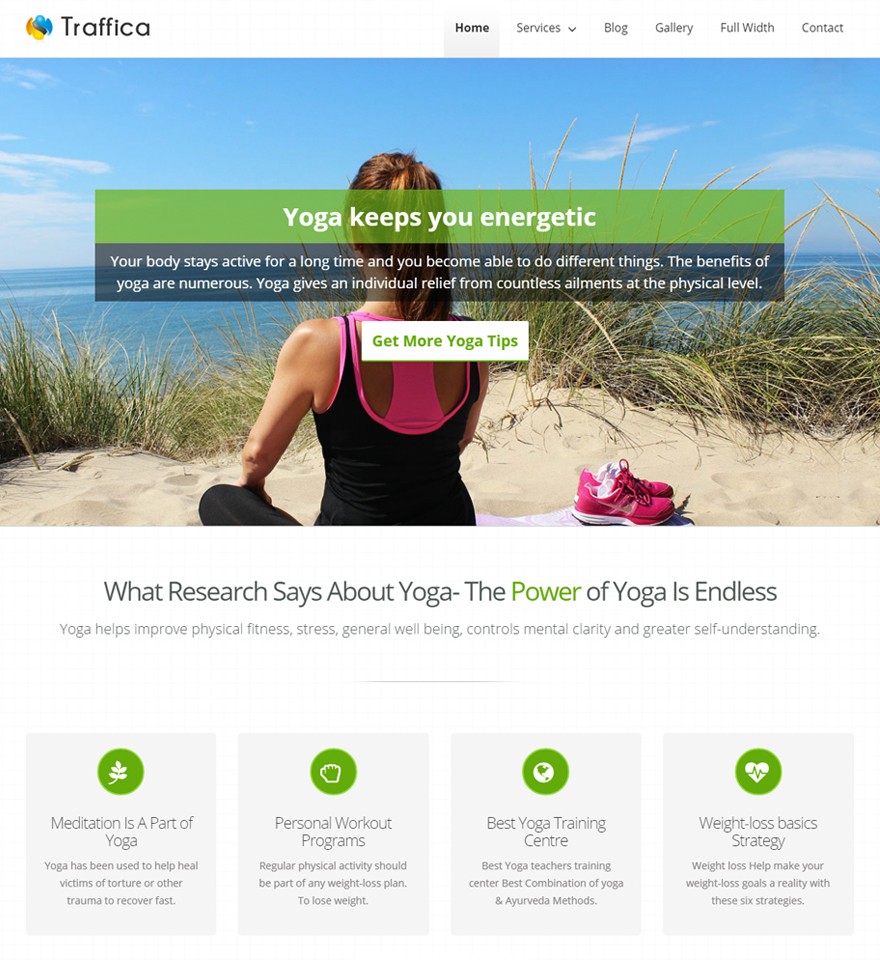 ---
Interesting features of Traffica WordPress Theme –
Attention-grabbing tagline box.
Available in customized CSS, search engine optimization and 12 styling colors.
Widgetized sidebar, multiple service options, and well-maintained typography.
8 classical theme colors.
Add unique headline in the headline section – to attract your visitors.
Theme Info + DownloadLive Demo
---
OnePage
OnePage WordPress theme has an outstanding template and has a single page layout. So you can flourish all the aspects of your gym business & services on a front page of your website. The theme is free to download you don't need to spend any single buck to purchase.
A one-page layout of the theme can be adopted by any professional fitness trainers. Make the use of the theme and create a website of your business.
The template is packed with so many features, one of it is Ink Pricing Table plugin that allows you to exhibit your club membership plans along with price, time duration or other services. It also has a separate video section where you can set motivational video of professional trainers.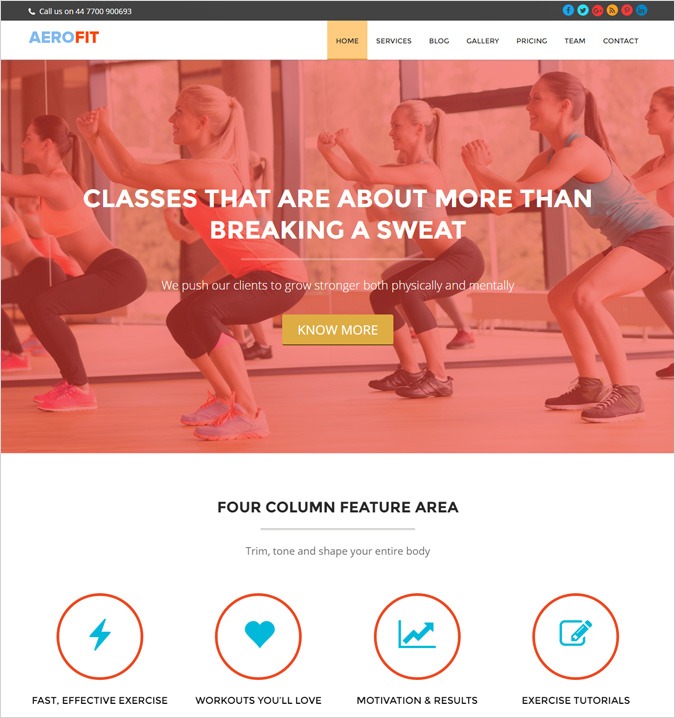 ---
Prime features of One Page WordPress Theme –
Single page layout.
Smooth scrolling function.
Integrated Google font icons.
Full-width slider.
Powerful admin panel.
Grab The Golden Opportunity & Get This Free Theme!
Click Here To Know MoreDownload NowLive Demo
---
VideoMember
Yoga has been taught face to face since it was first created, but many people don't have time for this in the busy world of today. So teaching by video is always a good idea.
VideoMember is a potent and flexible WordPress website theme allows you to develop video sharing site for your yoga center.
VideoMember works for almost any kind of health and fitness regime, it coupled with InkMember Pro plugin that permits you to protect yoga tutorial from the unsubscribed users, sell your subscription plan yearly, monthly and weekly basis and collect payment through integrated secure PayPal plugin, so that users can pay quickly and safely online before viewing your protected videos.
YouTube enabled content is secure until students have paid, meaning no freeloaders. Advertisements can also be enabled for extra income.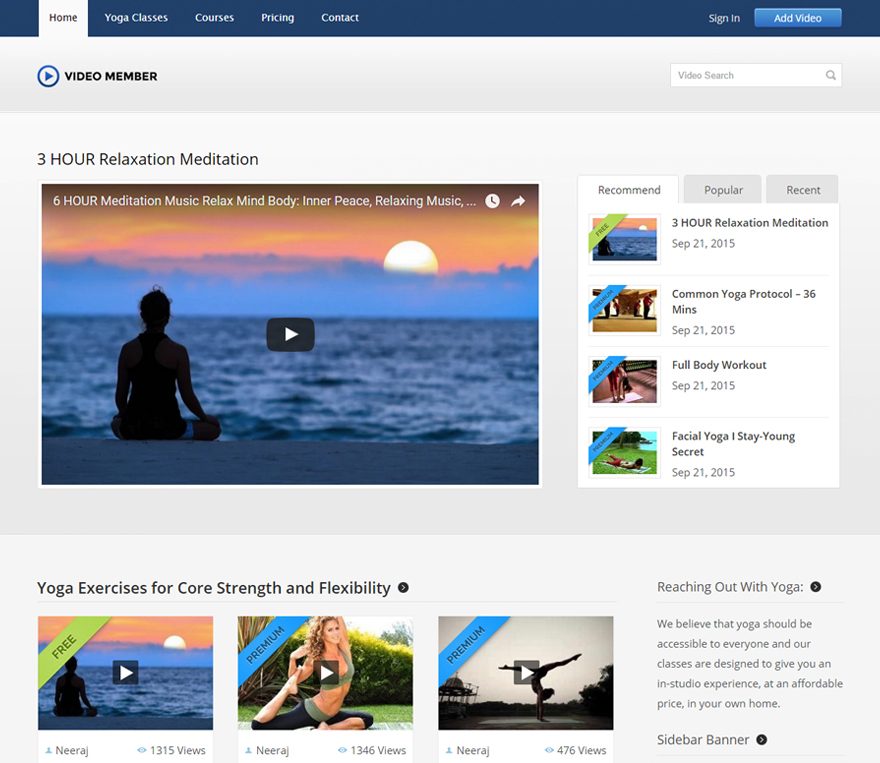 ---
Interesting features of Video Member WordPress Theme –
This is not just a basic theme, it's a full yoga teaching video membership program.
A huge range of content is possible, from lessons to meditation music.
Advertisements make extra income possible.
List the popular and recent videos on the right-hand side so that customers can easily see and play it.
All of your lessons are secure until customers make a purchase.
Theme Info + DownloadLive Demo
---
GeoCraft V2
The GeoCraft V2 is an amazing theme which works as a directory theme where all your business related advertisements and features can be shared with the customers, in addition to that the theme has an ad banner section where all the business advertisements can be projected amazingly.
The premium listing option of the theme offers a lead capture form whereas the normal listing and does not contain a lead capture form, the theme, in general, has other features as well where all the traits of the business's niche can be uploaded with the help of the theme.
---
Features Of GeoCraft V2 –
Premium ad listing option.

Set the price listings.

Use social sharing icons.

Google Map integration to search you easily.

Geo-location search – provide search results customized to the user's location.

Multi-language support with Language filed.

Ability to set a fixed amount of the listing (Pay Per Listing) & disable pay per listing and enable free listing.
Grab the opportunity and
download free theme
Click Here To Know MoreDownload NowLive Demo
---
Nutrition
Nutrition is an amazingly beautiful WordPress website builder which is perfect for creating a health care and yoga fitness site. You can create any type of business website with the theme say gym, spa, yoga studio, fitness club, meditation, personal trainer and much more…
The theme has amazing features that let you display the services, workouts, values and other organization information like aims, objectives, text content on a slider area, share and proliferate yoga tips through the blog, your recent post will be displayed on the homepage in the form of horizontal scroll slider.
It is highly preferred by the health clinics, gymnasia, doctors, dentists, surgeons, nature club, etc.
---
Interesting features of Nutrition WordPress Theme –
Responsive WordPress template looks good with mobile, Smarts phone, Desktops, etc..
Gallery / Contact Us Page Template.
Individual Page/Post Customisation -Change various layout options on each page (or globally if you want)
Improved Zoom box.
Dropdown Menus.
Theme Info + DownloadLive Demo
---
HardRock
HardRock is enthusiastic and onepage WordPress theme that is perfect for creating gymnasium based website.
HardRock has an interesting feature of a pricing table which makes it different and attractive from other fitness WordPress themes by flaunting your club membership plans, display motivational video in the video section of the theme, also the theme is enabled with team member section to introduce club trainers, coach, etc.
Grab the opportunity and develop a one-page website for your fitness planet with no sweat.
---
Interesting features of HardRock WordPress Theme –
Single page layout
Fully responsive that looks perfect on all type of devices.
Inbuilt InkPricing Pro plugin
Change the color, styling and font in seconds.
Testimonial section
Theme Info + DownloadLive Demo
---
Harrington
Harrington is a luminously bright and clean layout WordPress theme that allows yoga teachers and other health users to balance images with information perfectly.
Different pages can be represented by several linked feature images on the home pages to promote visual and intuitive navigation. This allows users to see yoga positions or classes in ken bun slider that gives an amazing transition effect and when they click on the images they will redirect to the desired set page, a testimonial section to share valuable customers feedback about your services.
Responsive and colorful navigation menus make the site attractive and easy to navigate, keeping your users exploring.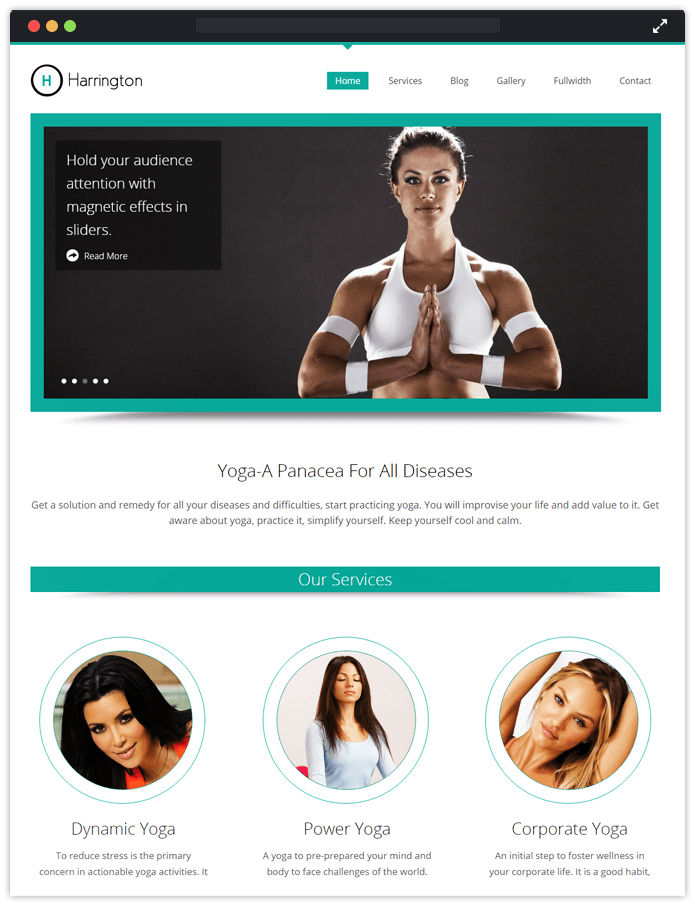 ---
Interesting features of Harrington WordPress Theme –
Moving slider images within box captions keep users interested.
Reactive menus with color and animation make pages feel alive.
Click through images of moving icons.
Social network icons.
Feature areas for different classes.
Theme Info + DownloadLive Demo
---
MediYoga
MediYoga is a very flexible and amazing theme for Yoga lovers which can be incorporated into a complete yoga tool to help your users with yoga training classes online.
MediYoga layout has an ingrained InkAppointment Pro plugin that allows your customers to make an appointment easily using an automatic appointment booking form. This means more users converted into customers quickly and efficiently, you can assign custom business services, select the specific date & working days with multiple time slots and set admin email for collecting online payment through secure PayPal payment gateway module.
Using this theme, you can develop an ideal yoga, fitness center, health-care and other wellness-related websites.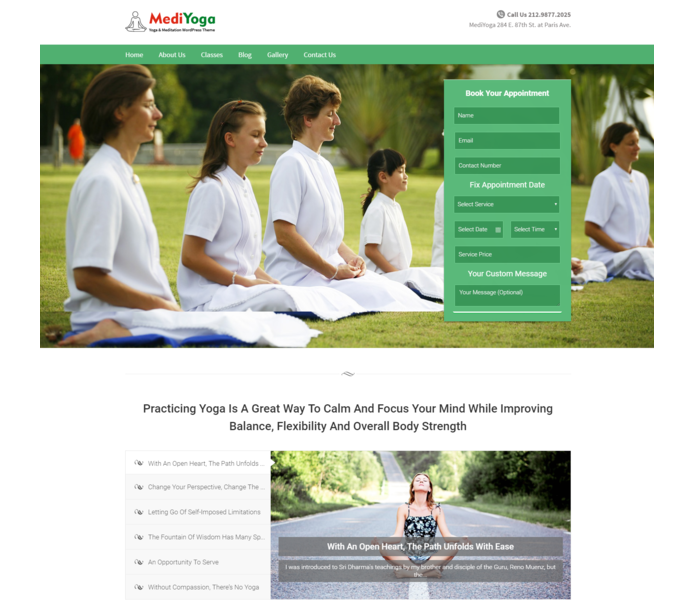 ---
Interesting features of MediYoga WordPress Theme –
Schedule appointments for the client easily by making appointment data in a structured manner.
Collect online payments through PayPal and manage it from backend panel.
Animation effects, contact page and inbuilt blogging options.
Automatic availability checking, mailing, and reminders.
Compatible with all browsers like Google Chrome, Mozilla Firefox and Internet browser.
Theme Info + DownloadLive Demo
---
Fitno
FITNO is youthful and innovative WordPress theme cleverly designed for fitness clubs, healthcare companies and yoga trainers. It is highly preferred by gym and yoga trainers due to its ready to use service booking system theme.
So, anyone can book their desired yoga and fitness services online, make payment online as it is associated with online payment collection system, you can fully customize the theme according to your service booking needs. It is easy to integrate and have a lot of options in the backend that you would prefer for your website, also a sticky header behavior for easy navigation.
Take varied advantages of the theme and build health care and fitness website with online booking system.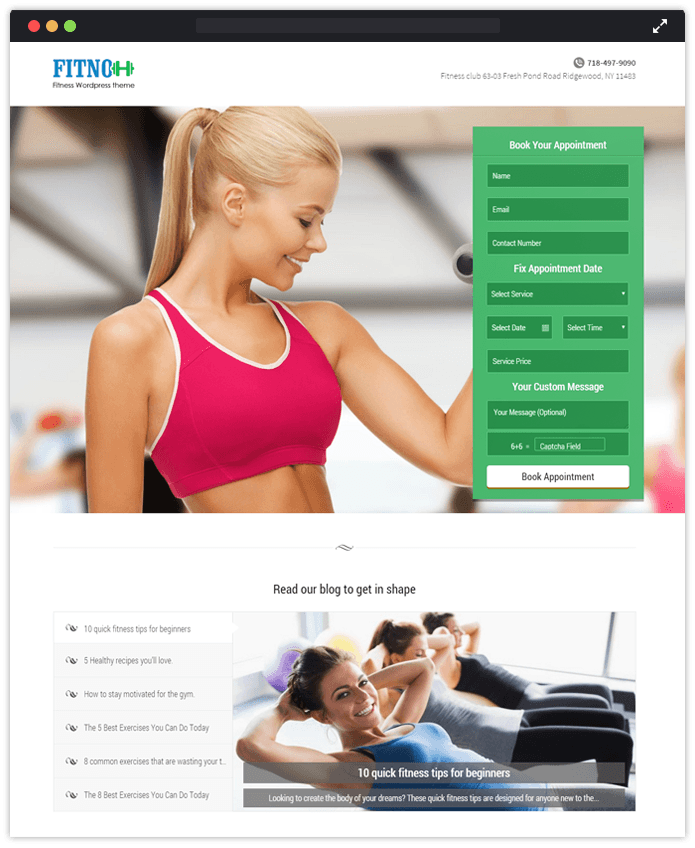 ---
Interesting features of Fitno WordPress Theme –
Add your business logo, contact map and about section of your website.
Unlimited color options for customization.
Contact details or banner ads is another distinguishing feature of the WordPress template.
The theme is associated with customized menus and appointment booking form.
It is available with unlimited color options, and you can customize it according to your website needs.
Theme Info + DownloadLive Demo
---
Young
Young is an excellent and enormously creative fitness WordPress theme perfect for creating a gym and health care website with fewer efforts.
Your online Yoga business can progress well with this cool WordPress theme as it has Woocommerce plugin that permits you to sell fitness equipment online, a cart option to add multiple items, my account where users can know about their order delivery status, separate section that allows you to introduce trainers, a homepage recent blog post section where your current post will be displayed.
The theme has an easy to use backend hence customize very easy. It also helps you in enhancing your contacts with the customers by highlighting your contact details.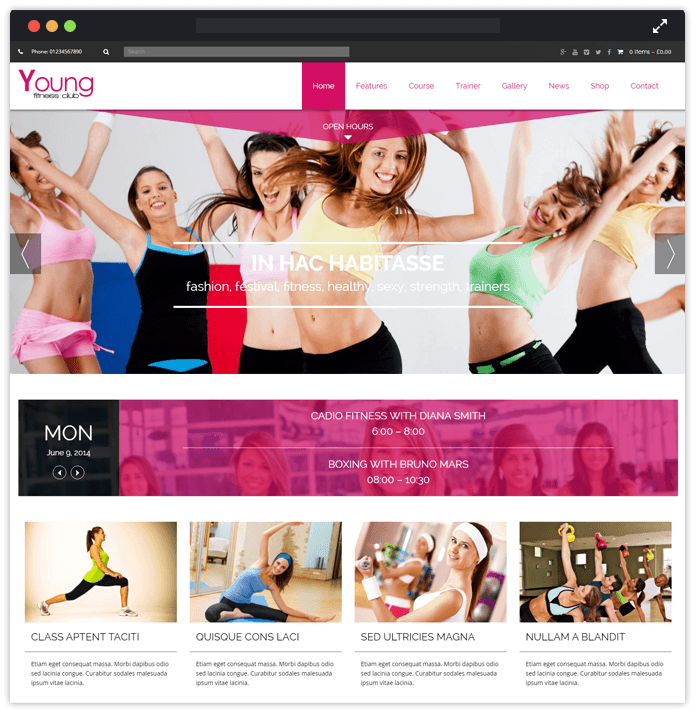 ---
Interesting features of Young WordPress Theme –
Custom gallery and portfolio of your Spa business can be easily created.
Homepage styles are also available in two attractive options.
Aqua Page Builder is also associated with powerful WordPress plugin that you can customize according to your website with unlimited WordPress template options.
Associated with adjustable information bar by which you can send notifications to your customers with available appointments.
Contact form and integrated blog options enhance the usefulness of your blog pages.
Theme Info + DownloadLive Demo
---
Yogi
Yogi is an awesome Yoga Studio & Fitness Clubs WordPress theme with a clean layout and responsive elements.
Yogi layout is enabled with multiple features that suit with any fitness niche, it allows you to demonstrate class list in a separate page, a calendar for scheduling yoga classes, pricing table to flaunt your membership plans, a video section that renders you to display multiple yoga videos to motivate yoga lovers.
You can consider it for your professional business website say yoga, female fitness club, health beauty training related website, etc, and enhance the credibility of your website by sharing highly important and upcoming events information with your clients.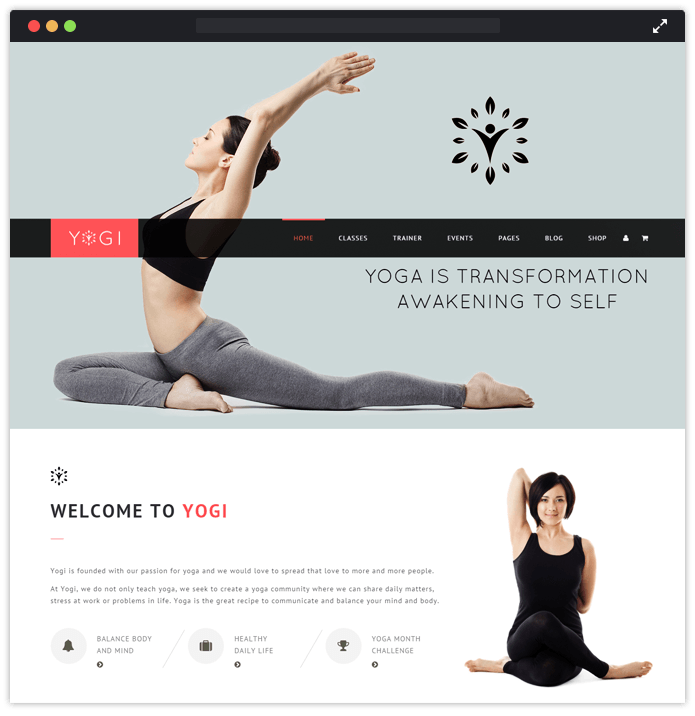 ---
Interesting features of Yogi WordPress Theme –
Tons of widgets and shortcodes that allow making areas of recent class schedules, trainers, and video sliders.
Has an option of filtering the events by category type that are related to Yoga and Fitness clubs.
Package sharing and payment collection options for the Yoga WordPress theme.
Comes with 2 different Yogi demo version.
Contains WooCommerce and visual composer plugin that can be integrated to your website for selling digital and physical items.
Theme Info + DownloadLive Demo
---
WellnessCenter
WellnessCenter is one of the most popular in all single page WordPress themes and well suited for Yoga Studio and Fitness Club.
The sketch of WellnessCenter is coupled with a full-screen slider which allows you to display introduction image along with associated text and logo options, you can schedule an appointment through WooCommerce plugin, brandish your spa and wellness service along with the cost via pricing table.
The theme is user-friendly, responsive design and a drag & drop visual builder through which you can easily customize your website and implement all the elements without any technical coding.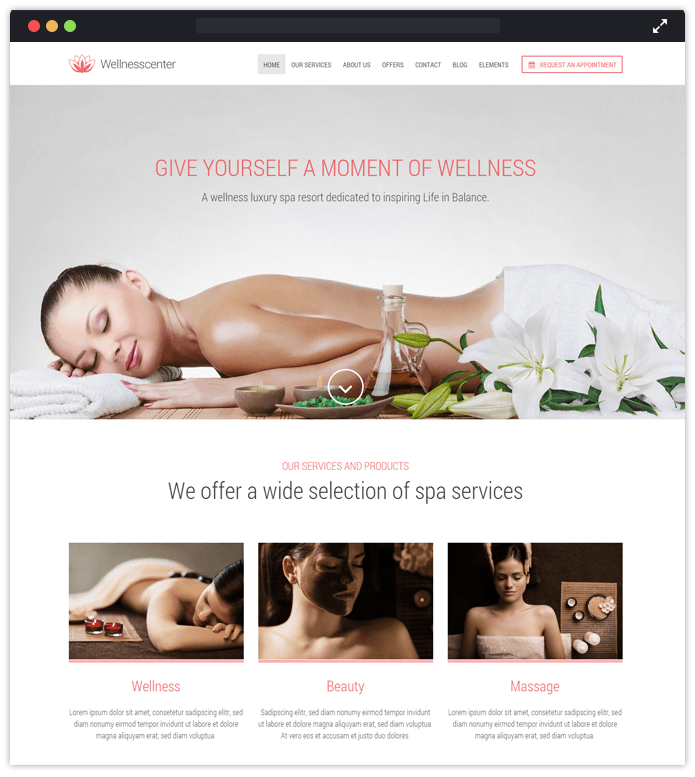 ---
Interesting features of WellnesCenter WordPress Theme –
Full booking system of the theme makes it unique and distinguished from other themes.
The contact form is an excellent feature of this Yoga WordPress theme that gives a nice touch to the users with newsletter signup form.
Easily build your email list and inform people to come to your yoga business online.
Client review section with ratings and areas for people make it more perfect in building your social credibility.
You can efficiently accumulate feedback from online members regarding your services offered to your customers.
Theme Info + DownloadLive Demo
---
GymBase
One of the best theme designed in a minimalist style and different theme for creating yoga and fitness centers website is GymBase WordPress theme.
The homepage of the theme is automatically scaling down and perfectly fits all PDA's devices, a separate section just below the slider to display your upcoming classes & latest offers, it contains filterable portfolio, responsive timetable page, also create a blog and share some tips allow the visitor to comment on the particular post.
---
Interesting features of GymBase WordPress Theme –
Highly customizable theme and available with a built-in scheduler.
Four customized post types, filterable gallery, built-in widgets and Ajax contact form.
Associated with map location, built-in color picker, WPML compatible and fully customized to your website.
Develop latest tweets, Font face fonts, latest tweets and social icons.
Excellent design of this WordPress theme with jQuery compatibility.
Theme Info + DownloadLive Demo
---
YogaFit
YogaFit is an amazing and highly appealing WordPress theme that can be used by sports, fitness and Gym to launch their venture online.
The theme is highly flexible and has an inbuilt registration module that allows your user to book a yoga class online, event calendar plugin to flaunt multiple classes into a different category. The theme is built with HTML5 & CSS3 codes that give astounding transition and animation effect on the website, sell your health care items via WooCommerce plugin.
You can also use this theme for multiple niches like dancing classes, yoga bars and meditation lessons.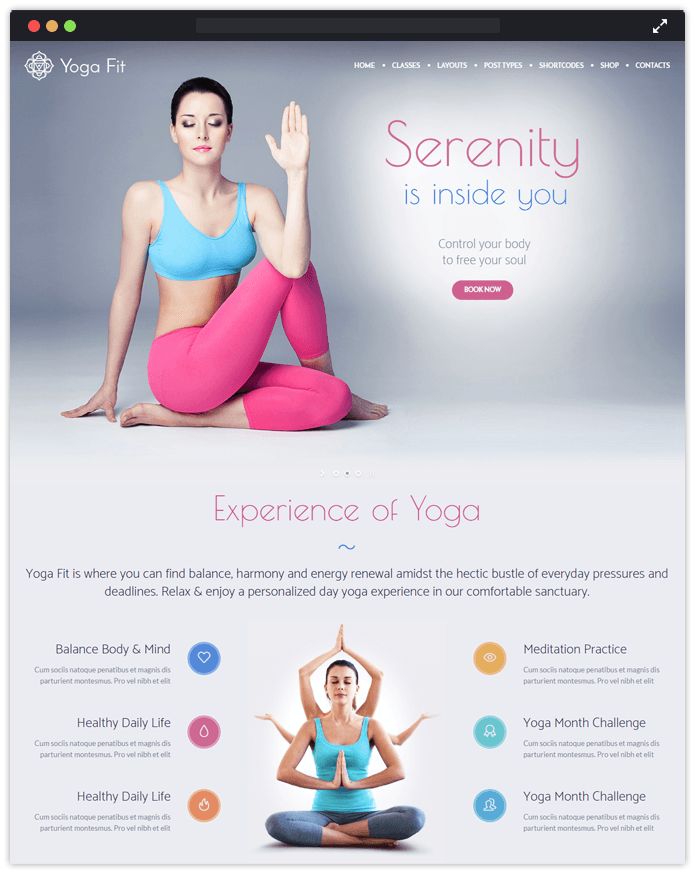 ---
Interesting features of Yoga Fit WordPress Theme –
Highly customizable shortcodes, visual content composer and form builder tool of the website can be used for the creation of great contact forms for yoga studios.
Supports both single or multiple page layouts.
Available in premium support documentation with great screenshots.
Contains one-page support, shortcodes, premium sliders and search engine optimization content.
Theme Info + DownloadLive Demo
---
YogaTeacher
YogaTeacher is a potent and striking WordPress theme can be adopted by any yoga trainer, gym coach and sports teacher to elaborate their website.
The theme is best for the yoga teacher who wants to stand out from the crowd and be considered first.
YogaTeacher theme design and layout both are professionally geared for showcasing yoga services and techniques, a thrive fullscreen slideshow slider that permits you to display fitness classes snapshots for surprise your guest at a glance, a pre-configured testimonial page where you can share your raving fans opinion about your yoga club, an integrated Google event calendar is masterly for yoga trainers which gives them a freedom to flaunt the dates of the most important fitness event.
Here, the calm, white spaces and gentle colors that fill many yoga themes are replaced with intense, energetic colors on a black background. The focus is on energy, power, and achievement.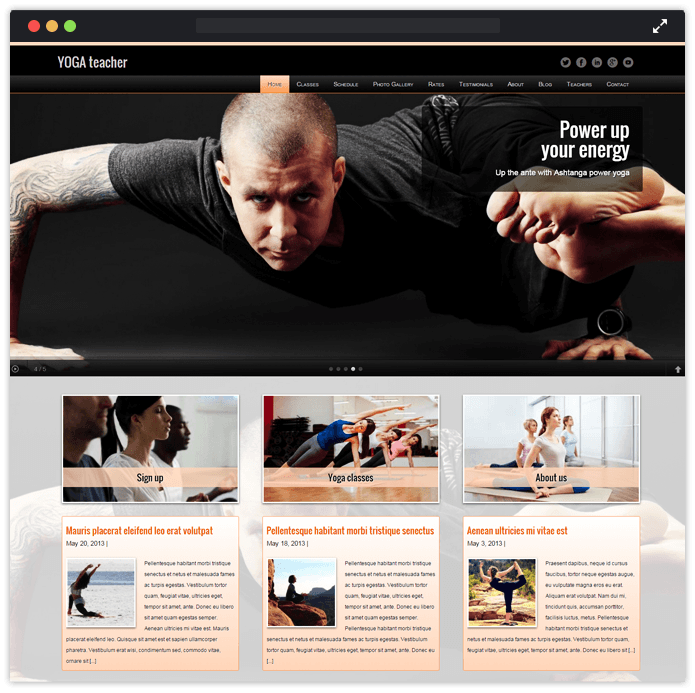 ---
Interesting features of Yoga Teacher WordPress Theme –
Drastically different scheme for unique yoga businesses.
A focus on energy and attainment attracts students.
A systematic website that meets all needs.
Google calendar integration for better planning.
Wide range of templates for different purposes.
Theme Info + DownloadLive Demo
---
Meditation
Just as meditation and yoga bring all the elements of a person into one place, Meditation is an ambitious WordPress website builder that brings together all the elements of theme design for professional teachers.
It is an open, natural and welcoming theme that works well with the aims and workings of meditation or yoga group.
Meditation theme has light and personalized design that gives an opportunity to display your current and upcoming classes and event via an ingrained event calendar.
The theme combines a light, airy and natural design with a set of features carefully designed for yoga teachers, trainers and yoga business owners.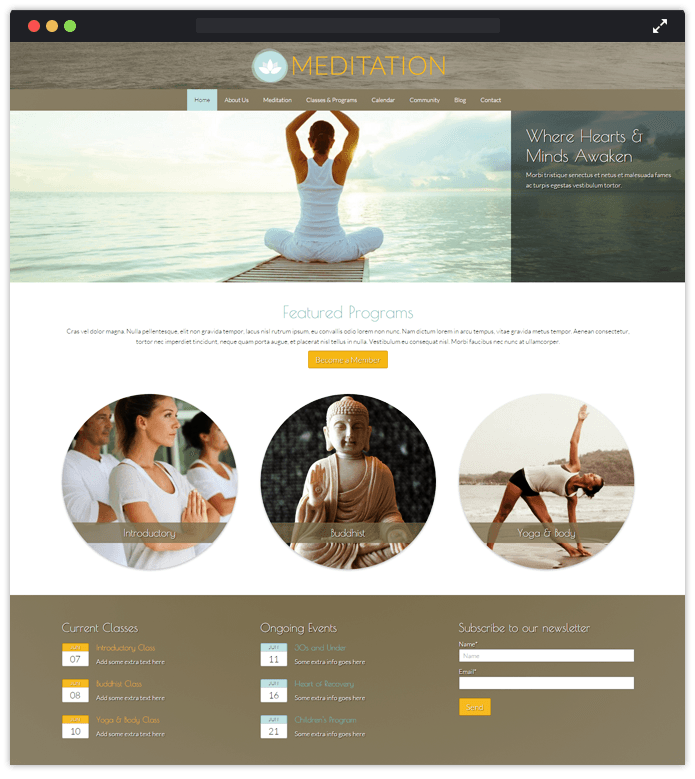 ---
Interesting features of Meditation WordPress Theme –
Simple and instant turnkey installation.
Meditation and yoga focused design and features.
Easy navigation including glossary template
The blog included helping students and potential students keep up with you.
Search engine friendly.
Theme Info + DownloadLive Demo
---
Wrapping Up
As you have gone through all of the 15+ Fitness WordPress themes, now you can easily select a perfectly designed theme for your gym, yoga centers, and fitness clubs business.
Also, read our popular blogs ->