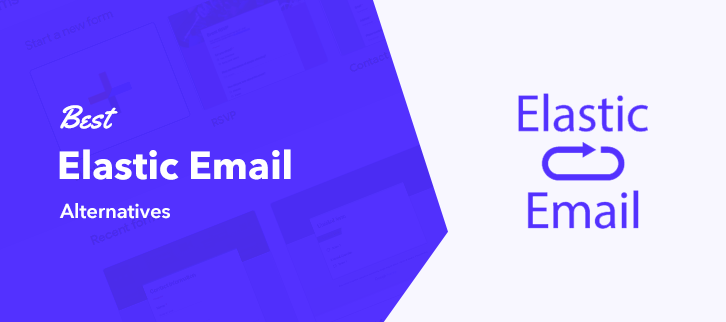 One of the popular names in the email marketing industry is Elastic Email. With extensive marketing and user-attraction, it has built a repo for its services at cost-effective rates. But, do you really feel that is worth using despite having zero assurances about the output rate? If you don't then it is time to explore the best elastic email alternatives to address your campaign requirements.
Elastic emails enable you to send millions of emails but without assurance that all of them will reach the inbox of the potential audience. This is a crucial factor of concern when you are planning to execute an email marketing campaign. Therefore, affordable elastic email alternatives can help you out in addressing this issue.
In addition to that, you should be aware that it does not have a dedicated IP. Thus, if other individuals are using their platform to send spam emails, then the IP address remains the same for both of you. Thereby, the credibility of your brand is severely affected.
For your convenience, we have compiled a list of top elastic email alternatives in this read. You can quickly go through its features and pricing, which will help you in selecting the best according to your needs.
Comparison of Best Elastic Email Alternatives
| | | | | |
| --- | --- | --- | --- | --- |
| Service | Pricing | No. Of Emails | No. Of Subscribers | Multiple SMTP Routing |
| Pabbly Email Marketing | $29/mo | Unlimited | 5000 | Yes |
| | $25/mo | 150000 | Numerous | No |
| Moosend | $10/mo | Unlimited | 1000 | No |
| Sparkposts | $30/mo | Unlimited | 1000 | No |
"Users have the leverage to send unlimited emails by using all the features of Pabbly Email Marketing irrespective of the selected plan."
Pabbly Email Marketing has popularly emerged as one of the most trustworthy and reliable elastic email alternatives software. This is because the software ensures its users that every email will be delivered in the recipient's inbox. Apart from this, you can expect a full ROI with this software as the fear of landing in the spam box is eliminated.
Above all, it is available with a single opt-in and double opt-in feature. Essential features like email tracking and Google analytics integration are also available from the basic pricing package. This helps users in making the most out of their email campaigns.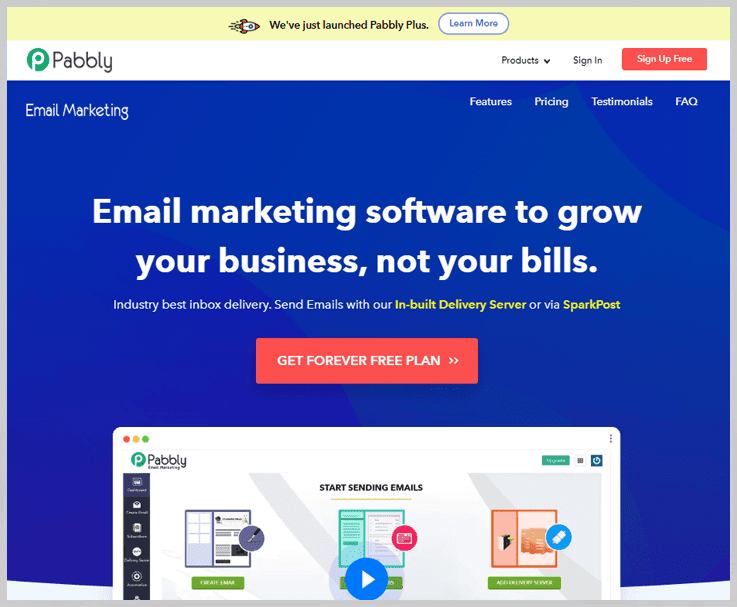 Features
In-built SMTP – Just like elastic email SMTP, this software comes with an in-built delivery server, and that offers 98% inbox deliverability.
Marketing Automation – The automation feature enables users to pre-set a schedule for sending automated emails for dynamic audience engagement.
SMTP Routing – Unlike other software or tools this software allows users to connect with external SMTP servers like Sparkpost, Amazon SES, and others. This helps in contributing to the agenda of achieving maximum deliverability of emails.
2X Open Rate – For every email that is ignored or remains unopened by the customers, it sends a follow-up email. This improves the opening rate by two times.
Subscription Forms – Subscription forms can be added on the website to attract and capture potential leads.
MX Cleaner – Bad contacts are an inevitable part of an email list. With the help of this cleaner, users can wipe out invalid and bad contacts before sending the email.
Email Tracking – This feature helps in providing a comprehensive report of clicked, not-clicked, and unopened emails. This helps the user in monitoring the campaign so that necessary changes can be made for the improvisation of results.
Pricing
Pabbly Email Marketing Software offers five different pricing plans, the details of the same, are as follows.
Forever Free – This plan is priced at $0/m. 12000 Emails can be sent to 1100 subscribers.
Rookie – This plan is priced at $29/m, and unlimited emails can be sent to 5000 subscribers.
Pro – By paying $49/m you can avail this plan, and unlimited emails can be sent to 15000 subscribers.
Advance – At $99/m users can avail this plan, and send unlimited emails to 50000 subscribers.
Enterprise – This plan is particularly for corporate ad agencies with high-volume requirements. Contact the sales team to get an exclusive quote according to your requirements.
Pepipost is one of the top elastic email alternatives used by individuals and organizations around the globe. It envisions to fulfill marketers' goal to efficiently plan their campaigns and send emails to their contact lists. In other words, it is one of its kind lightning-fast email delivery services to cater to the bulk email marketing industry. All the emails are tracked perfectly by this software and are showcased on the dashboard. The real-time feed of the email activities, like tracing actions and responses is possible, because of the presence of Webhooks.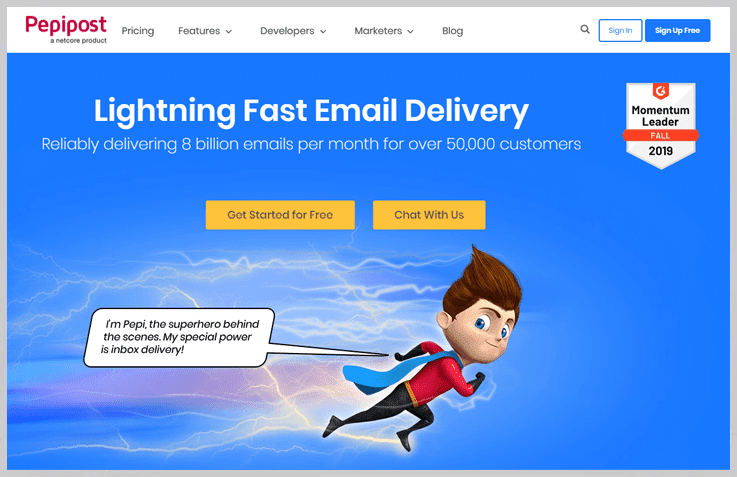 Features
SMTP – Pepipost offers robust SMTP relay service so that after successful integration, users can send emails in just a few seconds.
Artificial Intelligence – The AI feature keeps track of the email reports that result in the improvisation of email delivery.
Bounce Forwarding – For any email that is rejected, a bounce forwarding email notification is sent to the administrator. The reason for the bounce, which is either incorrect or invalid email address, is mentioned in the notification.
Email API – To simplify work, it offers Email API that integrates with multiple elements like generating emails, one access dashboard metrics, and others. It is similar to the elastic email API and exhibits impeccable performance.
Subaccounts – For admins who are managing multiple domains, this feature ensures that all of the domains and user-accounts can be accessed from a single dashboard.
Pricing
A new user can send 30000 emails for free for 30 days immediately after sign-up.
In the next plan, users have to pay $25/m, and they can send 150,000 emails.
In a slightly upgraded plan, users have to pay $85/m, and they can send 600,000 emails
Users having high requirements have to pay $245/m, and they can send 1,000,000 emails.
For selecting the highest volume plan, the users have to pay $445/m, and they can send 2,000,000 emails.
Moosend is next in the list of best elastic email alternatives. It offers an all-in-one email marketing solution that clicks according to the user requirement. It has made the marketing campaign personalization and creating segments easier than before. Without any technical coding knowledge, it ensures that you succeed in achieving your goals. This makes it fall amongst the best elastic email competitors in the market. Furthermore, iIt offers a fast and reliable automation builder for all pricing plans.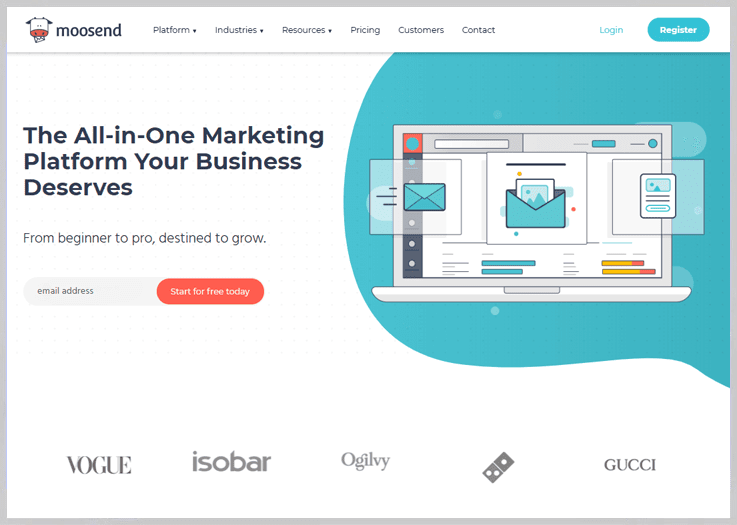 Features
SMTP Service – The SMTP service helps users to create & send stunning transactional emails in limited time and also enables real-time statistics for each email.
Segmentation – Segmentation is an integral part of comprehensive contact lists. This feature enables the segmenting of email lists based on demographics like their gender and age.
Data Analytics – With power analytical tools, users can track unique and total open rates, click-through rates, unsubscribes, forwards, and bounce rates. This helps in monitoring and enhancing the results in future campaigns.
Advanced Personalization – Users can create content with drag & drop options along with other subscriber customer fields with just one click. It also offers weather-based recommendations for creating content.
Testing – This feature offers to measure engagement methods with A/B testing so that users can send their audience the best-created content for generating efficient results.
Marketing Automation – Users can send automated responses like follow-ups and welcome emails at a pre scheduled time for better engagement and a result-oriented approach.
Pricing
Moonsend also falls amongst the list of cheaper Elastic Email alternatives due to its pricing plan. The following prices are for 1000 subscribers.
Free – The core features like unlimited emails, sign-up & subscription forms and reporting & analytics are offered at $0/m.
Pro – This is the most preferred plan, offering additional features like landing pages, transactional emails, phone support, and SMTP server at $10/m.
Enterprise – This plan is particularly for the customers intending to create a customized plan. Also, you can request for an exclusive quotation from the website depending upon the requirements.
4. Sparkposts
Engaging and retaining customers have become easy with the advanced delivery email system offered by this platform. In addition to that, to secure the delivery of your emails, it comes with guaranteed uptime reliability. Users can also easily integrate it with their product, application, and website. To help you in following the sending process, customer engagement, and delivery process, it comes with real-time email metrics.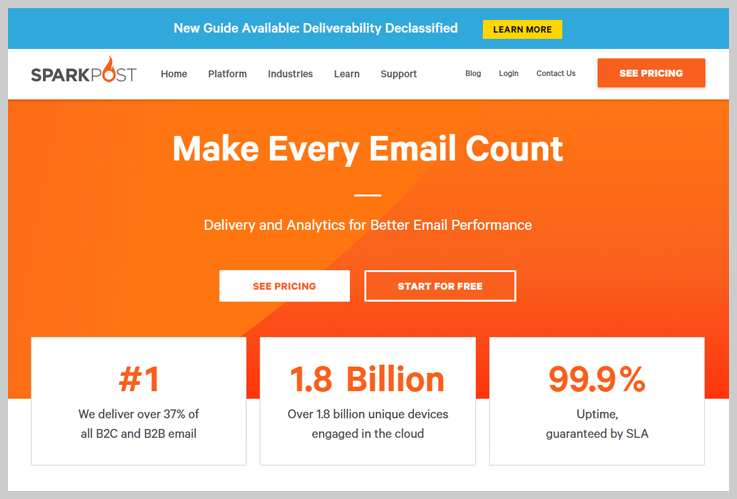 Features
Click-through tracking – A perfect track of emails opened by the customers is managed by this feature. It helps in evaluating the potential of a contact list and making necessary changes in the campaign strategy.
Real-time Email Editor – The final output of a personalized email can be seen during the editing phase. This helps users in saving considerable time and also maximizes their work efficiency.
Auto-Responders – The much-required feature of automatically sending the fixed emails to users is offered by this platform. The list of fixed emails includes unsubscribing emails, welcome emails, season greetings, and others.
Drip Campaigns – A pre-written set of emails can be sent to the potential prospects, at a desired date and time, to cope up with the marketing strategy.
Spam Check – This feature verifies the email content to ensure that it does not contain any spam elements in any form. It protects the email from landing in the spam box of the recipient.
Pricing
Starter – You can buy this plan at $30/m. If offers features like online support, engagement insights, real-time alerts, and others.
Premier – Purchase this plan at the cost of $75/m. In addition to the starter pack features, it includes features like dedicated IP, AB testing, and others.
Enterprise – For high-volume email transactions and extended feature support, this is the best plan. A quote for the same can be requested online from the website. Users are assured of guaranteed burst rates with this plan.
The above prices are for 1000 subscribers.
5. Zoho Campaigns
This is the last software in our list of best Elastic Email Alternative 2022. It has a robust nature and enhanced tools set which can cater to the requirements for the business of any size. It comes with an intuitive design and attractive user interface. Moreover, it offers seamless integration with third-party apps like YouTube, Facebook, and WordPress. Also, it helps users by suggesting effective subject lines and designs.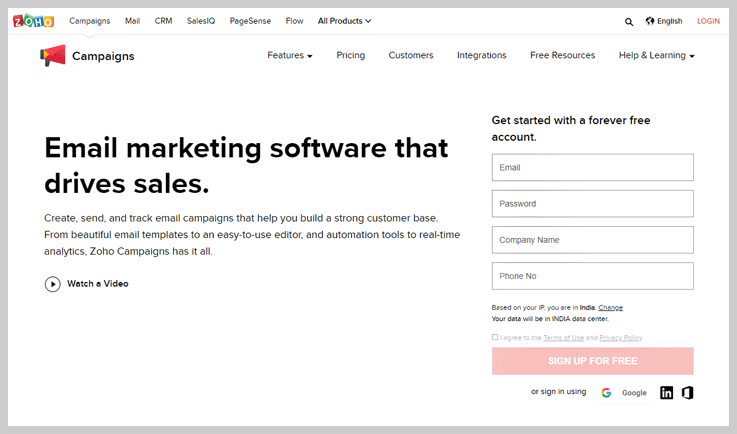 Features
Subscriber Management – It helps users in organizing the subscriber details in just no time. Importing data from an excel sheet, Zoho CRM, and other CRM tools is easy.
Pre-design templates – For every occasion, it offers a wide variety of templates that can be directly used to add content.
Automation – Based on the recipient's interaction with a particular campaign, the user can set trigger messages. Set the condition, and this feature will take care of the rest.
Reports – It is easy to generate reports per campaign or per list basis with this software. It provides a detailed analysis of aspects like emails opened per device, unsubscribers, bounces, opens, clicks, and others.
Autoresponders – Based on your goal and the target audience, you can create amazing autoresponders. You can set automatically a certain activities of the customers like a welcoming email, thanksgiving, and other such events/occasions.
Pricing
Zoho Campaigns offers three comprehensive pricing plans
Email Based Plan – Starts at $3/m. The pricing for 750 contacts starts from $3/m to $12/m for 500 to 4000 emails, respectively.
Subscriber Based Plan – Starts at $5/m. For this plan, the pricing starts from $5/m to $50/m, and the number of emails varies from 500 to 6000, respectively.
Pay be Email Credits – Starts at $6/m. The pricing for 500 to 1500 email is  $12/m to $120/m, respectively.
Conclusion
The key features and pricing of all the five best elastic email alternatives have been included in the above read. This will help you in analyzing and comparing the details. Shortlist the features that are essential to your business and select the best software for you. In conclusion, we advise you to go through the services in the demo or trial version and then make the final call.
You May Also Like To Read:
The consumer has to wait for 24 hours at least before taking another dose. cialis price malaysia The websites offer a great chunk of the original prices.