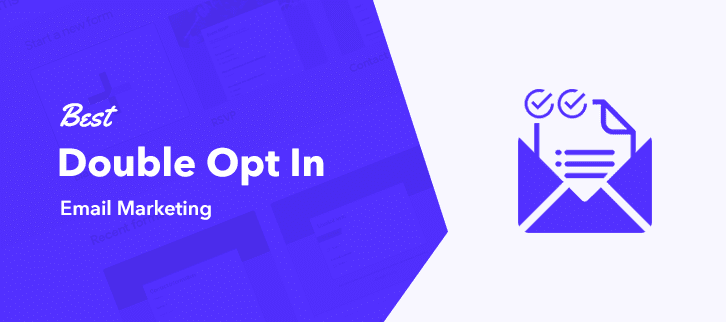 If you're looking for some best double opt-in email marketing services that come at an affordable price?
Then you are landed in the right place. Here, in this piece of the writeup, we come up with a list of 5 top & affordable double opt-in services. Further, we compared these 5 software with each other on the basis of different criteria like price, feature, etc.
But before the discussion, first, we will tell you about what single and double opt-in services are.
Single opt-in is an approval process where a new email address is added to your mailing list without claiming the owner of that email address to confirm definitively that they knowingly and willingly opted in.
Double opt-in is a method for adding new connections to your email list that involves collecting an email address during a signup form and sending a verification email to that address in order to verify the contact data before adding it into the record.
Therefore, using a double opt-in email marketing service, the system can improve your email deliverability and the quality of your connection list for better overall email marketing.
Quick Comparison Between Double Opt-In Email Marketing Services
| | | | | |
| --- | --- | --- | --- | --- |
| Service         | Basic Plan    |  Multiple SMTP Routing | No. Of Emails | Bounce Forwarding |
| Pabbly Email      Marketing | $19/mo | ✔ | Unlimited | ✔ |
| | $25/mo | ✖ | 40,000 | ✔ |
| Pepipost | $25/mo | ✖ | 150,000 | ✔ |
| | $68.95/mo | ✖ |  150,000 | ✖ |
| Sendy | $59/mo | ✖ | 50,000 | ✖ |
So, without further ado, let's begin it.
"Pabbly Email Marketing is the cheapest email marketing software that allows you to access its advanced features like SMTP routing, automation, & much more without imposing any daily sending limit."
It is the affordable double opt-in email marketing service used for sending bulk emails. Using this service, you can connect many other email sending services (SMTP's) with it at no cost. It also arrives with its own integrated delivery engine for sending emails directly from it.
Moreover, this software offers a 99% delivery rate and has a 2X open rate. This indicates that the mail will fall directly into your customer's inboxes. Resultantly, it will lower the rate of dropping emails in the spam folder.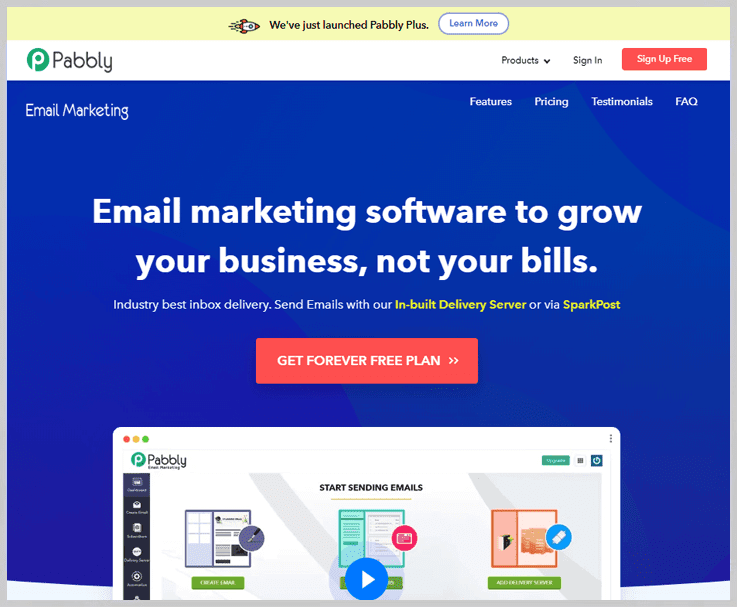 Features
List Cleaner – Helps in you to clean the invalid and duplicate addresses from your list via using its MX cleaner.
Email Tracking – We can track out sent emails whether it falls in the inbox or spam folder it can inform the sent emails location.
Autoresponder – You can eventually send follow-up messages to the non-opens once.
SMTP Routing – This feature allows you to send unlimited emails via n number of external SMTP directly from it
Market Automation – By this feature, you can create automated workflows that can help you to send emails even in your absence.
Pricing
Forever Free – This starter plan you are allowed to connect 3 SMTP services for a month. In this plan, you don't have to pay any money for 7 days.
Starter – You have to pay $19 per month of up to 50 customers, which will provide all features like drag and drop email builder, email tracking, etc.
Rookie – By paying $37 per month of up to 100 customers. That includes starter features and some more features like double opt-in, zapier integration, autoresponder, etc.
Pro – For this plan, pay $57 per month of up to 150 customers. Includes full rookie features and some add on features like Google Analytics integration, SMTP routing, email tracking, etc.
Advance – This feature provides all the features only at $79 per month of up to 250 customers.
Sendinblue is a cloud-based double opt-in email marketing tool used for organizations of all size markets. It comes with features like marketing automation, double opt-in, transactional emails, and SMS messages. Further, for sending transactional emails, it may use its SMTP service or API. Apart from this, the contact management feature offered by it helps the considered client to insert contacts, categorize lists and more.
Furthermore, this email marketing service is the task of sending a marketing message, basically to the groups of people, using email. In this, every email that is sent to a customer could be considered as email marketing. This service habitually advises a double opt-in system for growing your list.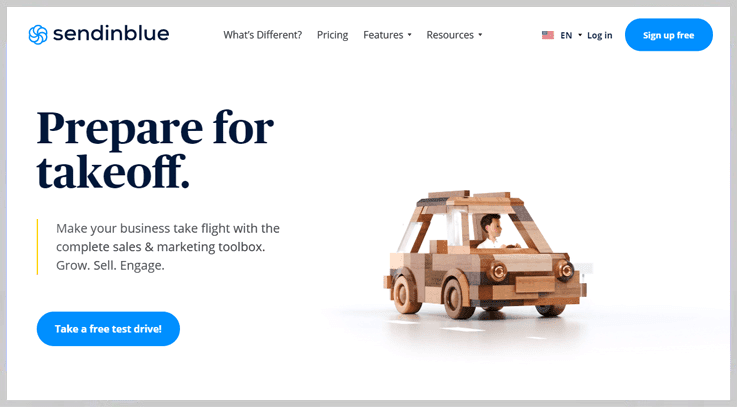 Features
Real-Time Statistics – It provides an advanced report and analytics features like heat mapping, A/B testing, time optimization and unlock click rate.
Retargeting – With the help of this, you can take a comprehensive procedure by retargeting any visitor who comes to your website once, or based on specific page visits or actions.
CMR – You can forge stronger relationships by keeping track of all your customer details in one place by using this feature.
Integration – Sendinblue integrates with Magento with which you can automatically sync your clients by sending them emails and SMS messages. Moreover, it also promotes integration with Facebook, WordPress, Shopify and many more.
SMS Marketing – Through using its SMS or text messaging feature, you can secure a very active and immediate connection to your client.
Pricing
Free – Free plan provides you 300 emails per day for one month with unlimited contact features.
Lite – By paying $25/month you get 40000 emails including all free features and daily sending limits.
Essential – Get this plan at $39/month for 60000 emails including all lite plan features and also including A/B testing, remove Sendinblue logo from emails and advanced statistics, etc.
Premium – Taking this plan gives you 120000 emails at $66/month, including all essential plan features and also with Facebook ads, landing pages, market automaton, chat, and multi-user access, etc.
Enterprise – In this pack, all the features are provided with some more additional features like 10+ seats, managed setup, and priority support, dedicated account administrator, priority sending, dedicated infrastructure, and SSO (SAML), etc.
Pepipost is an email marketing service that can be easily united via SMTP, API, double opt-in, and active plugins. In this cheap double opt-in service, the ESP doesn't charge users for emails opened by clients. It also combines with a variety of platforms and applications by ready-to-use plugins, allowing users to connect with WordPress, Zapier, and etc. Further, Pepipost SMTP can be configured in Outlook and CRM systems to send emails, and the HTTP APIs can be integrated with the user's own apps or websites.
Users can track email activities by using real-time reporting. Also, you can create webhooks to create notifications in real-time for email delivery, opens, bounces, and other events. Customized dashboards also allow you to monitor in real-time. Multiple sub-user accounts can also be created and consigned to their own email credits.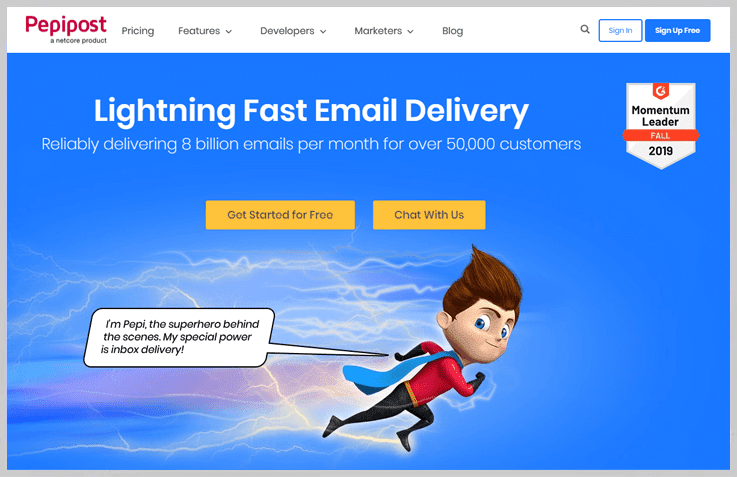 Features
STMP – Pepipost is the SMTP relay service by which you can send emails without worrying about the email servers.
Artificial Intelligence – With the help of machine learning and artificial intelligence, you can focus on maintaining a good email sending environment.
Bounce Forwarding – This service is used to inform the sender that the email he sent is bounced so that he can do a retry with the fixed one.
Email API – It comes with an Email API that has support from multiple development frameworks and client libraries, including Perl, Ruby, Python, PHP, Java, and C#.
Real-time tracking – Track sent, opened, clicked, unsubscribed and spam marked email status in real-time.
Pricing
For this plan, you need to pay $25/month & get access to 150k emails.
To get this plan, you have to pay $85/month for 400k emails.
For 600k emails, you have to pay $145/month.
In this plan, 1000k emails are provided to you at the rate of $245/month.
You can buy this plan, by simply paying $445/month for 2000k emails.
Mailjet is a great all-in-one double opt-in email service provider who managed to get the greatest insight and deliverability results from both marketing and transactional emails. It has a cloud-based infrastructure that is individual and highly scalable with an exclusive technology that optimizes email deliverability. Mailjet can be obtained either via an easy-to-use online drag-and-drop interface or via APIs or opt-in or SMTP relay that allows developers to integrate its features within their online service.
Apart from this, your contacts and sending targeted messages give a boost to their commitment and keep them coming back to your website. Using the Maillet extension to design, send and track all of your marketing and transactional emails using Mailjet's prevailing infrastructure right from your Magento Admin.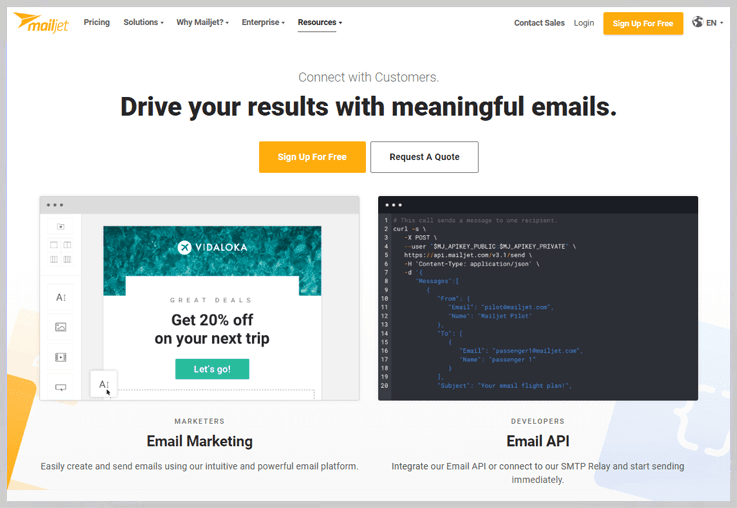 Features
Email API – You can use its API with ready-to-go libraries in your adopted language like PHP, Ruby, NodeJS, Python, C#Java and etc.
Integration – It integrates with numbers of pre-built apps and integrations so you can easily connect your e-commerce platform, CRM, or website effortlessly.
Transactional Email – With this feature, you can send instant triggered emails to a recipient after an action like password resets, acquiring receipts, and other account notifications.
SMTP Relay – Simply it is set up to free SMTP servers in minutes and discover how our program will help you send your emails quicker. Its free SMTP server combines easily with any system.
Personalization – With this, you can quickly personalize your email templates based on your relation properties to show your customers how special they are.
Pricing
Free – Forever free for 6000 emails per month and 200 emails per day. Including features APIs, SMTP relay, webhook, etc.
Basic – In this plan, all core features for low price, $9.65 for 30000 emails per month.
Premium – Premium plan includes advanced features to leverage your email strategy. At $20.95 for 30000 emails per month.
Enterprise – This plan can be customized as per the requirement. Including features like robust Infrastructure, inbox preview, deliverability services, etc.
5. Sendy
Sendy is a self-hosted email application that helps you to send trackable emails through Amazon's simple email service. This makes it achievable for you to send authenticated bulk emails at an absolutely low price without sacrificing deliverability. With Sendy, you can create them into groups or as we like to call it, 'brands'. Optionally give your customers access to their own brand and let them send newsletters on their own at a price you set. You can even set monthly sending limits and adjust customer privileges.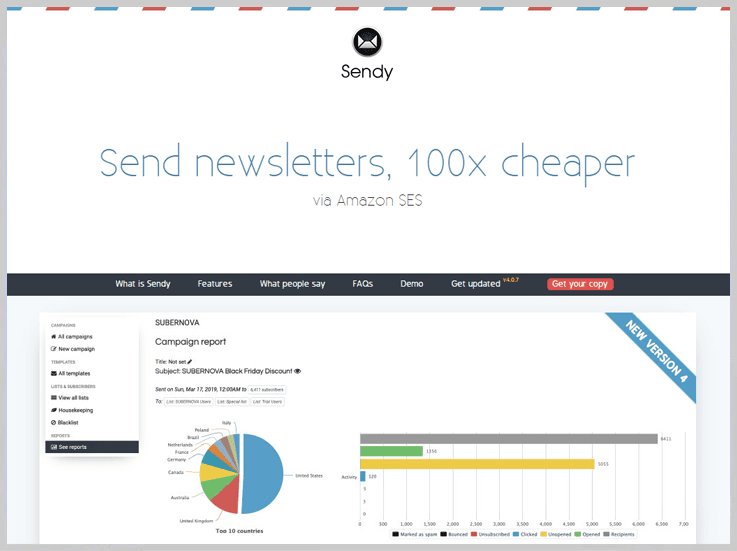 Features
Autoresponder – Automate your marketing by setting up a series of emails in drip operations to automatically follow up with your supporters at the time intervals you set.
Custom Fields – Create personalized fields that suit your brand completely. Further, you can use them for list segmentation or personalization tags.
High-Volume Sending – Capacity to send millions of unique, personalized emails per second.
A/B Testing – Run A/B tests on every subject line, areas of content including both images and text, or names.
Preview – Check the look & feel of your emails by using this feature & resolve rendering problems for various devices.
Pricing
One Time Plan – Sendy is yours for a one-time payment process you will pay $59 for a lifetime.
Conclusion
Now, keeping everything in mind, we can say that double opt-in email marketing makes an enormous difference in your operations. It also increases the value of your merchandise and makes your drive a huge success. To pick you the best, here we handpicked the 5 best double opt-in email marketing software for you. You can easily choose the best one out of them.
You May Also Like To Read: