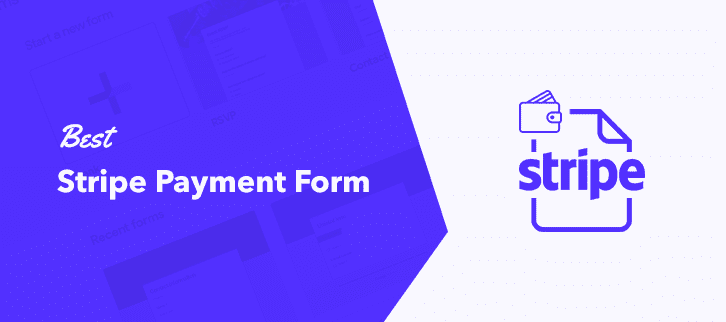 Are you looking for ways to secure payments for your business? Do you know how to design payment forms to collect more revenue for your services? If yes, you've landed at just the right place. Here, you can go through the list of the 5 best Stripe payment forms to collect all your payments through a safe and easy-to-use payment gateway.
Further, you don't have to feel restless by collecting payments in cash or via cheques. All you have to do is embed a payment collection form on your website to acquire your earnings. You can simply integrate your forms with Stripe, which is the finest and the most reputed payment portal.
Moreover, along with securing online payments, you can create customized forms using the reliable payment collection forms makers mentioned below. These cheap Stripe payment forms let you collect one-time and as well as recurring payments in a hassle-free way.
Additionally, the added benefits of this integration come in the form of easy Stripe login and user-friendly Stripe checkout. Let us have a look at each of the payment collection forms makers through a quick comparison table.
Comparison Between 5 Best Stripe Payment Forms Builders
| | | | | |
| --- | --- | --- | --- | --- |
| Services | Pricing (Billed Yearly) | Submissions Per Month | File Upload | Multiple User Access |
| Pabbly Form Builder | $10/mo | Unlimited | Unlimited | Yes |
| | $19/mo | 700 | 500 MB | No |
| 123FormBuilder | $20.83/mo | 5,000 | 500 MB | No |
| | $49.50/mo | Unlimited | Unlimited | No |
| JotForm | $24/mo | 1,000 | 10 GB | No |
Let us discuss each of the top Stripe payment forms builders in detail.
"Pabbly Form Builder is a form building app that does not restrict its users on any features, offering unlimited forms, unlimited submission, unlimited file storage etc, in addition to integrations with affordable payment collection forms."
This is the most reliable and cheapest Stripe payment forms builder that allows you to easily collect one-time as well as recurring payments for single or multiple services. Moreover, you can create & edit responsive conversion-optimized forms that suit your needs. Pabbly Form Builder provides you with the largest collection of pre-built form templates and further allows you to customize them using the drag & drop editor.
Plus, you can design any kind of form for lead capture, event registration, surveys, etc and integrate them with payment gateways to collect revenue.  You can also enhance your created form with the in-built conditional logic. Additionally, this software provides unlimited upload storage, report submissions, custom branding, autoresponders, and much more.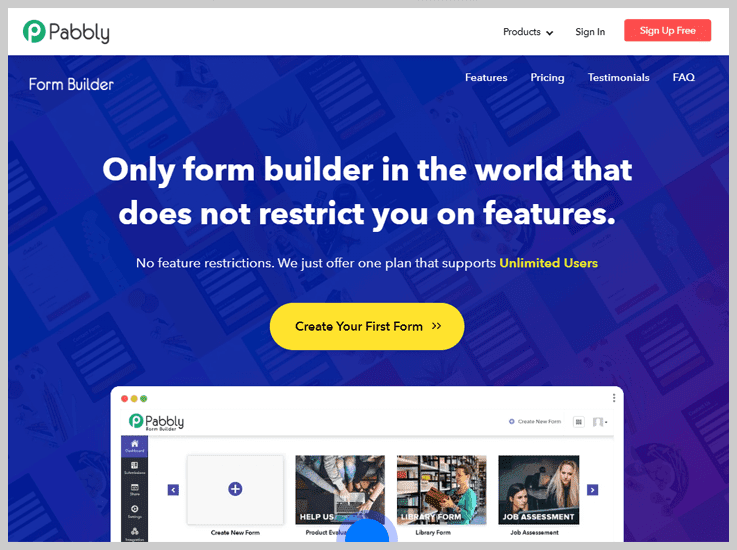 Features
Limitless Integrations – Pabbly Form Builder allows third-party integrations with various tools like WordPress, MailChimp, Google Analytics, etc.
Embed Forms –  You can embed your created forms, including the Stripe payment forms, on multiple websites in sliding format, tabbed format, etc.
Conditional Redirects – You capture more leads by attaching a redirect link on your form and mandate the users to open it.
SSL Encryption – Secure your payments and data from spammers & bots by using the ReCaptcha feature.
Email Autoresponders – Automate your workflows to increase website engagement and strengthen customer relations, as this software allows unlimited email integrations. Plus, you can automatically send customized replies to users by scheduling the emails.
Conditional Logics – You can show or hide certain fields of your form based on the previous responses and convert longer forms into concise forms.
Unlimited Features – This Stripe payment form builder offers all features like receiving payments, submissions, storage, payment accounts, file uploads limitlessly and without any constraints.
Pricing
The pricing of Pabbly Form Builder is $10 per month for a single form including all the advanced features like unlimited views, submission, embedding, etc.
2. Formstack – Cheap Stripe Payment Forms Service
Formstack is a versatile form builder that enables you to create responsive online forms, no matter what your needs are. You can create cheap payment collection forms, office ticketing forms, customer visit forms, inspection reports, event feedback forms etc to collect data from your customers. Additionally, you can build a form from scratch or use the intuitive drag & drop feature to edit a pre-built template.
Moreover, Formstack's payment gateway integrations allow you to connect with reliable payment portals like Stripe, ProPay etc to collect payments for your services. It further enables the creation of optimized web forms for your CRM blogs and websites. You can receive payments for a single item, multiple items as well as for subscription-based transactions.
Features
Form Importer– This Stripe Payment forms maker allows you to save hours of time by importing forms in the click of a button. You can import forms from Excel, Google Sheets and various other apps.
Integrations– Connect your online forms to dozens of third-party apps like HubSpot, PayPal etc or custom webhooks to collect leads from your payment collection forms.
Marketing Automation– You can automate all your workflows seamlessly with email marketing automation tools. Thus, reducing your manual efforts.
Conditional Logic– This feature allows your users to skip irrelevant questions and thus save time. Moreover, it leads to greater chances of form submissions.
Responsive Forms– You can create forms that can be filled on any device. Further, you can give people the opportunity to save a form and return later.
Custom Domains– Formstack allows you to build your company name into every form link. Thereby, increasing brand recognition by providing more secure experience to your users with custom form URLs.
Pricing
Formstack provides varying pricing plans based on the features it offers. The following plans are billed annually-
Bronze– Spend $19/month to create 5 forms and get single-user access. Further, you can make 700 monthly submissions and enjoy 500 MB file storage.
Silver– Create 20 forms with single-user access at $49.16/month. Plus, integrate with payment processors like Stripe to create affordable payment collection forms, while making 1,000 monthly submissions.
Gold– This is the most popular plan of Formstack that charges $82.5/month and allows you to create 100 forms. Moreover, it allows multi-user access along with 10,000 monthly submissions and 2 GB file storage.
Platinum- Spend $207.5/month to create 1,000 payment collection forms with 10 payment accounts. Further, enjoy advanced data collection and priority support.
Enterprise– For higher needs, contact the service provider for a customized plan at custom pricing.
3. 123FormBuilder – Top Payment Collection Forms Builder
123FormBuilder enables you to build affordable payment collection forms, along with other forms like contact forms, job application forms etc. Further, you can easily create surveys and other web forms with the drag & drop tool. Moreover, this software allows you to integrate with payment processors to create Stripe checkout order forms, thereby letting you sell your products without a shopping cart.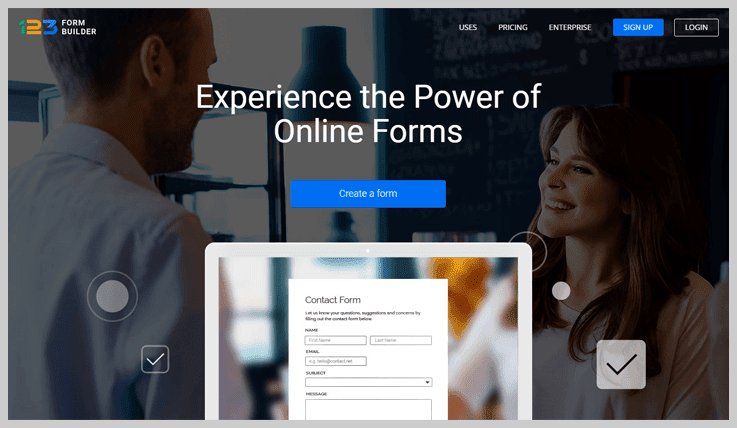 Features
Form Templates– 123FormBuilder offers you every form that you need for your business. You can browse forms by type or by business and customize them without any coding skills.
Track Performance– Track your online form performance using real-time graphical reports. Further, transform your form data into valuable insights to improve performance.
Data Security– Protect your payment collection forms with SSL encryption and Captcha. Further, create password-protected online Stripe payment forms for prevention from spammers.
Automate Workflows– Connect your Stripe payment forms to other online services like MailChimp, Salesforce etc to automate your workflows in a click. Thereby, saving time and reducing manual efforts.
Tailored Solutions– 123FormBuilder lets you create cheap payment collection forms and offers services to every kind of business, whether it is human resources, education, healthcare, finance, email marketing etc.
Pricing
The annually-billed plans of 123FormBuilder are listed below-
Basic– Create up to 5 forms for FREE and get 100 submissions per day. However, this plan does not allow integrations with payment processors, thus you cannot create Stripe checkout order forms.
Gold– Spend $20.83/month to create 20 forms and enjoy 5,000 submissions per month. Further, use conditional logic and custom reports to understand user behavior.
Platinum– This is the best value plan of 123Formbuilder as it allows unlimited forms, unlimited submissions as well as unlimited payment collection at $37.49/month. Moreover, you can create reliable payment collection forms, including Stripe payment forms to secure payments.
4. Ninja Forms – Reliable Payment Collection Forms Software
Ninja Forms offers simple form building tools that allow you to create attractive and professional-looking forms without any technical skills. You can design user-friendly WordPress forms in different styles and layouts with its drag & drop tool. Further, it enables you to create conditional as well as multi-page forms that easily blend with your WordPress website.
Moreover, Ninja Forms allows you to accept payments and donations by integrating your created forms with payment processors like Stripe, PayPal etc. You can collect single payments, subscriptions as well as recurring payments by creating affordable Stripe payment forms and many more.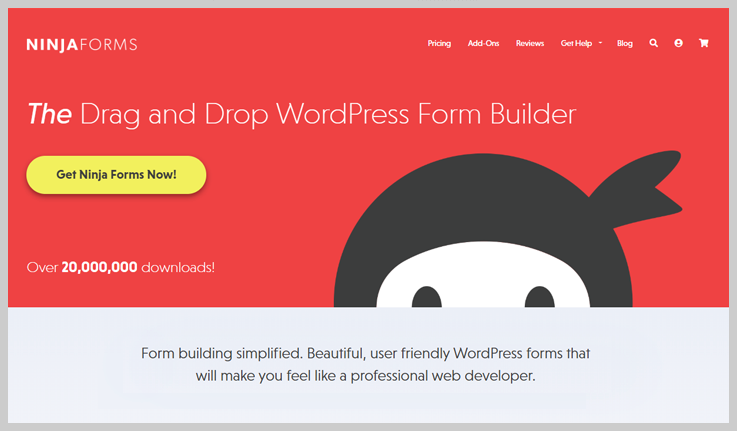 Features
Conditional Logic– Create dynamic forms that change as and when different users fill them. You can choose to show or hide certain fields in the form, mandate a redirect link to your forms etc.
Multi-Part Forms– You can turn long forms into multi-page forms, thus boosting your submissions. Plus, you can add a progress bar or drag and drop fields between pages to make them user-friendly.
Save Progress– Allow your users to save their forms with partial submission and return later. Thereby, not losing valuable submissions because of longer forms.
Third-Party Integrations– Ninja Forms allows integrations with lead generation tools like Zapier, Zoho CRM, Slack and other webhooks, in addition to payment processors. It further lets you connect with email marketing tools like MailChimp etc to grow your mailing list.
File Uploads– Add an upload field to any payment collection forms and allow users to upload documents, images, media and more.
PDF Form Submission– Export any WordPress form submission as a PDF, or attach it to an email to enable sharing with others.
Pricing
Ninja Forms offers various pricing plans that are yearly-billed, based on the features they provide-
Personal– Spend $49.5/month to create unlimited payment collection forms and get unlimited monthly submissions. Further, utilize priority support to manage a single site.
Professional- Spend $99.5/month to manage 20 sites with unlimited forms, file storage and submissions. Plus, create reliable Stripe payment forms by integrating your form with Stripe.
Agency– Spend $249.5/month and free yourself from all restrictions. Additionally, enjoy all Ninja Forms add-ons like CRM integrations, advanced analytics and much more.
A La Carte– Ninja Forms also provides an A La Carte plan where you can choose just what you need to manage 1-20 sites. The cost ranges from $29-$129/month, providing file uploads, email marketing integrations etc. Moreover, you can upgrade to membership whenever you want.
5. JotForm – Affordable Stripe Payment Forms Maker
JotForm is an easy-to-use online form builder that lets you create professional-looking forms for any kind of business. You can customize the forms with advanced styling options to suit your branding. Moreover, JotForm allows you to sell your services/products and collect one-time as well as recurring payments. You can further accept donations and subscription fees by integrating your forms with Stripe, thereby creating cheap Stripe payment collection forms.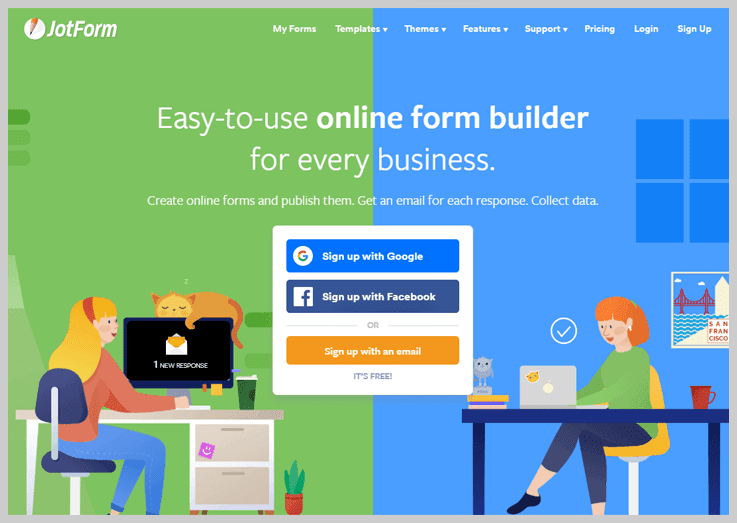 Features
Data Security– JotForm protects all your data by securing it with SSL connection. It further allows encryption of all submissions and provides many other security tools.
Mobile Forms– These let you collect data offline with powerful forms that you can manage from your mobile phone or tablet. Thus, you can keep a track of your submissions even when you're away from the desk.
Form Templates– JotForm offers 1000s of form templates for FREE like Stripe payment forms, product order forms, feedback forms and many more, along with other payment collection forms.
Form Widgets- You can collect different types of data like electronic signatures, recorded voice, scanned barcodes etc, thereby improving your data collection process. Further, you can embed a YouTube video to your form, automatically perform calculations in your form and much more, using JotForm form widgets.
Apps & Integrations– Connect your forms with various apps like Slack, Salesforce, Google Drive, Square etc to improve the functionality of your payment collection forms.
Pricing
JotForm provides 4 pricing plans based on the features they offer. The below-mentioned plans are billed annually-
Starter– Create 5 forms for FREE, receive 10 payments and make 100 monthly submissions. Moreover, get 100 MB file upload storage along with JotForm branding.
Bronze– Spend $24/month to create 25 forms and receive 100 payments. Further, get 1,000 monthly submissions and 5 GB file upload storage.
Silver– This is the best value plan which charges $29/month to create 100 forms and lets you receive 1,000 payments. Plus, it allows 10,000 submissions per month and 100 GB storage for file upload.
Gold– Spend $79/month to create unlimited payment collection forms, thereby receiving unlimited payments. This plan allows for 1,00,000 monthly submissions and offers 1 TB space for files.
Enterprise– If your needs exceed the Gold plan, you can enjoy enterprise-level features with this plan. You can get dedicated customer support, user management and unlimited access to the tools needed to improve your Stripe payment forms.
Conclusion
As they say, "payment is the bread and butter of your business", your business needs secure payment portals to collect revenue. And, Stripe is definitely the most reliable payment processor. Thus, suiting your needs, you can choose any software from the 5 best Stripe payment forms builders mentioned above. Moreover, these services not only let you collect payments but also let you create diverse customized forms.
Do not forget to let us know about your experience in the comments. If you have any further queries, we'd love to help you!
You May Also Like To Read: