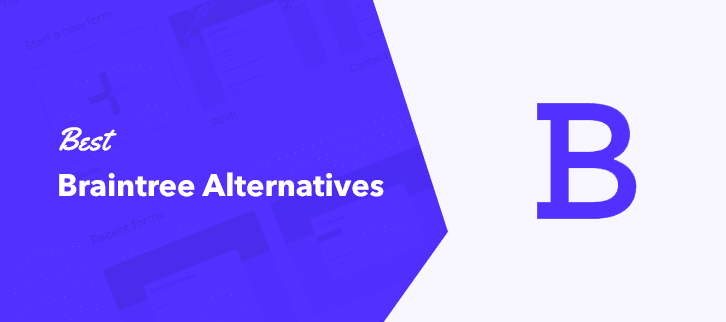 The online payment gateway Braintree has made payments easier for businesses by offering advanced tools needed for accepting payments and building businesses. By using Braintree, you can easily conduct your international business since it accepts payment in 130 global currencies. The user interface for this software is simple and allows users to accept payments quickly. Braintree is a great way to ensure volume growth since it would lower its pricing rate & renegotiate the deal based on the amount of revenue your business generates. Braintree also provides its users with their merchant accounts and helps businesses streamline their billing and payment processes.
But no software is perfect, and Braintree is no exception. The developer tools provided by Braintree are extremely useful, but you require sound technical knowledge to use them. Also, fraudulent payments are a great concern for customers while they are using Braintree. For this reason, you might be looking for Braintree alternatives that give you more protection in that regard. But the thing is, there are many software in the market that could be considered reliable alternatives to Braintree. These software options offer you a greater degree of control on your business, by providing you with detailed reports and advanced search functions, unlike Braintree.
Comparison Chart of the 5 Best Braintree Alternatives 2022
| | | | | |
| --- | --- | --- | --- | --- |
| Services | Basic Plan | Affiliate Management | Transaction Fee | Unlimited Revenue |
| Pabbly Subscription Billing | $19/mo | Yes | None | Yes |
| | Get Quote | Yes | No | No |
| 2Checkout | $0/mo | Yes | 3.5%+$0.35 | No |
| Cardinity | Get Quote | No | 1.3% + $0.27 | No |
| SAP Ariba | $50/mo | No | 0.155% | No |
While looking for affordable alternatives to Braintree, you will be spoilt for choices, since there are so many products with attractive features. Some of these products do not even charge you any monthly fees. But you should select the one best suited for your business needs. To help you arrive at your decision, we have compiled a list of the 5 best alternatives to Braintree, along with their features and pricing details.
"Pabbly Subscription Billing is cheaper than others and it offers multiple coupons and discounts for your customers that helps you grow your subscription business. Also, unlike other products, it lets you generate unlimited revenue, providing you with more freedom."
Pabbly Subscription Billing is one of the cheap alternatives to Braintree because it charges no additional fee on its transactions. This software lets you manage your billing and payment efficiently on a cloud-based platform. Unlike Braintree, Pabbly provides you with protection against frauds and processes its payment securely via multiple gateways. Using Pabbly Subscription Billing, you can build unlimited plans and products, and sell them through the checkout pages. You can also keep an eye on subscription and customer information using the handy dashboard feature.
With this software, it is easier to manage taxes, as the tax management system automatically calculates the tax for you. You can add tax rules based on your country or region of operation. Furthermore, it provides you with a custom domain, so that you can replace this software's domain with your own for the customer front end pages. You can modify the fields on the checkout page to suit your needs.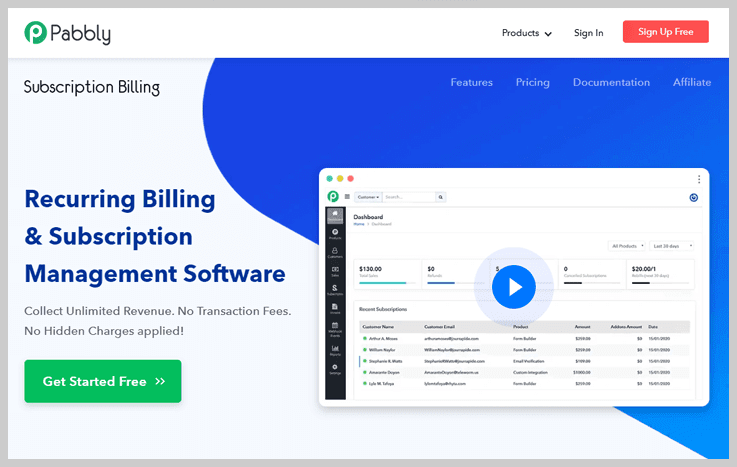 Features
Dunning Emails – Sometimes a customer may forget about making a payment, which might lead to loss of revenue. This software sends dunning emails to customers as payment reminders, ensuring steady cash flow for your business
Sales and Analytics – With this feature, you get to know important details about your business like customer churn rate, monthly revenue, total sales, new subscriptions, etc. All this data allows you to manage your transactions better.
Customer Portal – This software has a customer portal where customers can check their products and payments and their subscription details. Using their portal, they can make changes to their existing plans.
Recurring and One Time Billing – Depending on your business needs, you can configure the billing cycle to be one time or recurring. This software also allows you to upgrade or downgrade your subscriptions. Your customer can perform the same action via the customer portal.
Coupon Management – You can use these coupons code to send discounts to your customers. This can be a great promotional tool for your business, as customers will be eager to buy from you given the discounts.
Pricing
Starter – Bill 59 customers by paying $19 per month.
Rookie – Bill 100 customers by paying $37 per month.
Pro – By paying $57 per month, you can bill 150 customers.
Advanced – You can bill 250 customers by paying $75 per month.
Enterprise – This is a custom plan with custom pricing for more than 50,000 customers.
Paddle is one of the top alternatives to Braintree for the simple reason that it accepts more payment methods. With this software, you can take payments from PayPal, cards, wire transfers, without having to create separate merchant accounts. Paddle allows you to manage the entire billing funnel with subscriptions, fraud, tax, and compliance from one single platform. Furthermore, you can create new subscription plans and update your existing ones from the dashboard itself.
Paddle has an advanced fraud detection system that better protects you against fraudulent transactions, unlike Braintree, where users often complain about such frauds not being dealt with properly. With a single click, you can set subscription prices in multiple global currencies. This leads to increased sales and lead conversions for your subscription business. Also, this software takes care of taxes and international regulations automatically, so you can focus on your business without worrying about legal issues.
Features
Free Trial Management – Using the Paddle Dashboard, you can set up free trials with credit card information written in the file. There is no need to build complex logic for this, as Paddle will notify you of subscription payments.
Recurring Billing – You set the billing period for your subscriptions in the dashboard, and let Paddle deal with the rest. You don't need to put in extra efforts to include invoicing and new currencies.
Dunning Emails – Paddle makes sure you never lose out on payment by sending automated dunning emails to the customers. These emails remind them about their subscription expiring, due payments, and such.
Proration – Subscriptions are subject to change, and when such a change occurs, Paddle automatically calculates the pending amount and adjusts it in the next billing cycle.
Merchant of Record – Paddle acts as a reseller for your products. This software takes all liability and responsibility for billing support, global sales tax, etc. It sends a reverse invoice every month which contains the list of all the products sold, excluding the taxes and transaction fees.
Pricing
Pricing quotes can be obtained by sending a request to the Paddle team on their website.
2chckout, with its advanced features, is considered by many to be one of the best free Braintree competitors. While the fee for Braintree is disproportionately high, 2Checkout charges you no monthly fees. Moreover, you can easily get scammed with Braintree, but 2Checkout has a built-in anti-fraud system that lets you get on with your business without worrying about fraudulent transactions. You have to pay no extra fees for disputed transactions because 2Checkout takes care of it.
Without any prior coding knowledge, you can integrate with more than 100 shopping carts like Bigcommerce, Shopify, WooCommerce, etc. With this software, your website can process more than 87 global currencies, allowing you to conduct your international subscription business with ease. 2Checkout ensures that continuity is maintained in your billing process, and it also recovers most of the cards that can no longer be used for recurring billing. It also has a much higher success rate when it comes to recovering failed transactions for your subscription business. As such, it can be considered to be one of the best Braintree alternatives in the market.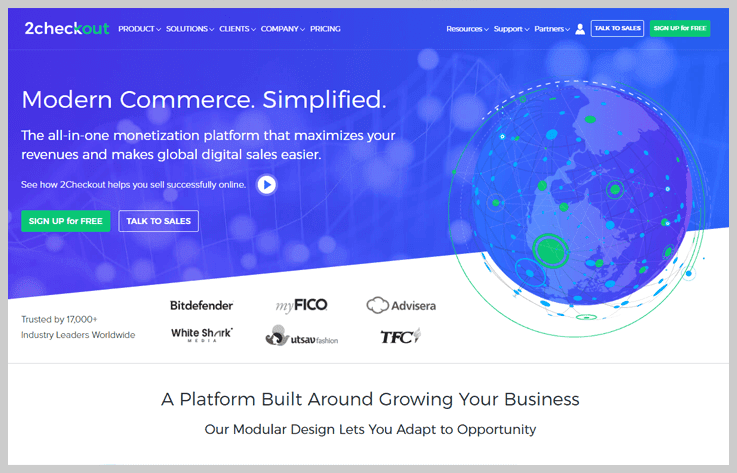 Features
Inline and Hosted Checkout – The hosted checkout lets your customers perform the checkout on 2Checkout's servers. The inline checkout takes place on your personal website.
Payment API – Integrated payments give you more control, and make the payment process easier for customers. Buyers can place orders from your website without getting redirected.
Reporting – This feature allows you to keep track of metrics such as active customers, churn rate, renewal rate, etc. So you get to know how your business is performing and can take strategic decisions regarding the same.
Security – 2Checkout is compliant with PCI DSS, GDPR, SSAE 18, ISAE 3402. It follows all the latest security protocols to ensure your customer data remains safe and secure. This software also has a 99.8% uptime.
Integration – This software can integrate with over 120 different shopping carts. This makes your payment and billing process smooth and streamlined and also offers a better experience for your customer.
Pricing
2Sell – This plan charges a 3.5% + $0.35 for each successful transaction.
2Subscribe – This plan has a rate of 4.5% + $0.45 for each successful sale.
2Monetize – This plan charges you 6% + $0.60 for each successful transaction.
4. Cardinity
Cardinity is considered by many as one of the top alternatives to Braintree, because of its fraud prevention measures. Also, unlike Braintree, Cardinity lets you conduct your subscription business in multiple currencies, so international business owners would never lose out on a payment. This software offers you more security through its 2-factor authentication feature, which is not present in Braintree. Furthermore, this software completely trumps Braintree with its APIs, which gives you a higher degree of control over your subscription transactions.
You can simplify the recurring billing process for your subscription business by offering membership services to your clients. This software ensures that you receive the payment for your subscriptions on time. You can set the billing period and the customer will be charged automatically. Also, Cardinity is one of the cheaper alternatives to Braintree, as the cost per transaction is lesser than Braintree. With this advanced payment system, you can drastically enhance your sales profit and volume.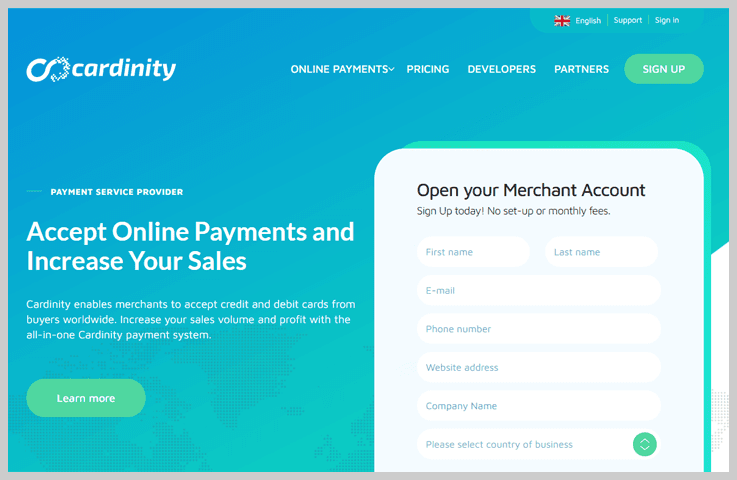 Features
Secure Tokenization – This software tokenizes the card data after the first payment so that the sensitive information is not exposed to anyone. Any further payments are automatically processed with you having to enter the card details once again.
Global Payments – With this software, you can receive payments to your account via card, no matter where your customer is located. Cardinity supports all the major debit and credit cards like MasterCard, Maestro, and Visa.
MO/TO Terminal – You can easily accept telephone and mail orders using Cardinity. These forms of payments establish a direct line between the customer and you and lead to enhanced customer trust and engagement. These payments are completely safe and meet all the security standards.
Delayed Capture – This feature causes your customer's funds to be captured after a delay, to check whether you have the necessary products in stock. This can protect you from disputes that may arise due to the unavailability of products.
Recurring Payments – This feature lets you charge your customers periodically without sending them reminders again and again. You can configure the billing cycle for your customers and offer them various billing plans for magazines, subscription boxes, donations, SaaS products, etc.
Pricing
Fees per transaction – Cardinity charges no monthly fees, but instead, its fee is based on the number of transactions you make. The transaction fee charged is 1.3% + $0.27 for each transaction.
5. SAP Ariba
Sap Ariba is a cloud-based platform for collaborative subscription management. It is one of the most reliable alternatives to Braintree because, with this software, it is easy to set up your account. Braintree takes a long time in setting up accounts and this might be a big no-no for many business owners who value time above everything else. SAP Ariba also provides you with more security features than Braintree, making it ideal for high-risk industries dealing with sensitive customer data.
SAP Ariba has expenditure management, sales acceleration management, and finance management integrated into one platform for your convenience. With this software, you can collaborate with your partners using SaaS solutions. Furthermore, it has advanced analytics and reporting capabilities that provide you with vital data related to parameters such as new subscriptions, unsubscriptions, churn rate, etc. Having all this useful information at hand lets you conduct your subscription business in a more organized manner.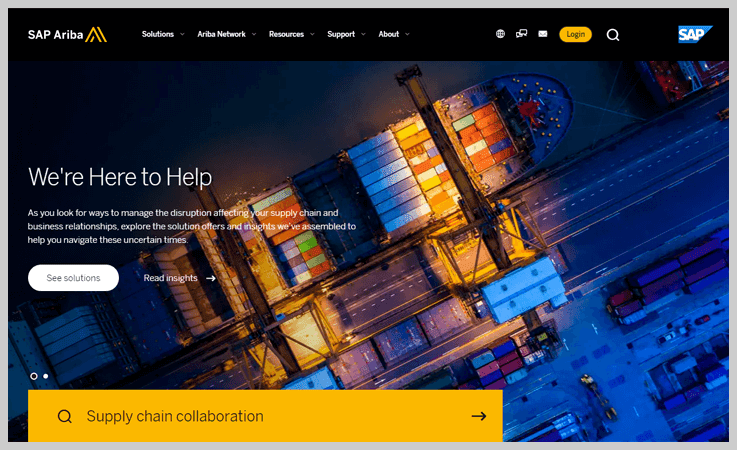 Features
APIs – Using SAP Ariba APIs, you can create a user-friendly environment designed for innovation. It lets you access business data in the clouds that help you with your analytics and reporting tasks. You can also build new applications on the development platform.
Automation – One of the foremost among Braintree alternatives, SAP Ariba automates the invoice process to free up payable resources, allowing you to focus on strategic activities. PDF and non-PO invoices are processed automatically, adding great value to your business and improving productivity.
Reporting – Get detailed insight into the spending history, customer behaviour, and trends related to your business with SAP Ariba's reporting tools. This helps you negotiate better deals with your customers.
Ariba Network – Using this feature, all the systems and stakeholders are connected in a simple manner. The Ariba Network reduces costs and risks through supply tracking, cost tracking, reducing excess inventory items, compliance enhancement, etc.
Spend Management – This feature allows you to keep track of every single dollar spent and put it to good use. With this software, you know exactly what you are selling, to whom, and at what price. This makes it easier for you to analyze your spend data, and lower risks and supply costs.
Pricing
Select – This plan costs $50 per month and has a transaction volume threshold of $50,000 to $250,000.
Premier – By spending $495 per month, you get a transaction volume threshold of $250,000 to $1,000,000.
Enterprise – This plan costs $2495 and has a transaction volume threshold of $1,000,000 to $10,000,000.
Enterprise Plus – For a transaction volume of $10,000,000 or more, you need to pay $7495 per month.
Conclusion
The above list of software presents you with many options when it comes to replacing Braintree with another payment and billing management software. These products offer better payment conversion rates than Braintree. Furthermore, these are more affordable and provide you with advanced reports and analytics so that you can optimize your payment funnel.
It may be a challenge to find the perfect software that fulfils all your business needs while also allowing you to remain within your budget. Before finalizing a software from the list given above, you should thoroughly study their features to determine which one is ideal for your business.
You May Also Like To Read: