Today I've compiled a list of world's 10 Best Rental WordPress Themes to build perfect rental listing websites for houses, home, apartments, property, cars, flat, real estates, etc. 
Using these top rental property websites you can handle – multiple properties online, manage bookings for thousands of rental properties, publish the properties for rent and so much more.
Whenever you go to a new place to visit and want to explore the remote areas of that place then it's really essential that you hire a vehicle and have a house on rent so that you can roam around smoothly and have a shelter.
People immigrate from one place to another very quickly nowadays because of the fast moving life. They always hunt for a suitable house to live in comfortably.
Similarly, renting a car, bike or any sort of vehicle is very common nowadays and for people who are in the business of the renting motors and houses, merchandising their rental services on the world wide web is important.
---
These best hotel, apartment & vacation home booking WordPress themes can be used by car dealers, rental agencies, hotels, private room rentals, vacation homes, holiday apartments, property managers, vacation rental owners, real estate agents, boat rental, car repairing, car dealer, car rental agency, house rental, home rental, rental property listing, etc.
Just install your favorite premium WordPress theme and get your rental website ready in no time.
---
Let's start scanning all these themes one by one:-
1. Colorway – Best WordPress Rental Theme 
This is the best WP theme if you are looking for creating a rental website. Using Colorway you can create a website easily, even without having any knowledge about coding.
Colorway is the fastest & most lightweight WP theme in the marketplace. It comes with more than 35 fully customizable templates which can be used for creating visually appealing rental websites.
Additionally, it is completely translatable and supports multiple-languages. Thus, you don't need to worry about the reachability of your website. This makes your website more user engaging, as individuals usually prefer to do business in their own language even if they already speak English.
---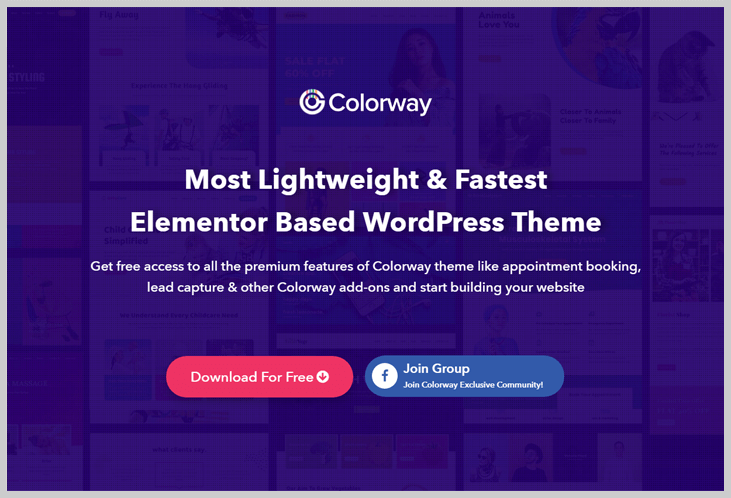 ---
Prominent features of the theme –
Addons for appointment booking and lead capturing included
Sliders for attaching images, video, and testimonials
Blog post sliders supported
Image comparer addon
Sticky Navigator
Drag and drop customizer for fluid user experience
Unlimited color and typography options available
SEO Optimized
Cross-browser compatible
Responsive layout
Thus, with all its high-end features you can quickly create a website for your rental business using Colorway.
---
2. LeaseSpace – Lease Space WordPress Theme 
If it's a time to create lease company website, LeaseSpace theme of WordPress is the ideal solution. It is one of the top rental property websites that lets you run a commercial rental business online in no time.
Easy to customize and comes with 8 unique colors to select. Customized business logo and the contact no featured at top of the page. All received messages from integrated contact form are easily displayed in table format and contact details can export as CSV format.
Variable slide facilitates to display all available properties and instant calling facility makes the mobile phone call in one button click. Best real estate WordPress themes for agencies, realtors to feature vacation rentals, flats, apartments, private homes, nightly rentals, and more.
The theme includes a full-width slider where all your houses and flats that you want to give on rent can be displayed. The skin supports a 4 column feature area where multiple rental services can be showcased. The theme also has a blog area where descriptive content can show up.
---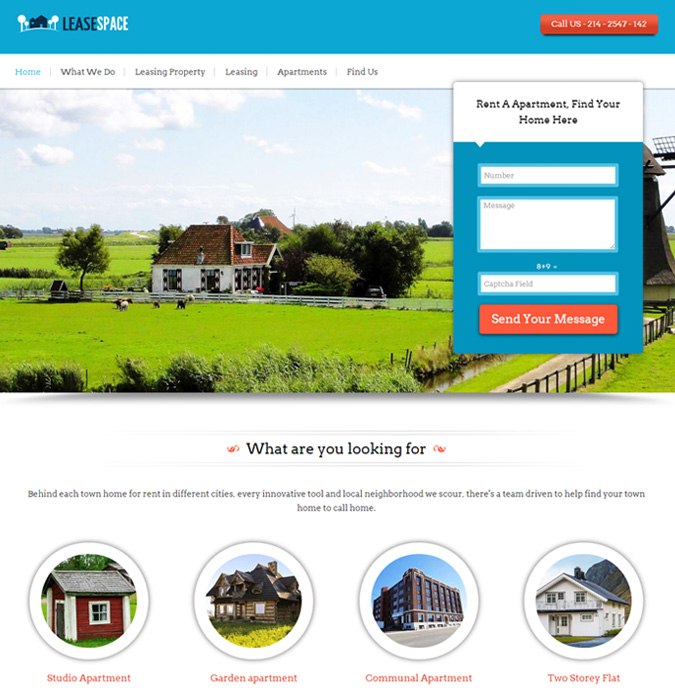 ---
Set of main features comes with the theme are as follows – 
Business Tagline in home page
Facility to create image gallery
Categories properties according to the type
Multiple sections with slide bar to add more details
Video advertisement facility
Compatibility with the WordPress Multilingual Plugin
Apart from lease space business-related features, following general web optimization features associated with the Lease Space WordPress Theme –
Compatible with all available browsers.
SEO optimized theme.
Fully functional admin panel.
Single click installation.
Template for blog page and facility to share latest property details on the blog.
With all the above features specifically develop for rent business, Lease Space WordPress Theme is the best way to create a new website.
---
3. One Page Theme
The theme is a one-page theme where all the rental services can be shared with the customers who want to avail the service with booking & appointment features, the full-width slider to display images and pricing table to display prices, all the features can be shared with the help of the 4 column feature area.
The template has an exclusive video section where all the business features can be uploaded with the help of the respective section. The theme has a testimonial section where all the business features can be shared.
---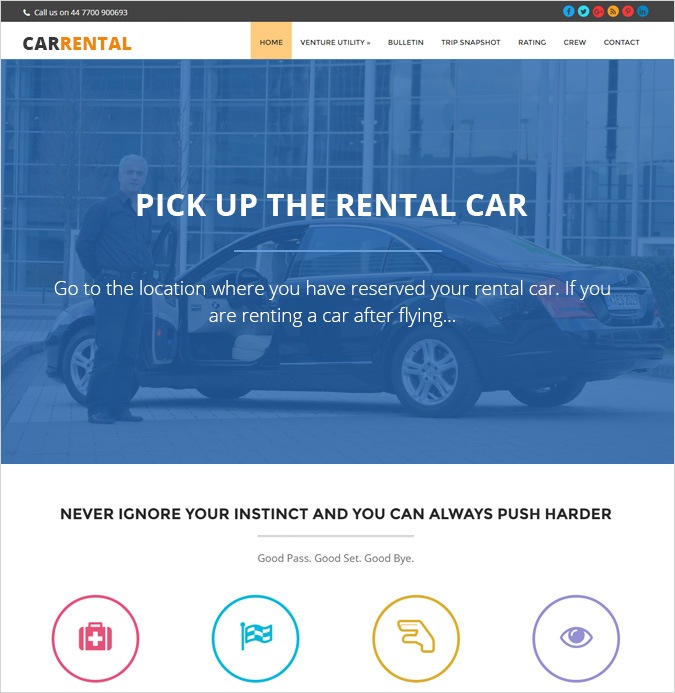 ---
Features Of The OnePage Theme:-
Team section for business partner profiles.

Full-width slider to display highlights.

Add/Remove sections.

Integrated Google map.

Customizable one-page section.

Pricing table for prices and costs.

Testimonial section for feedback and advice.
Make the most of the offer and download this free theme 
Click here to know moreView Demo
---
4. RentCar – Car Rental Online Booking WordPress Theme 
RentCar is a specialized WordPress them to all kind of car rental businesses. Feature best rental cars at low and affordable rates, cheap car rentals at best prices guaranteed! Integrated fully featured Smart Booking & Car Rental Management booking form which easily accept bookings for your car rental agency that makes car reservations enjoyable for your customers!!
You are able to add a business logo and color theme that really makes the identity of your business. Also, the inbuilt appointment booking form facilitates you to streamline customer requests with available resources. Social media icons create several contact options and information can publish in many ways.
Rent price, availability and the real-time booking facilities with compatibility with all leading web browsers and inbuilt SEO makes the business come to the first place when someone looking for the service.

Like most of the WordPress themes, the theme is enabled with a full-width slider which can be utilized to depict your rental car services, the template supports an accordion section where your multiple services can be exhibited. The testimonial section receives feedback from customers which allows you to improve accordingly.
---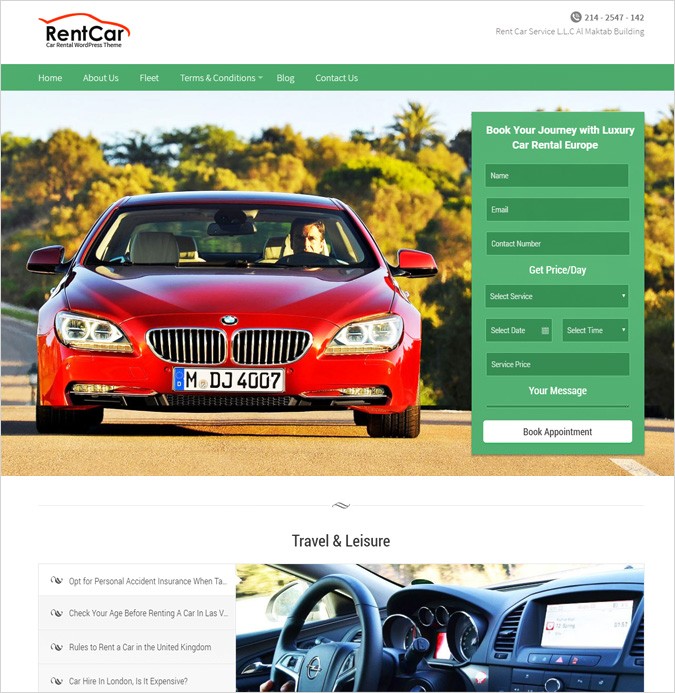 ---
There are several Car Rental business-related features associated with the theme –
Integrated car Rental booking system.
Integrated appointment plugin.
Online payment option via PayPal.
Apart from the above special functionalities, following general website control features also associated with the RentCar theme –
Contact map, which helps customers to find the business.
Unlimited customized color options.
Different blog post formats up to 5.
Simple option framework for changes and design.
Ajax based admin panel for site administration.
Customizable front-end and form colors.
With all the available features and inbuilt functionalities of RentCar theme for specified on the car rental business emphasis that it is the best available choice.
---
5. BoatFun – Boat Rental & Charter Service WordPress Theme
BoatFun, Boat Rental & Charter Service WordPress Theme provides you an easier and quicker way to create a business website with tons of inbuilt features for boat rental services. The theme is suitable for those organizations who provide boat rental services like boat bound, sailboat lease, bareboat & sailboat, etc. 
You are going to have an easier time renting your cruising boats and charters with a well designed and optimized site developed using boat rental and charter service WordPress website. The theme enables you to offer your boats for rent online. You can upload photos, share a detailed description, and receive bookings online.
Customized business logo and all social media contacts available on the top of the site to make the contact easy. Search facility direct customer easily to the required service.
Image slider helps to create a presentation of all available boats and activities. Appointment booking form comes with all basic information needs to make an advanced booking for boats.
---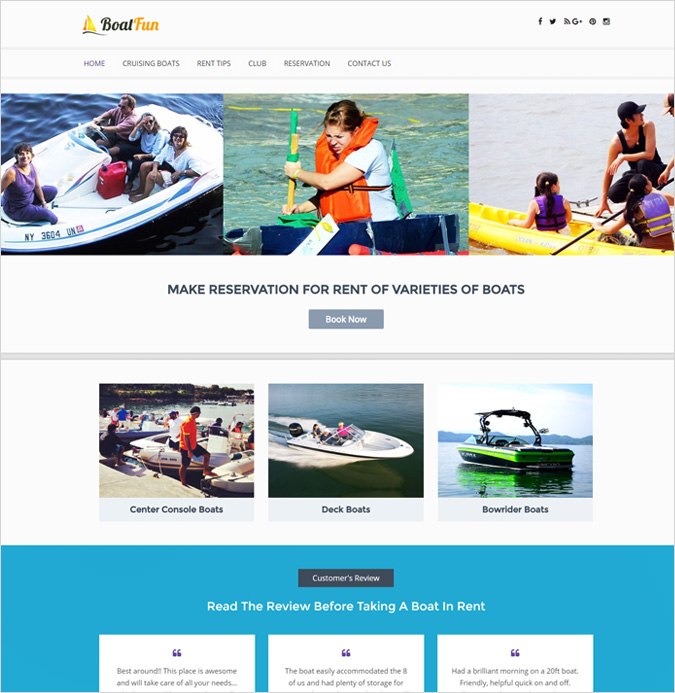 ---
Following boat rental-related features specially included in the theme –
Client Contact form. Gallery for boats.
Category window for services.
Responsive layout based on Twitter Bootstrap framework.
Multi-language compatibility.
Compatibility with plugins.
Apart from above following general features also included –
Compatibility with the latest WordPress versions.
10 amazing color themes.
Difference blog post formats.
Custom icons compatible.
Lifetime upgrade.
SEO optimization.
Background images.
Set custom footer with copywrites text.
All the above features make easy and fun with boat rental website creation one-click installation make the job even easy.
---
6. GeoCraft V2
The GeoCraft V2 is a dazzling theme which is a directory theme where all your business related advertisements and features can be shared with the customers, along with that the theme has an ad banner section where all the business advertisements can be presented properly.
The premium listing option of the theme offers a lead capture form whereas the normal listing ad does not contain a lead capture form, the theme has lots of features as well where all the specialties of the business can be uploaded with the help of the theme.
---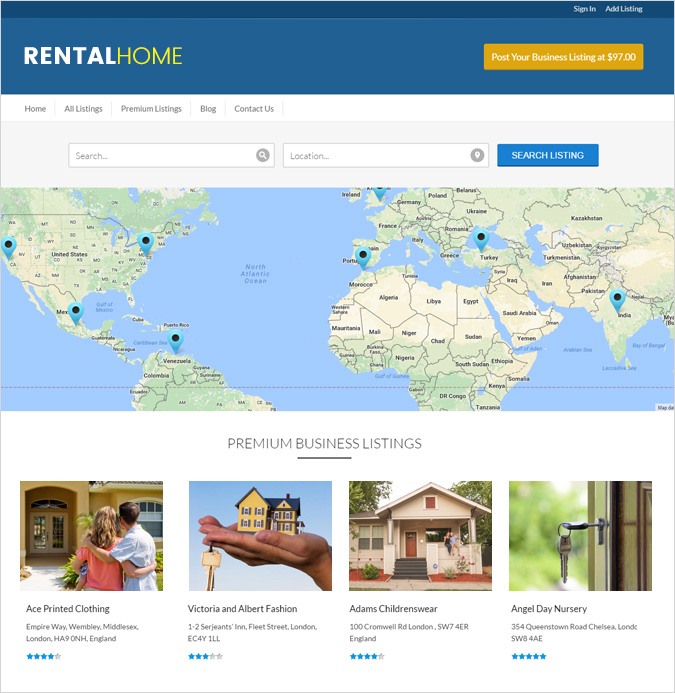 ---
Features Of GeoCraft V2 –
Google Map integration to search you easily.

Geo-location search – provide search results customized to the user's location.

Premium ad listing option.

Set the price listings.

Use social sharing icons.

Multi-language support with Language filed.

Ability to set a fixed amount of the listing (Pay Per Listing) & disable pay per listing and enable free listing.
 

Grab the opportunity and

download free theme
Live DemoDownload NowClick Here To Know More
---
7. RentalPro – Rental Property Listing WordPress Theme 
Houses, office, apartments or any kind of space rental website can easily be created with RentalPro – Rental Property Listing WordPress Theme. A responsive WP theme for small business owners operating in the property management sector and is perfect for real estate agents, property managers, vacation rental owners or anyone looking to sell or rent property.
Image slider allows adding the main image for the properties available up to eight different images and the inbuilt search helps to filter available properties. Business logo and contact number have the top place of the page.
Featured properties are listed in the feature area and the separate section for recently added properties. Inbuilt contact form available for customer communications. The image gallery is to create several angles of the properties available for rent.
The 4 column feature area is an exclusive feature of the skin which can be used to show your rental property specifications. The skin has two product area where you can provide descriptive content for your housing property.
---
---
Following features available with RentalPro theme makes it a strong selection –
Optimized for all devices including iPads, Smart Phones, Mobiles, Laptop, Tablet, and PC.
Spaces to add all properties of the property.
Possibility to create unique style menu list using configurations without code changes.
Unlimited level of the drop-down menu.
Possibility to add a background image.
Compatible with all available browsers.
Display options for all the features of a property.
4-Column footer available for customization.
Possibility uses difference inbuilt templates for difference pages.
Fully responsive them.
With all the features fit directly for the property rental business, RentalPro is the best Rental Property Listing WordPress Theme available.
---
8. RentalHome – House Rent WordPress Theme 
House rental is a special kind of business and it needs to have a lot of images and text to give a proper idea for a customer. Ad listing is the core feature of vacation rental WordPress theme. A powerful theme for listing and managing home/house rental booking and functions correctly on PC as well as mobile.
RentalHome house rent WordPress theme comes in 8 different colors and user login panel. The embedded address map is to indicate extract location of the house. The theme facilitates to have outside advertisements for a predefined rate.
Inbuilt lead capturing system and also the action panel for received messages is available. Add listing can have either grid view or list view. The slider is to display featured ads available on the site.
The theme also has a premium advertisement feature area which can be viewed in the list and grid view form in addition to that the template also supports a category section where all your houses that you want to put on rent can be featured.
---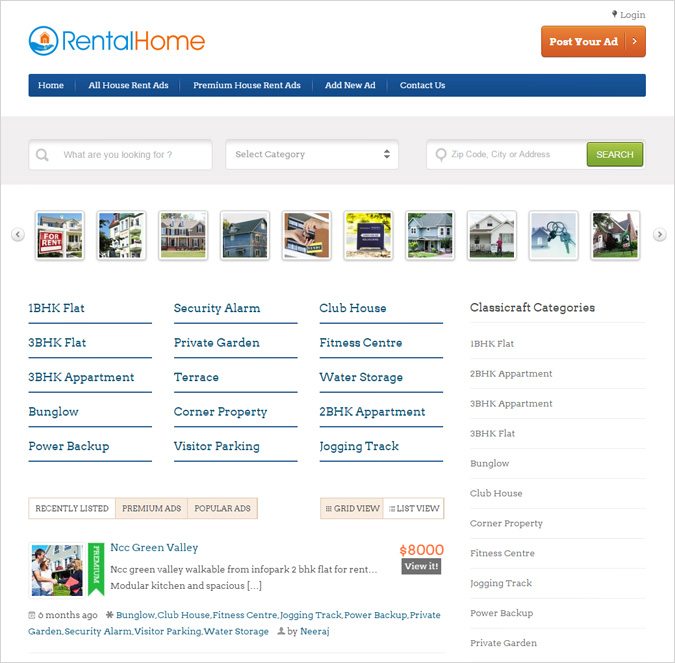 ---
The apartment above, following list of important features for house rental business, is associated with the theme –
Captcha to avoid robot usage of the site.
Homepage searches option.
Different ad listing for free and paid ads.
Categorization for ads on Recent.
popular and premium, Integrated PayPal payment gateway.
Support for multiple languages.
The possibility of lifetime payment or recurring payment.
Currency conversion facility.
Custom business logo to make your identity.
Social media sharing functionality.
Compatibility will all available browsers.
WordPress 4.5 + User account facility.
With all these features make the house rental business easy with the RentalHome theme from WordPress.
---
9. YachtAgent – Yacht Charter WordPress Theme 
If you are a Yacht agent, then the most important tool for the business is well-developed a website for the business with all latest features. A perfect yacht charter vacation rental WordPress theme to introduce visitors to your popular yachting services and get high conversions.
Share yacht rental services and luxury yachts Customized Business logo and navigation menu will create ease of use and identity of the business. Full-width slider with description text allows giving a full description on the available yacht with model details.
Inbuilt lead capture form will collect all customer messages in the table view. Showcase facility to add all team members to your team and introduced them. The 3 column feature area is an amazing section to display your services pertinent to the yacht charter, The theme has an accordian section to exhibit your services. The 3 column blog area further enhances the template outlook by providing descriptive content on the specific section.
---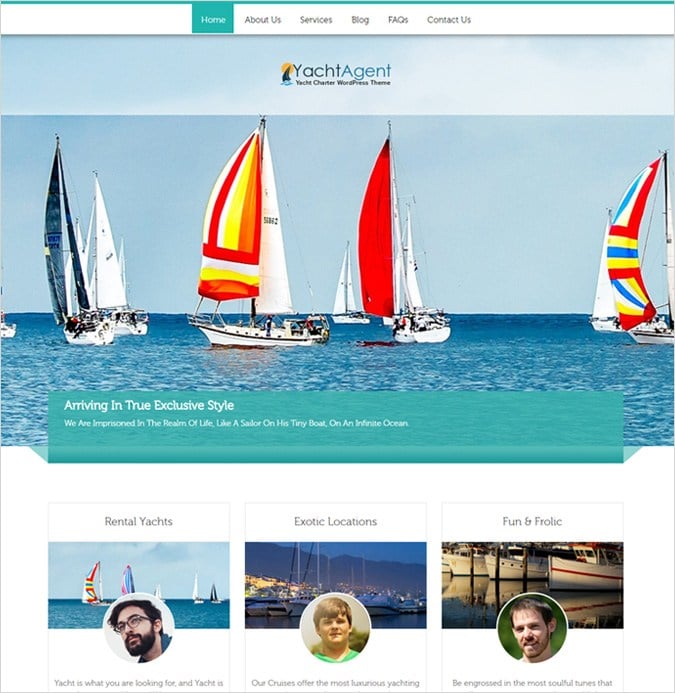 ---
Following set of features also available with the YachtAgent –
List of all available yacht services of the business.
8 unique colors for the site. Image gallery.
Compatibility with latest WordPress themes.
Quick navigation facility. Retina ready design.
Four column footer section.
Translation possibility.
Fully SEO facility.
Contact page with a map attached.
Social media connection icons.
Easy compatible.
All above features with several other general theme features indicate the best choice for yacht service website is Yacht Agent – Yacht Charter WordPress Theme.
---
10. FairHiring – Online Booking Car Hire WordPress Theme 
Online car rental business needs a fully functioning website to cater all customer requirements. FairHiring – online booking car hire WordPress theme is bet mobile friendly automotive car rental template for car dealers and rental agencies which can be used for car repairing or car dealer and other car and other types of website use.
Business logo and the contact No have the top place on the home page and the cab booking form is designed to make easy the booking process.
A featured slider allows you to display all available car rental options in your fleet. Price comparison option, test drive and inspection request option and also the different service area with you can define easily.
Business location and business description allow you to mark exact place where you are and the brief introduction about the business to make trust on the customer. Sharing testimonial from reference customers is also possible on the main page of the site.
---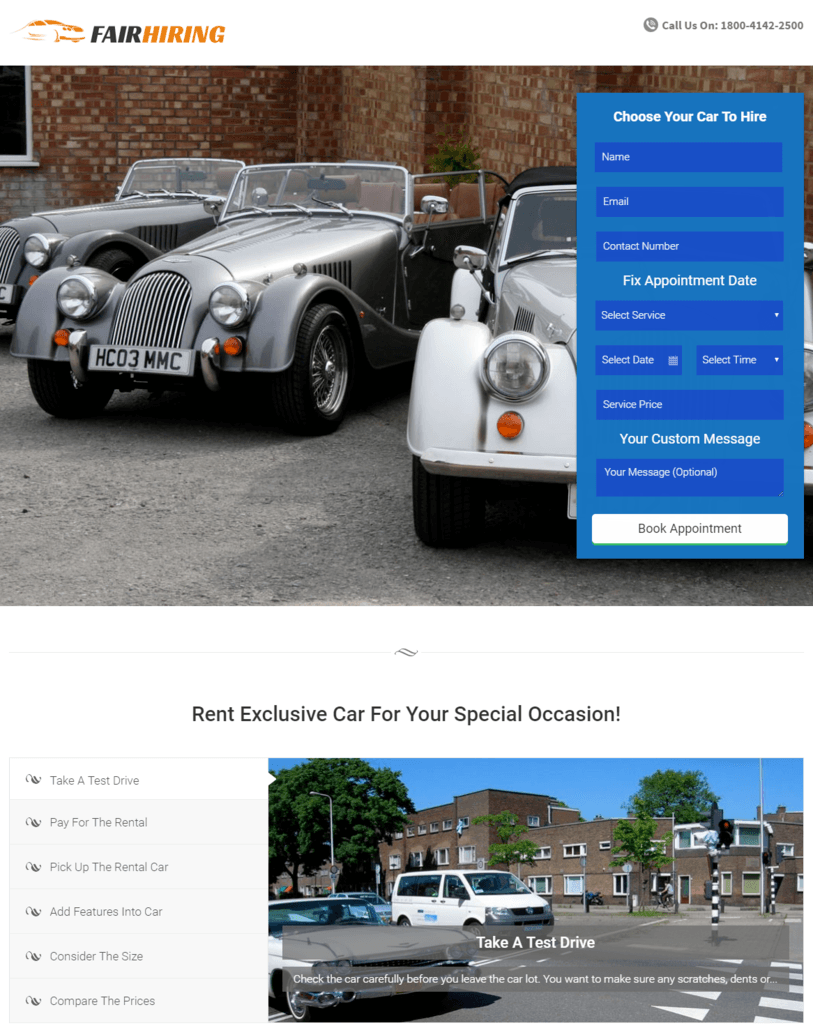 ---
Following list of car rental business-specific features also associated with the theme –
Business services creation according to the structure of the business.
Define working day calendar for the business.
Time slot allocation facility.
Inbuilt PayPal payment gateway and currency conversion facility.
Set reminder emails to the customer in important dates.
Following general features also available –
Compatible with all browsers.
Inbuilt SEO facility.
Custom CSS.
Ajax based fully function admin panel.
Unlimited coloring option.
Customizable four column footer.
---
11. Vehicle Rental WordPress Theme 
Car Rental WordPress theme comes with several features to serve your customers and manages the available vehicle fleet. The theme is designed for car repair, car rental stations, rental companies, and other vehicle-related business. 
Inbuilt booking system to address all requirements of the customer and the order state is also available to confirm is the order ready or not from the company end. Flexible pricing option available to give seasonal offers, difference rate according to the no of days in the request.
Vehicle management system will manage all information of each of the fleet by including the available to pick up location, features included, etc. A booking confirmation email will help to keep customer update the booking is approved by the requested date.
---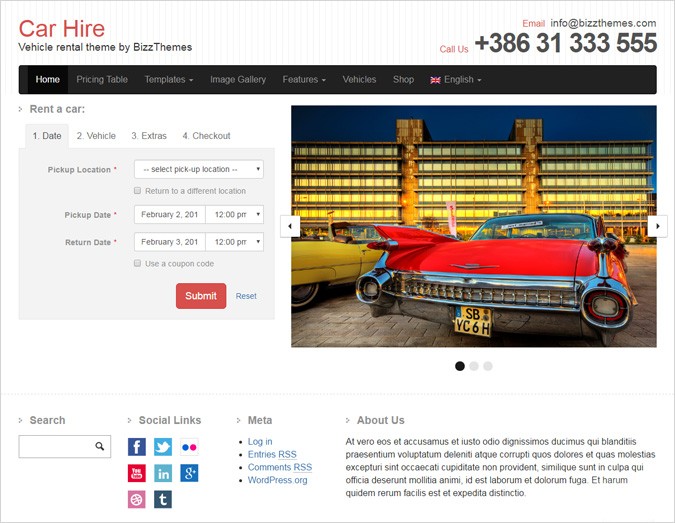 ---
Following site specification features also integrated with the theme –
Design in latest HTML5 standards and compatible with all mobile devices and computers.
Compatible with all available browsers.
6 color schemes available.
Translation ready for different languages.
---
12. Vacation Rental – Manage Your Rental Home With WordPress 
Create a website for vacation house rental with an inbuilt online booking system that facilitates to control your website and vacation homes easily. Whether you are renting an apartment or a house, Vacation Rental WordPress theme will work for your business.
Vacation homes and holiday apartments can be filtered on your site. The theme offers booking administration and availability calendar with online reservations system too.
Feasibility to add extra service available and the cost calculation can perform with including the fee for all selected options. Discount coupon system also enables to cater regular customers.
Booking calendar is to make reservation easy and seasonal rate can set and then the customer can do a price comparison. Transaction details, booking details can have a table view from admin end.
---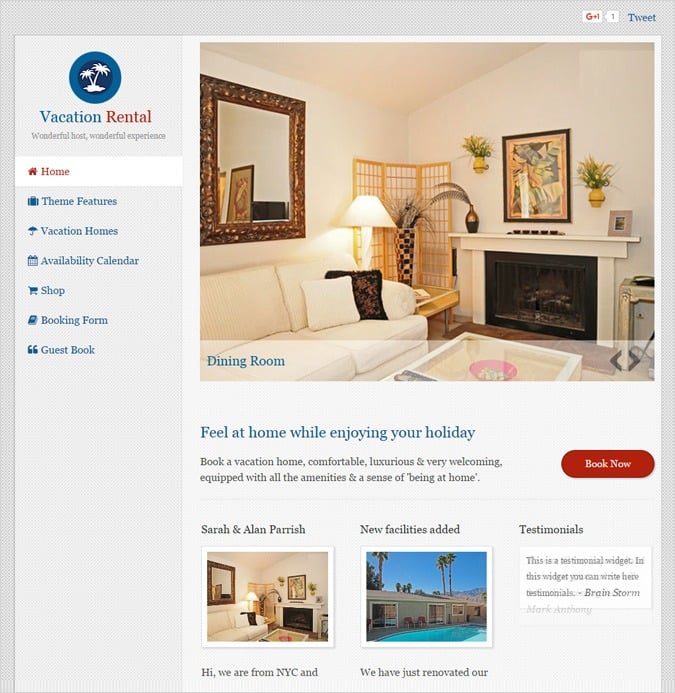 ---
Apartment from all above features following special features associated with the theme –
Possible to change color and make a customized theme.
Rental property price page configured.
Set tax amount easily to add the cost and calculate total cost.
SEO friendly site with inbuilt social share buttons.
Support for the third-party plugins.
All features associated with Vacation rental theme will make your business site fully functional and user-friendly.
---
13. Rent My Home Vacation Rental WordPress Theme 
The theme is specified to rent vacation homes and comes with easy to manage design. Integrated booking calendar makes reservation easy. The theme is ready to use with WPML Multilingual plugin and site can have several languages.
Add text to home page available to increase SEO. Company logo and company related favicon can be added to the site. The slider can have up to 5 images and it helps to display your main available services. Just adding YouTube or Vimeo video URL allows you to add the video to the site.
The theme has a full width 3 column blog area where all your home vacation houses can be featured. Along with this the theme also induces a tagline section where captions and punchlines can be displayed to attract more customers to your business.
---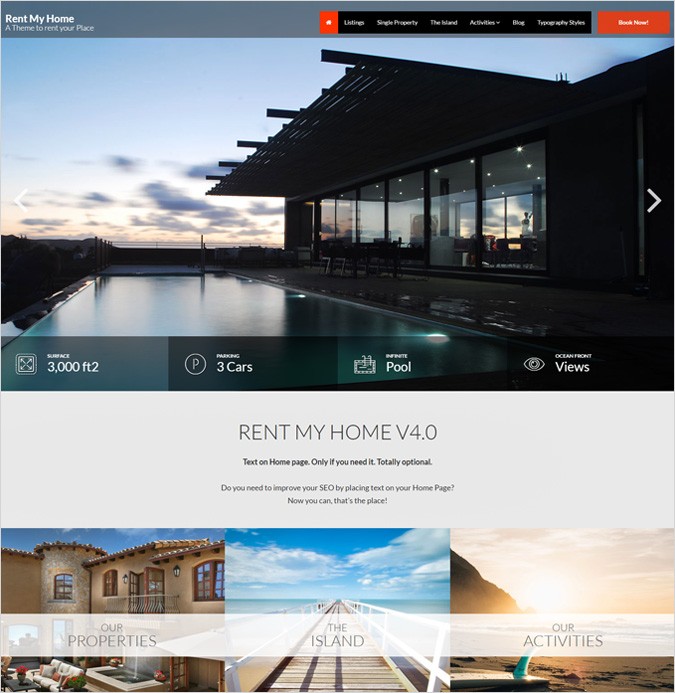 ---
Following features also included with the theme –
Possible to add banner in home page up to 3.
Predefine social network links.
Include slideshows with customized caption and colors.
Normal or Beautiful Masonry style blog.
Pages and properties come with right sidebar.
The theme recommendation for one rental house, but there is a possibility to add more than one to the site.
---
14. Boating WordPress Theme 
The theme is highly responsive and can adapt to any device quickly. The slider is to support up to 10 slides with texts and it allows getting customer attraction quickly. Level base design to have parent-child window architecture. Each separate section can have a separate branch.
Auto update feature to update the site with latest improvements related to the theme and new features will add automatically. In-built contact form and online chat facility to improve customer interaction and all the messages can display in table format.
The theme has a parallax effect in the full-width slider where magnificent images can be displayed. Besides that, the theme has a 3 column feature area where all the amazing boating services can be shared. The skin supports an "About Us" section where you can briefly introduce yourself, tell people about your boating business, share interesting facts.
---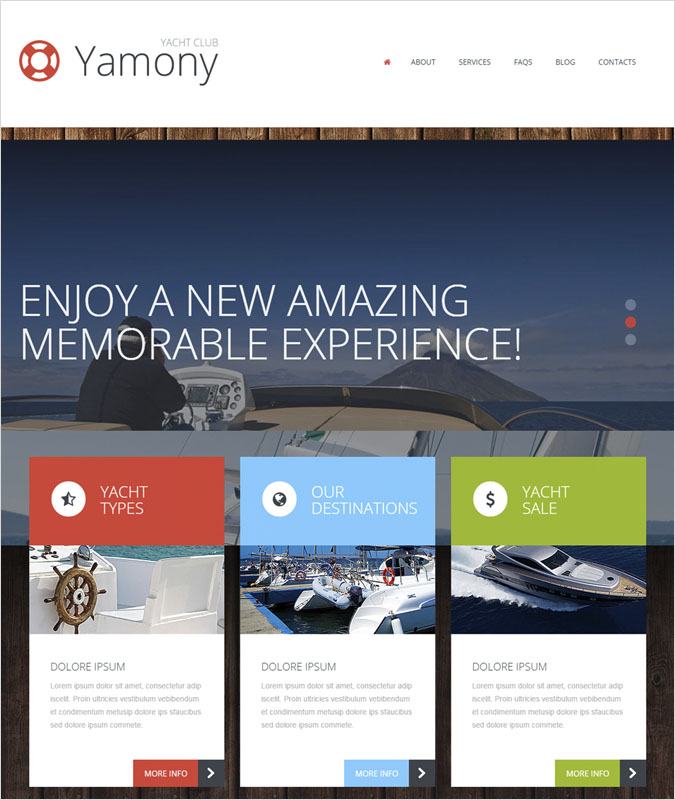 ---
Other fantastic features associated with the theme is listed below – 
Support for all available browsers.
Multi-language support to serve customers in all regions.
Cherry framework powered theme comes with self-explanation codes.
Several theme layout arrangements.
Map embedded contact form to give customer correct location information.
Portfolio page with several galleries to give more information on services.
Testimonial page to make new customer trust using comments from regular/previous customers.
404 – Page not found the error for broken links, that gives information customers to the availability of pages.
Customizable about us page and customer rating option.
Apart from the above general properties for website development, like SEO.
---
Conclusion – 
Hope this list of 10 best WordPress Rental Themes For Rental Websites 2022 have met your requirement.
Check out some of our other informative articles