The whole scenario of digital marketing has changed over the past few years. The advent of latest technologies, marketing tools, and channels, the entire internet world is on a roller-coaster ride. These changes are also seen in the display section of search engines. Now you have full control over your content through the rich snippets coming in and spreading their charisma. You can describe the exact data you want to publish when someone types the keyword in the search engines.
The rich snippet plugins help you in showing your or content's image, star ratings, date and time, and many more features to create a richer surfing experience for the user. These rich snippets use microdata to display information. The plugins help in doing your work easy especially if you don't have too much of technical knowledge. You can implement any significant changes on your web page with the help of the schema plugins.
Yearning for Best Lead capture or Advertising Plugins? Explore some more…
When Schema.org was launched in 2022, it helped webmasters to implement any major modification in the inductions without any much bother. There are many options available to us when it comes to choosing the best WP schema plugins. Some are paid plugins, and other are available free of cost. But they change the overall look of your web page with its most stunning and eye-catching features.
Rich Snippets

Before having a look at the best rich schema plugins, let's see what rich snippets are and what they do for our website.
Rich schema plugins are the further inductions to your web page, and they make your page emphasized and also improve the ranking in search engines. The schema markup plugins not only prove helpful in SEO results but also in SERPs.
So if you want a simple explanation for a rich snippet, then it is a briefing of your web page in the search results of search engines like Google, Yahoo, Bing, and also on social pages in an attractive format with ratings, images, author pic, etc. It makes your displayed content good-looking as well as precise.
There are many rich snippets which provide various elements like showing of events, store timings, contact number, local business data, and many more things in the search results. This information assists in SEO ranking of the web page.
How does a rich snippet help?
Rich snippets aids in getting more and precise information in the more efficient way, but adding schema markup to your site gets a budding ranking boost. So, utilizing these rich snippets with structured data makes your page more interactive and will also help in click through rates. Users incline more towards specifically highlighted pages. These rich snippets support following content types:
Review
Event
People
Product
Recipe
Apps
Videos
Articles
Images
Breadcrumbs
Local business
Time & date
Google, Yahoo or Bing can generate rich snippets when web developers use special HTML markup. You can find a pool of all the markup consumed by Google to identify this data on Schema.org. You can also test your links with the Google Structured Data Testing Tool.
---
Best Rich Schema Plugins
SchemaNinja
Schemaninja tops our schema list as it is the next generation rich snippet and recommendation plugin for all the internet enthusiasts out there. It helps you in generating vibrant star rating reviews and suggestions for better rendezvous and click through rates (CTR).
---
---
The Product Highlights Are:
SchemaNinja review box facilitates review page ranking & maximum conversion rates.
SchemaNinja analytics give you a profound detail of each feature that you use in your site.
Provides enriched search experience if pages are marked properly.
Includes add-ons for more functionality and integrations.
Easy setup and includes all preferable schema.org markup types to implement in content.
Detail documentation is covered up to provide you with every information.
It is the best bloggers, product and eCom vendors, freelancers, CPA, affiliate and social marketer.
---
WP Rich Snippet
WP Rich Snippet is a comprehensive plugin for review sites with a vast variety to create rich snippets. With the help of this tool, you can create the nice-looking and striking reviews on your website using your personalized criteria by also controlling user-submitted review.
You can fully manage your schema data of each page and also look at the preview from the dashboard. The plugin gives full control in your hands as to what information to display in search engines and what to not.
---
---
Features:
Users can submit reviews along with pictures.
Includes comparison tables.
Powerful and customized call-to-action buttons.
You can select to show product or organization.
Helps in gaining more traffic.
Best support from creators and can be translated to any language.
Offers various ways to rate and review content.
---
Raven Schema Creator
Raven schema creator is a structured data for the search engine to understand and imply to your content in your HTML. Schema creator tool helps designers to understand and apply schema.org for useful purposes.
Handling microdata features seems well-designed as you can markup your existing HTML with making any changes to the web pages. But a simpler method is introduced to incorporate schema.org structured data that is JSON-LD (JavaScript Object Notation for Linked Data). JSON-LD can be placed anywhere on your page.
---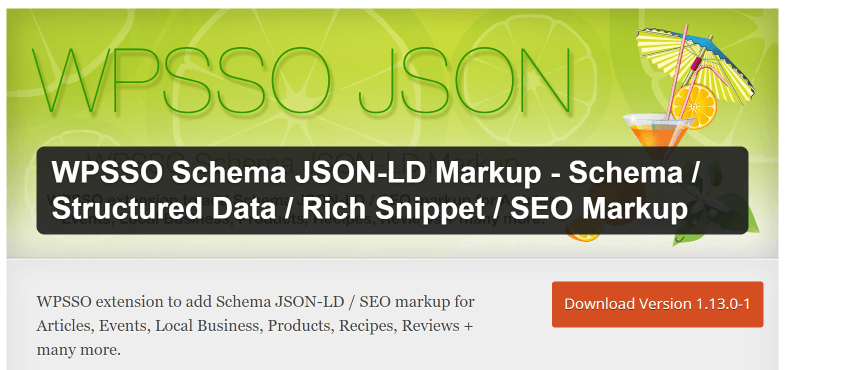 ---
Features:
JSON-LD Schema Generator is an additional free feature which enables simple incorporation of JSON-LD.
Automatic generated marketing report.
Gives better understanding and implementation of schema.org structured data.
Utilizes a WordPress shortcode functionality to release where you want it to be highlighted.
By design, it creates microdata for posts.
---
Schema App Structured Data
It is free of cost plugin from WP directory. It is a simple mechanism of editing schema directly without the need of specialized coding know-how. As soon as you integrate the plugin, it mechanically generates default schema markup text to all the web pages, and posts. If you want, you can make variations to each page individually also.
Schema App Structured Data uses the Schema App Editor contrivance by Hunch Manifest, which intends that your items are inevitably used to create accurate schema code which is authorized, and all set for search engines to analyze. The technical experts can revise the codes directly by themselves.
---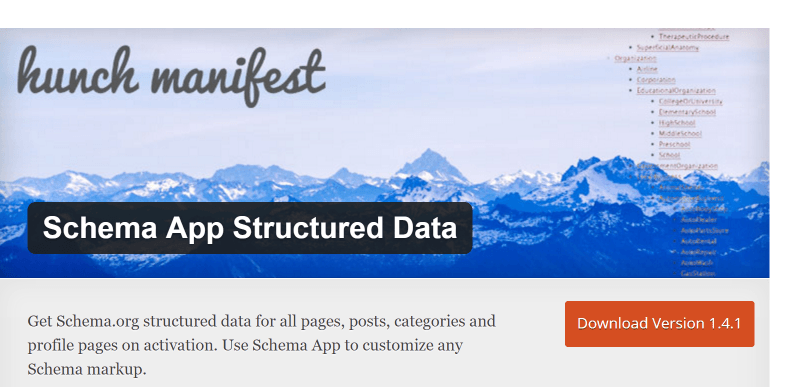 ---
Features:
It adds up the schema code automatically to all the web pages and content.
No expertise required to apply the code to the pages.
It is a free version.
Technical support and advanced features are accessible in premium membership.
---
All-In-One Schema.org Rich Snippet
All-in-one schema is most recommended by web developers due to its easy to access features. With more than 100000 downloads and 4plus star rating, it is a free plugin committed to rich snippets. The plugin is easy to understand with no complications involved, and you just have to add rich data to your content.
It not only appends schema to your general content or posts but also to videos, reviews, software, recipes, product, events, people, etc. You get genuine support from the support staff even in free version.
---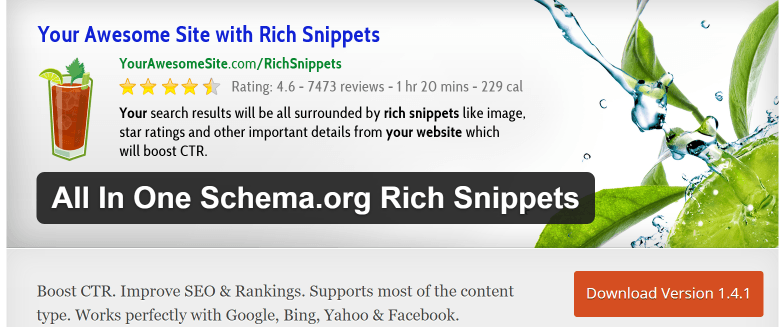 ---
Features:
Quick and easy way to add structured data to your content.
Can be easily set up and constructed.
Robust support by the developers.
Functions perfectly with Google, Bing, Yahoo and Facebook.
---
Rich Reviews
It is a free plugin from WordPress.org which assists you in administering and presenting your user reviews wherever on your website. The plugin naturally jumps to the top of SERP rankings. It helps you in creating your company's positive image through well-designed reviews. It also helps in increasing traffic on your website by gaining the trust of the visitors.
By means of Rich Reviews, you can show your businesses significance by revealing products, prices, reviews/rankings, contact information, and relevant links. The rating style is uncluttered and goes with every web design which means compatibility across themes and malleable CSS.
---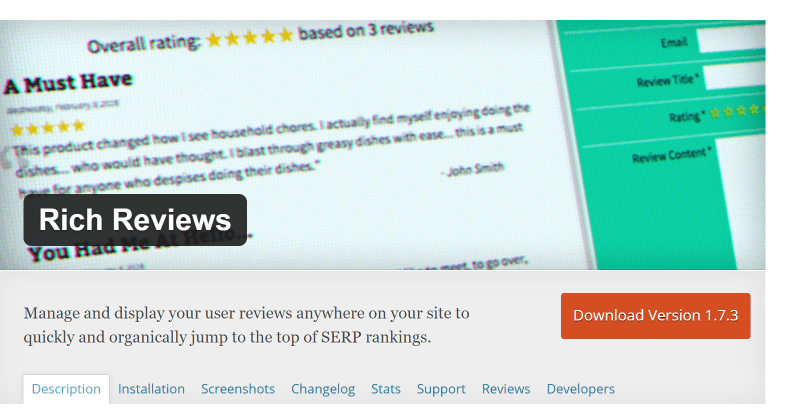 ---
Features:
Can show multiple ratings on any page and content.
Adds rich schema markup with all your ratings.
Implementing this plugin will help you in standing out.
Helps in boosting CTR.
It gives control over -per-page/per-post, category, or global reviews.
RR doesn't slow down your website and also provide good customer support.
---
Google SEO Pressor For Rich Snippets
Google SEO Author Snippet Plugin automatically structures your website content with schema.org. The standardization helps you to come up in Google search with easy addition of SEO friendly snippets. You can uniquely define for each Post, Page, Custom Post and Product. You can also add social shares to your website authors to catch followers.
To know more about structuring your data, you can refer structured data documentation.
---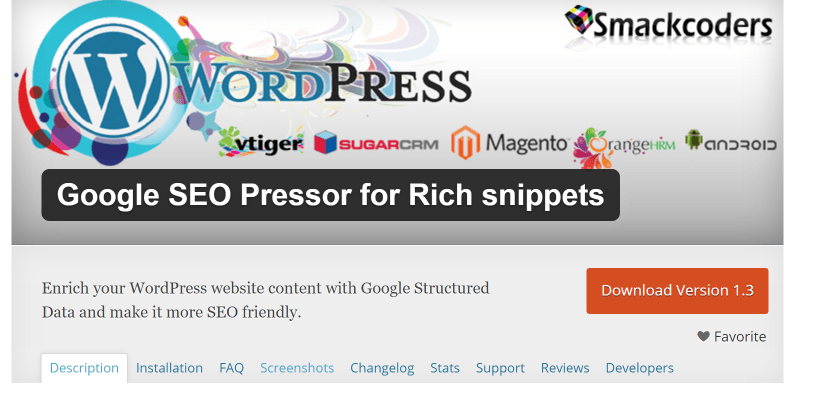 ---
Supports all snippets as recommended by Google:
Rich snippets – Events
Rich snippets – Music
Rich snippets – Organizations
Rich snippets – People
Rich snippets – Products
Rich snippets – Recipes
Rich snippets – Reviews
Rich snippets – Software applications
Rich snippets – Videos: Facebook Share and RDFa
Features:
Generates shortcode to add schema anywhere on your web page.
You can choose which schema to show the user and which not.
It gives you choice to set up your own rich snippets page.
---
Yoast Local SEO Plugin Premium
This plugin is the best option for those who want minimum gimmicks in adding schema in their content along with optimized needs. The premium version of Yoast allows you to add credibility and usability to your website by quickly inserting various schema related to location, timings, etc.
The plugin will make sure that your business flourishes in the local community by ranking high in search engines. The local SEO Yoast plugin provides Google, Yahoo and other search engines with all the indispensable information it requires to show your website in local search pages.
---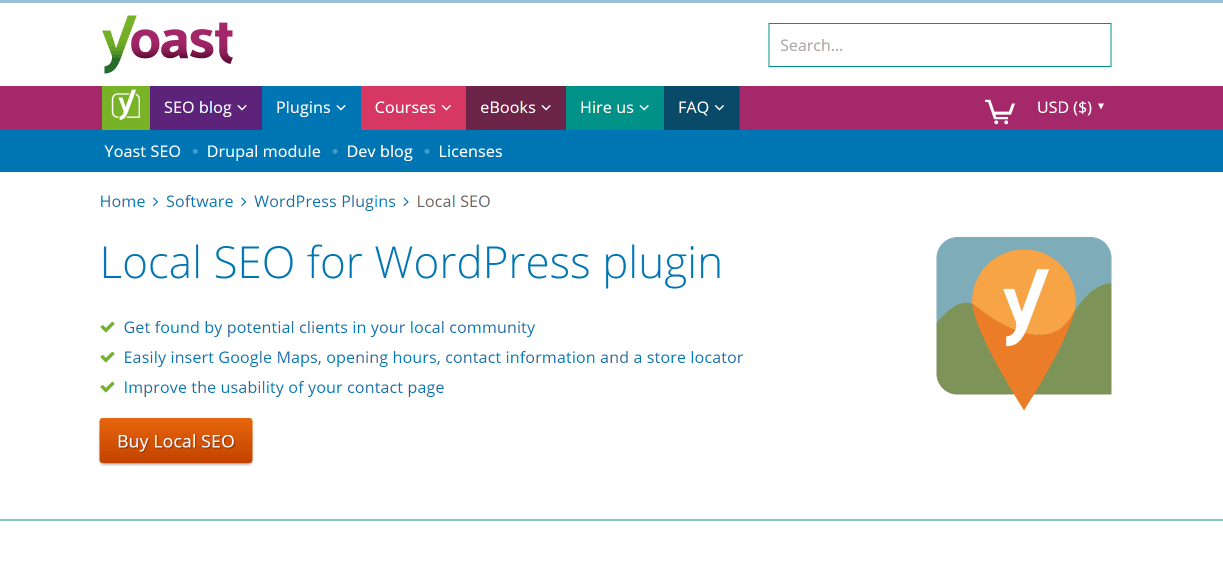 ---
Features:
Improves usability of the contact page of your website.
Inserts Google maps (including route planner) for easy navigation.
KML File initiation and by design inserting these to your XML sitemap.
Address and timings in schema.org output.
CSV upload for several localities.
---
We have a versatile range plugins. Take a tour & Try our collection:
Conclusion
So, the above-mentioned list of 8 best rich schema WordPress plugins 2022 contains all those schema plugins which are helpful in designing your website with all the stunning features. The plugins not only help in gaining overall ranking of the web page but also boosts CTR, SEO and organically hops to the SERP rankings.
The above-listed plugins support every content type and functions perfectly with most of the search engines like Google, Yahoo, Bing and even social sites. The plugins make your web page interactive as well as good-looking to the users.
---
Author Bio: Vashishtha Kapoor is a content marketer and an active blogger from Kanpur, India. He is an aspiring blogger who blogs about WordPress Themes, plugins and customization on his blog.