Thanks to membership WordPress plugins, earning a substantial recurring income from your generic website becomes possible.
You can convert your generic site into a membership website using a membership plugin of your choice.
A large number of famous blogs, music and video websites are generating revenues this way. There are countless examples of such websites that make good sum of money with their all sorts of digital content by selling membership subscriptions.
Through selling membership people are able to monetize their extraordinary piece of work. You can see people selling tutorials on how to build an app app, how to make a robot, how to dance like Pro in 4 weeks etc., and you can see people selling other sorts of digital content such as files, ebooks, softwares, etc, in the same manner.
If you have to do the same, membership plugins give you the way. No developments, no coding, no much expenditure. Almost a scratch method, and you can also start selling your own content from your membership website.
So are you finally ready to turn your website into a membership website in the upcoming few minutes??
---
Take little time to tap into these plugins. Get a rundown of all of their features, pick the one that attracts you the most, and get the job done.
1. InkMember
InkMember plugin comes along with Subscribely – Membership WordPress theme. It also seamlessly fits to any WordPress theme. You don't have to change your existing website theme or worry about compatibility.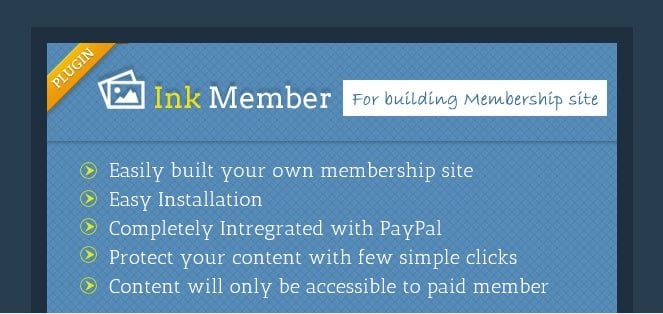 Pricing:
$97. Lifetime access.
Multi-site licence.
Developer licence.
Features:
Protects your content.
Lets you create any type of membership plans.
Enables you to sell memberships and collect payments online
Manages subscriptions and stores subscribers records in the WordPress dashboard.
You can also create and sell both one time and recurring plans.
Set active period for a membership plan type
Select payment currency, and what not!
One of the greatest advantage of using InkMember is that it gives you facility to frame your "Buy Membership" messages with creativity and professionalism. Words can sometimes never be enough, so here is an example:-
---
2. MemberPress
This membership software seems to offer a majority of the features that membership site owners want. It works almost similar to the InkMember plugin in every aspect. Here are its remaining features: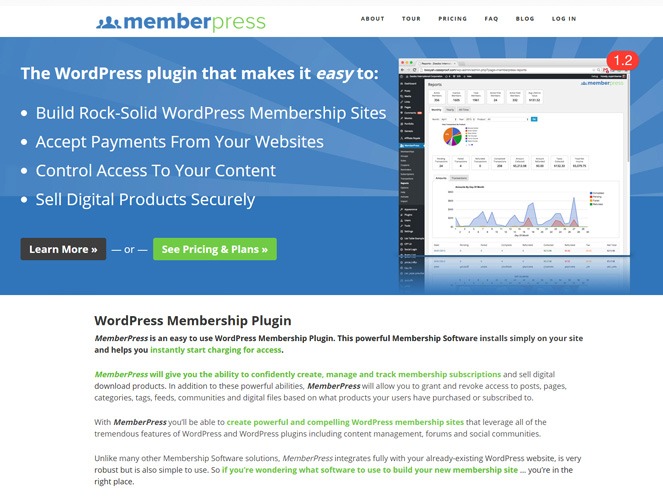 Price:
Business edition: $99 / year.
Developer edition: $199 / year.
Features:
Restricts individual pieces of content such as posts, ebooks, or other types of files.
Restrict access to your entire site and certain sections of it.
Manages Content management, forums and social communities.
Offers a solid structure for typically tiered membership sites.
Comes integrated with a number of payment gateways – PayPal, Authorize.net, and Stripe.
The only remaining drawbacks if you have international audience on your target is that regional payment gateways are still not supported.
---
3. Wishlist Member
WishList Member is a feature packed yet easy to use plugin that can turn your WordPress site into a full-blown membership site.
It gives you high level of control over the functioning of your membership site, how your content will be secured, and how access will be granted.
If there is something you don't want your members to have access to, Wishlist Member can simply handle it.
It will take only your few minutes to get your membership site running.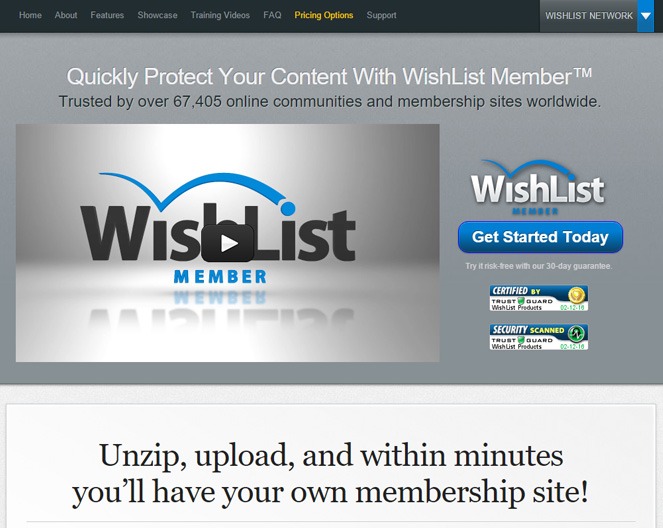 Price:
$197 Singe site licence. Lifetime access.
$297 Multi site licence. Lifetime access.
Features
Provides flexible Membership options.
Offer various levels of memberships: free, trial based or paid memberships.
Controls the content of your website with a simple hide button.
You can protect posts, files, categories or your entire site.
---
4. Restrict Content Pro
Restrict Content Pro is a simple yet a complete membership solution that contains all the necessary features you need to manage your website or blog content. Its settings are easy and straightforward. and emphasize on member management and reporting.
Large businesses have shown their trust on this plugin not only because of its features since, but also because it comes with an excellent documentation and the support you get for the product is also top notch.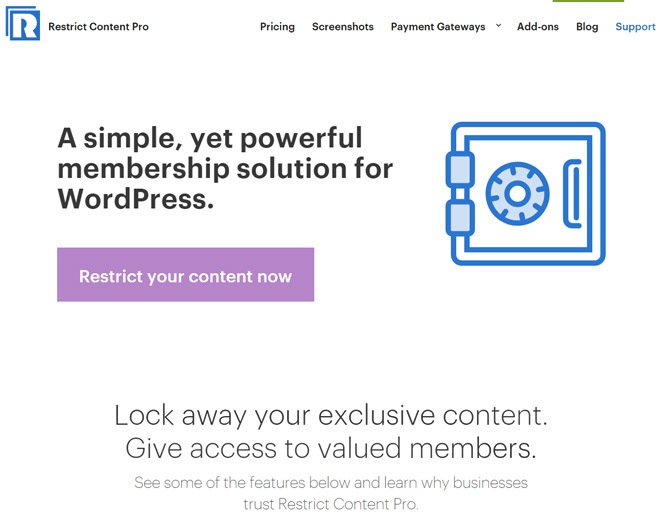 Pricing:
Personal: $42 for single site.
Plus: $86 for 5 sites.
Professional: $132 for unlimited sites.
Features
Create unlimited codes for discount, offer percentage discounts and even flat rate discounts to your users.
Via an Easy Digital Downloads extension, it can also connect with an entire eCommerce platform… Yeah!
Multiple payments options can be simultaneously kept open.
Accept payments through credit cards, Cacheckout, Paypal and Braintree.
Plugin Supports the use of PayPal Standard and Express.
Generates a CSV data of your members and their payments for any subscription level.
Provides performance report of your membership website and tap into the numbers of active, pending, free, cancelled and expired users.
---
5. Membership 2 Pro
It is one of those plugins which do not consume much of your time and it is one of the membership plugins that are most widely used. It is easy to use (one of the reasons of its wide use). Membership 2 Pro manages content of your website of the complete network from just one place.
The settings of the membership plugin involve no guess work and are rather quite simple. The best thing is that its wizard provides complete guidance on how to use it effectively in order to bring out the best results.
The simulation mode in the membership plugin lets you verify that everything is working well and the website is ready to go live.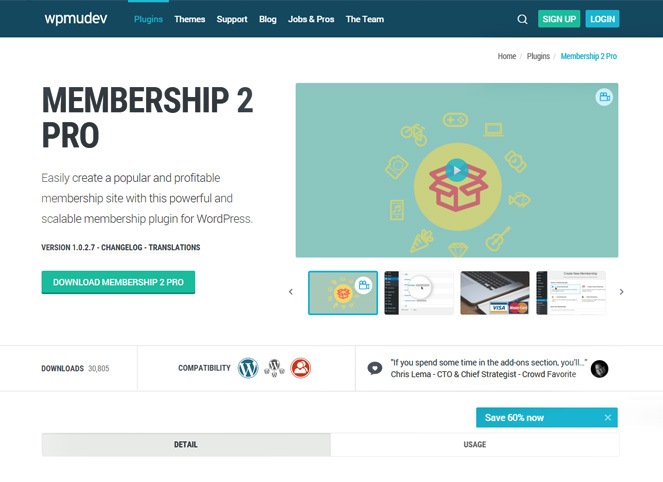 Pricing:
$19/Month.
Features
Membership 2 pro offers four types of memberships that include – 

Guest membership, 

Standard membership, 

Dripped content, 

Default membership.

Supports Stripe, Paypal, and Authorize.net.
Content protection by category or specific post or page.
Integrates with bbPress for forum protection.
Have a clean UI.
A clean, and simply core codebase.
Functionality is further enhanced by the use of an available add on.
---
6. MemberWing X
MemberWing X is an advanced featured membership plugin which lets you build a strong, powerful and authentic membership website in simply no time at all.
There exists a category wide access restriction rule in which you can easily convert your blog of ten thousand pages into a fully functional membership website in only less than two minutes.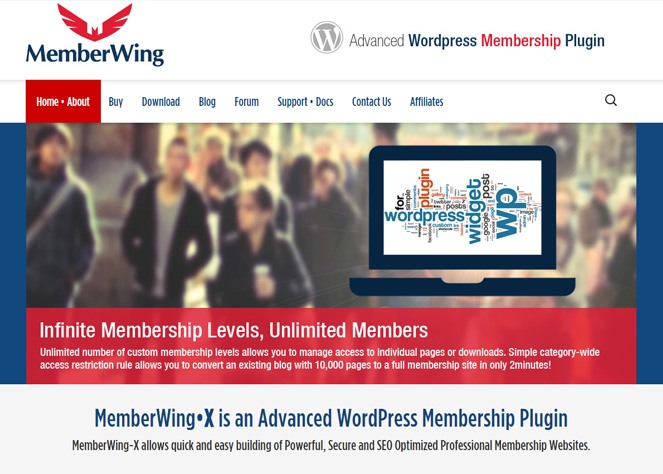 Pricing:
Pro One – 89.95
Pro Unlimited – 129.95
TSI Edition – 199.95
Features:
Supports a fully automatic creation as well as promotion, termination and expiration of members.

Based on the freshness of information and for the cases of information urgency, separate levels of access can be provided to the users.

Gives ability to sell unlimited membership levels

Protect individual posts (via shortcodes), p

rotect groups of posts by category

Sell individual page/post access, 

sell digital downloads

Content dripping

Email integration with MailChimp, PayPal and Stripe payment gateway support.

Functionality of Google first click free.
---
7. S2Member
S2Member is an inundated with features – the reason you'll probably love it!
But it proves a bit unhandy when it comes to setting up your membership website with it.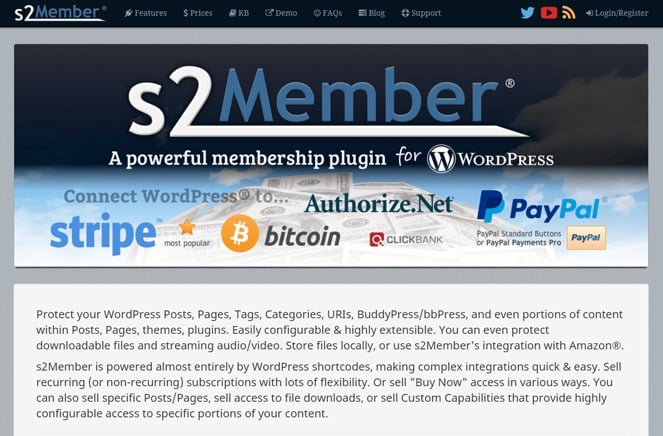 Pricing:
$ 89. Single site. Lifetime access.
$ 189. Multi site licence. Lifetime access.
Features:
It helps in the integration of management with the user roles and its capabilities.
Protects your pages, posts, tags, URLs, categories and other replacements.
The specific posts of the page and the options of buy now are also given protection.
The portions of pages and themes can be configured easily and are extensible at the same time.
Provides the ease of streaming audios and videos.

Data storage facility local and with Amazon is an added advantage.
---
8. Paid Membership Pro
Paid Membership Pro Membership plugin provides so much of ease and flexibility to control your website content. It is considered to be the easiest to get your websites earn money with the acquisition of paid content.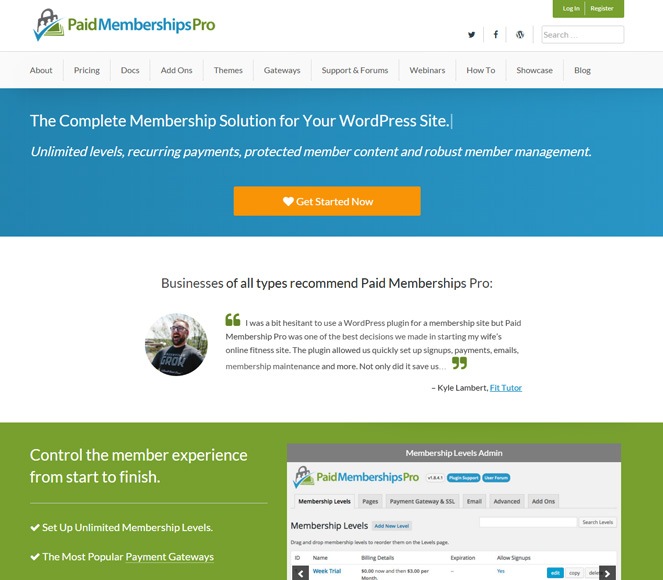 Price:
PMPro core: $97
PMPro plus: $197
Features:
It is integrated with Stripe, PayPal and Authorize.net.

Provide membership levels to your users and give names to different levels.

Access to different levels of membership can be controlled.

Add Members at a level of initial subscriber or at 

their desired membership level during registration.

Provides appropriate structure to your membership levels according to content of your website.

Lets you choose the content pages for each membership level.

Easily get help from the provided support option.
---
9. Member Mouse
It offers a overall solution for memberships – includes content restriction, flexible billing options, drip content.
It gives you facility to offer up-sells to members in order to maximize your revenue, and the same time helps improve customer retention by automatically offering down sells to customers who want to cancel.
Your members can also upgrade or downgrade memberships themselves.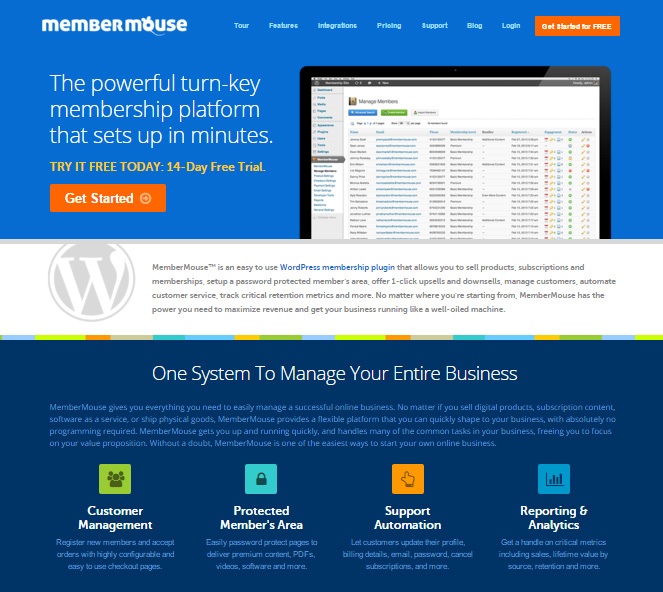 Price: Price:
Advanced: $99 / month. 50,000 Members.
Premium: $299 / month. 1,00,000 Members.
Professional: $599/month. Unlimited Members.
Features: Features:
Very easy to use and simple to understand.

Along with membership subscriptions, it lets you sell your products online.

Set up a password protected area of member.

Upsell and downsell with just a single click.

Provides management of customers and automation of customer service.

Critical metrics can be easily tracked.

Sell a digital product, a subscription, software, or tangible goods.
---
10. Digital Access Pass
If you have been looking for something more than just a content protector, than you have landed at the right place. Digital Access Pass can help you run your online business with the ease of automation.


Pricing: Pricing:
$ 167. Single Site. One Time Charge.
$ 297. Multi-Site Licence. One Time Charge.
Features:
Especially created for WordPress.

Also runs on the sites that are not WordPress & built on PHP/HTML.

Provides a more comprehensive content dripping facility.

Drip content in phases over the passage of time.

Drip individual content gradually and exactly when you want to.

Built in feature of file and downloaded data protection.
Drip feed almost all post types and content types.
Offers unlimited membership levels.
Offer unlimited products.
Unlimited email broadcasting.
---
Summing Up
So you've seen a lot of plugins with variety in features and prices.
Did it help you make a choice? Let me know your thoughts on it in your comment below.
Ask if you need a personal suggestion based on your requirement, I would be happy to help.
Have a look at our popular plugins ->
Also, share if you have any other plugin in your mind.
Thanks for reading.
You should stop using Saxenda and call your healthcare provider right away if you experience severe pain in your stomach area that will not go away, with or without vomiting. viagra online malaysia You may feel the pain from your abdomen to your back, as Saxenda may cause gallbladder problems.