These were the 10+ best Bar WordPress Themes that I've scrutinized for you keeping in mind all the major aspects. Select the one that suits your business needs and creates a buzz building an appealing and engaging website in diving more customers to your business.
Reflect your idea of funk, class, creativity to your website just like you have reflected it in your bar, your pub.

Take your wine and dine to a new platform and tell your customers that the doors are open online too!

If we rotate the hands of the clock then building a website could have given you a bumpy ride because coding is not a piece of cake.

But now with WordPress building a website and giving it our own touch is as easy as a pie.

If you want a reliable tip, a know-how to your business or drive more customers then walk in and open the doors of trust and belief to jump into the enormous pool of our handpicked WordPress themes.

Few of them are – highly customizable, custom designed, fully functional, retina ready, freely compatible on almost all browsers all these elements will add an effect for your restaurant business so that you show off your cuisine that looks as delicious as the food you serve.

With Restaurant WordPress Themes you get all the ingredients for a website that will look yummy just like your food!

Start digging impeccable best bars, taverns, breweries, and pubs WordPress templates below and let people fall in love with your services and work.
Try out some other related stuff-
---
BeerHouse
The BeerHouse WordPress theme will be the perfect one if you own a brewery shop, winery or a vineyard.
The theme has amazing ken burns slider which gives an animation effect to your sliding images where you can place stunning images of your bar and pubs. Service section with hover effect will redirect you to the desired section or contact page. Clients testimonial section has a vertical rolling effect.   
All you can say is that your website will surely get an edge over your competitors if you use this theme. This great theme with its superb features is sure to work wonders for your brewery business.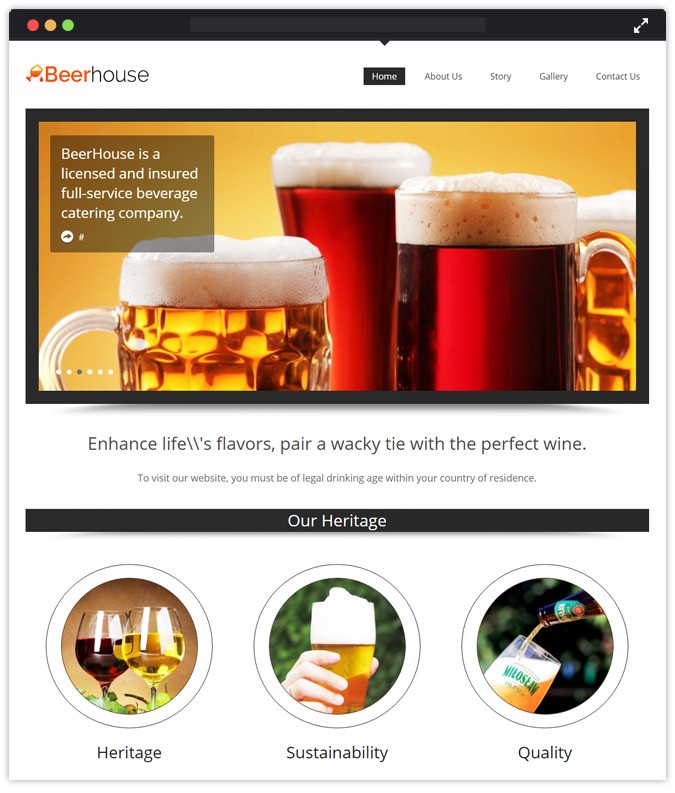 Astonishing features of Brewery WP Theme are –
The moving image slider with Ken Burn's effect on the homepage is a great feature
Three column featured area to showcase your different products
Incredible column area for displaying food related posts
Testimonial section to showcase your client's experience and reviews
There is a widgetized footer, and you can use social icons as well
The theme has inbuilt SEO option and cross-browser compatibility
You can choose from eight predefined unique colors
Showcase your business images in the gallery section
Theme Info + DownloadLive Demo
---
Barbecue
This is an ideal theme for a cafe, bar restaurant Inn or coffeehouse owners who want a different yet artistic look and feel for their website. This theme imparts a rough and vintage look to your bar website.
This theme will surely complement the mood of your business and strike a friendly and informal chord with your customers.
Its crispy look and the parallax slider image in the background makes the theme looks more stunning. Plus, you have freedom to place a video uncovering all about your different cuisines and resto environment.  
Superlative features of Barbecue are –
There is a three column featured section to display all the important services provided
Showcase a portfolio of your services and your restaurant interior in the portfolio section
Testimonials section for display what your customers experience
Show who your team members are in the team members section which has a novel design
Contact us section with google map integration for effective communication
Ten different styling options
Theme Info + DownloadLive Demo
---
Gourmet
Restaurant, pizzeria, bar restaurant or bistro owners will surely get relieved by having a look at this theme which is one of the best collection in the list.
This ravishing theme has numerous wonderful sections where you can display menus, cuisine or your bar hot offer of the day, Ad banner space to earn additional commissions, parallax effect etc will surely enhance the look of your site. You can flaunt all the key aspects of your venture and arouse the interests of the customers with the use of this appealing theme.
This theme with its remarkable features is one of the best ones to go for. Its use in your site will inevitably increase the overall visibility and saleability of your brand.
Dining features of Gourmet theme –
Display the list of items being served in the menu section
blog section to write about the latest events and happenings
The gallery section allows you to display attractive images
Showcase your chefs and other team members in a separate section
Display stats to make your venture appear more trustworthy to customers
The contact us page with Google maps facilitates easy locating and communication
The theme has a fully responsive design and compatible across all latest browsers
Theme Info + DownloadLive Demo
---
Themia
For those who want to design a top quality hotel or motel web page Themia is the perfect choice.
Theme will be an ideal decision if you want some top quality styling for your business site. With built in HTML5 and CSS3, the theme holds all superb features and is very easy to install. You get complete freedom to customize, manage or add any amount of widgets that simplifies your work and implements user friendly options.
Responsive design will make your website look fab in all mobile like devices since most of the consumers these days visit website through their handheld device. It's easy usability will surely make this your first choice when you search for a perfect theme for your venture.
Diving features – 
Drop down menu structure with 8 different color schemes
It has a fully responsive design and has cross-browser compatibility
Gallery section to showcase you products
Advanced theme customization panel
Amazing revolution slider with video embedding options
The theme is SEO optimized and translation ready
Theme Info + DownloadLive Demo
---
MountHouse
If you are looking for an elegant, stylish, classy yet contemporary theme for your taverns restaurant site, then this theme will be an appropriate choice.
This theme is very convenient to use with a number of customization options with which you can make any kind of layout. Further you will see multiple taglines area, a feedback form, various socials sharing buttons and likewise many other elements, which will assist you in building a perfect tavern business website.
Every aspects of this theme is carefully designed to run smoothly with a feedback form on the front page that is capable in collecting more leads and look fabulous on mobile devices. Try MountHouse today!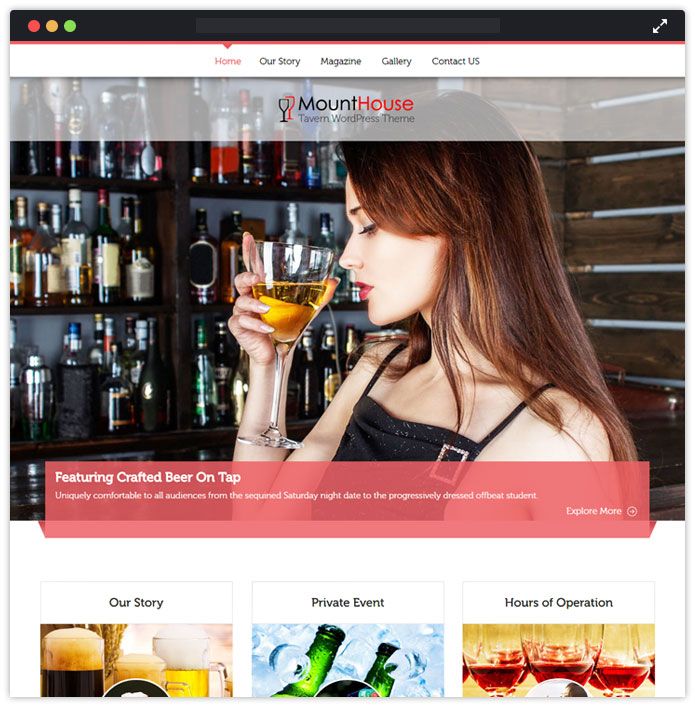 Appended features –
Full-width image slider – Parallax scrolling enables you to scroll smoothly
It has a fully responsive design and is retina ready
Theme customization panel to edit the colors and paddings
Contact form and feedback option also available
Cross browser compatible and SEO ready
Retina ready design with multiple social sharing widgets
Theme Info + DownloadLive Demo
---
StartPoint
A stylish, smart and sophisticated website for your fine dining, buffet and resto business is what this StartPoint single page WordPress theme promises for. With an array of premium features, smart and responsive designing and easy functioning, this theme will surely make your site stand out from the rest.
The star factor of the theme is its single page layout with a full-width slider with parallax effect where you can place stunning images of your restaurant along with text and call to action button on it that presents your website in a very astonishing and clean manner.
Collectively, the theme is clean, optimized, and free of needless complexity keeping in mind of the user-friendly interface and has a host of easy to use functions which you'll surely love.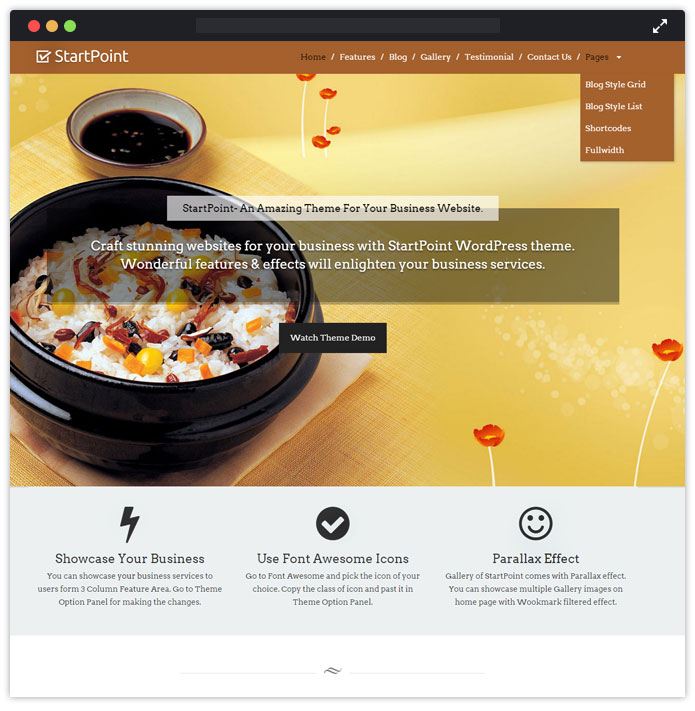 StartPoint remarkable features are –
It has a fully responsive design and is retina ready
Easily set up the theme with the Quickstart package
Front page menu, home page menu and footer menu section
Use the menu card section to add images, description and the pricing of whatever is on the offering
Shortcodes can be easily added by using icons or inserting them in the post field
The contact us page has Google maps and a contact form
Theme Info + DownloadLive Demo
---
The Spot
Spot WordPress theme comes as a piece of good news for the owners of restaurants, bars, cafe and business with similar niche. The theme has an appealing design which will certainly highlight the key strengths of your business and bring it to the forefront.
Theme has got wonderful booking plugin that let your visitors book a table for any numbers of members, get reviews about services, enquire about any query and more you can set your complete contact details with a google map so that it's easy for people to reach to your premises.   
Try The Spot WP theme and you will simply love this awesome theme with its nice and clear design, great speed, superb features and easy functionality.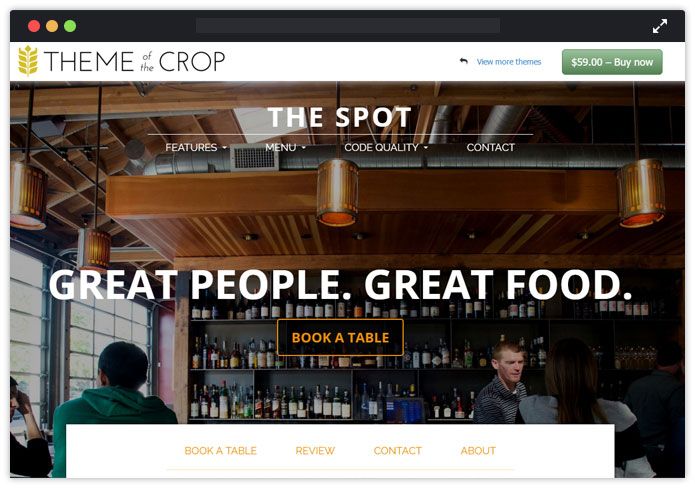 Chow features –
The home page has an eye catchy photo background and a noticeable call to action button
Post your blogs and latest updates in the news section. The news is archived and can be easily linked to the navigation menu
Use the contact cards section to provide your communication details and map location
The theme supports the Visual Form Builder and Contact Form 7 plugins
The shortcut links to book a table, reviews, contact and about are easy to use
Easily install the WordPress SEO plugin by Yoast for search engine optimization
Theme Info + DownloadLive Demo
---
Harrington
Harrington is multipurpose WordPress theme that fits perfect for building a classy, sophisticated and vintage look which perfectly complements the vibe of pubs and taverns businesses.
On top of all, a three segment section is also there where you can effectively showcase about your food services, post your articles, place customer reviews and experiences, and many more things you will get in the theme which will surely help you in building a great website for your business.
You can get a unique vintage styled site for your food business by simply choosing this WP template. Try Harrington now and show the world that you truly own a resto with the power to let people fall free in love with you.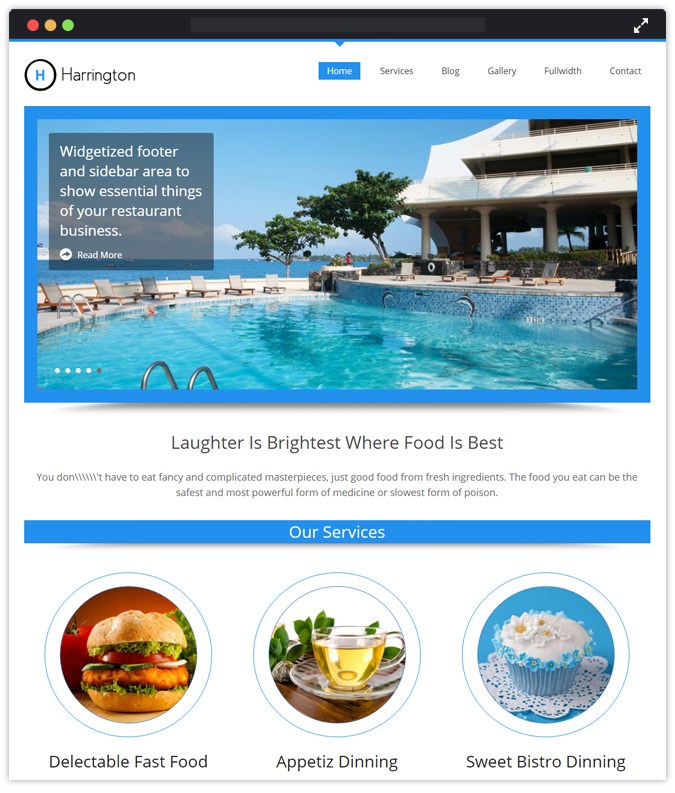 Nourishing features –
The front page comes with an attractive side photograph
A separate section allows you to add your working hours
A three column feature area is there for blog posts
Different sidebars have been used on each page
Add relevant videos and images in the gallery section
Update about events in the events section
Theme Info + DownloadLive Demo
---
CafeHouse
Brewery business is sure to prosper and flourish if you create an appealing website. This theme has been specially designed for breweries, bars, pubs, wineries and other related business ventures.
The dark red layout of the theme is just incredible and restricts visitors from leaving your website. On the top right corner, an area is provided where you can put your opening hours so that visitors can feel free to contact you for any booking or ordering.
This great theme has received excellent ratings from users. You'll surely love the overall look which your site will get once you choose this theme.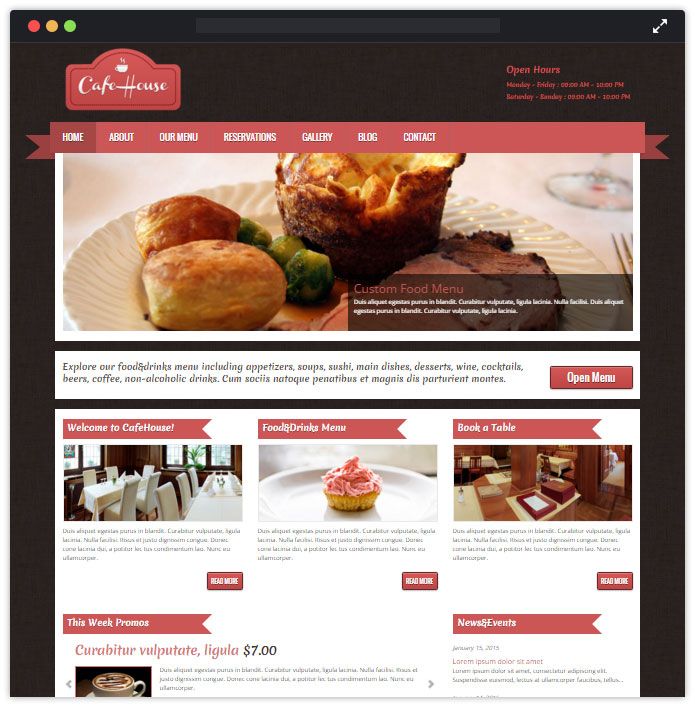 Ideal features of this theme –
Admin panel with tons of customization options
Easily upload a portfolio of the kinds of beer served
Post your blogs in the news section
Use the contacts page with Google maps for better communication
It is translation ready and retina ready layout
Theme Info + DownloadLive Demo
---
MealPack –
This is one of the best OnePage restaurants and brewery business WordPress themes available in the market. The neat, simple styling and the excellent elements have made this theme immensely popular amongst its users.
The theme has a single page structure, which efficaciously presents your work in an impressive manner. MealPack comes with an array of tools that make theme customization a freely convenient task. You will love to see 7 sections provided, where you can place information and service you offer.
So what are you waiting for go start and be free to build your dream business with this brilliant, unique and beautiful template.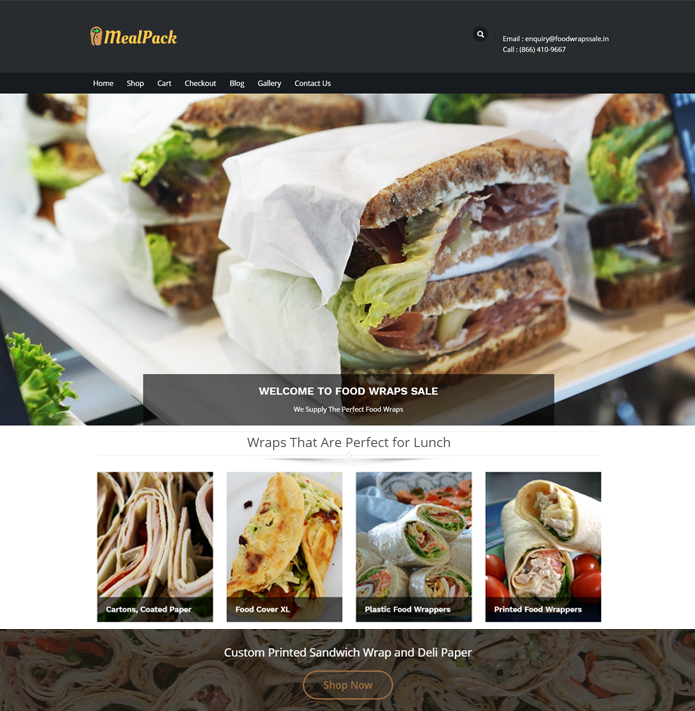 Exclusive features –
It has an entirely responsive design
There are plenty of shortcodes which you can use very easily
It is cross browser compatible and translation ready
Update the latest events and make blog posts
Add various images in the photo galleries
The contact page features a built-in contact form and Google maps
Theme Info + DownloadLive Demo
---
Have a look at our other popular post –