the blog templateWhat if you could not just start off a company dealing with wines, drinks, and pubs, but also sustain it? What if we had just the thing you need to launch yourself in the online world?
When your website is the best way to increase your sales…

Why settle for an ordinary one when you can glam up your site?

Today, we're bringing to you some of the best WordPress themes to get your brewery business started.
These WordPress themes are bound to get your company launched in the right direction alongside getting you newer customers by and by. They simplify your work greatly as the simple click of a button launches you in the online world.
Once this happens, there is no turning back. The number of visitors to your site increases upping your profits by a large margin.
Also, don't forgot to explore the following accumulation of other premium WordPress essentials

8+ Best Nightclub WordPress Themes For Pubs, Bars, Cafes & Lounges

6+ Best PSD Flyer Templates For Festival Offers & Advertisements
---
EcoWine – Organic & Natural Wine Store WordPress Theme
Au Naturale is the way to go! It comes to us as no surprise that winemaking is no different. The latest health fad happens to be biodynamic and organic wines, with grapes procured from the finest vines. One of the most effective ways to get the word out about your winery business is with the help of the EcoWine WordPress theme.
Turn your winery into an e-commerce site that no one can say no to! The theme comes integrated with an impressive WooCommerce plugin. With this, you can transform your run of the mill site into an e-commerce site, selling products online.
---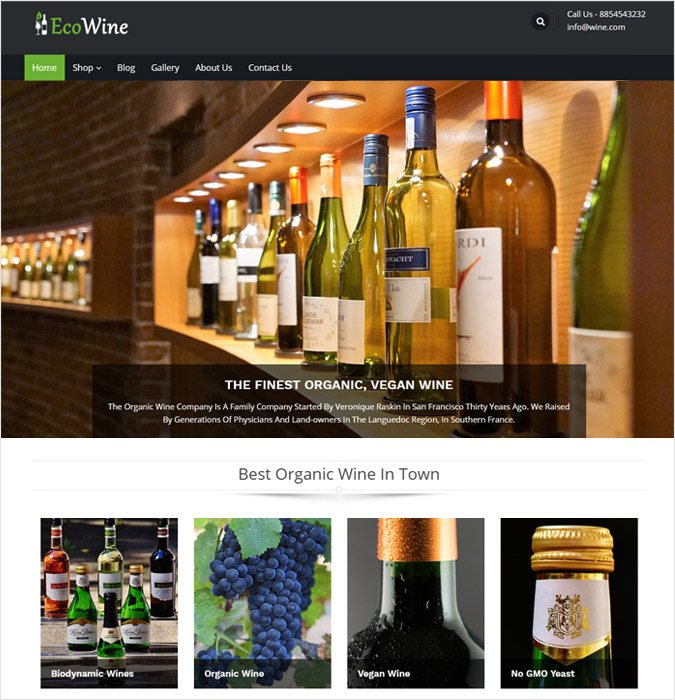 ---
Striking Features Of The EcoWine WordPress Template
This theme is built on the Twitter Bootstrap framework making it easy for people to order products from the comfort of their homes.

There is a separate section which allows you to post pictures of the wines you offer alongside the prices.

Allure your customers with seasonal discounts and offers with the InkThemes admin panel.

Where would you keep all the products you wish to buy? On the shopping cart, of course! Add multiple items to your cart with the shopping cart feature.

When it comes to payments, this theme is one of the safest out there, secured with the PayPal gateway.
---
AlchoGin – Dry Gin Production WordPress Theme
Hard drinks and parties go hand in hand, much like two peas in a pod. If you are someone who is presently in the hard drink manufacturing industry or are looking to venture out into that field, then, boy do we have the theme for you!
The fully responsive AlchoGin theme comes in handy at times when you greatly need it to. With the single click of a button, you can launch yourself in the right space at the right time.
---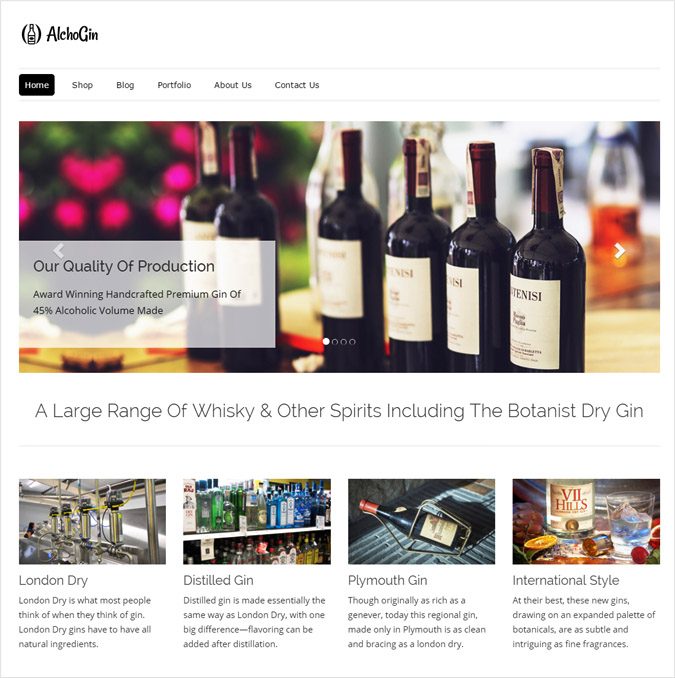 ---
Highlighting Features Of The AlchoGin WordPress Template
The theme is essentially compatible with the WooCommerce plugins which transform your website into an e-commerce site.

The theme comes equipped with a slider section that lets you present the various types of beverages alongside a heading and a description.

With the four column service area, you can highlight the best of your work putting it on a pedestal.

Increase traffic to your site with the blog template of this impressive theme.

If you are looking to establish trust among customers, then the testimonial section is where you need to look. Feature your client's recent feedback so that people develop an initial trust in your services.

The video section lets you showcase footage of how you run your industry.
Theme Info + DownloadLive Demo
---
CityPub – Pub, Lounge & Restaurant WordPress Theme
If you are someone who looks to deliver the best services to the active nightlife in your city, then the CityPub WordPress theme is tailor made for you. It's ideal for bar owners, brew pubs, night clubs, and breweries.
With this pub template, you can display every tiny detail about the services you have to offer. From singing, dancing to gaming, this theme covers it all. At the heart of this theme is the powerful admin panel which puts you in control of all the features of this theme. Increase the number of customers to your nightclubs with this all inclusive theme.
---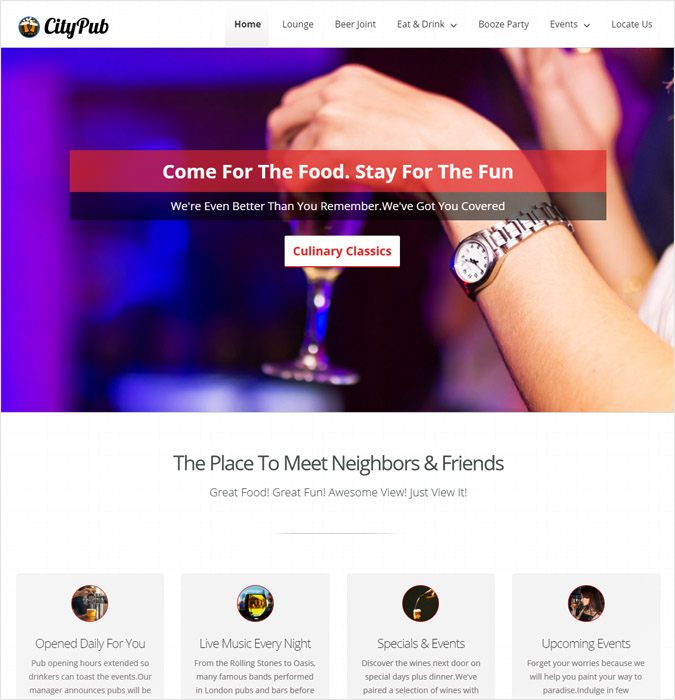 ---
Magnificent Features Of The CityPub WordPress Template
You can make use of the slider to categorize the drinks you offer such as hard drinks, alcoholic beverages, off sale counters and so on.

Catering services featured DJ's and other related services can be displayed to your visitors.

The gallery is a great way to entice your customers with. Lure them in with a sneak peek into the drinks you serve, ranging from vodka, whiskey, and rum to just about anything your bartender can concoct!

The testimonial feature lets customers leave you their feedback along with a picture from their memorable night at your outlet.
Theme Info + DownloadLive Demo
---
GrillBar – Sports Bar And Grill WordPress Theme
Are you looking to create a website for your sports bar? If so, then look no more for we have just what you need- The GrillBar WordPress theme. This template, in all its simplicity, launches your enterprise on the web with little or no effort required from you.
With the multi-page motifs that the bar template comes with, you can spread the word about the palate refreshing meat you have to offer. The theme covers every aspect of your enterprise- right from the interiors to the updates on your cafe.
---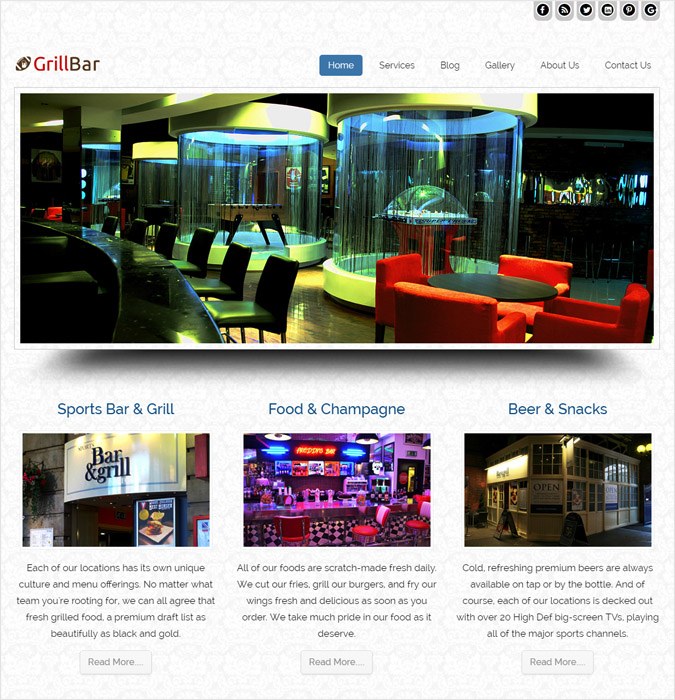 ---
Eye-catching Features Of The Grillbar WordPress Template
The sidebar segments of the inbuilt pages are equipped with the InkAppointment Pro plugin. This allows you to take orders on the fly, thereby reducing the crowd at the counter of your bar.

The powerful admin panel lets you set all your services along with their prices and availability.

Book yourself a spot in the latest party venue with your pals using the PayPal gateway.

Advertise your services with the three columned feature section of the theme.

The Ad Banner space on the homepage lets you display information about the upcoming events in your enterprise.
Theme Info + DownloadLive Demo
---
Redwine – Wine Shop WordPress Theme
Are you looking to take your winery online so as to put it in the spotlight? If you want your Red, Red Wine to reach out to more people, then this theme is just for you. A squeaky clean theme is waiting in line for you to try out. Wine aficionados, pubs, bars and wineries can utilize all this theme has to offer.  
This theme comes with the promise of maximizing your online brands' awareness in no time at all. The overall look and feel of the theme are highly receptive. This is attributed to the slider section which supports images and videos. Seize this opportunity to capture the attention of your visitors.
---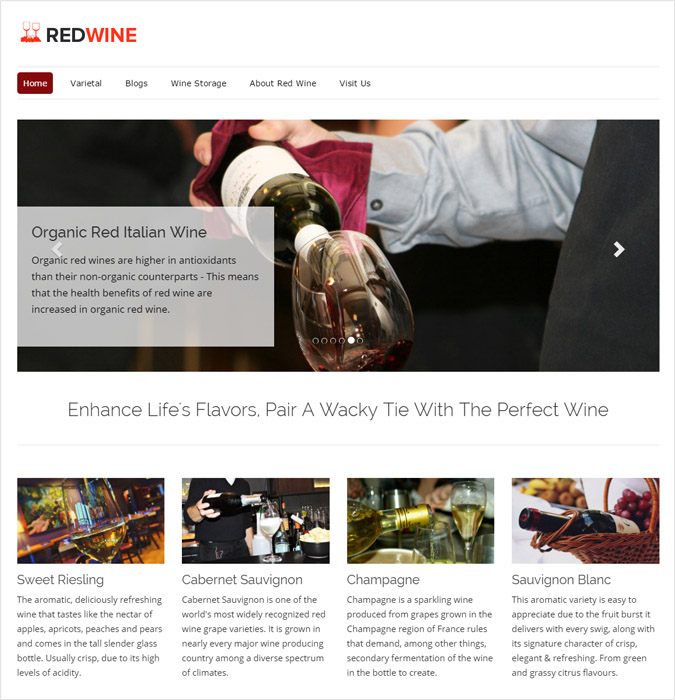 ---
Astonishing Features Of The Redwine WordPress Template
Get people entices with the help of the services section of this brilliant theme. Feature the different types and flavors of wine so as to appeal to your customers.

Blogs are a great way to get the word out about your enterprise. The blog section that this theme comes with is no different. Share your latest cocktail, mocktail, and delicious wine recipes online.

See what your customers have to say about you with the testimonial section of the theme.

It's time to get the camera rolling on your winery. With the gallery section, you can do just that. From Champagne, Cabernet Sauvignon to White Wine, don't hold back on anything.
Theme Info + DownloadLive Demo
---
VinoSavour – Wine Tasting Service WordPress Theme
Wine tasting is no ordinary job. The intricacies that go into savoring a single sip of wine are aplenty. With so much in hand already, juggling an entire wine tasting business is no simple ordeal. This is where the VinoSavour WordPress theme comes in handy. Not only does it ensure happy customers, but also lets you feature the best of your liquor services online.
Premium hotels, bar and restaurant owners and other firms can benefit from this theme. With the boxed slider, you can feature images of your enterprise, adding links to other images as well.
---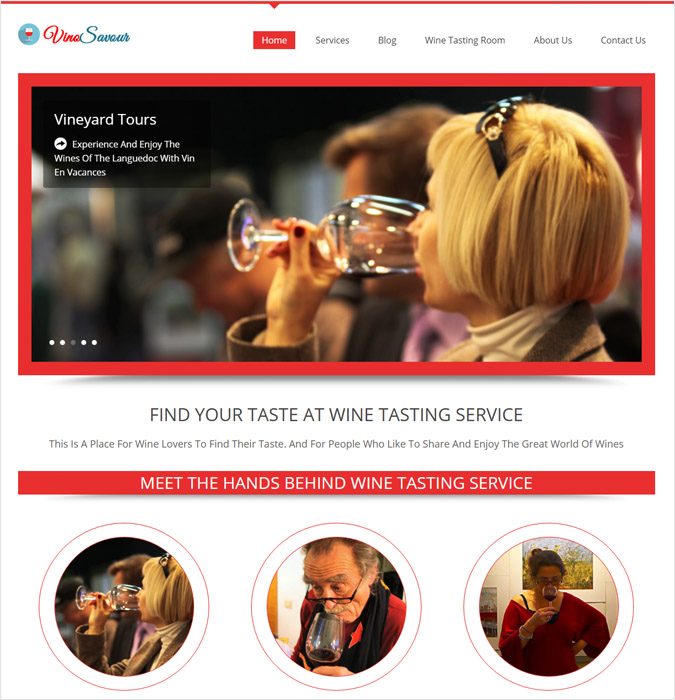 ---
Amazing Features Of The VinoSavour WordPress Template
The three column feature comes with promises abound. It lets you put your best foot first by showcasing the top-notch services you provide.

The blog template lets you pique the interest of visitors who are fairly new to the wine tasting industry. Who knows, you could just turn these visitors into long lasting customers.

The video module lets you show visual footage of your company in an elegant manner.

Connect with your visitors with the contact form.

With the various styling options available, you are spoilt for choice, quite literally!  
Theme Info + DownloadLive Demo
---
Old Wine – Auction WordPress Theme
The OldWine WordPress theme lets you conduct auctions as well as reverse auctions. This theme lets you complete the process of an auction online as well as offline. The auctions plugin lets you display products that are up for grabs.
Visitors can not only place their bids but also be an active part of your enterprise. If auctions aren't your thing, and you see something you like, then you can order your product instantly. The WooCommerce plugin allows you to do this. The theme is also integrated with the WooCommerce auction plugin.
---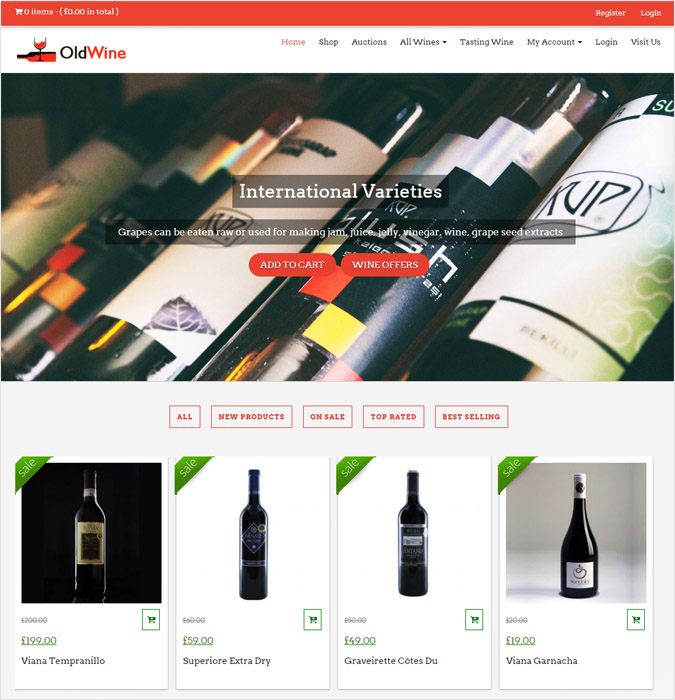 ---
Powerful Features Of The Old Wine WordPress Template
Categorize your products according to Top rated products, best-selling products, and so on.

The shop page lets you display all your products in a grid view and featured list view.

The Add to Cart feature lets users add products to their cart as they navigate through your site.

The theme comes with an auto-bidding system that lets you set the start bid price. Once this is done, the system places an auto-bid for you.

Visitors are free to become a part of your site as members.

Auctions can be scheduled with the countdown timer wherein you can set the start and end date for a particular auction.
Theme Info + DownloadLive Demo
---
BlueBeverage – Beverage Production WordPress Theme
The BlueBeverage WordPress theme is the ideal solution for all Drink Stores, Soft Drink Production Houses, and Wine Stores and so on. A highly elegant theme with multiple functions awaits you. Restaurants, pubs, bars, and cafeterias can incorporate this theme to get the sales rolling.
A prime feature of this theme remains to be the InkLeadGeneration plugin with which you can capture details of your clients in order to give them updates on the latest happenings in your outlet. Clients enter details into the contact form. This information gets stored in the database which can be fetched whenever you want.
---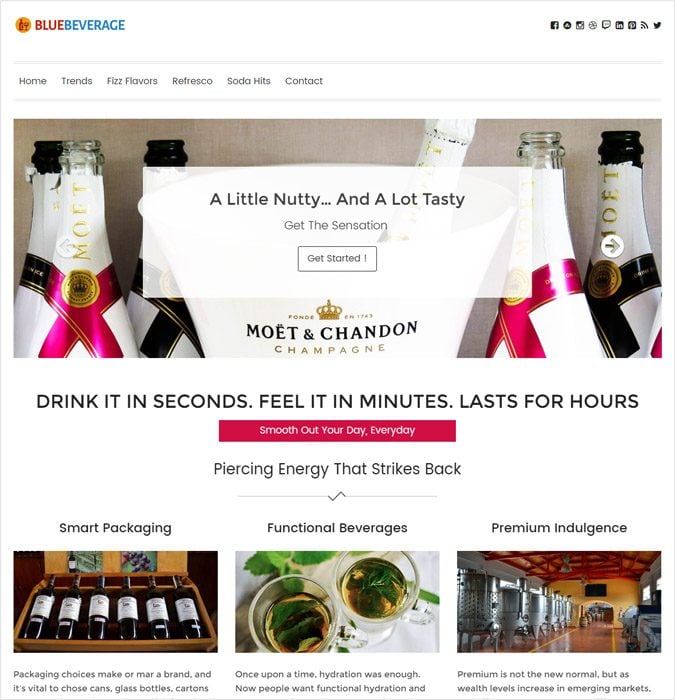 ---
Highly Effective Features Of The BlueBeverage WordPress Template
The boxed slider lets you showcase your drink products with the images.

You can promote your business online by entering your business tagline. This helps to pique the interest of your clients, probing them to linger on your site for a longer period of time.

The Ad Banner Space allows other agents to place their business banner on your website as well. This helps to create revenue.

The three column feature lets you put forth your services in a glorified manner.

With the blog section slider, you can share tips and vital information with your customers.

With the testimonial area, you can display comments about your staff and crew so as to establish a foundation of trust amongst your users.
Theme Info + DownloadLive Demo
---
MakeWine – Alcohol Processing WordPress Theme
Not everyone downs their alcohol the second it arrives at the bar. To some of us, there is more to alcohol than just the initial high. The brains behind the process are of interest to some people such as how the drink was made, how it was fermented, so on and so forth. If you are someone who capitalizes on this vital information, then the MakeWine WordPress theme is just what you need. You can create a commercial portal for wine manufacturing industries, whiskey production houses and so on.
The theme comes with a highly responsive template that lets you use the site from any device. This includes smartphones, laptops, desktops, and tablets.
---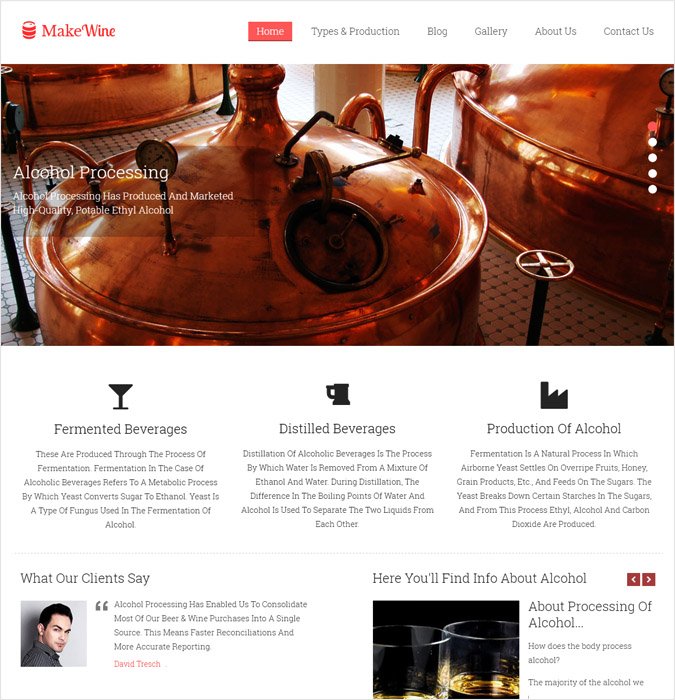 ---
Optimum Features Of The MakeWine WordPress Template
Flaunt your beverage production tools, industrial solutions and other insights with the pre-structured segments of the theme.

The homepage blog area lets you advertise your brand products.

You can disclose comments and feedback of your customers with the testimonial section of the theme.

The contact form lets customers get in touch with you by leaving you their details. This information can come in handy when you want to send updates to your visitors.

The theme is compatible with the latest WordPress version as well.
Theme Info + DownloadLive Demo
---
BeerHouse – Brewery WordPress Theme
The BeerHouse WordPress theme helps you with the branding of your wines and brewery shops. The theme comes with many features that let you present your business in a highly impressive manner. Create a truly one of a kind website with this theme that will help you outrun your competition. Moving images are one way to entice your users.
With the slider, you can create a WordPress website that is bound to stay. Below each slider, there is a text area that gives people an overview of your business.
---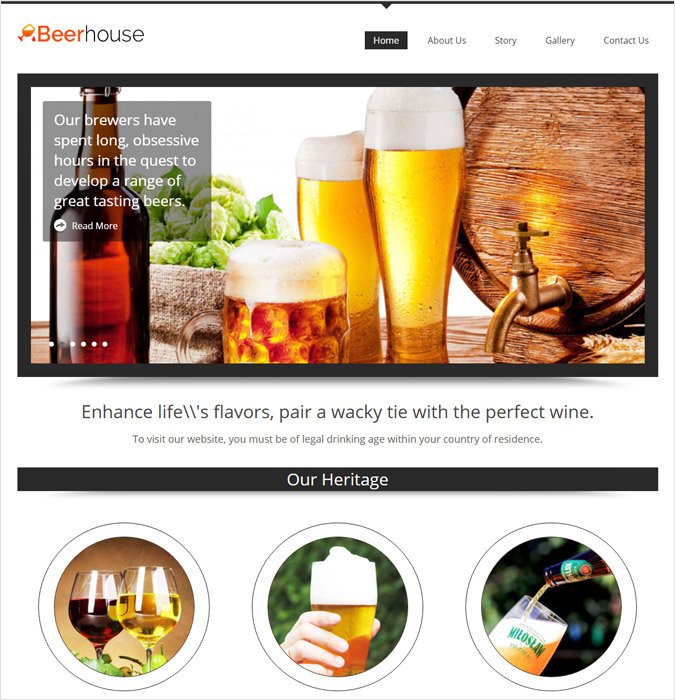 ---
Brilliant Features Of The BeerHouse WordPress Template
The testimonial section lets users leave feedback for your potential customers. There is space on the homepage to let customers leave their vital comments.

With the blog posts, you can include video, audio, and images on the homepage.

Create a brand logo for yourself that you can feature at the top of your web page.

The theme is cross browser compatible making it easy to use.
Theme Info + DownloadLive Demo
---
Final Words
So, what are you waiting for? Let's get the party started with these WordPress themes right away! Drown your worries in these WordPress themes and watch how this is the simple solution to starting your enterprise.