As people are getting more and more used to online booking, websites that provide online booking facility are getting more customers.
So if your business revenue depends on how many number of clients you are getting to serve, a booking system is must for your website that can perfectly design your appointment schedules to get maximum number of clients served.
It may be a clinic, a salon, a restaurant, a rental rooms business, or a consultancy.
An inclusive appointment booking system that fits to your business type and fulfills all your requirements can be really helpful to get more clients, to manage appointments effectively, and to increase your income.
So it's time to spot the most appropriate booking plugin for your website…
---

---
Some of the best appointment plugins available these days are listed down here to help you choose the right booking system for your website that fits according to your business needs.
They will save a lot of your energy, money, time and human resource, they'll let you create a paperless environment in your office, and make you more organized./appointment-booking-wordpress-themes/
---
Let's see which plugin you'll choose.
1. InkAppointment
Ink-Appointment WordPress plugin comes with a robust booking functionality and a wide range of features to tackle your appointments. It provides ace level of flexibility and convenience at both the ends: i.e. for you and your clients.
Supports all kinds of scheduling, booking and appointment requirements such as resource scheduling, client scheduling, general appointment scheduling, event booking, and just whatever.
So whether you offer legal services, running a salon, a fitness center, or a clinic, running a taxi service, or having a business of rental rooms, this plugin tackles all your needs.

Features
Take Bookings for multiple services.
Let customers check appointment space availability.
Show available appointment dates in calendar while booking.
Send automated appointment reminder emails to you and your client.
Set reminder to reach before one day/two days or 1 week before the appointment date.
Disable appointment booking days in bulk.
Disable booking dates for exceptional non working dates.
Enable booking dates for exceptional working days.
Take appointments at accurate time and date slots.
Set number of appointments to be booked at a particular date and time slot.
In-hand payment options available for customers.
Display price to clients while they're booking.
Track records of new and previous customers.
Manage customer appointment list in WordPress Dashboard.
Customize booking form fields according to your business.
Captcha facility to prevent spam.
Compatible with all WordPress Themes.
Price:
$97. One Time Payment. Lifetime Access. Unlimited Site Licence.
---
2. BirchPress
BirchPress Scheduler Pro is an booking and client management plugin appropriate for Client Scheduling for Salons, Clinics, and financial services, Meeting Scheduling for coaching, phone advice, consulting services, etc.
It is ideal for large companies which have their staff scattered in many places, and they provide numerous services at a time. Add this plugin to your website and take appointments at pre-defined locations/branches of your business. Define locations, staff, services as well as clients and create associations between them.
This appointment scheduler is a well-coded and has good UI.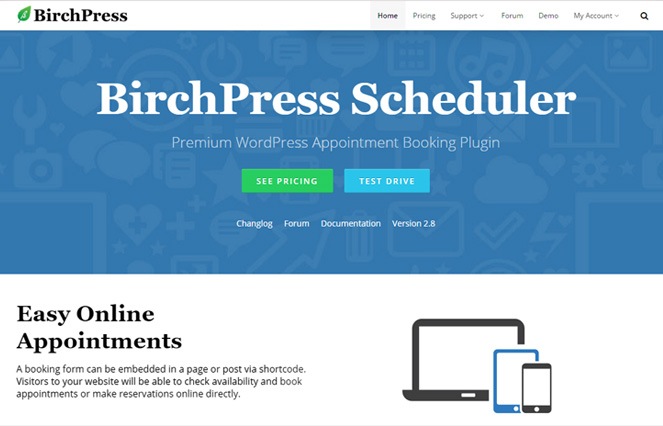 Features
Booking appointments by specific time slots
Optimize the booking form for responsive themes.
Assign your employees to different services.
Powerful Admin Panel for booking/appointment management.
Easily embed booking form/calendar into a webpage with shortcode.
Show appointments/schedules in the daily, weekly or monthly view.
Extra settings for price, duration, and padding time.
Multiple-currency support.
Configure date and time format.
Track appointment payment history.
Multiple languages supported.
Booking calendar synchronized with google calendar, outlook, Android, etc.
Automated notification system to remind customers about appointment.
Price:
Personal – $99 – 1 site
Business – $199 – 1 site
Developer – $499 – 5 sites
---

---
3. Bookly
Bookly provides a comprehensive and easy to use WordPress booking system. This plugin has robust back-end admin features with some wide range of booking options out there.
It is quite impressive WordPress booking plugin with so many of visual customization options which lack in other plugins. Its beautiful designs and images make it most pleasant, intuitive and user-friendly. Moreover, it is quick and saves time for both the admin and the user.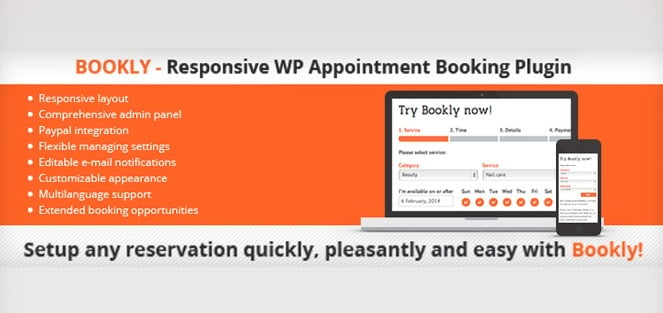 Features
Syncs with Google Calendar.
Responsive layout for good experience in all devices.
Customize colors of the front-end booking calendar to match your site.
Integrate PayPal payments.
See payments reports in WordPress dashboard.
Export CSV of your appointment list.
Properly documented to help in setup.
Add unlimited staff member details.
Add services offered (personalize the prices for each member and service), working days and off days.
Color codes to make booking calendar intuitive.
Add unlimited number of services.
Send email notification directly from WordPress.
Price:
$46 – Lifetime Access.
---
4. HBook – Hotel booking system
Booking calendar is one of the oldest booking systems in the market. It comes with an intuitive interface and flexible functionality paper writer. This makes it a right fit tool for a wide range of businesses that require Resource scheduling (hotel rooms, apartments, houses, etc.), Client scheduling (lawyers, beauty salons, photographers, spas, therapists), Meeting Scheduling, Event scheduling, Patient scheduling.
A slightly different plugin from others that don't sync with Google Calendar. You can simply create and a booking calendar and post it to your WordPress Booking page using a shortcode.
Your calendars are set up and managed fully in your WP Dashboard. Its easy interface gives a better user experience. You can take a look at its preview for how it would be like.
Its options and features listed below are fewer still pretty powerful.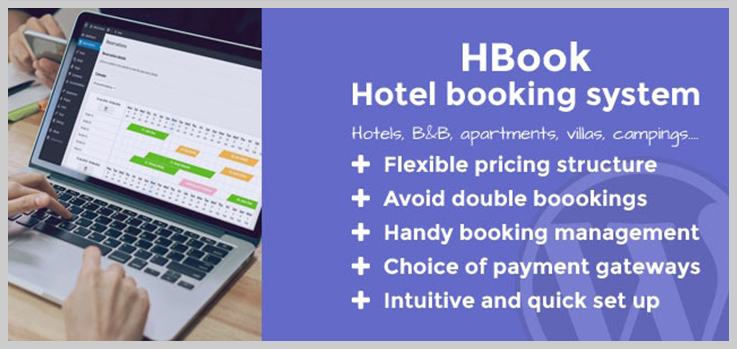 Features
Visitors can check availability for specific day(s) or time slots.
Customize calendar colors by editing CSS styles.
Use unlimited number of calendars.
Specify different settings for each calendar.
Prevent of double booking or allow multiple bookings.
Configure settings to fit to your business workflow processes.
Multiple choice of reservations.
Calendar Overview to manage bookings.
Time-slots functionality supported.
Sort bookings by various parameters.
Set available/unavailable days in calendar.
Shows bookings in TimeLine.
Email notifications to administrators and users.
Set availability for a specific season.
Captcha option to prevent spam.
Fully responsive booking form and calendar.
PayPal Integration.
Easy to use interface.
Supports WPML and qTranslate plugins.
Users can edit existing bookings.
Supports multiple booking admin panels.
Set Specific fields as required fields in form.
Redirect customer to a any page after booking.
Multi-language support.
Price:
Price varies on the basis of Licence terms and features you choose. It has a regular license of $49 in which you will get all future updates and 6 months of support.
---
5. MotoPress Appointment Booking
MotoPress, the creators of this appointment scheduling system for WordPress, are the leaders in the hospitality business for online hotel and vacation rental bookings. However, the MotoPress Appointment Booking plugin is designed specifically for the hourly booking needs of appointment businesses. Such as clinics, consulting, education, wellness, spa, hairdressing, and other service-based establishments.
This appointments plugin for WordPress allows you to create a system of unlimited staff members, their flexible schedules, and services. It connects them to the real-time appointment booking wizard that helps clients make a booking in a few clicks.
The plugin ships with all the tools you might need to personalize working days, service durations, appointment capacity, currency, booking statuses, and more essential features.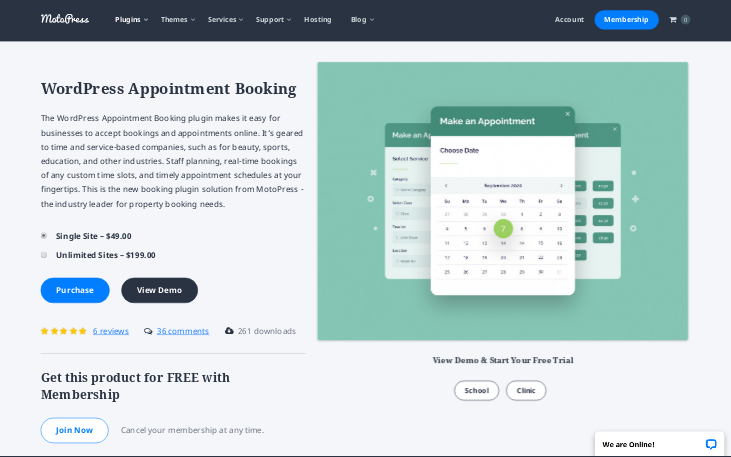 Features
Support for unlimited salon/shop/location items.
Completely customizable service specifics based on the employee.
Mobile-friendly and intuitive appointment booking wizard.
Clients can book multiple services at one go.
Customizable automated email notifications.
Translated into English, Spanish, Italian, French & German.
Integrated with the block editor, Divi and Elementor widgets.
Price:
$49 single site/per year.
$199 unlimited sites/per year.
---
6. Webba Booking
Webba Booking is a very comprehensive booking system. It offers an array of features that make your booking system a dynamic one. Easily insert a booking calendar in your posts or pages and you can manage everything from inside the WordPress admin panel.
It offers ace level of flexibility in scheduling your appointments. Its has functionality to let you specify available time slots, business hours, lunch breaks, and meeting hours. Overall, it also offers an easy and quick booking management solution that specializes in client scheduling.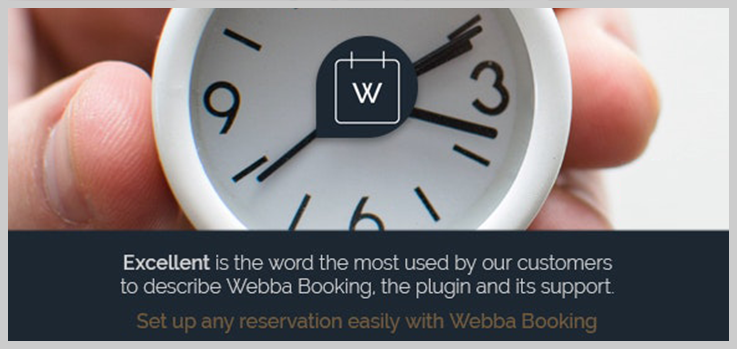 Features
Easily insert booking calendar in posts or pages.
Block Timeslots for Lunch, Holiday. Meeting etc.
Export Appointments lists as CSV file.
Multilingual: Translate plugin in your language.
Insert Booking Calendar into any Post/Page using ShortCode
Customizable Business Hours.
Customizable Staff Hours.
Accept payment on booking via Payment Gateway.
Email reminder notification for both admin and clients.
Approve/disapprove registrations. Actions are followed by notifications.
Multiple Staff notification.
Price:
It is available in a single license that includes all future updates and 6 months of support. You have to pay $119 only to get this plugin.
---

---
7. Booki
Booki is another simple plugin but with a comprehensive back-end that enables you to make appointments in a systematic and organized manner.
The best part of Booki is that you can manage everything from within your WordPress site's admin panel – it is has such a powerful admin dashboard. It also comes with good level of service management, staff management, and client management capabilities.
Booking appointments with Booki is easy. The user has to click on the date showing in the calendar, fill details in a form, select preferred member from the staff, pick an available time, and make a booking. Also, you can give the flexibility to get memberships from WordPress Membership Plugin.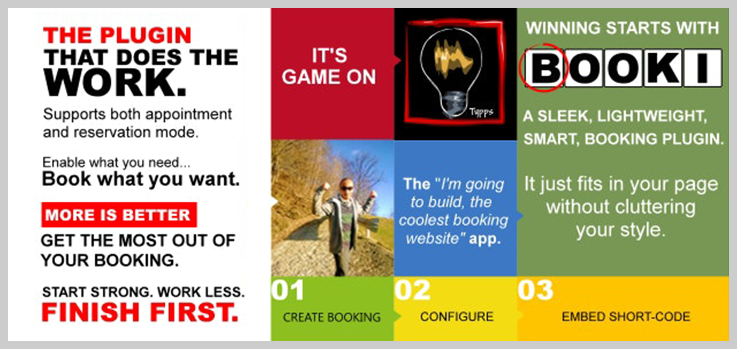 Features
Manages your staff and services even if there are numerous of them.
Customize booking system by adding break time, business hours, official holidays, staff holidays, etc.
Easily manages staff database and links them to their services.
Automatically adds new appointments into the Database.
Appointments are synced with Google Calendar.
Email Notification.
Powerful and Intuitive Admin Dashboard.
Service, Staff, and Client Management capability.
Paypal Support to accept payment on Booking.
Specify working hours and off days and times.
Google calendar integration.
Price:
It is available in two license regular and extended,  which cost you $29 and $130 respectively.
---
8. Team Booking
Team booking is an efficient booking system with high flexibility and customization options to create your own form to perfectly fit your needs.
It integrates Google calendar and helps you plan availability and manage reservations. It is collaborative and has multiple distinctive features for various coworkers to work on under one system and handle clients together in a systematic way.
This booking template offers a flawless system for reservation, logs & stats, notification and email confirmation system, PayPal payment support, multiple language supports and so on.
Features
A variety of options to modify your booking form according to your requirements.
Customize the front end aesthetics of your booking form.
Email confirmation and notification system.
Notification triggers for three recipients – the admin, the coworkers and the user.
Download appointment database as a CVS file.
Coworkers can work collaboratively for one service.
Support for multiple languages.
Show service center location on Google map.
Responsive form.
Price:
It is available in two licenses in which you will get all the future updates and 6 months of support. The pricing is as follows
Regular Licence: $22
Extended Licence: $110
---
9. Pinpoint Booking System (PRO)
This plugin easily creates a booking/reservation system for your website. It displays a calendar for users to see availability and book dates and hours.
It gives you an extra ability to add amenities, services & other stuff to the booking requests, offer discounts on bookings, and create coupon/voucher codes for your clients.
You can create your own booking forms with custom fields, and with CSS templates, customize the front end of your booking form.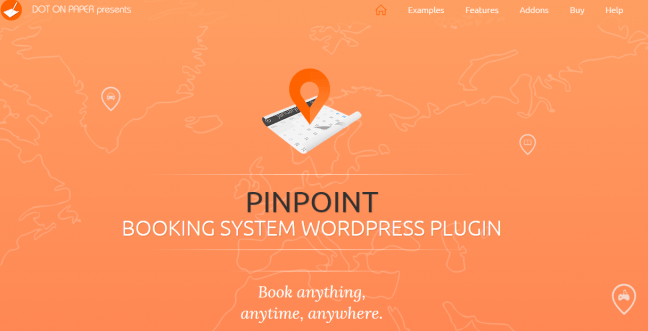 Features
A booking calendar is displayed for clients to view availability and make appointments.
Create unlimited number of booking calendars.
In the calendar, clients can choose days and/or hours and period for booking.
A client can select multiple time slots while making an appointment.
Add, approve, reject, cancel or delete a booking request (reservation).
Translation ready. Have booking system in your own language.
Create discount offers for the clients.
Stopped Booking after x minutes/hours/days in advance.
AJAX powered booking system for page-refresh free booking.
Clients can search availability, select number of rooms/items, select extras & services, use coupons/vouchers.
Provides reservation summary with discounts & taxes/fees.
---
10. Booked
Booked is an efficient booking system which will help you create a powerful and dynamic booking system. All the appointments and reservations are made via Google calendar and once it is made it is updated automatically. Booked has multiple distinctive features which make it a dynamic appointment plugin. Various coworkers can deal and work with this booking system.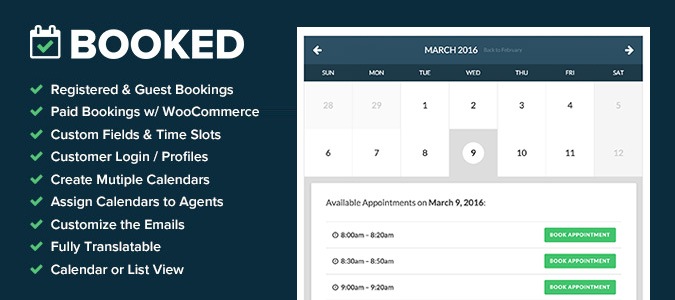 Features
Booked offers a variety of customization options with the help of which you can modify your booking form according to your requirements.
In team booking system after the appointment is made, a notification triggers for three recipients the admin, coworkers and the user. Because of this useful feature, all three parties remain in the chain and responsive at the same time.
The whole appointment Database is downloadable as a CVS file.
The coworkers can work collaboratively for the same service.
It also has a language support option.
---
11. Appointments + WordPress plugin
Appointment+ is another fantastic booking plugin by wpmudev.
Various service providers, hair salons, beauticians, academic services like tutors, academies, and everyone will equally benefit from this plugin.
Its easy and diverse features will organize your business and take it to the next level.
It offers time slot flexibility for advanced service duration control and to add padding time around appointments for perfect scheduling of appointments.
Appointments + works nicely with any theme and has clean front end interface. Using color presets you can perfectly match your brand with the color picker.
With various addons you can further extend its functionality to another level.
Features
Appointment + comes with a saperate widget for team members and their services.
You can create saperate custom pofiles for each team member so the users can get the availability of each team member saperately.
Date, time, working hours, off time, break timings all are specified to help the user get a clear view of their appointment time, and they don't have to wait for their turn for hours.
For the convenience of users, they can easily login via Facebook, Twitter, Google+, WordPress, etc
You can easily get to see the weekly or monthly schedule priorly or afterward.
It gives you convenient reminders regarding your appointments and also notifies you in the case of cancellation.
---
Summing Up
This was just a quick round-up of the appointment plugins out there.
If you have a booking calendar plugin that you love or hate, Kindly share.
Also read some of our popular post ->