Organizing things in a better way is the key to any successful management, and in order to do so, it is essential to have one such tool that streamlines all your business information at one place.
Having a business which has a lot of traffic at your venue requires to be managed properly, managing it online will help you handle your work more efficiently when it comes to projecting yourself on the web WordPress themes will do the finest job for you.
Every business needs a mechanism which can handle features such as booking appointments, dispensing services, exhibiting images related to the business, receiving feedback or advice from clients or customers.
If you are a doctor, hairstylist, dietician, astrologer, lawyer, summer resort booking agencies or any other profession that requires giving appointments to your clients then 6 Best Appointment Booking WordPress Themes would serve your purpose.
Besides, you can also explore our relevant travel booking blog posts-
---
1. Colorway – Appointment Booking WordPress Theme
Colorway is the lightweight Elementor based WordPress theme that provides an integrated booking system for all kinds of businesses like salons, hotels, gyms, etc. on the website without any coding knowledge.
An AppointUp addon is the key feature of this theme that allows you to create a booking system for whatever types of appointment & reservation you want to schedule. You have the ability to set many things like booking notification via SMS, appointment reminder by emails, payment options, etc on the website. Further, you can customize all of these options without any hassle.
Besides that, it includes LeadUp addon to change your site into the entire lead generating website. The theme provides various in-built contact forms that you can import into your website for interacting with the site customers.
Colorway gives you more than 35 pre-designed templates that have a modern look to create any sort of business websites in an appealing way. Moreover, you get many customization options like coloring styles, backgrounds, logos, etc to extend & modify the website as you want.
---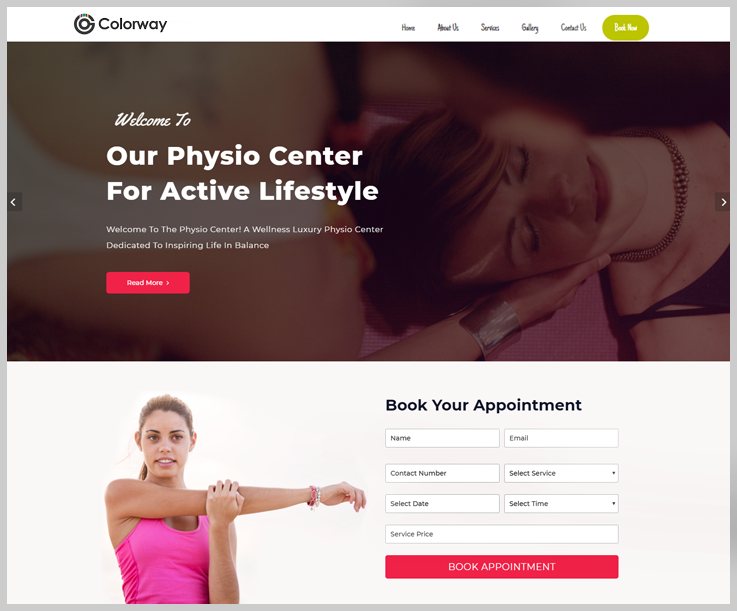 ---
Some Key Traits Of Colorway WordPress Theme:
Typography options
Single-click installation
Completely responsive theme
Included widgets & shortcodes
Renders sidebars & quick navigation
SEO optimized & advanced admin panel
Image comparer addon & gallery section
Social media platforms buttons available in the theme
It has advanced WooCommerce integration to create an eCommerce website where you can sell anything related to your business.
Price – Download Colorway from WordPress.org at free of charge
Theme Info + DownloadLive Demo
---
2. SmartBooking – Online Appointment Booking Theme for WordPress
SmartBooking is one of the best Appointment WordPress Theme, designed for businesses such as spa salons, cab booking services, prescription, advisory firms, etc, to pre-schedule online appointments for your online/offline services.It does exactly what its name says i.e. provides a smart integrated booking system that makes it super easy for your customers to book products or services through your website. Just install the theme, activate the Appointment Plugin and start using it in no time. It supports PayPal for accepting online payment and also have a custom pay later option.
The full width slider on the homepage of the theme has an elegant display that enables you to project your business images in a defined way, the theme has a blog section which works in a sliding manner, The "About Us" section on the theme enables you to introduce cab driving business services briefly.
Collect Payments, Book Appointments, and make your website more impressive
---
Some interesting features of SmartBooking are –
Custom CSS.

Show prices for the products in the form for which a client wants to book.
Beautiful sliders.

5-different blog post formats available.

Compatible with all major browsers.

Contact map, about section on the homepage.
Neat-clean typography.

Easy customization of pages.

Various default templates.

Advanced options panel to customize website according to requirement.
Price – SmartBooking theme has a pricing of $59.
Theme Info + DownloadLive Demo
---
3. AppointWay – WordPress Appointment Booking Theme
AppointWay is another incredibly useful appointment scheduling theme for WordPress. It comes with integrated Appointment plugin which creates a fully-capable, streamline online bookings system that includes a collection of payments, email delivery on successful appointments, prevents double bookings, etc. You can easily define the date and time slots for different services and set multiple booking on a particular time slot. It can be used for the service firms like Dentists, Tattoo Studios, Sauna Salons, Massage Therapists, Lawyers, and Health Clubs.
Receiving feedback and working according to the clients needs will be possible through the testimonial section of the theme,  In addition to that the theme has a 3 column service area which present services of your business staggeringly. The template has an integrated google map to let your customers search you easily.
Requires single click installation and your website will be ready within no time.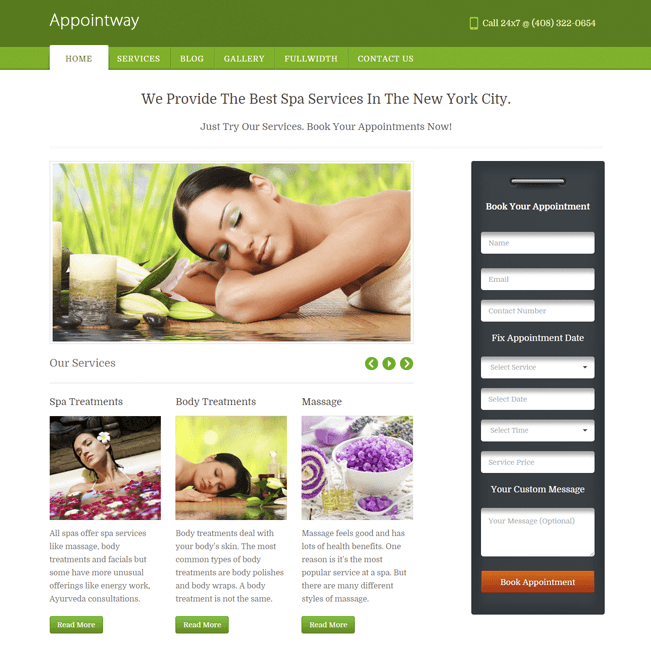 Some interesting features of AppointWay are –
Fully responsive.

Multiple styling options.

Simplistic appointment forms for prompt client bookings.

Easy, 3-step configuration.

Easy to use option panel.

Integrated payments module.

Business location map.
Price – AppointWay has a pricing of $97.
Theme Info + DownloadLive Demo
---
---
4. Service Biz – Appointment Booking WordPress Theme
Service Biz is yet another appointment booking theme with a clear, responsive design that looks good in all mobile devices. The theme is designed to match the needs of service firms such as legal practices, spa salons, wellness centers, doctors, hospitals websites, etc.It comes bundled with the Template Revolution plugin and Appointment add-on and also does Woo Commerce – a free e-commerce plugin that allow you to sell products with Service Biz. It Supports two payment gateways such as 2Checkout and PayPal.
The theme has a large feature area where your highlighted hospice services and features of the business can be demonstrated, The template also has a testimonial section where feedback from customers can be received. The theme also has a product section as well where you business products can be displayed in an astonishing way.
Modern looks and beautiful typography theme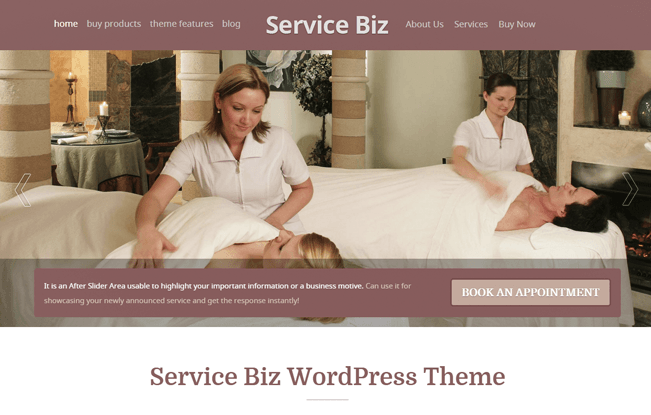 Some interesting features of Service Biz are –
Service Showcase.

Online appointments.

e-commerce.

Highly Customizable Homepage.

Multilingual Support.

Appointments Calendar.

Unlimited Color Options.
Price – The standard version of the theme goes for $65
Theme Info + DownloadLive Demo
---
5. Hair Care – Salon WordPress Theme
Hair Care WordPress theme is designed for stylists, barbers, spa owners and other service-oriented small businesses. It is capable of taking online bookings for all the various types of services provided by a salon. You can easily showcase your services, location, staff, working hours and testimonials. It has a fully featured booking, appointment management system, and a system to send out email notifications to the admin and client. You can set opening and closing hours for every day of the week, view and manage orders, accept/cancel and manage requests, online actor booking facilities and so on.
The template has a boxed slider where your various hair salon images can be flaunted, the skin is also supported with a customer feedback section where all the advice and suggestions from the customers can be received and can be used to improve your business according to the need of the customers. The theme has a pricing page which can be used to show the costs of the available services on your hair salon.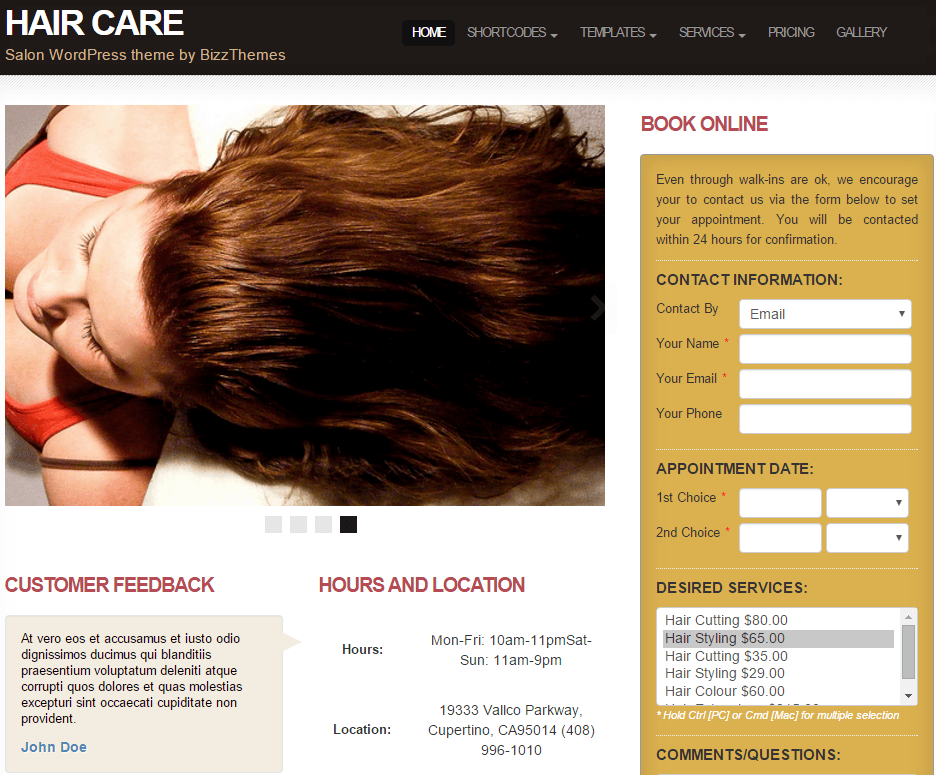 Features –
Fully Responsive Theme. Looks stunning on all devices.
Full Booking System.
Easily Manage your Services.
Advanced Slider.
Custom Templates.
Translation Ready

.

40+ Custom Shortcodes.
Price: $69.
Theme Info + DownloadLive Demo
---
6. Worker – Small Business Booking WordPress Theme
"Worker" is an attractive, multi-purpose WordPress appointments theme that is designed for the small-scale entrepreneur or business owner. It is good for physicians, coaches, teachers, mentors, hair stylists, personal trainers, cabinetmakers, consultants, contractors, etc.It has inbuilt portfolio functionality so that the business owner can feature some of their best past work. It has a simple appointment booking features that is powered by the 'Booked' premium plugin for motel WordPress template.
The theme has a magnificent full width slider where all your business related images can be exhibited to attract more customers, the skin also has a 3 column service area which has a dazzling view where all your pertinent services can be served. The theme also supports a pricing section where costs of all the individual and exclusive services can be presented. The 3 column blog area is the descriptive section of the theme where your Broadway shows enhancing content can be shared.
Some interesting features of Worker are –
Appointment Schedule.
Page Builder helps you create, arrange or remove sections as needed.
Custom time slots.
Manage appointments via back-end interface.
Customers can manage their own appointments.
Custom administrator and client emails.
The portfolio includes custom layouts, multimedia support, filter options, etc. It simplifies the task of listing your past projects using descriptions, videos, photos, etc.
Google calendar support.
Fully translatable.
Fully responsive front-end and admin area.
Customization options of color and layouts.
Price – The Worker theme has a pricing of $48.
Theme Info + DownloadLive Demo
---
7. Neural Health – NeuroPsychiatrist WordPress Theme
Neural Health is another theme designed for small businesses that make the task of online appointment booking and scheduling very easy. It offers customization of pre-built demos hence very easy and flexible to use. It comes with an integrated WordPress Plugin that lets your visitors book their appointments online through your website. It also accepts online payments and has a pricing comparison tables and social media integration. You can create different types of websites with Neural Health Themes like health and wellness related website, Stylist, Coach, Trainer, Barber layouts, hotel booking portals, etc.
The template is supported with a full width slider section which can be used to display your amazing business images uplifting your theme outlook. The 3 column feature area caters services and features that promote your business and trade. The theme also has an independent video section which can be used to give virtual tour of your business to the customers.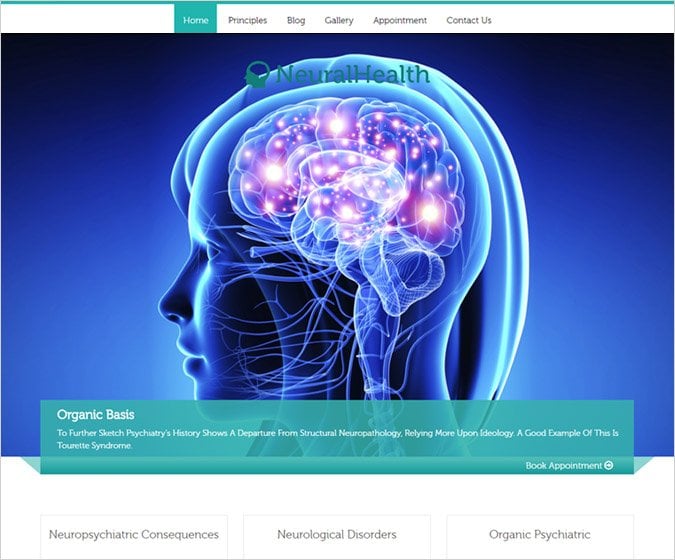 Some interesting features of Neural Health are –
Beautiful responsive design.
Retina Ready & Touch Optimized.
Full Background & Custom Page Header Options.
Easy to use Page Builder.
Robust Theme Options Panel.
Full parallax support.
Price: The Neural Health theme has a pricing of $79.
Theme Info + DownloadLive Demo
---
Conclusion
You have been acquainted with the 6 outstanding appointment booking themes for WordPress and learned about the features that make them great.
I do hope that this list helps you make an informed choice so that, you can create a truly powerful website for your business.
Please share your thoughts and contributions in the comments section below.
Thanks for reading.