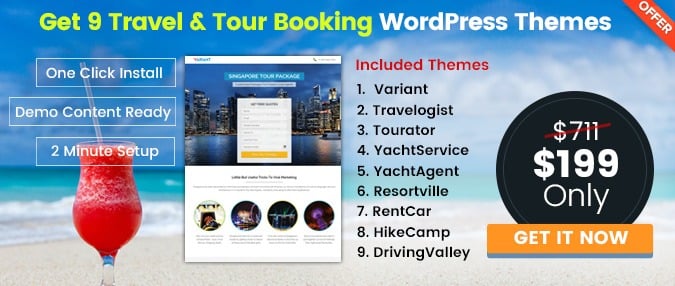 Are you working as a tourism planner and having a travel agency.?
But, don't have any website and your traveling agency haven't even reached online yet.
Well, you are really facing a Big Loss!
Thinking how?
As the travel industry is swarmed with competitors – which industry isn't, anyway – travel agencies and agents have to be at the top of their game at all times.
Nowadays, every people go online for booking their tour and travel before going to some new destination places.
One way to stand out and pull more clients to your travel agency is by having a travel portal. Travel websites are the first place travelers to go, to check the latest discounts and offers. And if you don't have any website for your business then you are losing tons of clients.
So, do you want to develop a website for your traveling and tourism business.?
Well,
The following set of 15+ best travel and tour booking WordPress themes are truly the best, and they help you deliver no less than the best!
Have a look at another blog post that consists of WordPress themes for transportation –
Let's begin from here.
1.Colorway – WordPress Theme For Travel Agency
Colorway is one of the most premium WordPress theme available in the marketplace.
This theme is completely Elementor based and comes with easy to use 35 plus templates. All these templates are completely customizable as a result of you can design a website as per your requirement.
Additionally, this is the fastest and most lightweight theme available, thus with all the features of this theme, you can effortlessly create a website for your tours and travel agency.
Have a look at some interesting features of Colorway –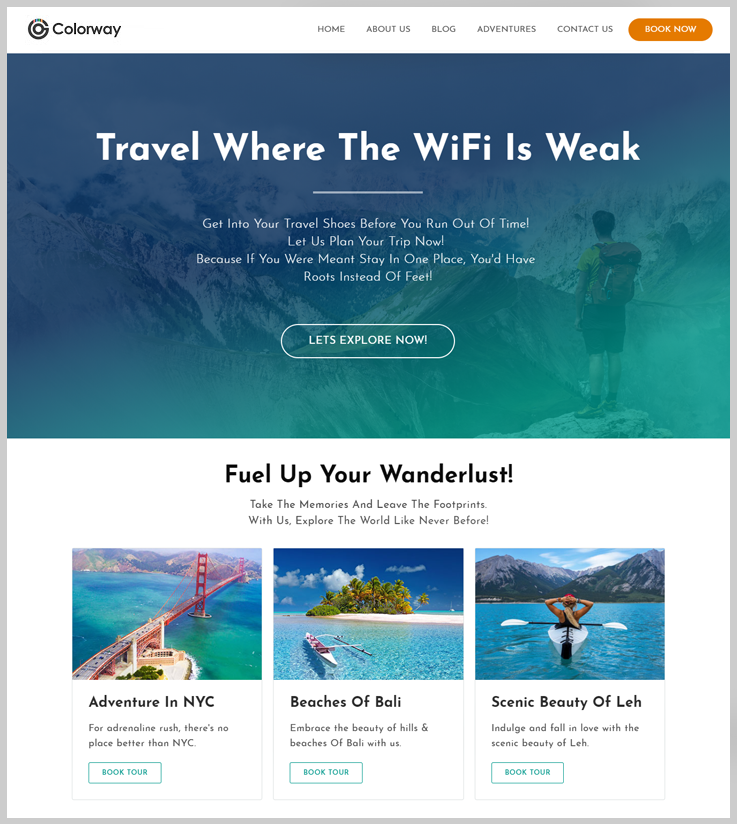 Unlimited styling and color options included with the theme.
Advanced addon for appointment booking and lead capturing for your website.  As a result of this, your users can fill customized forms and book their schedule easily on your website.
Colorway offers you options for adding images, video, and text to the slider of your website.
SEO optimized making your website search engine friendly.
This theme is completely responsive in nature and is cross-browser compatible making it browser friendly.
Theme Info + DownloadLive Demo
---
2. Variant – Lead Generation WordPress Theme For Agency Business
Variant is an excellent booking and travels WordPress theme with lots of attractive and handy tools.
The main features that make this theme stand out among others are – it is conversation optimized, it has 5 great landing page layouts for you to choose and you can create any kind of forms with Form Get form builder and use it on your booking page.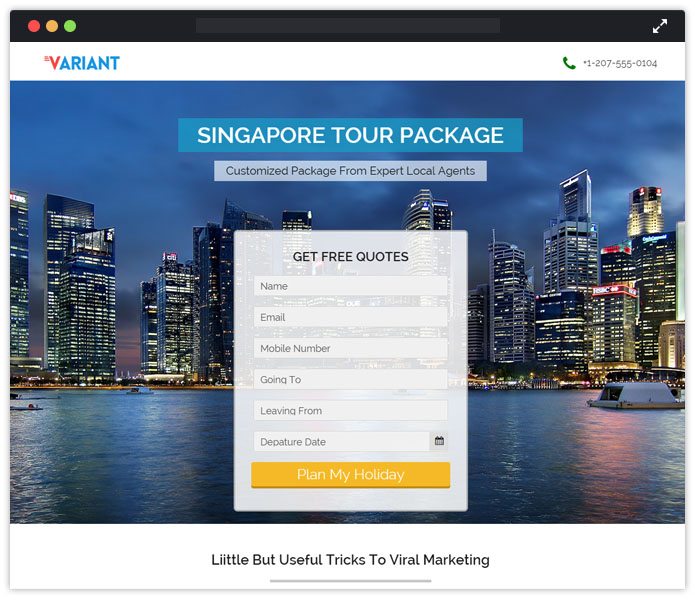 ---
Have a look at some interesting features of Variant –
Show your touring company's booking plans and let your clients know what do you have to offer.
Stylize your page with interesting styles and attract clients.

A redirect page at your showcase buttons, where you provide more information about a particular service

Supports FormGet – so you can create forms that will be very easy to fill in by your clients.

Supports PayPal and makes payments easier.

SEO optimized for your clients to find you very easy.
Theme Info + DownloadLive Demo
---
3. Travelogist – Tour Guide WordPress Theme
This is one of the most interesting and user-friendly WordPress themes. This theme can be useful for solo tour operators, travel agencies and travel bloggers, travel consultants, retreat planners and interpreters.
Whether you're into organizing specialized tours and trips, or would like to share your travel experiences including tips and advice, then this is the theme which you must pick to establish an online presence.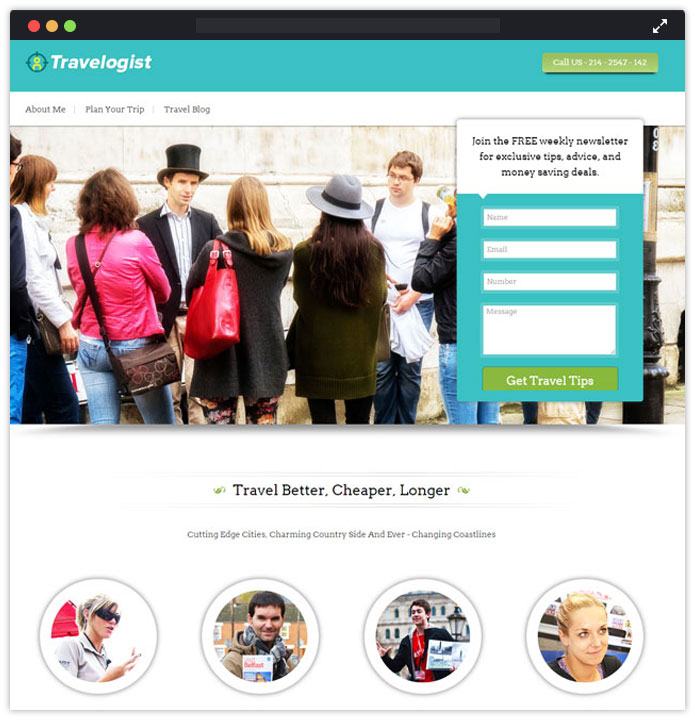 ---
Have a look at some interesting features of Travelogist-
It has a layout with a full-width spread.
The wide slider carousels give you the facility to showcase some great high-res travel images which will trigger the interest of the clients.
4 columns section to showcase services offered by your tour agency.
If you're a travel blogger, this theme has an inbuilt customizable lead-gen feature which lets you generate clients and contacts via an emailing feature.
Theme Info + DownloadLive Demo
---
4.Tourator – Tour Operator Services WordPress Theme
This is a rather comprehensive WordPress theme for anyone who is in the travels business and would like the online website to offer their customers an elaborate set of services on the website itself, saving customers the hassle of visiting different portals to accomplish the same.
The theme is packed with an all-inclusive booking setup through which you make a booking for hotel accommodation and book holiday tours as well. Tourists can easily book for any of the tours and holiday packages based on the dates set by you.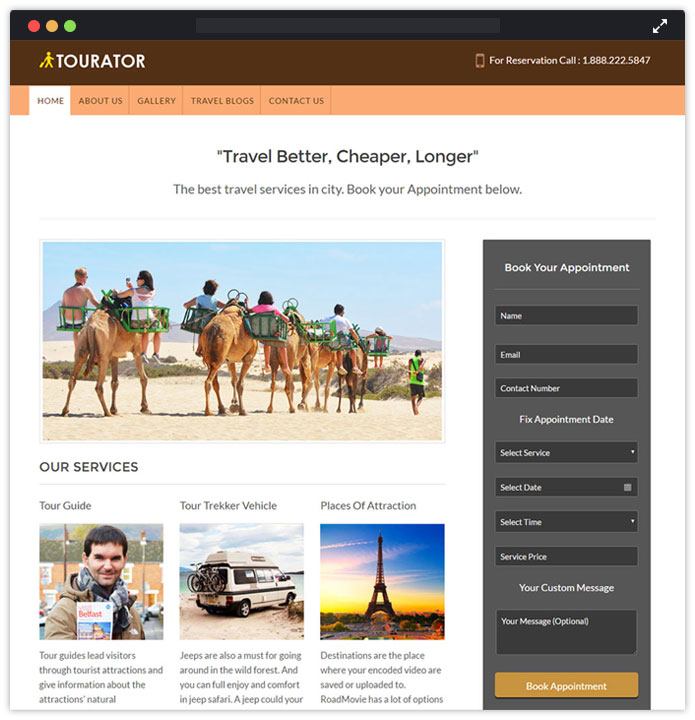 ---
Have a look at some interesting features of Tourator-
Full-fledged, solo-controlled booking system with an Online payment system.
You can customize the manner in which you elaborate the travel plans and packages to your customers.
Travel blogs and Contact page section.
Theme Info + DownloadLive Demo
---
5. YachtService – Yachting WordPress Theme
YachtService is a flexible WordPress Theme perfect for travel agencies, package tour companies and tour operators. In this types of business people is in search of innovative companies who offers great deals and organise a complete tour holiday.
YachtService is also capable of fulfilling the desires of Yachting and Sailing world, Yacht Agents, Yacht Club, Speed Motor Boats Racers, Dinghy Racers, Sailing Agents, etc.
Do not think twice as to speed up your business and give everlasting memories to your customers grab this amazing theme. Do access themes live preview to know how its features can enhance your website.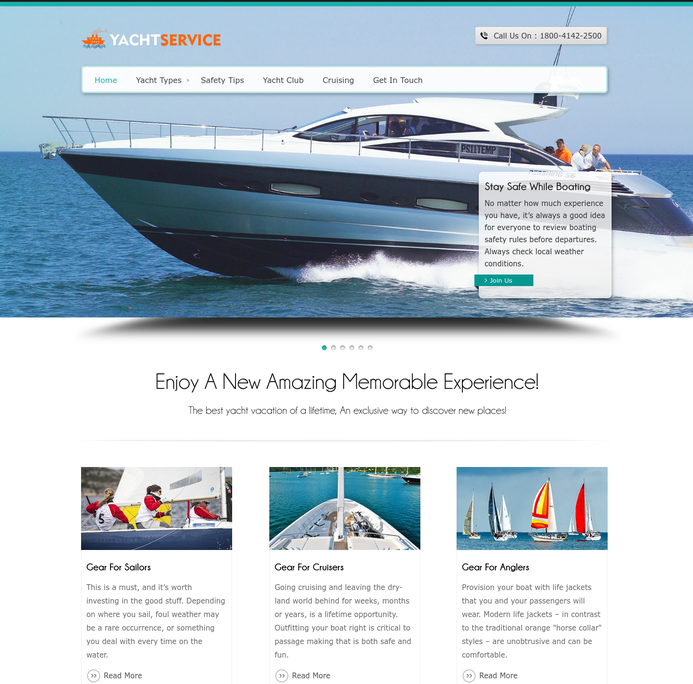 ---
Have a look at some interesting features of YachtService –
12 Eye Soothing Color Skins.

Tap to call button

– to book schedules or

inquiries

.

3 Column Feature Area – flaunt what all services you provide.

4 Column

widgetized footer.

Lifetime Update.

Google Map integration

on Contact Page.

SEO friendly and High-Resolution Graphics.

Fully Responsive –

looks fantastic on all devices.
Theme Info + DownloadLive Demo
---
6. Hayes – WordPress Blog Theme
Hayes features not only a modern and minimalist design, it is also a standout WordPress theme for one reason: the focus is on your content first and foremost. Theme is suitable for travel agents, travel bloggers and photographers.
Its modern personality would be perfect for a blog, and especially a web design related one. Hayes is a WordPress Blog Theme in clean and bold Design.
Travel bloggers can create beautiful galleries to show their journeys simply, with no coding required at your end.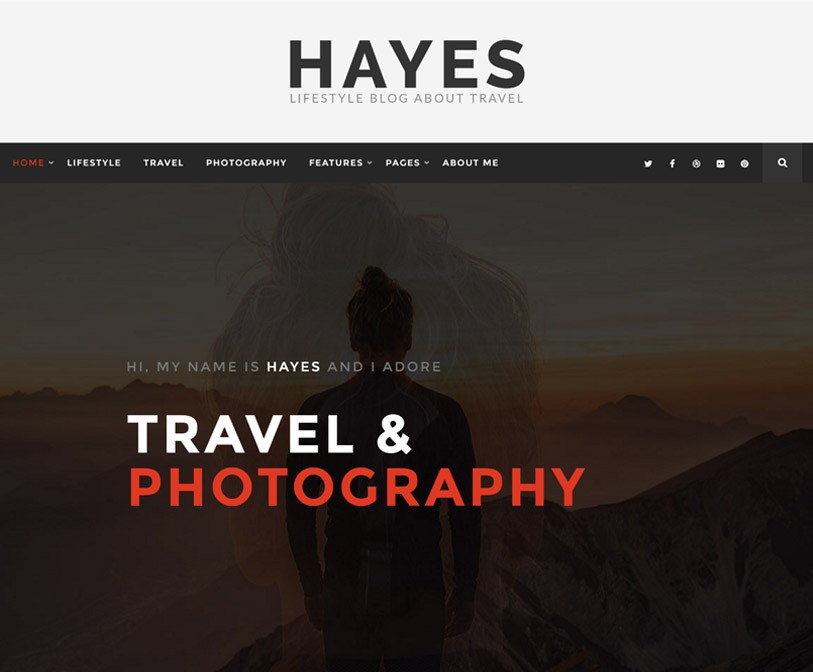 ---
Have a look at some interesting features of Hayes –
Revolution slider

Countdown plugin

Google Web fonts

Full width and boxed version

SEO optimized
Instagram feed

Made for readability

Creative, clean and crisp design

CSS3

features and animations

Detailed written help file

Use your custom logo and favicon icon

5 Post Templates

(Standard, video, link, gallery, audio)
Theme Info + DownloadLive Demo
---
7. Yatra – Travel Booking WordPress Theme For Destination Planners
If you are a tour planner, excursion services provider or running a traveling agency, then Yatra is one of the best choices you can make for your website.
It provides you lots of interesting features that make your visitors experience a lot better and easier.
It has very easy to fill forms along with a marvelous design and a place to post your latest news, for your clients to know what are you up to.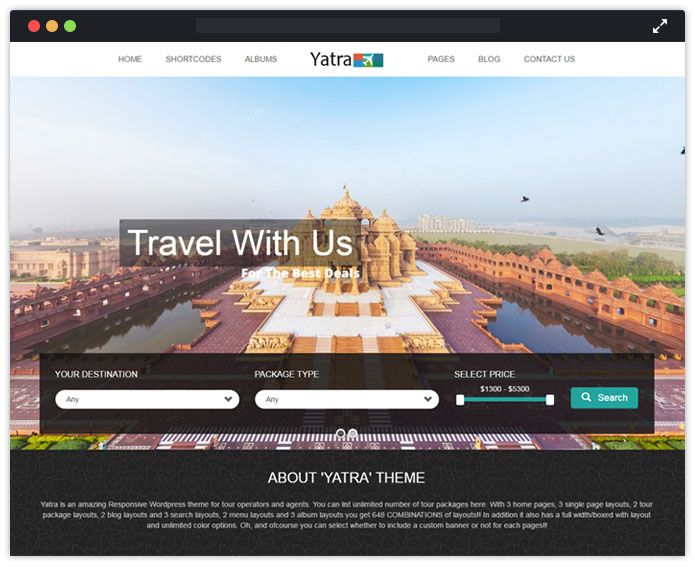 ---
Have a look at some interesting features of Yatra –
3 amazing layouts that give a very attractive look to your clients.

Easy to fill in booking form that your customers will love.

Integrated with PayPal, so your customers have the opportunity to pay you online, and you have the control over your payments online.

Tour package widget that will attract your clients.

The revolution slider is included for free in the package.

Compatible with smartphones and tablets, so your clients can access your website and book tours from every device.
Theme Info + DownloadLive Demo
---
8. YachtAgent – Yacht Charter WordPress Theme
YachtAgent is another beautiful, ideal and user-friendly WordPress Theme. People engage in giving services like the luxury yacht charter company, nautical charter yacht, luxury yacht charter, super yacht charter, burgess, sailing, yachting, etc can make the best use of the theme.
It has got features that will make your task effortless and you will find an ease in constructing your website.
Strong points about this theme are you can share any news or events from your website also visitors can inquire about your rental charges. And an inbuilt lead capture form lets you grab leads and convert it through your dashboard.
---
Have a look at some interesting features of YachtAgent theme –
Full-Width slider with a description of images.

Inbuilt Lead Gen Form.

4 Column Widgetized Footer.

Materialistic Blog Section.

4 Column to list your services.

Masonry Gallery Effects.

Contact Page For Google Map Integration.

Multiple Plugin Compatibility.

RTL and Quick Navigation Compatible.
Theme Info + DownloadLive Demo
---
9. Resortville – WordPress Theme For Holiday Or Travel Planning
Resortville is yet another great and user-friendly theme which you can use to establish good relationships with your clients and offer them the vacation they dreamed of.
It presents you lot of interesting capabilities to make your website user-friendly for all of your future business partner.
An interesting moving slider on homepage lets you show your holiday resorts or travel planning.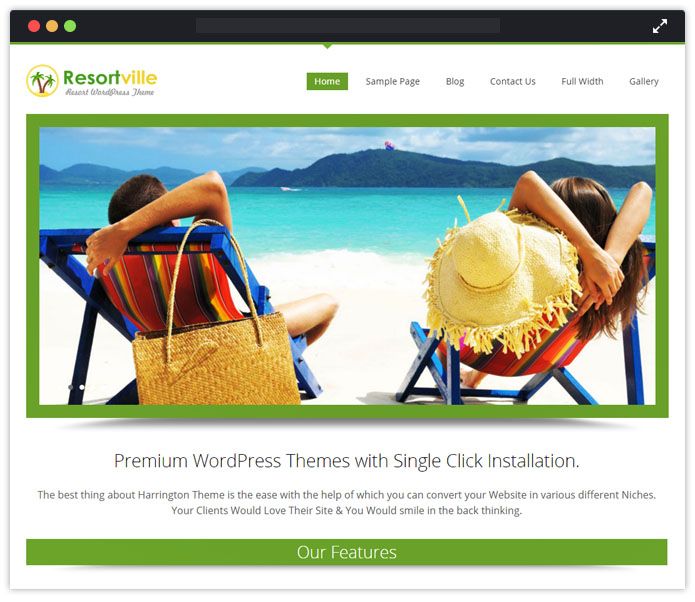 ---
Have a look at some interesting features of Resort theme-
Widgetized footer and sidebar and social media icons.
Built updated us Page.
8 beautiful colors.
Full-width slider to grab the customer's attention.
Recent blog posts on the homepage.
Theme Info + DownloadLive Demo
---
10. RentCar- Car Rental Online Booking WordPress Theme
Rentcar theme is specially designed for the persons who have a travel agency. The theme is integrated with online booking system so that your customer easily book for your vehicle and you can collect payment online.
List out your all services and cab vehicles, customize the whole theme along with front-end color, background color, text color, etc.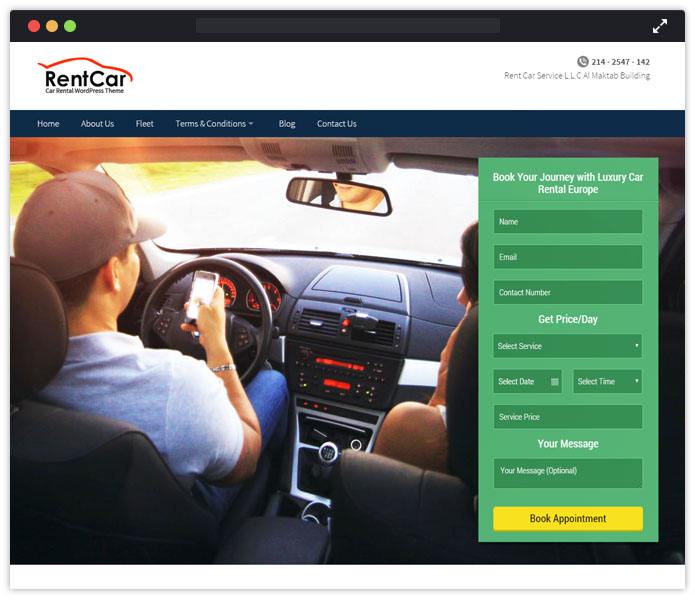 ---
Have a look at some interesting features of RentCar –
Accept the booking payment via PayPal.
Contact map and about section on the homepage.
Unlimited color options for customization.
5-different blog post formats available.
Appointment plugin is integrated.
Compatible with modern browsers.
Theme Info + DownloadLive Demo
---
11. HikeCamp – Hiking Tent WordPress Theme
This particular WordPress theme is the perfect fit and exclusively developed for websites of activity organizers that specialize in organizing trekking, holiday camping, and hiking gigs. In this theme you get the opportunity to share information regarding hiking/camping/trekking, as well you can include profiles of your team of hikers/campers/trekkers. There's also space to insert testimonials and videos of the group.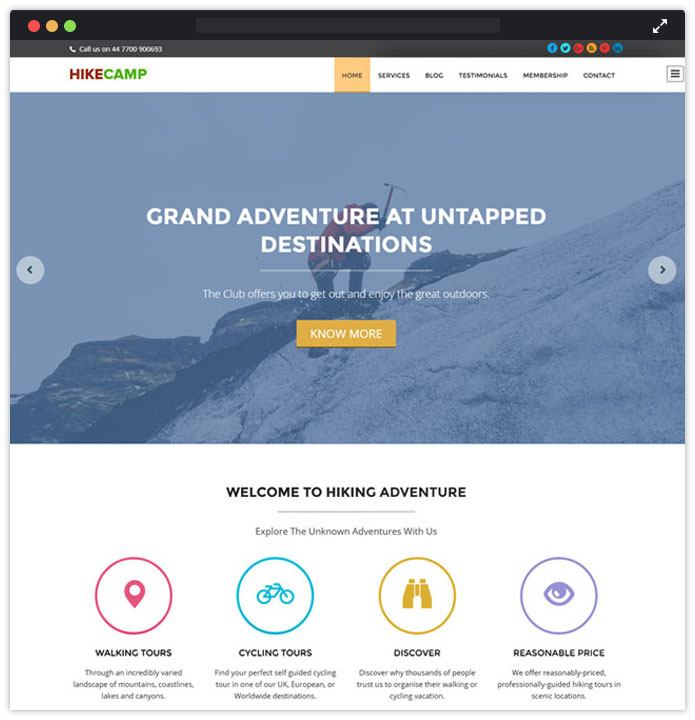 ---
Have a look at some interesting features of  HikeCamp –
Front-end customizer helps you customize the front page and all of its other elements.
Inbuilt SEO and customer support utility
Showcase your pricing and special deals in a pre-designed pricing section.
Independent color customization for each section of the page.
Theme Info + DownloadLive Demo
---
12. Travelino – Travel Agency WordPress Theme
This theme is designed keeping in mind the travel and transportation agencies.
It lets you add a full-screen background picture on your website, consist of a search bar to give ease to your customers while searching for the place, and colorful boxes that give an attractive look to your website.
---
Have a look at some interesting features of Travel –
Fully responsive that adapt any screen size.
Add up to 10 images in a sliding area to highlight the product.
Multiple customization options.
Your site gets the update automatically with an Auto-updater feature.
Keep in touch with your customers with a contact form.
Theme Info + DownloadLive Demo
---
13. Magellan – Travel WordPress Theme
Magellan is yet another WordPress theme for travel agencies and booking sites. It gives you a number of customization options using which you can customize the whole theme including gallery section, reviews, location, etc.
It has a beautiful animation effect with custom backgrounds, icons, and logo option. The theme is also fully responsive i.e. it gets bends for all type of devices.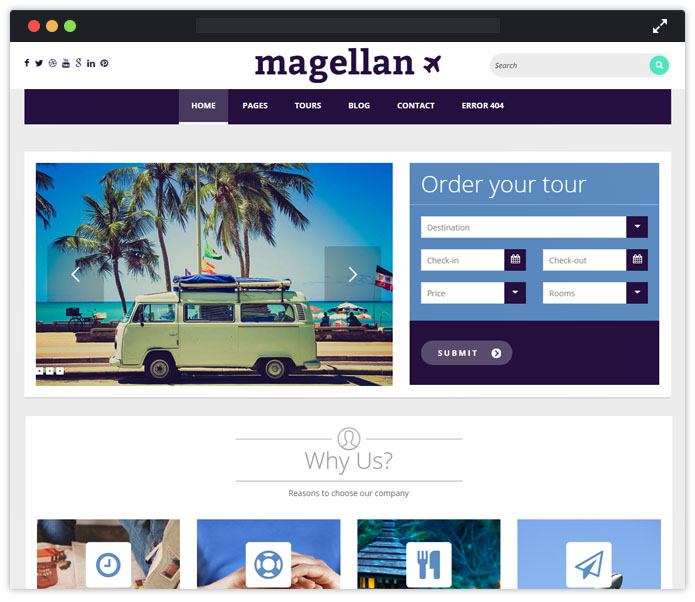 ---
Have a look at some interesting features of Destination –
Show your location with integrated Google map.
Drag & Drop editor to customize images, videos, and other effects.
12 columns grid, 8 custom posts, 3 custom widgets.
Well-commented code.
Revolution slider
Theme Info + DownloadLive Demo
---
14. Cousteau – WordPress Theme For Travel Agencies
Cousteau is one of the best WordPress themes to show all the beautiful places around the world and best suited for tourism niche.
The theme lets you upload your business logo, track your website traffic, insert latest blog post and several theme options are given under this theme.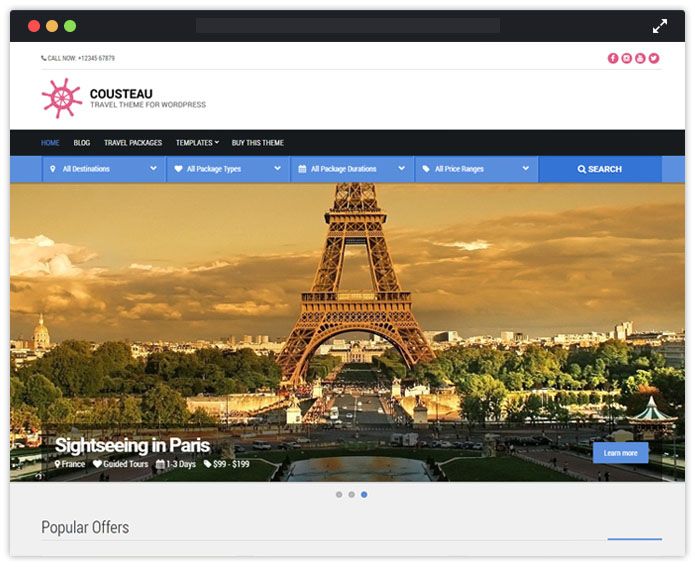 ---
Have a look at some interesting features of Cousteau-
Allow your visitors to filter the content.
Easy drag & drop on the homepage – no coding skills required.
Multiple Color Schemes
Flexible Layout Options
SEO Optimized.
Theme Info + DownloadLive Demo
---
15. Voyage – Travel WordPress Theme
A very impressive and handy theme with a fast and easy search feature that will attract a lot of clients and help them easily navigate through your website.
The theme consists of 7 custom widgets and 5 templates that allow you to choose any style you want for your page, change colors, and backgrounds in a few clicks.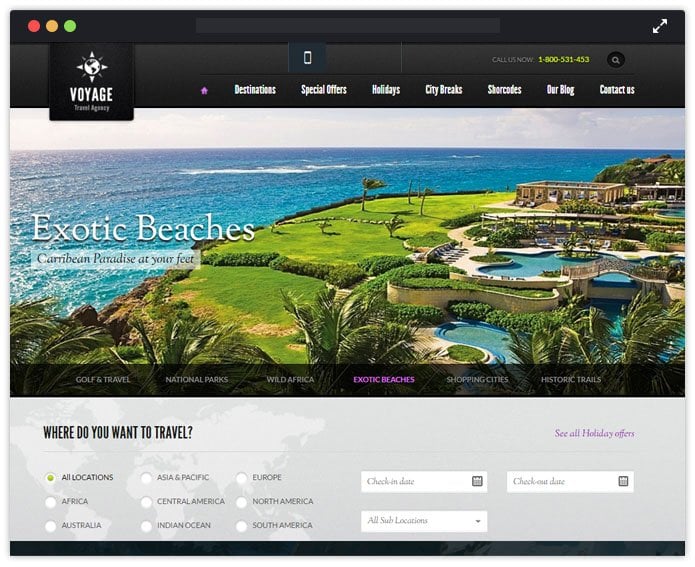 ---
Have a look at some interesting features of Voyage Cousteau-
It offers many styles to choose from, easy booking page, easy search page and it is user-friendly

SEO optimized.

Compatible with phones and tablets.

Supports PayPal.

Built-in jQuery slideshows, which can demonstrate your services and tours, so your clients know what you offer and find the tours they need quickly and easily.
Theme Info + DownloadLive Demo
---
16. Travel Agency WordPress Theme
Travel is another top theme for creating a travel and tour booking website without any hassle.
The theme is fully responsive and works with every type of device say mobile, tablet, desktop, etc. It has an excellent slider with lots of images to put in. The slider can be edited, and you can make it any style by adding a video that shows off your tours and services to attract even more clients.
You can also create your own video, by adding images and music to the slider. The slider also supports pop-up pictures.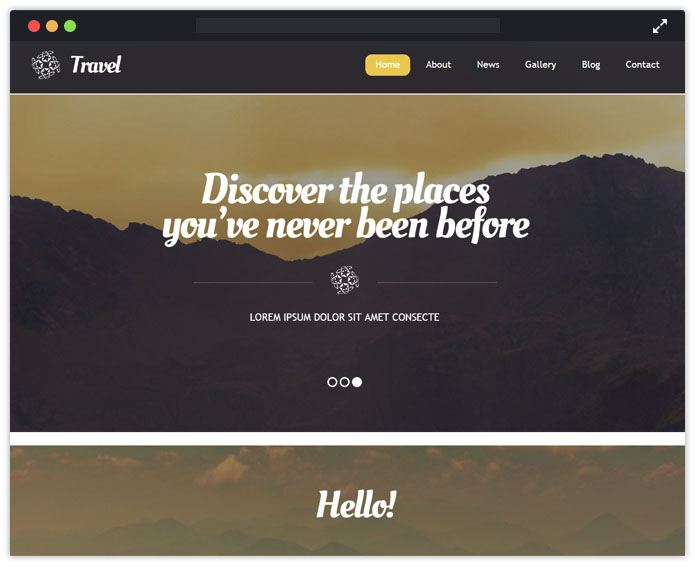 Have a look at some interesting features of Travel –
Multilingual support.

A tour planner feature, which allows your guest to search for tours or plan their trips very easily.

Built-in layout builder.

Impressive built-in widgets, like showcase with redirect buttons.

A place for your blog news.

SEO optimized.
Theme Info + DownloadLive Demo
---
17. DrivingValley – Cab Driving WordPress Theme
DrivingValley WordPress theme would be an ideal solution for travel agencies, cab services, taxi agencies, auto rickshaw agencies, radio taxis, rental tour bus agencies, hackney carriage, minicabs agencies, etc.  DrivingValley is compatible with all the features and functionalities of car rental system, using which you can create a stunning website for your car driving business.
The theme is integrated with InkAppointment plugin that gives an ability to your customers to take and manage car reservations directly from your rental website.
Clients can manage their car booking schedules with the specific date and make online with the help of Paypal payment gateway mode.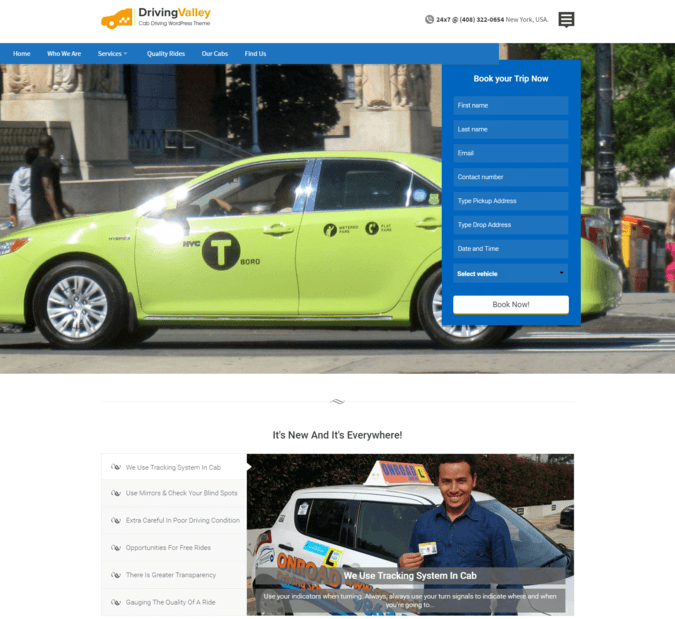 Have a look at some interesting features of DrivingValley –
Full-width slider

Sticky header and logo behavior

Boxed and full width layered blog section

Fully widgetized sidebar and footer area

Tap-to-call button on the top of homepage

Breadcrumbs clients testimonial section

Google map integration on homepage

Contact form to stay in touch with users

Customizable footer text area
Theme Info + DownloadLive Demo
---
Conclusion –
These are the 13+ Best Travel & Tour Booking WordPress Themes to create a travel agency and tourism business website. Pick a perfect one as per your requirement.
Share your thoughts in the comment section below.
Also, read our other blog ->