Best Business And Corporate Multipurpose Niche Standard WordPress Theme
While creating a professional business website, you will always go for an effective and an unique solution that gives value to your business. One of the absolute solution is an ideal standard business theme. A theme that could present your business or corporate website in a productive manner. That could drive more targeted customers and revenue.
To create such website is quite tricky and time taking but nevertheless, it asks for one perfect business-oriented theme. Because, quality of WordPress business-website entirely depends on its theme features.
Powerful features in the theme will leverage your business visibility. And when it happens, your business will grow!
Therefore, to meet with the above objective, there is a new business corporate theme, Harrington that improves your site's quality and features.
You will get the best standard business and corporate WordPress theme which can be used to show off your multipurpose business niches online.
The Harrington theme layout is designed with various standard features that helps you to showcase your business views and objectives most efficiently in front of your audience. Say about your images, videos, blog, business avenues, It features everything accurately and gives impact in your audience mind, and could hit the values and avenues of your business corporate world in their heart.
It's easy customizeable from every feature, mobile-ready, equipped with multiple color scheme and social icons inbuilt. All things you could able to design in few clicks without using any tough codes.
Harrington- Standard Potential Business CorPorate Theme OutLook
The Harrington Theme is an standard absolute solution to explore your business and corporate world online.  To boost your business presentation. To nicely show your business objectives.
Surely, the Harrington WordPress theme will significantly match the above needs. Because it's empowered with various useful and styling features to speak your audience live what values your business provides.
Sometimes you may face a problem when you don't get a right kind of design that presents your business in an appealing manner. The design could be unclean, with clutters. Or the theme could be tough to use.
So, Harrington is the standard solution to all the problems.
"Harrington" is one of the theme to explore your business rightly in front of your audience. The WordPress theme which reflects all the dimensions of your business very clearly in front of your audience. The one which has the potentials to invite targeted customers. Suitable for Multipurpose niches business.
Say about elegant standard layout crafting, clean text presentations, mega moving sliders, central 3-column featured area, fix tagline and heading spaces, widgets, social icons, responsive nature, color schemes and ultra easy customization without touching any codes, you will love to work on it's easy interface .
Let's look into the theme full features in details-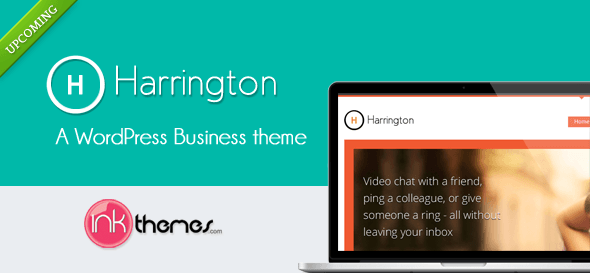 Features that Make Harrington an Ideal Theme for Your Business Corporate Website
Here are few amazing features implemented in the theme that gives a big, exciting look to the theme and make it suitable for your business website. Just have a look into the features.
Large Sliders with Wonderful, Moving Effects
You have seen large sliders in almost every theme at InkThemes, but this time the effect is different. The slider has inbuilt amazing moving effect. With the help of this moving effect, still images in the slider keep on rolling inside the slider boundaries. The slider will not move, but images inside it will gradually keep on moving to and fro.
Besides, there is a small text area on every slide. Overall the slider looks new and attractive.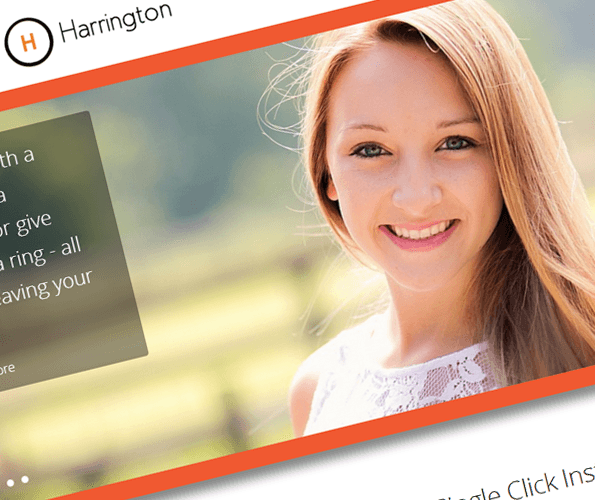 Reflect your Business Visibility with Neat and Clean Designs
Each and every feature in the WordPress theme is made distinct keeping professional standards in mind . So, show off your business objective straight-forwardly, neatly & cleanly. When your audience comes to your site, they can figure out your business details immediately.
They will not have to face any difficulty while browsing on your business website & understanding its objective.
Sometimes, it happens visitors are not immediately able to make out the essence of business in one view and when it happens they feel "it's better to move out this site". It should not happen because if such things happens, your business will be in loss.
There are certain elements in the theme to deliver your business message clearly. For e.g.
Distinct punchline area
Column feature area
Heading and sub-heading area
These elements are given at a proper place and is helpful for you.
So, take care of your user's user experience on your site. It matters a lot.
Keeping UX in mind, the theme is properly organized with a clean interface.
Catchy 3-Column Feature Area
Audience seeks to find interesting things on websites. They are always searching for something new and amazing things. And to relate to business corporate websites, implementing more and more interesting look will increase your business visibility. Visibility of Multipurpose niches business. To make it happen, just do few things on your website.
Feature Beautiful pictures with short description
Complete exposure of your business, neatly
Therefore, the 3-column feature defines standard to showcase your business objectives and ideas.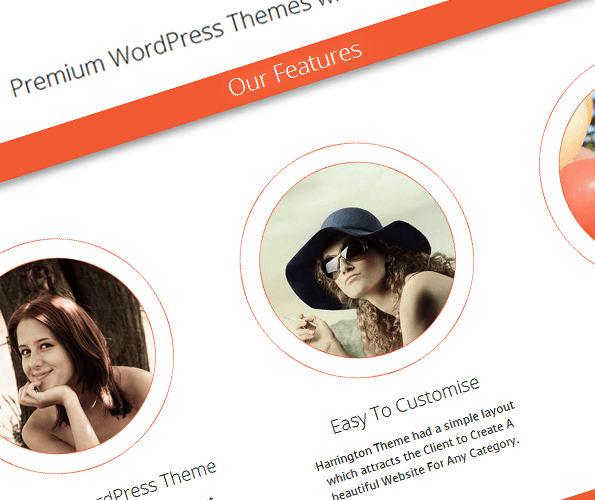 Latest Blog Featured On the Homepage
Show your recent business blogs on your homepage. In my opinion, that's the most accurate way to direct your audience to your blog, right from the home page.
Besides, your latest blogs get to appear in front of your audience in a single view.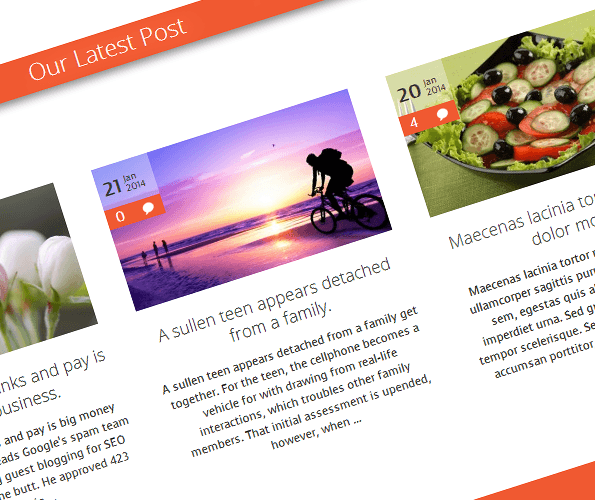 Show Multiple Testimonials
Display your client reviews on your site's home page. Testimonial shows your audience that you have couple of clients who are happy with your services & products. It is one of the key element of yours business social proof.
In the theme, you can display 5 testimonials one by one in the form of sliders.
So, you will able to deliver real words of your real customers right in front of your huge audience.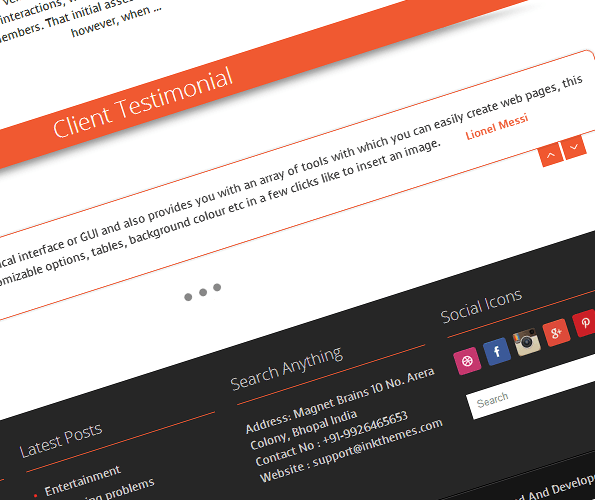 Eye-Soothing Look that Gives a Value to Your Business Website
When a user lands on your website, instantly 3-way interaction starts. This interaction is between the user's eyes, mind and your website.
If your site's looks are not friendly to the user's eyes and mind, then you will lose all the chances to keep your audience tuned to your website for more than 3 seconds. And if your site is unable to impress your audience within 3 seconds, then there will be no chance of further interaction.
The theme has proper alignments and white spaces. As a result, your audience will not feel any clutter in their mind and they can stay on your site for a long time.
Key Features of the Theme at a Glance:
Sliders with amazing moving and zooming Ken Burns effects
Easy to customize site with the help of Theme Options Settings from your WordPress dashboard
4 pre-defined templates which include Blog, Contact, Fullwidth and Default template.
Distinct standard 3-column feature area
Various social icons available
Show multiple testimonials on home page
Amazing design with standard unique features
8 amazing different colors available
Widgetized sidebar and footer area
Seperate customizable widget for homepage
Latest blog featured on homepage
On/Off display option for sliders, latest blogs
Responsive with all mobile devices
Conclusion:
The best idea to make perfect business corporate website is that, it should highlight the business objective.
The more accurately you will able to deliver your business message, the more opportunity you will earn to invite your targeted customers.
It is said that that "good design goes to heaven and bad design goes everywhere".
If you opt for a good standard design that clarifies your business goals, more customers will reach to you that will sum up your business revenue.
So, go for a smart business corporate theme and build your online presence.