Planning to take your wedding planning business online? Let these Wedding WordPress Themes give your business the desired online platform.
This bundle of themes will solve purposes for wedding planners, photographers, matchmakers, decorators, event management agencies and other wedding and matrimonial service providers.
You can also visit our other article of wedding:-
---
1. Colorway – Free Elementor Theme 
If you are a wedding planner and want to take your business online, this theme will be an ideal option for your website. Colorway is a premium theme which is totally Elementor based. It is the fastest and most lightweight WordPress theme available. The theme has a load speed of 0.9 sec with a page size of 207KB. As a result of these performance parameters, this is the most advanced theme in the business.
This Elementor theme provides you with 35 + fully customizable templates. Using these templates you can design your website as per your need. Further, it is an easy to use drag and drop type of page builder hence adding new elements to your website becomes a comfortable task.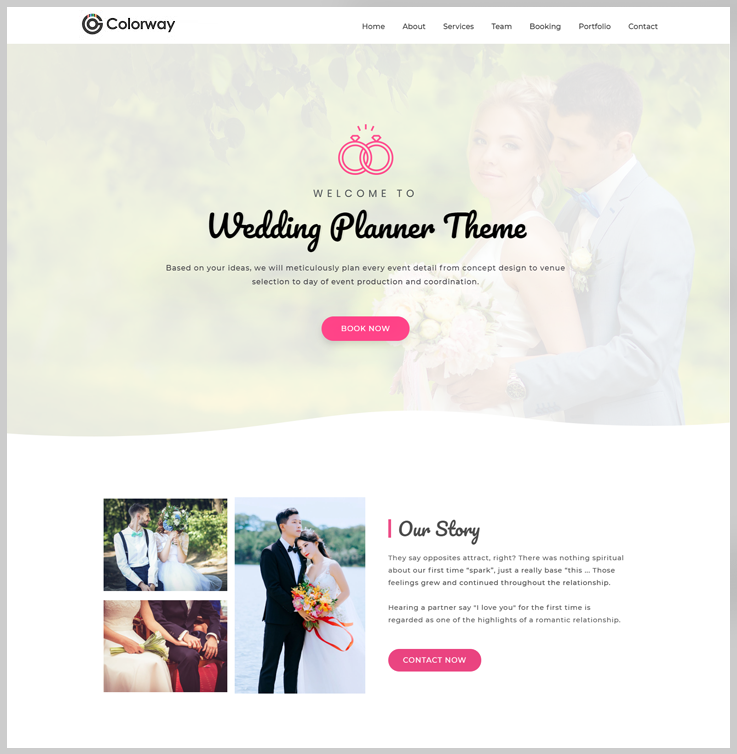 What else:
Unlimited styling and color options are available.
Advance Appointup addon to add booking and reminder feature to your website added.
SEO optimized to improve website visibility.
Sliders options to add video, images, texts and more
LeadUp addon helps you to add mesmerizing forms to your website
Responsive and Cross-browser compatible.
 Price- This theme is free to use.
---
2. Wedding Planner – For Wedding Planners
For a wedding planner, this WP theme helps show their services and make an impact. With this theme, you can draw the attention of your clients and features various facets of your services. The respective wedding design theme has an engaging design which helps you draw the attention of visitors to important sections of your website. With thumbnail slider, photoblog, and stylized image gallery, you have all visual resources available to showcase your best work.
A wedding planner is a dazzling theme which the user can use to show its plenty of images, the users can upload multiple albums and pics related to their wedding events, the theme is supported with a flex slider where your highlights of the wedding event can be presented. The template has different formats and sections where all the wedding specifications can be projected.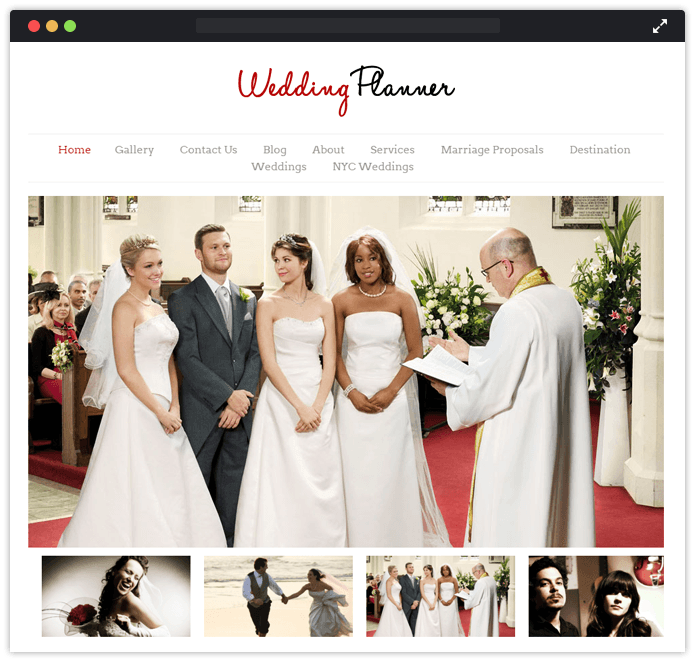 What Else:
Thumbnail Image Slider to Highlight Your Work
Photoblog to Tell Stories of Your Previous Clients
Integration with Social Media Websites to Widen Your Outreach
Highly Responsive for Compatibility With Different Screen Sizes
Price: $79. One time charge. Multi-site license.
---
3. Wedsnap – For Wedding Photographers
In a profession of photography, it gets a little trickier to stand out from the crowd. Wedsnap distinguishes your photography gigs by giving you a platform to showcase your artistic caliber. This all-in-one WP theme provides you with an entire toolkit to pitch your job. What is particularly impressive about this theme is its full-width image slider that brings out the precision of your photography.
Wedsnap has a full-width sliding section where all your amazing and astonishing wedding images can be showcased. The skin also supports a blog page where all the wedding content can be uploaded. Apart from this, the template also has a portfolio page where a number of images related to the event can be shared. In addition to that, the theme has a "Contact Us" section which can be used to allow customers to get in touch with you.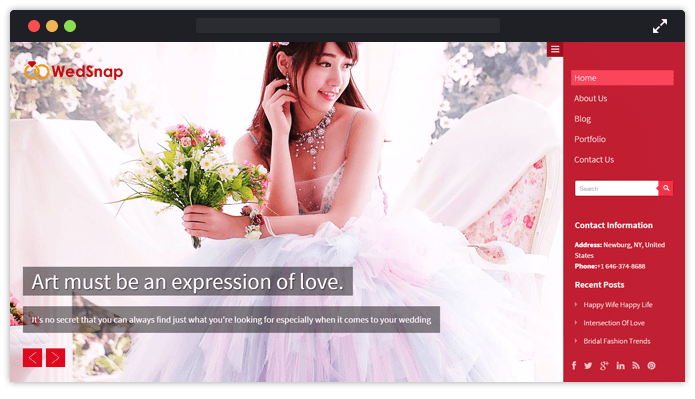 What Else:
Available in Various Color Skins to Give Your Website a Personality
Built-In Sections for Blog, Services Page, and Contact Page
A Portfolio Section to Showcase As Many Pictures As You Want
Integrated blog to share interesting articles and latest events covered by you
SEO optimized
Price: $79. One time charge. Multi-site license.
---
4. Wedding DJ – For Wedding DJs
Music sets the mood for any wedding event. This WP theme is particularly designed for wedding DJs who want to showcase their talent to potential clients. Wedding DJ comes with a fully-integrated SEO tool which helps you earn higher rankings in search results. It is complete mobile-ready which means that your website will be viewable to all your potential clients using mobile devices.
The full-width slider with a call to action button is the key feature of the theme, where your DJs and EDMs can be displayed in the most vibrant way. Talking about the 3 column feature, the specific section can be used to deliver your electronic muc=sic services in an organized manner. The most eye-catching factor about the theme is the dual video section where a virtual tour of your business can be provided.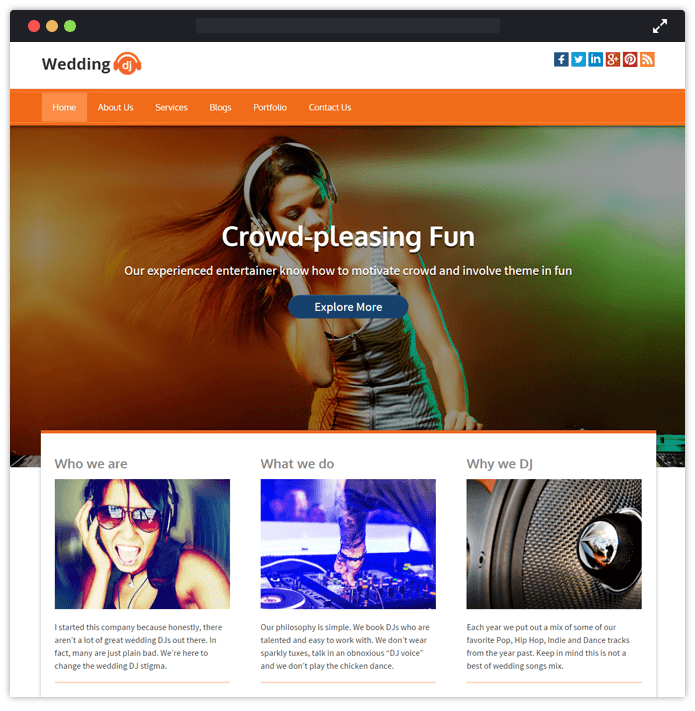 What Else:
Share Your Best Moments with Built-In Blog
Post Comments of Your Loyal Clients in Testimonial Section
Show Your Professional Expertise in Gallery Section
Wide range of color options to choose from
Get Top Rankings with SEO-Integration
Price: $79. One time charge. Multi-site license.
---
5. Photomaker – For Wedding Photographers
Photomaker is another awesome WP theme for professional wedding photographers. This fantastic theme has a range of options to give you a visually-appealing and functional web design. Its unique blog system enables you to present your work portfolio in six different formats. With its full-page image slider, you can accentuate the beauty of your photography. Other valuable features include full image slider, custom CSS, and 12 different colors.
The theme supports plenty of images on the homepage of the theme. Apart from that, the skin has a service section page where multiple photo making services can be shared. The portfolio gallery section is the place where multiple images and albums can be uploaded. The "contact us" section of the theme enables customers to reach out to you easily.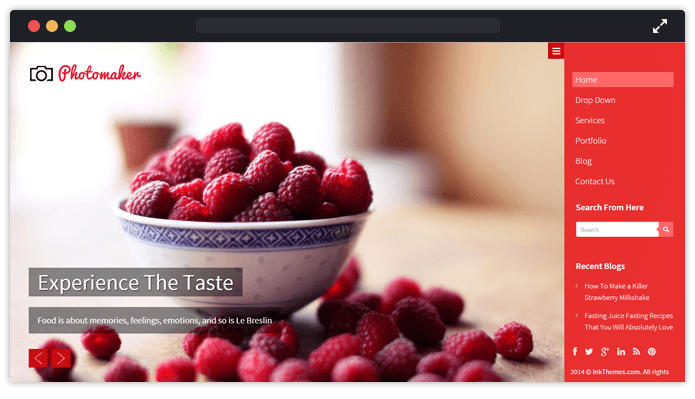 What Else:
Custom CSS option to Easily Add Files
Complete Responsive Design That Looks Appealing in All Screen Sizes
Full-Page Image Slider to Portray Your Best Work
12 Different Colors Gives You Freedom to Aptly Design Your Website
Price: $59. One time charge. Multi-site license.
---
6. Party Event Planner – For Wedding Event Organizers
This exclusive WP theme is designed for professional party event planners who want to attract new clients. Even individuals can use this theme to share memorable moments of a special event. No matter what events – birthday, wedding or a destination holiday you serve, this theme is your face to your clients. The theme enables you to succinctly describe your services to potential customers.
The template has a full-width slider section where your party planning images can be flaunted, The 3 column feature area further enhances the theme layout where a number of party event services can be displayed. The theme also has an accordion section where multiple features can be mentioned. The theme has 3 column blog sections where multiple descriptive contents can be uploaded.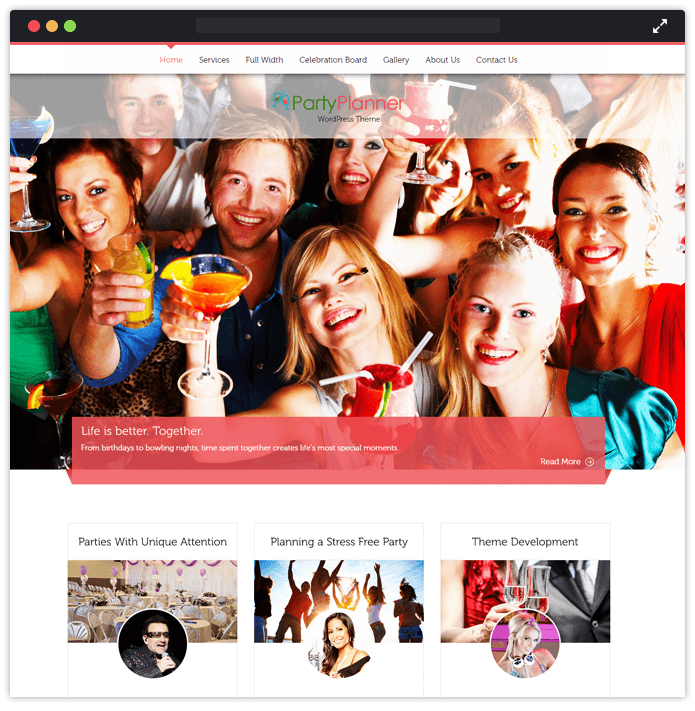 What Else:
Built-In Lead-Generation Form to Attract Potential Customers
Fantastic Design to Capture Attention of Your Clients
Video Integration to Share the Best Moments of an Event
3-Column Section to Feature Your Services
Price: $79. One time charge. Multi-site license.
---
7. Limo Rider – For Limo Services Provider
If you have a limousine service to offer for a wedding and other events related to it, then this classically styled theme is specially crafted for you. With gallery section, you can showcase your fleet and increase your bookings. The best part is LimoRider comes with a custom form where you can accept a booking or other details of your visitors.
The theme is enabled with a booking form which can be used to book your vehicles that you want to dispense,  the full-width slider to depict your images and the circular 4 column feature area is the section where all your limo services can be showcased. The blog section can be used to share descriptive content pertinent to the limo services.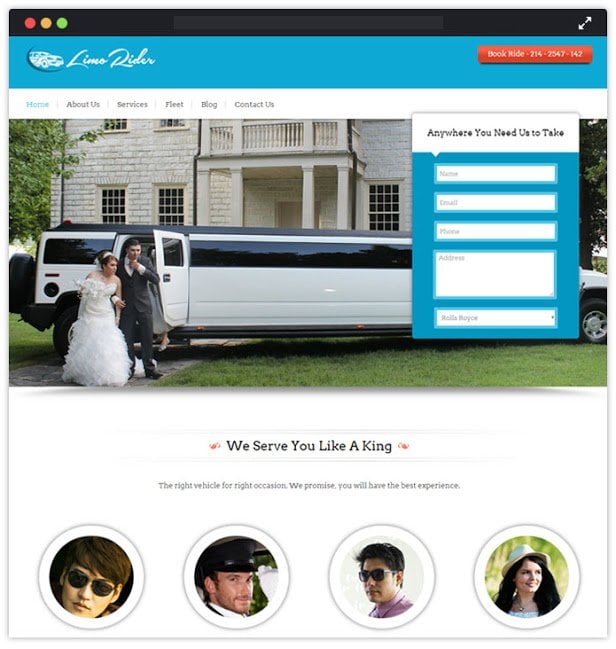 What Else:
Perfect ultra-modern design to suit a business website
Attractive color combinations
Option to add space for customer feedback and testimonials
Choice to connect with customers on social media sites
Price: $79. One time charge. Multi-site license.
---
8. MakeupArt – For Makeup Artist
In case, you are a professional makeup artist who works with brides; your WordPress page should speak volumes about what you have to offer. Using the MakeupArt theme, you can do all this and more. With this easy to use the theme, you can easily overcome time-consuming factors and present your business smartly.
The theme has a layered slider where all your makeup accessories can be presented. The 4 column feature area is the section where all your makeup services can be categorized. The theme is also supported by a blog section to enlighten your customers about various makeup services and techniques that you offer.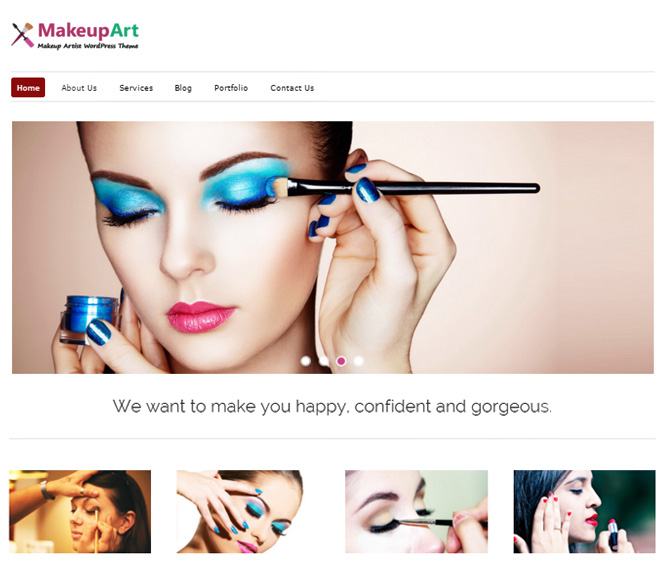 What Else:
Full-screen slider for home page with option to add a full-size image
Options to highlight your services and add in posts and articles
Option to showcase customer feedback and testimonials
A separate page for portraying your portfolio
SEO compatible
Compatible with all browsers and devices with different screen sizes
Price: $79. One time charge. Multi-site license.
---
9. DressMaker – Tailor & Sewing Business
If you are into creating beautiful costumes for the wedding, then the Dressmaker theme is an ideal choice for your WordPress site.  The theme is specially designed to gear up your tailor and sewing business. The theme has beautiful gallery section where you can display all your creative and appealing right style dress paired with genius design details.
The "DressMaker" theme is supported by a full-width slider where your amazing dresses and tailored crafts can be exhibited. Adding value to the theme has 3 column feature area where various tailored services can be showcased. The blog section makes the theme more desirable by adding descriptive content on the theme.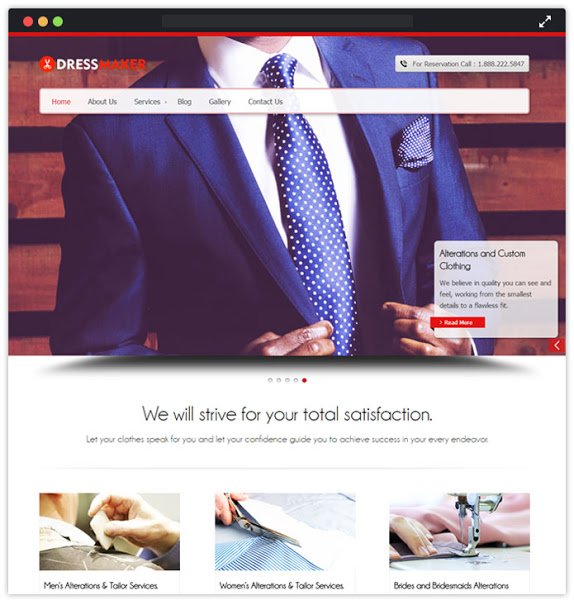 What Else:
Perfect ultra-modern design to suit a business website
Attractive color combinations
Option to add space for customer feedback and testimonials
Choice to connect with customers on social media sites
Price: $79. One time charge. Multi-site license.
---
10. JPhotolio – For Wedding Photographers
JPhotolio is a WP theme for professional photographers looking for a career in wedding photography. This theme comes with a complete package for photographers to showcase their work and make an impact. With this versatile theme, you can carve a distinction in your wedding photography by showing off your artistic skills. This theme is special for its slider that displays your portfolio (pictures and videos) to present your distinct skills to your potential customers.
The template has a full-width slider which can be used to redefine your images, provide elaborative content of the business on the blog section of the theme. The 3 column feature area is the place where services of your photography business can be uploaded, the theme also supports a "Contact Us" section through which customers can contact you to avail your services.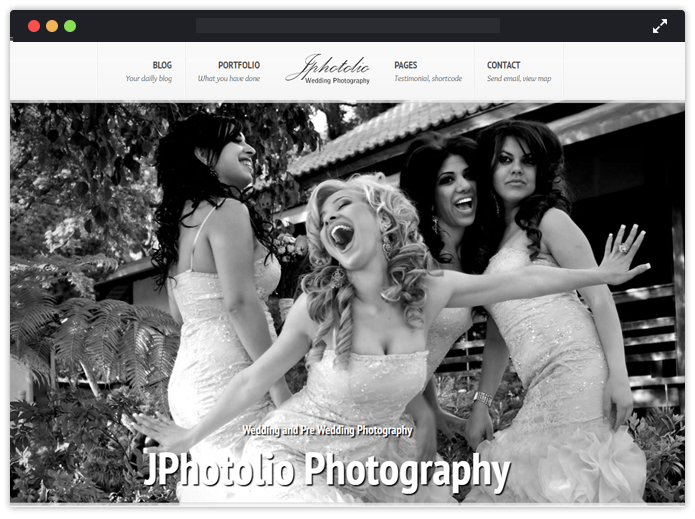 What Else:
Front Slider to Present Your Finest Photos and Videos.
Integration with Google Maps That Allows Your Customers to Easily Locate You.
Completely Responsive to Mobile Users.
Different Portfolio Styles to Aggregate Your Best Work.
Price: $41. One time charge. Multi-site license.
---
11. GeoCraft
GeoCraft is an incredibly versatile and imaginative WordPress theme which is perfect for creating a directory website for wedding or marriage gardens. The template gives a geographical presentation of banquet hall, gardens, and wedding party organisers.
GeoCraft theme has an inbuilt search by name & location module permits your site guest to explore their nearby wedding halls or gardens, any party organizers can place their business ads on your website via two different module (free & premium).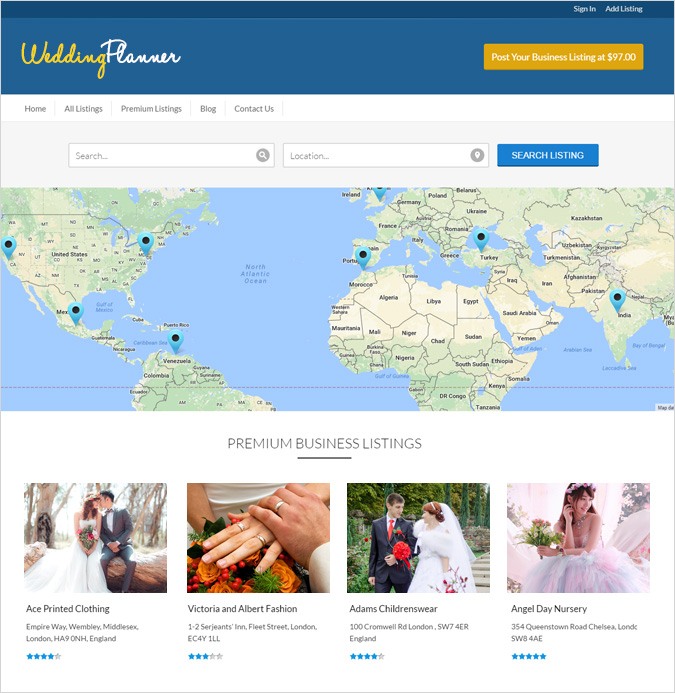 ---
Amazing Features –
WPML compatible.
Multiple colors schemes.
Ability to set the Listing expiry.
Recurring payment based listing.
Integrated user rating & review system.
Don't Miss Brilliant Opportunity & Get This Directory Theme For Free
DemoDownload NowClick Here To Know More
---
12. Enlance – For Personal Wedding Sites
Make your dream wedding a reality with this appealing wedding WP theme. With Enlance, you can put everything related to your wedding on one podium. From countdown timer and guest names to event details, you have everything at your fingertips. What sets this theme apart is its elegant design that truly speaks for a vibe of a wedding.
The template basically is a wedding card theme where multiple information related to the wedding event can be uploaded, on the full-width slider you project images and the date of the wedding, on the section adjacent to the slider, you show the clock which tells the time left for the wedding event to take place. Another exclusive section displays the event timing along with space for the posters to fixed. The RSPV section of the theme allows customers to respond to your invitation by filling in the details.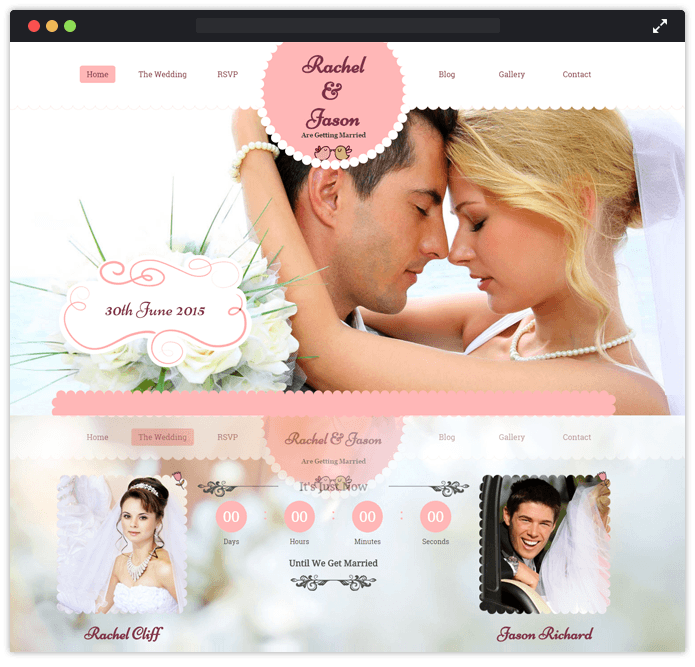 What Else:
Masonary Portfolio to Stylize Your Photo Album
Integrated with Amazon Gift List
Completely Mobile-Friendly Design
Available With Cross Browser Compatibility
Price: $36. One time charge. Multi-site license.
---
13. OnePage
OnePage is one of the top class responsive and single page layout WordPress theme which can be adopted by any wedding or party organizers.
The layout of OnePage theme homepage has a separate contact form that allows your site visitors to ask any queries, also it's front page has a unique area where you can display the best feedback of your customers along with the image.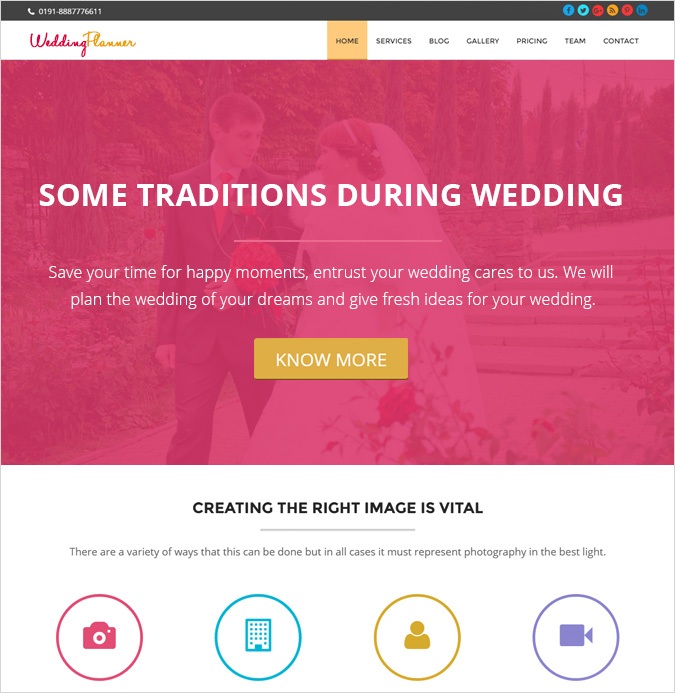 ---
Superlative Features –
One page architecture.
Butter scrolling function.
Video section.
Integrated Ink Pricing Table plugin.
Three column feature area.
Grab The Golden Chance & Download This Free Theme Now!
DemoDownload NowClick Here To Know More
---
14. Soulmate – Wedding Coordinator WordPress Theme
An exceptional WordPress Theme for organizers of wedding events, matrimonial and event planner system. Make your website using Soulmate WordPress Theme and share an amazing experience with your clients giving them an online presence. This appealing theme has the power to turn your users into customers. Some of its features are fully responsive, service section to indicate your services such as wedding photographers, caterers, florists, beautician and DJ organizers, homepage right widget area to set any videos, add your contact details and business logo etc.
The theme has a full-width slider where wedding highlights can be shared, the skin includes a lead capture form which can be used to capture leads, and use that information for future reference. The 4 column feature area further adds on to the quality of the theme by allowing customers to display services that are pertinent to their wedding coordinating business. The blog section enables you to be descriptive and along with this the theme has small video section to give your customers a visual treat.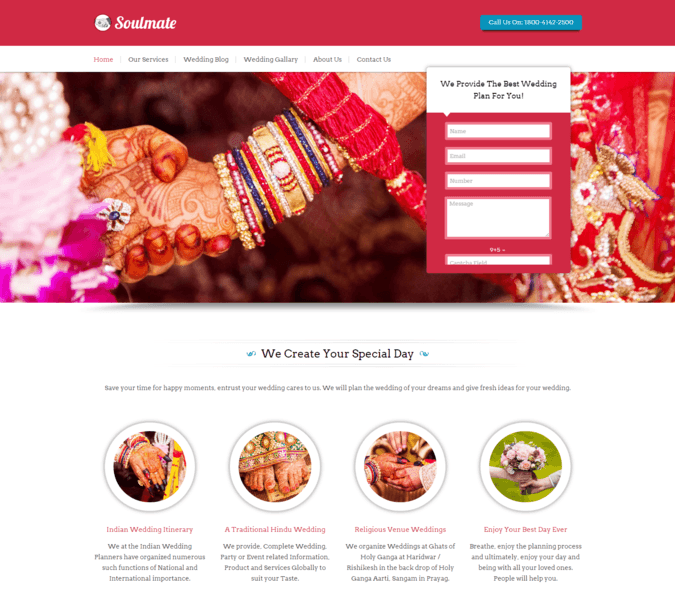 What Else:
8 pleasing color templates – choose your favorite color to add colors to your website.
Lead capture form – capture the lead and customise them according to the preferences.
Tap to call button – so that you won't lose interested clients.
Innovative gallery – add images which visually attracts people.
Full-width  slider & Powerful admin panel.
Easy to set up & unlimited sidebars.
SEO optimised & One click installation.
Price: $79. One time charge. Multi-site license.
---
And Finally –
With these WordPress wedding themes, creating a webpage for your wedding services is easy. All these themes are easy to customize and are highly responsive to changes. With an option to add social media widgets, connecting with prospective customers is made easy.
Assuming that you love these fantastic WP wedding themes, we wish you best of luck for your next wedding business venture.