Transportation is the gateway to any destination to roam around the world, it is the prime activity of everyday life. Day to day happenings would be incomplete without cabs and taxis to ferry us around.
So it's a golden time to launch your business on the web, in order to make your dreams come true you need a professional bandstand.
Here, we offer you a premium collection of 8+ Best Taxi WordPress Themes for Cabs & Car Rental Business through which you can build your business website where people can avail online cabs and cars booking facility.
Before you venture out to start your website, consider the themes mentioned in this post.
Also, have a glance at our others outstanding collection of WordPress Themes:
---
DrivingValley – Cab Driving WordPress Theme
If you are someone who owns a travel agency or a cab driving business and is in search of a theme, then the DrivingValley WordPress theme is just for you. The theme is well suited to travel agencies, minicab agencies, taxi-bus services, coaches and so on.
The theme has an inbuilt appointment booking form which allows your site visitors to book your cabs online. With this theme, you can showcase your services including booking cabs, taxi fares, map services, navigation, taxi driver details, etc. The overall layout of the theme is clear and precise denoting your services very well. The full-width slider section allows you to display all your taxis and cabs in a beautiful manner.
---
---
Salient Features Of The DrivingValley WordPress Template
Service images can be displayed in the boxed slider layout.

The Booking Info Plugin lets you book cabs with ease.

With the integrated 3D Google map, travel is made easier.

Payments are secured with the PayPal gateway which ensures that your money is in safe hands.

The blog section lets you display images of your cabs and happy customers as well.

The theme has custom CSS built-in

The testimonial section keeps people updated about the client feedback you receive.
Theme Info + DownloadLive Demo
---
MotoTaxi – Motorcycle Taxi WordPress Theme
Are you looking to establish a website where you can offer cab assistance to people? The MotoTaxi theme is just what you need if you answered yes to that question.
The theme lets you present your driving services on a single page as it is packed with functional features. The full-width slider description lets you offer your best services. The slider also accounts for modification in terms of color, text, images and transition effects. The fonts that this theme comes integrated with makes your website all the more effective.
---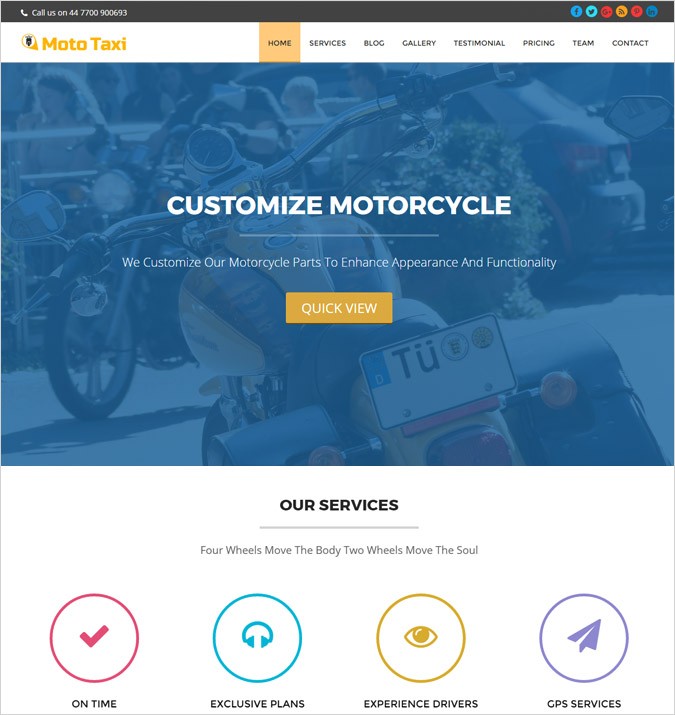 ---
Amazing Features Of The MotoTaxi WordPress Template
The theme comes inbuilt with a blog section which lets you keep customers updated on the latest happenings in your company.

With the hexagonal tablets, you can upload pictures of your taxi business.

The portfolio tag option shows all the tags you have created for images and posts.

Provide descriptions of your images to make the theme more appealing.

The best way to rope in more customers? With the testimonial section. This lets visitors build a basic trust in your business.
Theme Info + DownloadLive Demo
---
Trishaw – Tricycle Taxi Service WordPress Theme
Anyone in need of a glamorous WordPress theme to highlight their services can make use of the TriShaw WordPress theme. This is an ideal template which showcases pick and drop services as well as other business features in a professional manner.
Auto booking agencies, taxi hire companies, car rentals. Cab riding agencies and so one can make use of this theme. The template is also responsive in nature making it compatible with all devices such as tablets, desktops, and smartphones.
---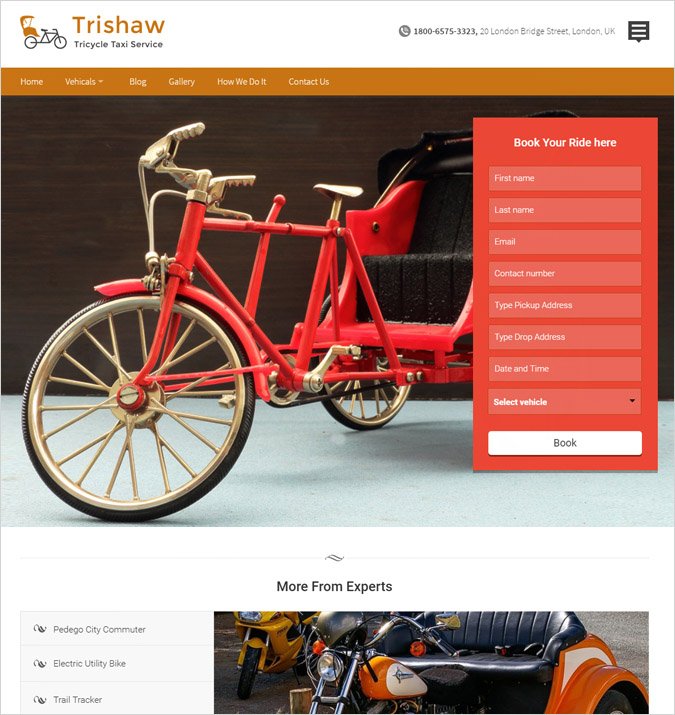 ---
Outstanding Features Of The TriShaw WordPress Template
The theme comes with an Ink Booking Plugin which has a booking form at the sidebar of the theme slider zone.

Users can enter their personal information along with the names, email ids and contact numbers into the form that is provided.

The layered blog section panel lets you advertise your travel agency booking blogs to keep people aware of the news in your business.

The About Us Section keeps people in the loop of your business goals and other services you offer.

The Google Integration map lets people locate your agency address so that it becomes easy for customers to locate you.
Theme Info + DownloadLive Demo
---
InfantCab – Kids Cab Service WordPress Theme
Can you imagine the world without cabs to ferry people around? Cabs are a predominant means of communication, in particular, the concept of kids cabs.
The Kids Cab Service WordPress theme lets you create an infant cab service which is in demands off late. This highly responsive theme is specially designed for infant taxi companies, student transport groups, and chauffeur agencies and so on.  The theme comes with heaps of services that you can make the most of. At the same time, it comes with the guarantee that your kids are safe in these cabs.
---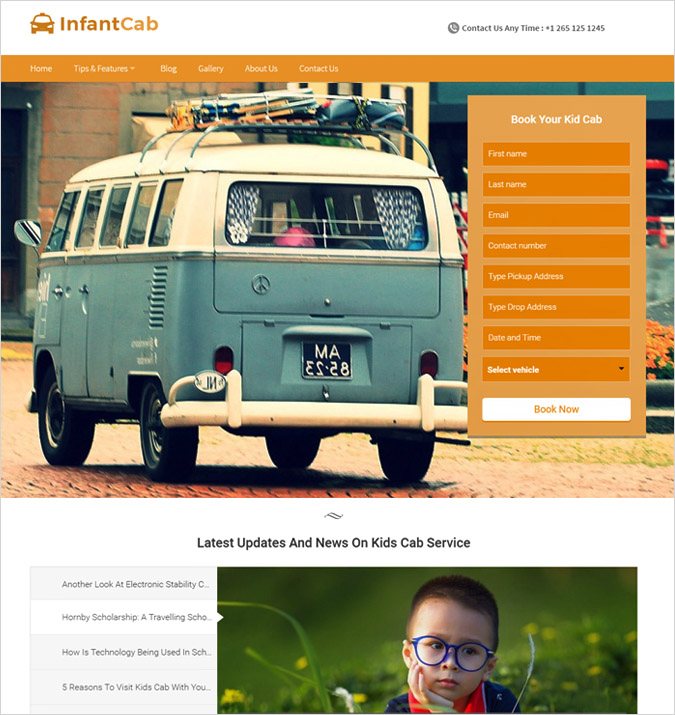 ---
Dizzy Features Of The InfantCab WordPress Template
The booking form is a premium feature of this theme as it lets you instantly book cabs for your kids.

The contact details section lets you showcase contact details and information about your cab services.

Project attractive images of your cabs and taxi services with the animated slider section.

There is an attractive tabular section that lets you post blogs and other relevant images on your site.

With the gallery, you can showcase eye catchy taxi images that are bound to lure people in.
Theme Info + DownloadLive Demo
---
FairHiring – Online Booking Car Hire WordPress Theme
Do you have a car rental business and are looking for an online platform to furnish it? If so then we have just the thing for you. The FairHiring WordPress theme is the ideal solution for all your needs.
The theme is suited for travel agencies, business owners, carriage rental industries and other car hiring firms. The FairHiring WordPress theme is compatible with all the functionalities that are expected of a car rental system. Customers can manage their car booking schedules along with the specific date making payments online.
---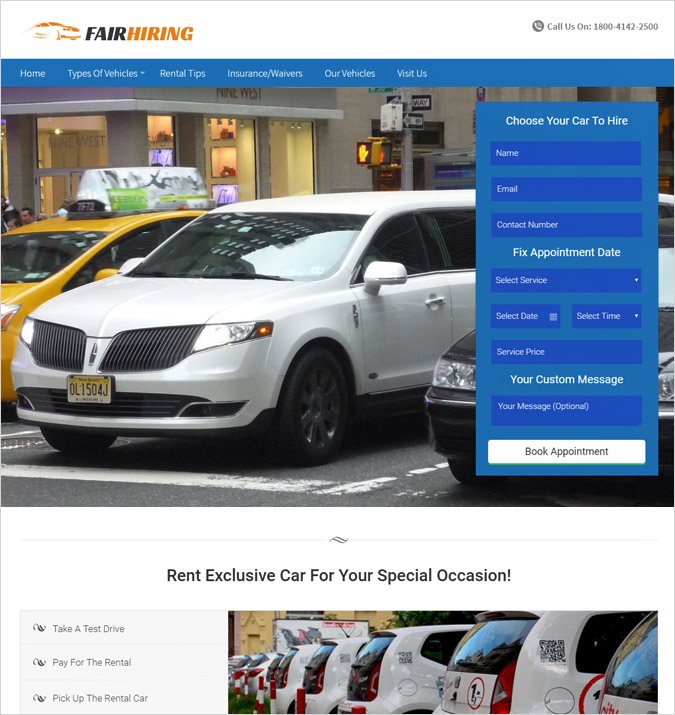 ---
Extreme Features Of The FairHiring WordPress Template
The full-width slider section on the homepage lets you showcase your rental products including taxis, car hires and so on.

The blogs slider section lets you share driving tips, and other news related to your company.

Arrange the elements on your site with the powerful admin panel of this theme.

The theme comes with an integrated InkAppointment plugin which gives customers the luxury of managing car reservations directly from your rental website.

The theme comes with an inbuilt SEO option.
Theme Info + DownloadLive Demo
---
ShuttleRide – Airport Pick Up And Drop Off Service WordPress Theme
The one place that's brimming with energy all day all night is the airport. It's no surprise that people require transport specifically at the airport. The ShuttleRide WordPress theme is a fully responsive template which lets you present your airport shuttle services online.
The skin is loaded with multiple features such as an online booking facility and many other free features which will help your business grow. The theme is well crafted for vehicles renting agencies, cab owners, travel agents and tour companies can make use of this highly efficient theme.
---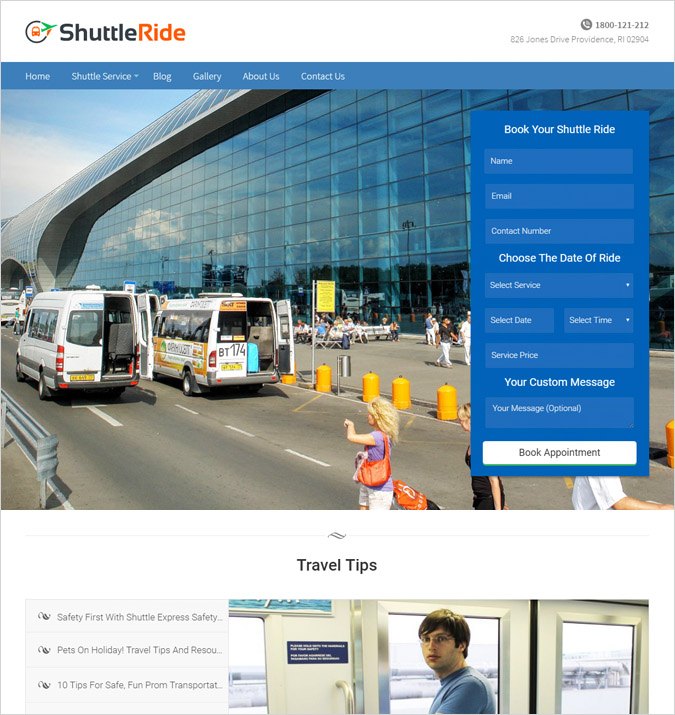 ---
Other Features Of The ShuttleRide WordPress Template
With the booking section, you can let customers' book rides online via their smartphones or tablets.

The blog section lets you share vital information about your business and is featured on the front page of the website.

The descriptive section of the theme lets you showcase the important facts about your business.

The testimonial segment lets you share details about the client to your customers.

Upload the latest pictures on your website with the gallery section.
Theme Info + DownloadLive Demo
---
ShareCar – Carpooling Service WordPress Theme
The rise in the price of fuel has led to an equal rise in the need for carpooling. If you are someone who is looking to make your carpooling service a huge success, then the ShareCar WordPress theme is just what you need.
This theme has a one-page architecture that takes your business to the next level, allowing you to expand on a global scale. The skin of this one-page template lets you provide professional services to your clients. Carpool companies, cab sharing firms, local city transportation and other related services can make use of this theme.
---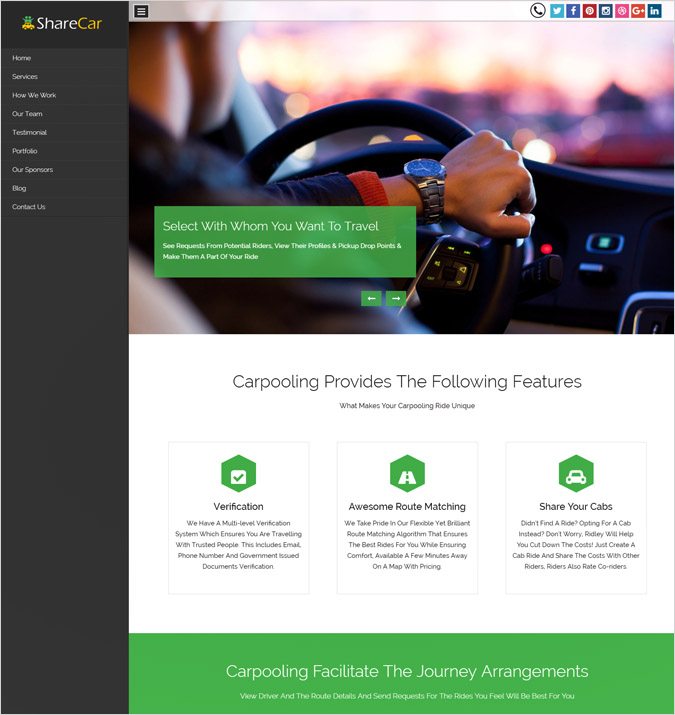 ---
Astounding Features Of The ShareCar WordPress Template
The theme comes with easy navigation which makes it all the more appealing.

The ease of use of this theme gives users a better user experience.

The three column services section allows you to display your car pooling facilities and services.

With the frame section of the template lets you upload videos which will help users to gain insight into your services.

The testimonials section lets you show feedback from your clients so as to build trust among newer customers.
Theme Info + DownloadLive Demo
---
EscortCar – Pilot Car WordPress Theme
Cars and automobiles are a requirement for smooth commutation. The EscortCar WordPress theme is a premium template that lets you create a wonderful website in almost no time at all. With the responsive theme, you can create a car rental website that is highly informative.The different types of vehicles that you use can be featured on the website.
Taxi drivers, cab agencies, transport services and escort car services can make use of this theme. The InkLead Capture plugin allows you to fetch contact details from all your customers. A form pops up at the sidebar of your web page that lets you collect the information. This comes in handy when you need to send out updates to them.
---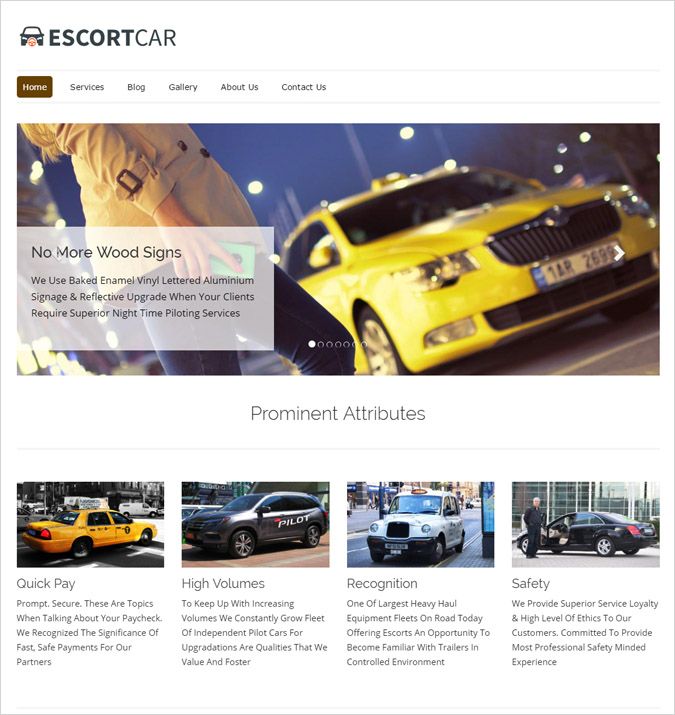 ---
Marvelous Features Of The EscortCar WordPress Template
With the slider section, you can depict the highlights of your business including the transport vehicles you use.

A four-column feature area lets you exhibit all the services you have to offer.

With the video section, you can share all your thoughts via visuals.

Share what your customers have to say about you with the testimonial section of the theme.
Theme Info + DownloadLive Demo
---
AirShuttle – Airport Shuttle Service WordPress Theme
The AirShuttle WordPress theme is the best template to showcase multiple transport services to the world. The theme comes with an outline that caters to all your utilities making it simple for travelers to exhibit their services.
Shared ride shuttle services, airport limousines, and car services can make use of this theme. The lead generating form lets you capture vital information about your client. This is made possible with the InkCapture Pro plugin which lets you collect information about your potential clients. You can use this to send them details about your latest services, discounts, and offers via email or SMS.
---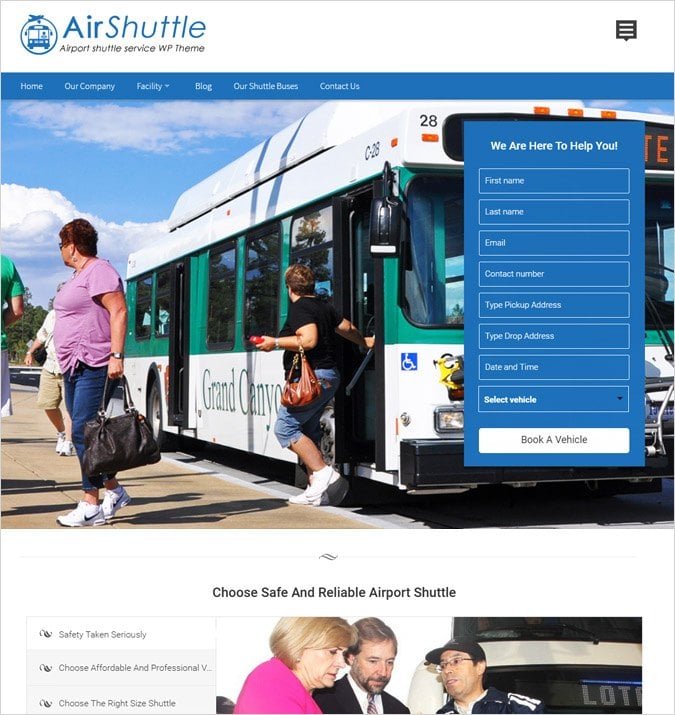 ---
Magnificent Features Of The AirShuttle WordPress Template
The sliders allow you to feature the best images you have to grab the attention of your users.

The theme comes with a transitional effect which makes it one of the best features of this theme.

The testimonials area is rectangular in shape, allowing people to get an idea of the work you do.

Use the blog section to share and post regular updates to your viewers.
Theme Info + DownloadLive Demo
---
So there you have it! Some of the best themes to get the word out about your cab and car rental business.
Get started right away and see how the traffic to your site increases. These themes come with the promise of making your business flourish the minute you associate yourself with them.
What are you waiting for? Get started right away!
---
Explore our more premium collection of WordPress Themes: