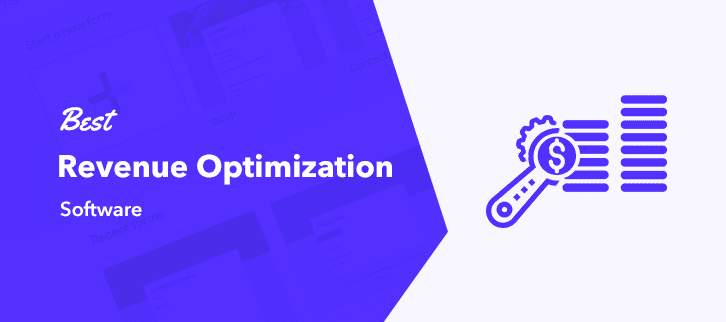 Do your payment collection software lack in certain functionalities and cause leakage in the revenue stream? Then, let me tell you you should immediately move to revenue optimization software as soon as possible for doubling up your business. Why?
Because, reliable revenue management or optimization software can intelligently manage your recurring billing, invoicing, and subscription payment process simultaneously. Apart from this, such systems are designed to predict customer's behavior and make micro-market adjustments accordingly. Also, it permits revenue managers to use current consumer information for the analysis of the market, product adjustment, and consumer targeting via the right customer channels, at a proper time and at the best prices. So, there is no sense in wasting money on payment collection software.
But, as we all know the web is full of several free as well as paid revenue optimization software & all claims to be the best. So, now comes the real cumbersome that is to find the classic revenue management software for your business out of the plethora of tools.
Fortunately for you, this blog lists some of the effective & top revenue management software that can provide you with optimal price suggestions, 365 days of advance forecasting, rival rate control, special event alerts, and more. Further, these tools are specially designed for billing, invoices & payment-related processes.
Quick Comparison Between 5 Best Revenue Optimization Software 2022
Now, without wasting much time let's check out these services in-depth & understand how they help you to optimize the revenue.
"Pabbly Subscription Billing is the only software that allows you to generate unlimited revenue without charging any additional transaction fees."
The first & best service in our list is Pabbly Subscription Billing that is the only tool available in the market that doesn't impose any restrictions on the usage of its any features. This means it offers features like unlimited revenue generation, limitless integrations, uncountable products & plan creation in a single account, and much more even in its smallest plan.
Unlike others, it doesn't charge any hidden or extra fees on monthly revenue generation or on per transaction fee. With it, you can easily collect recurring, one-time, or fixed payment, manage unlimited products, create invoices, calculate tax, create unlimited coupons, and provide Flat or Percentage discounts to your customers, etc. Further, it offers integration of PayPal, Stripe, Authorize.net, Razorpay, or any other custom payment gateway for collecting payments.
The interesting thing about this tool is it offers a unique feature called the affiliate module that allows you to manage your affiliate deals direct from it. No external tool is needed for this. Additionally, it begins a comprehensive set of advanced features like dunning management, tax management, custom domains, etc.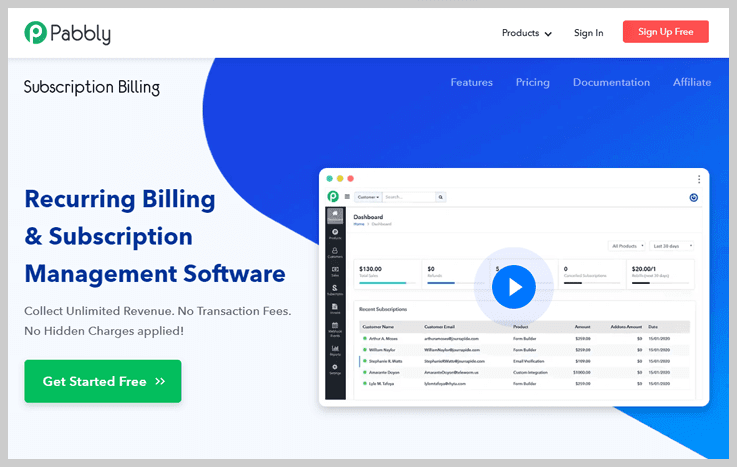 Features
Unlimited Products and Plans – Pabbly Subscription allows you to create countless products and plans within a single account without charging extra.
Affiliate Module – Only Pabbly Subscription Billing is the tool that has a pre-integrated affiliate management module that supports you to easily manage your affiliate deals directly from it.
Offline Subscription Cycle – Further, it allows you to create an offline subscription for customers who do not prefer automatic payments.
Plan Upgrade/Downgrade – You can manage all plan updates like upgrading or downgrading requests within this system itself.
Refund Management – With it, you can process refunds against cancellations from itself very easily.
Client/Customer Portal Integration – This feature permits customers to view/update their account details, subscriptions, or even cancel their subscriptions themselves.
Pricing
In Pabbly Subscription Billing's monthly as well as annual subscription plans, users can use all its features even in a small plan.
Starter – This plan costs $19 per month where you can create unlimited products, add up to 50 customers, and more.
Rookie – With this plan, you can manage up to 100 customers and get additional benefits like tax management, affiliate module, custom domain, etc at the cost of $37/month.
Pro – To get this plan, you need to pay at $57/month. With it, you can enjoy the restriction-free billing of your business and get unlimited customer, affiliate module, unlimited custom domain, etc.
Advance – This plan is for the business with high demands which ranges between $79/month to $3000/month for 250 to 50,000 customers.
2. Putler – Revenue Reporting Software
Putler is an innovative revenue analytics software that is specially built for different types of online businesses like SAAS, retailers, distributors, startups, accountants, etc. Additionally, it is specially designed for all types of online business whether it is based on subscription or not. This tool gives you 153+ key performance indicators like net revenue, total sales, etc, and reports that will assist you to understand your business performance. Further, it not only helps you to understand your business health but also lets you identify new opportunities for your organization.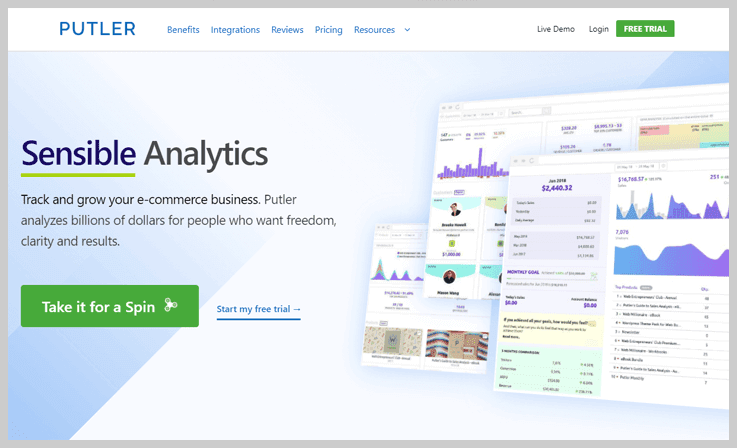 Feature
Tracking Analytics – Putler gives you all the business intelligence and helps you in discovering hidden opportunities by offering 153+ key performance indicators.
Integrations – It supports direct integration with Google Analytics, MailChimp, Stripe, PayPal, etc.
Growth Advice – With it, you will receive advice from experts that can help to improve sales, optimize conversions, or increase customer lifetime value.
Currency Support – It supports multiple currencies, so you can see sales, products, and customer dashboards in any currency you want.
Different Themes – This software gives you 11 vibrant themes for customizing the look and feel of your dashboards.
Pricing
Putler has three different pricing plans like Starter, Growth, and Scale plan, and all these come with a 14 days free trial.
Starter – This plan allows you to manage 300 orders in a month in just $29. Under this plan, you will get 2 years of historical data along with all common features.
Growth – With this plan, you are allowed to make 3000 orders in a month by spending $79 and providing all common features, 5 years of historical data.
Scale – This plan will charge $249 per month and will be able to track 10,000 orders in a month. In this plan, you will get 7 years of historical data plus all the features that you have in the growth plan.
3. Baremetrics – Top Revenue Management Tool
Baremetrics is a best in class revenue analytics software that is specially designed for subscription-based business. This service takes all of the manual work and gives you actionable analytics and customer insights that you need to grow your business.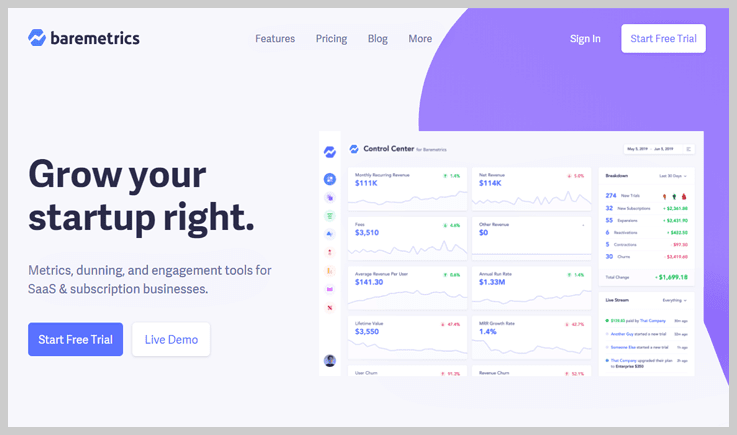 Features
Segmentation – This service helps you in organizing your customers to bring meaningful and comparative insights across your dashboards.
Forecasting – This feature helps you predict and plan for the future by knowing intelligent MRR projections with configurable options. So, you can adjust settings such as length of time, growth type, and churn percentage to make sure you've covered everything.
Email Reports & Notification – Baremetrics automatically sends email reports and notification to you and your team on a daily, weekly, and monthly basis, so that you are always updated about your business activities.
Customer Profiles – With the help of this tool, you can keep an eye on your customer activity and find out their lifetime value, monthly revenue, and more along with their entire transaction history.
Easy Access Dashboard – In its dashboard, you can get all the essential business details such as MRR, ARR, net revenue, refunds, upgrades/downgrades, user churn, and much more.
Pricing
Free – For generating less than 5000 MRR per month, you need not to pay even a single penny.
Paid – The paid plan starts from $50 per month for generating more than 5000 MRR per month.
4. MRR.io
The fourth service in our list is MRR.io that continuously keeps track of your Monthly Recurring Revenue no matter which payment processor you use. For this, it comes with integrations like Stripe, Paddle, PayPal, Chargebee, Recurly, Salesforce, Chargify, Braintree, Authorize.net, Worldpay, etc. Further, you can also enter data manually within its app, or use it read/write API.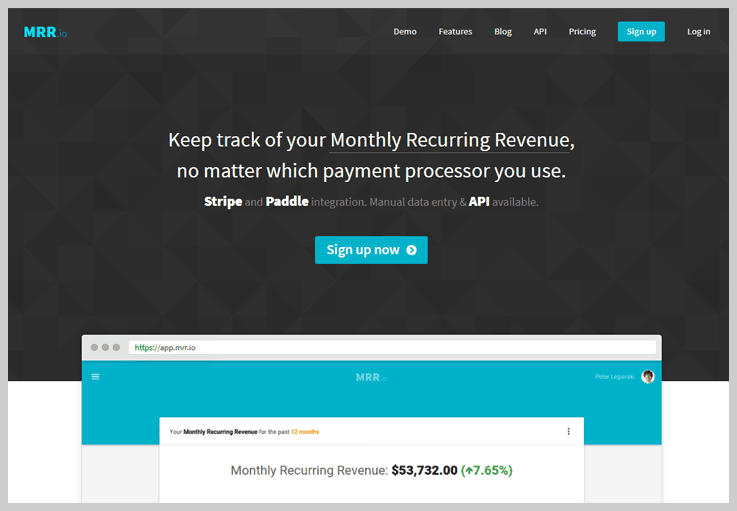 Feature
Advanced Email Reports – MRR.io provides a comprehensive set of email reporting features that helps you to keep an eye on the emails sent by you.
Metric Forecasts – This software allows you to track metrics like gross revenue churn, net revenue churn, churned MRR, expansion MRR, contraction MRR, MRR movement, cancellations, etc.
Payment Integration – The tool supports Stripe, Paddle, PayPal, Chargebee, Recurly, Salesforce, Chargify, Braintree, Authorize.net, Worldpay, and many more
Refund Management – It allows you to track the data of the refund requests easily direct into its dashboard.
Customer Tracking – It keeps on updating & managing data about the old & new paying customers in a systematic way.
Pricing
Basic – This plan facilitates all metrics tracking,  up to 100 paying customers,  up to 3 team members,  and basic email reports at free of cost.
Pro – For this plan, you need to pay $19 per month and get all metrics,  unlimited paying customers,  unlimited team members,  cohort analysis, forecasting,  advanced email reports,  email support, etc.
5. ChartMogul
The last service is ChartMogul which is a SAAS analytics tool through which you can track all SAAS metrics like monthly recurring revenue, annually recurring revenue, customer churn rate, and so on. This revenue optimization software is trusted by 800 big companies like Typeform, Docker, Pipedrive, and much more. Moreover, it helps you to understand the financial data of your business, how much transaction has taken place, how much traffic have you got at your business, and out of them how many conversions have been made, all can be analyzed by the software.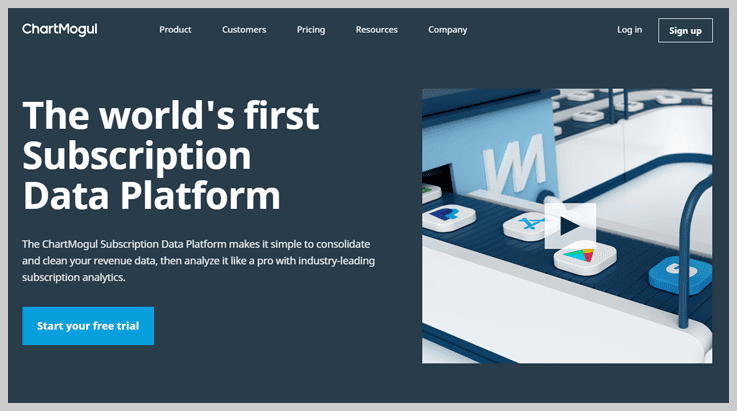 Features
Currency Conversion – Further, it supports multiple currencies. So, if your customer is charged in a different currency, it will automatically convert the monthly revenue into your predefined currency.
API Support – The system API allows you to import customer billing data from multiple data sources, apart from that, the data enrichment features allow you to include additional information to your customers in the software.
Financial Metrics – This software provides you with all the important financial key metrics like MRR, ARR,  refunds, customer lifetime value, cohort reports, and a lot more.
Easy Integration – ChartMogul easily integrates with your other services like billing, customer support, and more, in addition, a range of turnkey integrations are available along with a CSV upload tool.
Geo-Mapping – Its Geo-mapping feature gives you a global picture of your business and uncovers the opportunity for your business.
Pricing
ChartMogul offers three pricing plans namely Launch, Mogul, and Volume plan.
Launch – This plan is a free one which is limited to $10k MRR per month.
Scale – For this plan, the user would have to pay $100 per month where you are allowed to generate up to $10K total MRR.
Volume – This plan starts from $2000 per month where you get a few more features like dedicated CSM, and guided onboarding.
Conclusion
Revenue optimization is not just about the money, it's a much more complex business. But, using revenue optimization software, make it simple. As such tools allow you to calculate optimum product rates, enable rapid adjustment of rates, provide future revenue & profit projections, and competitors information that will help you to achieve a more strategic approach. Hence, in this article, we added the 5 best revenue optimization software for you. Now, this will help you to select the best revenue management software that will help you in maximizing the revenue for your business.
You May Also Like To Read: