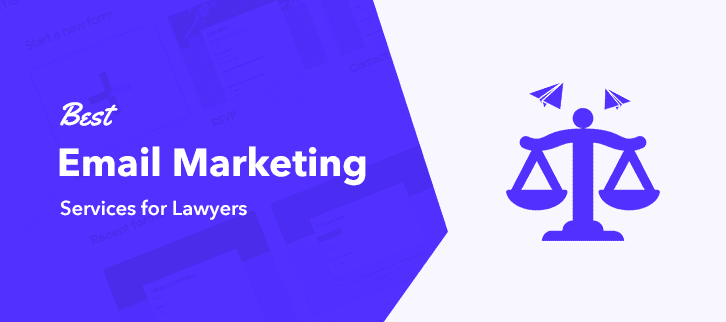 The majority of the law firms and lawyers account for the practices of different individuals or organizations. Generally, such a vast arena of active lawyers results in considerable competition. But, the emerging concept of reliable Email Marketing for Lawyers in this computer-driven age can keep you one step ahead of your competitors.
Your law firm needs a specific lawyer marketing strategy with a result-oriented approach. This will help in maintaining a grip in the hyper-competitive industry. With proper execution, you can redeem special benefits and captivate the market. Connecting with clients on email is one of the best and cheapest methods to build lasting relationships.
Lawyers across the globe are facing issues to expand their client base. These difficulties are prevailing despite using email marketing campaigns. The percentage of email open rate, click rate and click to open rate is below average. Thus, it becomes extremely important to find a reliable and cheap law firm email marketing template and software. In this read, you will find all the details of the best email marketing services available for lawyers to make a choice.
Comparison of Best Email Marketing Services for Lawyers
"Pabbly Email Marketing is the only software enabling users to send unlimited emails with zero restrictions in features at the most affordable price."
It is a reliable and affordable platform for sending bulk emails. To begin with,  it comes with SMTP routing and one of its kind in-built delivery engine. The software offers a unique automation feature, which is a club of revenue generation and advanced technology. Considering the features that it has to offer, it is the most affordable software in the market.
The best part is that it improves your reach to your target audience. This is possible because a secured server is in use to send the emails. Hence, they do end up in the spam box of your potential client. Therefore the email open rate and click rate are high for email marketing campaigns.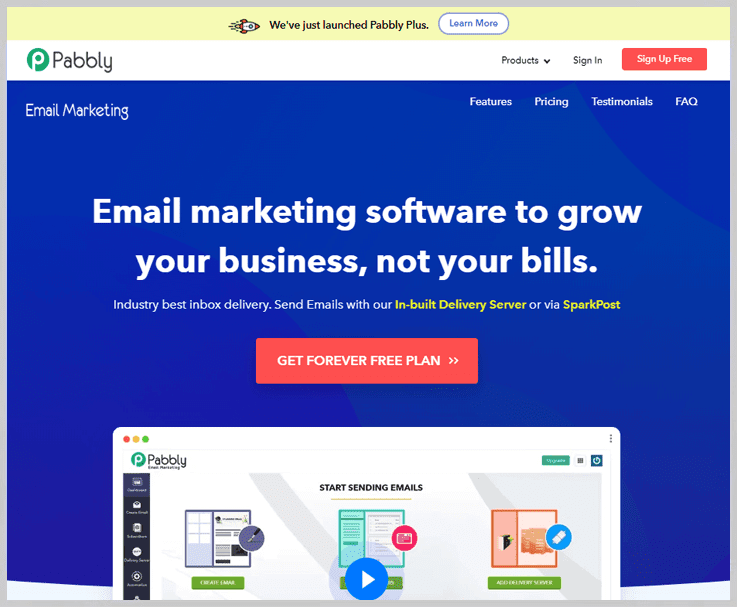 Features
Marketing Automation – This feature helps users in presetting a schedule for the delivery of emails. Thus, the software will automatically engage and deliver an email to the clients according to their subscription details.
Autoresponders – As soon as an individual subscribes to your list or newsletter, this feature automatically sends an email. For instance, New subscribers will automatically receive a welcome email on joining your list.
In-built SMTP – Compared to other email marketing campaigns, this software offers a 98% deliverability rate. This is possible only because it comes with an in-built delivery engine.
Drag & Drop Email Builder – Creating attractive and professional emails becomes quick and easy with this drag & drop builder. It is a default feature with an easy to use interface.
2X Open Rate – This feature sends a follow-up email to your potential clients if the first email remains unopened. It is an automated practice and helps in increasing the opening rate by two times.
MX Cleaner – It is essential to clean the bad emails before sending new ones. This feature helps you in doing exactly that. Above all, subscribers can be managed from one place, thanks to the list management option.
Email Tracking – Tracking the sent and opened emails help you in figuring out the success of the campaign. This feature helps lawyers in figuring out the same so that they can analyze the overall impact and output of the campaign.
External SMTP – This is one of the best services offered by Pabbly Email Marketing Software. It enables users to connect with external SMTP of their preference like SendGrid, MailGun, Amazon SES, and others.
Pricing
It will be a good thing to choose a plan based on your exact requirements. It is possible to upgrade a plan at any time.
Forever Free – Lawyers can buy this plan at 0$/m and send 12000 emails for up to 1100 subscribers.
Rookie – One has to pay $29/m to buy this plan. Send unlimited emails to 5000 subscribers.
Pro – This is an optimized plan available at $49/m for sending emails to 15000 subscribers.
Advance – Law firms can buy this popular plan at $99/m. It enables sending emails to 50000 subscribers.
Enterprise – This is the plan for other high volume requirements, like more than 1 million subscribers. Request for an exclusive quote from the sales team.
To begin with, this is amongst the most affordable cloud-based email service provider. No other Email Marketing for Lawyers is as reliable as Pepipost. It is trusted by hundreds of law firms and lawyers across the globe as their go-to SMTP. Moreover, it only takes a few steps to commence email marketing campaigns on this platform. It assures on-time delivery of emails and customer support. In addition to that, it also offers AMP powered emails and Email Health reports. Users also get notifications and real-time reports of various activities related to their campaigns. In other words, this is one of its kind platform for lawyer marketing.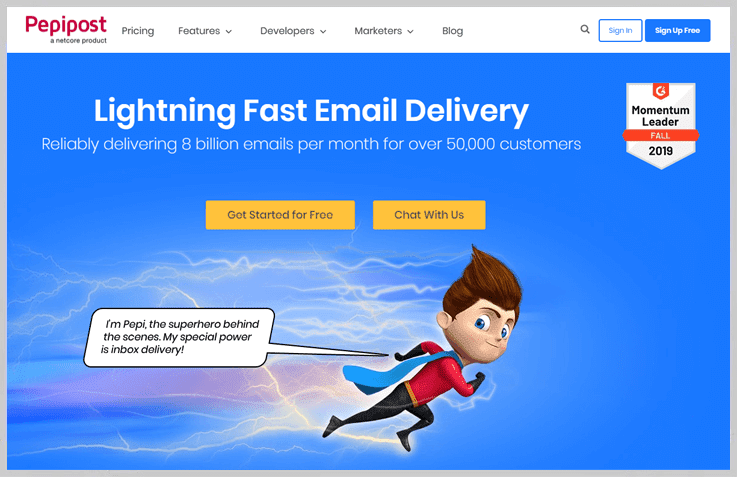 Features
SMTP – It offers a robust SMTP relay service for its users. Hence, you can easily send the email without worrying about the server. After the integrations are successful, the time for sending emails is just a few seconds.
Analysis – Law firms can accurately analyze the activities and results of each task with this feature. It generates and shares reliable real-time reports that are necessary for email marketing campaigns.
Email Tracking – For a period of 90 days, it is possible to track the history of sent and bounced emails. Other details like scheduled time and date for a particular email is also present.
Webhooks – Monitoring of real-time feed of various email activities is possible because of Webhooks. This helps lawyers and law firms to take suitable actions and track responses.
Subaccounts -This is one of the top services for law firm email marketing. All the users having multiple accounts can manage all the activities from a single dashboard.
Pricing
Pay $25 and send 150000 emails per month
For sending 400000 emails per month, the price is $85
Users can pay $145 and send 600000 emails per month
Law firms having bulk requirements can pay $245 and send 1000000 emails per month
High-volume corporate clients can pay $445 for sending 2000000 emails per month
For additional requirements, request for an exclusive quote from the website. It is possible for users of all plans to purchase extra 1000 emails.
GetResponse offers complete lawyer marketing solutions that help in reaching out to new clients. In other words, it plays a major role in successfully executing comprehensive marketing campaigns and improvising subscriber engagement. It offers pre-designed email templates and free images to minimize graphics-related costs. With the help of stackable workflows, marketing automation enables users to track subscriber behavior in real-time. Above all, it offers affordable pricing solution for beginners, growing, and medium-sized businesses. Lastly, GetResponse offers a variety of advanced features like webinar integration, automation, segmentation, and others.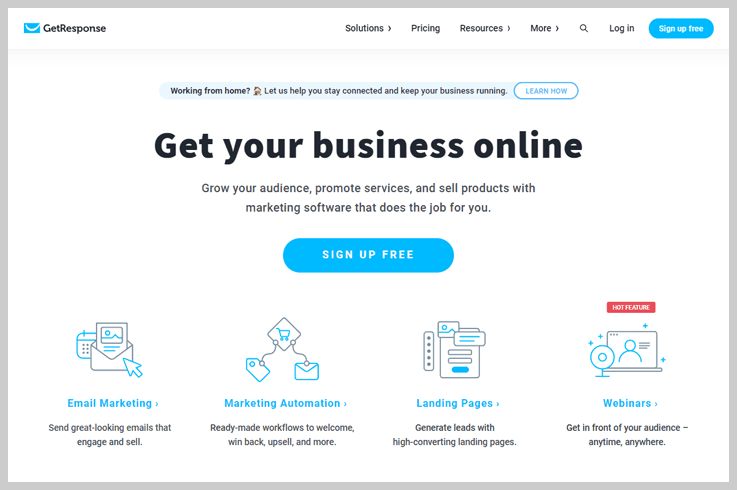 Features
Autoresponders – This feature helps in nurturing clients with automated activity and follow-up emails. This enhances customer engagement between the lawyers and the clients.
Automated Emails – When users visit your website or scroll through a particular blog, this feature will automatically send a relevant email pre-decided by you. It helps in securing new leads and enhancing the market reach of your law practice.
Perfectly-timed emails – Timing is a crucial aspect of email marketing for lawyers. This feature comes with perfect timing and time travel delivery tools that allow automatic delivery of the emails at the right time.
Webinar Integration – It seamlessly integrates with the webinar platform and allows users to host a demo, announcements, and even training sessions. It also includes other fascinating options like presentation sharing, chats moderation, desktop sharing, and others.
Comprehensive Reporting – It comes with robust reporting capabilities giving lawyers the power to analyze their campaigns. Simple reports, raw numbers, and pie charts are accessible from the dashboard. Details of unsubscribers, email open, email bounce, and complaints are also available in the analytics section.
Pricing
Basic – The pricing of the basic plan starts from $15/m and goes up to $450/m depending upon the list size. It comes with basic features to send emails and engage the contact base.
Plus – This is the most selected plan of this platform, starting from $49/m to $499/m. It comes with some advanced features to generate leads, promote products, and increase revenue.
Professional – The buying options for this plan starts from $99/m to $580/m. Users can optimize the results with automation and integration features in this plan.
Enterprise – This plan is particularly for users having requirements of list size 100000+. One has to request for a custom pricing on the website according to the requirements. You can expect a tailored solution for all your needs to maximize profits.
To begin with, ActiveCampaign software opens new doors to email marketing for Lawyers. Along with a foundation in email marketing, it comes with an integrated marketing and customer relationship management suite. This software will help lawyers and law firms to build their contact list, create professional emails, manage campaigns, track customer behavior, and measure the impact of the campaigns. In addition to social integration, it comes with a drag-and-drop email design feature. Integration with several third-party CRM solutions is also possible. Lastly, it also offers free customer service, including phone support and live chat.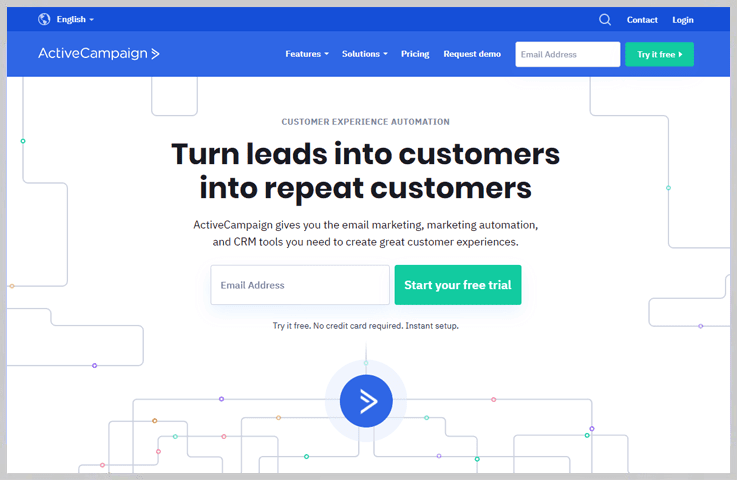 Features
Email Segmentation – This feature helps in sending your contacts the kind of customized engagement they want to see. It enables you to provide a personalized marketing solution to your existing as well as potential clients.
Subscription Forms – Subscription forms are the most crucial part of any law firm email marketing. This feature helps in collecting information and also tagging people according to their interests. Therefore, you can easily start a welcome series and send follow-up notifications to the clients.
Dynamic Content – This feature helps you in changing images and texts from an email. It helps lawyers in sending a particular message to a specific group of people and similarly establishes a series of contacts. This helps in enhancing customer engagement and out-reach of your law practice.
Split Testing – Guesswork does not help in creating a reliable email marketing campaigns. All it takes is a simple split test to get you the desired clicks and opens for your emails. Lawyers can test subject lines, content, information, images, and call-to-action with this feature.
Pricing
Lite – The pricing of this plan is $15/m for 500 contacts and goes up to $459/m for 100000 contacts.
Plus – For 500 contacts, the pricing of this plan is $70/m and goes up to $399/m for 25000 contacts.
Professional – This price of this popular plan is $159/m for 500 contacts and goes up to $599/m for 25000 contacts.
Enterprise – This is the last plan offered by this software. Users can buy it for $159/m for 500 contacts, and it goes up to $499/m for 10000 contacts.
The last in the list of law firm email marketing software is HubSpot. It offers various services for its users that are accessible from the dashboard. Lawyers can easily navigate through sent, scheduled, archived, and drafted messages. In addition to that, it is also possible to quickly export the email information and search for specific emails. HubSpot offers dozens of templates for its users. Hence, you do not require any particular coding experience to personalize the email layout and content. Above all, this software ensures that all the emails are mobile-friendly to make the most of your campaign.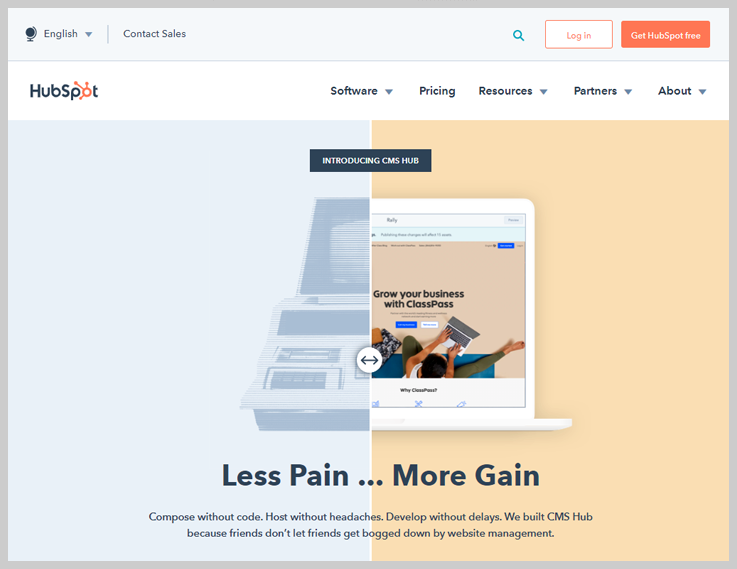 Features
Drag and Drop Editor – This feature helps users in customizing the layout, modify the content, add images, and call-to-action buttons with ease. It also offers pre-built professional and attractive templates to save time.
CRM – HubSpot offers a dedicated CRM to maximize the email opening rate. It helps in tailoring each email for each subscriber. It can automatically set the most relevant subject lines, call-to-action, content, attachment, and others.
Auto-scheduling – This feature helps users to schedule emails in advance and return to other productive work. It comes with excellent deliverability. Hence, the chance of an email landing in the spam box is extremely thin.
Post-send Email Analytics – HubSpot offers its users the most accurate analysis regarding the open, bounce, and click rates. This helps users in critically analyzing their campaign and making necessary changes.
Marketing Automation – This feature makes HubSpot one of the best programs in the market. It can easily trigger an email based on the actions of your contact. It comes with workflow tools that enable users to manage contact database and rotate leads.Also, it helps in creating supporting tickets automatically. One of the best methods of conditional logic is also possible here.
Pricing
Starter – Buy this plan at $35/m for 1000 contacts. In addition to capturing and converting your leads, this plan can also understand and engage with them.
Professional – This is a slightly advanced plan compared to the Starter plan. Users can buy it at $560/m for 1000 contacts. It comes with dozens of advanced features helpful in creating successful email marketing campaigns.
Enterprise – The price of this high-volume plan is $2240/m for 10000 contacts. It comes with all the features.
Conclusion
Being a lawyer, it is essential for you to focus on the cases and bring justice to your clients. Hence, the process of email marketing for lawyers is crucial. The above-listed programs are the best for lawyer email marketing. In conclusion, we recommend you to analyze the core features and pricing of all the programs before making a selection.
You May Also Like To Read: