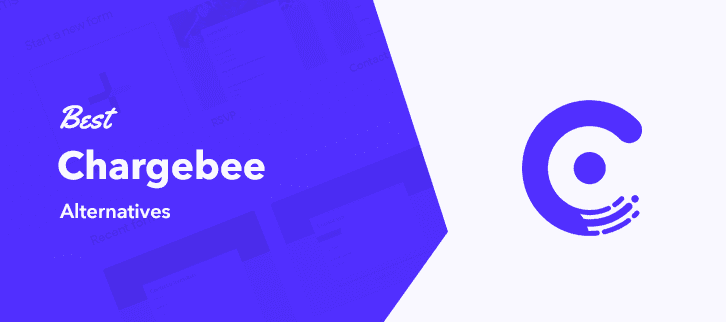 If you look at it from a general viewpoint, then Chargebee does seem to be one of the top and reliable billing software programs in the market. With it, you can accumulate the payments, maintain all of the records, and do a lot of other things quite effortlessly. However, like a few other paid software, this one, too, comes with a few irritants, such as high pricing, lack of affiliate marketing module, etc. As a result, most of the users nowadays tend to ignore it and look for the most affordable and best Chargebee alternative on the web.
Thus, to help you with it, we will be providing you with an exclusive list of the best alternatives for Chargebee. Besides their names, we will also cast light upon their features and pricing plans. Therefore, even if you go through the listicle just once, you will easily be able to find out the software that fulfills all of your requirements. Nevertheless, before getting into the details about the software programs, make sure to check out the comparison chart that has been provided below. It will help you to get a brief yet clear idea about them.
Comparison Chart of 5 Best Chargebee Alternatives 2022
| | | | | |
| --- | --- | --- | --- | --- |
| Services | Pricing (Basic Plan) | Dunning Management | Transaction Fee  | Unlimited Revenue |
| Pabbly Subscription Billing | $19/mo | Yes | No | Yes |
| | 5.9% fee on overall transaction value | Yes | Yes | No |
| | $14/mo | Yes | Yes | No |
| Paywhirl | $49/mo | No | Yes | No |
| Recurly | $99/mo | Yes | Yes | No |
So, as you have already known about a few essentials of the programs, now it is time for you to learn about their features. It will aid you in increasing your overall knowledge about them and help you in taking the right decision.
"Pabbly Subscription Billing is undoubtedly the easiest and most user-friendly software program that lets you create an innumerable amount of products or plans. Also, it does not restrict you from using its exclusive features, such as dunning management, unlike other services in the market," 
It is a SaaS-based software program that enables you to create unlimited revenues without asking for extra fees. Moreover, it also features a highly intuitional dashboard where you can operate almost every detail regarding payment reports or customer requests. Additionally, it also supports several payment gateways like Stripe and PayPal. So, with it, you can acquire payments from your consumers from all around the world.
Besides this, it also lets you have detailed information about your customers, their locations, and the services they are using. In addition, with the software, you will also get to use an exclusive feature called Dunning Management. In the cases of payment failure, it will send you and your customer notification about this issue. However, that's not it. It also allows you to automate emails and generate an unlimited number of coupons with a percentage or flat discount.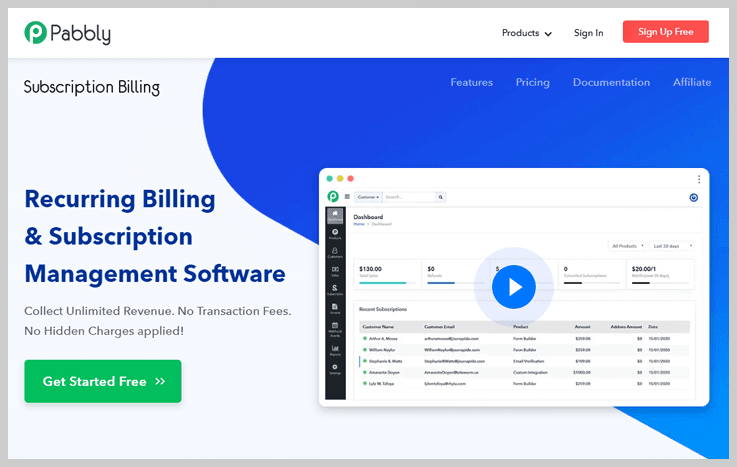 Features
Custom Domain Creation – With this feature, you can create a custom domain for your own website to make it even more unique. After creating, you can replace it with the Pabbly domain page from the checkout page.
Sales and Tax Revelation – The software can accumulate and display accurate data of sales and tax. Hence, this way, it will be easier for you to keep a proper track of everything.
Autofill and Embed Checkouts – With the program, you can autofill the consumer information by using a simple code. This, in turn, will boost your website's overall customer experience.
Client Portal – By using the client portal feature, your customers can manage their payment methods quite easily. Besides this, they can also review all of their subscriptions and transactions from here.
Simple Invoicing – You can keep a track of all the payments and maintain their records through the invoices. Hence, your task of maintaining invoices will become even easier.
Pricing
Starter Plan – By paying just $19/month, you can manage more than 50 consumers at once.
Rookie Plan – Costing $37/month, this plan lets you manage 100 customers and use all the features of the basic plan. Additionally, you will also get to use a new feature called Add-on with it.
Pro Plan – With the Pro Plan, you can use all the features of Rookie Plan and cater to around 150 customers. Nevertheless, you will have to pay $57/month to subscribe to it.
Advanced Plan – The Advanced Plan costs $79/month and allows you to manage up to 250 consumers. However, if you want to increase the customer count, then you will have to pay a little bit more.
2. FastSpring – Billing Software
Widely known as one of the best Chargebee alternatives, FastSpring can equip your business with high-end checkout facilities. Besides, it can boost both of your sales rates and lower the number of customer abandonment issues. Moreover, it also features the coveted dunning management system that informs you instantly about the payment disputes.
Furthermore, it also lets you track the overall usages per contract and company. Thus, it becomes easier for you to create the invoices and keep the reports handy. Additionally, it also supports multiple currencies. Therefore, if you are thinking about offering your services to overseas clients, then this software should be ideal for you.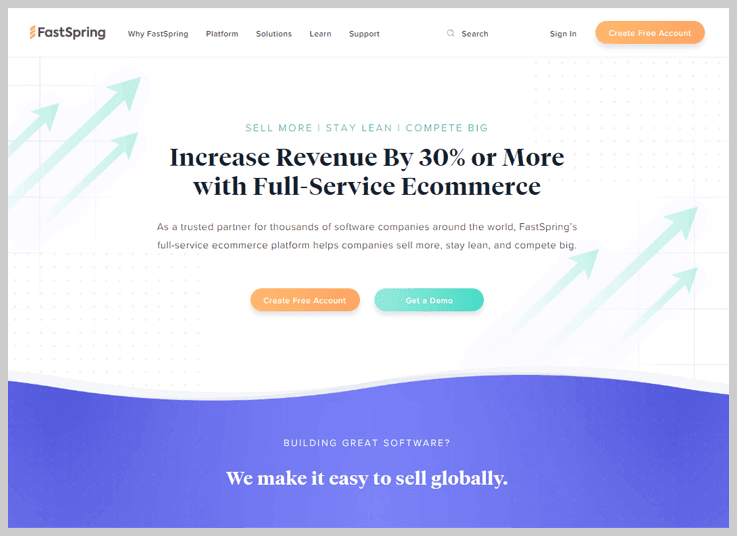 Features
Personalized Billing System – With FastSpring, you can create various types of billings like one-time alteration or recurring. Furthermore, it also allows you to check the usage rate to make your task easier.
Flexible Plan Administration – It lets you generate flexible plans that support discount management, annual or monthly-paid plans, and many more. So, with it, you can configure the pricing, length, and special coupons quite easily.
Automated Notification System – With FastSpring, you can communicate with your client directly by sending them renewal notices and receipts. Moreover, you can also send automated invoices to them.
Consolidated Invoices – You can create consolidated invoices with this software. This, in turn, can help your clients to make only one payment for all of their subscriptions.
Deferred Revenue Function – It enables you to track all the payments for received items that you have not delivered yet.
Pricing  
Option 1 – By subscribing to it, you can use all the basic and advanced features, such as fraud protection tools, of FastSpring. However, to enjoy all these, you will have to pay an 8.9% fee on the total transaction value.
Option 2 – To use this one, you will need to pay a 5.9% fee of the overall transaction value. Moreover, it will also charge you 95 cents on each processed transaction. Nevertheless, with this option, you can use all the basic features of the software.
3. Subbly – Subscription Software
With Subbly, you can create your business from scratch or add it to your already-existing website. Moreover, the software also comes with several highly flexible and customizable options, just like shipping intervals and recurring billing. Besides, with the software, you can also collect all of your client information quite comfortably.
This, in turn, will help you to keep a proper track of your records and cater to your customers perfectly. In addition, the application also has strong coordination with ShipStation. Hence, it can make your job of managing shipping and logistics easier for you. With it, you can also offer discounts to your customers to lure even more clients.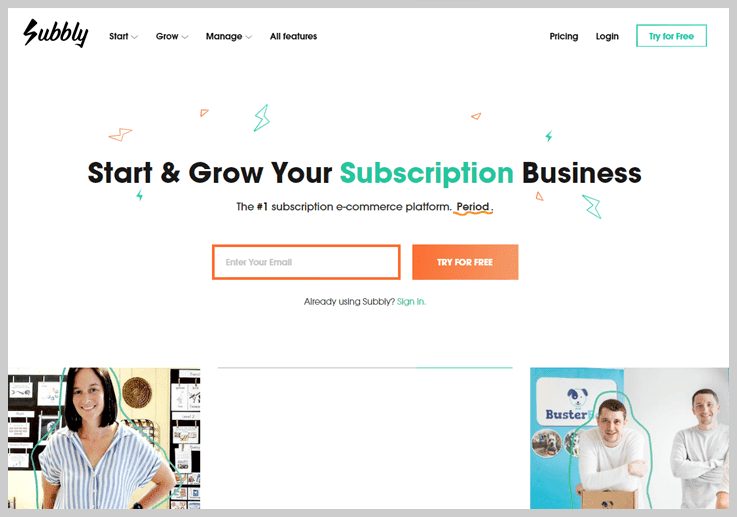 Features
Shipping Date Customization – With this software, you can change the shipping dates at your will. Hence, if you want to, then you can charge all of your clients and send shipments on the same day.
Trial Period – It also enables you to let your customer try out the sample versions of your subscription plans. Hence, if your customer likes it, then they will subscribe to it or, otherwise, they won't. All in all, this feature can enrich the customer experience of your website to some extent.
Functional Cart System – With this feature, your customer can add more than three products on the subscription cart. Thus, once they are done, they can update everything at the same time.
Dunning Management – It lets you and your customer know about all of the payment issues by sending a notification.
Survey Builder – It lets you offer customizable subscriptions to your consumers and choose whatever they prefer the most.
Pricing
Checkout Only – By acquiring this plan, you can get access to all the checkout-related features. However, you will have to pay $14/month plus a 1% fee per transaction.
Website + Checkout – This plan costs around $29/month and lets you use all the core features of the software. Nonetheless, it will also charge a 1% transaction fee from you.
4. Paywhirl – All-In-One Chargebee Alternative
Paywhirl is an all-in-one Chargebee alternative that enables you to manage your recurring billing cycles in a simple manner. The cycles include pre-orders, sales, payment plans, customer subscriptions, and many more. In addition, it also integrates with almost all popular payment applications, such as PayPal, Stripe, Shopify, Zapier, etc. Therefore, you won't have any problems regarding collecting fees from your consumers.
The software can also help you to add a customer portal to your website. With it, your clients can easily log in with their username and passwords, and check out their subscriptions. Additionally, with Paywhirl, you can also customize your invoices and emails anytime, anywhere.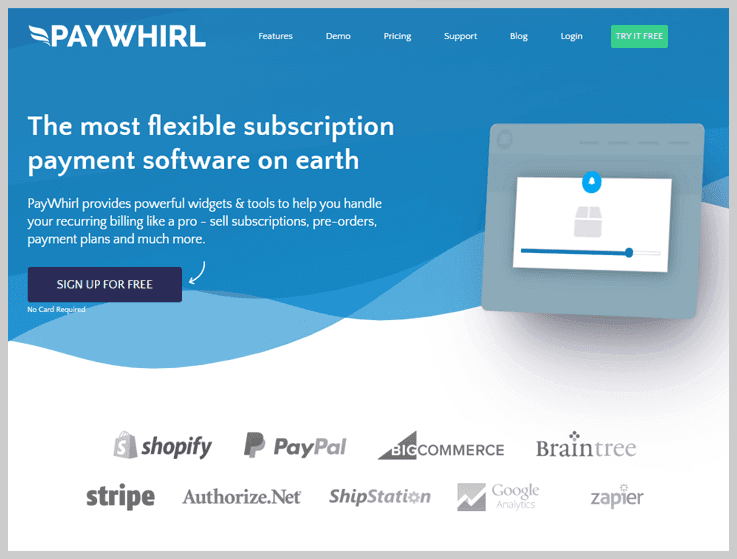 Features
Automatic Payment Scheduling – This feature makes it easier for you to charge your clients with a few simple steps. Moreover, it also helps you to accumulate payments from almost anywhere. This, in turn, enables you to maintain a continuous flow of cash.
Payment Widgets – To make your payment collecting job easier, you will only need to drop the Payment Widgets on your website. After that, they will take care of everything else.
Smart Shopping Cart – The well-designed shopping cart of Recurly can recognize the single-payment products and subscriptions at once. This way, your client can checkout with both of them simultaneously.
Multiple Currency Support – Besides several payment tools, Paywhirl also supports multiple currencies from different parts of the world.
Customized Checkout Funnel – With it, you can generate a checkout funnel by chaining the widgets together to create a customized brand identity.
Pricing  
Business Pro – This plan enables you to connect with three different account managers. However, to subscribe to it, you will have to pay $49/month and 2% extra fee per subscription.
Business Plus – Costing $149/month, it lets you use all of the basic features as well as some advanced ones. Furthermore, you can also connect to 10 account managers with it.
Business Ultimate – With it, you can connect to an unlimited number of account managers and enjoy all the features of the program. However, for that, you will have to pay $248/month and 0.5% extra fee per transaction.
5. Recurly – Top Alternatives to Chargebee
 Recurly is yet another of the top alternatives to Chargebee. The main platform of this software can work proficiently and flexibly with customer integration. Furthermore, it also offers detailed and comprehensive information about your customer and their services. Therefore, it becomes somewhat easier for you to manage your customer and their issues properly. Moreover, Recurly also offers a free trial to help you to get used to it.
Additionally, the software program also enables you to add new plans and products and, then, sell them to the customers. Hence, with it, the subscription management procedure becomes a lot easier. Also, the analytics feature of Recurly is quite efficient and offers a crisp and informative detail of the payments. Therefore, it becomes easier for you to keep track of your payment records.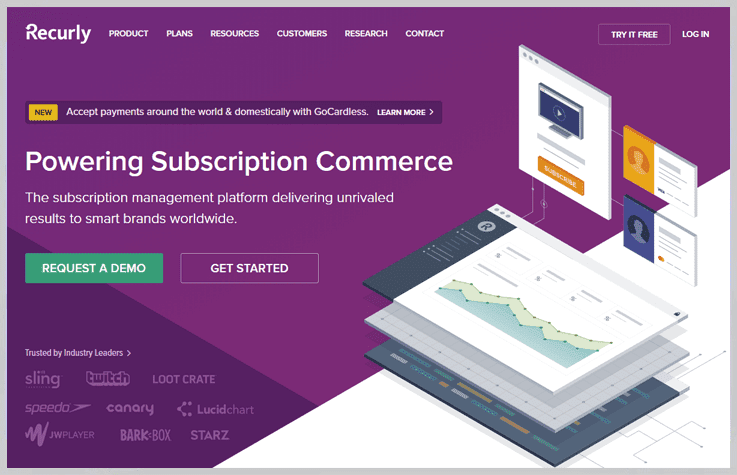 Features
Subscription Chart – It provides you with a detailed view of the products and plans that you have created. Hence, with it, you can understand the performance of your plans more closely.
Multiple Currency Support – The software supports several different types of currencies that belong to different regions. Thus, with Recurly, you can cater to clients from all around the world and receive payments from them.
Dunning Management – This feature primarily deals with payment complications. Besides, whenever an issue occurs, it also lets you and your customer know about it by sending a notification.
Easier Invoicing – The invoices created by this software are informative and contain the necessary details like the number of products, payments, etc. Therefore, your job of keeping track of everything becomes a lot easier.
Affiliate Market Module – With this feature, you can keep a keen eye on all of your marketing associates and track the net revenue properly.
Pricing  
Core –  A basic plan intended for smaller businesses, the Core Plan features a wide range of payment procedures and webhooks. However, in general, the plan costs around $99/month. But, still, you should contact the sales first to get a confirmation about it.
Professional – Considered to be perfect for the bigger businesses, this plan comprises all the basic features and several advanced ones too. Nonetheless, to know about its cost, you would have to contact the sales.
Elite – The Elite Plan includes all the Core and Professional features. Besides, it also comes with a fraud management tool and an advanced analytics system. Nevertheless, to know about its pricing, you will need to contact the sales.
Conclusion
So, these are some of the cheap Chargebee alternative options out there that can be very useful for you. However, unlike Pabbly Subscription Billing, they have their own restrictions. A few of them charge a high amount of capital from you, while the others miss out on several essential features. Contrarily, Pabbly Subscription Billing is both cheaper and offers almost all the necessary features to aid your business growth. Moreover, it also provides various extra components, such as affiliate modules and accurate analytics, which are equally beneficial for you.
You May Also Like To Read: