Going cashless has become more popular nowadays. Online payments provide a lot of options to pay. One can use credit cards, debit cards, internet banking and a lot more. Online transactions are safe, secure and you are always benefited with instant invoice confirmation email whenever an online payment is done.  
So, are you looking forward to design a digital transaction form for your business which can efficiently collect online payments?
Well, you are at the right place as in this blog we have collected some of the advance PayPal payments form builder software for you.
These forms help you to collect all the onetime payment or recurring payments by paying through PayPal payment gateway.
Before going through the detail of these form builder services have a quick glance at their comparison.

By using these form maker software you can design beautiful and elegant payment forms within a few seconds. It's just not about payment form, you can create numerous kind of forms like:
Lead Generation Forms
Contact Forms
Feedback forms
Sign up Forms and more.
Also, the PayPal payment forms software comes jampacked with features like it provide you with different layouts for forms, custom designing, ease of use, and a lot more advanced ones.
Below is the list of 6 PayPal payment form software with each having unique feature and pricing plan. Let us move forward and explore them in details.
Before that also have a quick glance at these form maker software:
---
No doubt, FormGet is one of the most popular form builder tool online that helps you to create numerous kind of forms. You don't have to be technically skilled to work with this software as its very easy to use and simple to explore.
Its drag and drop functionality lets you build forms and easily drag the details like name, contact, emails from one place to other. In fact, by using its custom design feature you can add colors, backgrounds or images on the forms at a various section which will surely attract customers to your website.
---

---
Pricing Details:-
FormGet provides you with different kind of pricing plans.
Starters Plan – This plan costs you $5/m and $50/y with 3 Google analytics account integration, autoresponder, and live chat services.
Rookie Plan – It has some more add-ons then the starters plan like custom email notification, custom branding, form scheduling, and RTL service for $35/m and $350/y.
Pro Plan – Pro is the most popular plan among them all at $79/m and $790/y. It includes multiple dropbox account integration, 260+ ready templates, 18 months upload storage, and priority support.
Advance Plan – This plan includes all the services which are present in the above three plans and also it has unlimited users and can create unlimited forms for $99/m and $990/y.
Characteristics:-
You can create an unlimited number of forms in multiple languages which helps you to connect with visitors all over the world.
Its form validation feature allows you to easily validate the real-time data of the form when the customer is filling in the details on the form.
This software has conditional logic and branding logic option which are meant whenever a dynamic condition occurs.
Also, you can easily embed forms on your website from different sources and show them anywhere on the site like header, footer or in the sidebar section.
---
Pabbly Forms is an amazing online form maker software that allows you to review all the form entries details at one place in a systematic manner. You can easily manage each and every detail of forms and also manage multiple forms in one place.
This software support multiple gateway payments for a one-time payment or recurring payment in an easy way with Stripe and PayPal. Make your form look unique by applying your brand logo, images, colors and other entities and also you can add your own branding.
---

---
Pricing Details:-
Pabbly comes up with different pricing plans which are features on monthly bases:
Starters Plan – It includes one user, you can create one form and 1200 form submissions can be one per month for $5/m.
Rookie Plan – This plan has PayPal and Stripe integration to collect payments online, multiple dropbox integrations and custom branding for $35/m.
Pro Plan – With this you can view 250k forms/m, priority support and agents/Clients dashboard for $79/m.
Advance Plan – This plan includes customizing forms & themes, live chat, custom thank you page message, and submission notifications for $99/m.
Characteristics:-
This software provides you with a variety of prebuilt themes and forms layouts that can be used to design the new ones. And even you can add your own designs to them.
You can benefit your team members with the access to form details. They can also create forms and enrich them with the specific sections of the forms.
You will receive an immediate confirmation email whenever any forms submitted by the user online.
It allows you to connect the different forms with the email marketing applications like MailGet, iContact, etc to generate more leads for your website.
---
Formstack is a web form builder software which can be customized for any kind of business streams like marketing, small business, healthcare or information technology. You can integrate the form data with 40 powerful applications like Google spreadsheets, salesforce etc to track the form performance or automate the workflow.
This software helps you out to generate more and more traffic on your website as its very easy to use and you can customize any section of the forms.
In fact, you can compile your form data with GDPR which lets you enhance your personal data in a proper way.
---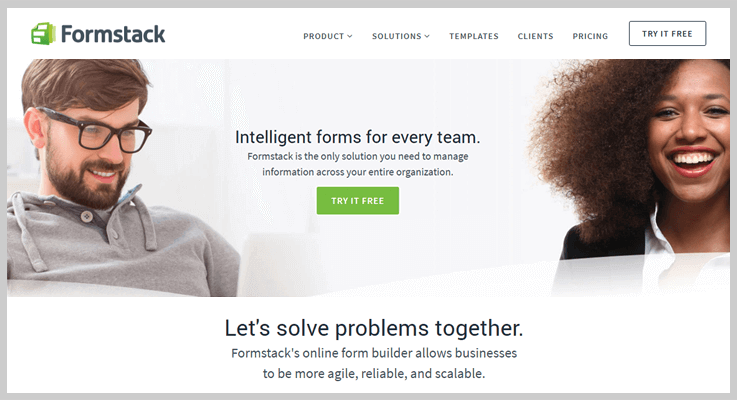 ---
Pricing Details:-
Formstack plans are divided into four different plans and all are richer with base features.
Platinum Plan – This plan includes mobile-friendly forms, advance PDF's and Salesforce integration for $249/m and $207.50 /m, bill annually.
Gold Plan – It includes all the features except salesforce integration and cost you $99/m and $82.50/m, bill annually.
Silver Plan – This plan has mobile friendly forms, payments & integrations and you can create 20 forms with this for $39/m and $32.50/m, bill annually.
Bronze Plan – It contains only two features: base features and mobile-friendly forms cost you $19/m and $19/m, bill annually.
Characteristics:-
This software provides you with the option to compare two forms together by using A/B testing that which one is better. Also, use API to create custom form integrations on the website.
It allows you to serve your user to fill the form and submit it later. Your users can fill the form from any device like mobile, desktop, tab etc.
This helps you to create strong CRM, easily collect online payments, organize email confirmation list and other data with a vast selection of form integration.
Also, it allows you to secure your form data from spams by creating invisible reCAPTCHA, encryption, GDPR compliance etc.
---
Wufoo is a user-friendly form builder tool which helps you to create numerous forms. You can also create online surveys to get market research for the website. As you know forms are an essential part of any brand to collect customers loop feedbacks. It allows you to generate payment forms through which you can collect onetime or recurring online payments.
Wufoo is totally based on cloud software where you don't have to write even a single line code. Just click the buttons and your form is ready only you need is an internet connection and a hosting platform.
---

---
Pricing Details:-
Wufoo pricing plan is discussed below in details.
Free plan – It provides you with 5 forms,100 form entries,10 different fields, 1 users, and unlimited reports for $0/m.
Starter Plan – This plan has services like Google analytics tracking, a custom confirmation page and 1000 form entries for $14.08/m and $19/y.
Professional Plan – It includes all the options like higher file upload limit, field encryption, password protect, a confirmation email services for $29.08/m and $39/y.
Advance Plan – It has all the service option which are included in the above pricing plans with 50,000 API requests and unlimited users for $74.08/m and $99/y.
Characteristics:-
Use its drag and drop option, you can easily drag the sections like name, emails etc of the forms and can even use its 400+ customizable prebuilt templates for forms.
You can collect the feedback or response back the users very quickly as Wufoo has great performance. Accept all the file uploads type, integrate forms with more than 60+ tools like Salesforce, MailChimp etc.
This software allows you to easily monitor the performance of forms and analyze real-time results like checkouts or entries and even build forms reports systematically.
It also helps you to generate data on spreadsheets and also you can share all the specific data with team members.
---
Another topmost form maker tool through which you can design a professional form layout within a few clicks. After form designing work is done these are directly sent to the inbox of the website. You can select any kind of font size, color or image to give an attractive look to the forms.
JotForm automatically integrates the data of forms with other beneficiary apps like email marketing services, CRM's, workflow tracker etc. Moreover, users can easily fill up the details of forms as it can be adapted with any screen sizes like tab, tablet, laptop etc.
---

---
Pricing Details:-
JotForm pricing plans are briefly discussed below.
Starter Free Plan – This provides you with 100MB space, 1000 monthly form views and create unlimited reports, fields perform for $0.
Bronze Plan – It has 10GB available space, creates 25 different forms and unlimited total submission storage for $19/m.
Silver Plan – This plan is best rated as it provides 100GB available space, creates 100 forms and views unlimited monthly forms for $39/m.
Gold Plan – This benefits you with 1TB available space, create unlimited forms and also generate an unlimited number of reports as per the form for $99/m.
Characteristics:-
You can use its conditional logic feature for forms to only show/hide specific fields, Update/calculated fields and change email recipients.
This software allows you to enrich your users with a thank you page at the end of form submission time.
It helps you to drag and drops the details like datepicker, time, submit etc on the forms from the prebuild fields.
Also, it allows you to collect onetime or recurring payments online through Stripe or PayPal payment gateways.
---
It is another wondrous form maker software which allows you to create professional forms within a minute and benefits you with all the advanced features that you require to build powerful forms. You can do market research through online surveys which this amazing tool provides you.
This software let you share or embed on your website and can be customized with numerous designs. Also, you can export your form data details or integrate them with third-party services.
---

---
Pricing Details:
Formsite plans are discuss below in details.
Free Plan – In this plan you can create 5 forms, provides 50MB file space and 10 results per forms for $0, as its free of cost.
Delux Plan – This plan provides you to create 5 forms, 500MB file space and 500 results per forms for $14.95/m and 149.95/y.
Pro1 Plan – It is riches with 1GB file space, generate 10 forms and display free ads on the form with 14days free trial facility. After that, it will cost you $24.95/m and 249.95/y.
Pro2 Plan – This contains 2GB file space, add 5 sub-users to your site, can create unlimited PDFs and unlimited workflow for $49.95/m and $499.95/y.
Pro3 Plan – This plan has 4GB file space, you can create 100 forms and it has security compliant for $99.95/m and $999.95/y.
Characteristics:-
You can design any kind of forms that match your brand design, generate multiple page forms at the same finalize forms and embed the formson any page of the website.
You can benefit your users to submit the online fee by using different kinds of transaction platforms like Braintree, Stripe, PayPal etc and also collect the payments through credit cards and checks.
This software provides you to get responses partially through the return and save option, all the files attachments can be collected easily and summarize sensitive data with secure forms option.
You get the real-time reports of your form by visual graphs and tables, share form custom reports within few clicks and its email notification will keep you connected with users.
---
Conclusion:
Finding the top PayPal form software is a tricky task. That's why we have written this blog. Above, we have summarized 6 advances PayPal payment software for creating a hassle-free payment form. As to collect the online payments easily and securely.
We hope you have found up the best software tool and install it on your website within few clicks.
If you have any query or suggestion please comment below in the box: