Do you ever wonder how do conditional logic forms help you out?
First, let us understand what conditional logic is.
Let us understand it by an example
If you are having a restaurant website and your users want to order food online, then you can put the question in the form that which type of food you want. for eg. vegetarian or non-vegetarian. And after the user has selected the required field, you can put forward the categories of the food accordingly. This is what showing or hiding fields or applying logics in your form means.
So, conditional logic is a form builder feature which lets you easily show or hide form fields based on how someone responds to other fields on the form. There are lots of form building software available in the market and it is very hard to find the best one.
Before going into the deep information have a look at comparison table of best form builder software
Here a question arises that what makes a form best?
So, its the implementation process, the useful features to grab users attention. Such as conditional logic function, adding branding, logos, images, colors and customization options.
Further, if a form is having an online payment option integrated into it such as PayPal, Stripe etc., then it's a cherry on the top.
Here in this article, we have a compiled a list of 5 top conditional logic forms. This will help you to increases the submission rate of forms which in result increases the conversion rate also.
The forms created using these form makers will be easy and fun for the customers to fill. This is because the fields of forms get opened or closed based on their selection.
Read some more interesting blogs too!!
Let us discuss each conditional logic forms in detail.
---
1. FormGet – Conditional Logic Forms Software
It is a widely used conditional logic forms making software which will allow you to create various forms. Such as contact form, lead generation form, subscription form, and more.
These forms help you to attract your customer towards your product by providing various useful features. You can use useful drag and drop options for creating your forms easily and quickly. Then, there are categorized product list, secure payment gateways for checkout purpose by using PayPal, Stripe and more.
There are many integrations that have been supported by the FormGet software which you can include in the software as per your need. It supports various email applications such as MailChimp, MailGet etc.
This will help you to receive notification as the user will submit a form directly in your mailbox.
---

---
Other Useful Features:
You can embed forms on multiple websites and manage them all from one single location with the help of FormGet software. The forms will be placed directly on the website or you can embed it as a sliding widget on your website.
As you create multiple forms the software permits you to give selected access to team members or clients and let them manage their own forms.
It has multilingual form support so that one can create forms in any language and share with your audience. Also, this software supports social sharing by which you can share your forms in various social sharing platforms.
This software allows you to customize the forms means you can change the form background color, text field color, font schemes colors, etc,. Further, you are able to showcase custom message after successful form submission like thank you messages, etc.
---
Pricing:
There are 4 plans based on price and the services provided with them.
Starters Plan:- The customer will be required to pay a reasonable price of $5 in this plan. You are getting 1 user and 1 form access along with 1 payment account and 3 Google analytics account integration.
Rookie Plan:- This plan cost you $35/month in which you get 5 users and 25 forms, features such as PayPal & Stripe Integration and 2GB storage.
Pro Plan:– You can buy this $79 in which all the extensions will be applicable for 10 users. Further, you will get features such as email notifications and 7GB storage.
Advance Plan:- In this plan, you will be paying $99 monthly in which you will get all the features of above plans. Also, in this plan extensions will be applicable for the unlimited users and unlimited forms.
---
2. Pabbly Forms
Selling products using various forms in Pabbly Forms software is quick and simple. As the software helps you to create forms to capture leads, to collect payments and for a lot more. Also, you can make feedback form so that you can get your user's feedback in just a few minutes and much more.
Once you buy this software you are allowed to create as many forms as you want in a fraction of time. Using Pabbly Forms, you are allowed to choose to display custom text or set custom field values based upon what the user selected.
Using conditional logic feature you are able to show the next question to customers only if their budget is higher than X amount. This works great for agencies or consultants. This will help to make your longer forms into shorter one.
---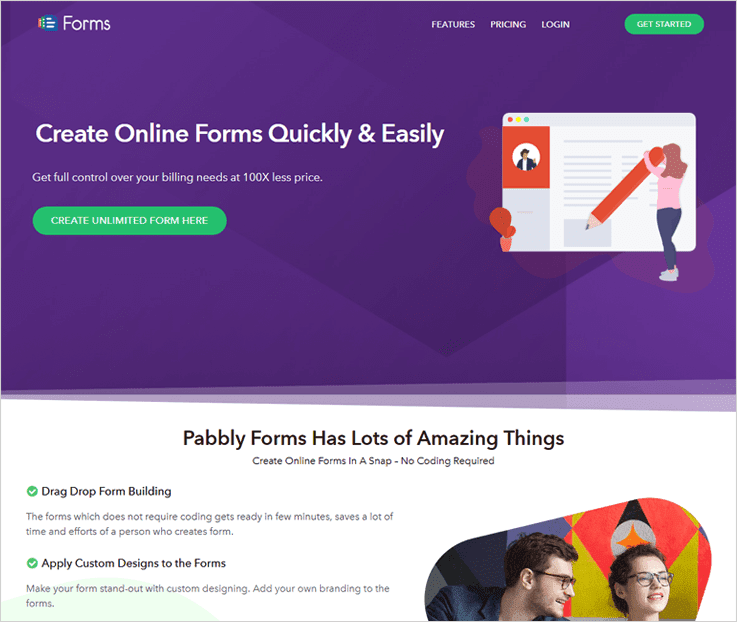 ---
Other Useful Features:
You can collect payment online using 2 methods these are- one-time payment where you can pay money online using PayPal or Stripe etc,. The second method is a recurring method where your users will make payments for the product they buy, at regular intervals of time.
The noteworthy feature is you are able to track users IP Address from where the message has been submitted. Also, it permits you to see the Country from where the user belongs to, you can see the Web Browser that user has used while submitting the form.
Create form and share form links online with your users. Moreover, you can access and manage all your data from one place and get immediate notification on your emails. As the form is integrated with various email marketing applications such as MailGet etc.
It has an autoresponder functionality by which as soon as an entry is submitted by a user. This autoresponders feature will notify users instantly on their screen. This will help to make a user-friendly environment.
---
Pricing:
Pricing plans for this FormGet software are given below-
Plan 1 – This plan cost you $5 with 1 user, 1 form access, allowed 1200 submissions/ Month and you can embed to 10 domains using this plan.
Plan 2 – Available at $35 along with 2GB file uploads, more than 25k submission per month. Also, a full support from one site and many dropbox account integration.
Plan 3 – Buy this plan at $79 for a month and its yearly at $790, you will get 10 users and unlimited forms access along with 60k submissions/ month.
Plan 4 – Get this advance plan where you are allowed to use unlimited payment account and it supports email integration.
---
3. Zoho Forms
It is one of the finest conditional logic form builder software where you can create and share online forms for any business. There are various type of forms which you can use. These are business forms, request form (leave application form), feedback form, donation forms and more.
Zoho Forms allows you to collect users data and automating your workflows, with ease. You will receive email alerts by integrating forms with various email marketing applications and get your team involved to manage your data which will make your work easier.
You can create PDFs, collect payments and hide entire questions if the customer doesn't select a specific option. This will be great for long-form surveys.
---

---
Other Useful Features:
You can personalize your forms with themes and templates to get a better look for your website. Also, you can use your logo and a custom color scheme to let your brand shine through your website.
This software helps you to share your forms using email campaigns, public links, and on social media. You can also increase your forms offline reach with printable QR codes available with the help of this Zoho software.
It has an advantage that one can view data in Google Sheets. Further, you can create new leads in Salesforce, MailGet etc. You are able to connect forms to all of your favorite applications so that you will get immediate data notification in it.
---
Pricing:
Basic Plan– Buy this plan at $8 for a month with unlimited forms license, 1 user, and regular updates & support.
Standard Plan– You can buy this plan at $20 with 10 users, unlimited forms and 25,000 submissions/month.
Professional Plan– This cost you $40/ month comes with 25 users license and full support. Further, you are getting 5 GB storage, built-in custom themes and more.
Premium Plan – Grab this plan at just $80 with full updates, 100 Users, unlimited forms, 150,000 submissions/month.
---
4. Cognito Forms
You can build a contact form, registration form, or order form in seconds with the help of this web form maker software. One can create unlimited forms with easy to use, drag-and-drop form builder which has all the layout and flexibility that you need.
The noteworthy feature in this is you are able to send your data to the apps that you already use like Zapier, Microsoft Flow, and JSON webhooks etc.
---

---
Other Useful Features:
You can create customized Word or PDF documents from your data. Also, you are able to automatically send them where they need to go according to your own choice.
One can allow their users to pick up right where they left off by saving their progress on partially completed form responses.
The best functionality is you can give your users the ability to update their entries even after they've already been submitted. And that too possible without logging in.
With this software, your forms are able to do the math with powerful calculations that can total costs, compare dates and much more.
---
Pricing:
The first plan is free of cost where you will get 1 user access, unlimited forms and more than 500 entries per month.
In the second plan, one can have the 2 users access, unlimited forms and you will get more than 2000 entries/ month and all these features will cost you $10.
Third plan names team plan which you can buy at $24 on monthly basis. Here 5 users access possible along with unlimited forms entries and 10000+ entries per month.
Buy the fourth and the most amazing plan where you will get all the above services. Also,100GB storage along with unlimited form entries and access for more than 50 users.
---
5. Formlets – Form Builder Software
This is one of the powerful online conditional logic forms builder software where you can capture unlimited responses. And you will receive every form submit data in your mailbox and more. With the help of this software, you can make contact forms, order forms, surveys or many others in just a few clicks.
An important feature in this software is Async file uploads which allow your users to upload many files before the submission of the form. That's why it is perfect for mobile file uploads like taking pictures and uploading. Moreover, it permits users to upload large files up to 2TB.
---

---
Other Useful Features:
It has an autocomplete option which enables the browser to pre-fill the form with data from other forms already entered by the users.
The software has a conditional display or we can say a conditional logic feature. With the help of which you are able to show or hide some fields from users on specific conditions.
You can enable CSRF protection on your form. This will prevent Bots or malicious people to submit data to your form who did not fill out the form. Also, it includes captcha in your form for security purpose.
Formlets allows users to electronically input their signature to the form. Although, this feature is also available to free accounts.
---
Pricing:
Personal Plan– This plan cost you nothing as it is available at $0. You are getting access to publish 1 form, unlimited responses and more than 5000 form views per month.
Small Business Plan – Buy this plan at $18 for a month where you will get respondent email notifications service. Further, it gives you PayPal & Stripe payment option and 500+ app integration support.
Professional Plan – It cost you $48 with access to publish 50 forms, unlimited responses and 20GB space for file upload.
Enterprise Plan – Grab this advance plan where you are getting all the features present in the above plans at a reasonable price of $260/ month. Here you can publish 200 forms. Further, you will get 50GB space for file upload and custom thank you page with this plan.
---
6. Wufoo Form Builder
Easily create custom online forms in the fraction of time with the powerful Wufoo form builder software features. You can collect payments using payment gateways such as PayPal, Stripe, and Authorize.net. It has responsive templates which fit on every screen, you can easily integrate these forms with business tools.
The best part is you are able to respond to feedback, requests, or leads immediately after people complete your form. As you will get notifications of data entry by users on your email in seconds of time.
---

---
Other Useful Features:
One can analyze real-time results means you can check and analyze entries from any device as they roll into your account. Also, this software builds shareable, password-protected reports.
It allows you to monitor traffic, conversions, and integrate the forms with Google Analytics for crucial data. Moreover, it consists of easy drag and drops options so that you can implement forms with ease.
You are allowed to integrate your forms with popular tools. And you are able to connect Wufoo form builder with more than 60 of your favorite tools including Salesforce, MailChimp and more. You will get notified about users submission in all these connected apps.
---
Pricing:
Free Version– with this FREE plan you will get 5 forms, 100 entries, 10 fields, 1 user access and unlimited reports.
Starter Plan– Get this plan at $14.08/ month with 1000 entries, 10 forms, 1GB uploads of data and a lot more with this plan.
Professional Plan – Buy this plan at $29.08 along with unlimited forms, 5000+ entries and 5 users access and more.
Advanced Plan – This plan cost you $74.08 where you will get all the above plans features also you are getting more than 25,000 entries and a lot more.
---
Conclusion:
As we have reached at the end of our blog, we hope that you have found the right conditional logic forms builder for your website. All the above-mentioned software are best in terms of their various different features and pricing. You can choose any of the above according to your requirement.
We are 24/7 available to help you if you have any queries please feel free to comment below.
Stay tuned for more form making software.