We have come up with a list of a wonderful bunch of Nursing WordPress Themes that will enhance your nursing business. 
Nursing is the most important aspect of the hospital or medical industry. It requires a lot of patience and perseverance to attend a patient with care and attention on a stretch, whether in the case of accidents or any sort of disease.
Just in case, if you have chosen that noble cause Staff of attending people by dispensing your medical services, you are doing one of the finest jobs on the planet.
Check out our other medical related post:-
---
1. HealthFamily – Family Therapeutist WordPress Theme
It takes a lot to give someone good nursing, and if you have to drop yourself into that profession then 'Health family' theme is an outstanding WordPress theme to launch yourself online. The full-width slider will definitely attract the site visitor attention. The integrated google map navigation is an amazing feature that will let your patients and help seekers reach out to you easily. The 'About Us' section adjacent to the google map can be utilized to share your profile and medical business.
The template has an appointment form where patients can easily book an appointment for themselves, it is an amazing feature that has been inculcated in the theme which allows you to manage and customize your appointments.
The service section area is in the form of slides where your multiple services like regular check-ups, multiple diagnostic tests, follow-ups, physiotherapies, and other similar services can be shared with an awesome display.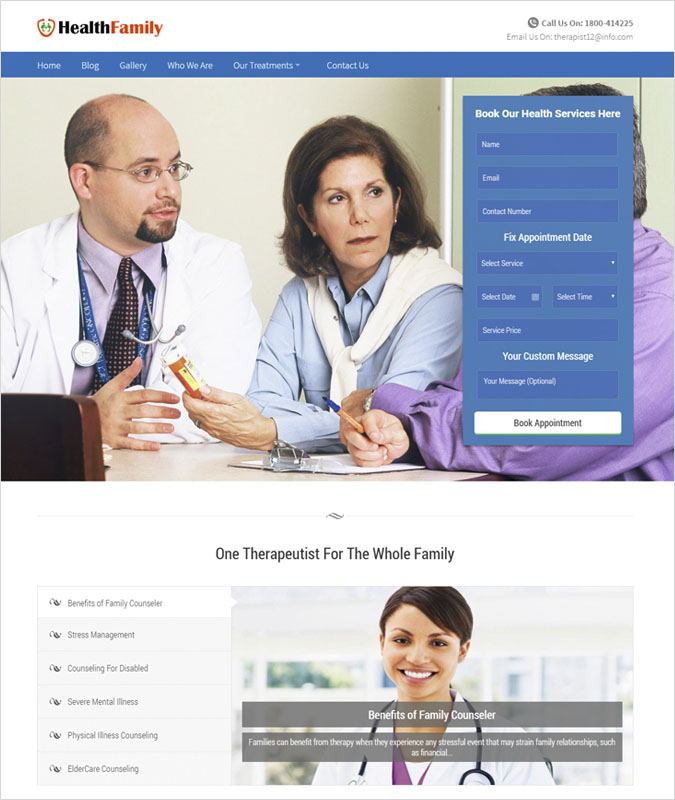 Key features of HealthFamily –
SEO In-built

It is built with CSS3 and HTML5

Inbuilt contact us page template and inbuilt gallery

Latest WordPress version compatible

Availability of responsive layout

Multiple color scheme

Inbuilt appointment plugs in feature

Availability of about section and contact map on the homepage

Special feature of integrated social sharing

Contact page and booking form widget area
Live DemoTheme Info + Download
---
2. ChildCare – Reproduction Clinic WordPress Theme
Nursing is the most important aspect when it comes to attending a pregnant lady and to lend your hand to some those people, you need an awesome online presence, and that is ChildCare WordPress theme. Having said that, the theme includes a fullwidth slider with a descriptive area which acts as a cherry on the cake for the theme, the template has an elegant layout with blog section and feature area to add value to the theme functionality.
Portfolio gallery can be used to share images and the various treatments that you provide for the child can be easily demonstrated on the multiple pages that are available on the theme. Show your recent post and categories of the treatments and facilities on the sidebar.
The accordion section that is used on the homepage will further enhance the productivity of the theme, The lead capture form that has been used will allow patients to leave contact details which can be used by you, to contact them back.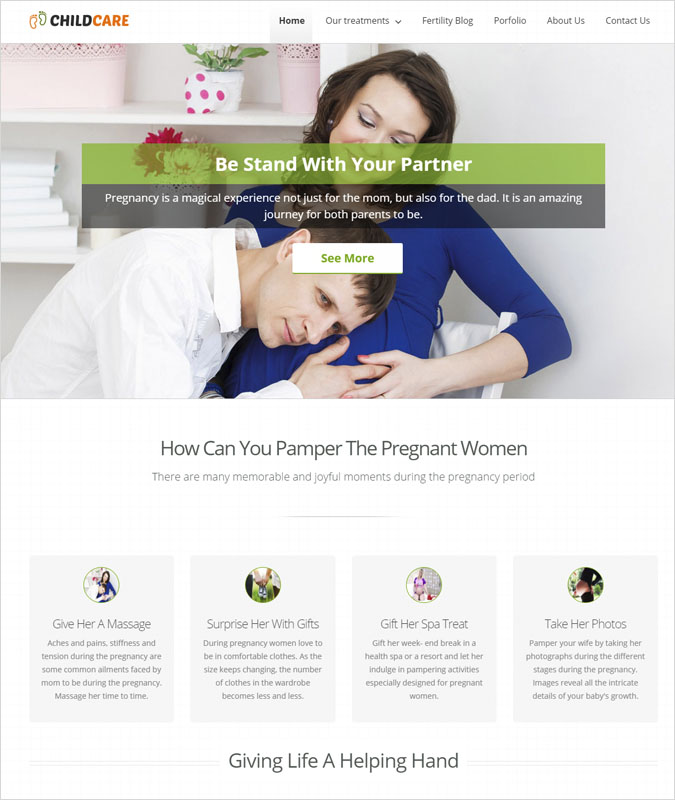 Key features of ChildCare –
Visual Composer

Lightbox video content

Contact store locator

Cycle content along with description of lightbox

Doctors as well as doctors detail

Procedures

Compatibility with all devices such as ios, PC,  android, tablet etc.

Side navigation

Header option

Retina ready

Availability of eight various color styling options
Live DemoTheme Info + Download
---
3. PreCare – Maternity Services WordPress Theme
Medical help and nursing is what the people look for, when a lady is expecting a baby, and to provide the best care and services to her and the baby it's important that you project your maternity work on the web through PreCare WordPress Theme  It's so nice to see an eye-catching theme that grabs one instant attention and for that you need a theme that is elegant.
The layered slider which exhibits your maternity services in a classy way. The testimonial section will further add on to your theme quality because you can receive feedback and improve accordingly. The 3 column feature area is an amazing section where you can share your maternity facilities. In addition to that, the blogs are a delightful way to share content that you want your patients to know. The theme also has a facility of receiving feedback from patients in the testimonial section.
The tagline used on the homepage will motivate patients through punch lines and slogans provided by you to the patients, the section has a call to action button which can be used to redirect further.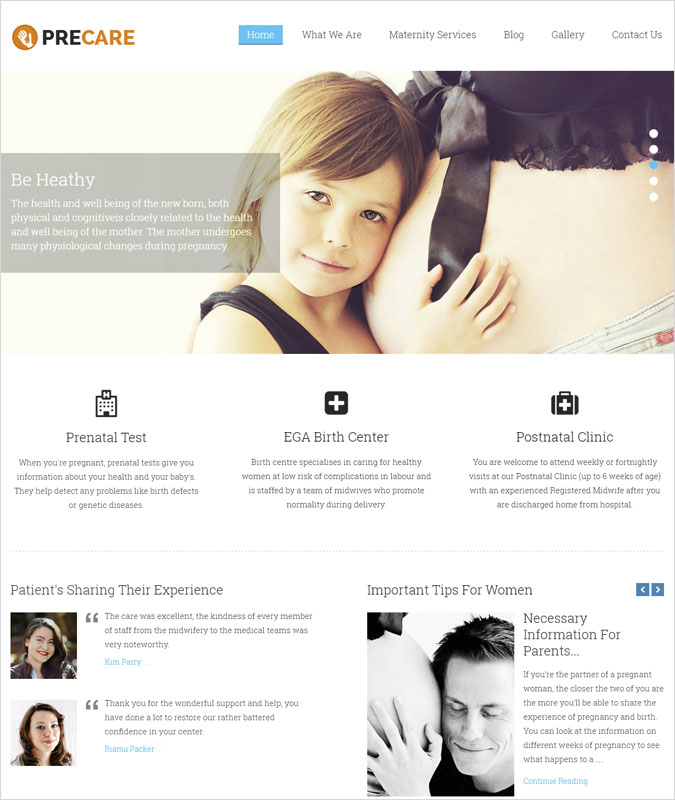 Key features of PreCare –
Layered slider

Powerful admin panel

favicon uploader and custom logo

It is also SEO optimized

Footer text area

Availability of amazing Sliders

Availability of custom templates and custom widgets

Special feature of  styling option

Social icons

Custom logo

Browser compatibility

Multiple Colour options
Live DemoTheme Info + Download
---
4. GoldenCare – Nursing Home WordPress Theme
Timely nursing and medical assistance always help you to recover faster. Helping elders is a noble cause and if your business supports that cause then it's really important to have an online platform for your business, and this purpose can be solved by choosing GoldenCare WordPress theme.
The Boxed slider will definitely mark an impression on the patients. The testimonial section will let you receive feedback from patients and customize as per their needs and requirements. The 'About Us' Section will let you disclose facts and information about your business journey, the splendid doctor section can be used to share your business partners and teammates. The blog gallery to share blogs and testimonial to receive feedback will further enhance your business.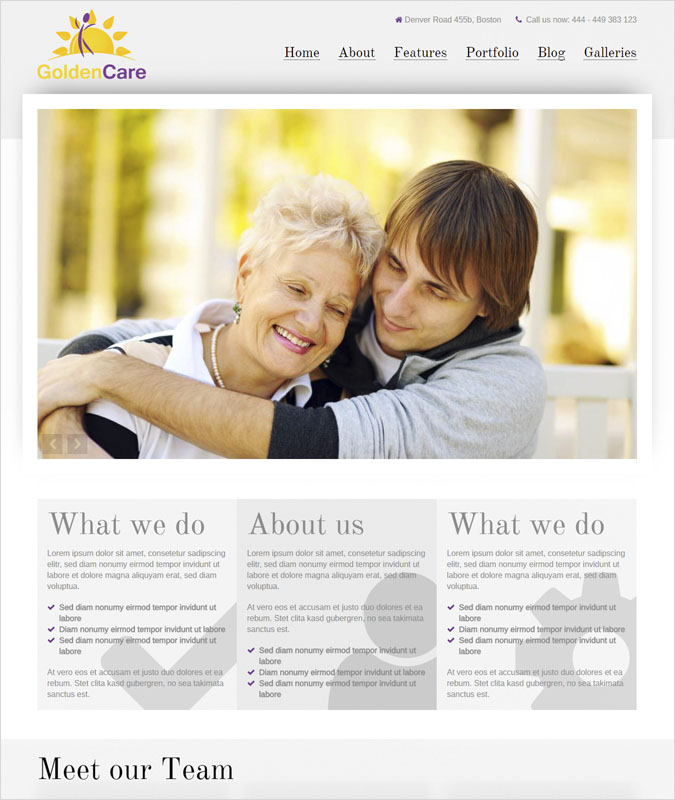 Key features of Goldencare –
Lots of options available for customizing the theme
Unlimited sidebars and slideshows
It is available with mobile-friendly reactive design
CSS3 animations
Available with amazing portfolio photo galleries
Drop as well as drag social icon management
Customizable social icons
User-friendly, extensive as well as brand free admin panel
Custom favicon upload
Built-in feature of translation for fast as well as easy translation of the particular them
Available with custom Javascript editor
Live DemoTheme Info + Download 
---
5. ChiroPractor

WordPress Theme
If you want to give some nursing to recover from a disease or an ailment that one has been diagnosed with, then advertise your business online through Chiropractor WordPress theme.
The theme has a 4 column feature area to share your nursing and medical services. Beneath the feature section, there is intro section along with a tabular section where your prominent facilities can be shared. The boxed slider used in the ChiroPractor theme is an elegant way of displaying your wellness activities and services, In the about us section, you can briefly describe yourself, about your business, where you started and how you progressed.
The 'Contact Us' page lets your patients give their information through which you can reach out to them, the template enables you to get in touch with your patients more easily.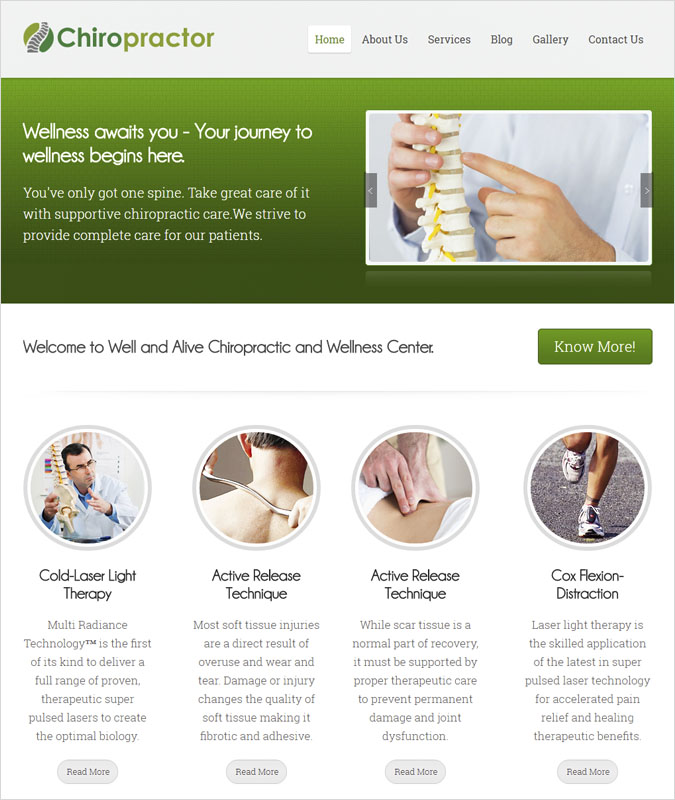 Key features of ChiroPractor –
For styling your website availability of ten different colors

Availability of unlimited drop-down menus

Availability of easy to navigate layout

Ajax based admin panel

PSD file included

Responsive design

Cross-browser checked

Four column feature section

Availability of SEO options

Search engine friendly design

Widgetized sidebar
Live DemoTheme Info + Download
---
6. One Page Theme
The theme is a one-page layout which acts as a one-stop solution for all the business traits and other features of the nursing and medical can be beautifully shared on the theme, the pricing table for the nursing services can be easily exhibited on the homepage of the theme.
The template has a team section where all the doctors and the nursing staff profile can be shared on the respective section of the theme. The video section present on the homepage of the theme is the place where virtual tour can be given to the clients and thus as a whole, the theme will help you to flourish your business.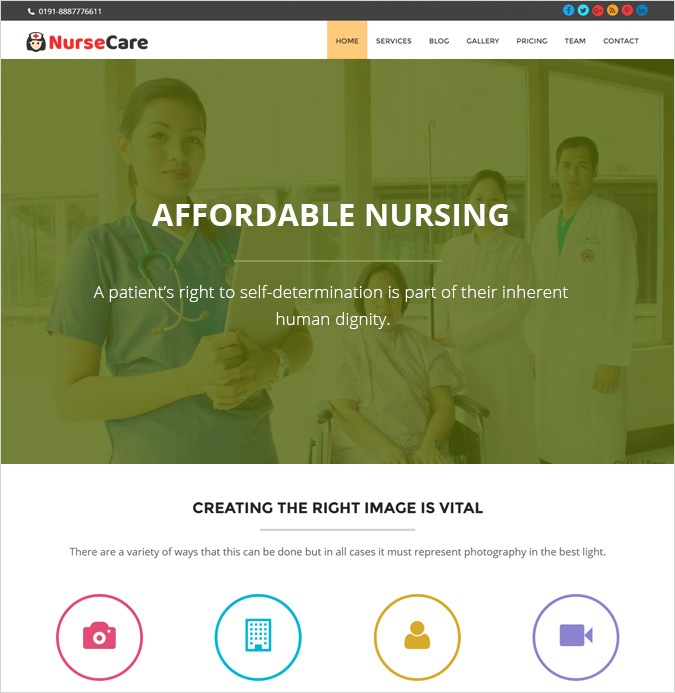 Features Of The OnePage Theme:-
WPML compatible.
Pricing table for prices and costs.
Testimonial section for feedback.
Team section for partners profile.
Full-width slider to display highlights.
Shortcode compatible.
Integrated Google map for navigation.
Get this free theme Now
Download ThemeClick here to know moreLive Demo
---
7. SeniorHome – Senior Home Care WordPress Theme
It's really important to have an online presence for a cause that is dedicated to senior and old age, because these are the people who need utmost attention and nursing, to reach out to maximum grandparents and parents 'SeniorHome' is an ideal medium.
The theme is an advanced bootstrap medical theme, layered slider and 3 column feature area are some of its service sharing sections, the most amazing feature of the theme is the Ink appointment plugin form that can be used to give appointment to the patients.
The blog area in itself is an amazing feature that describes your medical and old age facilities in the most amazing way, it's always a good choice to describe anything because what it does is, it gives a clear picture of one's business. There are multiple pages like contact, blog, and gallery that can be used to share contact information, descriptive content and plenty of images.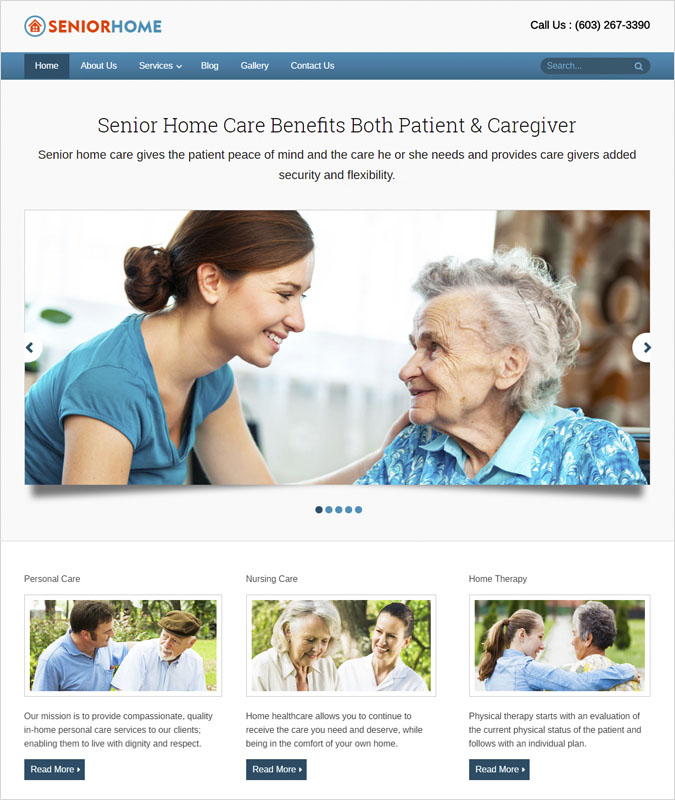 Key features of SeniorHome –
Easy to set up and use

Available with visual composer drag as well as drop page builder

Facility of rearranging your content blocks

Availability of powerful premium layer slider

Unlimited color palette

Access to more than 500 Google Web Fonts

Availability of five-page templates

Well documented

Available with free updates as well as support.
Live DemoTheme Info + Download
---
8. HomeCare – Home Care WordPress Theme
Welcome to HomeCare!!!!
Nursing is an art, and if you are the master of it then, HomeCare is an amazing WordPress theme that has a giant slider which can be used to show your productive services and products, The theme also inhibits a dual business tagline section with parallax effect which allows you to share your caption and business slogan. The template also has a 3 column service area to show your essential services.
In the 6 column feature area, you can share the services that you provide in your business, it is a great way to show your features in a clear manner, just as to give your patients an idea about the working and services. In addition to that, the theme also supports a vibrant blog section where content related to your data can be shared.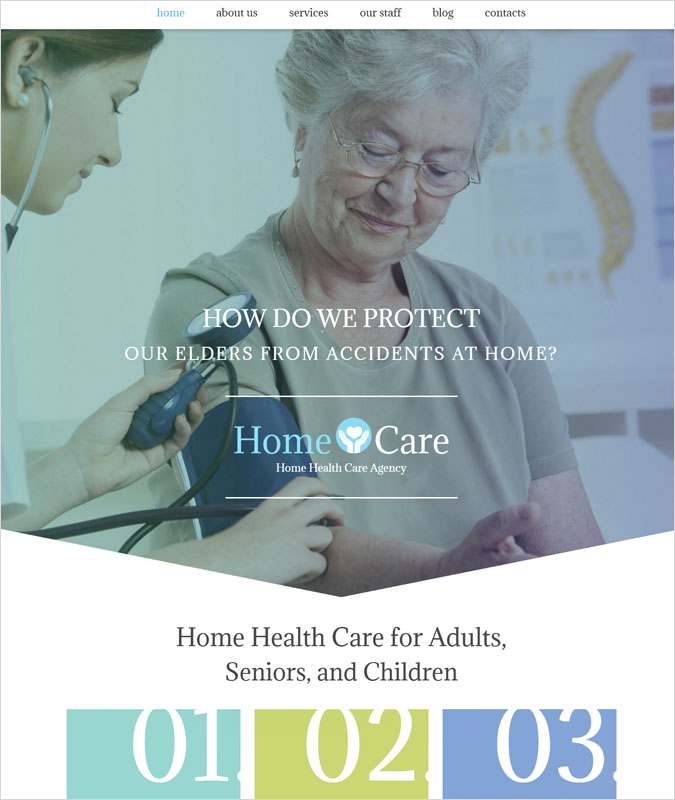 Key features of HomeCare –
Availability of multiple color options

Two step installation

Filterable Portfolio

Availability of customizing typography

SEO ready

Incredible slider

Advanced backup

Special feature of built-in theme customizer
Live DemoTheme Info + Download
---
9. BabyCare – Babysitter WordPress Theme
To handle a baby with care, one need best nursing services and for that 'Babycare' is an amazing WordPress theme that encapsulates Kenburn's slider with dazzling 3 column feature area. The blog section will enable you to share information regarding your baby care business, it lets your patients have an in-depth knowledge of the services that you provide.
Include as many pages as you want on the homepage of the theme like blog, gallery, and other similar baby care related pages and content can be shared on the theme. The testimonial section can be used to receive feedback and enhance your work according to the customer's needs, The gallery page will let you exhibit all your baby care services and images related to your business.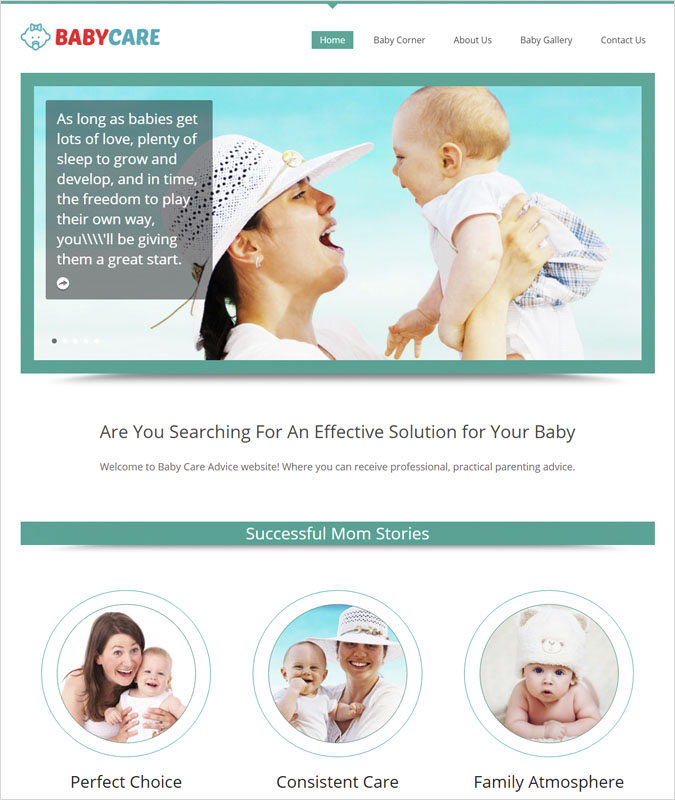 Key features of BabyCare –
Easy to use

Available with outstanding design

The best support

Mobile ready

Powerful statistics

Availability of animated slider

For displaying babysitter information, availability of three column area

Availability of Homepage heading section for showing tags

Testimonial section
Live DemoTheme Info + Download
---
10. 

KiddiDays – Child Care WordPres Theme
Kids always need a proper supervision and for that one need a great assistance to be given to kids, a special nursing and a critical attention play a significant role in their development, and if your business is related to that, then KiddiDays WordPress theme is the one for you.
The full-width slider on the homepage can be used to showcase your child care services, the slider has a brief descriptive area on the corner by clicking on the 'read more' button it will be redirected to the full content.
The feature area is a great platform to share your services that you offer to kids, The blog and the testimonial area can be used to share blog posts on your business and feedback from patients to improve accordingly. The call to action button at the bottom will redirect your patients to the phone call.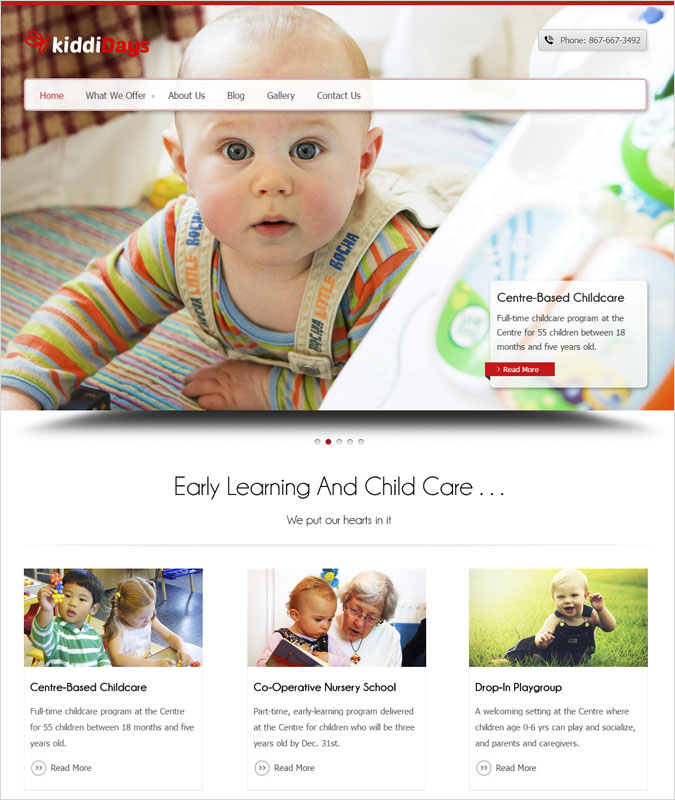 Key features of Kiddidays –
Limitless color variations
Playful and Colorful design
Easy management of colors
Fully approachable
Boxed and wide layouts
Retina ready
Powerful theme options panel
Huge layout options
CWS builder included
Live DemoTheme Info + Download
---
11. GeoCraft V2
The theme is a directory theme where all the map navigation can be done with the help of the integrated google map navigation which makes it easy for the patients to navigate your nursing home, clinic or hospital where they can be looked after.
Another amazing feature is the listing adoption which can be a premium listing option which avails the user with the lead capture form. Similarly the other is the general listing option is the in which lead capture form is not included. The search listing option is the place where the customer can find the desired result.
Features Of GeoCraft V2 –

Call to action button for listing submission.
Featured related business listing.
Fast/Quick search with newly added Ajax.
Custom fields added single listings.
Use social sharing icons.
Google Map integration to search you easily.
Avail the offer and download free
Download ThemeClick here to know moreLive Demo
---
12. Medica – Premium Health & Medical WordPress Template
If your medical business claims a sound health of your patients and a good nursing then a calm and soothing WordPress theme 'Medica' will definitely appeal to you.
The 4 column feature area is the section where you can exhibit all your nursing services. The template also supports a doctor section where you can share profiles of various doctors and nursing staff. The theme has a contact us section which can be used to reach to your patients by receiving their basic details, Show your activities and teammates in the feature area of the theme.
The testimonial section enables you to receive feedback from multiple patients. The blog section has an edge over others, as it is a descriptive section, which eventually brings to growth in your medical business.
The layout and compatibility are outstanding with an unlimited choice of colors for you to choose. The theme options panel will simplify things for you and customize features as per your needs.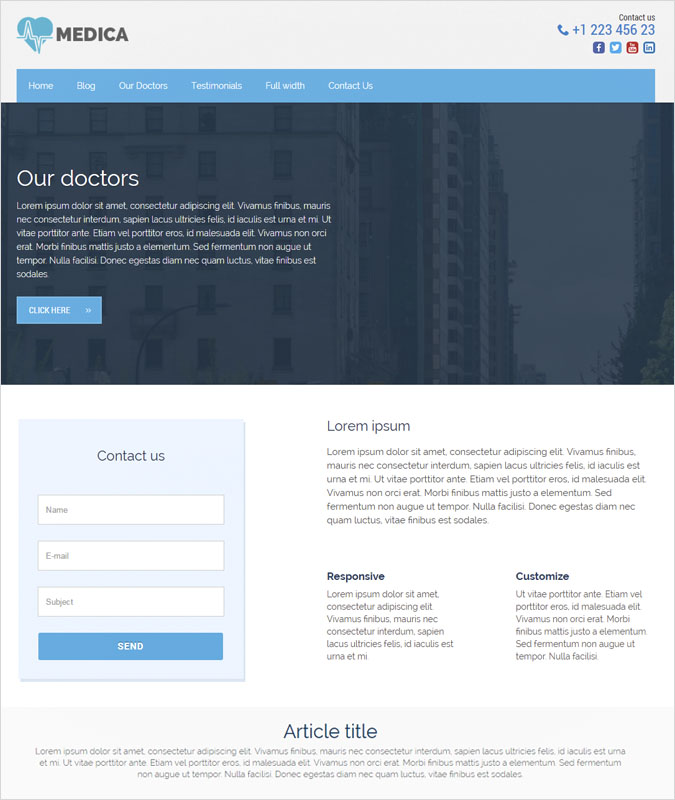 Key features of Medica –
Incredible slider
Customizable social icons
Validate as well as clean code
Availability of theme options panel
Limitless choice of colors
Different custom theme widgets
CSS3 animations
SEO ready
Advanced backup
User-friendly, extensive as well as brand free admin panel
Custom logo upload
Live DemoTheme Info + Download
---
Few More Tips..
So, these were top ten best nursing WordPress themes using which you will get your childminding & nanny caregiver website ready in minutes.
These themes are not only used for offering nursing services but also can be used by all type of medical and health professionals say – clinics, hospitals, doctors, surgeons, dental and eye clinics, dermatologists, orthopedics, blood banks, and other medical businesses.