When it comes to a website for Fabrication, foundry and metallurgy companies, a beautiful yet solid Metal WordPress Themes is what you need for the website. Metal themes for metallurgical and fabrication companies need to have sufficient space for the demonstration of the finished art.
This is where this post comes in handy, delivering the best metal WordPress themes for you to experiment with.
The companies with attractive and updated websites, in the metallurgical field, have managed to expand their market in months.
WordPress offers a number of themes customized for fabrication, foundry, and metallurgical companies.
Following is the list of 13+ Metal WordPress themes, let us go through their features one by one.
Pick one that suits your business and before you know it, you'll have the floor pulled up beneath your feet.
---
GoldDetector – Water Gold Detection Service WordPress Theme
Water Gold Detection Service WordPress theme is a business website that is a combination of different functionalities. This website is impeccably designed to make gold explorations fruitful and easy for the companies. It musters up to serve different organizations like Gold digger groups, Gold exploration companies, Gold traders, Refineries plants of gold, gold mines associations.
Gold Detector WordPress Template provides the best platform to exhibit your works and best services for the exploration of this precious metal. This site is designed thoughtfully to meet the demands of the customers. It provides information for all the queries about the stock of noble metal. It has its distinct functionalities.
---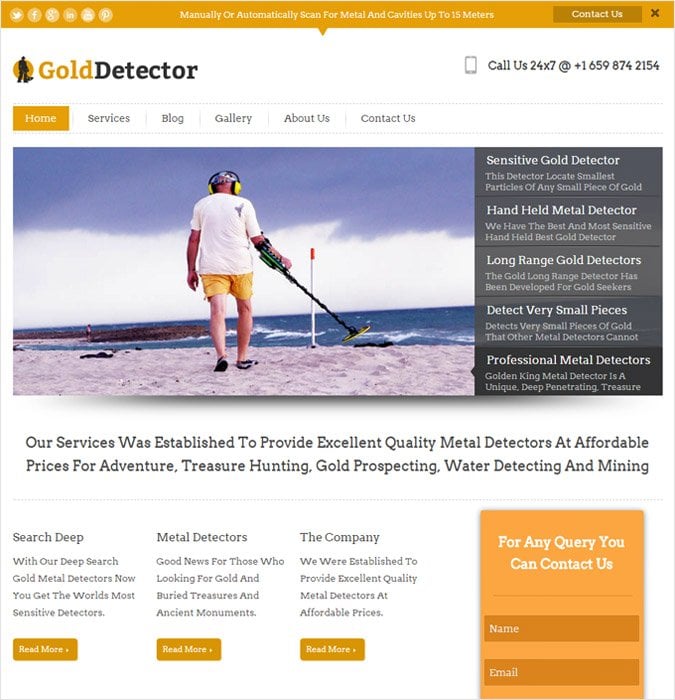 ---
Salient Features Of GoldDetector WordPress Template
Testimonial section: Testimonial section contains the motivational and congratulatory remarks of the trustworthy customers.
Blog section: You can also write an article about the exploration of gold or detection of gold. Blog section also enables you to share any article.
Blog posts: Blog posts provide information to the users and updates about the works of a company. It takes you towards an embellished business.
Lead collection form: Viewers and visitors can ask their questions with their name and details on lead collection form.
Contact section: Contact section provides the details of how the viewer can contact.
---
Foundry – Metallurgy WordPress Theme
Foundry Metallurgy WordPress theme is a fully responsive site that publicizes the metallurgy work for providing services for its customers. It works for die-casting companies, metal fabrication firms, forging workshop, iron and steel plants, mineral industries etc.
The theme is designed with the help of different traits like an audio and visual representation of metal extraction business. Its home screen entails a lot of features that make it easy for the visitors to get updates about the services provided by the company.     
---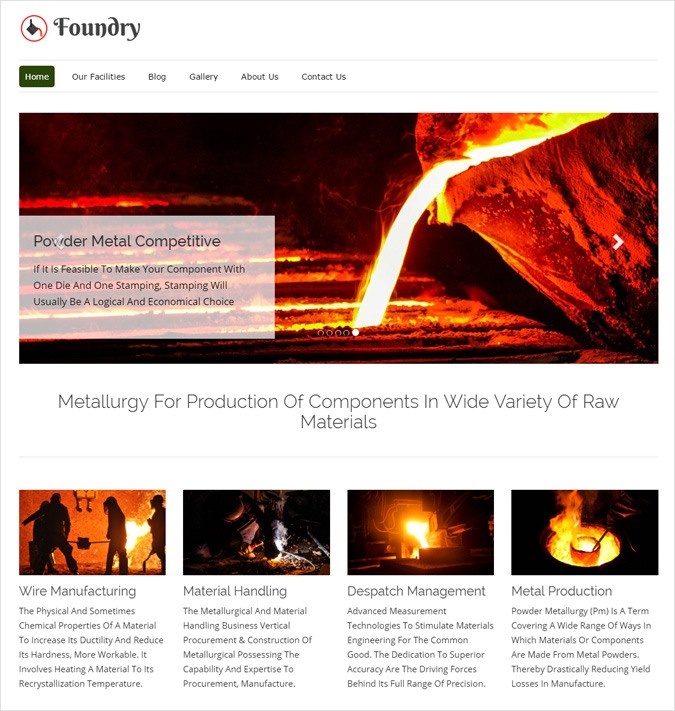 ---
Salient Features Of Metallurgy WordPress Template
Flaunt your services: Now an organization can showcase its services in four columns. Your services can be flaunted with the help of text and image for grabbing the attention of the users.
Video section: Video section contains the videos that entail the information and step by step description of compels procedures. This portion makes it easy for a user to understand the different metallurgical processes.
Social icons: Social icons are displayed in the theme to provide the information about the availability of your metallurgical services on different social media.
Metalworking Slider: Metalworking slider empowers the trust of your clients by visualizing the highlights of your best work.
Latest posts: Latest posts help in updating your viewers and your business as well.
---
Alloy Panel – Metal Sheets Production WordPress Theme
Metal Sheets Production WordPress theme is thoughtfully designed for those companies that are empowered by making the metal sheets with different alloys and provide their services for the formation of automobiles, medical tables, steel roofs and heavy machinery.
This theme is specially designed to provide a support to alloy production centers, iron sheet producers, metal plate creator, foil sheet maker, cooper pane creator and metal sheet producers.  
---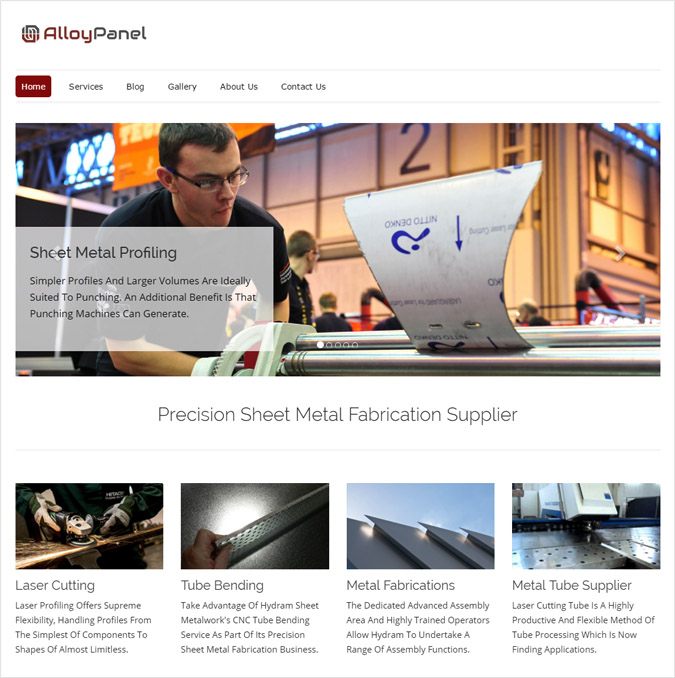 ---
Salient Features Of Alloy Panel WordPress Template
Fully responsive theme: The alloy panel metal sheets production WordPress theme is the fully responsive theme.
Business logo: This them contains the business logo at the top of the homepage.
Animated slider boxed area: Animated slider boxed area provides the visual representation of procedures and techniques. These images are clubbed with a little detail that attracts the attention of the user.
Latest WordPress version: This is the latest advanced version of WordPress.
Latest blogs: Latest blogs about metal sheets provide information about the procedures of sheet formation.
Sheet production facilities section: This section grabs the attention of the visitor because it contains the information about the facilities that are provided by a company like a laser cutting, tube bending metal fabrication, metal tube suppliers etc
---
Metal Firm – Titanium Alloy Company WordPress Theme
If you have a degree but you have no skills then your degree is useless. In the same way, if you have the services to provide but you are unable to convey your message and information to your clients then your services are useless. But now you have Metal Firm WordPress theme, one of the best themes that you can use for publicizing your services.
The template has all the features that provide information about the procedures and techniques related to titanium alloy.
---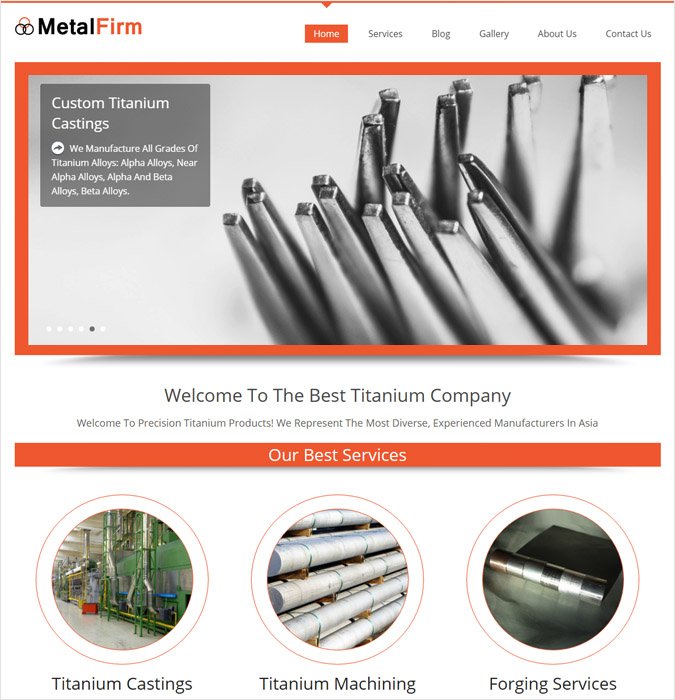 ---
Salient Features Of Metal Firm WordPress Template
Customizable: Theme options panel provides the facility for customizing different aspects. For example, uploading an image or video, changing a favicon, and posting an update or blog, or any advanced features.
Widgetized footer: Widgetized footer provides the details about the social media like Facebook, Google, twitter etc.
Business tagline: Business tagline informs your user about the slogan of your business company.
Theme advanced features section: Theme advance feature section informs about the advanced features of the theme that can help the users in many ways.
---
AquaMineral – Mineral Extraction & Mining Industry WordPress Theme
Mineral Extraction & Mining Industry WordPress theme is a one-page theme that is designed for excavation of any kind of underground and surface mining procedures. AquaMineral WordPress Template provides a luxurious showcase for the display of your business services. 
The template creates a way of communication in-between you and your client in a way that it provides a contact section that provides all the details about how to contact for having those services and it also contains a testimonial section that helps the visitor to ask a question about their confusions. 
---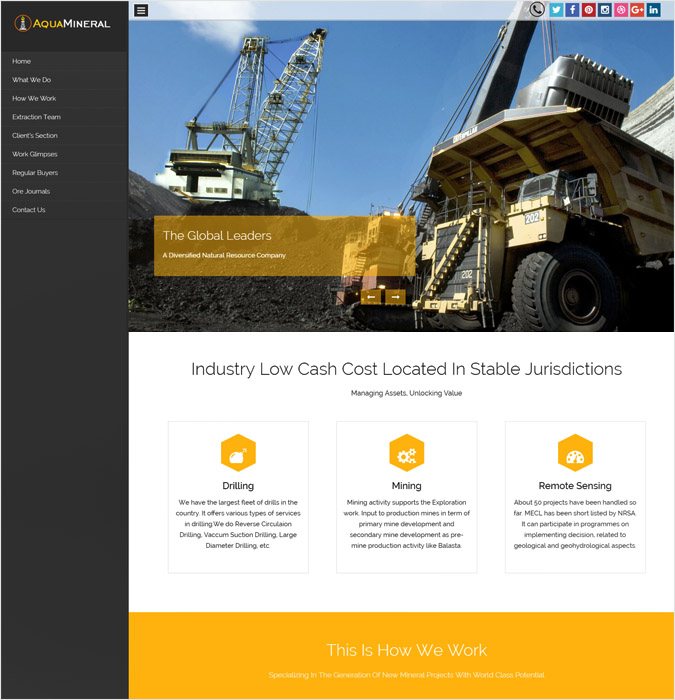 ---
Salient Features Of AquaMineral WordPress Template
One click installation: This theme is at a distance of just one click.
10 different styling options: It provides 10 different styling options that keep on entertaining your visitor with providing information about your services and offers. In this way, it engages and grabs the attention of the users.
Different blog formats: Different blog format enables the posting of blogs in different formats that can present the highlighted ideas in different captivating ways.
WordPress version 4.5 + support: This version of mineral extracting and mining industry WordPress theme is the latest version with 4.5+ supports.
Valid HTML5 and CSS3 files: It has a valid HTML5 and CSS3 files format.
---
MetalRecycling – Scrap Metal Sales WordPress Theme
We are here to grab your customers for you and for this purpose we are here for you with Scrap Metal Sales WordPress theme.  Scrapping means "to transform the renewable scrap into a definite and productive form". This site provides the details about the techniques of recycling and procedures that are offered by your company.
MetalRecycling WordPress Template supports the recyclable scrap metal exporters, dealers, buyers, recyclers, scrapers, garbage haulers, recycling centers, metal-recycling companies, Etc. it has all the features to keep the user informed of everything.   
---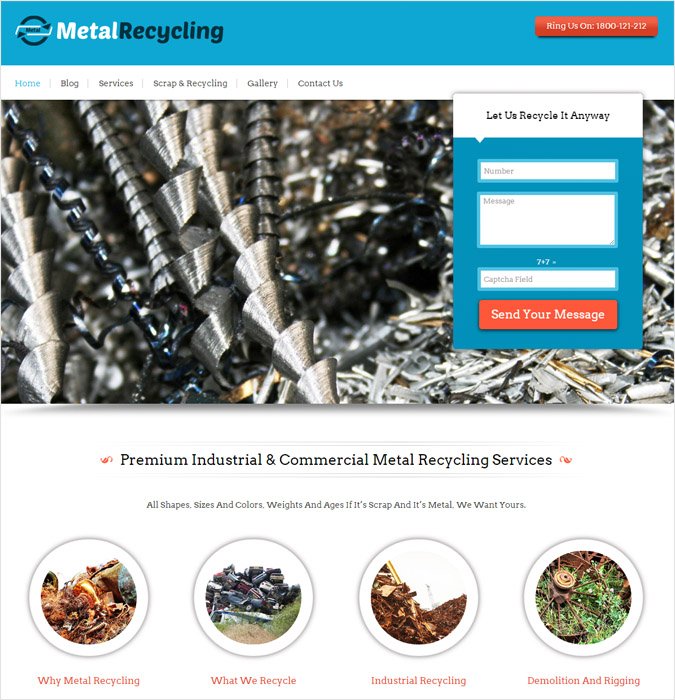 ---
Salient Features Of MetalRecycling WordPress Template
Widgetized area: Widgetized area contains a section that provides the videos with a text from description to enables the company to showcase their services.
Get messages stored in the dashboard: Now it has a feature to store the messages of the users related to queries, suggestions and also motivational messages.
Instant calling feature: Instant calling feature makes it possible for the user to get an instant detail about anything without waiting for the reply of their text.
Lead capturing trait: This beautifully designed theme will help you to capture customers details right from lead capture form on sliders.
Embellish your business: All these features help in embellishing the business.
---
Detect Metal – Metal Detection Company WordPress Theme
The metal detection means to detect the metal before obtaining it from underground. That's why it is needed for metal explorations like gold, platinum, copper, etc. DetectMetal WordPress template plays a vital role in plotting your business globally for metal detection.
The theme supports metal detection companies, metal spotting firms, element searching agencies, archaeology agencies and other detection companies. DetectMetal WordPress theme has a unique design that acts as a luxurious showcase for the exhibition of the services provided by you to your client.   
---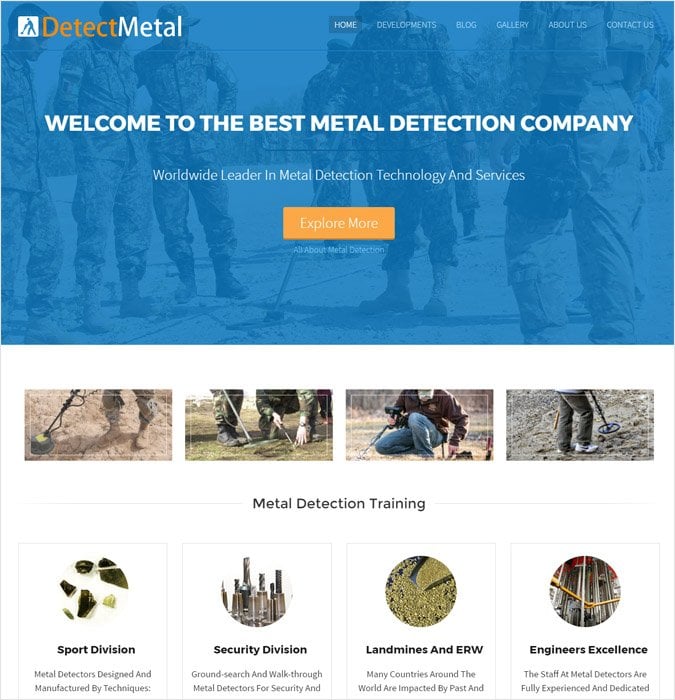 ---
Salient Features Of Detect Metal WordPress Template
Parallax description area: It gives an eye-catchy look and grabs the attention of the visitor.
Explore more: Explore more button enables the user to investigate and explore more according to their queries.
The animal featured section: The animal featured area provides the images that provide visual information to the client. These provide the details about how a company works and which sort of techniques are used by a company for the detection of metal.
Front page customizer: Front end customizer manages the homepage of the theme from the front.
Custom CSS: Custom CSS option helps in changing the theme and tweaks in the themes.
SEO- option: SEO improves the visibility of search engine of your website with the presence of inbuilt SEO option.
---
Assemble Metal – Metal Fabrication Service WordPress Theme
Assemble Metal WordPress theme has brought a theme for the publicity of your business in a productive way by introducing the productivity of the services provided by you.
Assemble Metal WordPress template is designed perfectly for those organizations that offer metal detection services like metal detection companies, metal spotting firms, element searching agencies, archaeology agencies, and other detection companies.  
---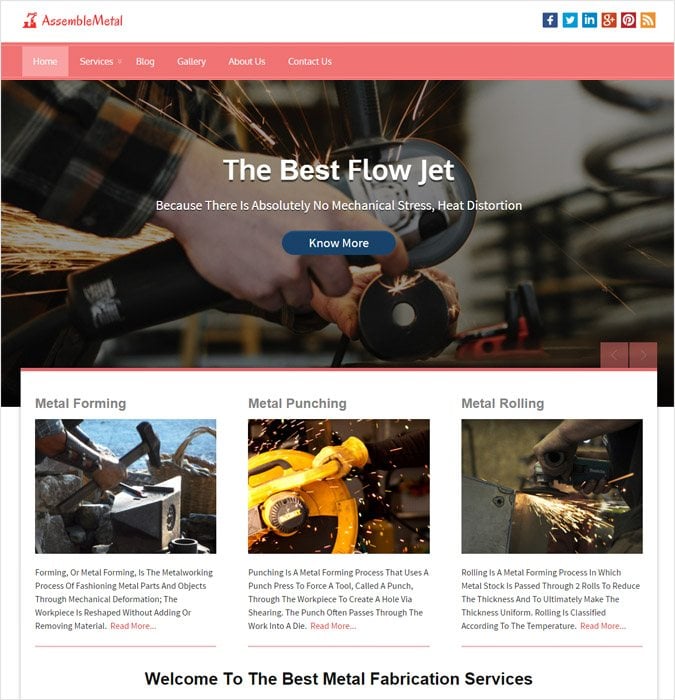 ---
Salient Features Of Assemble Metal WordPress Template
Cross-browser: It provides the latest browser that is compatible with all the latest browsers such as chrome, Safari, Mozilla, opera and even IE8.
Unique template color: It proved a wide range of colors for the representation of your theme. Now you can give a beautiful theme to your business with the different shades of your ideas.
Featured business clients: Featured business client section is a section that encourages and increases your fan client list. It also enhances the trust of your trustworthy and best clients. In this way, it attracts the attention of other clients.
WordPress compatible: This version of the theme is compatible with all the latest versions of other WordPress versions.
Outstanding support: Its outstanding support feature is designed to provide a complete support to the user by questioning their demands and meeting their needs.
---
Metal Work – Die-casting Service WordPress Theme
Die-Casting Services WordPress theme has a fluid layout that has all the essential features like tools and functions that show the abilities and expertise of a company. Metal Work WordPress theme is created to support foundry workshop, metal extracting companies, die-casting industries, and structure manufacturing firms.
Metal Work publicizes the foundry workshop specialty of these firms that are provided to their customers. It is the best way to contact the company and ask your questions related to the services. 
---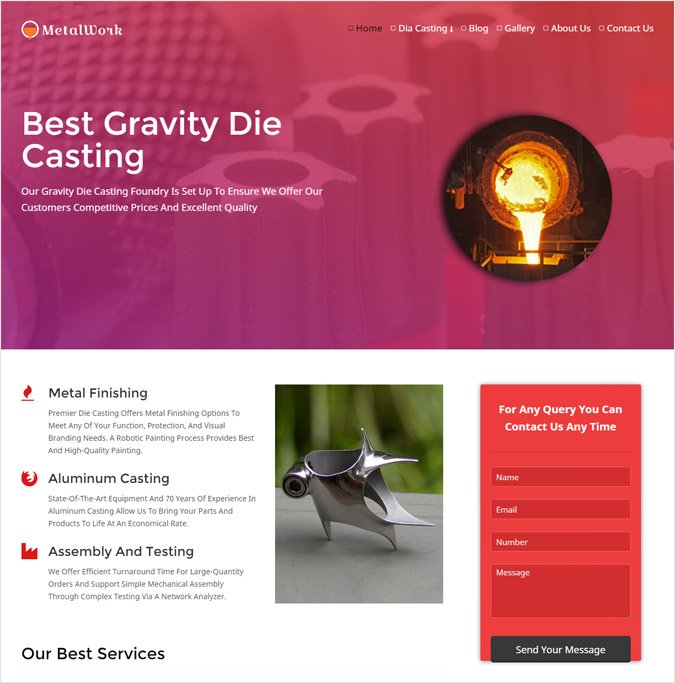 ---
Salient Features Of Metal Work WordPress Template
Buy online: Now it is totally in your access. You can but it online by paying online.
Location map: It provides another additional feature that is location map. It keeps you aware of the locations of your and your clients.
Different homepage layout: Two type of homepage layout is provided by this theme for attracting your customers.
Multi-device adaptability: It has an ability to adopt different devices.
Custom logo: It is available with the customized logo of your business company on the top left of your theme.
---
Silica Making – Silicon Production WordPress Theme
Silicon Production WordPress template is the best solution for the business holders of silicon production. It is an array of all the updates related to the production and refining operations of silicon.
This video box template can be the best online portfolio for silicon carbide industries, alloy metal producers, silicon wafer manufacturer, ceramic industries and other related business. Silicon Production WordPress theme is the best theme for the silicon producers.  
---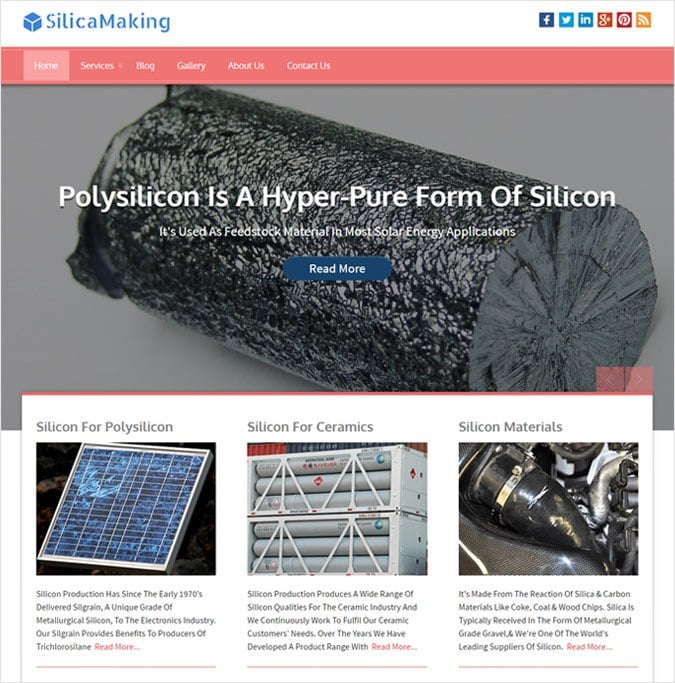 ---
Salient Features Of Silica Making WordPress Template
Describes company profile: This theme is designed for a detailed description of a company's profile. So, it contains different sections like contact section, video section, custom section, testimonial section etc.
3-coloum featured area: Alloy manufacturing companies provide a different kind of services that can be present in 3-coloum featured area for the feasibility of customers.
Business tagline box: Business tagline box is a section where you reveal on people your motto and show them that how much you believe in your services.
Compatible browser: It is cross-browser that is an advanced form of browser and is compatible with all the latest browsers.
---
Inox Steel – Stainless Steel Company WordPress Theme
Steel is a metal that is very important in the industry for its daily use. Even this is domestically required metal. These grand companies of steel offer the services for laser cutting, precision cutting, water jet cutting, guar processing etc. but these services needs to be known by the clients for having benefited from them.
Thus we are here to uncover Inox steel theme & template that supports industries that cover stainless steel companies, steel authorities, steel processing, steel product distributors, stainless steel producers etc.
---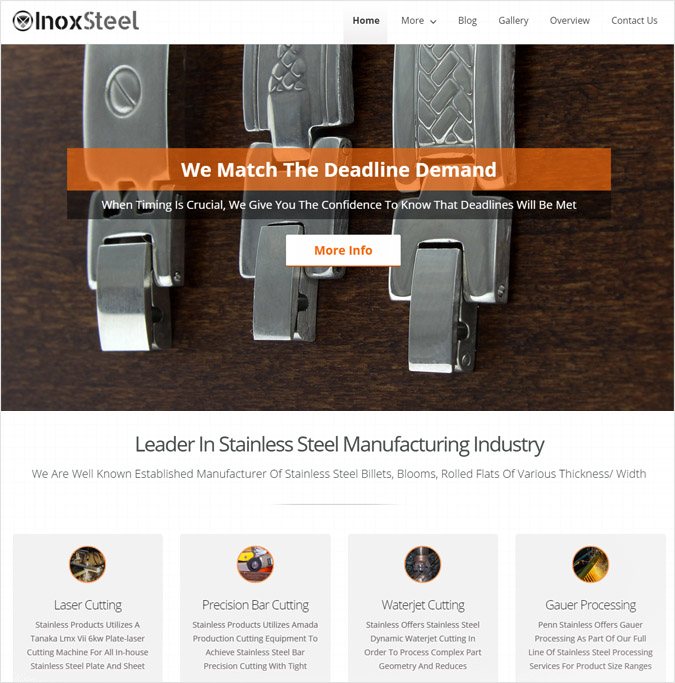 ---
Salient Features Of Inox Steel WordPress Template
Full-width slider: A full wide slider provides a broad area where the features and services of a company can be represented.
Accordion section: The accordion section is designed for the description of all the features of a company.
Inbuilt fabulous gallery: This inbuilt gallery contains your portfolio.
4-coloum widgetized area: It contains a 4-coloum widgetized area that publicizes the services provided by a company in a different way.
---
Ironbend – Iron Bending WordPress Theme
Iron bending WordPress theme is designed to showcase the specialties, functionalities, and services that are offered by any iron producing company.
IronBend WordPress template supports manufacturers of bending metal, suppliers, producers, exporters, metal cutting and iron bending companies etc. these themes have sections and all the advanced features that makes it easy to for the viewers to get details about the services of bending, cutting, punching, riveting, rolling, scrolling and twisting iron.
---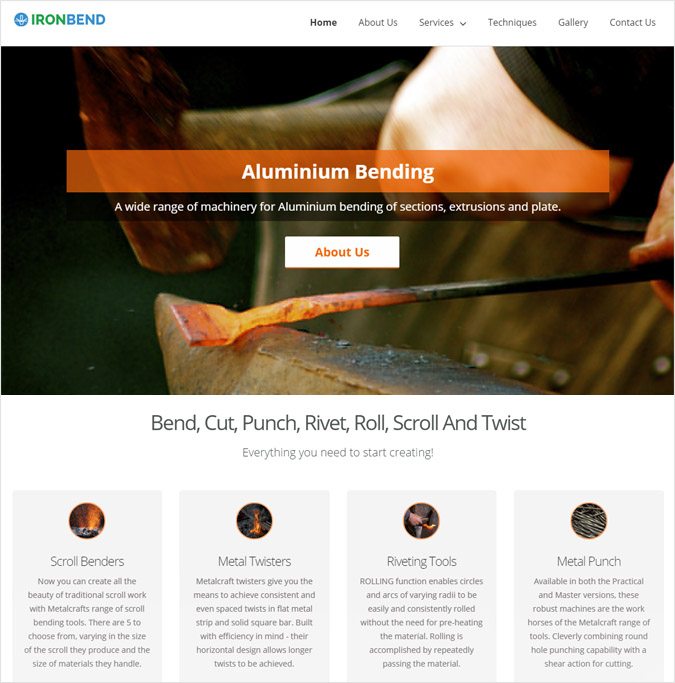 ---
Salient Features of IronBend WordPress Template
Introduce bending techniques: It provides detailed information about the bending techniques with videos and images.
Details about tooling attachments: Details about tooling attachments are also provided through the blogs or posts or through the question-answer section.
Unlimited feature boxes and columns: Now you can make unlimited feature boxes and columns for a detailed description.
Customer's review section: Customer's review section keeps you aware of the demands and remarks of your customers.
8 classic theme colors: 8 classic theme colors provide captivation to your site.
---
WeldFirm – Welding Company WordPress Theme
Welding company WordPress theme provides a platform to fix your business of welding in this digital world. It is the best way to exhibit what is offered by a company as per their services.
WeldFirm is one page WordPress template which designed for welding companies, mining organizations, constructive businesses, electricians, steel work industries and all types of iron cutting and making business. This is the best site that entails a lot of different features. Let's have a look on it.   
---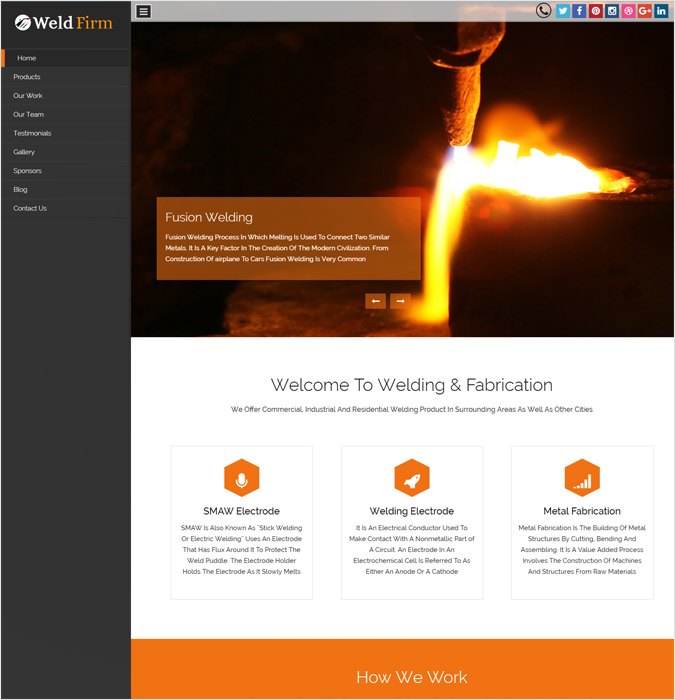 ---
Salient Features of WeldFirm WordPress Template
Member's area: Member's area introduces you to the members of the company that is the services and have faith in the services of the company. This is a necessary portion of the development of a business.
Regular updates: It has different features like images uploading, video uploading and blogs section that provide regular updates to your customers.
Lifetime support: It provides the best and lifetime support to your dealers.
Dynamic sidebar: Dynamic slide bar with single page scrolling makes it easy to easily find out your required section within seconds.
What is special about your business? Tell your customers and visitors about the special services that are offered by your company and what commands of your company are.
---
Final Words
It is concluded that all these themes are designed to meet the demands of the clients and to worth the services of metal companies. These themes update the visitor with the services offered by a company, complicated process, and techniques for the recycling, alloying, exploring, detecting etc. 
Click on following links if you wish to see more…..