Find out the best Integromat Alternatives for your workflow automation!
You're probably reading this article because you're not happy with your existing automation software service. If you've used Integromat, you already have an idea about the complexities it presents to its users.
In the absence of the right iPaas tool, the manual tasks of your business take a lot of time. It would not be wrong to say that you need automation software for your business because it removes manually and repetitive tasks. So that you can reduce the time of running repetitive tasks from days to hours. Of importance, there are numbers of mass workflow automation software in the market. However, not every service is worth investing in.
Integromat is one of the most hyped automation tools and it works fine to some extent. But it includes several drawbacks like expensive pricing, lacked documentation, support limited apps, etc.
The good thing is, there are much better services than Integromat. They are not just affordable, but also provide you with better features like unlimited workflow, multistep calls etc. Below, we have enlisted the best Integromat alternatives for you. Before getting started, have a look at this comparison table.
A Quick Comparison Between Best Integromat Alternatives
| | | | |
| --- | --- | --- | --- |
| Services | Pricing (per month) | No. of Tasks (per month) | Workflow Automation |
| Pabbly Connect | $9 | 12,000 | Unlimited |
| | $49 | 10,000 | Limited |
| PieSync | $19 | 2,500 | Limited |
| Zapier | $19.99 | 750 | Limited |
| Microsoft Flow | $40 | Unlimited | Unlimited |
Now, let's discuss about the best Integromat alternatives in brief –
1. Pabbly Connect – Best Integromat Alternatives
"An excellent automation service that does not restrict users on features like unlimited workflows, filters, formatters, and many more at an affordable price."
Let's begin with the most reliable Integromat alternative. Pabbly Connect has gained the trust of many successful businesses over a short span of time. It offers better and extra features at a relatively low price. Pabbly Connect focuses on the quality of service and never compromises on that!
Basically, Pabbly Connect is an automation tool that aims at providing the best app integration services to its users. With this, you can connect limitless applications in your workflows and create unlimited multi-step calls. Moreover, it lets you create complex workflow integration without requiring any coding language.
Additionally, it supports 250+ SaaS or on-premises cloud applications such as email marketing, sheets, form builder, cloud-based software, CRM, E-Commerce, Helpdesk, and much more. Besides this, it is the only service that provides all the features with all plans.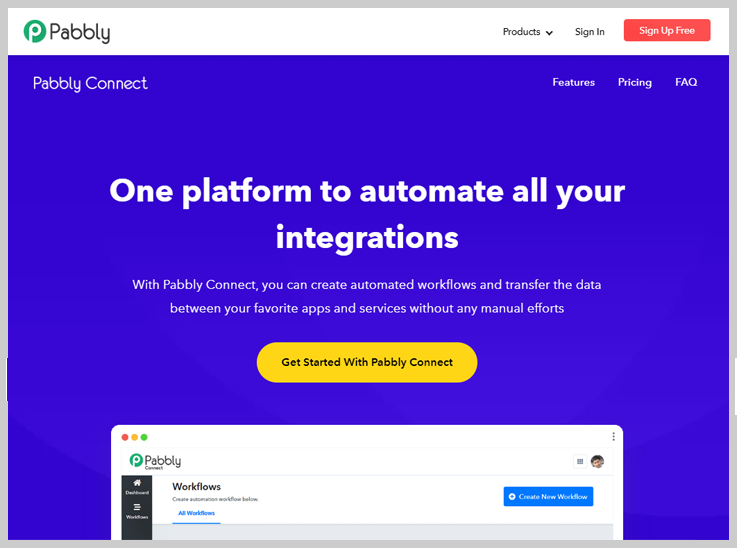 Features
Pabbly Connect empowers you to create cross-functional calls with triggers, actions, schedular, etc., to streamline the workflow process.
Also, it offers HTTP/SOAP, JSON modules for connecting the apps via Webhook.
Create complex & multi-step workflows for specific projects with logics, filters, conditions in-sequence processing, formatters, and much more.
It lets you set the specific time intervals for running the scenario/action like specified date, day, or time.
With its path router feature, perform multiple operations by splitting the actions into multiple paths. It helps you to process the data separately within each route.
Further, it has numerous text and binary Excel functions to sum up multiple values such as number, date, text, currency, percentage, total, etc. for saving your time and effort.
Divide the path route from one app to multiple scenarios for processing the data within each route differently.
Pricing
Starter – This is the base plan, to begin with. You will unlimited workflows for up to 12,000 tasks at a price of $9 per month.
Rookie – Next, get all the features and perform 50,000 tasks at  $29 per month.
Pro – Further, pay $37 per month for 60,000 tasks.
Advanced – Lastly, for your tasks/operations above 50,000, you can choose the custom plan that starts from $57/month for 80,000 and $3000/m for 9,000,000 tasks.
2. Automate.io – Top Automation Software
If budget is not your main concern, go for Automate.io software. It offers a free plan by which you can perform 100 actions per month without investing a single penny. Basically, the pricing of Automate.io is based on the volume of the task, which makes it a good choice for marketers.
Coming to its features, it comes with all the necessary automation features you can think of. You can create simple or complex one-to-one integrations to sync data across multiple applications. Furthermore, it supports 100+ popular cloud applications such as Salesforce, Google Apps, Trello, Hubspot, Quickbooks, Shopify, etc.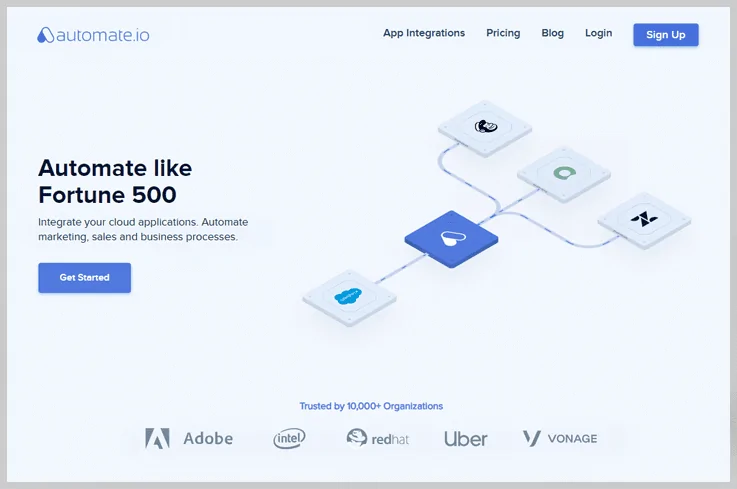 Features
It has various powerful tools for setting up cross-functional internal workflows like data formatting, time delay, conditional logics etc.
Secure your data with its data encryption features like encrypting the transit, data retention controls, and audit logs.
Sync data between two apps and create one-to-one automation workflows using its intuitive drag-n-drop builder.
Connect popular apps like Moosend, Salesforce, Zendesk, WooCommerce, Shopify, and many more.
Automate.io empowers you to connect all the leading cloud & SaaS apps via Webhooks/Rest API.
Pricing
This Integromat competitor offers various pricing plans with a 1-month free trial.
Startup: Pay $49 per month for 10,000 actions and 50 bots.
Growth: This plan is for small scale businesses with moderate requirements. Pay $99 per month for 30,000 actions and 100 bots.
Business: It is the most popular plan of Automate.io that offers 100,000 actions and 200 bots at the pricing of $199 per month.
Enterprise: This plan is available at the cost of $499 per month with 500,000 actions and unlimited bots.
3. PieSync – Data Syncing Tool
Now comes another competitor of Integromat. This iPaaS software offers 2-way data syncing process for transferring the data. It automatically shares customer contacts between your marketing automation, CRM, email marketing, and e-commerce applications.
Furthermore, it is integrated with 200+ apps like Hubspot, Google Contacts, Mailchimp, Salesforce, Zoho, and more.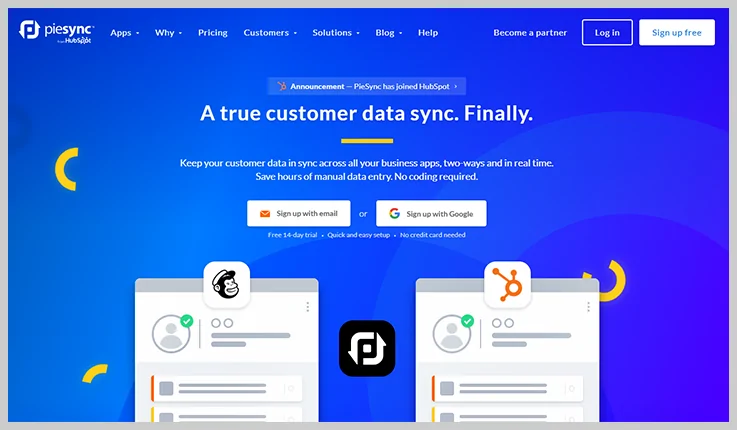 Features
PieSync is the only service that provides 2-way sync means it lets you view the new entries as well as historical data in real-time.
It uses advanced authentication methods for data security, like Oauth, and employs encryption measures.
This eliminates the duplicated & overlapping fields from the data while merging the conflicting data.
Further, you can manage list opt-ins and opt-outs, merge MQL into existing CRM contacts, segment email lists, sync contacts(clients, vendors, partners).
Pricing
Starter – Pricing of this plan is $19 per monthCreate simple syncing with two if/then rules per connection at the cost of $19 per month.
Pro – Buy this plan at the cost of $59 per month and create unlimited rules per connection.
4. Zapier – App Integration Software
Talking about reliable Integromat alternatives without including Zapier is no less than a crime. This wonderful automation tool has been trusted by many marketers. It is an easy to use service that automatically moves data across different web applications without requiring any special expertise. Anyone can use this platform with full ease for integrating the applications.
Moreover, it supports 2000+ applications of all niche like CRM, marketing, email and much more.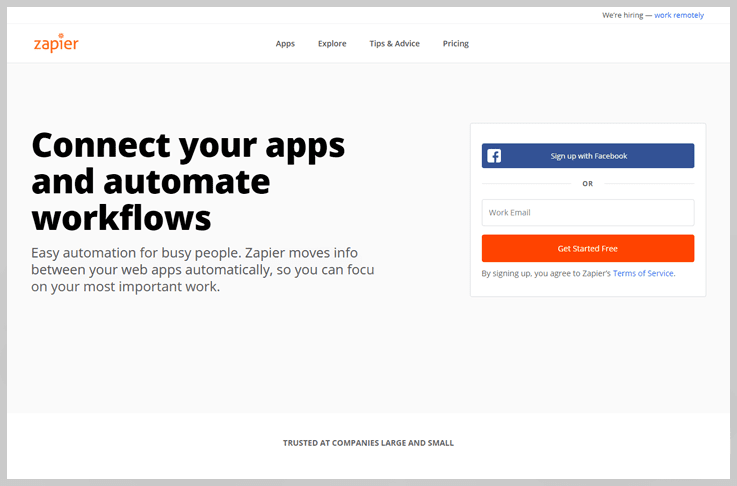 Features
It allows users to look up specific data in a system integrated with Zapier thorough search action feature.
Zapier has a very powerful feature named formatter that lets you convert any kind of data before putting it into one of the apps such as operating on dates, date formats, currency converters, and many more.
Also, it offers online workflow templates that you can customize according to your requirements.
Create a multi-step zaps by adding numerous triggers and actions in your workflow.
Pricing
Zapier offers four pricing plans along with a free trial for large to small scale businesses.
Free – Anyone can automate their work with the free trial of Zapier. With this, you will get 100 tasks and 5 zaps per month.
Starter – Pay $24.99 per month for 750 tasks and 20 zaps with the integration of 3 premium apps.
Professional – Buy this plan at $61.25 per month and get 2000 tasks, unlimited zaps, and premium app integration.
Team – You just need to pay $373.75 per month for 50,000 tasks and unlimited zaps.
Company – Pay $748.75 for 100,000 tasks and get all the advanced features of Zapier like unlimited zaps, unlimited premium apps, filters, formatters, etc.
5. Power Automate – Microsoft Flow
Finally, is our final top Integromat alternatives. By using this software, you can create automated workflows between your favorite apps and services as it supports more than hundreds of application. Moreover, it offers several features like files syncing, data collection, etc with its numerous inbuilt templates. This software is powered by Microsoft flow.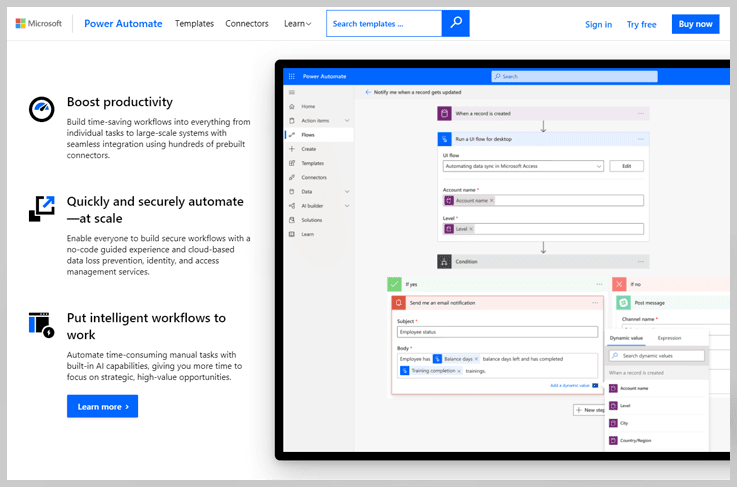 Features
Power Automate supports several popular Microsoft services like OneDrive, Office Outlook, Share Point, Dropbox, etc.
Furthermore, it has an app for both Android and iOS platforms so you have to work less and do more than you want with Microsoft Flow.
Besides, it allows you to create automated workflows between the app that you like the most and get notified even for a small change.
Receive notifications of actions as they occur even for a small change.
Further, secure your data with cloud-based data loss prevention, identity, and access management services.
Pricing
Microsoft Flow offers a free plan and two paid plans, according to the individual users and implementation flows. Its pricing starts from $15 to $500 per month per user.
Wrapping Up
That's about it guys. We have fulfilled our promise by providing you the best Integromat alternatives. All of these are equally affordable and highly functional. You can get any software depending upon your requirements. So, best of luck!
You May Also Like To Read:
Pfizer viagra générique. Re acheter viagra. Kann ich viagra aus der apotheke. cialispascherfr24.com Dosage de Viagra Cialis génériques.