Automation is an integral part of the business because it eliminates repetitive and manual tasks such as transferring data from one app to another. And Zapier is one of the most popular automation software among professionals for a long time. However, as customers are becoming smarter and more demanding these days, they need plentiful sophisticated tools. For this, you should do some market research about the best Zapier alternatives out there.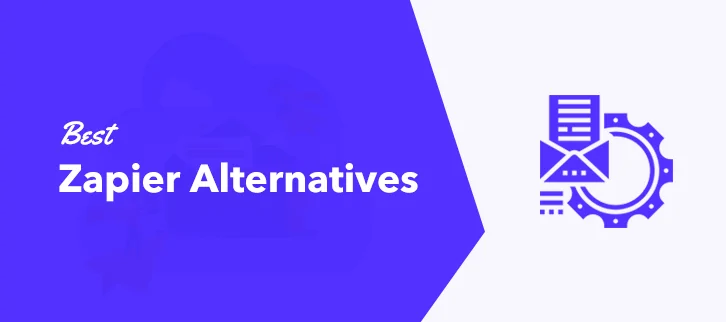 There a lot of iPaaS software options that help you to connect apps, automate workflows, and increase productivity. In addition, it helps in transferring information between applications for faster work and easier automation. Thus, you can focus more on your other business work than on moving from one app to another.
A Quick Comparision Between Best Zapier Alternatives
| | | | |
| --- | --- | --- | --- |
| Services | Pricing (per month) | No. of Tasks (per month) | Workflow Automation |
| Pabbly Connect | $9 | 12,000 | Unlimited |
| | $49 | 10,000 | Limited |
| Integromat | $9 | 10,000 | Limited |
| Power Automate | $40 | Unlimited | Unlimited |
| Jitterbit | Contact Sales Team | 750 | Contact Sales Team |
1. Pabbly Connect – Best Zapier Alternatives
"It is an effective software which enables you to create unlimited workflows & to use its services, unlike other products that place restrictions on features."
Pabbly Connect is one of the best Zapier alternatives as it charges nothing extra for its services. It lets you create unlimited multi-step calls for connecting limitless apps in your workflows. Pabby Connect is the cheapest and most efficient tool for your workflow automation. The advanced features of this software are path routers, filters, multi-step calls which saves you the hassle of a complicated set-up.
Moreover, Pabbly Connect supports 200+ applications of eCommerce, CRM, payment, marketing sales, web-forms, etc. Apart from this, it also allowed you to connect several web-based applications that are not available on the list using HTTP/SOAP or JSON modules. Thus, you can immediately create the workflow by setting instant triggers via Webhooks.
Features
Its path router feature allows you to divide the scenarios into multiple paths from one app to another for processing the data separately within each route.
Pabbly Connect has a drag-n-drop editor for newbies to create the workflows with ease without any coding knowledge in very limited time.
Use cross-functional workflows for the sales process, marketing, social campaigns using a bunch of triggers, actions, and scheduler.
It empowers you to create complex & multi-step workflows for specific projects using logics, filters, conditions like IF/Else, AND/OR, and much more.
Choose/set the processing time of your action according to your convenience by setting a specific date, day, or time.
Save your time & efforts with its numerous text and binary Excel functions to sum up multiple values such as number, date, text, currency, percentage, total, etc.
Further, it is integrated with unlimited premium apps like WordPress, Gmail, Facebook Lead Ads, Google Sheets, Linkedin, PayPal, and much more.
Pricing
Pabbly Connect doesn't limit you on automation workflows. This software offers an unlimited creation of automation workflows with its pricing plans. It is the only software that doesn't limit you on automation workflows and provides features like instant triggers, filters, path routers, etc.
Starter – Firstly, you can perform 12,000 tasks per month by spending $9 per month.
Rookie – Pay $29 per month for 50,000 tasks and get all the above-mentioned features.
Pro – This bulk workflow plan costs $37 per month and lets you perform 60,000 tasks.
Advanced – This plan offers custom pricing based on the number of tasks like $57/month for 80,000 and $3000/m for 9,000,000 tasks.
2. Automate.io – Top Zapier Competitor
If you feel that Zapier pricing is too high, you can always go for Automate.io. Its plans are highly affordable with attractive features like conditional logic, format data, and much more. This automation software lets you connect all your cloud & SaaS applications. Also, you can create simple or complex one-to-one integrations to sync data across multiple applications.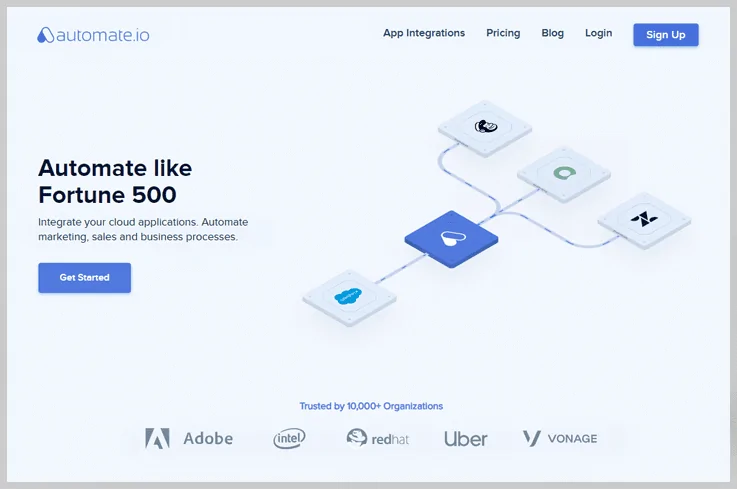 Features
This Zapier alternative supports 100+ popular applications like Salesforce, Moosend, Google Apps, Trello, Hubspot, Quickbooks, Shopify, etc.
Save your time and efforts by using its drag-drop functionality, automated data sync, configurable actions, and much more.
Automate.io has several advanced features like automatic form filling, user-defined trigger events, business process automation, multiple data resources, etc.
It empowers you to connect all leading cloud and SaaS apps by using the HTTP/SOAP or JSON modules.
Further, it supports automated apps like Facebook lead ads, Salesforce, Zendesk, WooCommerce, Shopify, etc.
Pricing
Startup – This plan lets you perform 10,000 actions by spending $49 per month with 50 bots.
Growth – Get access to 100 bots and perform 30,000 actions by paying $99 per month.
Business – This $199 plan offers 100,000 actions and 200 bots per month.
Enterprise – Spend $499 per month for 500,000 actions and unlimited bots.
3. Integromat – Automation Software
This Zapier competitor lets you create any number of scenarios with any number of steps or operations. Besides, it gives you a full visual profile of the tasks that you have created. Integromat has simple as well as robust integration with a drag-n-drop editor. Moreover, it supports various apps and services Hubspot, Quickbooks, Shopify, WooCommerce, and many more.
Besides, this offers numerous features like scenario duplication, data stores, completing the disrupted scenarios, maintaining execution history, etc.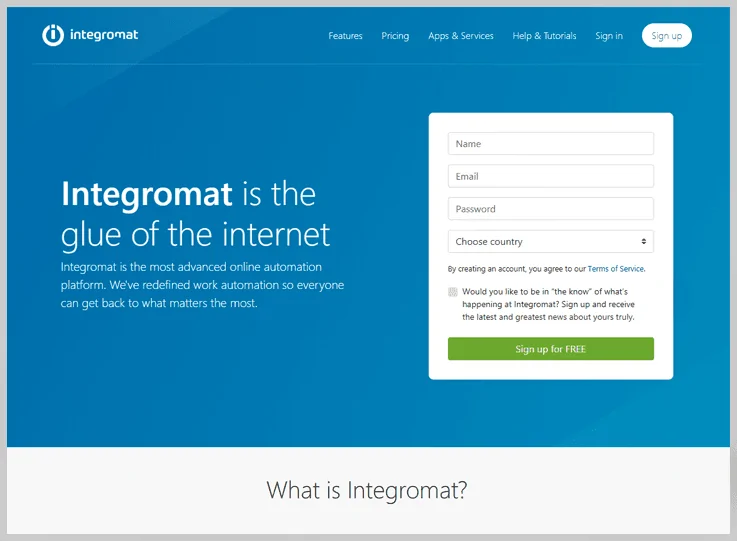 Features
Integromat lets you track scenario execution in real-time & observe how the data passes through it.
Manage unexpected exceptions for any module in the scenario with its error handler.
Split data into parts and process them separately with its built-in iterators. Moreover, it has aggregators to merge individual data into one bundle.
It supports OAuth 2 authorization & the JSON app to communicate with the majority of modern APIs.
Besides, it has several features like built-in routers, filters, triggers, execution history, scheduling, Excel functions, etc.
Pricing
Free – This plan offers 1,000 operations and 100MB data transfer for free.
Basic – Buy this plan at the cost of $9 per month & get 10,000 operations and 1GB data.
Standard – This plan will cost you $29 a month for 40,000 operations & 20 GB data.
Business – It will cost you $99/month for 150,000 operations and 70 GB data.
Platinum – This $299/month plan provides you 800,000 operations with 220 GB data.
Custom – You need to get in touch with the service team to know more about this custom plan with custom features.
4. Jitterbit – Workflow Automation Tool
Jitterbit has smartly united APIs and artificial intelligence into a single integration platform. This Zapier alternative gives you these amazing features like- re-use existing code and business logic, intuitive point-and-click connectivity(data mapping b/w systems), set access privilege, connectors to design APIs and a lot more.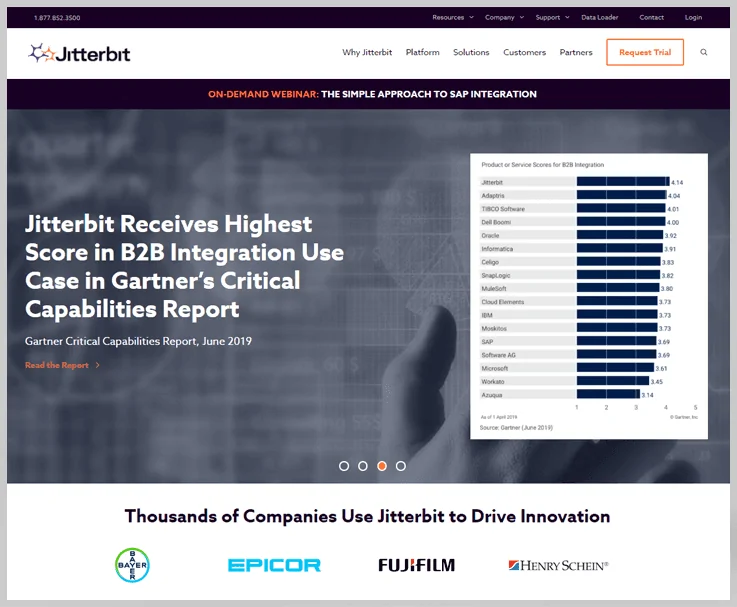 Features
This iPaaS platform lets you control the data from SaaS, cloud, on-premises, hybrid, and mobile apps.
EDI integration allows you to streamline ERP & CRM applications operations such as SAP, NetSuite, Salesforce, Microsoft, etc.
The data management is pretty easy as you can feed consolidated data into real-time. You can also check the comprehensive alerts in real-time.
Its flexible architecture lets you install and manage custom plugins to extend functionality. You can also backup and deploy pre-built projects & Jitterpak templates.
The HIPAA, and GDPR compliant platform authenticates every transaction & does not store data. Moreover, SSL and x.509 encrypt & authenticate every transaction.
Pricing
Get in touch with the Jitterbit sales team to know the custom price plans with different no. of connections.
5. Power Automate – Versatile iPaaS Software
Power Automate is an extremely well designed and feature-rich service of Microsoft that consistently outshines Zapier. With this, you can create automated workflows between your favorite apps and services. Start your automation work with its numerous inbuilt templates like files syncing, data collection, etc .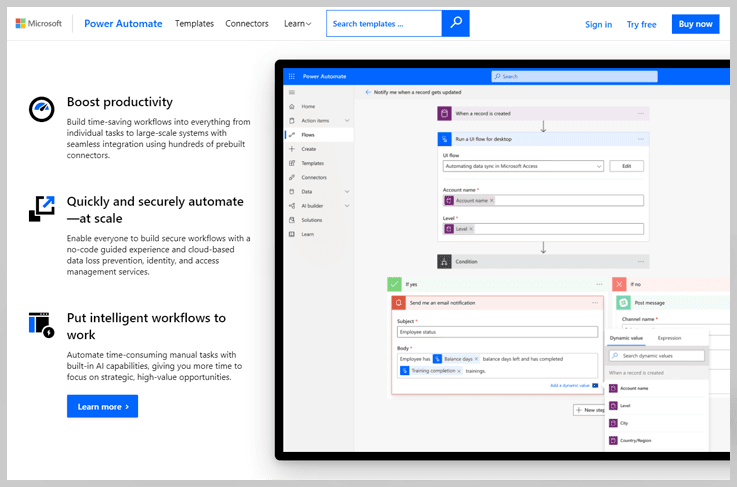 Features
Connect Power Automate with several popular Microsoft services like OneDrive, Office Outlook, Share Point, Dropbox, etc.
Furthermore, it has an app for both Android and iOS platforms so you have to work less and do more than you want with Power Automate.
Besides, it allows you to create automated workflows between the app that you like the most and get notified even for a small change.
Receive notifications of actions as they occur even for a small change.
Secure your data with cloud-based data loss prevention, identity, and access management services.
Pricing
Power Automate offers a free plan and two paid plans, according to the individual users and implementation flows. Its pricing starts from $15 to $500 per month per user.
Wrapping Up
In this article, we've redefined the 5 best Zapier alternatives on the basis of features and pricing which are highly effective yet affordable. So, go on the above list and choose the best tool to power up workflow with automation.
Hors de ces cookies, les cookies classés comme nécessaires sont stockés dans votre navigateur car ils sont essentiels au fonctionnement des fonctionnalités de base du site. Nous utilisons également des cookies tiers qui nous aident à analyser et à comprendre comment vous utilisez ce site. Ces cookies ne seront stockés dans votre navigateur qu'avec votre consentement. Vous avez également la possibilité de désactiver ces cookies. cialispascherfr24.com Toutefois, la désactivation de certains de ces cookies peut avoir une incidence sur votre expérience de navigation.