"Why pay more for the same services when you can get better alternatives at comparatively lower price?"
FullContact is surely one of the best lead enrichment tools. It does a lot of things which eases up your work.
By using FullContact, you can extract the important information about people behind these Gmail ids like LinkedIn, Facebook, Google+, phone number, name, address, and much more about the person.
Thereby, with the help of this information provided, you can highlight your target audience & engage yourself in focusing on these targeted audiences for further promotions.
Though, FullContact provides you with all the best facilities for fetching the data only for Gmail accounts.
What can be done when you have email id from other platforms like Yahoo, Hotmail, etc?
---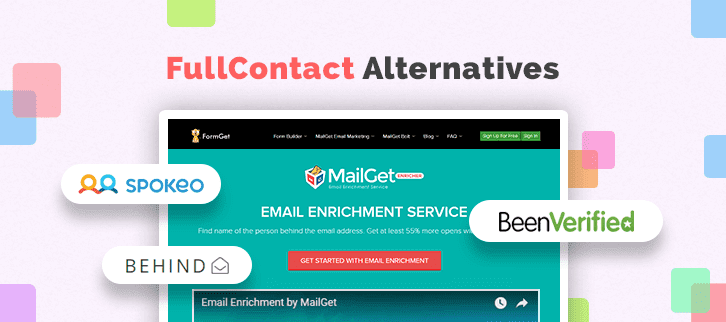 ---
For your convenience, we have discussed FullContact alternatives that provide you with the same service but with all email accounts rather than serving the purpose for only Gmail ids.
Well, let's talk about the FullContact alternatives which will serve the same purpose. These software confer you with exemplary features for fetching the data & show them on your screen like-
You receive the results instantly.
The results displayed are accurate and reliable.
They enable you to search the person's profile and display the required data.
These lead enrichment tools provide you with the insights of your audience.
and a lot more …
For this reason, we are presenting you a list of few best FullContact Alternatives which will definitely help you in capturing the information about your leads.
---
"Comparison Between Top Lead Enrichment Tools"



Services
Pricing
No. of Emails 
Searches Job Profile
Free Trial
Pipl
$99 per month
200
No
✖
 Spokeo
$13.95 per month
N/A
No
✖
BeenVerified
$17.48 per month
N/A
No
✔
Behind
Contact Sales
N/A
No
✖
---
So, without wasting another second, let's explore the list & find the best FullContact alternative for yourself.
---
1. Pipl  – Lead Enrichment Tool
With the help of Pipl, you can gain a complete view of your customers and prospects across their personal and professional lives.
It enables you to search for the person's profile with diverse dimensions of social handles, identity, etc. You don't need to worry about the data as it is organized from trusted sources and updated on regular basis.
---

---
Pricing:
To get 2 weeks free access of the service you need to sign up with PIPL lead enrichment software. For further details, get in touch with the service provider.
Features:
You can find out the full profile of your customers in a single click.
It provides you with insights of the audience in an organized manner.
Also, you can target the specific audience and personalize the information you are searching for.
Apart from this, it facilitates you with support across all the channels which ensures that you get all you need at one place.
---
2. Spokeo – Email Enricher
This is a search engine which facilitates you with various details of a person such as a phone number, email address, criminal records & much more.
It arranges data in an organized manner for better user experience like public records of people, information about social network & white page listing.
Results driven pricing is what makes it stand out as you can swiftly search as many emails you want but you will have to pay only for the number if results displayed. Plus, when searching in a team, you don't even have to pay the price twice for the same records. 
To present the information, it offers a range of 12 billion records that are compiled from a wide variety of sources to access from.
---

---
Pricing:
Spokeo offers you two packs to choose from-
For Casual users, the plan is for 1 month and the price is $13.95.
While the plan for Moderate users will cost $7.95.
Features:
You receive results instantly and the data is arranged in a proper way to prevent any confusion and thereby providing you a hassle-free search experience.
This tool displays the data which you can rely on. Plus, the data is updated on a regular basis so you don't lack behind.
It allows you to share the search results & history if you want to. And effortlessly administer the data.
Also, You can search for any person and your data will be stored in a secure way. No one i.e. even the person you are searching for will not know about your searches so that you work in tension free & safe environment.
---
It is an efficient software application which empowers you to search the details of any person just by entering few details like name, city & country.
You don't need to hassle around in search of details like email search, phone search, etc as BeenVerified grants all these services under one roof.
Further, this software grants you a platform to perform a background check of the person and get all details inclusive of criminal records, phone lookups, and several other details. Plus, you can also choose to be notified about the updation of reports.
---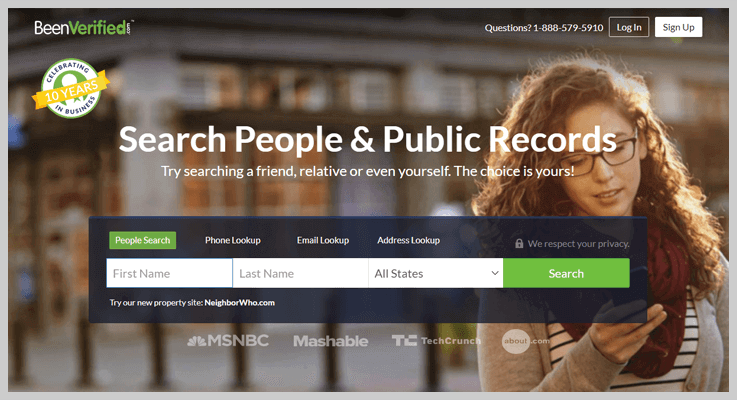 Pricing:
The pricing of this software is based on the months of membership you opt for. Moreso, you get unlimited reports in each plan.
If you want a membership for 1 month, then you have to pay  $26.89.
For availing 3 months membership, you will be charged $

52.44.
Features:
You can literally search anyone from the intuitive public records of this search engine & this is what makes it easy.
It keeps your search private and does not display it to anyone & everyone.
This application provides you with all the details about a person at once and in a single place.
In addition to this, it notifies you as and when the reports are updated or modified.
---
4.  Behind – FullContact Alternatives
This is a USA (California) based online email investigator service. As the name itself suggests, it helps you in finding the person behind the email address. All you have to do is simply enter the email address you want to know about & it will look up for the details related to the email id. 
It displays all the details like name, address, etc about the person in a dialogue box presenting all the social networks associated with the account.
---

---
Pricing:
The pricing details of this lead enrichment service are as follows-
One time Membership- $1.99.
You can get unlimited membership by paying $4.99
Features:
You can simply verify an email & find out who owns that email.
It displays all the details in the profile format which makes it easy to analyze.
This shows the information like owner's name, public social profiles, location information and a lot more.
---
MailGet Enricher is a web-based software that proves to be a powerful tool which enables you to find out the details like accounts on various social networks, phone number, name, address, age, etc in the form of CSV file. If you want to know about your leads then this is probably the finest tool which will prove to be of great help.
All you gotta do is simply upload your email list for enrichment. Further, it will do the rest of the work for you by displaying all the necessary detail there then.
---

---
Pricing:
You need to pay for the plans according to the services you need. These plans differ on the basis of data you can fetch from the number of emails.
Starters  –  As for starters plan, the cost is $4 which includes 200 emails.
Rookie – To get this plan you have to pay $19 with 1,000 emails.
Pro – You can extract data of 5,000 emails just by paying $99.
Advance – If you want to fetch data of up to 10,000emails, you have to pay $175. 
Features:
It provides you with an all-around profile of a person i.e. it displays all the necessary details like name, age, general location, etc.
This is a perfect app you need to get the insights of a customer which make analyzing better and easier.
MailGet Enricher offers personalization which makes it easy to select the plan as per your convenience like the details you want
Besides, the displayed emails are 

100% valid that ensures the reliability.
---
Wrapping UP!
Consequently, in today's weblog, we have discussed the best FullContact alternatives
Further, we scrutinized the various details of FullContact alternatives like pricing plan, features & a lot more.
After going through the article, we hope you must have found an ideal FullContact alternative tool which fits in your box of requirements.
So, do let us know which application helped proved to be your savior.
Besides, you may also be enthralled by these blogs form popular crannies-
Feel free to contact us f0r any more queries and suggestions!
We'll be happy to help you out. After all, that's what we are here for.