Do you know about 20% of the total time of a marketer goes only in acquiring user data and knowing their prospects?
And God forbid if he fails to target the relevant audience. Needless to say, all efforts, time & capital goes in vain.
But thankfully email enrichment tools are the automated solution which substitutes the manual efforts to capture your leads information with higher accuracy. Having your lead's email address is the only pre-requisite to initiate the process of discovering their details.
NOW, how does this tool find social profiles by email address?
These tools will find social media accounts of the users like on LinkedIn, Facebook, Twitter, Google+ etc. And since people stuff their details like bio, job profile, company's name, location etc on these platforms, the lead enrichment tools will grab all these particulars for you to refer & select suitable customers for your services.
---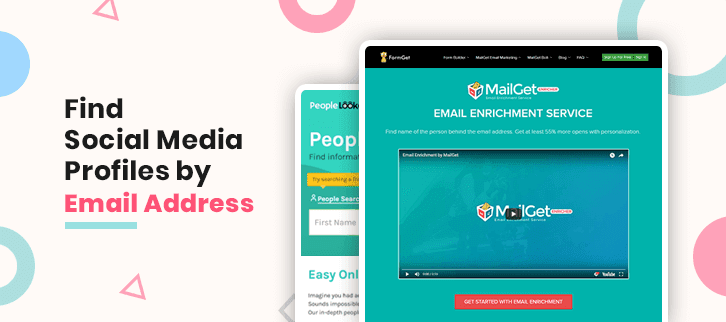 ---
Hence, you can act smart while picking up your leads instead of blind hunting for customers who might not be even interested in your services or turn out irrelevant for you.
Secondly, you can impress and conquer your 'would-be' customers by having their likes/dislikes & other details. Because this will show your dedicated efforts to establish a relationship with them.
So, by keeping all these facts in mind, we've mentioned some of the best lead enrichment tools through which you can find social media profiles by email address of your leads:
Facebook
LinkedIn
Google+
Twitter
RSS feeds & many more.
Comparison Table Between Some Best People Finder Tools
Services
Pricing
Social Media Accounts
Profile Image Link
List Download Option
BeenVerified
$26.89/m
Yes
No
No
FullContact
$8.33/m
Yes
No
No
PeopleLooker
$18.28/m
Yes
No
No
Clearbit
$99/m
Yes
No
No
The above table might have simplified your search. Still, we'd advise you to read all the features of the services mentioned in this article. After that, you will truly get 'THE ONE TOOL' that you should finalize.
So, let's find out the detailed functioning of the best email enrichment tools that find social profiles by email address.
You may also love reading:
---
1. Clearbit
The software analyses domain and retrieves user's profile in the company like bio, role, location, and details of that company. It collects data from over 250 reliable sources which ensure you the verified details of every user.
Also, this software shortens & enriches sign-up forms by auto-filling the form fields from the data fetched. So, it minimizes the time taking the procedure of filling surveys or multi-page signup forms.
---

---
Pricing
Its pricing depends upon the solution you select.
Salesforce: This solution charges $499/m for a company size of more than 500 employees.
Marketo: The Marketo solution costs around $499/m for a company size of more than 1000 employees.
Segment: This solution bills from $99/m to $499/m for API requests raging in between 2,500 & 25,000 respectively.
For more details, contact Clearbit.
Features
It doesn't keep database static, which means the tool searches and returns data in real-time. Thus, you can get latest & monthly updated user information.
It is very specific for gathering maximum data for you. Hence, it collects information on 85+ unique fields.
You can use 'Person API' to look up email addresses, or 'Company API' to look up company information and integrate them into your services.
---
2. BeenVerified
BeenVerified finds out a lot of information about your leads across social networks with the help of their name, residential address, phone number & email address. This information gathering becomes more accurate as BeenVerified confines its search to the United States of America.
The details collected will include criminal background report, public court records, bankruptcy records, online photos, current/past location etc.
However, providing an easy-to-read user information report is not the only thing this enrichment tool does. It prohibits the public records access that is regulated with public FCRA ( Fair Credit and Reporting Act ) law. You can access the information for relevant purposes such as locating a current address, verify online buyers etc.
---

---
Pricing
Now talking about subscription plans that BeenVerified offers:
One month membership: At $26.89/m, you can search for unlimited background reports, email lookups, phone lookups etc.
3-month membership: It has a 3-month membership plan of at $52.44. With it, you will get unlimited contact information, address lookups, criminal records with the quick search option.
Features
This intuitive public records search engine lets you find the details of unseen photos, age, cities, family &  friends, professional connections etc.
You get verified reports that are generated on the basis of investigation about a person's history (i.e. criminal background of the customer). In fact, if you can't find the required data online, BeenVerified send court runners to the courthouse to gather information manually.
Along with other features, this tool also offers desktop as well as iPhone, Android, and other mobile versions. So you don't have to worry about any device problems.
---
3. AeroLeads
How do you hunt for profiles on social media – through name, address, email etc? Well, no need to use the same thing on each and every platform because AeroLeads will do that for you with just one click. Finding the contact details from Facebook, LinkedIn, Google+, Twitter, RSS and many more such platforms has become quite an easy task with AeroLeads. This automation tool can integrate with CRM tools and generate an extensive database based on company name, address, employee size etc.
---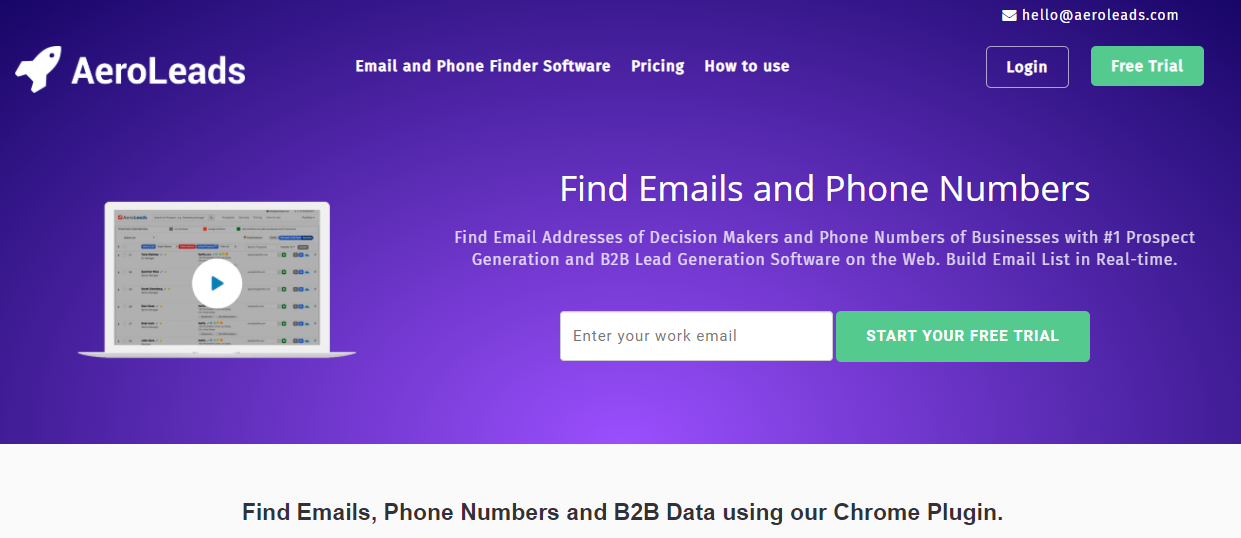 ---
Pricing
Free – AeroLeads provides 10 credits in the free account that comes with some limitations. You cannot use the premium features like exporting data to other services like Mailchimp, Salesforce, ZOHO etc.
Take Off Plan – Starts just at $49/month, you will get 1,000 credits in your account that allows you to hunt prospects from LinkedIn, Crunchbase, Angellist, Xing etc. You can easily import and export data from CSV. Only a single user will be allowed at one time!
Climb Plan – Priced at $149/month, you will get 4,000 credits in your account that allows five users at one time to use the account! The company provides you 24*7 chat and email support. The data can be easily transferred to Salesforce, Zoho CRM, Mailchimp, HubSpot, FreshSales, Zapier etc.
Cruise Plan – The company allows unlimited users to use the account at one time and grants a 24*7 chat, email and phone support. You will receive 15,000 credits in your account. Pay only $499/month and get all these exclusive features that can ramp up your sales.
Enterprise – Tailor made to suit your needs, this plan will go along your requirements. Contact AeroLeads and get the best features at your door!
Features
Search for a particular profile along with the contact details from a huge dynamic database of millions which get updated every day.
Collect information on the basis of 80+ fields.
Automate marketing operations like email marketing by integrating with MailChimp and CRM tools like ZOHO, Salesforce, Zapiers etc.
Peep into the social media profiles, websites and blogs from Pinterest, Vimeo, Twitter, Facebook etc.
Make email database and verify it within minutes with just one click.
---
4. FullContact
FullContact offers profile enrichment solution for different entities like individuals, business & partners. It collects data on full customer profiles and records. This is how it helps an organization to turn their random contacts into effective leads.
Therefore, you can find the target audience to establish a personalized relationship with them & provide best customer services.
---

---
Pricing
The cost of this service is categorized into 3 pricing plans:
Individuals Plan: This plan has got 3 subsets.
Basic Plan: You can store 1K contacts, get 10 free business card scans at free of cost.
Premium Plan: It allows storing 25K contacts, 1,000 free business card scans at $8.33/month.
Team Plan: It charges $9.99/month for 500 contact updates /week, team contact sharing etc.
Businesses Plan

: It has basically two subsets 2 subsets.
Trial Plan: At $0/month, you can get up to 100 matches/month.
Small business Plan: At $499/month, you will get data add-ons & 50,000 matches/month.
Enterprise Plan: You can contact FullContact sales team to know the pricing scheme of this plan.
Partners Plan

: The pricing plan is subdivided into 2 categories.
Developer and Custom Plan are advanced add-ons. Get in touch with the FullContact sales team to know their pricing details and amazing features.
Features
FullContact offers numerous integrations with CRM, marketing automation such as MailChimp, Wrike, LiveChat, Nimble, SalesforceIQ, and many more.
You can build up a complete contact record of the user by creating a comprehensive profile of him. This will hold details like phone number, email address etc.
Using Identity Resolution (an operational intelligence process), you can convert the partial records of a user into full profiles.
---
5. PeopleLooker
PeopleLooker is another add-on in the list of the most popular email enrichment tool. It lets you gather details like birthdate, date of birth, court records, criminal records, phone numbers, relatives of relatives etc.
You can further refine your search on the basis of people, phone, email and property-based search. The information collected will be based on the United States. This means you don't have to run around for a region-specific enrichment tool.
Also, the current address is displayed with a map & satellite imagery. That's something new we've found till now!
---

---
Pricing
The pricing plan of this software varies on the type of subscription you choose.
1-month membership: You will get unlimited email, phone lookups, criminal records etc at $18.28/month.
3 months membership: At $43.86, you will get 3 months of membership. It will provide you with fast searching with unlimited background reports, contact information, email, phone & address lookups and a lot more other features.
Features
The background records that PeopleLooker offers are aggregated from real law enforcement agencies & government courtrooms. Along with criminal records, it also includes minor, major & another kind of traffic offenses.
This software peeps in the social profiles, websites & blogs from Pinterest, Vimeo, Twitter, LinkedIn, Google+ etc. So, you will get information about the users that will include photos, videos, relatives, professional connections and much more.
Moreover, you will get notified through email on any updating phone numbers, address or even on creating new social media profiles.
---
6. MailGet Enricher: Email Enrichment Software
When you feed-in the email address of the users in bulk, MailGet Enricher extracts their social profiles from that email addresses. So, it helps you to decide that which customers you should target on the basis of the retrieved information from their social account details.
Basically, this tool derives complete lead information in the simplest way:
Just upload the email list in CSV or XML (Excel spreadsheet) format.
Then MailGet Enricher will find all the data from multiple sources & you will get the enriched information within a couple of hours.
Further, you can download the enriched list and start sending personalized emails to those ids for better results.
Even Harvard & Massachusetts Institute of Technology (University), Cisco (networking hardware company), & 1200+ other corporate giants across every vertical have found this email enrichment software as the most bankable tool.
---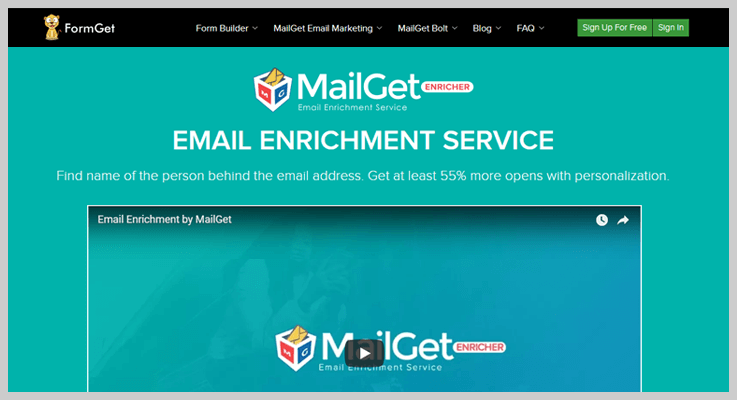 ---
Pricing
Starter Plan: You can collect information about 200 leads via emails with this beginner plan at $4/month.
Rookie Plan: By paying this affordable price you can fetch 1,000 lead information at $19/month.
Pro Plan: With this plan, you can capture 5,000 leads detail easily at $99/month.
Advance Plan: This pricing plan lets you retrieve information of 10,000 leads at $ 175/month.
Features
You will also get the status of an email id. It can be either 404 (in case of error) & 200 (for active id).
Besides users account in different social channels like LinkedIn, Facebook, Twitter, etc, you can also receive other basic details like their job profile, company's name, location, gender and a lot more.
After getting the enriched list of ids, you can download it on excel sheet format & use it for multiple purposes.
Conclusion
On wrapping up, now you would be able to figure out which service will be most suitable for you. These tools will help you to understand your customers in a way that you've never been able to before.
Moreover, you may find a lot more alternatives, but hardly anyone will assure you the updated and a genuine user's data. Hence, you can completely rely on these email enrichment tools to find social media profiles by email address for best results.
Send your suggestions or queries to us by commenting in the below section. We'll get in touch with you shortly!