When you are done with collecting leads, then the next step will obviously be lead enrichment which can be done easily through lead enrichment tools.
Using an enrichment tool, you can collect a lot of information about leads like their name, age, gender, locations, relatives, job information and much more from an email address.
By using these software on your site, you can elicit about a person's LinkedIn background facts such as work experiences, certificates, current company, job profile, other LinkedIn contacts etc. Just by entering his/her email id.
---
---
In fact, you can also get the details available on social networking platforms such as Pinterest, Google+, Facebook, Twitter and more.
That's why in this article we have accumulated best lead enrichment tools which can perform all functionalities for collecting data and a lot more.
Let's Have A Glimpse On Some Email Enricher Tools
| | | | | |
| --- | --- | --- | --- | --- |
| Services | Court Records Status  | Social Media Profiles | Email Id Status Checker | User's Image Links |
| BeenVerified | Yes | Yes | No | Yes |
| PeopleLooker | Yes | Yes | Yes | No |
| Behind | No | Yes | No | No |
| Spokeo | Yes | Yes | No | No |
Furthermore, these software also assist you to collect any kind of criminal records or court records. All the lead enrichment tools present here are unique in functions as you can search for personal and professional details, job information, caller IDs etc and most of them are very cheap in cost.
Now, what are you waiting for?
Let's dig into the detailed description of lead enrichment tools.
You may also like to read:
---
BeenVerified is another LinkedIn lead enrichment tool which allows you to collect the data of a person on the basis of contact number, emails, names, residential area and even you can find the public details of a person.
The software is highly secured so that only the authorized person has the accessibility. In fact, you can gather information of persons on your fingertips as this software works on every device like desktop, iPhone, Android and mobile web.
Also, BeenVerified tools fully focus on data quality as it gets integrated with public record and continuously keeps on increasing the data quality in case of updates. Further, with its 7,000,000 downloads, BeenVerified is the best for mobile public data access.
---

---
Pricing:
Been Verified comes with two different pricing plans:
Plan1: One-month Membership Plan will cost you $26.89/m through which you can collect unlimited reports information like unlimited criminal records, address lookups, emails lookups, contact information, background reports etc.
Plan2: Three-month Membership Plan will charge you $52.45/m through which you can create unlimited reports of persons and also can search their age, location, email, photos, social media accounts, phone number etc..
Features:
BeenVerified allows you to fetch the data of person on the basis of there property records, career history, online photos and professional information in an easy way.
If any person or the user performs addition or deletion in his/her profile than BeenVerified will automatically notify you about that change. Later on, you can edit the stored data of that person.
Also, BeenVerified has the ability to collect the data on the basis of family history. Which means all the relatives and friends can be easily recognized by there location or social information.
---
PeopleLooker is one of the most popular email enrichment tool available online. With the use of it, you can easily find LinkedIn profiles by entering an email address of that particular person and provides the details on professional connections & relatives. You can locate the current location of a person with Google Maps, satellite imagery and get the exact location report.
This software also allows you to view the details of parcel numbers, real estate, and county assessor data like property tax amounts, home value, and building specs. Also, it includes the details like criminal records & court records as well.
---

---
Pricing:
First Plan: In this plan, you have to pay $18.28/month for a monthly subscription through which you will be able to search the details like age, current location, criminal records, social media accounts, phone number and much more.
Second Plan: For this plan, you will have to pay $43.86/month, in which you will get a 3-month membership where you can create unlimited reports and can redeem the details like relatives, people age, location, email, photos, social media accounts, phone number etc.
Features:
PeopleLooker allows you to collect the details like relatives and birthdate but these pieces of information are limited to the United States only.
With the help of this software, you can also collect the details like contact number, emails, location etc of person relatives.
By using this lead enrichment software you can find out the count of email searches, property reports and reverse phone number lookups.
Moreover, with this software, you can delete his/her background report form the mail data just by following simple steps.
---
Find LinkedIn profiles by emails in an easy way by using this best email enrichment tool. Behind software rolls out each and every information which is attach to the email id and displays in front of you like job information, location, name, photo, social networks, work experiences etc with a few clicks.
With the help of this tool, you can easily verify that an email address belongs to the particular person or not. Also, this software search all the photos and videos which are associate with a particular email address. Additionally, you can collect the data of around 2,000,000,000 emails profile available at a time.
---

---
Pricing:
To elaborate on the pricing details have a look below.
Plan1: To get the details of one email id through which you can gather the background information like job profile, current location etc you have to pay $1.99.
Plan2: To check and create an unlimited number of reports you have to subscribe to its unlimited membership which costs you $4.99/m.
Features:
You can easily locate the current location of a person by using Google Map integration just by entering the email id.
This software benefits you to easily identify the personal and professional details on the 50+ social network with their email ids.
Additionally, all the details and information of leads are delivered back in the .CSV formats you and are systematically organized.
---
Spokeo helps you to grow your business by gathering up the specific target audiences. It assists you to fetch the information of LinkedIn profile through emails, names, social, and address.
Also, this lead enrichment tool, you will instantly provide by the information like owner's name, other LinkedIn connections, job history and public profiles, and more.
Additionally, this email enrichment tool helps you to reach all the profiles safely and to learn more about personal and professional insights. Whenever you entered the location in the search bar then it will deliver you the information related to its old residence area, neighbors, property ownership, and value details.
---

---
Pricing:
Spokeo payment plans are as followed:
Plan1: One-month membership plan of Spokeo comes with a price tag of $13.95/m. It comes with services like you will get details of caller ID, address search, people search, email search, phone lookups etc.
Plan2: The other plan which is of 3 months membership will cost you $12.95/m. You can search the details of a person like property records, social shares, public records etc.
Features:
It always collects reliable data of persons which is fresh and regularly keeps on updating 24*7.
This software allows you to collect data with your team which does not cost any extra charge. The data collected is in an intuitive manner and you can manage it according to the accounting system.
Spokeo collects possible accurate data from more than 30 sources platforms.
Additionally, it doesn't collect the confidential details of a person like credit cards, insurance, employment etc which all come under the Fair Credit Reporting Act (FCRA).
Whenever you entered a person's social identity in the search bar then it helps you to verify the details of the online seller.
---
How do you hunt for profiles on social media – through name, address, email, etc?
Well, no need to use the same thing on each and every platform because AeroLeads will do that for you with just one click. Finding the contact details from Facebook, LinkedIn, Google+, Twitter, RSS and many more such platforms has become quite an easy task with AeroLeads. This automation tool can integrate with CRM tools and generate an extensive database based on the company name, address, employee size, etc.
---

---
Pricing:
AeroLeads payment plans are as followed:
Free: AeroLeads provides 10 credits in the free account that comes with some limitations. You cannot use premium features like exporting data to other services like Mailchimp, Salesforce, ZOHO, etc.
The Take Off Plan: Starts just at $49/month, you will get 1,000 credits in your account that allows you to hunt prospects from LinkedIn, Crunchbase, Angellist, Xing, etc. You can easily import and export data from CSV. Only a single user will be allowed at one time!
The Climb Plan: Priced at $149/month, you will get 4,000 credits in your account that allows five users at one time to use the account! The company provides you 24*7 chat and email support. The data can be easily transferred to Salesforce, Zoho CRM, Mailchimp, HubSpot, FreshSales, Zapier etc.
The Cruise Plan: The company allows unlimited users to use the account at one time and grants a 24*7 chat, email and phone support. You will receive 15,000 credits in your account. Pay only $499/month and get all these exclusive features that can ramp up your sales.
Enterprise: Tailor-made to suit your needs, this plan will go along your requirements. Contact AeroLeads and get the best features at your door!
Features:
Search for a particular profile along with the contact details from a huge dynamic database of millions that get updated every day.
Collect information on the basis of 80+ fields.
Automate marketing operations like email marketing by integrating with MailChimp and CRM tools like ZOHO, Salesforce, Zapiers, etc.
Peep into social media profiles, websites, and blogs from Pinterest, Vimeo, Twitter, Facebook, etc.
Make an email database and verify it within minutes with just one click.
---
6. MailGet Enricher
MailGet Enricher is a strong LinkedIn lead enrichment tool by which you can accumulate the information of leads within a few seconds. All you have to do is, just provide the email address of a particular person and tools digs in all the information. Like the LinkedIn profile, Facebook profiles, Google+ profile and other public details.
This software is easy to use and delivers authentic information. With just a few steps like, upload the email list, switch to enriching start button of the software and within a limited time you are provided with the enrich data list.
In fact, MailGet Enricher is used & trusted by around 1200+ companies like Cisco, ISKCON, AVAYA, theguardian and many others.
---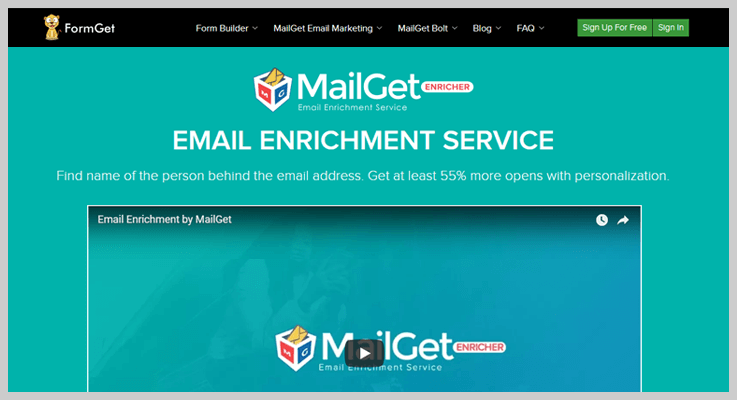 ---
Pricing:
Starter Plan: Cost you $4/m using which you can fetch the details of 200 emails.
Rookie Plan: Will cost $19 per month and helps you to catch out the data from 1000 emails with this plan you can fetch the informations like status, social profiles, Klout topic etc.
Pro Plan: Is a popular plan for lead enrichment the cost of which is $99 for a month. It allows you to fetches details of 5000 emails.
Advance Plan: It has a variable price plan of $175/m to $9999/m for 10,000 to 1,000,000 emails and allows you to collect data vital data about individuals.
Features:
This software helps you to collect the data of leads. That consists of a person's name, age, job, location, photos, and professional data.
The information that you receive will be pure and 100% authentic. All the information of person available on social profiles like Facebook, Twitter, Pinterest and similar other profiles will be fetched.
By getting detailed information about your leads, you can easily start an interactive conversation that will surely help you in increasing the CRM.
In fact, it allows you to upload the email list in the format of CSV files or Excel spreadsheets.
---
Conclusion:
Above mentioned lead enrichment software is reliable so that you can easily scour your contacts personal & professional details within a few seconds.
They redeem all details from social networks like Facebook, Linkedin, Pinterest. And prepares the background reports to understand the person in a better way.
For any kind of query or suggestion comment below.