Wanna create a brand new blog, news or magazine website, or just have to update your existing one hosted on WordPress?
You'd wish to see the best collection of WordPress themes to choose from.
InkThemes brings you from its best collection of themes from developers around the world who contribute regularly to make InkThemes Marketplace a greater source for WordPress products.
---
You might be interested in –
---
BlogsTrend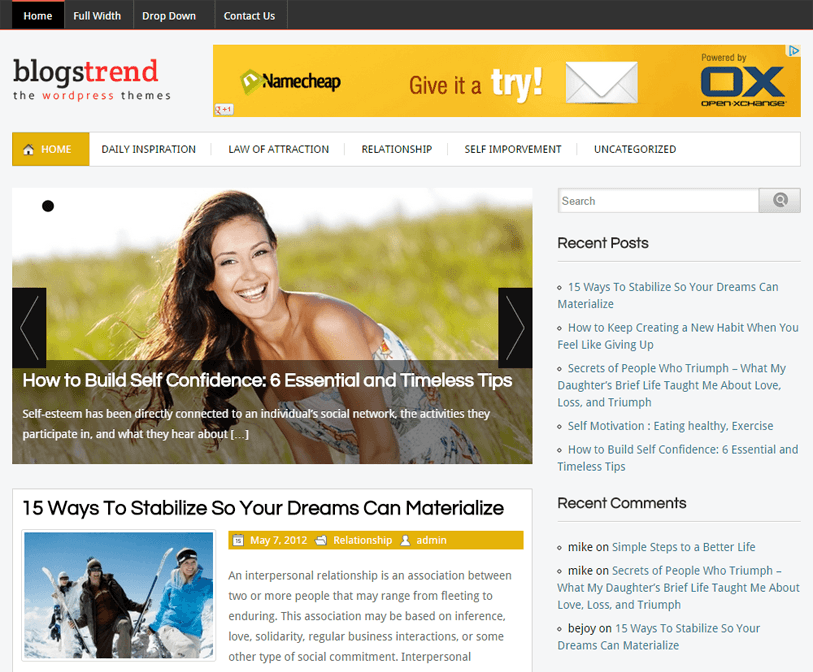 Basically developed as a blogging theme, BlogSpring gives everything a blogger needs today. Ample of Ad Space is managed besides leaving enough space to showcase your blogs with beauty. The best thing for bloggers is that this theme is compatible with WordPress plugins required to enhance your website's functionality.
---
Newspaper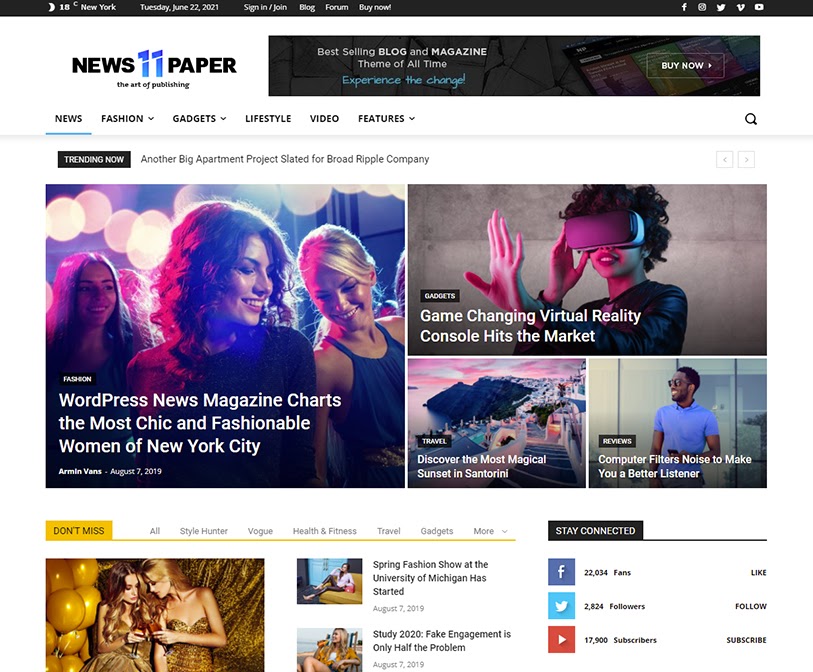 Newspaper is a responsive and flexible WordPress theme for blogs, magazines, news, and online shops. It's entirely frontend-customizable and gives you multiple ways to design a unique website. It comes with editable pre-built websites, amazing layouts for pages and posts, premium plugins, header & footer builders, and more.
Created by the tagDiv author, Newspaper counts over 110,000 sales. This theme is based on the latest technologies and it's using its own tagDiv Composer page builder along with drag-and-drop functionality. Newspaper is performant, fast, and well optimized. Moreover, you can place as many ads as you want and monetize using AdSense, Google Ads, or banner advertisements. This theme also gives you extensive WooCommerce tools to add commercial items and sell them through your blog and boost your business with eCommerce functionalities.
---
Underwood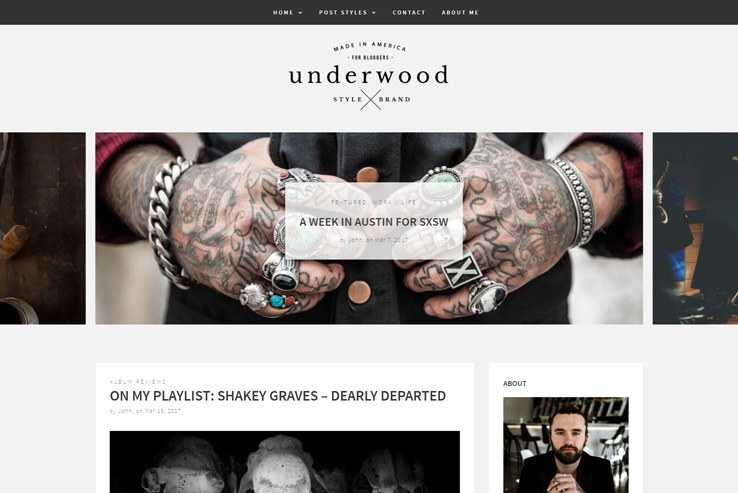 If you are a journalist, food blogger, photographer, or are just in the market for a darn good blog theme with lots of bells and whistles, check out Underwood. Developed as a personal blog, Underwood is a modern, clean WordPress theme with some gritty undertones and includes 3 homepage layouts (including standard and grid-style layouts) and 9 post formats.
Wow, your audience with high-impact visuals in the front-page banner options throughout. And if you like incorporating multimedia into your blog, you can choose from various gallery post designs, and more. Underwood doesn't lack in terms of customization – it includes a range of customizing theme options so you can put your own spin on the theme.
Features of Underwood include cascading grid-style layout with or without sidebar, easy to setup featured content driven front page slideshow, social media linking for social sharing, titled Instagram feed can be placed above the footer and in the sidebar, custom widgets, hundreds of ready to use Google Web Fonts, WP Super-cache plugin support, Yoast SEO plugin support.
---
BlogSpring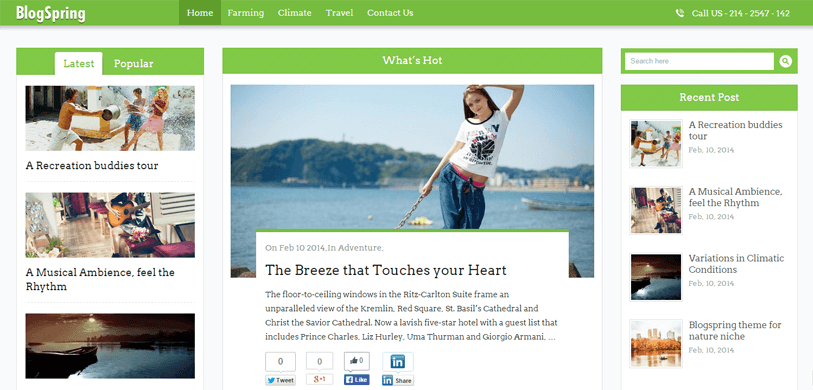 It brings up the real charm for homepage of a blog news website. BlogSpring is all about allotting proper space and visibility to various contents. Blog categories can be easily assigned for various posts on the homepage.
BlogSpring in terms of professional beauty is incredible. The blog homepage layout it presents is quintessential for gadget news sites, sports news sites, or for special blogging purposes like microblogging, event based blogging, etc. Building up a socially active blog is easily possible with BlogSpring due to social sites integrated commenting system.
---
ZugoTopia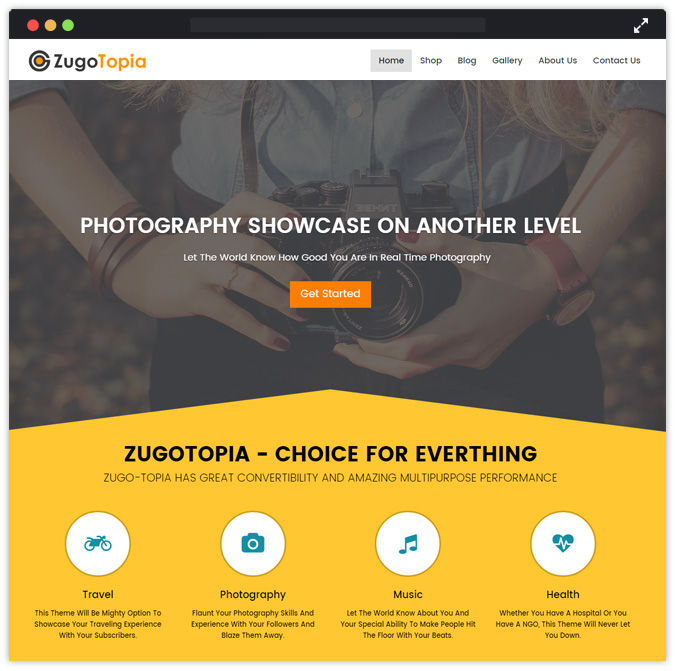 ZugoTopia bestows a unique fashion for blogging. It gives the ability to customize your blog to make it more effective by easily adding image gallery & videos, hence increases the perceived value together with raising the interest of readers in your blogs.
Another good feature a blogger would definitely love is the visibility provided by the author. Inbuilt data input panel is there for each blog post in the backend to add information about the particular author of a blog. You will find more unique features in this theme like product section, blog area, email subscription option, front-end menu customizer, team member area & much more.
---
Newsmag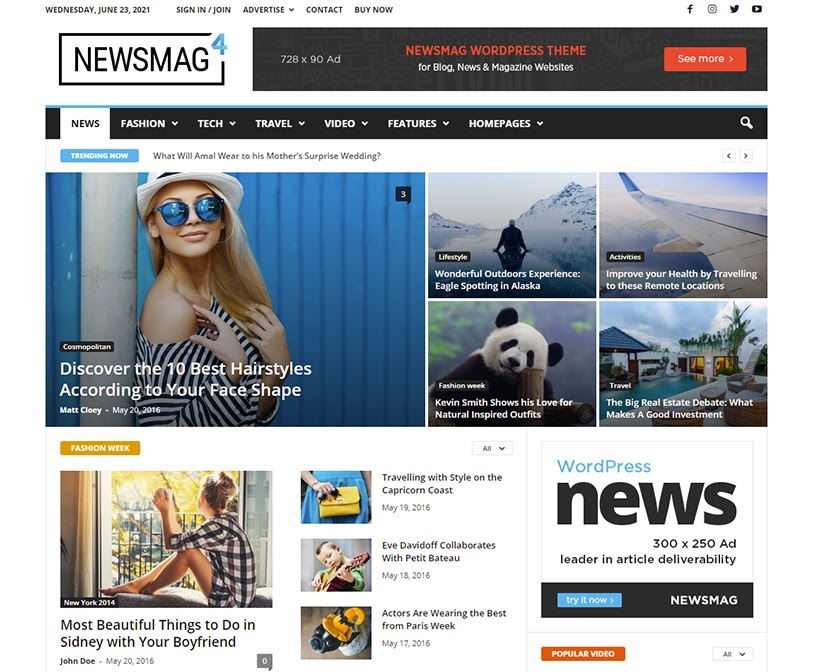 With the Newsmag theme and WordPress CMS, you'll have an up and running blog magazine in no time. This responsive template comes with several demo designs and one-click import, front-end functionality, enchanting header and footer styles, a review system, and many more.
Some of the features include big grids, flex blocks, different post styles, category templates, and so on. Newsmag is AMP ready and comes with an integrated newsletter plugin, weather, exchange, Instagram, and Social Counter widgets.
---
MH Magazine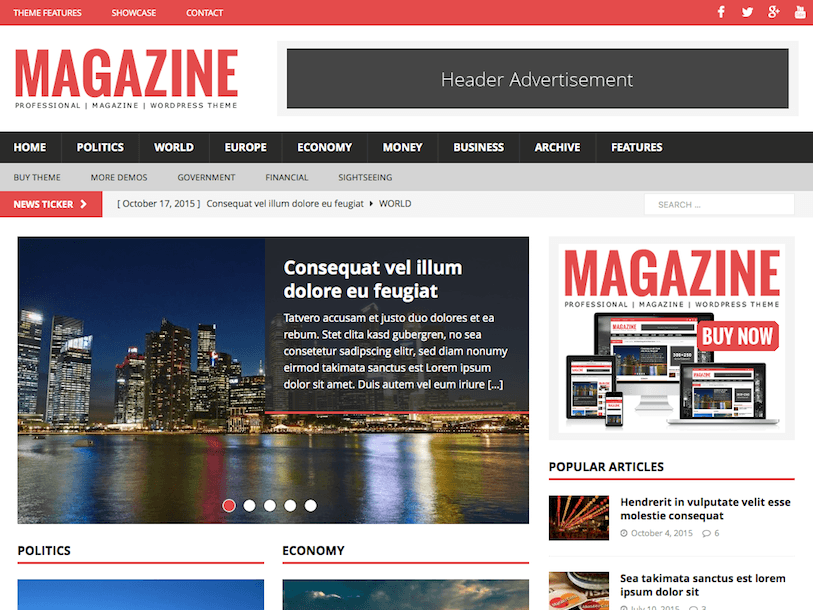 MH Magazine is a responsive, flexible magazine WordPress theme which is perfect for modern online magazines, dynamic news websites and other editorial web projects. With MH Magazine, you can create all kinds of different layouts by using the several included custom widgets. You may also choose between boxed and wide layout and display one or two sidebars as you prefer.
When running the MH Magazine WordPress theme you may arrange an appealing magazine-like front page, simply by placing widgets on your widgetized homepage accordingly. You can further handle lots of content in a well-organized way and show your latest articles prominently by taking advantage of the slider widget or other suitable custom widgets. MH Magazine thus offers the most flexibility in several ways and is ideal for professional editorial websites.
---
MH Newsdesk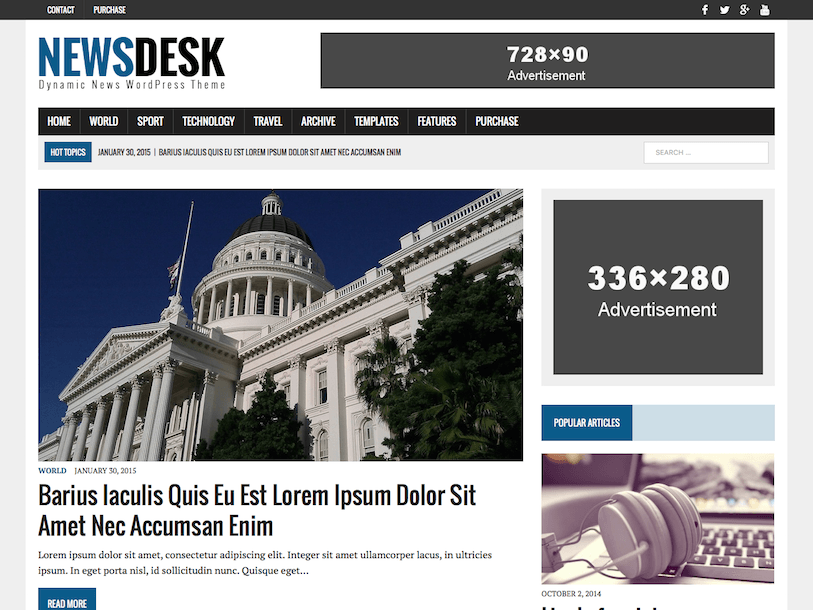 MH Newsdesk is suitable for all kinds of websites related to news, newscast or coverage. With this news WordPress theme you can create dynamic news websites, professional news portals or other editorial projects. MH Newsdesk offers a fully-responsive layout which displays your content nicely for all kinds of screen size resolutions.
Thanks to the several included custom widgets, you can create a professional front page and present latest news, topics or headlines in an appealing way and let your audience pick what pleases them most. MH Newsdesk is thus an ideal solution for dynamic online newspapers which handles lots of content in a well-organized manner.
---
MH Edition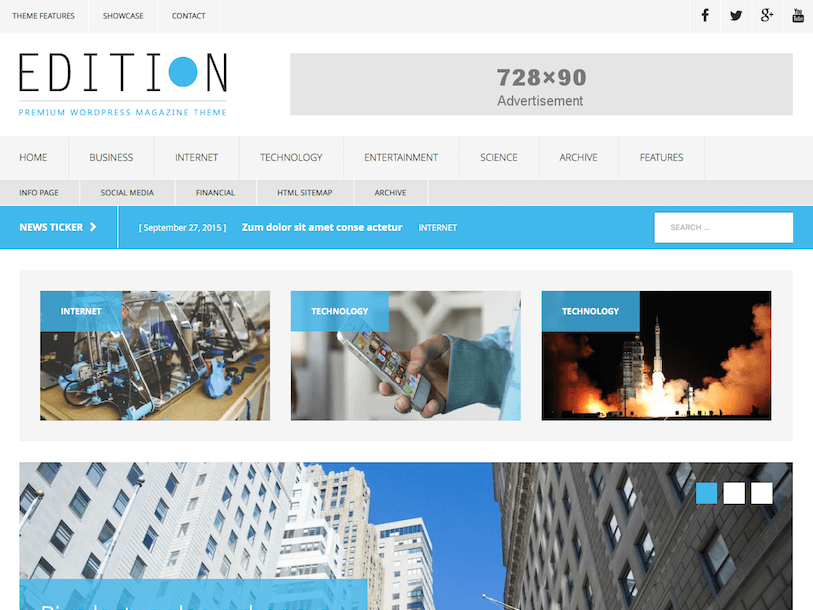 MH Edition is a clean and modern WordPress theme which is perfect for online magazines, tech blogs, or editorial websites about science, technology or gadgets. It offers a fully responsive layout, SEO optimization, several custom widgets and a bunch of options for customization. With MH Edition, you can arrange widgets on the fully widgetized homepage and thus create nice and individual front page layouts.
To present your articles nicely, you may display them using the included custom slider, grid or any other included custom widget as you prefer. Using MH Edition, you can create all kinds of modern websites and show your contents well-organized.
---
Novelty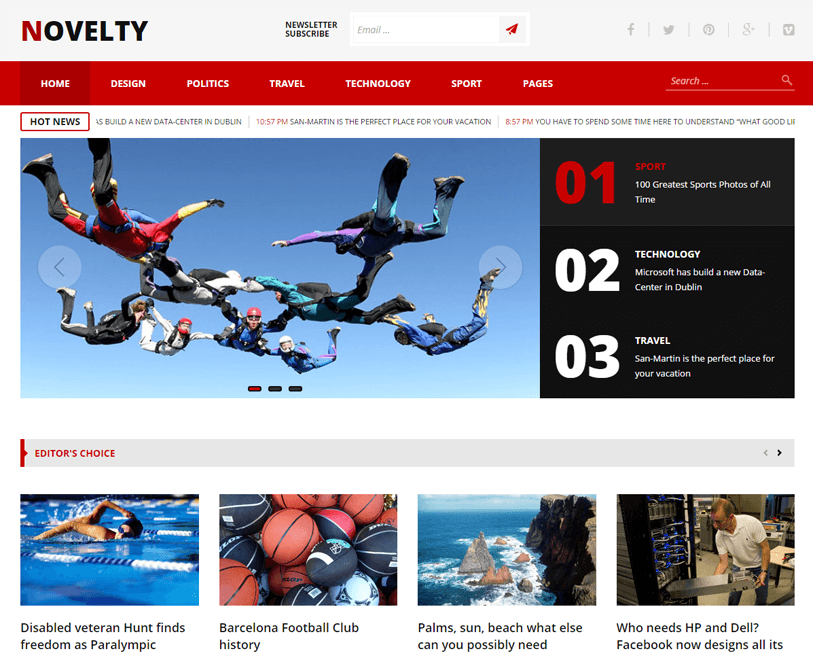 A perfectly suited magazine theme is not easy to find. Since marginal difference exists between news, blog and magazine themes, users generally adjust with common themes even if requirements are different. Actually, that can not be the same since the reading habit of news audiences, blog readers, and magazine readers can not be exactly same. News readers are mostly in a hurry, whereas magazine readers are comparatively more patient and cool.
Novelty is a beautifully crafted theme perfectly suited in magazine fashion. Must say, its compelling design makes it quite interesting. Apart from it, you'll find uniqueness in features, intelligent positioning with proper alignment of elements, intuitive content categorization, and much more.
---
Display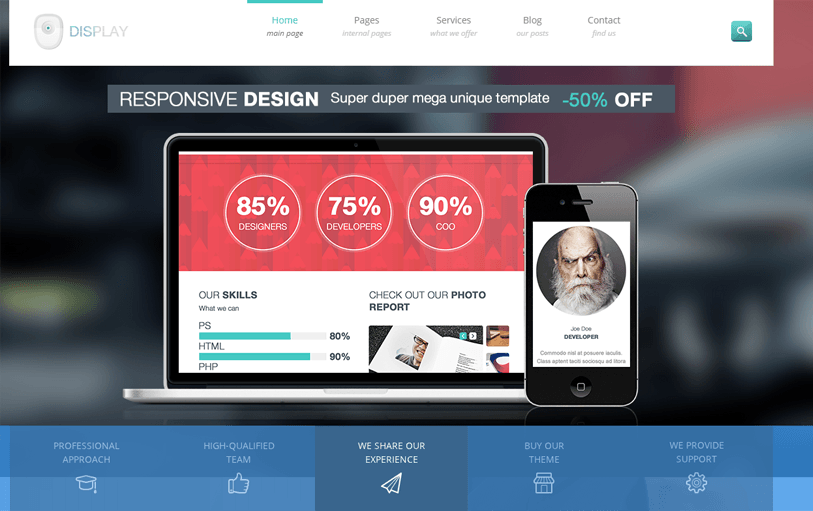 The display has many new features inbuilt that make up a unique blogging platform on WordPress. Different design composition and easy navigation has brought up a completely modern concept for bloggers and enhanced the power of presentation.
It is Bootstrap framework based and has a responsive, clean and crispy design in the full-width layout. Fully customizable theme elements, colors, revolution slider, parallax backgrounds, different blog layout, are its main features to be highlighted.
---
 Publish House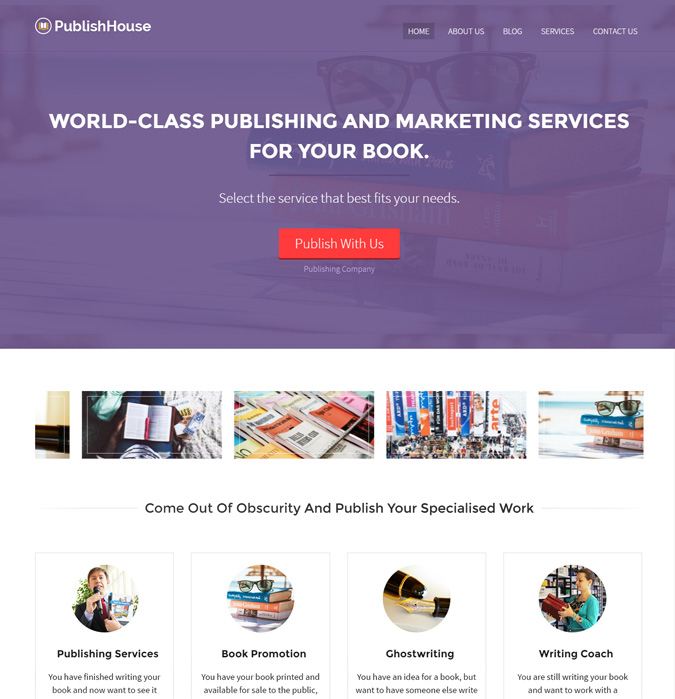 The simplest theme in this collection – The Publish House. The reason you'll just love this theme is the absolute beauty in simplicity. Nothing simple is more attractive than its minimal design. Any level of WordPress user comfortably customizes it to make its use for blogging or business. Despite all, Publish House allows choosing out of eight-Beautiful Color Schemes, grid blog showcase, Widgetized Sidebar, Four-Column Feature Area.
---
SmartVision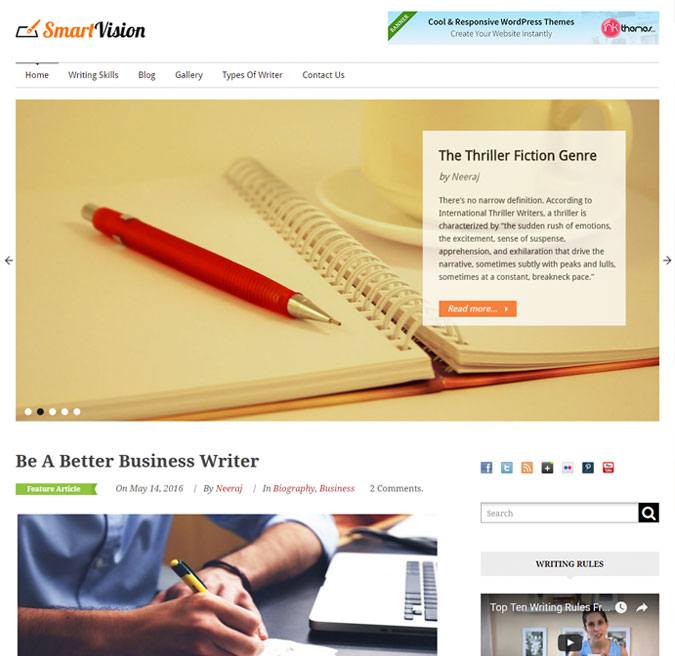 SmartVision is another beautiful WordPress blog theme which is clean, simple layout besides it also enables posting video, audio, gallery. Additionally, plugin compatibility is included, 9 fantastic colour skins, advanced footer styling, SEO optimised and made with debug on. Individuals looking for SEO and speed optimized themes must try  SmartVision.
---
Mynd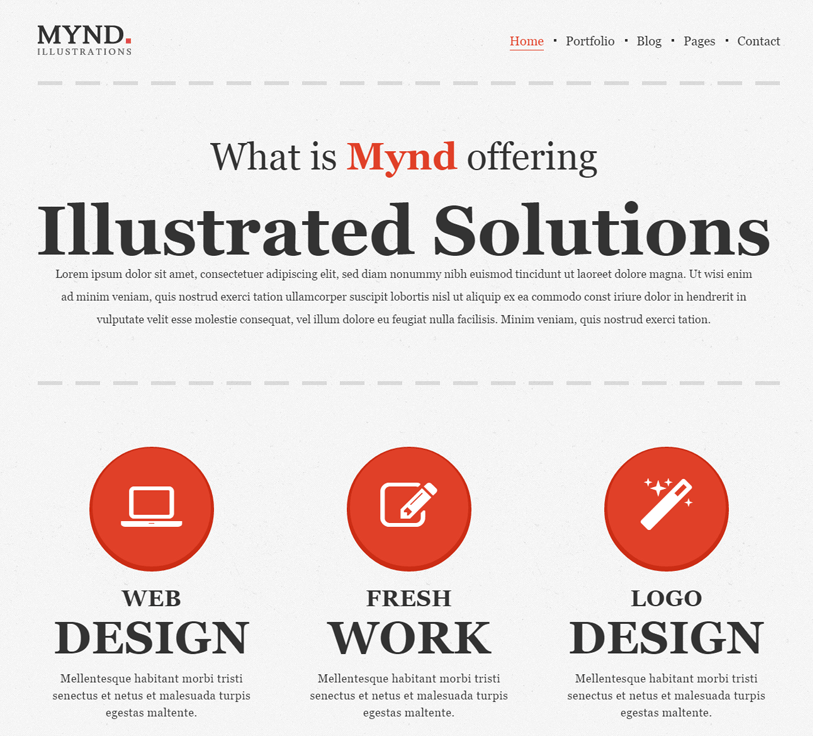 Mynd has slightly an out of the box design in a wide frame with masonry portfolio layout. Furthermore, one gets lots of functionalities such as various post formats, custom shortcodes for blog customization, adding buttons, typography options, iconography, and features to enhance a blog website.
---
ReviewExpert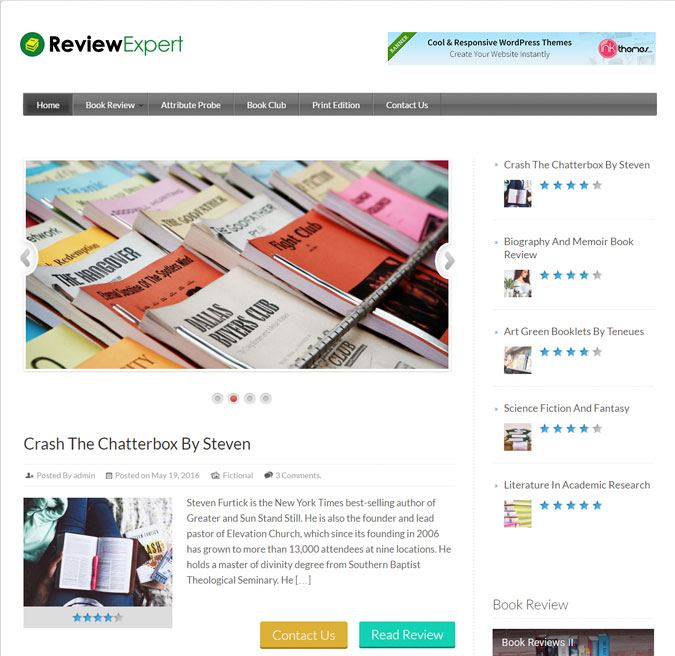 ReviewExpert is splendid Theme for magazines, novel and basically, develop as a blogging theme. It gives everything a blogger is in demand today. It helps you to create online book review website, share news & information about published books through your blog section. The best feature in view of a blogger is, Theme also has inbuilt rating feature for books and a section where authors bio can be maintained.
---
Sports News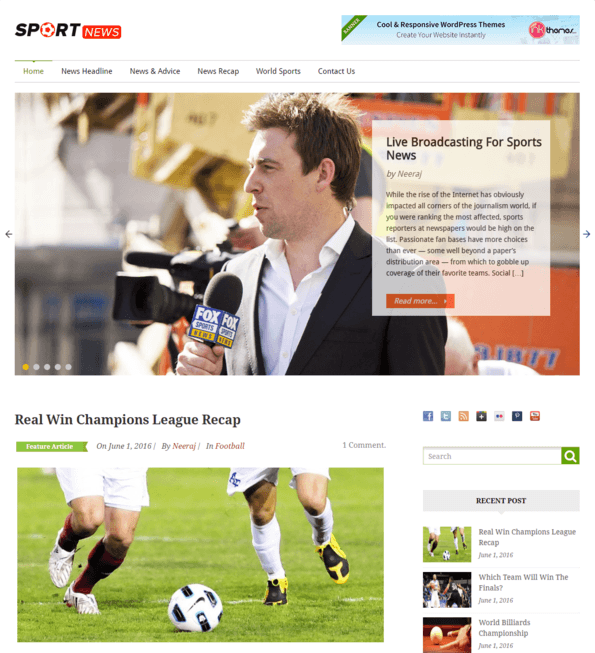 Sports News is a perfect kit for sports news magazines, enthusiasts, journalism, and reporters. This WordPress Theme helps shape your website with its amazing features. Theme not only is fully responsive but also easy to customize so that anything you feel is to be modified  can be updated easily.
Sports News Theme has clean and modern design it supports social share functionality, advanced design of slider that holds blog section, contact form to connect with audience, spectacular gallery that exhibits that you cover news of all topics, Ad banner feature help you target effective audience and build brand recognition. It is a complete theme with beautiful color templates that looks decent & promotes your business website.
---
Monsoon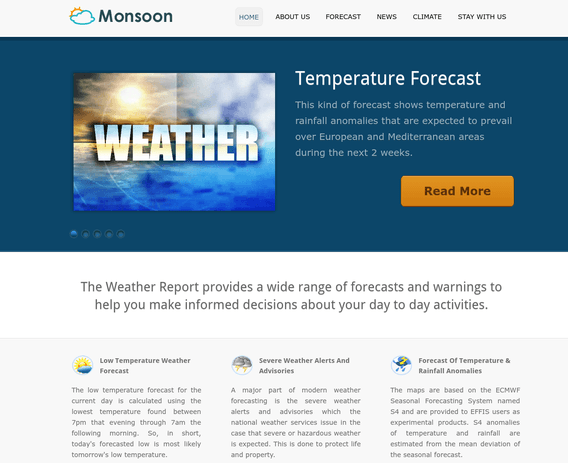 Monsoon is an aesthetically accomplished, technologically sophisticated and graceful WordPress news & magazine Theme. It is made suited to fulfil the needs of all sort of websites dedicated to distributing visual contents and information to the massive amount of people. Monsoon is a blog styled websites that aggregate specialised niche content for attracting a loyal, returning users base. Theme has highly responsive and packed with many tools features. Business tagline allows you to give a catchy line, you can show your key features in the sections, display whether in the sidebar or publish news about happenings.
Conclusion says it the best & professional theme you can grab for your news & magazines related business.
---