"Give a man a fish and you feed him for a day; teach a man to fish and you feed him for a lifetime." – Maimonides
Fish farming business is a culture that is underestimated in today's world. If you are someone who is looking forward to starting a fishing business or have already started one, then this post is just ideal for you. 
WordPress themes come with a number of plugins that are bound to launch your business onwards and upwards. Once a foothold in the industry has been created, there is no turning back.
Yearning to start a business online. Get a good start with our theme collection:
We aim to target the premium fish WordPress themes that are bound to make your work easier. Here is our rundown of some of the best WordPress themes for you to try out.
---
FishingPoint – Fishing WordPress Theme
If you're looking to promote or advertise your fishing business, then the FishingPoint WordPress theme is ideal for you. Fishing clubs, fish farming, and aquaculture enterprises can make use of this fishing WordPress template.
With this template, you can showcase various fishing techniques such as jig, spin, pole, and spearfishing. It also comes with a feature blog section where your recent posts can be displayed. There is also a fishing tool gallery where you can display all your fishing tools like a cross cast reel, carp rod, hooks and nylon string.
---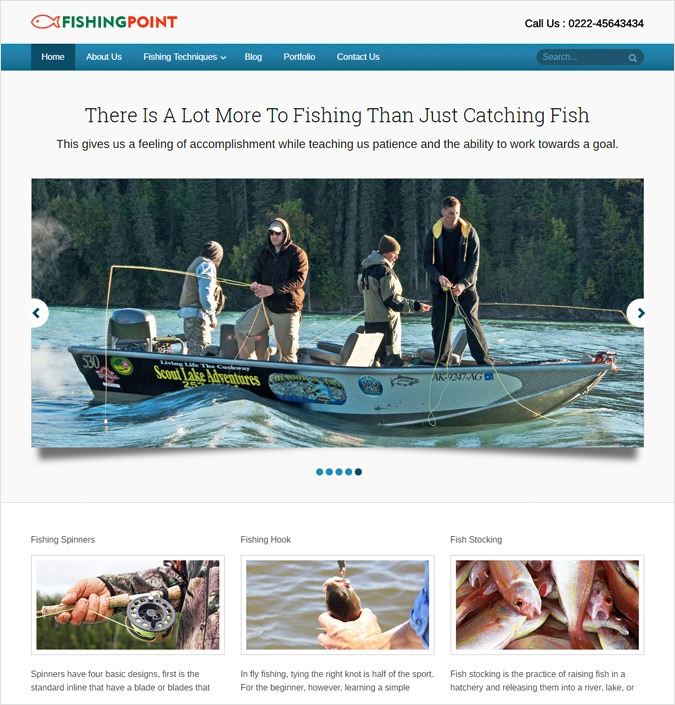 ---
Attributes Of Fishing WordPress Template
The 3-column service section allows you to demonstrate the various methods you employ for fishing.

5-layer boxed slider is available in this template to showcase your fishing culture.

The theme comes with an inbuilt InkLead capture form which can be used to obtain details about your visitors.

There are social icons which make sharing easier.
Theme Info + DownloadLive Demo
---
SeaFish – Fish Market WordPress Theme
Looking for an online theme for a fish selling shop? The SeaFish WordPress theme is your one stop destination. No more roaming around for platforms to portray your talent.
Fishermen, retail sellers, fish merchants, marine fish suppliers and wholesale fish dealers can avail this stunning template. The seafood sales WordPress theme has a wonderful display which gives visitors the right look and feel. Displaying images of the fish you want to sell was never this simple as the layered section of the theme allows you to do.
---

---
Salient Features Of SeaFish WordPress Template
The theme comes with a 4-column feature area where the prices for your fish can be exhibited.

All information pertaining to the items on sale can also be displayed on the front page.

The WooCommerce plugin makes the sale much easier. Payment is secure with the help of the PayPal gateway.

With the blog section, you can educate your visitors about the various methods used to fish, the types of fish out there and much more.
Theme Info + DownloadLive Demo
---
PisciCulture – Fish Farming WordPress Theme
The PisciCulture WordPress theme is a premium and responsive template with which you can promote extensive aquaculture farms, methodologies, and fish with the help of the various elements of the fish farm services WordPress template.
There are inbuilt pages which are of great help, in particular, the services page which describes the various fish farming types. The bandwidth of the number of people that can utilize the theme is unlimited and apiculturists, aquaculture farms, fish hatcheries, etc. have found solace in this theme.
---

---
Elements Of PisciCulture WordPress Template
You can amplify your integrated fish culture technologies and economics with the feature section.

The accordion service section enables you to enlist the best species and top fish farming techniques in the folded service segment.

The testimonial section allows you to build trust amongst your visitors.

The blog section allows you to display tips and other important information to your users.
Theme Info + DownloadLive Demo
---
StockFish – Dried Fish WordPress Theme
While many methods exist for drying, there aren't too many platforms where you can sell products. If you happen to be a dry fish seller and create a global presence for yourself then this theme is ideal for you. This was precisely the driving force behind the StockFish WordPress theme.
The theme is highly unique and responsive, bound to help fish makers, seafood sellers, smoked fish merchants, dry marine food dealers and so on.  The theme comes with a single page layout for easy seafood navigation. Also, the theme is mobile friendly, rendering on any sized device.
---

---
Characteristics Of Dried Fish WordPress Template
You can sell dried seafood online with the WooCommerce plugin.

A full-width slider allows you to feature your dried fish products in a very appealing way.

A blog section allows you to post articles and other relevant information on your website.

A categorized gallery makes your page all the more effective.
Theme Info + DownloadLive Demo
---
AquaFish – Fish Aquarium WordPress Theme
If you have a fish aquarium business that's in need of a platform for expression, then the AquaFish WordPress theme is just what you need. Featuring your fish aquarium is made easy with this theme.
This template has a highly customized design with a front page video section where you can upload your fishing culture video. The fish aquarium rental WordPress template is suited for large fisheries, fish merchants, aquarium wholesale dealers, fish keepers, marine product suppliers and gift gallery shopkeepers.
---

---
Ingredients Of AquaFish WordPress Template
Customers can shop for fish online with the four-column feature area.

The integrated WooCommerce plugin helps you to order fish and fish aquariums online, with the single click of a button.

Payment is made secure with the PayPal gateway.

Client testimonials can be featured on the homepage, building your reputation.
Theme Info + DownloadLive Demo
---
FishTank – Tropical Fish And Aquarium Rental WordPress Theme
Tropical fishes are undoubtedly one of the best pets one can acquire. With more and more people on the lookout for these exotic creatures, it's no surprise that there's a WordPress theme that promotes this sort of activity.
With the help of the FishTank WordPress theme, you, as a fishkeeper can launch your business online, spreading the word about tropical fish as pets to the world. The fish herbal farm WordPress theme is a premium and responsive theme that you don't wanna miss out at any cost.
Fish care firms, aquarium dealers, aquarium rental agencies, pisciculture associations, and fish harvesting companies can make the most of this theme.
---

---
Features Of FishTank WordPress Template
The unique functionality of the template allows customers to rent various types of aquariums. The products are highlighted on a separate portion of the page along with full descriptions of them.

With the slider, you can feature the best of your fish keeping visitors engaged right till the end.

You can feature fresh and saltwater fish with the animation sliders.

Sharing fish care guide is made simple with the blog section.
Theme Info + DownloadLive Demo
---
AquaMaintain – Aquarium Maintenance Service WordPress Theme
The AquaMaintain WordPress theme is a highly customizable one-page template that gives you a great maintenance website without much effort. Due to the single page layout, you can create a website that brings the best of your world to the world!
Aquarium owners, fishkeepers, fish houses, aqua tank cleaning agencies and aquarium maintenance service providers can make use of this wonderful theme, pushing their business in the online world.
---

---
Attributes Of AquaMaintain WordPress Template
The column service zone has a homepage service area where you can feature your best business services right from maintenance to design and installation.

A blog section panel keeps users and visitors updated about the various services that you offer.

The categorized portfolio allows you to classify top tools and gadgets used in your industry.

Feature client testimonials with real comments and feedback from clients.
Theme Info + DownloadLive Demo
---
Aquario – Aquarium WordPress Theme
Aquario is an amazing WordPress theme that is suitable for aquarium shops, aquarium accessories installation and maintenance service providers. Basically, any business establishments based on fish keeping can make use of this template.
This is a one-page theme which comes with various sections including slider services, blogs, gallery and contact sections.  If you're selling aquatic fish, installing aquariums, or providing consultancy services, this theme is a must.
---

---
Elements Of Aquarium WordPress Template
A 7- layer full-width slider gives users a visual treat with those retina-ready images on the front page.

A fully fledged parallax image scrolling is enabled in this template.

You can create a fishkeeping blog which you can turn on or off as per your convenience.

An aquarium gallery catches the eye of your customer, engaging them all the way through.
Theme Info + DownloadLive Demo
---
Conclusion
Revolutionizing the world of fishing and aquariums with these WordPress themes is much easier because it's no longer a problem to create a portfolio for your fishing firm or business. Start right away, start today, and make the most of these pro & exquisite WordPress frameworks.
Also having lot of elegant and responsive WordPress themes for you to explore:
Local & Small Business WordPress Themes