In today's era, almost every transaction can be made online. Newer apps are being developed, newer software is being created and ideas are being launched by and by. This is precisely why it is quintessential to create a foothold for yourself in the online world. Hence, it becomes tough for the one who is a beginner and wants to keep his business on the web.
With newer products being launched every day, there is a requirement to ensure that your product doesn't go down in flames. You have to establish and secure your presence in the business world and one better way to adopt the WordPress website templates.
WordPress themes are one sure fire way to get your business shooting for the stars.

However, WordPress plugins ensure that your business stays there.
Here's where our post comes in handy, bringing you the best of both worlds- responsive WordPress themes and plugins to go with them.
From landing pages to plugins that glam up your landing pages, this post covers it all. Begin right away and pick your poison, before someone else does! Let's unwrap the best of our world right before you!
Also check out our another article on:-
---
TradeShift – Startup Landing Page WordPress Theme
Have you just started your own business? Are you looking for a landing page for it? If you are, then rest assured, the TradeShift WordPress theme will take care of all your worries. Landing pages are quintessential for any business as it is the first thing a customer comes across.
With the landing page WordPress theme, you can promote your business, keep customers enticed by engaging them and take your sales to a whole new level. Businessmen, startup enthusiasts, and small firm organizations can incorporate this theme. The theme comes with an impressive pricing table that lets you specify the services you offer alongside the prices for each of them.
---
---
Features Of TradeShift WordPress Template
The full-width slider comes with promises of its own keeping customers engaged right to the end.

A standout feature of the theme is that it is a One Page template ensuring that the best of your work is all in one place.

The four-column services feature makes sure that your most sought out for services are on a pedestal.

Blogs keep users engaged as you showcase the best of your skills to the world.
Theme Info + DownloadLive Demo
---
CodeApp – App Development WordPress Theme
Handheld devices are fast becoming a necessity for most of us. But what good is a smartphone without apps that run on them? Not a lot? This is where the CodeApp WordPress theme comes in handy, allowing you to design and create apps of your own.
Engineers, Solicitation manufacturers and App Developers can utilize this theme. What makes the theme a standout in its own domain is the fact that it is One Page, which means to say that all your services are on a single page. This is definitely much better than having your services scattered around in the entirety of multiple pages.
---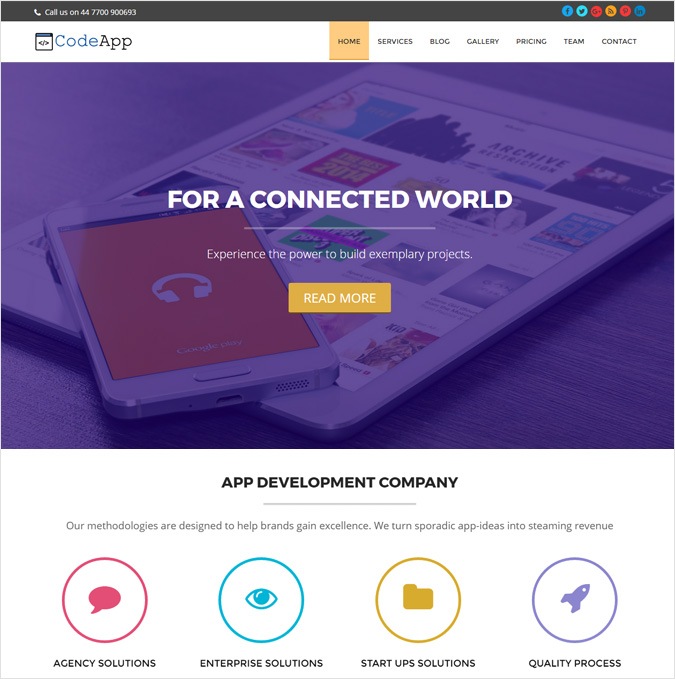 ---
Features Of CodeApp WordPress Template
The feature section comes with promises abound including upgrading, UI maintenance, UX testing and so on.

The pricing listing table makes sure that your services and their respective prices are matched up.

No business functions without a team. This is precisely why there's a section dedicated to featuring the brains behind your apps.

What better way to build client trust than with client testimonials? A separate section is present to feature client testimonials.
Theme Info + DownloadLive Demo
---
InkAppointment – Online Booking WordPress Plugin
InkAppoinment is essentially a WordPress plugin which enables you to enable online booking services for your website. A number of websites incorporate this plugin into them which only shows how efficient it is.
The plugin lets you post an appointment booking interface on your WordPress site. Users are given the liberty to book free or paid services from the front end. What's more additional appointments can be incorporated from the back end directly. All you have to do is fill in the desired date and time. Soon after, you will be asked to fill in form details. Click submit, and you are good to go. Booking appointments were never this simple.
---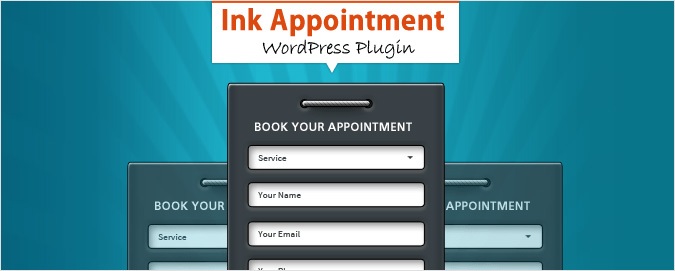 ---
Features Of InkAppointment WordPress Plugin
The plugin has is integrated with the PayPal payment processing gateway.

Various currencies for payment are accepted, so there's nothing much to worry about.

Appointment reminders are sent via email to clients as well as the admin.

There are four colors form to choose from as per your desire.

Booking can be done manually.

You can manually disable booking dates as well.
Plugin Info + DownloadLive Demo
---
InkAdSlide – Related Posts/Offers WordPress Plugin
The InkAdSlide WordPress plugin is no ordinary one. It comes with the facility to increase user engagement and achieve a higher conversion rate on your website. With highly optimized related post suggestions and contextual advertising, you can reduce your bounce rate, increase the average time spent on your website and convert visitors into customers by displaying interesting offers.
If you are someone who is into affiliate marketing or have products of your own to sell, then there is a plugin that helps you generate revenue by simply displaying relevant ads on posts and pages. Targeted ads at every blog post maximize your chances of selling products. You can redirect people to pages of your choice and place your affiliate links in as banners.
---
---
Features Of InkAdSlide WordPress Plugin
Select posts that are of relevance to the post at hand.

Feature related posts on every single blog.

Find out about writing any code in a matter of a few clicks.

You can set the desired color for your banner.
Plugin Info + DownloadLive Demo
---
Inkpage – Landing Page Builder WordPress Plugin
The InkPage WordPress plugin is the perfect way to create a landing page with a lead capture form. In particular, the look and feel are the first focus of any WordPress website happens to be the landing page. The responsibility of drawing visitors to your products or services lies solely in the hands of your landing page. The InkPage plugin turns your homepage into a landing page with ease.
In particular, internet marketers are the target audience for this plugin. You can customize your landing page in terms of color, font, buttons and so on. All you need to do is focus on the quality of your content so as to pull your visitors in. Increasing your conversion rate was never this simple! The theme is the best selection for your WordPress site as it achieves the goal of creating a simple landing page with minimal effort put in from your side.
---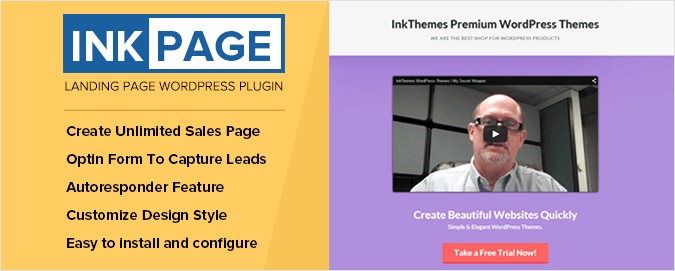 ---
Features Of InkPage WordPress Plugin
With the admin options panel, you can create an unlimited conversion page.

Customize the look and feel of your landing page with the design setting option.

Offer special discounts and special deals for each product with the benefit offer settings.

Change the content of the subscription form including sign up button, headline and so on.
Plugin Info + DownloadLive Demo
---
InkStyler – Button WordPress Plugin
In a single click, you can add Redirect, Call to Action, Subscribe, Like and Share buttons in a single click. With the InkStyler plugin, you can create buttons on your site without touching a single piece of code. High tech developers, as well as people at the other end of the spectrum – non-techies, can use this plugin.
If you want to redirect people to your product pages, directly from your home page, all you have to do is make a single click. Instead of writing long codes to adjust page codes, we've simplified things with this plugin. Integrate the plugin in your site and show button's position in accordance with your content. The plugin is really powerful and easy, taking care of everything you need to customize your site.
---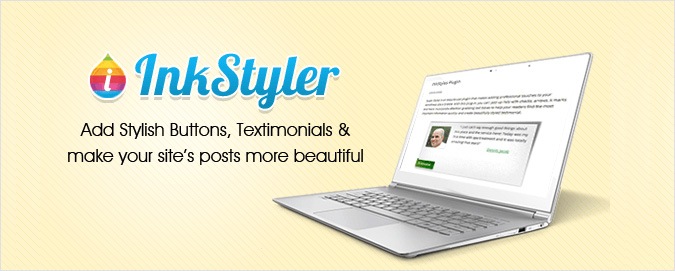 ---
Features Of InkStyler WordPress Plugin
Integrate the plugin into your site with a single click.

The neat and clean button design adapts to your site's typography.

Increase the value of your site with this plugin.

Showcase testimonials of your products with the testimonial feature.

Align icons to the left, right, top or bottom of your text.

The plugin comes with an installation and usage guide.
Plugin Info + DownloadLive Demo
---
InkMember – Best Membership Plugin For WordPress
The Ink Member plugin can be used to sell the premium contents of your site. The content includes high-tech videos, audio, blogs, posts, pages and so on. The plugin is far too simple to use and it helps you earn recurring income online. You can either keep your content hidden and make it visible to paid users or you can choose otherwise.
You can make your website robust and enhance its credibility with this plugin. Payment is integrated with PayPal making it all the more secure. With this plugin end to end, content delivery to paid members is made possible. You can also convert generic sites into membership sites so as to protect your content from falling into the wrong hands.
---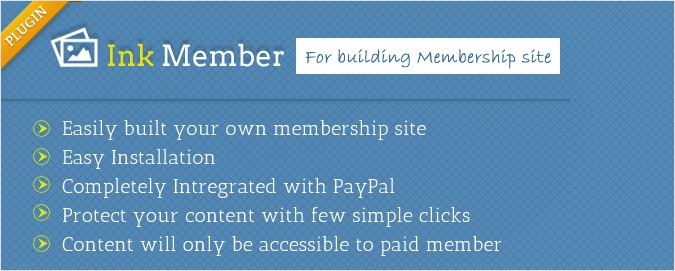 ---
Features Of InkMember WordPress Plugin
Add multiple contents that can be shown on your web page.

Users can subscribe to your content for a particular period of time.

The dashboard keeps a record of your customers that have purchased contents from your website.

Payments can easily be tracked on a regular basis.

Increase the versatility of your site with this plugin.
Plugin Info + DownloadLive Demo
---
InkLeadCapture – Custom Lead Capture/Lead Gen Form Creator

Business is all about contacts, leads in terms of an online business. The more contact you have, the more likely you are to get exposure. Traffic doesn't necessarily translate to more customers, you need to put in a lot of effort in order to get more clients.
With email ids, it becomes fairly simple to get people to know about you so you can inform them about your services and products. You require leads in the world of email marketing. The InkLeadCapture plugin makes it possible to do just that! Create lead capture forms that fit in with business and user types in almost no time at all.
---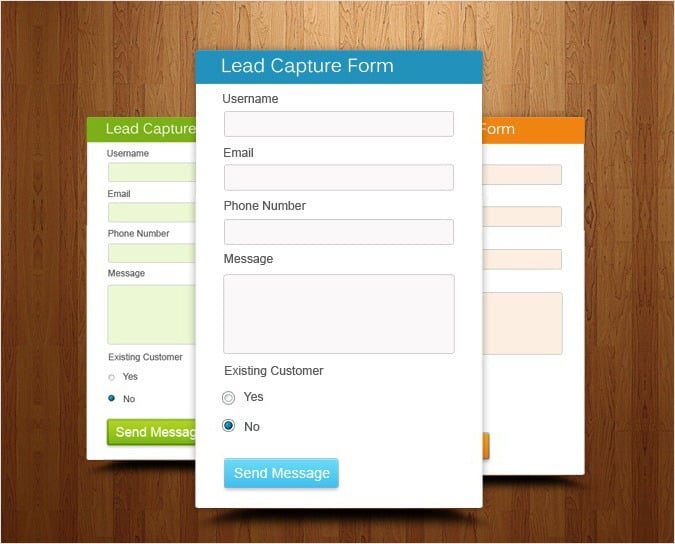 ---
Features Of LeadCapture WordPress Plugin
Create customized lead capture forms.

Add custom fields as well as the number of fields.

Set an email id to which you want all your leads to be sent to.

Display the lead capture form with the help of shortcodes.

Leads are collected and stored in the WordPress dashboard.

You can download a CSV file and make lead data available on your system for offline use.

Edit form fields when you deem fit.

Three color themes to choose from.
Plugin Info + DownloadLive Demo
---
InfoBar – WordPress Notification Plugin
Are you looking to increase sales, signups or long run offers and deals? With the InfoBar WordPress plugin, you can do just that, helping you reach out to your audience in a massively different way. Entice your users with the alert or notification bar so as to let them know about the best offers and deals.
The notification bar allows you to add a customizable message at the top of your professional website. Manage all the action with the help of the WordPress backend. This helps to collect leads, integrate email marketing, customizing HTML options and so on. Compatible with every WordPress theme, this is the perfect marketing for your business. As all the features of the plugin are flexible and customizable, you can notify your customers instantly.
---

---
Features Of InfoBar WordPress Plugin
Redirect your users with the help of the available CTA so as to show them details of the offer.

Integrate your leads to mailing lists including MailChimp, iContact, GetResponse, Campaign Monitor and so on.

Create multiple info bar entries and use them on your website.

Experiment with each of the features as they don't fail to surprise.

Pick the right colors to gel with the services you choose to offer.
Plugin Info + DownloadLive Demo
---
Conclusion
Integrate the aforementioned plugins and themes so as to get the best out of your business right away. But in case you need to see more about WordPress templates, just put your cursor on following links…